Last Updated on November 17, 2022 by Leyla Kazim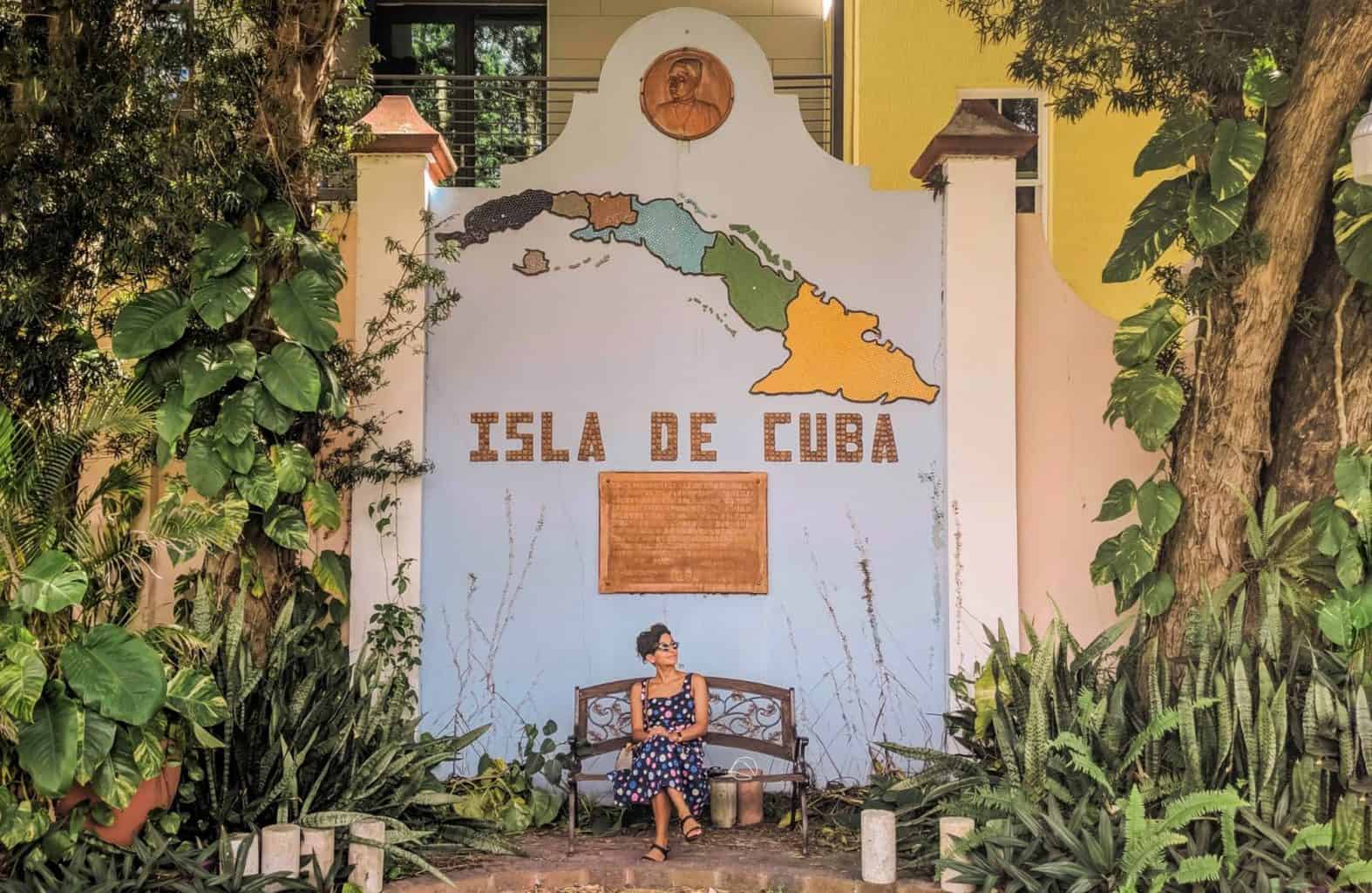 It's spawned one of the most famous sandwiches in the world and plays host to some of the USA's most extreme weather.
It's where you can find an unprescedented amount of wine under one roof, and break the law by harassing a chicken.
You can even pop into another country without the need for a passport.
Interest piqued? Poised ready to book your flights right now?
If so, you might also want to check out these two posts about food in Tampa Bay, so you know the best eats once you get there: 4 of the best Cuban sandwiches in Tampa Bay and How to spend 24 hours in the best Tampa Bay restaurants
And if you'd like to watch a video of my time in Tampa Bay hit play below. In it I cover the awesome things I ate, saw and did in this super cool part of Florida.
8 Mega Things You Probably Don't Know About Tampa Bay in Florida
1) Wild chickens roam the streets of Ybor City FL and they are protected by law
Just seen a chicken cross the road in Ybor City FL? I'm not surprised (that wasn't the start of a bad joke, believe it or not).
There are about 150 wild feathered friends that call this part of Tampa Bay home. That's a lot of road crossing.
The chickens are descendants of the flocks kept for eggs and meat by generations of Ybor City residents. And they've been strutting their stuff in these parts for around 100 years.
Harassing them in any way is stricly off limits. They are protected under Tampa's Bird Sanctuary Law, one that covers any and all wild birds in Tampa city limits.
But you're more than welcome to take snaps of them, just keep your distance.
Meet Ybor City's wild-roaming feathered residents in the video here, and see how they steal the limelight!
2) Ybor City FL was once the cigar making capital of the world
Cigars were huge business in Tampa Bay towards the end of the 19th century. And this is thanks to Cuban cigar magnate Vicente Martinez Ybor.
In the 1880s, Ybor decided to move his operations from Key West to a patch of scrub just east of downtown, close to the port.
The new railroad transported Ybor's products to New York and beyond. Within no time, tiny Tampa Bay had grown into a major metropolis.
On the way, it became a magnet for Cuban, Spanish, German, Italian and Jewish immigrants who all wanted to work in this lucrative industry.*
At its peak, Tampa Bay produced 500 million cigars a year, earning it the nickname "Cigar City".
*It was thanks to this multi-cultural mix of workers that spawned one of the most famous – and downright tastiest – sandwiches in the world. See next point.
Skip straight to Cuban masters hand-rolling cigars in Ybor City today in the video here – a beautifully crafted thing to behold.
3) Cuban sandwiches in Tampa are amazing. Probably because they were invented here.
I've eaten Cuban sandwiches in both Miami and in Tampa Bay. And whilst Miami may provide stiff competition for the best Cuban sandwiches in Florida, it's in Tampa Bay that they were first invented.
To find out how Cuban sandwiches in Tampa came to be, check out this blog post. It's also where I share four of the best places to get a Cubano in Tampa – my advice is aim to eat at least one a day!
Skip straight to my quick intro to the history of the Cuban sandwich in the video here – don't view on an empty stomach!
4) You can pop over to Cuba without your passport, or ever having to step out of Ybor City FL
I've always wanted to go to Cuba. And now I can say I have. Kinda.
Jose Martí Park is only 0.14 of an acre and in the heart of Ybor City FL. But it belongs to Cuba.
In 1956, Tampa gifted this land to what was then the Republic of Cuba in honor of Jose Martí, the great 19th century Cuban poet and freedom fighter.
Martí made frequent trips to Tampa in the late 1800s to raise money for Cuban independence from Spain. While he was there, he often stayed at a boardinghouse once located on this site.
The park, which is protected by international treaty, still belongs to the Cuban people. As soon as you pass through its gates, you're standing on Cuban soil.
Cool, huh.
5) Think the largest private wine collection in the world is in France, Italy or Spain? Wrong. Try Bern's Steak House in Tampa Bay.
Bern's Steak House is straight up one of the best steak houses in America – more on my experience dining there at Stop 5 in this blog post.
But it also happens to be home to the largest private wine collection in the world. There are over 600,000 bottles…
Around 100,000 of those are in the wine cellar below Bern's Steak House itself; I highly recommend saying yes to the cellar and kitchen tour.
But where are the other half a million bottles? Oh, just in their own massive temperature regulated warehouse across the street. With an awesome mural on the front created by Los Angeles artist Tristan Eaton.
Nothing fancy then.
Skip straight to the full on experience that is dining at this awesome steak house in the video here. Go hungry!
6) Ever wondered where the largest Spanish restaurant in the world is? Say hello to the Columbia Restaurant in Ybor City FL.
The Columbia Restaurant is a total must-visit during any visit to Tampa Bay. It's too much of an institution to even consider missing out.
But it also happens to be the oldest restaurant in Florida (established 1905) as well as the largest Spanish restaurant in the world. It seats 1700 people! That's a lot of washing up.
I'd recommend the Columbia Restaurant's Cuban sandwich as well as their famous "1905 Salad" made tableside. The two go together really well.
Skip straight to me tucking into their Cuban sandwich in the video here – it was terrific!
7) Fancy a run? You're in luck; Tampa Bay is home to the world's longest continuous sidewalk.
Measuring in at an impressive 4.5 miles, Bayshore Blvd in downtown Tampa has earnt the title of "the world's longest continuous sidewalk". I wonder if there was a trophy with that.
It's a picturesque recreational path lined with palm trees, providing glorious views over the bay. Expect to see the likes of cyclists, joggers, dog walkers and fitness fanatics dispersed along its length and at the fitness stations.
And whilst you're pounding that tarmac you may even spot some wildlife. Dolphin and manatee sightings are common on Bayshore Blvd, early morning is your best bet.
8) Here was me thinking the sunshine state didn't get much rain. Oh, it rains. It is in fact the lightning capital of the USA.
Summer storms in Tampa Bay can get pretty intense and come out of nowhere.
"Lightning Alley" is the nickname given to the region between Tampa and Orlando which sees more than 50 strikes per square mile. That's more than anywhere else in the country.
Tampa Bay is the perfect storm for er… perfect storms. A combination of it being surrounded by water and receiving a lot of sunlight means there's plenty of water vapour and unstable air.
Which roughly translates to, don't forget your brolly.
What do you think about the mind-boggling Bern's Steak House wine collection? Isn't it bonkers! The length of the Bayshore Blvd sidewalk is sure impressive – in the UK we'd call that a pavement 😁 Have you tried any of the awesome Cuban sandwiches in Tampa?
Who's been to Ybor City FL, or now wants to go and make friends with a wild rooster? And who would have thought the largest Spanish restaraunt in the world would be The Columbia Restaruant, not actually in Spain… Let me know your thoughts in the comments below!
This is a sponsored post in collaboration with visitflorida.com. All opinions and images remain my own, as always.
Don't forget to subscribe to my YouTube channel!
Hungry for more from Florida and the USA?
How to spend 24 hours in the best Tampa Bay Restaurants
10 Places to Eat in Downtown St Petersburg, Florida