Last Updated on November 17, 2022 by Leyla Kazim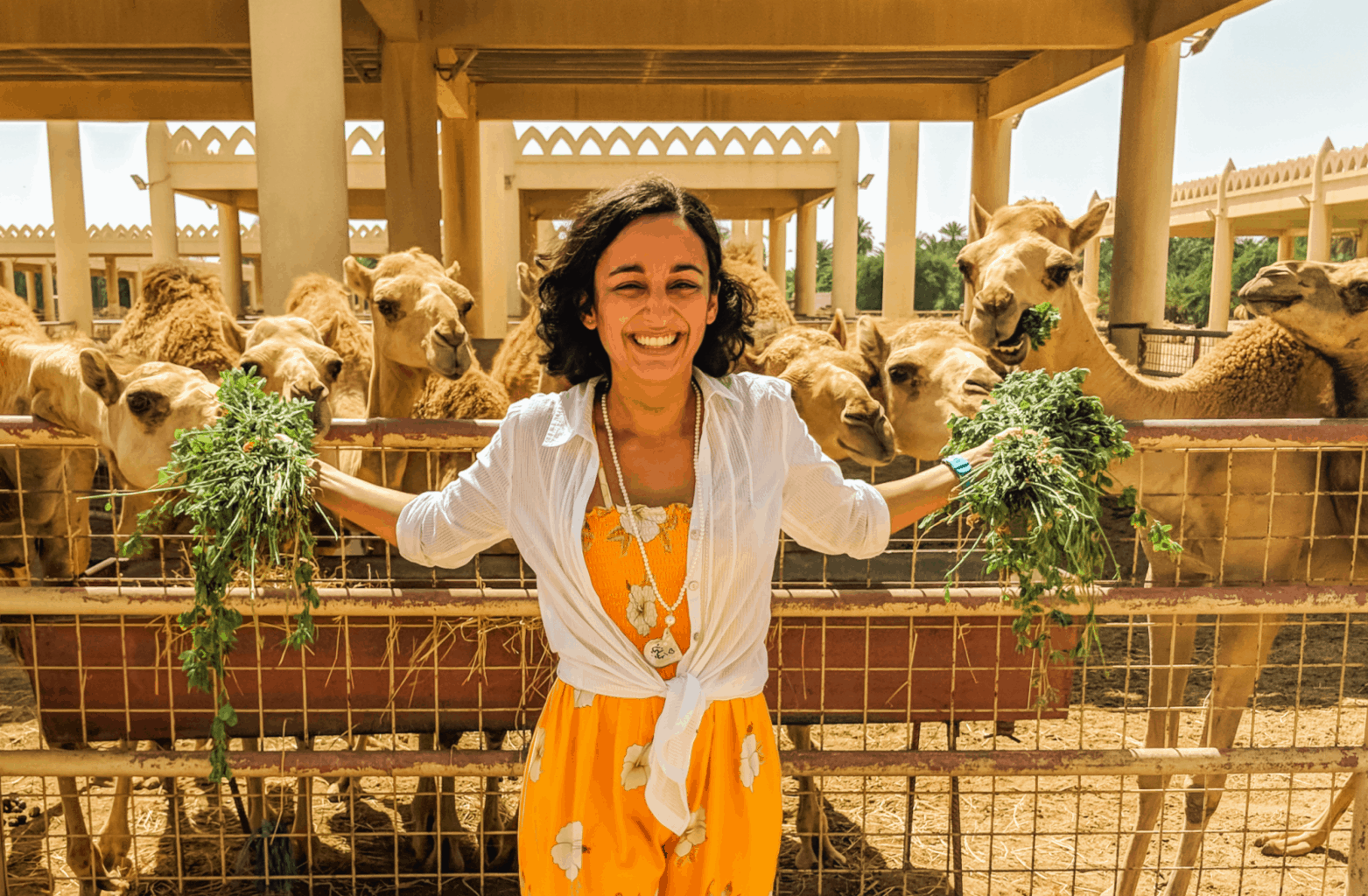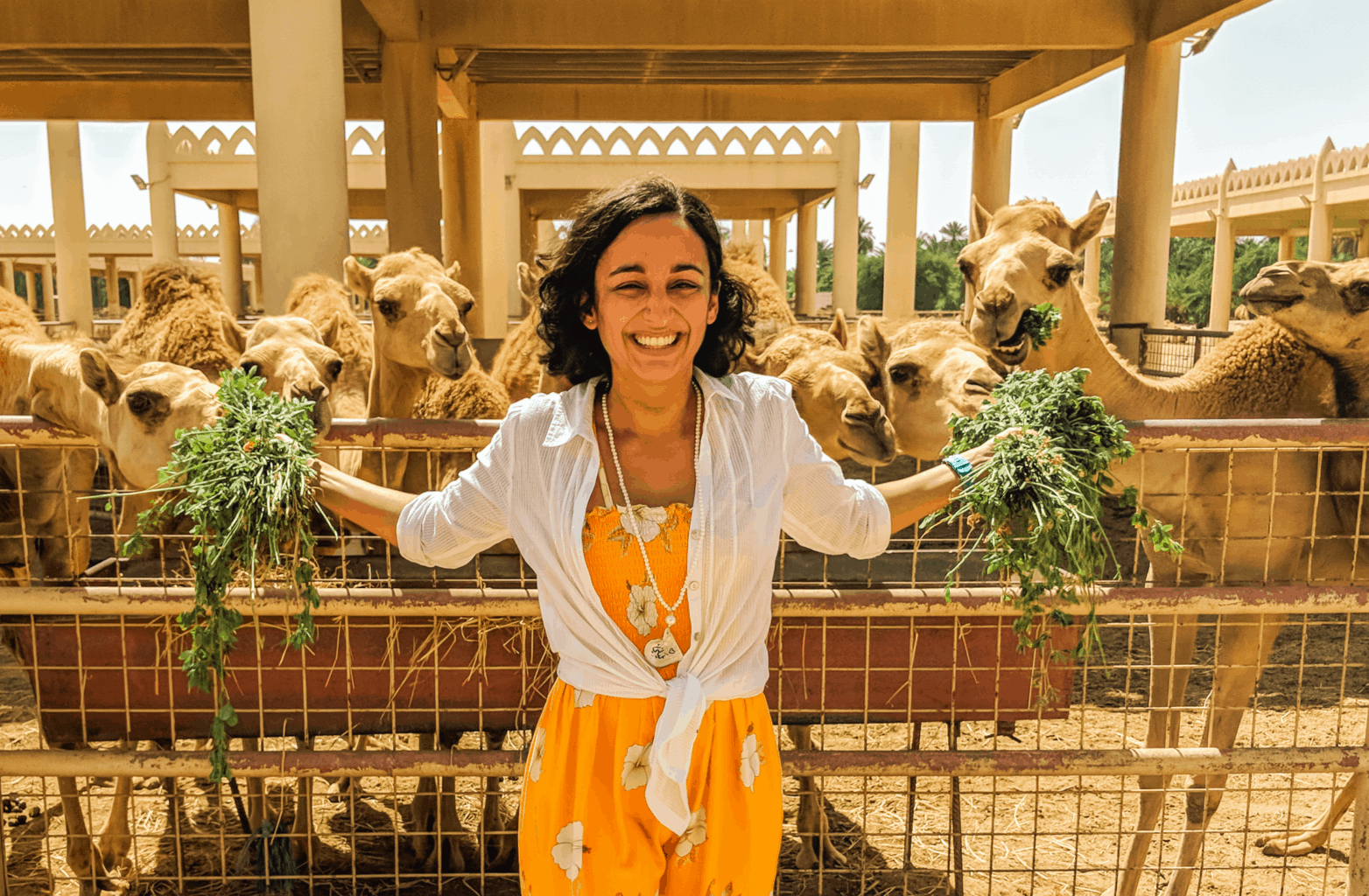 Bahrain (and its capital of Manama) is a nation made up of Bahrain Island and around 30 smaller islands in the Arabian / Persian Gulf. The Middle Eastern country you've sort of heard of but know next to nothing about. And you probably wouldn't be able to point it out on a map. Am I right? Don't worry, me too.
That may well be because firstly, it's tiny. It's the third smallest nation in Asia after the Maldives and Singapore. Situated near Saudi Arabia, Bahrain could fit inside Greater London – twice. But you know what they say, the best things come in small packages.
And whilst I may have known little about this Middle Eastern country, others certainly do. Half the population are Arab and mostly Bahraini-born, but the other half are expats, many of those from the UK and USA.
Why Bahrain travel should be high on your list
This little island state boasts its own Formula 1 Grand Prix track, a burgeoning art and foodie scene, and all the hallmarks of wealth, modern Arabian style. It's the storied location of the ancient Dilmun civilization and the epicentre of the Gulf's pearling past.
A lot more chilled, digestible and 'real' than neighbouring Dubai, despite Bahrain and Manama's small stature, I felt like I'd barely scratched the surface during my five days there.
I completely fell for the place. Or to be more precise, I fell for the country and its people. As Milan-born chef Suzi and long time resident of Bahrain said to me, Bahrain has the warmest and most open-hearted people in the whole of the Middle East.
I got the sense of that within 24 hours of being there.
9 Awesome Things to Do in Bahrain; The Middle East's Best Kept Secret
There are lots of reasons why Bahrain travel should be high on your list, most of which I'm probably yet to discover. But in the meantime, here's a video of my time there, to give you a real feel for this Middle Eastern country.
Then you can read on below for more insight on some awesome things you can get up to there.
Don't forget to subscribe to my YouTube channel!
1) Middle East travel is worth this epic Bahraini breakfast spread alone
This little Middle Eastern country has a lot to give, including epic eats such as the terrific breakfast spreads you'll find at Saffron By Jena.
These guys want to keep traditional Bahraini cuisine alive and do so by serving modern twists on authentic dishes in some of the oldest parts of Bahrain.
They're open all day, but in the morning you can expect a mezze-style spread of deliciousness. Do not miss the balaleet, sweet vermicelli with a hint of cardamom, topped with wafer thin salty egg pancakes (SO GOOD 😍).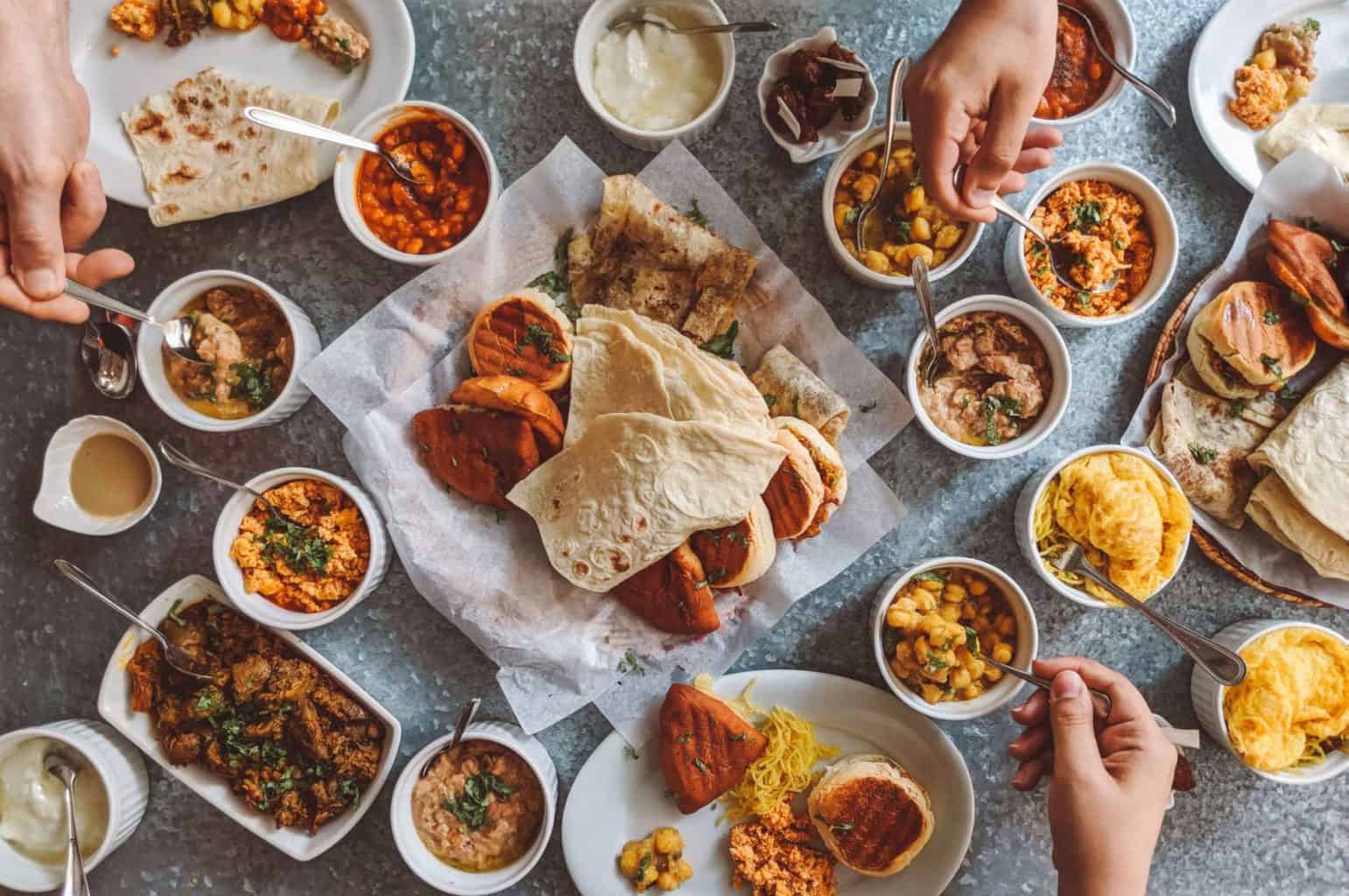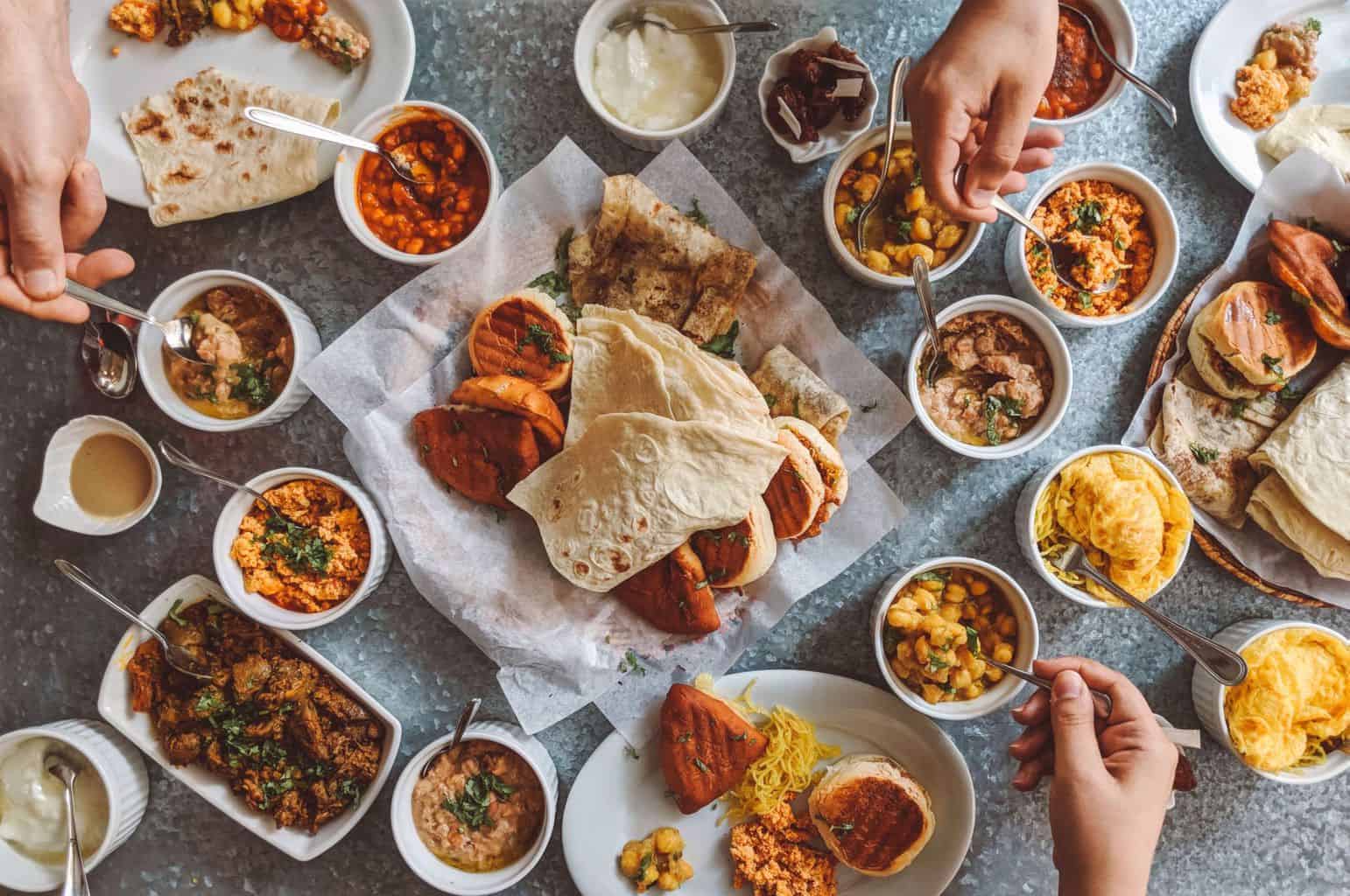 You'll also find mashed kidney beans, flat breads spread with fermented fish paste and pastry stuffed with salty cheese and apricot jam (also amazing). Plus lots of other glorious bits.
They have three different branches but word on the street says the Muharraq one is the best. They don't take reservations and they get busy, especially on weekends (which is Friday and Saturday in the Middle East). So come both early and hungry.
saffronbyjena.com
Souq Al Qaseriya, Shop 71 Road 1502, Maher Avenue, Muharraq
Skip straight to the epic breakfast spread at Saffron by Jena in the video here. A great way to start the day!
2) Lose yourself in labyrinthine Manama Souk in Old Manama
I haven't ever actually watched Aladdin and I don't know where he's meant to be from, but I'm pretty sure I found his cave in Bahrain.
Manama Souq – behind Bab Al Bahrain – is a tight knot of narrow streets and alleyways with traders selling a wealth of goods, from heady spices and perfumes to gold and sheesha bottles.
But it's impossible to navigate if you're a tourist. Which is where the terrific Local Ppl guides come in. Founders Zain and Hessa are Bahrain locals and passionate about showing what Bahrain travel has to offer.
They run a handful of tours – one of which covers Manama Souq – which will also include a visit to the spectacular Shrinathji temple. They'll show you the best spots and also help you out if you want to buy something. Just don't forget to haggle!
Skip straight to the enchanting Manama Souq in the video here and marvel at all that gold!
3) Feed adorable (and strong!) baby camels
I'm really just a humble camel girl at heart. Pictured are two year old babies and they are already big and very strong, almost pulling me off my feet when I was feeding them leaves (main image)!
This was at The Royal Camel Farm in Bahrain, which is not officially advertised as a tourist spot but it's open to the public every day from 8am to around 5pm and it's free to enter.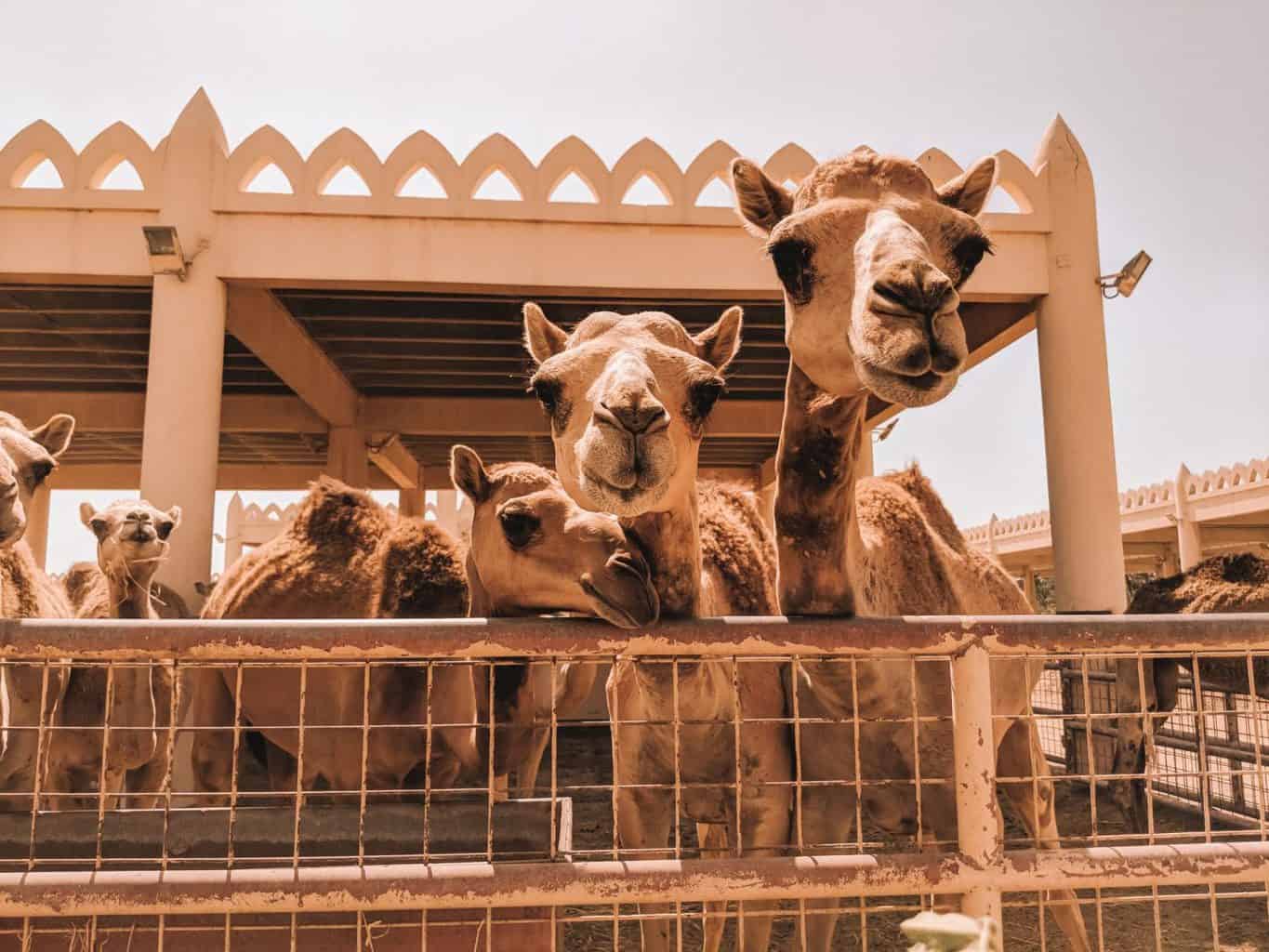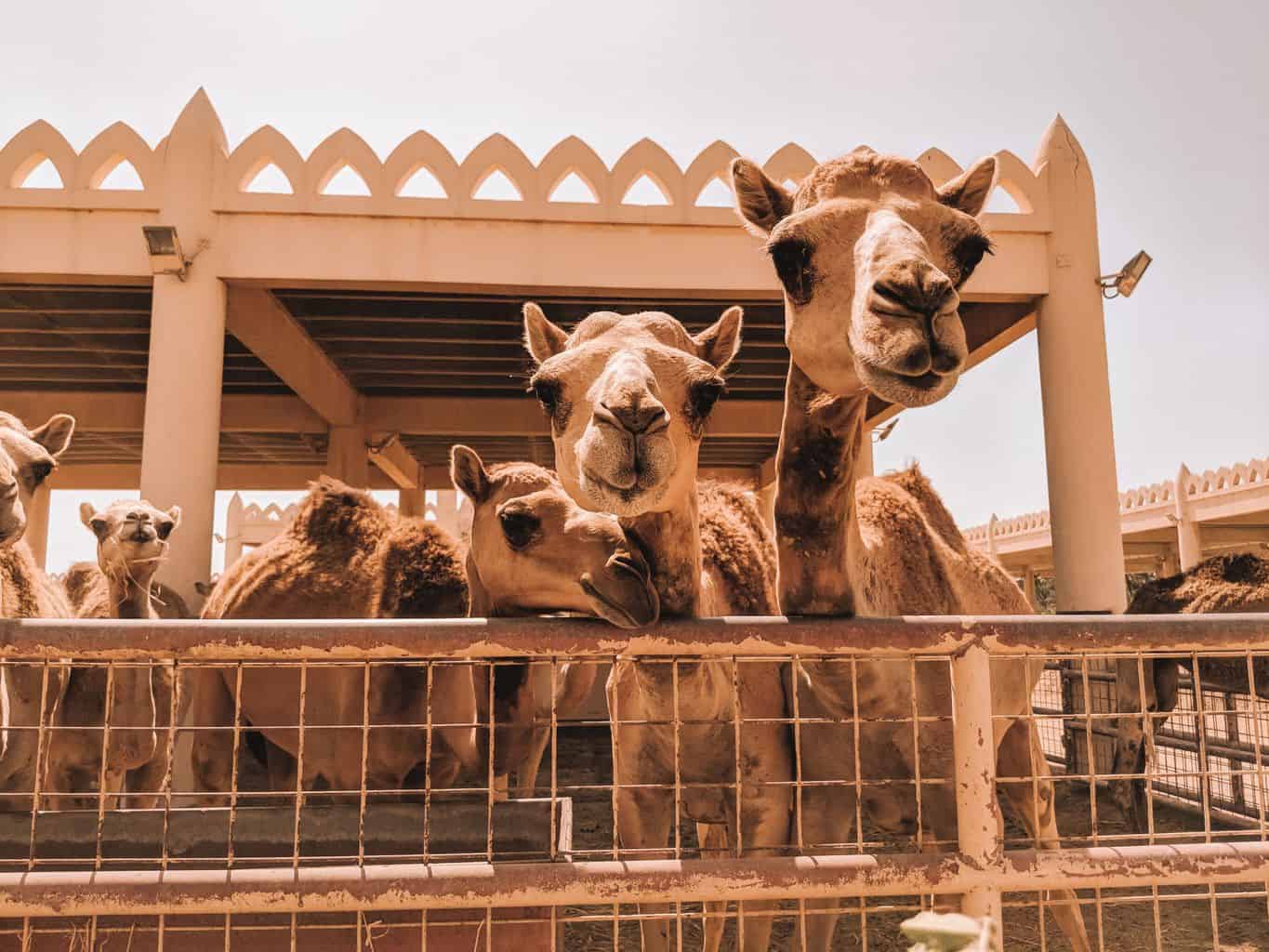 The workers are happy to show the camels owned by the royal family and you can feed these babies too. They're not sold or bred for eating or production, merely preservation.
The place exists purely for the royal family to preserve the heritage of camel rearing in Bahrain (when cars started to outnumber them as a preferred method of transport), a cultural connection which goes back centuries. But do drop the workers a little tip as they don't earn much.
Manama, just off the Janabiyah highway
Skip straight to the camel farm in the video here – such gorgeous creatures!
4) Go souvenir crazy at the Bahrain handicrafts center
You can buy some really beautiful items at the arts and crafts centre in the village of Al Jasra. And what's great is you can watch them being made and see the skill that goes into each item.
There are individual shops showcasing crafts that many of the villages in this Middle Eastern country have historically produced. Such as musical instruments, beautiful cloth, metal work, baskets and pottery.
Don't miss the music shop where the really lovely owner is a proper showman and will likely play you a tune. I even got to try my hand at the pottery wheel myself, something I've wanted to do for ages! Great fun. I feel I might take it up back home.
Close by is Al Jasra House, one of the several historic homes around Bahrain that's been restored to its original glory. I absolutely loved the architecture, such beautiful arches. It's constructed from coral stone supported by palm tree trunks. Al Jasra House is also the birthplace of the Late Amir His Highness Shaikh Isa bin Salman Al Khalifa.
1003, Rd No 315, Al Jasra, Bahrain
Skip straight to the handicrafts centre in the video here and see how I fared at my first go at pottery!
5) Sweet tooth? Then you'll love halwa Bahraini
You may well have come across halva before, a dense sweet you find in many a Middle Eastern country. But you've unlikely had halwa Bahraini unless you've been there. Unlike many Asian countries where halwa is prepared with semolina or flour, the halwa from Bahrain uses corn starch and rapeseed oil.
The end product has a gel like consistency similar to soft nougat and as well as crunchy nuts, you'll detect cardamom, saffron and nutmeg. Friendly Bahrain locals will offer you some at every possible opportunity, usually served with Arabic coffee.
Most halwa stores in Bahrain bear the name of the Showaiter family, a dynasty that has been synonymous with halwa in Bahrain for over a century. This is the place to try it and buy it. I was even allowed to pop into the factory to see the stuff being made – it takes a lot of skill!
I'll be honest, I much prefer the solid and brittle versions of halwa you can find in other countries in this part of the world. I found the Bahrain version to be far to sweet (it's essentially pure sugar) and I wasn't sold on the texture. But it's certainly worth trying and if the seriously sweet stuff is your bag, you'll probably love it.
Skip straight to seeing how Bahraini halwa is made in the video here – it was pretty toasty in there!
6) Marvel at the kaleidoscope of local fresh produce at the Farmers' Market
Not much can grow in the desert, right? Think again. There are a load of farmers in little Bahrain and they sell their beautiful wares at the island's gorgeous farmers markets – they are an absolute must visit.
I went to the one in Salmabad, open every day from 8am – 3pm. It's in a pristine and air conditioned building run by the government to support local farmers. Crammed full of gorgeous colourful produce, it's perfect for a visit at any time of year and a great place to have breakfast too.
But had my Bahrain travel seen me there on a Saturday, I would have also visited the weekly Budaiya Farmers' Market. This one is outdoors so only on during the cooler months, every Saturday from 8am – 12pm roughly from November to April.
Here you can find fresh vegetables, plants and dairy products, as well as arts and crafts. There's a scenic park with plenty of room to picnic, food stalls and even a mini petting zoo for kids. There are plenty of images on their Instagram account – it looks delightful!
Skip straight to all the lovely produce at Salmabad Farmer's Market in the video here, visited with Chef Susy (below)
7) Cook and eat with a lovely Italian chef expat in her Bahrain home
Wonderful Chef Susy Massetti from Milan! As my dad said, he's never met someone who speaks so passionately about a country they're not actually from. This lady really loves Bahrain and is Head Chef at high-end restaurant there called Masso. So understandably, she is a mean cook.
She has a beautiful big house with a few ducks and chickens, several dogs and a gorgeous kitchen where she hosts her fabulous cooking classes. She's effervescent and a real joy to be around. Her classes really are a must for anyone who visits Bahrain, whether you're skilled in the kitchen or not.
Susy showed us how to make a glorious Italian take on a shakshuka. The eggs were from her ducks and the salad leaves were from her garden. We all sat round the table on her terrace to enjoy the meal and great chat.
It was a really fab morning. You can book classes via her website below.
susymassetti.com/cooking-classes
Skip straight to the totally awesome cooking class in the video here and see what Chef Susy ended up rustling up for lunch!
8) Kayak on the Arabian Gulf and have a beach BBQ at sunset
Beach culture in Bahrain comes in the form of Beach Culture itself, a natural water sports centre. None of their activities are motorized, meaning they're environmentally friendly and work with the elements.
You can go paddle boarding, kitesurfing, windsurfing, kayaking and even SUP yoga (on a paddle board!). Their certified instructors offer different types of lessons and if you're already an expert, you can hire out the gear from Beach Culture to go off on your own.
If water sports aren't your thing, they also offer awesome 'chill' beach sessions. We had a little kayak exploration by sunset, followed by an awesome beach BBQ at Nurana Beach.
It's a great way to round up a group of friends or family, eat some tasty food, listen to some live traditional music and laze about under the stars until the small hours.
Skip straight to the awesome evening spent with Beach Culture in the video here and find out who's not very good at steering a kayak..
Have you ever been to a Middle Eastern country? If so, where have you been and what did you think? Do you know much about Bahrain or its capital of Manama? What are your thoughts on Middle East travel? Have you ever consideruntied Bahrain travel before? Let me know in the comments below!
This is a sponsored post in partnership with the Bahrain Economic Development Board. All views, text and images remain my own, as always. What a wonderful opportunity this was – it was a pleasure discovering this little gem of a country.
Hungry for more?
Don't forget to subscribe to my YouTube channel!