Last Updated on June 10, 2020 by Leyla Kazim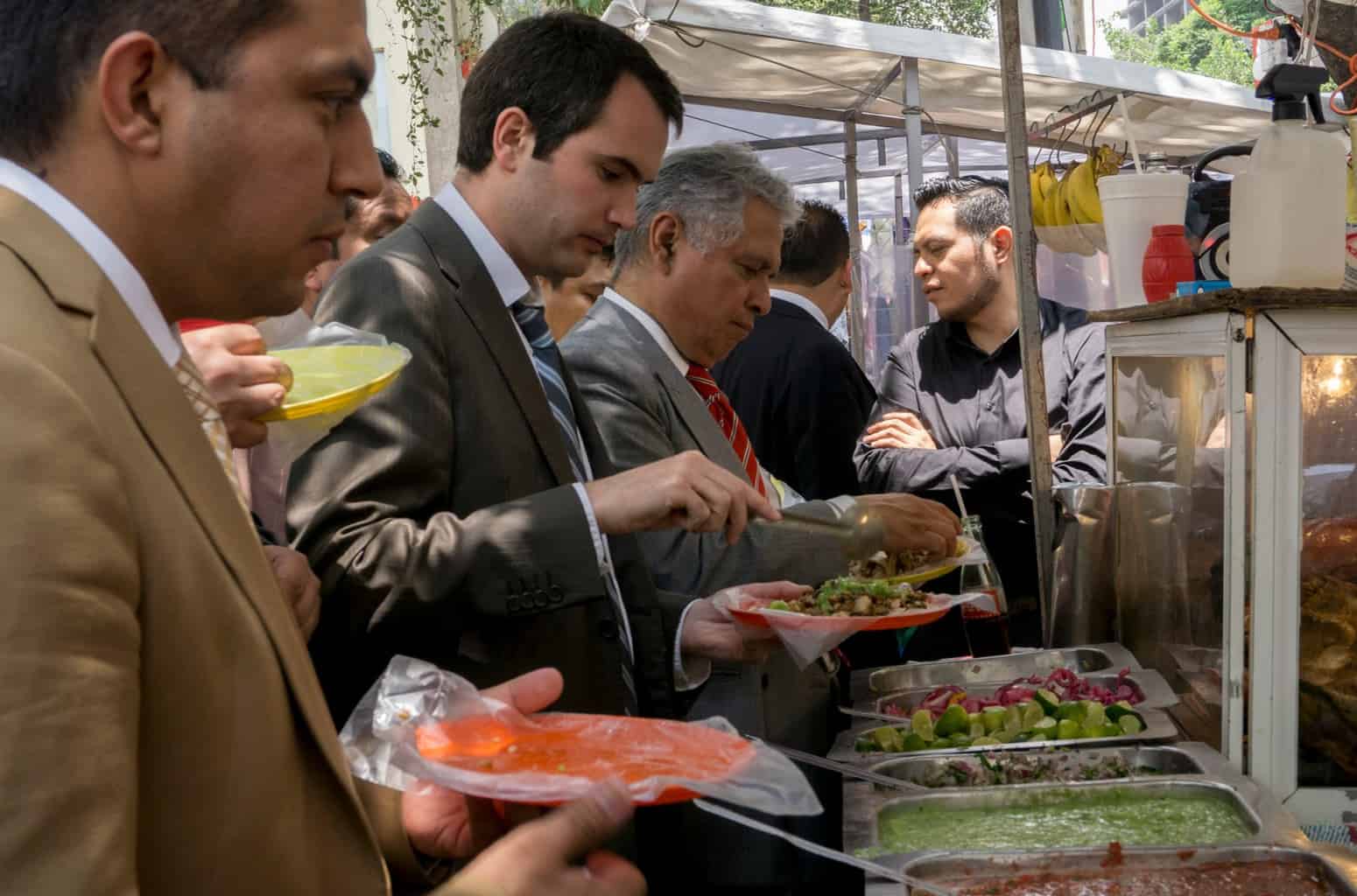 business folk getting their lunchtime fill at a carnitas stall – Mexico City
l
The capital of Mexico, Mexico City, is the fourth most populous in the world and about a mile and a half up in the sky. It's a city boasting big numbers; with a population of almost 21 million and an altitude of 2250m above sea level, it can take visitors a good few days to acclimatise to both the thinner air and the endless streams of people. Solid feeds are essential in fuelling the extra exertion needed to go about a normal day's activity, which is where the city's unrivalled street food scene steals the show.
The stalls are some of the best looking I've come across during my eight months of travels. They're more extensions of kitchens than kerb-side shacks; some even with table (or more accurately, stool) service.
A graze though the offerings in the city's business district and surrounding residential neighbourhoods is a great introduction into one of the world's most vibrant street food scenes.
Here are some of the best things to look out for: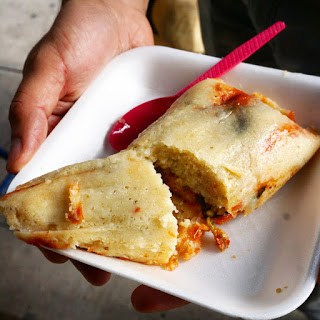 striped jalapeno and
red salsa tamal with pork
l
Tamales – stuffed, steamed corn dough

Tamales are masa (corn-based dough), steamed or boiled in a leaf – corn husk, banana leaf, avocado leaf – take your pick.
It's an ancient food from the days before the Spanish invaded, pre-dating tortillas by about 500 years to 3000 BC, and is often the first meal of the day.
Here, a striped jalapeno and red salsa tamal with pork. Look for a huge metal pot to spot who on the street is selling them. It's often had with an atole, a masa-based drink made with water and sugar, and sometimes chocolate and cinnamon.
Filling, full of flavour and very comforting – it's Mexico City's favourite breakfast for a good reason.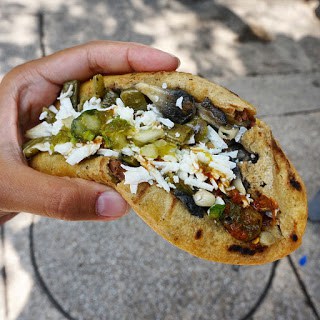 tlacoyos with all the trimmings
Tlacoyos – fried corn dough cakes
Oval shaped masa cakes fried on a griddle, tlacoyos are fatter than tortillas.
I had mine stuffed with beans, cactus, cheese, hot salsa and the fungus that grows on the ears of corn from a disease called 'corn smut', also known as the Mexican mushroom delicacy that is huitlacoche. Entirely excellent.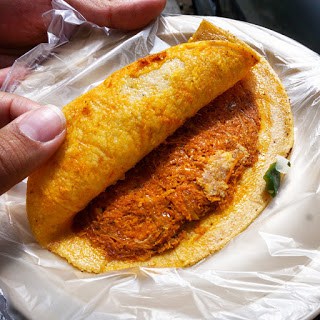 tacos de canasta
Tacos de canasta
Tacos de canasta are a special type of steamed taco made in advance (rather than to order) by your street vendor, with the flavours developing over time as they sit stacked in the canasta (basket).
This one was filled with, cochinita pibil – a traditional Mexican slow-roasted pork dish from the Yucatan.
The meat is marinated in a strongly acidic orange juice, and seasoned with annatto seed, imparting that glorious burnt orange hue.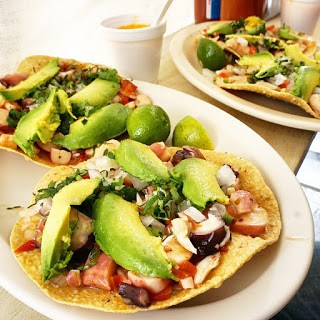 seafood tostadas
Seafood tostadas
Specifically, at El Caguamo. One of the best places in town for seafood, so I was told by two different locals in the know. A street-side tin shack in the historic centre, you'll find deep-fried fish fillets, shrimp cocktails, tostadas and ceviches.
Pictured is polpo (octopus) ceviche on a tostada (crisp fried tortilla). It's different to Peruvian ceviche in that there's no tiger's milk. Instead, lime juice and white herbal vinegar, finished with olive oil, avocado, tomato, chilli, onion, coriander.
Under £1 each. Drench it in more lime and let your taste buds have a little boogie.
Calle Ayuntamiento at the corner with López and López 82 and 83, Centro Histórico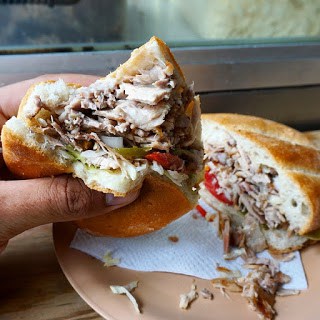 roast pork leg torta – Mexico City
Torta – the sandwich of Mexico City
Mexico's version of the sandwich and quintessentially 'very Mexico City', the torta is fast food blending European and Mexican cultures.
Get it from Tortas Been and order it with pierna (roast pork leg). Expect a slick of sour cream, jalapeños, and chilli seeds, as well as fat wedges of avocado, tomatoes, and onions.
The sandwich fillings are pushed into the bread, then smashed on the griddle for a few seconds. Immensely satisfying, this place was very busy and came recommended by a local.
Tortas Been, inside the pasaje at República del Salvador 152, a few blocks east of the Zócalo, Centro

Pescadilla – fish-stuffed deep-fried tacos


Pescadilla is the name given to a taco stuffed with some sort of fish stew, then deep-fried until crisp.
In mine, nurse shark is cooked with onion, garlic, chilli, tomato, olives, cumin, and a salsa picante (hot salsa). This meat has a strong flavour, a bit like sardines. Lovely stuff.
four loaded plates of carnitas
Carnitas – mixed cuts of lard-simmered pig
Four plates of carnitas are pictured here, made by braising or simmering pork in lard until tender – much like confit. You can request which part of the pig you want, but if you come at the end of lunch, you'll likely get it mixed.
On our tortillas, a melody of cheek, leg, nose, other bits, and uterus. Yep, uterus. An offal first for me, I'm not sure I've ever even seen it anywhere. A strong but good flavour, it works very well with the blander cuts and some heat and citrus to slice through all that iron.
The stall was hemmed in by suits two people deep, all popping out of the office for a quick stand-up kerb-side lunch. How they don't get it on their shirts, I'm not sure.
Related links
Week 29: MEXICO – Mexico City
Week 30: MEXICO – Oaxaca
Week 31: MEXICO – Mérida (plus Uxmal and Kabah)
Week 32: MEXICO – Tulum (plus Sian Ka'an Nature Reserve)
the carnitas stall – Mexico City