Last Updated on June 15, 2020 by Leyla Kazim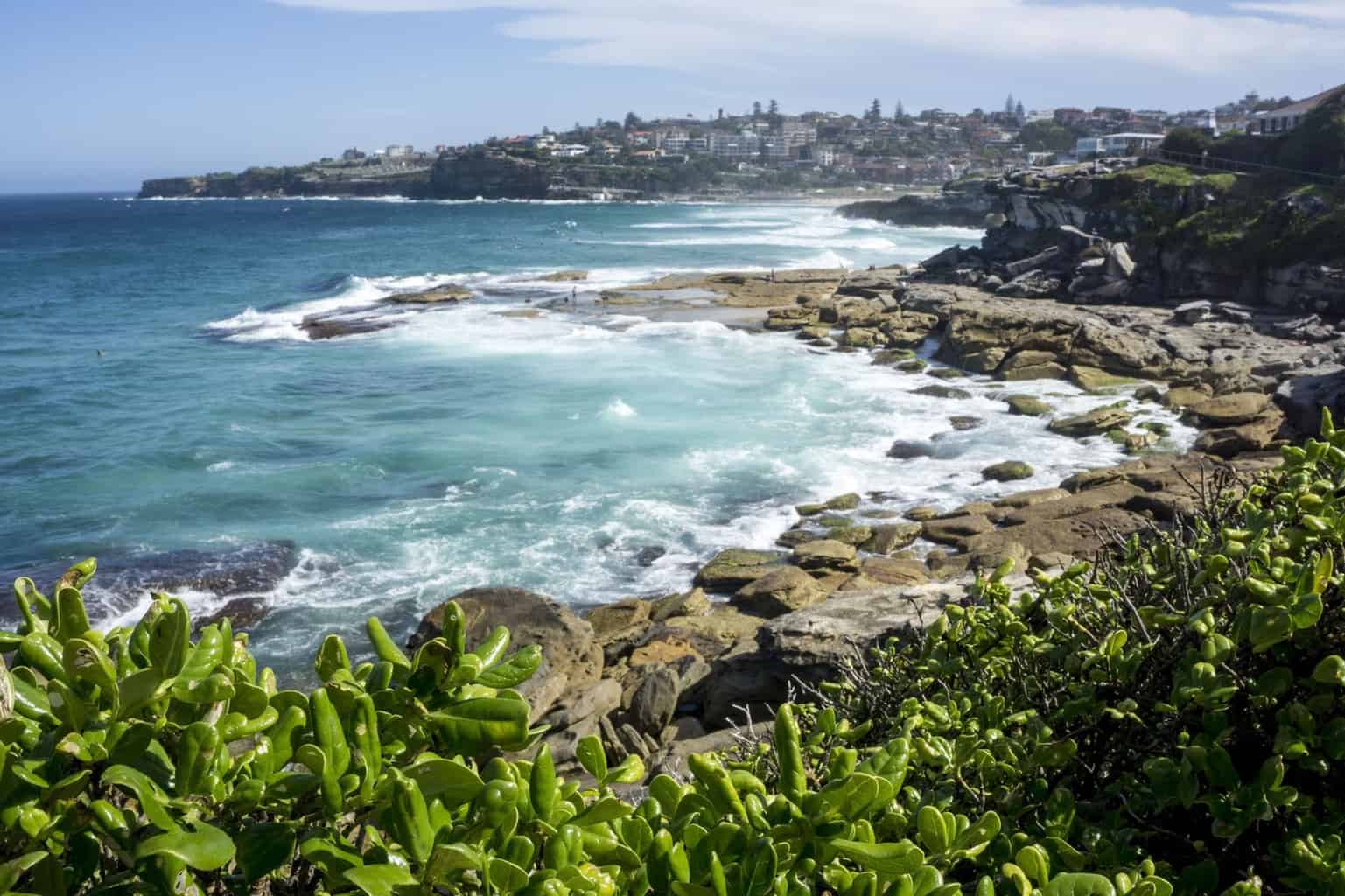 spectacular views on the Bondi to Coogee Coastal Walk, Sydney
I'm no stranger to long journeys. I did a 13 hour overnight train from Hanoi to Hue in Vietnam last year. Thirteen hours. Sounds a lot, was a lot. But actually, so much more comfortable than I dared hope. Even more so than the overnight trains in India, and we didn't see a rat on the Vietnam one.
When those of us in Europe consider venturing to Australia, we need to take at least three weeks off work, and account for the day and discomfort it takes to get there and back. Or at least, we think we do.
What if I told you that you could comfortably do Sydney and the surrounding areas in just a week? That's five days of exploring, and two days travelling. Not bad, you might think. But clocking up those distances in a plane always feels like an endurance test, and a waste of your holiday days, doesn't it. Well, if you're flying with Qatar Airways, the journey to get to and from the destination becomes part of the holiday. Because they're a bit bloody good.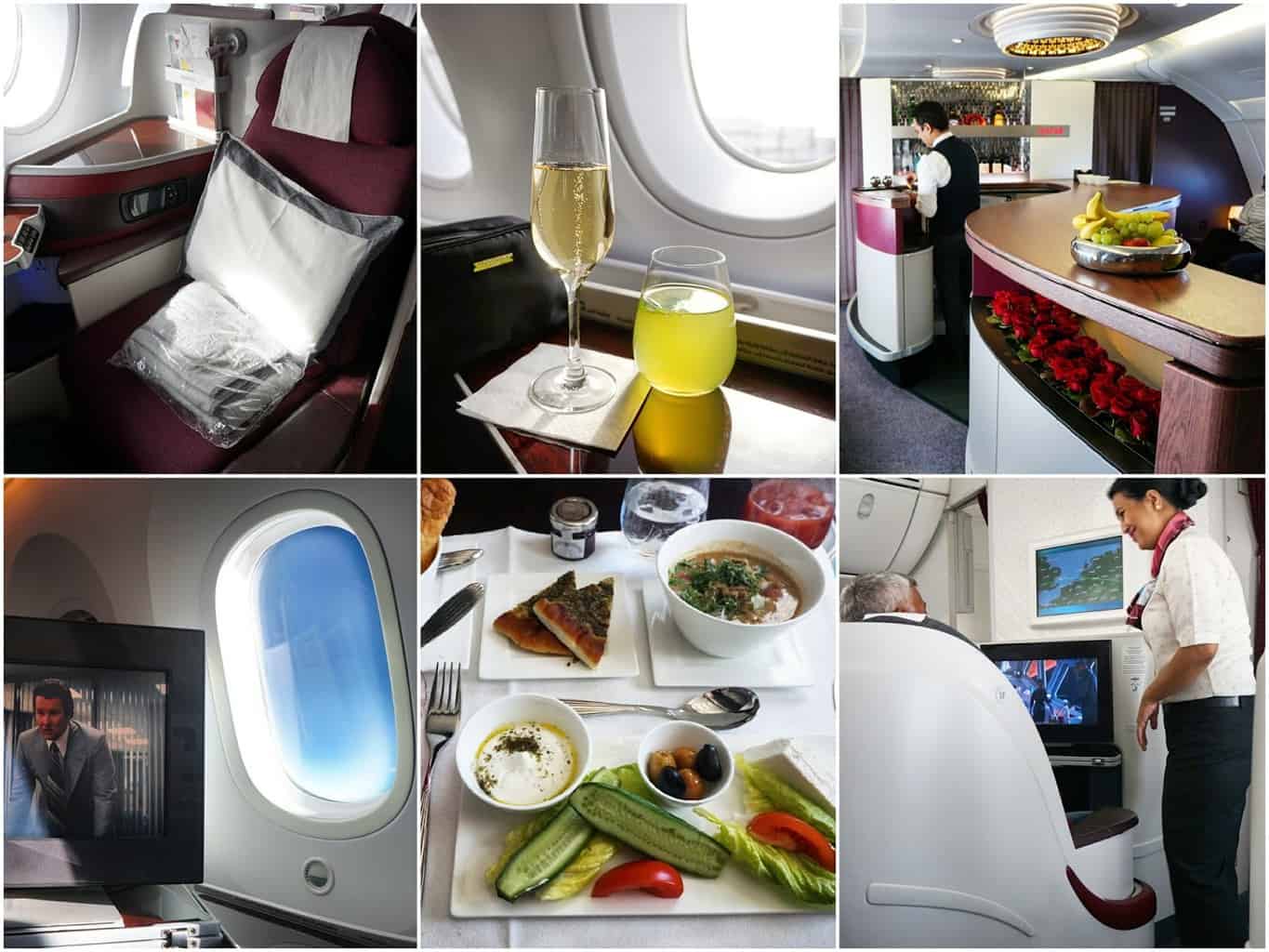 Business Class on Qatar Airways | London – Doha – Sydney

Qatar Airways win a lot of awards. Some of their most recent include Airline of the Year 2015, Best Airline in the Middle East 2015 and Best Business Class Seat 2015 – all Skytrax wins. If you're an aviation geek, as my partner is ("I can't bloody believe you're flying with Qatar without me"), you'll already know the Skytrax World Airline Awards are coveted accolades known as "the Oscars of the aviation industry", and a global benchmark of airline excellence. So they're pretty big time things to win.
Well, good news. Qatar Airways have recently launched two new routes from their Doha hub to Australia – Sydney a few weeks ago, and Adelaide a few days ago. And with a connecting time in Doha being as little as 45 minutes (exactly what I experienced coming from London), the whole journey ends up very seamless.
Not to mention, they don't really do first class because their business class seats are like everyone elses first. I'm lucky enough to have experienced BA's first class before, and I can attest to this.
Of course, you don't have to fly business with Qatar. Economy tickets from the UK to Sydney start at just £649, and you would be flying with the 'best airline in the world' as voted for by passengers, so you can expect all the comfort and excellent service that goes with that. But I do plan to write a separate piece about flying business class with Qatar Airways, so you can see just how worthwhile it is, especially when covering those sorts of distances.
In the meantime, here's the first part of this two part series, guiding you on how to spend three days in Sydney. I really miss that city.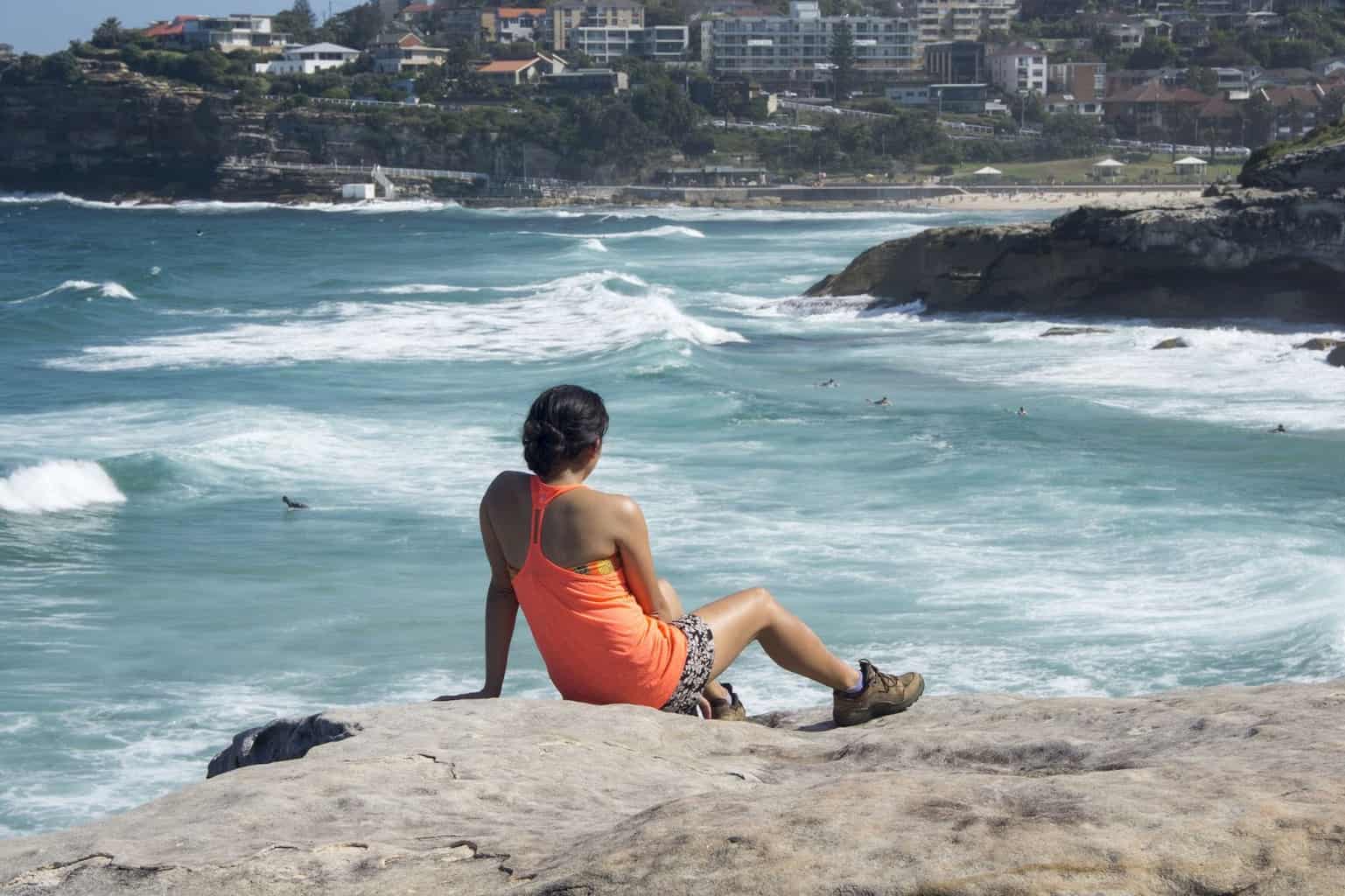 soaking in that surf on the Bondi to Coogee Coastal Walk, Sydney
What to do in Sydney
The Bondi to Coogee Coastal Walk
Sydneysiders (yep, that's what they call themselves) love to be outdoors. It's not hard to see why; all that sea air and the kind of sunshine that gets right into your bones.
There are probably few better ways to top up that vitamin D quota than by walking the winding stretch of coastal path that follows the cliff edge between Bondi and Coogee, and soaking up those sweeping ocean views at the same time.
Watch surfers tame the angry waves, pass spread-eagled sun bathers, rock pools, beaches and parks, appreciate the ruggedly handsome coastline, get the sun on your back, take a lot of great pictures, and recharge at a whole number of pit stops with postcard views on the way.
The full walk is 6 km or around two hours at a leisurely pace. If you're a bit tight on time or the whole hog sounds a bit long, you can join the trail from any point along the way – we did Bondi to Bronte which was about half an hour.
More details of this walk on the Destination NSW website.
Bondi to Coogee Coastal Walk, Sydney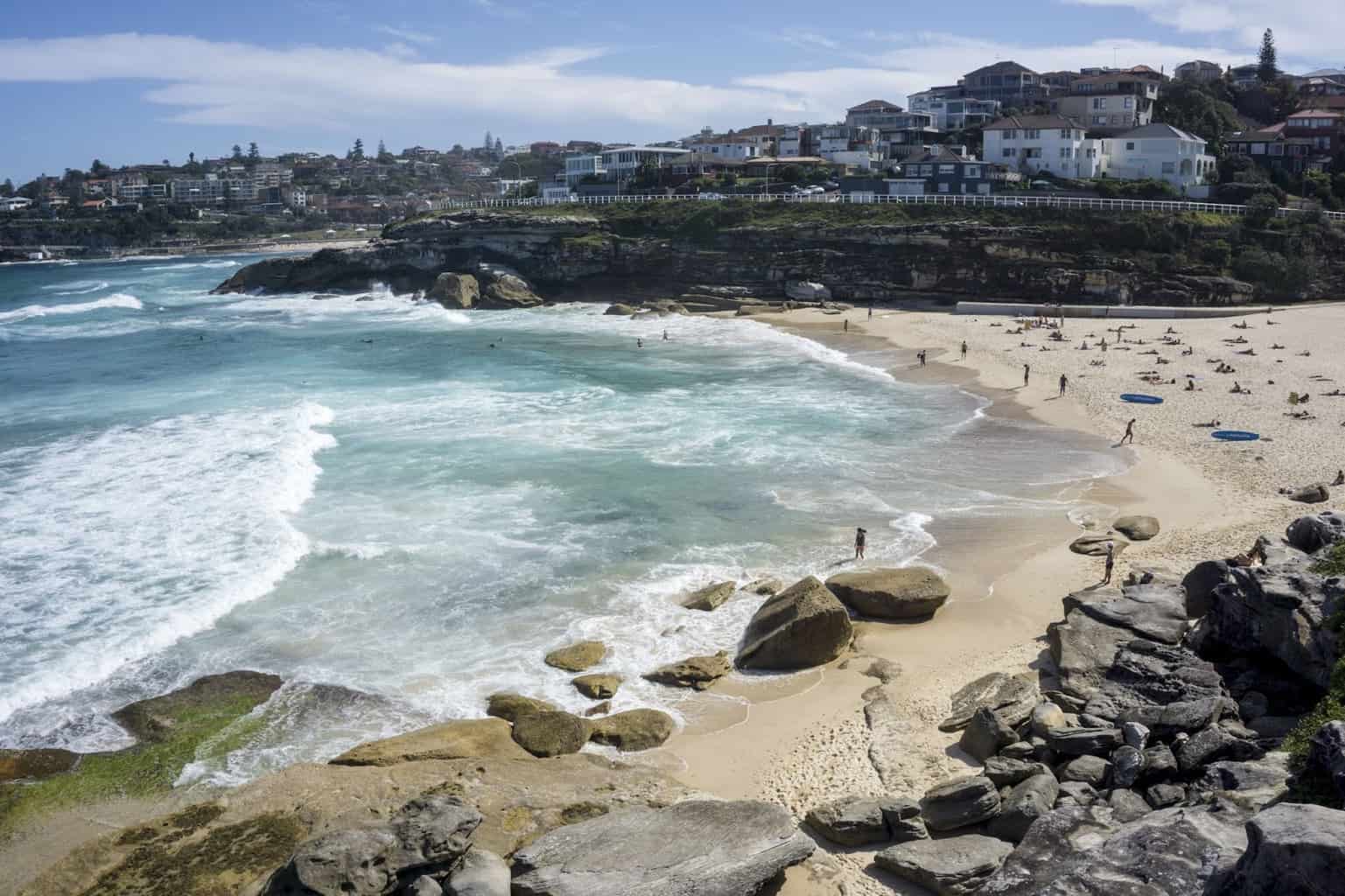 more views on the Bondi to Coogee Coastal Walk, Sydney
Hop on the ferry
Sydney looks especially gorgeous from the water. Taking a ferry is also a smart way to visit the surrounding areas, bypassing traffic whilst getting the wind in your hair. It's these blue waters that form the heart of one of the world's most beautiful harbour cities, and Sydney's ferries are a great way to explore them.
We took one from Circular Quay (the main ferry terminus in Sydney) and 30 minutes later we were at the popular beach-side suburb of Northern Sydney, Manly. Five minutes into the journey we glided past the majestic Sydney Opera House with unobstructed views backed by the city's skyline. Lovely stuff. And I bet it looks even better as it starts to light up at dusk.
Tickets are available at several locations. If you plan on using a lot of public transport during your stay, you could pick up an Opal card, which you can top up and use on buses, trains, ferries and light rail across Sydney.
Catch a regular service from Circular Quay to Manly, Parramatta, Balmain, Watsons Bay, Sydney Olympic Park, Taronga Zoo and many other locations. More details on the Destination NSW website.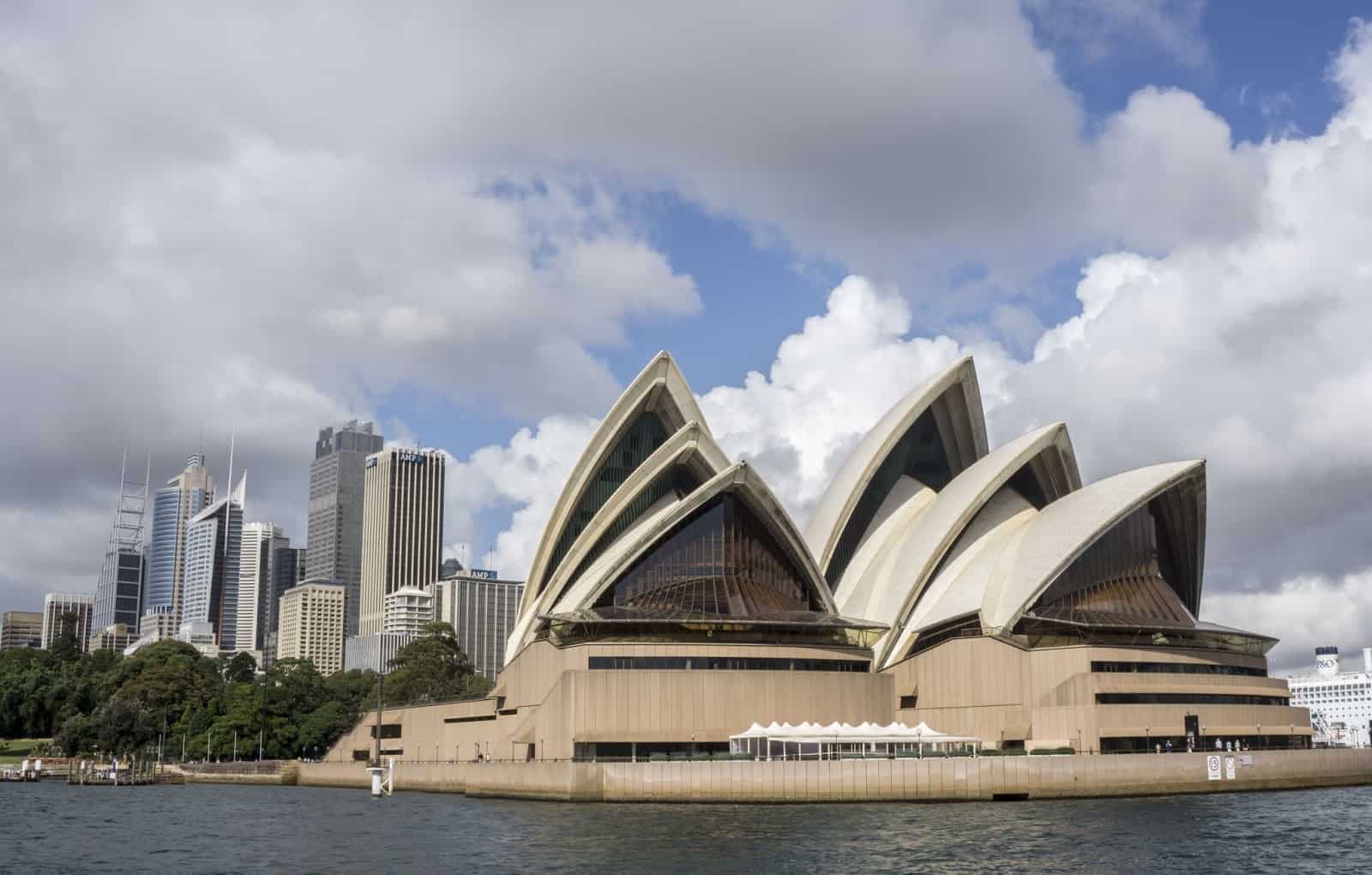 passing the Sydney Opera House on the ferry to Manly
Paddle board in Manly
If you do get the ferry to Manly, then visit the lovely guys at Manly Kayak Centre and try paddle boarding!
Paddle boarding is a rare case of a water-based activity I've done before (I'm not a great swimmer), when I was visiting family in Cape Cod – proof in the last image in this post.
And I was actually not bad at it, in that I didn't fall into the water once. Just as well, what with the can't-really-swim thing. Kudos to my low centre of gravity, which roughly translates to sometimes it's good to be short.
If this is the first time you've heard of it, the aim is to stand on a board which is a bit like a surf board, and propel yourself with a long paddle. It's very leisurely and relaxed, probably the complete opposite of surfing. But you do need to 'engage your core' in order to remain upright. You can stay in the shallows if you are worried about falling in – you only need a couple of feet of water and you're well on your way. It's great for all ages.
And if you do fall in, you'll soon realise it's the quickest way to cool down under the midday sun. So well done you for discovering that.
Manly Kayak Centre, 1/40 East Esplanade, Manly NSW (Manly Wharf Pier, next to Manly Wharf Hotel)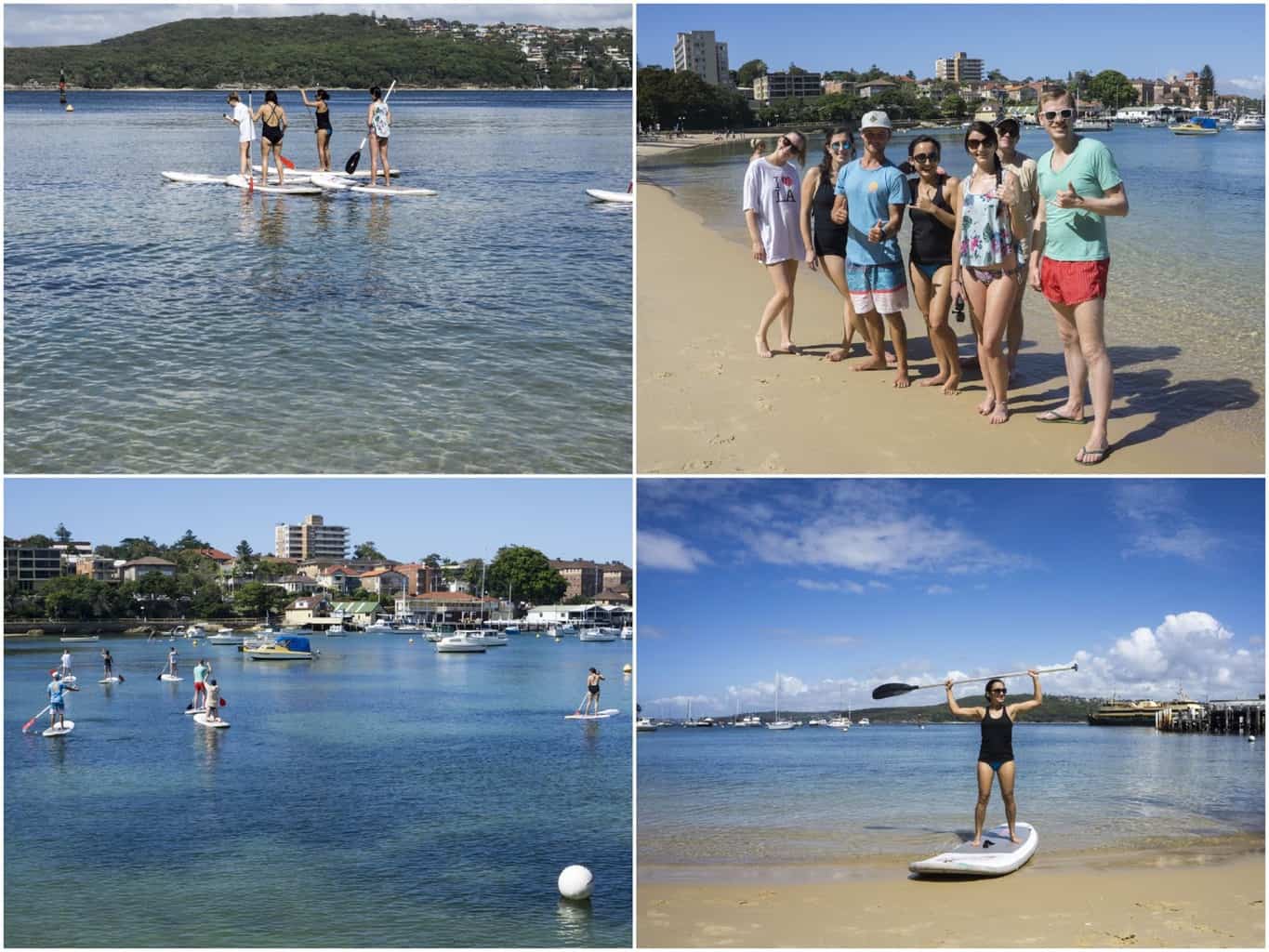 paddle boarding with Manly Kayak Centre
Snorkel at Shelly Beach
When it comes to the sea, Sydney isn't only about crashing waves and adrenalin junkie surfers. The Northern Beaches are particularly good for the marine-based activities that require calmer waters such as paddle boarding above, and snorkelling.
a posing water dragon during the
Snorkel Walk and Talk tour
Damien from Eco Treasures is a passionate guide offering an experience that allows you to search for and learn about the local wildlife, both on land and in the sea.
In his Snorkel Walk and Talk tour, Damien talks about native wildlife, the Australian environment, and Sydney's heritage and culture during a headland walk that ends at the clear waters off Shelly Beach.
At which point, you don your wet suits and snorkel gear, get an extensive safety briefing, and finish off spotting marine wildlife amongst the sea grass meadows, sandy bottom and rocky reefs of protected Cabbage Tree Bay at Aquatic Reserve.
Conact Damien McClellan (Director) at Eco Treasures: 61 (0) 415 121 648
Take a bike tour around the city
This might have been my favourite activity we did in Sydney. It was a perfect combination of covering lots of ground, feeling that glorious sense of freedom you only get on two wheels, being outdoors and under the sun, getting some exercise, lots of great photo opportunities, and having a really lovely, informative and chilled out guide.
I've said many a time, I would never cycle in London – it's far too dangerous. Sydney however? Totally different story. Lots of dedicated cycle lanes, permission to ride on many pavements, and loads of pedestrianised areas that allow bikes.
We did the 2.5 hour Sydney Highlights tour, which sounds quite long but was over way too soon. It's recommended if you don't have a lot of time on your hands, and want to take in the key sights in a quick loop of the city. Highlights included Walsh Bay, Sydney's theatre district, the Botanical Gardens and Chinatown.
I'd recommend doing a bike tour at the start of your stay, as it's a great way to help you get your bearings. And as for safety and equipment, expect super comfortable bikes, shiny red helmets, and bike-mounted bags for small items. My only regret is I wish I could have done a longer tour with them – their five hour Sydney Harbour Bridge ride sounds awesome!
Bonza Bike Tours, 30 Harrington Street, The Rocks, Sydney NSW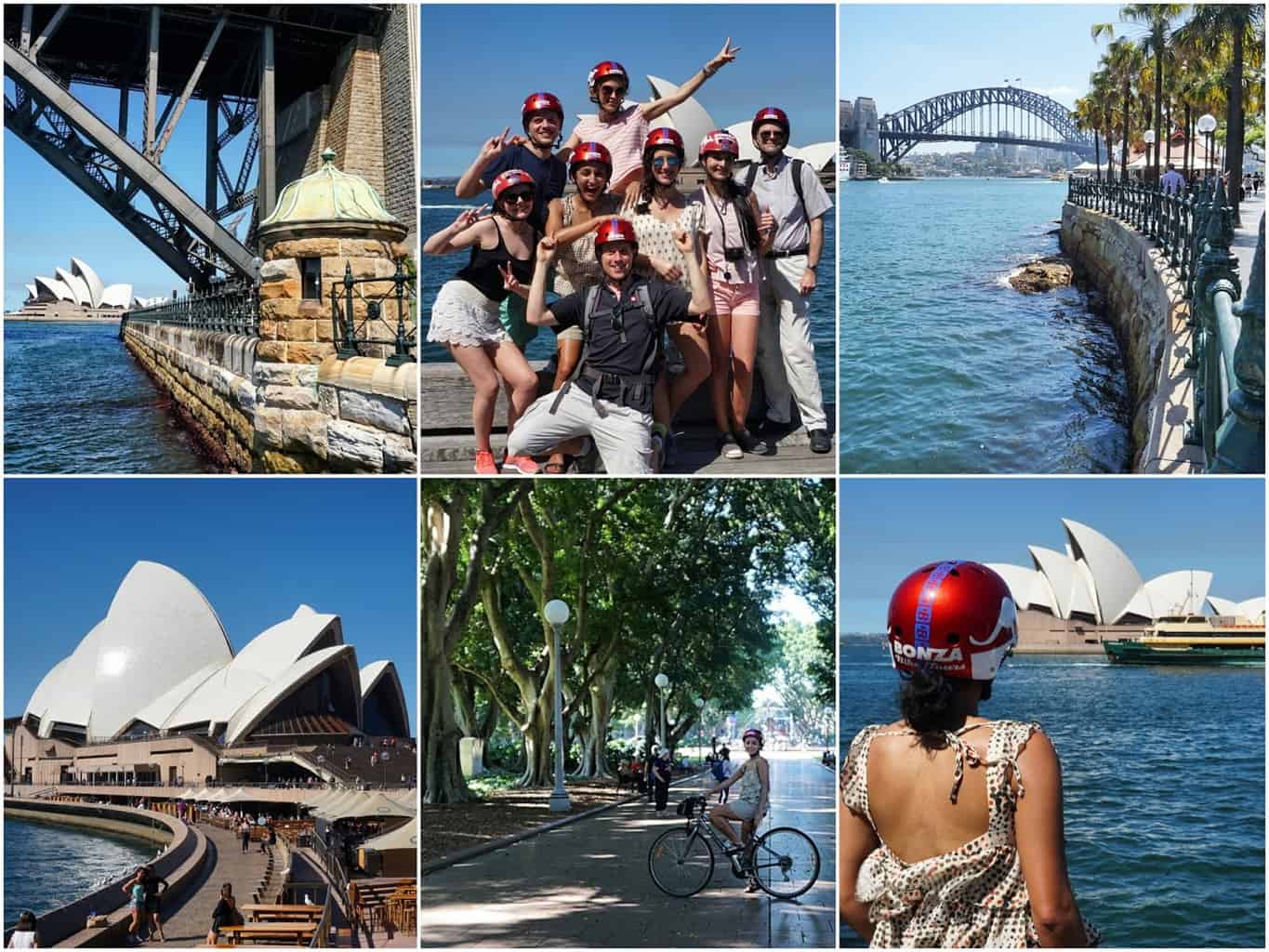 scenes from a fantastic city ride with Bonza Bike Tours
Where to eat in Sydney
North Bondi Fish
This iconic seafood eatery overlooks Bondi Beach and serves up creative dishes in an open space with lanterns and beach front views. Expect patrons to sidle on over from the shore still in their swimmers and with sandy feet, and the likes of rock oysters, daily sashimi, crab sliders, fish tacos, and crispy skin barramundi on the menu.
And don't miss some of their rocking cocktails – their Goji Watermelon Martini did nothing for the jet lag, but it sure tasted good.
North Bondi Fish, 120 Ramsgate Avenue, North Bondi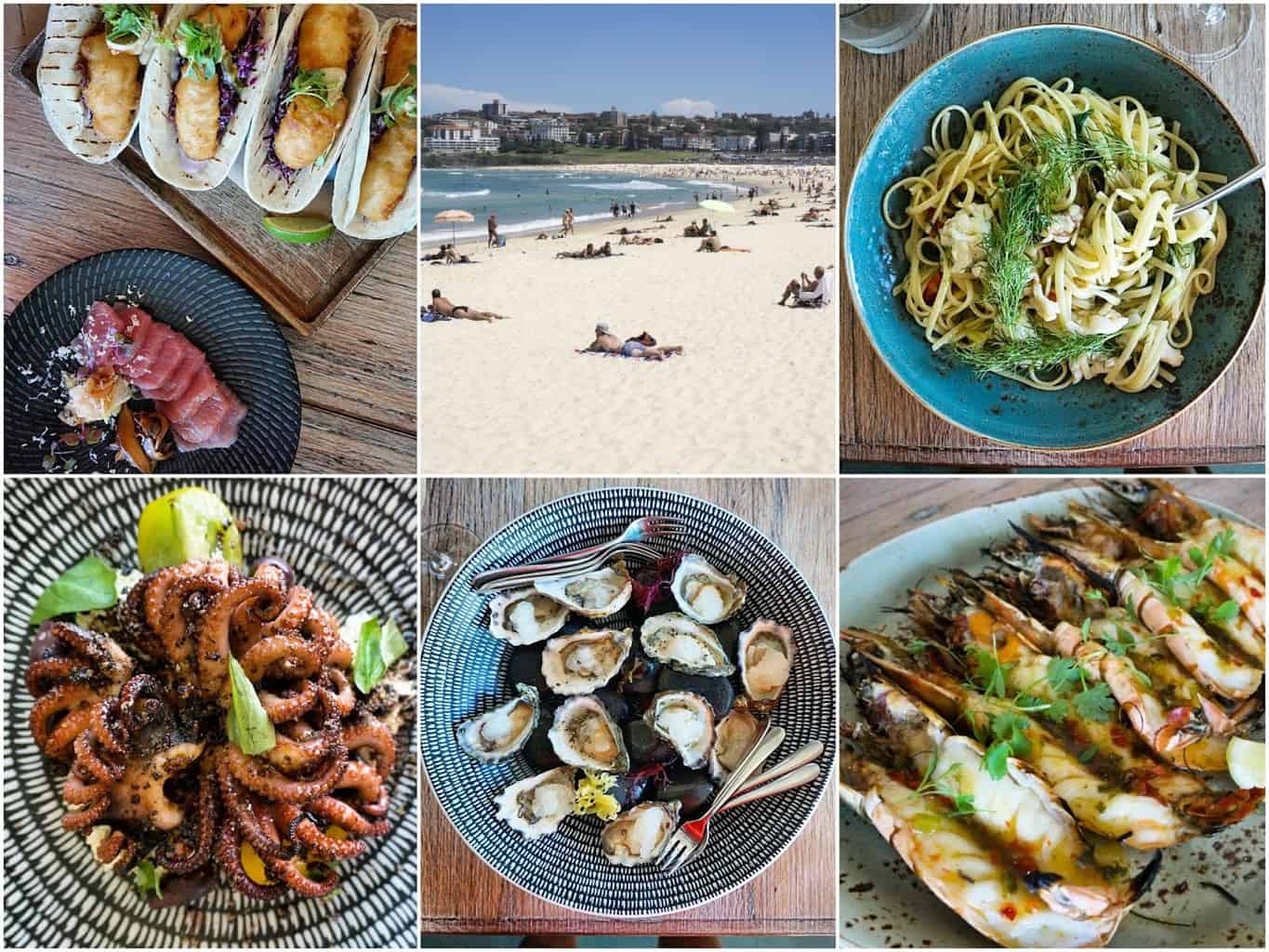 seafood spread at North Bondi Fish on Bondi Beach
360 Bar and Dining
Thought revolving restaurants were a thing of the 90s? Think again. 360 Bar and Dining is a prominent restaurant space in Sydney Tower, boasting one of the city's best vantage points.
It takes about one hour for the room to complete one revolution, and in that time you would have gazed over the entirety of the city's skyline from 275m in the air, surrounded by hand-carved panels and crafted pendant light sculptures.
I very much enjoyed a plate of roasted quail breast with quail egg, beetroot, goat's curd and semolina gnocchi, and an expertly executed rib eye. The peanut butter and chocolate parfait with cherry, cocoa nibs and pate de fruits was a winner too.
It's certainly worth a visit, even if just for a cocktail and nibbles with a sparkly cityscape backdrop at their iridescent golden-shell bar.
360 Bar and Dining, Sydney Westfield Centre (between Pitt and Castlereagh Streets), Sydney NSW
GrazeMCA
This is a gorgeous spot for relaxed al fresco dining, found on the ground floor of the Museum of Contemporary Art Australia. All of the tables are outside and enjoy uninterrupted views over Circular Quay, whilst the menu showcases simply cooked seasonal Australian produce delivered on casual sharing plates. Expect the likes of big salads, dips and sides, za'atar crusted grilled chicken, pan-fried prawns, vegetarian tarts, and lots more.
Kick back with pals, enjoy the fresh and vibrant food, and treat yourself to glass or two from the snappy wine list.
GrazeMCA, Ground Floor, MCA Café, 140 George Street, The Rocks, Sydney NSW
mca.com.au/visit/mca-restaurant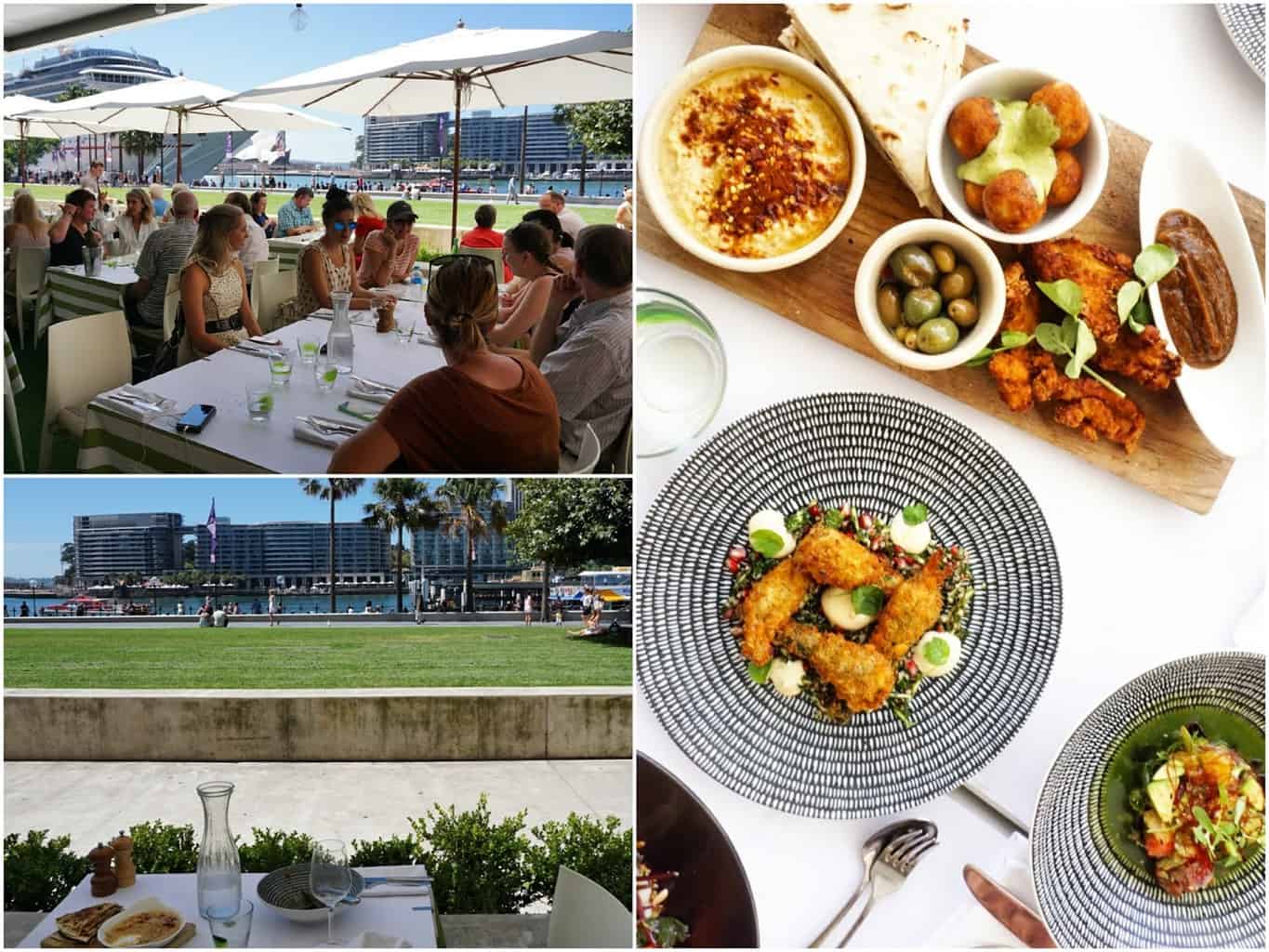 harbour-front setting and great sunshine eating at GrazeMCA, Sydney
The Boathouse Shelly Beach
If the world-famous chilled Aussie sunshine vibes were epitomised in a restaurant, The Boathouse Shelly Beach is surely it.
This spot is tucked away right around the bend from beautiful Manly Beach – it's another great reason to hop on the ferry and head north from Sydney. The venue is open all day for breakfast, lunch and dinner boasting an open kitchen, massive portions of glorious fresh food, and a wood-fired oven for proper seafood and bread treatment.
Just look at my 'bucket of prawns' with what was pretty much a whole loaf of sourdough. So very excellent.

The Boathouse Shelly Beach, 1 Marine Parade, Manly, Sydney NSW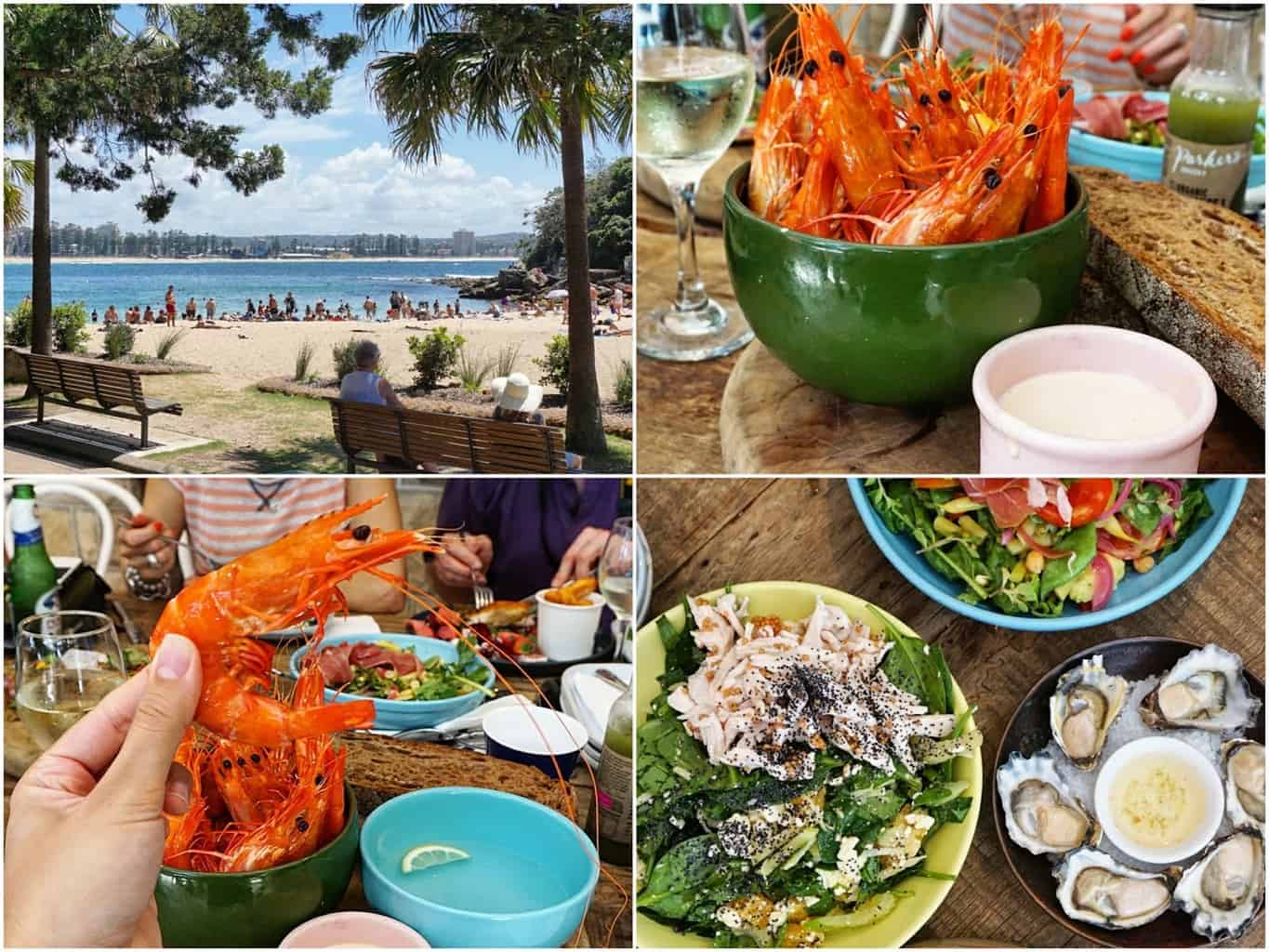 beautiful food and huge portions at The Boathouse Shelly Beach – look at those prawns!
Where to stay in Sydney
I do enjoy Sofitel properties; I experienced much relaxation and respite at Sofitel in Siem Reap and Sofitel in Phnom Penh, both in Cambodia, during my eight month travel stint.
Sofitel Sydney Wentworth is a heritage listed five star offering, slap bang in the middle of the CBD (Central Business District) and a leisurely jaunt to many of the city's major sites. You'll find it opposite the Chifley Tower – it's an ideal spot to very comfortably rest your head and base yourself for the city's excursions.

Sofitel Sydney Wentworth, 61-101 Phillip Street, Sydney NSW
How to spend 5 days in and around Sydney – Part 2
In the second instalment of this Sydney guide, I'll be covering how to spend two days in the area about 80km north west of the city in a slice of eucalyptus paradise known as the Blue Mountains. Stay tuned!

Note: This Sydney trip was hosted by Destination New South Wales and the flights by Qatar Airways. Thank you to everyone involved for a truly wonderful experience, especially Claire and Daisy. You guys were the best. I've been greatly missing Sydney since the moment I left.. All views remain my own, as always.
Related links
AUSTRALIA: How to spend 5 days in and around Sydney (the Blue Mountains) – Part 2
Week 21: AUSTRALIA – Melbourne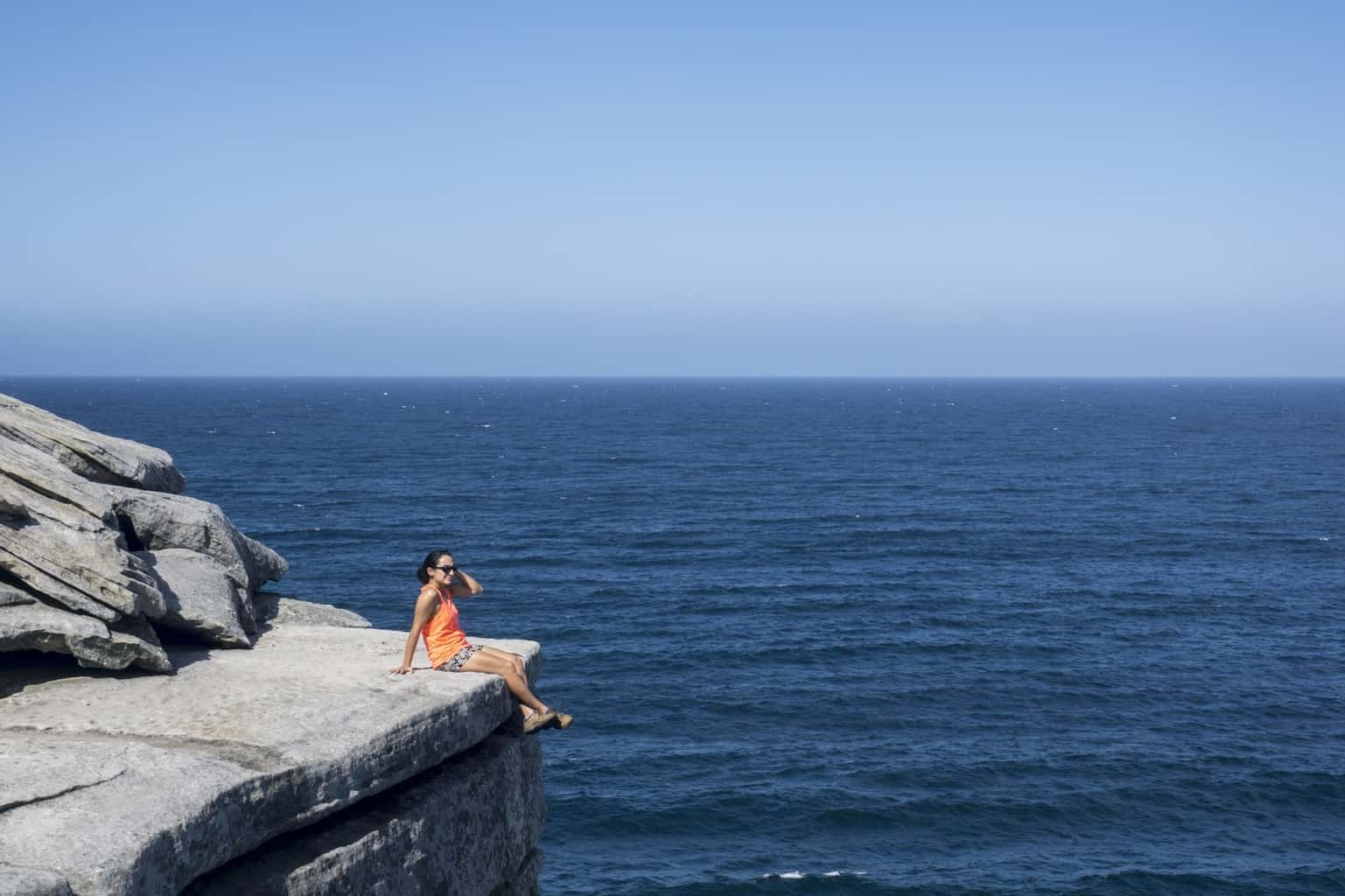 me sitting what was probably too close to the edge of a goddamn cliff. Still, nice shot