Last Updated on September 7, 2017 by Leyla Kazim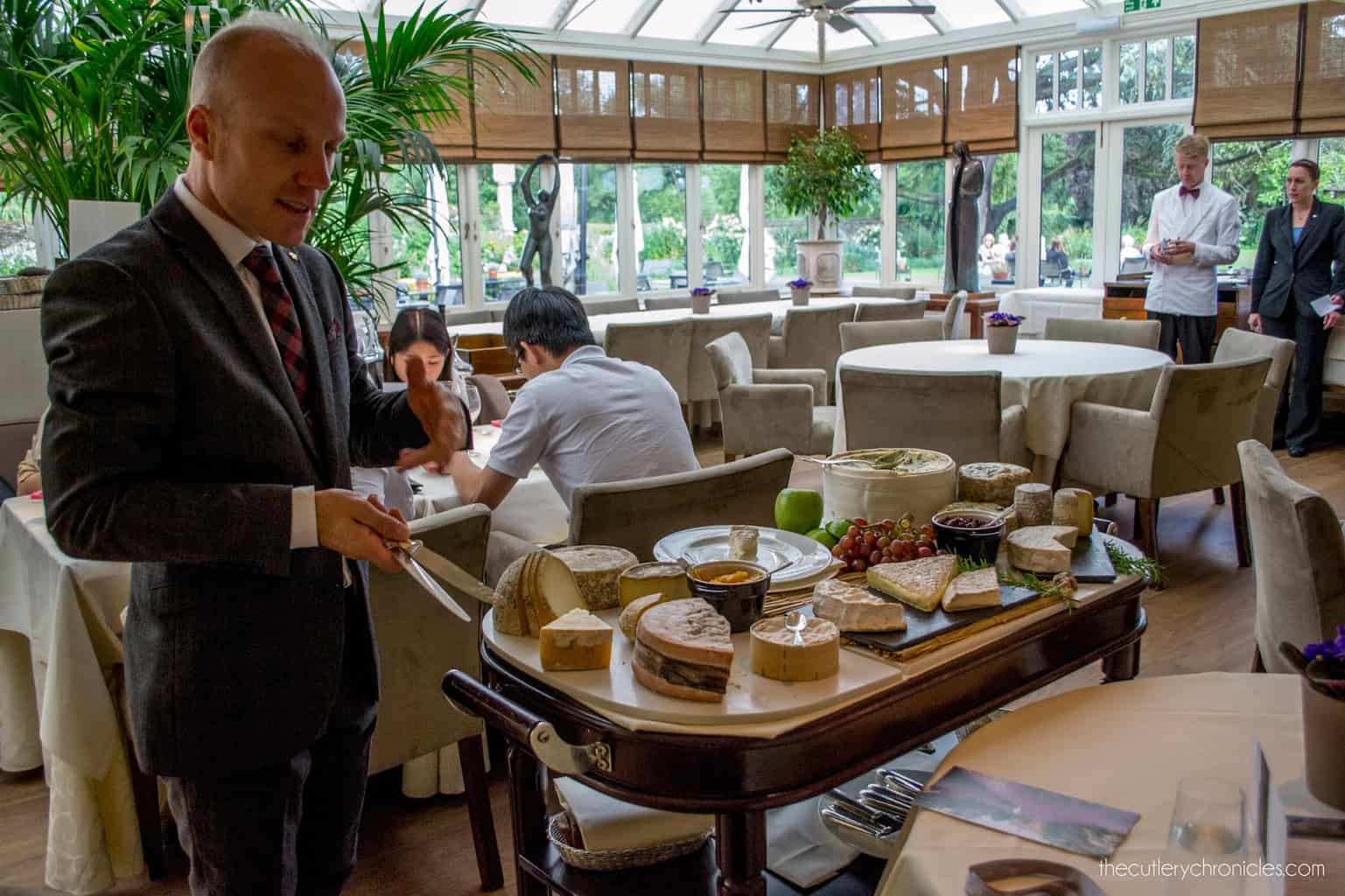 There are some restaurants that need little introduction. In the UK, in my mind, these are The Fat Duck and Le Manoir. Part of the reason for these two is because I've had a glimpse into both of these kitchens through TV shows; a Masterchef episode where contestants got to cook in Bray, and Raymond Blanc's: How to Cook Well respectively, the latter of which I tuned into religiously. There's nothing quite like seeing a restaurant's behind-the-scenes engine room at work to make you want to eat there.
Since long before then, Le Manoir has been high on my restaurant list. I bumped into Blanc himself at London Cocktail Club a while back (he mentored the two barmen who launched it), and experienced first hand his energy and zeal as we chatted about food and cooking over a couple of pisco sours. Granted, the French accent got thicker and more indecipherable as the drinks flowed, but I more than got the jist of what was being said.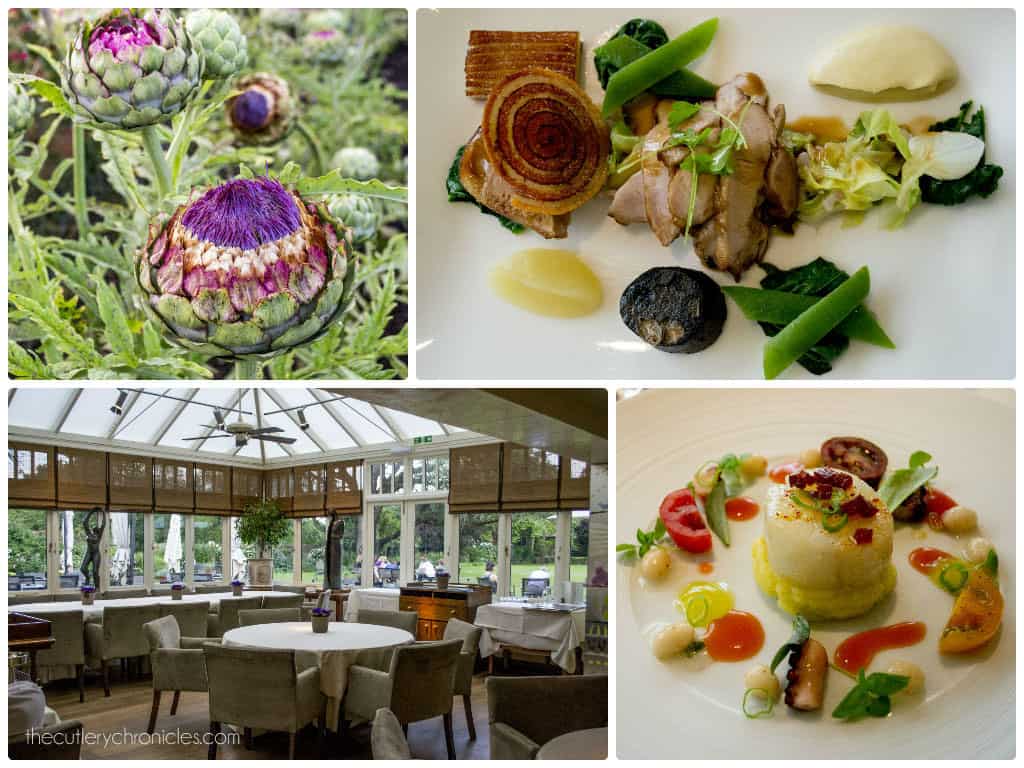 There are two other reasons Le Manoir always stood out for me. One is it's highly commendable longevity; Les Quat'Saisons opened in 1977 and has maintained two Michelin stars for a staggering 29 years – only a handful of other restaurants can boast a similar achievement. The second, which more than appeals to me as a big advocate of growing-your-own, are the vast kitchen gardens. Seventy traditional and exotic herbs call it home, there's a two-acre plot producing over 90 types of vegetables, an orchard with pears, apples and quinces, even whole greenhouses dedicated to micro herbs. It's top-shelf allotment pornography of the highest caliber.
Le Manoir is as grand and stately as you expect it to be. A handsome and stylish manor that despite its size, manages to feel comfortable and familiar. What's particularly pleasing about the whole experience – the building, food, service and atmosphere – is that it's not at all stuffy. Despite its formidable reputation, and the level of dining you experience (with the prices to match), the haughty air you might expect with that is not present at all, which is great.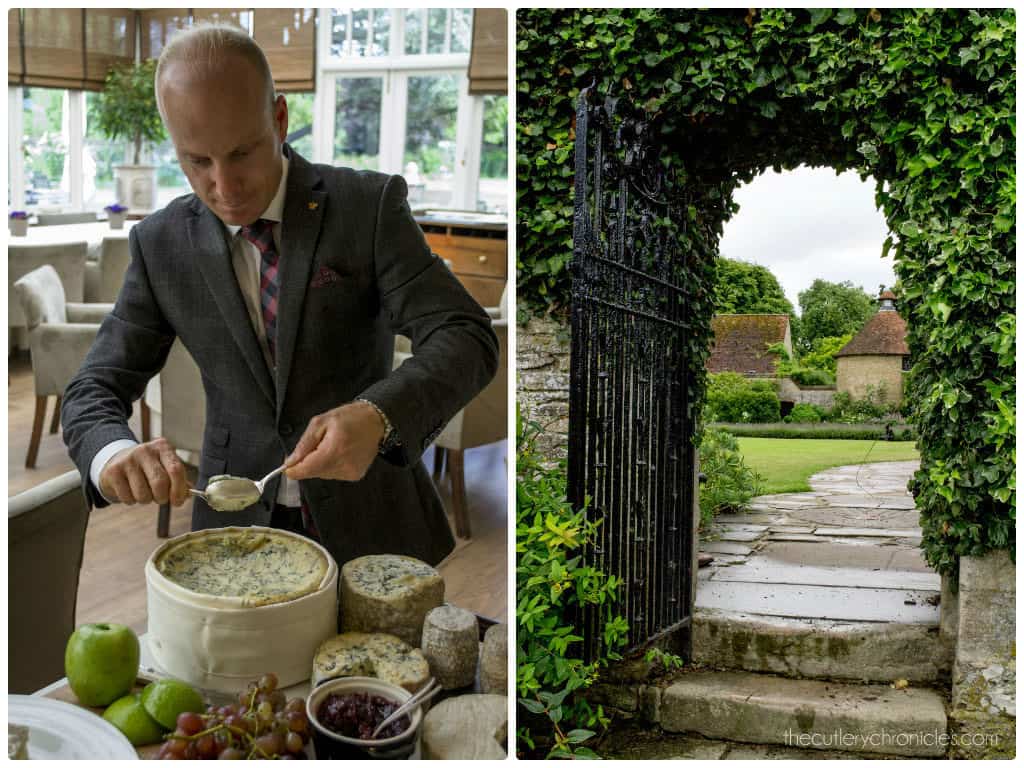 Everyone is relaxed and at ease, with the babble of convivial chatter and laughter coming from all the tables. You'll even find (well behaved) children amongst the guests, who are welcomed with their own menu rather than shunned. Diners are well turned out but not to the point of jackets and pearls. The room we were seated in – I believe a newer extension in the expansion a while back – was like a very smartly furnished conservatory with walls and ceilings of glass letting in lots of light and creating space.
Service is impeccable, nay, faultless. Just the right amount of attention whilst remaining mostly invisible. There is a copy of the days menu on your table in order to negate the need for those lengthy descriptions of every course on delivery, if you don't want it. I quite like that though, so allowed them to indulge me.
There's a lot of 'madame et monsieur' which is all fine, lay it on as thick as you like. And you don't order at the table, you decide what you want to eat in the foyer as you peruse over the menu with your hors d'oeuvres and a glass of champagne if you're feeling extravagant. So once you're seated, service is a series of flowing movements by the staff with little to no questioning or interruption.
I quietly sneezed at one point. Before I could reach into my handbag for a tissue, an outstretched arm with a box of them at the end of it appeared from the side of me. Exactly what I needed the moment I needed it – I was duly impressed.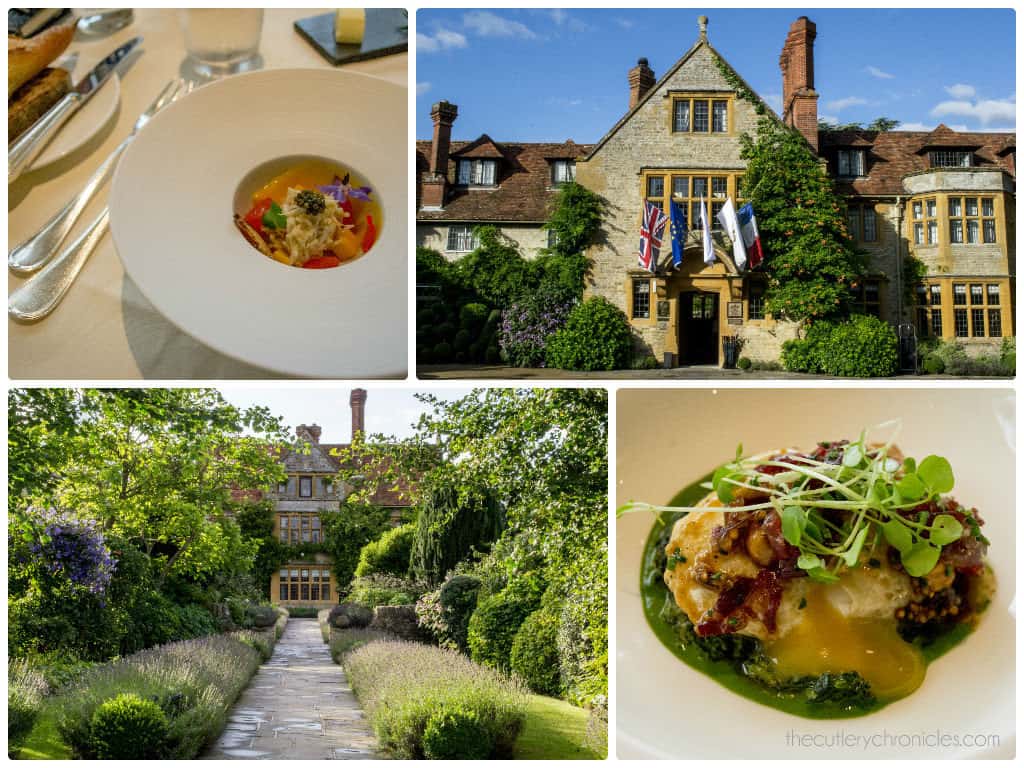 The food was very good and in terms of value, the only real option is the seven course tasting menu. There was a little salad of Devonshire crab with grapefruit, mango and celery, then a confit of cod cooked to the exact point it just turns opaque, with limpid globules of pale green olive oil jelly sliding intact across the plate, the very youngest of basil leaves, firm white cocoa beans, smoky potatoes and tiny cubes of salty chorizo.
A take on green eggs had a spinach and watercress puree, the crunch of hazelnuts and crisped-up posh Spanish ham – that was very good. Then a picture perfect plate of different parts of a piglet – shoulder, succulent slices of leg, sensational black pudding, a Catherine Wheel spiral of crisp bacon (but without the sparks), and a neat cube of scored and browned belly. With it, cabbage, spinach, green beans, apple and onion pureé – a plate full of oink and joy.
Then there was a Comté served at three stages of maturation, 12, 24 and 36 months. A gradual increase in tang and crystallised saltiness, served with a complimentary glass of Vin Jaune 2006 (for those of you who can't recall your GCSE French, that's 'yellow wine'), like a dry Fino sherry. The whole course was entirely typical of Blanc's native region in the east of France, I loved it.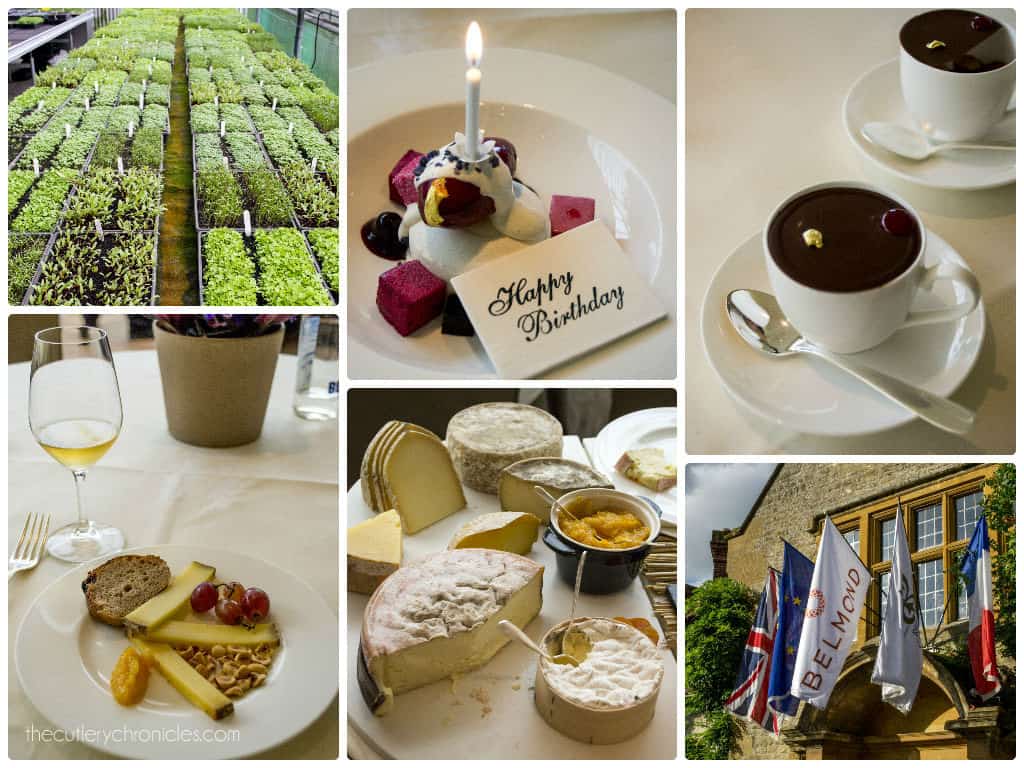 Dessert began as an espresso cup housing a mousse with tart soft raspberries and cubes of what was a sort of spongy coconut meringue, the latter of which had little flavour or point. But it was topped with a kimono silk thin disk of chocolate with a speck of gold leaf which was fun to break through with the spoon. It ended with a sensational and intensely tart blackberry sorbet with disintegrating meringue, and a violet mousseux. Oh, and a birthday candle. A triumphant plate.
My partner swapped the final course in exchange for the cheese platter (for a charge of £15), and so we revelled in the theatre of one of the most handsome cheese trolleys I've seen wheeled out to us, the glorious honk of all that sweating dairy assaulting our noses before it made it round the corner. The cheese man (pardon me for not knowing the correct term for this member of staff – I'm sure there is one), was great and full of love for this magnificent spread.
What you need to know is that the portion is huge – he will put a lot of cheese onto your plate. There's even a tub of Stilton from which quenelles of the stuff are scraped up and shaped for your pleasure. I asked him to write down the ones we had, so as to identify them and purchase next time I'm at a posh cheese counter. For your knowledge too, they were: Blue – Colston Basset Stilton and Fourme d'Ambert; goat – Charolais and Sharpham Cremet; soft and ripened – Coulommiers; washed rind – Moelleux du Revard; hard – tommette de Savoie. We couldn't finish it between the two of us, but what we did manage was nothing short of sublime.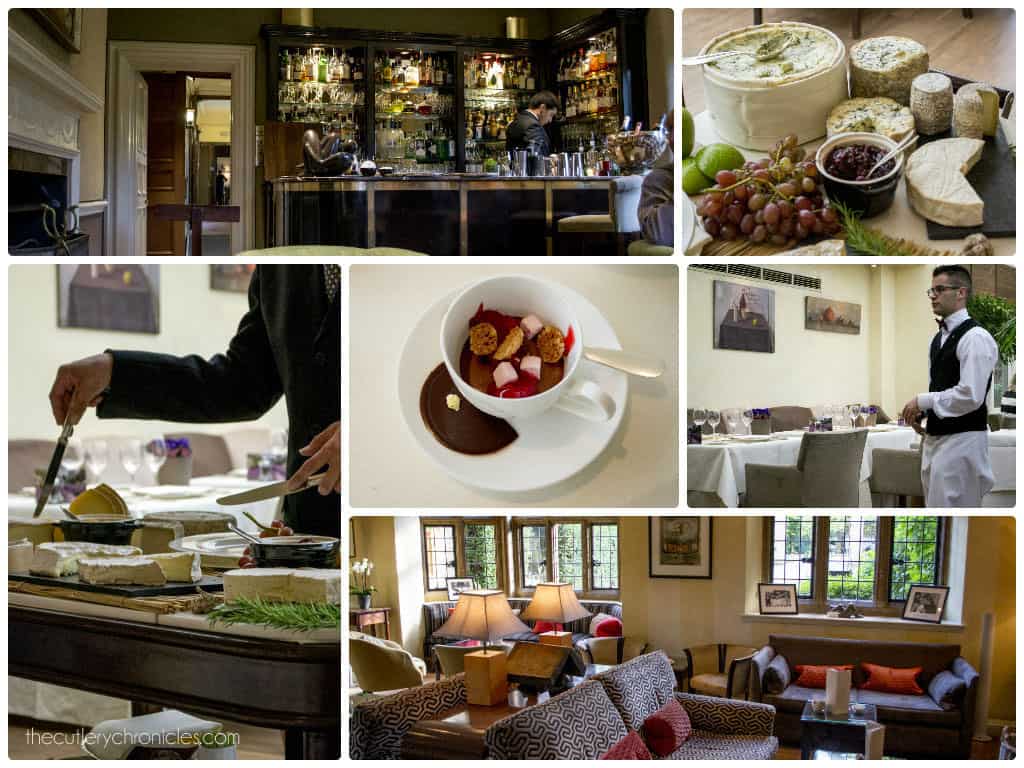 It was at this point we walked about the estate before retiring to the lounge for coffee. We were at Le Manoir for a total of five hours and it was a glorious, languorous, lavish lunch.
My one point, and there really is only one, is that it is expensive. It's in fact one of the most expensive restaurants in the UK, particularly when dining from the a la carte, with starters coming in at a hefty £40. The seven course tasting menu was £125. Add to that wine and coffee, and the bill soon mounts up.
The focus of Le Manoir is on seasonality, expertly executed dishes, impeccable service and glorious surroundings. There are restaurants in London that can tick at least three of those four criteria with some confidence, and do so at a more agreeable price point. Whilst the food was all very good, it didn't feel overly innovative or 'current' for use of a better term, something you might associate with such price tags. What it does do are classic dishes that aren't too complicated, very well. And there's certainly nothing wrong with that.
What's particularly unusual, is they do not add service to the bill; Blanc's note on the menu states they don't want diners to feel as though they need to leave anything, but they can if they wish. I'm almost certain most do, and I do wonder if prices are a little inflated to compensate for this.
Yes, you will pay handsomely for this dream ticket for out-of-town extravagance, as it remains the blueprint for the perfect luxury restaurant. I'm pleased I've ticked it off my bucket list, and I enjoyed the whole day immensely, but the price point will probably prevent me from passing through those grand gates again.
Liked lots: it's all rather faultless really; they give those active with them on Twitter a gift of a cookery book which is a nice touch
Likes less: it is pricey
Good for: very special occasions; experiencing cooking from a kitchen that has remained consistently excellent for years; a good reason to get out of London for the day
My rating: 4.5/5
Afiyet olsun.