Last Updated on November 17, 2022 by Leyla Kazim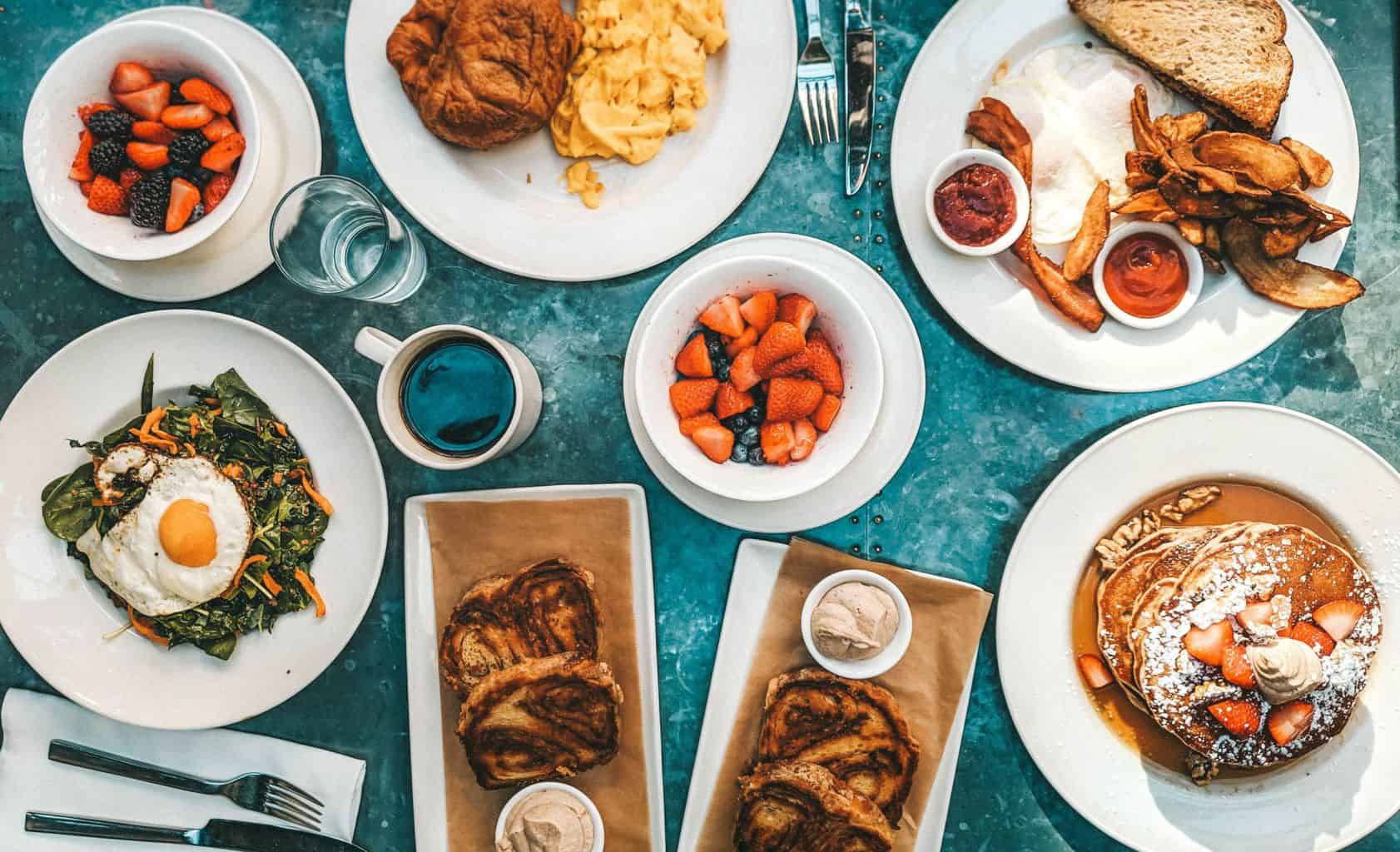 How To Spend 24 Hours In The Best Tampa Bay Restaurants
Here's something you may not have known about Tampa Bay in Florida. It has a cracking restaurant scene. Like, really. Tampa Bay restaurants are home to some of the USA's most talented chefs and storied food traditions. And the rest of the world is really starting to take notice.
Tampa Bay restaurants are flourishing hotbeds of culinary talent
Many of the places to eat in Tampa hold trophy cases full of awards and mentions in national and international media. Not to mention the fact that Tampa Bay is home to one of the largest wine collections in the world (more on that below).
Plus, this is also the place where the world famous Cuban sandwich was invented – take a look at my last post 4 of the best Cuban sandwiches in Tampa Bay for more on that.
Note: I've also done some pretty great eating during other travels around Florida. You might want to take a look at my top 10 places to eat in downtown St Pete. And if you're destined for Florida's best beaches, here are my suggestions for 10 great places to eat on Florida's Emerald Coast.
How to spend 24 hours in the best Tampa Bay restaurants
In this blog post I'll share a 24 hour itinerary that will you have visiting some of the best places to eat in Tampa.
From early morning breakfast right through to late night cocktails, this is a great little guide to hit up the really good restaurants in Tampa.
I say 24 hours. Let's call it 18 hours if we're being specific. Assuming you have the stamina to go for breakfast as soon as stop 1 it opens at 7am, and plough on through to last drinks orders at stop 6 at 1am.
Go big or go home – am I right?
If you'd like to watch a video of my time in Tampa Bay, including visits to all the places listed in this blog post, hit play on the video below.
In it I cover the awesome things I ate, saw and did in this super cool part of Florida.
Stop 1 | 7am: Breakfast at Goody Goody, one of the favourite Hyde Park Tampa restaurants
These guys don't shy away from a decadent breakfast, and it hasn't gone unnoticed.
Goody Goody's aptly named Hangover – think fries, cheddar, green onion, sausage gravy, two eggs and a freshly baked biscuit — has been named the best in Florida by southern USA lifestyle magazine, Southern Living.
This iconic Tampa brand specialises in all-day breakfast as well as burgers, sandwiches and pies.
The original Goody Goody opened in the 1920s then closed its last location in 2005. Tampa restaurateur Richard Gonzmart – president of Columbia Restaurant* Group – swooped in to reinvent the brand and launched the present day slick old school diner setup, now one of the most loved Hyde Park Tampa restaurants.
Don't miss their enormous 12 inch buttermilk pancakes or their Slinger, where two burger patties are served with home fries, cheddar, jalapeno and eggs.
Burgers for breakfast? Why the heck not.
*Do also visit Columbia Restaurant for their Cuban sandwich and legendary "1905 Salad"
Skip straight to the gargantuan pancakes at Goody Goody in the video here. My other half ordered two!
goodygoodyburgers.com
1601 W Swann Ave, Tampa, FL 33606
Stop 2 | 12pm: Lunch at the stunning Oxford Exchange
The Oxford Exchange is big and impressive and most certainly one of the most beautiful places to eat in Tampa.
It's part restaurant, part coffee bar, part wood-panelled book shop, part co-working and events space. And as a Londoner, I love that it takes inspiration from the venerable Wolseley in London.
It's very much a daytime affair, with The Restaurant serving weekday breakfast and lunch, weekend brunch and afternoon tea. I can't really resist eggs at any hour and dining beneath sculptural palm fronds in their greenhouse atrium is really a very good way to "do" lunch.
Oxford Exchange was originally built as a stable in 1891 so has real history to it. The re-imagined space it is today is one you could very easily while away the afternoon hours, straight through to dinner.
I'd advise interjecting with the occasional locally roasted coffee from Buddy Brew and a pastry.
That, or go for a Cuban sandwich – see next stop.
Skip straight to the gorgeous setting of the Oxford Exchange in the video here. Such a great spot for locally roasted coffee too.
oxfordexchange.com
420 W. Kennedy Blvd. Tampa, Fl 33606
Stop 3 | 4pm: Afternoon Cuban sandwich snack from a choice of Tampa Bay restaurants
Sure, you've eaten quite a lot today already. But I reckon you might be in need of an afternoon pick-me-up by roughly this point, and who could blame you.
I'd suggest directing hunger pangs towards any one of these 4 awesome Cuban sandwiches in Tampa Bay.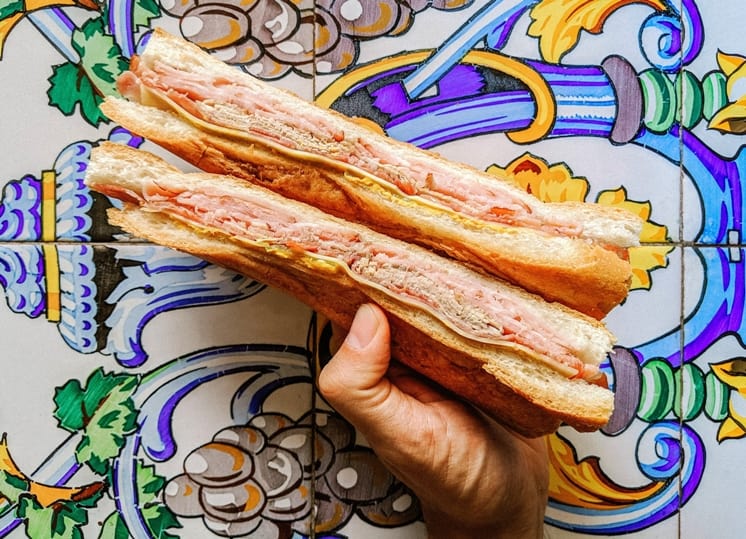 Stop 4 | 7pm: Tasting Menu at Rooster & The Till, the #1 Tampa Bay restaurant
I had all the feels for this place. For its inventive, progressive and creative food. And for the team.
Don't be misguided by Rooster & The Till's unassuming facade in Seminole Heights.
Behind it is one of Tampa Bay's most ambitious farm-to-table restaurants, with culinary maestros Ferrell Alvarez and Ty Rodriguez at the helm.
It has, very understandably, become one of the most popular places to eat in Tampa. The team here is a brilliant example of chef-driven creativity, specialising in shared and small plates that use every element of fresh and local ingredients.
It really felt like the kind of hot spot I'd happily queue for in London.
The beautifully plated food at Rooster & The Till is winning awards left, right and centre. Including Number 1 Restaurant in Tampa Bay two years in a row.
Ask for a seat at the bar so you can watch the chefs conjuring their masterpieces. And go for the always evolving tasting menu with wine pairings. A spot at the bar is also a superb option if you're dining solo.
Skip straight to the fantastic cooking that can be found at Rooster & The Till in the video here. That's roasted plantain skins going into that milk.
roosterandthetill.com
6500 N Florida Ave, Tampa, FL 33604
Stop 5 | 9.30pm: Dessert at the Harry Waugh Dessert Room, above one of the most legendary SoHo Tampa restaurants
OK, so at some point you should absolutely experience the full on steak works at Bern's Steak House. And it really is full on.
After all, it is known across the land for its beautiful beef and its mind-boggling wine cellar. Which happens to be one of the largest private wine collections in the world, with over 600,000 bottles… And a cellar and kitchen tours are available for all dinner customers – be sure to take them up.
But the Harry Waugh Dessert Room upstairs to the steak house is so legendary in its own right, that people visit for a sweet treat alone.
It's got to be one of the most decadent dessert enclaves on the planet, a warren of wine barrels serving over 1000 desserts and spirits.
It's the kind of place you can watch the dazzling blue flames from a Baked Alaska whilst listening to a pianist. Who will happily take requests via the phone in your dessert booth, by the way.
Desserts of note include the Cheescake Gert (named after Bern's wife, Gertrude), the King Midas – a carrot cake served with the macadamia nut ice cream and hot fudge – and the Framboise Macadamia Decadence.
Just don't expect to take any snaps of your post-dinner indulgence because the lighting in there is more red than a bloodstained ruby. Instead, bask in the experience and give your phone the evening off.
Skip straight to the full on experience that is dining at Bern's Steak House in the video here. Go hungry!
bernssteakhouse.com
1208 S Howard Ave, Tampa, FL 33606
Stop 6 | 10.30pm: Late night cocktails at The Edge rooftop bar, opposite one of the most legendary SoHo Tampa restaurants
How's this for an ideal late night Tampa Bay situation.
Dessert above Bern's Steak House. Then saunter across the road for cocktails at edgy rooftop bar The Edge, in the boutique The Epicurean Hotel. Then head down just a couple of floors to merrily pass out on your superemely comfortable bed.
I suggest both drinks at The Edge, mingling under a clear night sky. And actually staying at The Epicurean.
It's designed specifically for food nuts like me.
For the very fact that it's situated directly opposite Bern's, has a great restaurant of its own called Élevage, and even has its own wine shop. You get handed a glass of vino at check-in and there's a really very good meat and cheese board in your room on arrival.
The Edge makes crafted cocktails using fresh fruits, herbs and spices. They have a concise and delicious wine list, beers from craft microbreweries and four rotating tap handles. And on Fridays and Saturdays it's open until 1am – night cap sorted.
Skip straight to the tour of The Epicurean hotel in the video here. Be sure to pop into their wine shop.
epicureanhotel.com
1207 S Howard Ave, Tampa, FL 33606
Would you add any other awesome places to eat in Tampa to this list? What are your favourite Tampa Bay restaurants? Ever been to any of the Hyde Park Tampa restaurants? Or the SoHo Tampa restaurants? Which places do you think are the lesser known really good restaurants in Tampa? Let me know in the comments below!
This is a sponsored post in collaboration with visitflorida.com. All opinions and images remain my own, as always.
Don't forget to subscribe to my YouTube channel!
Hungry for more from Florida and the USA?