Last Updated on June 17, 2020 by Leyla Kazim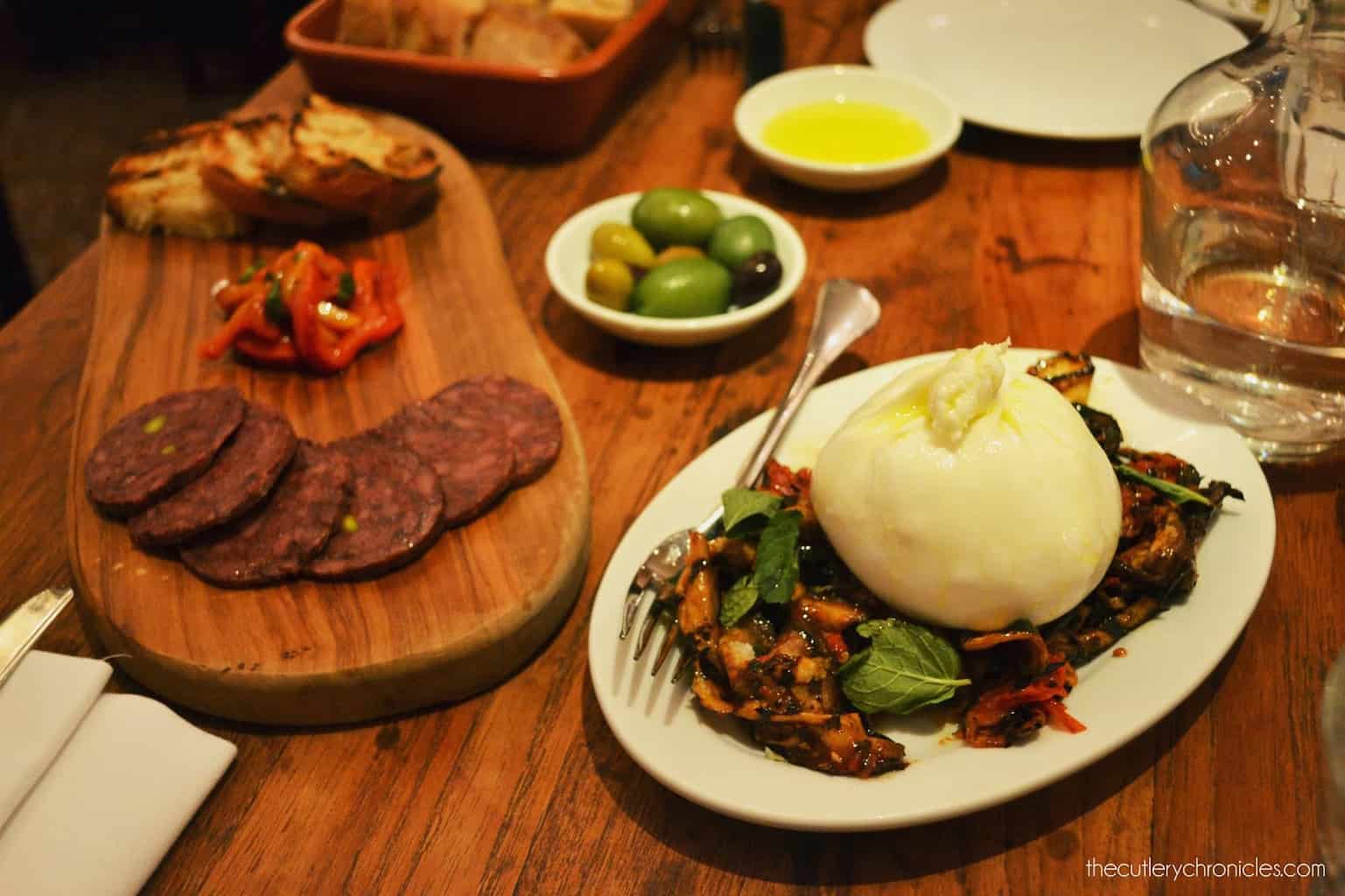 'Ah yes! You must have the sanguinaccio. I'll give it to you to try and if you don't like it that's fine. Please, follow me'.
Not the usual response I get after giving my reservation details in a restaurant. Have I already met this lady? Has she confused me with someone? The sang-which-one-now?
The context of the situation made itself apparent in the short walk to the table; the previous conversation the welcome hinted towards had taken place over Twitter a few weeks back.
Someone had mentioned their dislike for blood-based dishes. I said something along the lines of, 'What about the pig's blood and chocolate pâté at Bocca di Lupo – I love blood sausages but I'm not sure I could have it as a dessert' (I'd read about the dish in Jay Rayner's review). The restaurant Twitter account challenged me to try it one day when I visit. It turns out they monitored this and held me to it; I was seated whilst smirking over an impressive example of customer engagement.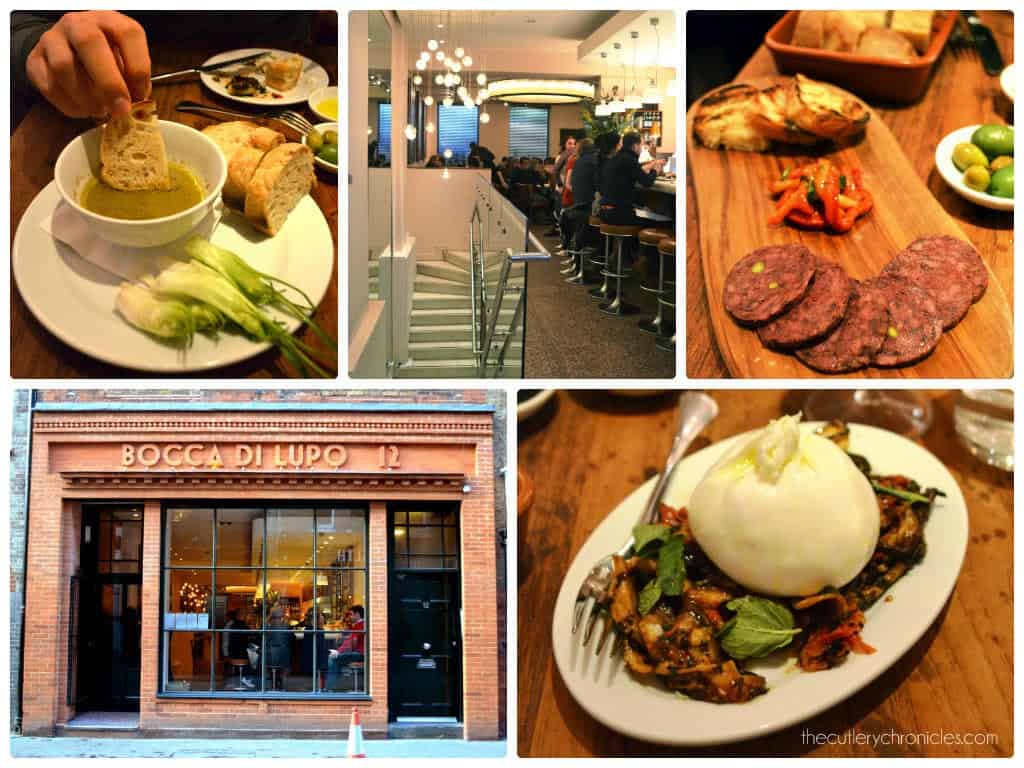 Bocca di lupo ("the mouth of the wolf") is a spruced-up Soho trattoria, more stylish and better dressed than one would usually associate with an informal Italian dining experience. It's too easygoing and friendly to call itself a high-end ristorante, but it certainly looks the part with a front half dominated by an impressive marble bar overlooking an open kitchen for off-the-cuff grazing and home to a busy prosciutto slicer, and the rear occupied by tables and statuesque paintings with the feel of a living room in a stately home.
Established in 2008, it could easily be regarded as a senior representative of the Soho dining scene when compared to the unending list of recent openings within the area. Victor Hugo (what a name) and Head Chef Jacob Kennedy (formerly at Moro) present an almost daily-changing menu of honest and uncomplicated regional Italian cuisine, the sort of food you would like to think your mamma would make if she was Italian. Where they can make ingredients themselves, they do – pasta, gelati, breads, sausages, salame, pickles.
The really clever thing here is the option for tapas-sized or larger portions for almost every offering on the menu. They have recognised many diners prefer to sample a range of dishes rather than being confined to the traditional three that fill a standard meal, perhaps accompanied by a clandestine dip of the fork into your companions plate to try a fourth. It's a great format that allows for free-wheeling ordering, 'we'll start with those and see how we go'.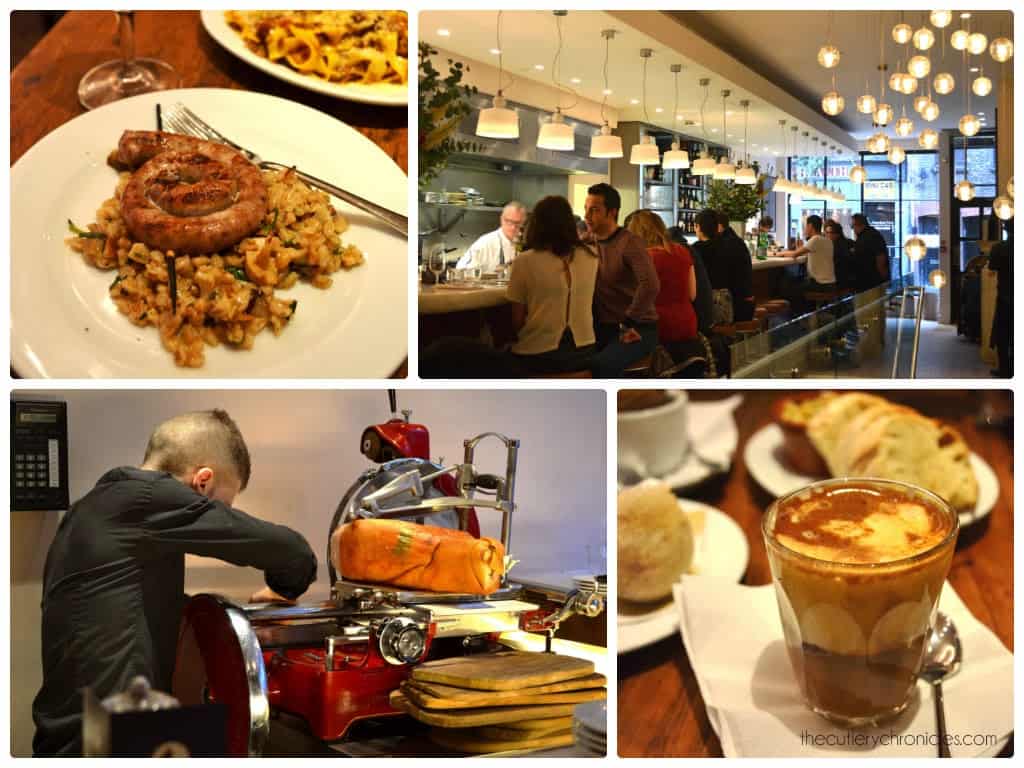 It's also a restaurant that has an anchovy menu – a side menu of anchovies every which way you could want. Believe it or not, these critters are in the top ten most hated foods of the nation and to these people who don't care for them I say, tu sei pazzo! I can't get enough. The bagna caoda was a very agreeable warm and salty bath of blitzed up fish, garlic and fruity olive oil served with bread and bitter puntarelle, a type of chicory trying to look like asparagus, and a new one for me.
More anchovy sandwiched between large sage leaves, lightly battered and deep fried were both substantial and excellent, like biting into a crisp and savoury ham toastie. A great big dome of creamy burrata (and this was the small portion) with it's gorgeous fat and milky backside sitting atop a bed of oily roasted vegetables was about as good and soft as fresh burrata can be. Slices of buristo blood sausage made in-house with flecks of vibrant green pistachio was subtle and delicate and served with grilled red peppers.
The long and curled sausage (luganega) of foie gras with its well balanced and powerful but not overwhelming flavour had a touch of sweetness, accompanied by farro with bite and earthy porcini. The venison ragu tagliatelle was pleasing but the sauce could have been richer – I still cleared it.
Caffè alla nocciola read very much like a cà phê trung, a Vietnamese coffee made with condensed milk and egg yolk I had recently seen on television – this Italian version with just coffee, yolk and hazelnut. Like aerated and frothed up Nutella with a shot of strong espresso, there is little about it not to love.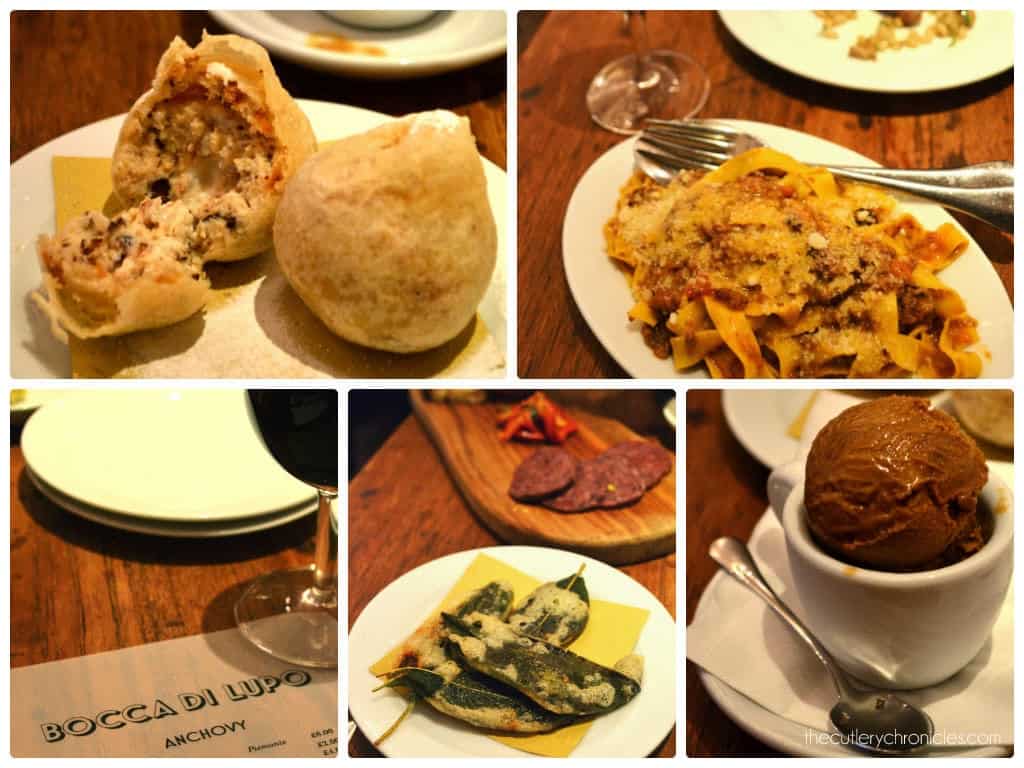 The milk-free espresso gelato (made across the road in Gelupo along with the rest of the frozen desserts) is the result of the chef putting a batch of caffè allo zabaione (coffee with just the egg yolk – also on the menu as a beverage) into an ice cream machine; the end product an intense hit of frozen voluptuous coffee. It made best friends with the light and delicate 'Grandpa's balls' of deep-fried ricotta and chocolate.
And the pig's blood and chocolate pâté? It was fine. Actually, good. It's really just set chocolate spread with a slightly grainy texture and a detectable layer of unfamiliar flavour that would be hard to identify if you weren't informed.
Our waitress was utterly charming. The table next to us was the only to remain empty for most of our visit – it was reserved and waiting for a WWII veteran who visits every Saturday lunchtime without fail. Frail but smartly turned out, he revelled in her attention as she seated herself next to him on the leather banquette to take his order. They didn't charge him for dessert, rightly so.
This lady also informed us about a recent visit by Alan Carr who had the 'Grandpa's balls'; when she asked how they were he replied with 'melting in my mouth like usual darling'. Good waitress banter – I really should have noted her name.
With a frequently changing menu full of things I want to eat, a sprightly atmosphere, wonderful service and the opportunity to pop-in unannounced and prop up the bar with a small dish or three, I suspect it's not the last they've seen of me.
Liked lots: the homely food, the menu format, an anchovy menu, ingredients made in-house, excellent service, Jacob also opened Gelupo across the road that provides all the frozen desserts and is widely regarded as the best gelato experience in town
Liked less: the paintings at the back aren't my cup of tea, but who the hell cares
Good for: spontaneous dining plans at the chef's counter, welcoming service, social media interaction, getting to know the staff
My rating: 4/5


Find the menu on Zomato.


Afiyet olsun.