Last Updated on June 10, 2020 by Leyla Kazim
We've done a pretty good job clinging onto the last of summer this year. And by we, I mean the great British weather.
I write this on Sunday 28th September, a mere three days from the month of October. It's almost Halloween (which means it's practically Christmas) and today I not only dared to leave the house without a jacket, but also without sleeves. Thorpe Parked reached a sizzling 26C (LOG FUME!), and tourists dressed for England's brisk autumnal weather could be found slowly melting in jumpers and boots across the city.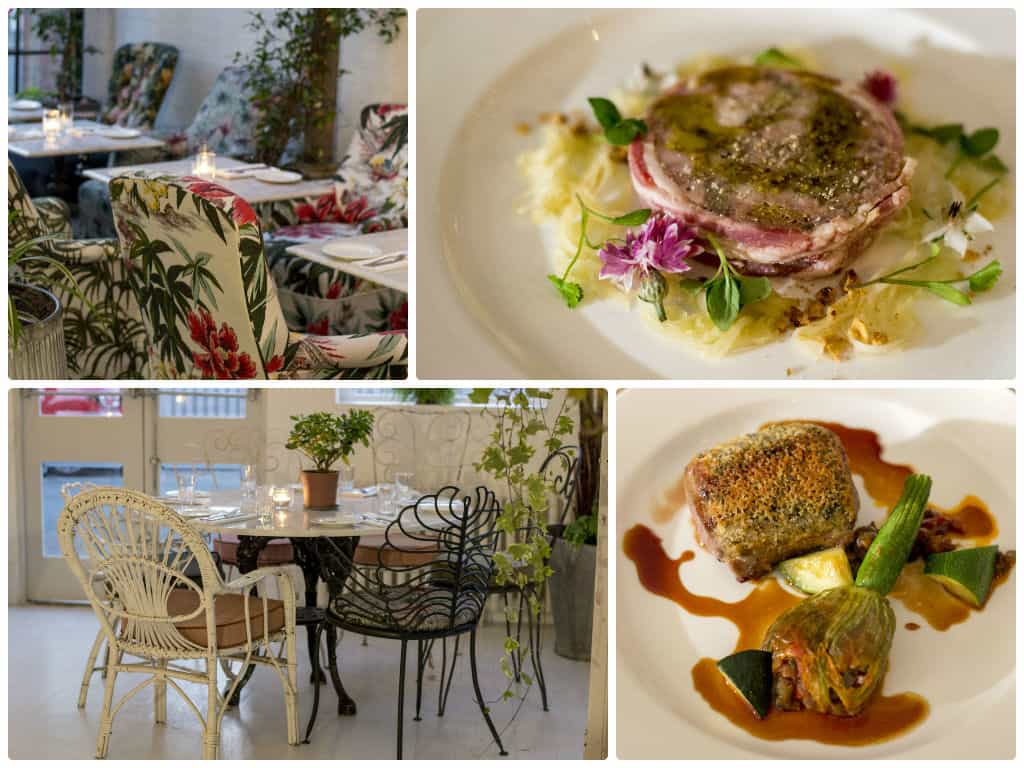 New all day brasserie Bourne & Hollingsworth Buildings in Clerkenwell is attempting its own last hurrah for summer with its choice of interiors. Or at least, half of it. Described as having the 'faded grandeur of a stately home', the design is more of an odd marriage between two quite different halves; one with a becoming and moodily-lit cocktail bar complete with piano, low tables and a lot of suede sofas to recline and sup tipples upon, and one labelled the greenhouse.
The latter is where we were seated for dinner. It's a cross between a John Lewis living room display and the set for a summer garden party. There are soft furnishings upholstered in bold floral prints, salvaged and weathered white iron and cane garden furniture, and ferns and ivy creeping around the fireplace and out of hanging baskets, all in an entirely closed space.
It's a nice idea. But I can't help but think that if it was indeed a glorious summer's day, I'd rather be seated in the real outdoors. And if it was a blustering winter's day, I'd prefer to hunker down with a toddy out the front rather than sit in a pretend garden, without the grass. I didn't dislike the greenhouse theme, I'm just unsure as to its point. We moved to the other half for post-dinner cocktails; I preferred it.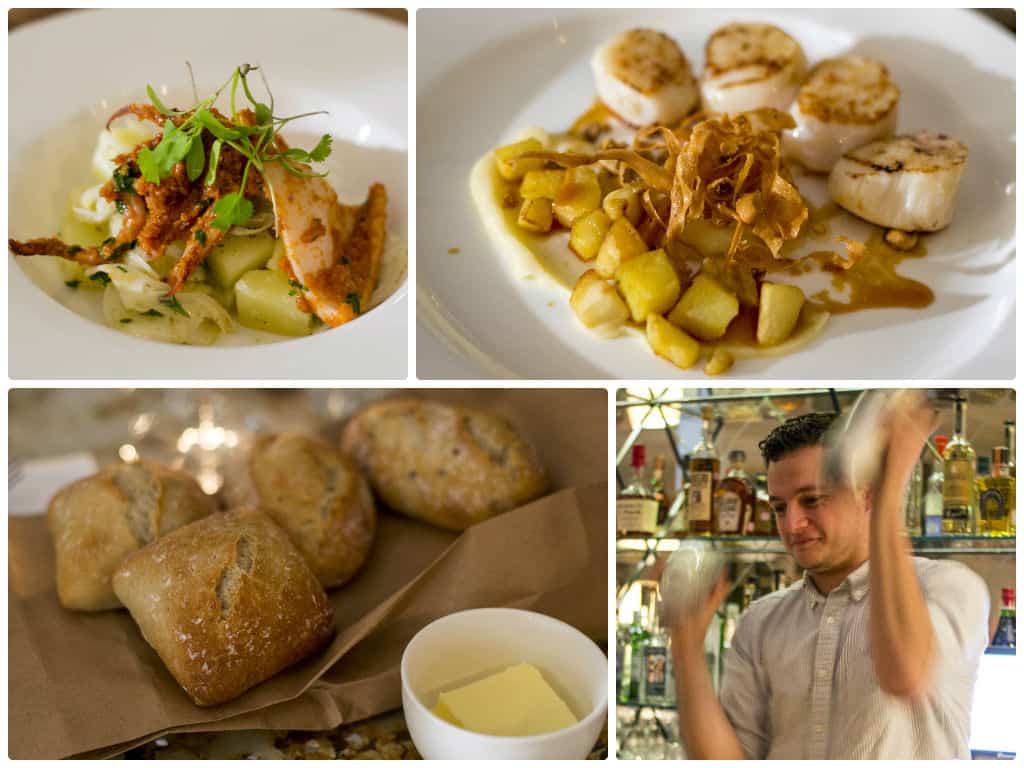 The kitchen is commandeered by Head Chef Alex Visciano, with a CV that includes stints at two Michelin-starred Michel Rostang in France and Sous Chef at the Connaught. The things coming from it were mostly agreeable, bar a couple of initial wrong foots.
Bread (very standard, at that) was served in a brown paper bag. Now, I know Duck & Waffle deliver their pigs ears in a brown paper bag, but that bag has a fun faux-wax seal of the restaurant's logo on it. That bag also provides a medium via which the ears can flirt with you – with speckles of inviting piggy fat seeping through the paper – before you even see them. When the bag reaches the table, you instantly know you want in your mouth whatever is inside. There is a point to this bag.
There is no point to the bog-standard, corner-shop brown paper bread bag at B&H other than to irritate. I can think of no reason as to why this presentation was chosen, except that whoever made that decision is under the misguided pretence that it is in some way, cool. It is not. The bag became a makeshift plate on which to place the bread so we could see it. An actual plate would have been preferred.
The second questionable foot was the marinated squid with potato and fennel salad, which according to my dining partner, tasted 'just like chicken tikka picnic bites you get from Waitrose'. Not necessarily a bad thing, just a little unexpected and it could have been better. It was also a cold dish (hence 'salad'); I think it would have come across better hot (£9).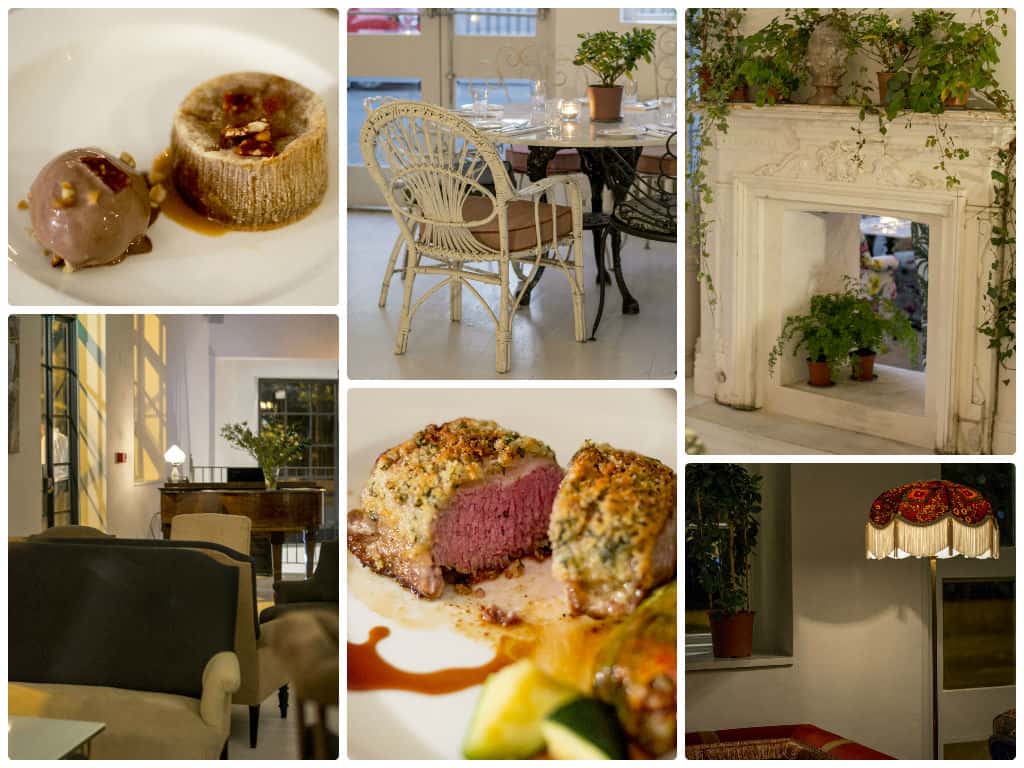 Onwards and pleasingly, mostly upwards. A rabbit and hazelnut terrine, wrapped in bacon, and served with a pickled apple slaw was cool and creamy, with great hits of pepper (£7). The lamb cannon with minted crust was full of the taste of iron, like a rare steak but with better texture and without the blood. We cooed over it a fair bit. It came with a well-seasoned ratatouille stuffed courgette flower, a nice alternative to the more commonplace goat's cheese filling (£20).
Four scallops with good texture came with a parsnip puree and hazelnut gravy, a clever combination and pleasant plate, if not a little steep at £23. Sides were unfortunately, wholly uninspiring. Carrots, orange segments and cumin achieved two out of three in that there were carrots (£4). Seasonal vegetables were bland and boiled generic roots (£4).
On a high note it did finish. The insides of a caramel fondant oozed into a pool of pleasure around the sponge, served with peanut brittle and chocolate ice cream. I've never come across a fondant that wasn't chocolate before; I think I'll need to make this one at home. Big fondant fan, me (£5).
The cocktail bar and the guys behind it served us some great concoctions. Don't ask me for details, but I can just about decipher in my (by this stage, inebriated) notebook scrawl the words: 'West Indian Gimlet', 'navy strength gin' and 'homemade felerneeeum' which I believe should say 'homemade falernum'. All terms conducive to good drinking, which was certainly entertained. And I liked the bar stools. Black padded and velvet; plush and comfortable.
The accessories to the experience let it down: gimmicky paper bags, poor sides, a lack of attention to detail in some design aspects such as cheapo brown plastic Homebase plant pots on the table. But the core components are there: good plates of food, good service, good cocktails, good ambience and the potential for some spontaneous drunken serenading at the piano, I'm sure.
The B&H Buildings is not a bad place to while away some time and eat decent food. It's certainly nothing less than fair to mention I visited during their soft launch period, and the whole point of those is to iron out any teething problems in time for the full launch, which for them was the 22nd September.
Certainly worth poking your head around the door.
Liked lots: great tasting lamb, caramel fondant, cocktail bar, staff
Liked less: sides, squid, outside-inside interiors
Good for: I suspect the greenhouse is better enjoyed during the day, perhaps for a lazy Saturday lunch; potent cocktails, after work drinks
My rating: 3/5
Afiyet olsun.
Note: I was invited as a guest to review this restaurant.