Last Updated on September 7, 2017 by Leyla Kazim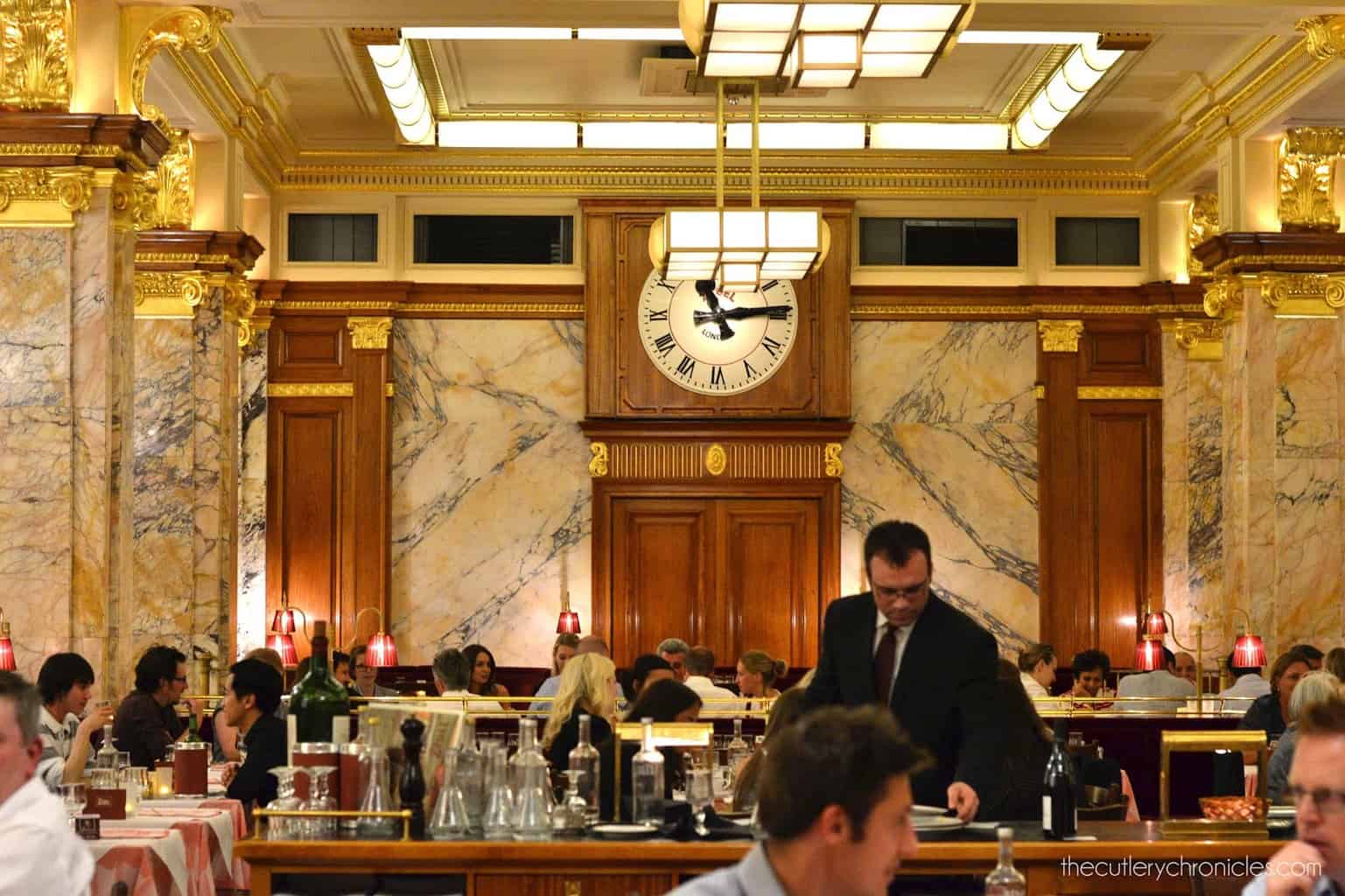 Under the interminable throngs of West End slow-walkers and shops hawking tourist tat, beneath the beguiling facade of the ground-level ZL coffee bar on Sherwood Street, you can find a capacious slice of 1940's Paris that I don't think everyone knows about.
Hands up, I didn't.
Brasserie Zédel is a grand dining room and just one part of the sprawling subterranean entertainment offering that occupies this space; it was previously the basement of the former Regent Palace Hotel built in 1915 as the largest in Europe. Behind the venture is Chris Corbin and Jeremy King, famed for their work on the baroque beauties that are The Wolseley and The Delaunay.
There's also the café, a cabaret room (The Crazy Coqs) and an American bar serving classic cocktails surrounded by splendid gilded and panelled art deco luxe. The latter is straight from a Michael Curtiz film set; I fully expected a slick-haired and bow-tied Humphrey Bogart to sidle on over muttering something about gin joints with a thin cigarette precariously waggling between his lips.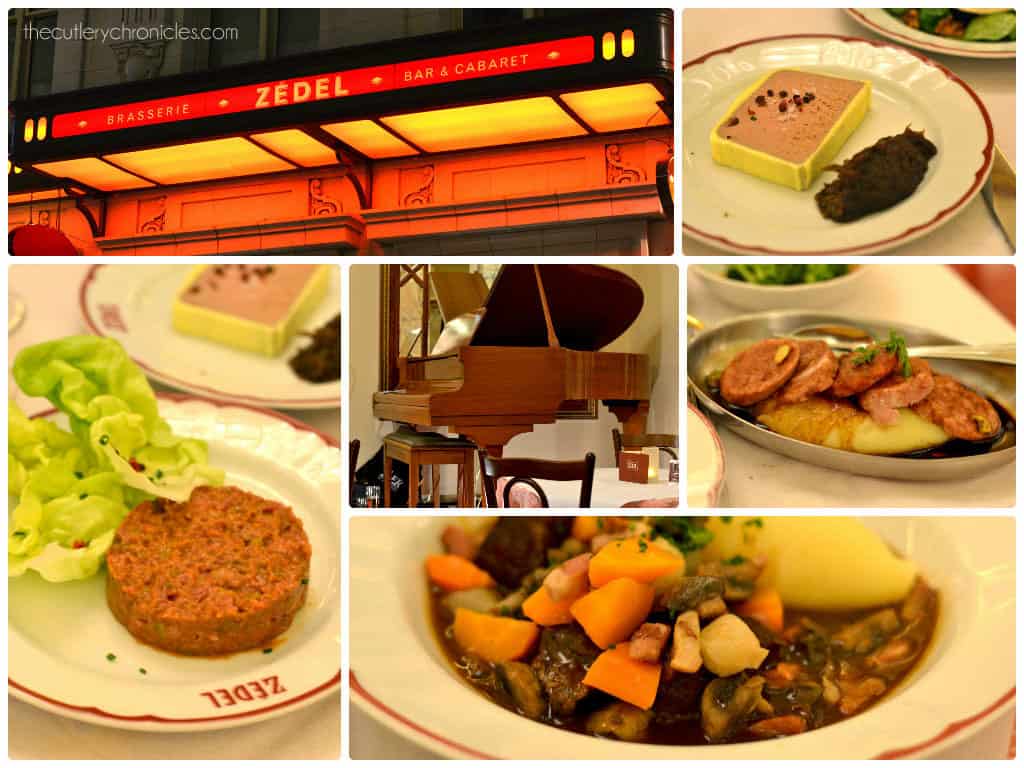 I spent around half an hour in here after having to push back the reservation for my held-up companion. Myself and one other lonely soul flanked opposing ends of the dimly lit bar to a background of swing jazz.
Perhaps we were both waiting for another, perhaps not. He looked wistfully into his bourbon, drawing circles with the glass to the sound of gently clinking ice. I was sipping a negroni and penning some thoughts. The desire to engage was strong, conversation felt imminent.
But any developing force of attraction was severed by the expert timing of my friend's arrival, and that was that. I don't doubt many a new relationship is forged at that bar over stolen glances and strong spirits.
Straight out of a film, I'm telling you.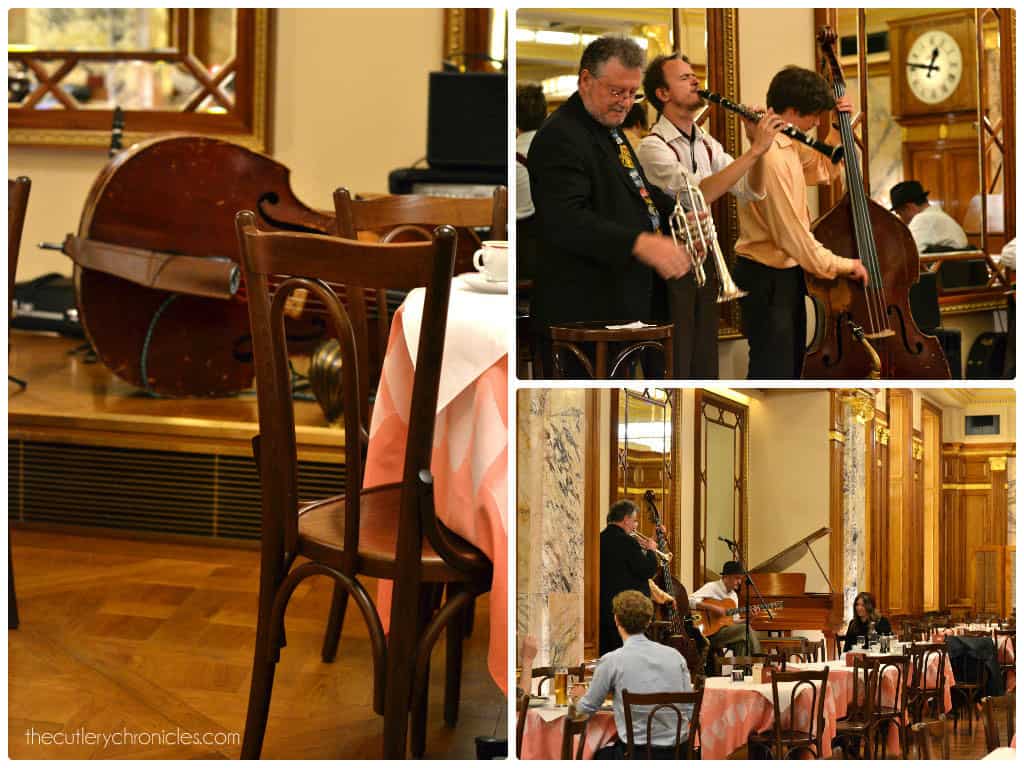 The brasserie itself is an ode to the romantic bourgeois ideals we all have of Paris; perhaps sauntering along the Left Bank in trench coats with upturned collars, discussing 19th century French literature, and following it with languorous hours of cassoulet, conversation and vin rouge.
As you descend down the staircase and towards the room, the fading of technology through quickly waning phone reception adds to the feel of transportation to a time passed. It's an ample space that can seat 220, all marbled and gilded, with lofty ceilings, waiters in waistcoats, and a great statuesque clock at the far end. The menu is traditionally and unashamedly French – escargot, haché, soupe à l'oignon, steak frites, confit de canard, bœuf Bourguignon, crème brûlée, tarte tatin and almost every other dish you would expect to find under the dictionary entry of 'classic French fare'.
The atmosphere is hugely appealing. Conversation is nicely camouflaged by a din that doesn't dip much below the rumble you'd expect from a sporting event, without having to shout. There's no rush to turn tables – the space between our starters and mains was vast because we grazed on them so slowly.
And whilst Edith Piaf herself wouldn't be out of place serenading the room by the piano with La Vie en Rose and some rolling uvular trills, you get the next best thing in the form of live music each evening. We were treated to a captivating quartet with a horn, clarinet, double bass and an enchanting voice.
And the food? It's as authentic to a Parisian brasserie as I've ever experienced in that it didn't set off any fireworks (Parisian brasseries rarely do), but was solid, consistent, tasty and the price points for such prime real estate are nothing but applaudable.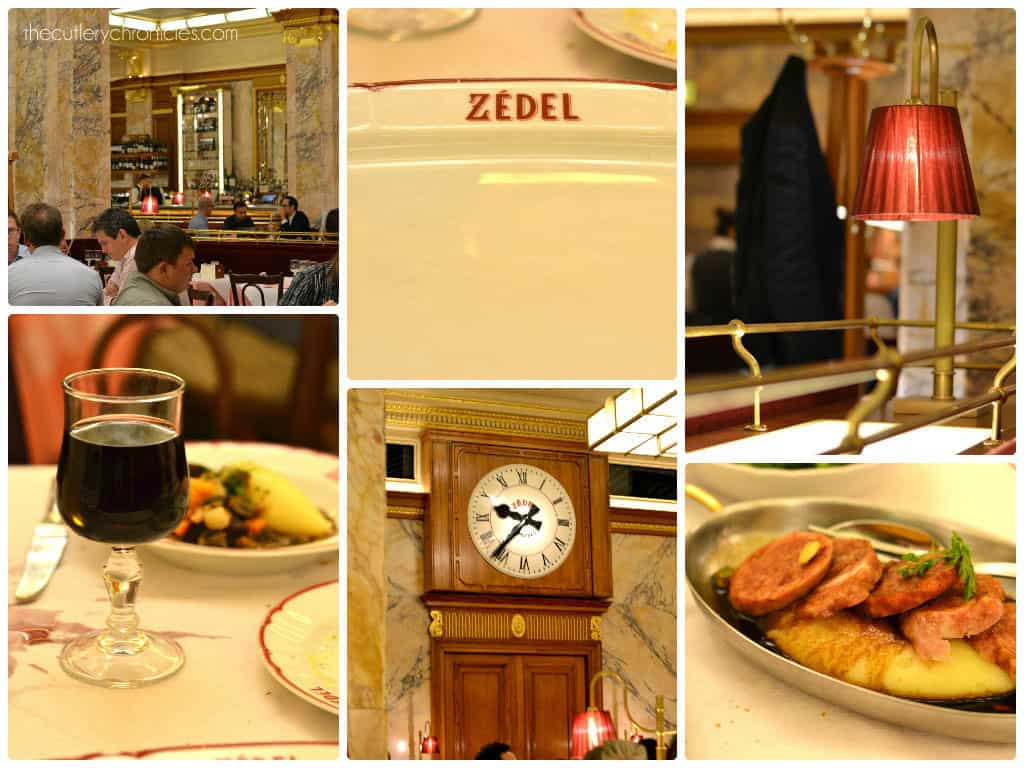 There was a salad with thin slivers of ruby beetroot, a generous round of browned and warm goat's cheese and fresh walnuts (£5.25). The chicken liver paté was silky and flecked with crystals of sea salt, served with caramelised red onions and great smashed onto the slices of baguette (£5.95). Steak tartare – whilst not hand chopped – had a good texture, was well seasoned and more than pleasant wrapped between torn bits of the crisp lettuce it arrived with (£8.95).
The Mecredi plat du jour – saucisson and mashed potato served in a metal platter with a good dark gravy – was as satisfying as one could hope from such simple but well executed components (£13.50). And the bœuf bourguignon – a little higher up the price scale – was reflective in its portion size; unfussed, rustic, good (£19.50).
We were within those vaults for a total of five hours, and spent £60 each. Had we not ordered a slightly pricey bottle of wine and stuck to the prix fixe menu of three courses for £11.75, we would have spent a lot less. We retired back to the American Bar where I took my remaining wine and where my dining partner closed the evening with an Old Fashioned.
Brasserie Zédel has only been there for a couple of years, yet has an old-world charm that places it decades before. When you want to dine out, don't want to spend a load, quite fancy some live music, and didn't have the foresight to reserve a hot table elsewhere two weeks in advance (they have a lot of scope for walk-ins), this is such a good option.
Don't do what I've done all this time and dismiss the retro red signage and just-off-Piccadilly-Circus location as West End fodder to please the masses. I'm not sure there are many other places in London that can offer such uninterrupted late-night leisure – with that holy trinity of good food, good drink and great surroundings – at such value.
Next time I'll try not to lose track of time so easily and end up missing the last tube home. Easily done at Brasserie Zédel.
Liked lots: value, surroundings, free live music, the flexibility to start in the bar and carry the tab over to the brasserie, late-night hours,
Liked less: the food isn't sensational, but more than adequate to make for an all round very good experience
Good for: spontaneous dining, taking your time over dinner, dining out and not having to spend a small fortune doing so (unless you want to)
My rating: 3.5/5
Afiyet olsun.