Last Updated on June 17, 2020 by Leyla Kazim
It's been a while since the efforts of a restaurant kitchen have greeted me – and subsequently shaken me by the shoulders – at the door. The babble of full-flowing conversation from every table, alongside the enticing aroma of seafood stock were the first things to strike the senses once over the threshold of Café Murano.
I don't think it's that common to smell the food a restaurant is cooking as soon as you walk in; perhaps ventilation systems are so good these days, and restaurants can be rather large. But it was a welcome I'd like to experience more often, like when entering a friend's home with a hello of "something smells good". It felt right and was indicative of the meal to come – unafraid to make itself known and for good reason.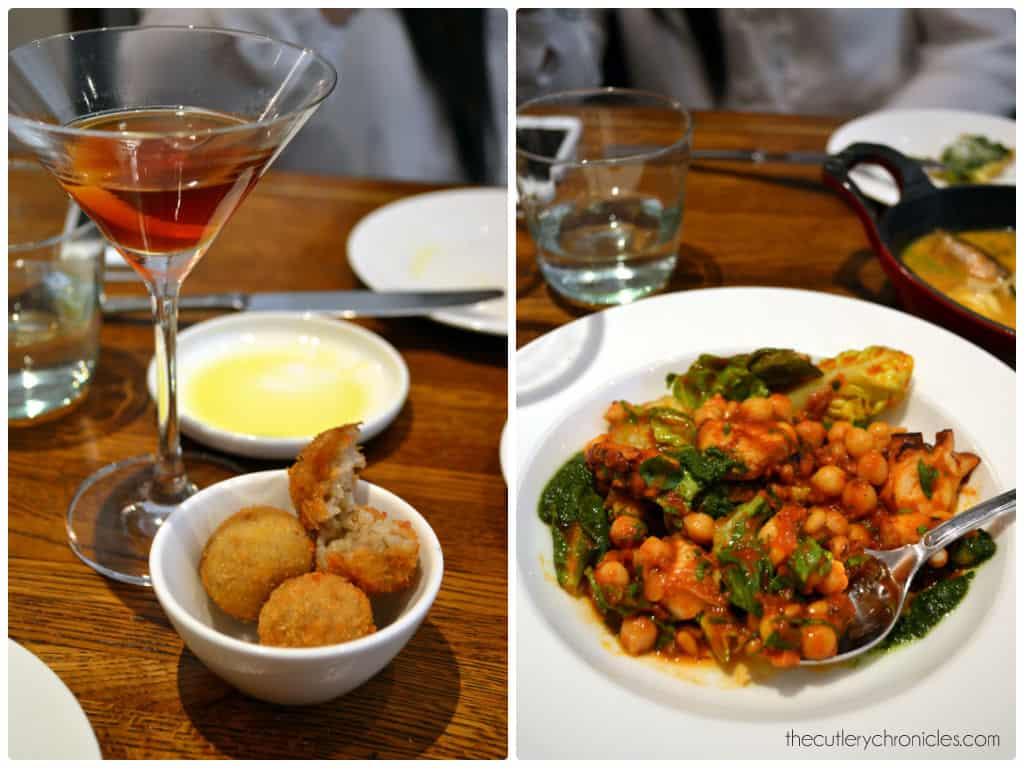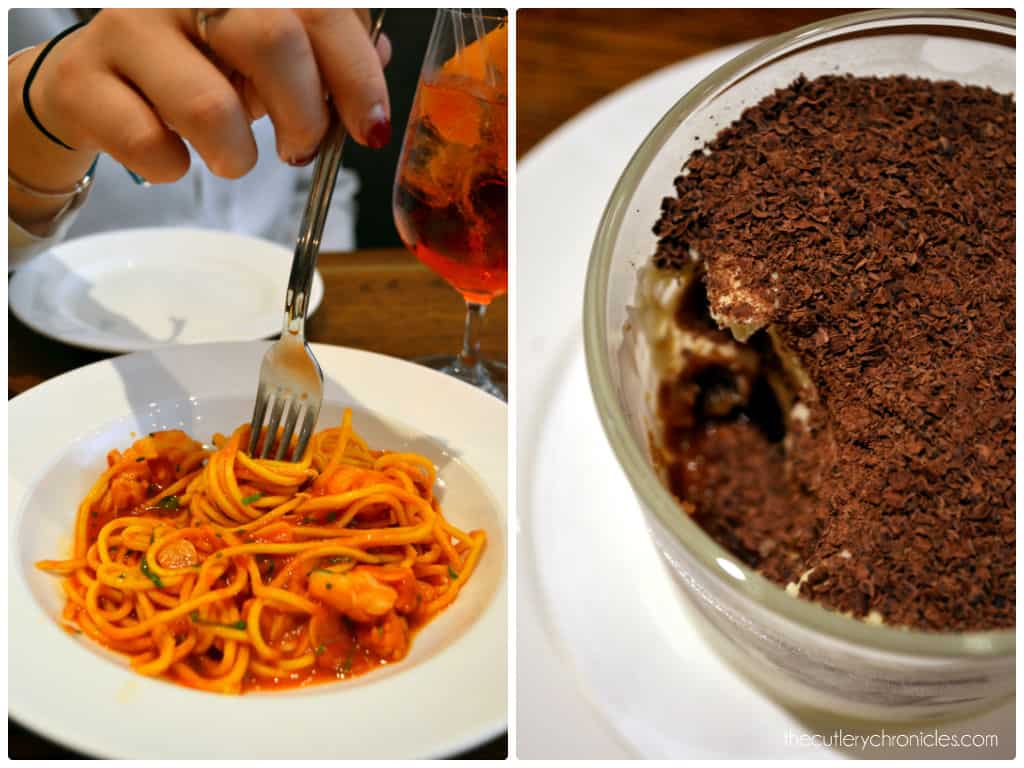 Lunch-o-clock on a Tuesday and I couldn't spot a free table, despite sopping conditions from the mini-monsoon haemorrhaging over the city. People had reservations and they were keeping them; those without them (I assume) were free-wheeling it at the bar. I can think of few better places I'd want to be if it was wet out, or dry. Or snowing, or Med hot (I really like this place).
The design is both classy and chic, whilst achieving a completely at-ease environment. The crowd is sophisticated, often be-suited, but one I suspect find few things more enjoyable than good food with good wine and good company; it was breezy and buoyant and everyone seemed to be having a bloody great "lunch meeting".
It's fronted by Angela Hartnett, as is the refined big-sister Michelin-starred Murano down the road. The term café is what differentiates the two, hinting towards a far more relaxed atmosphere, very accessible price points and a great option for a not-too-showy but suitably impressive second date (so my single companion reliably informed me).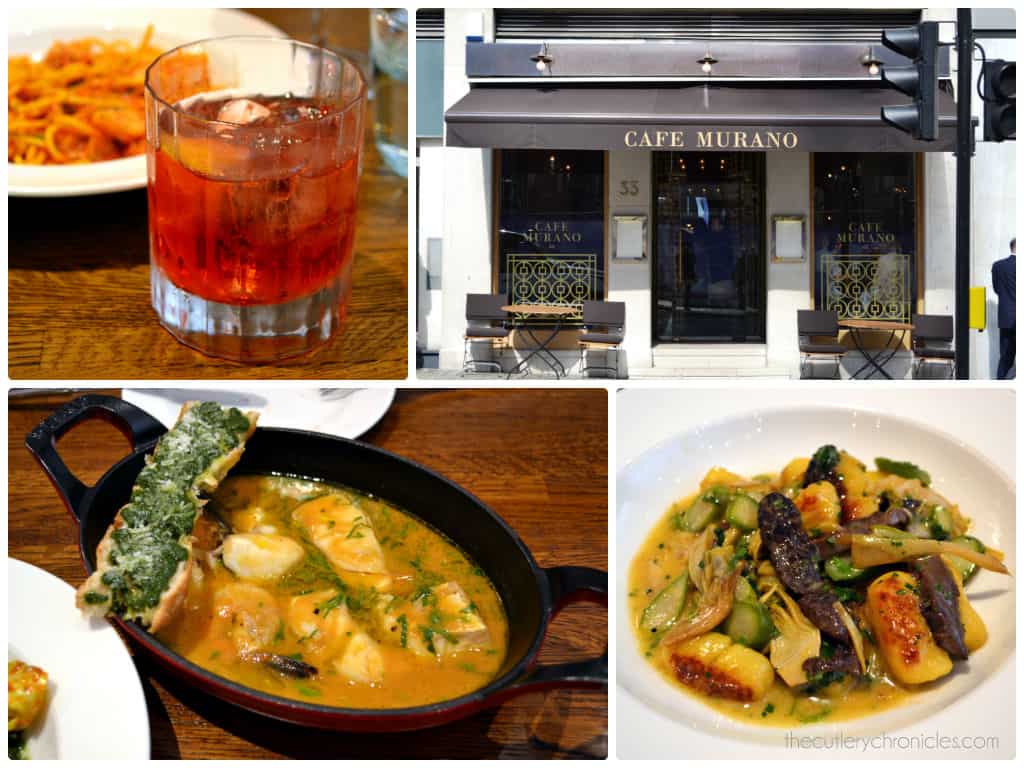 The aperitivo of the day was something said with the sort of wonderfully thick and indecipherable Italian accent of a waiter you immediately put all your culinary faith in, the natural response being, "lovely – we'll take two please". I later discovered it was called an Olandese Volante – kümmel, gin, plum and an Italian vermouth; it was burnished amber and very clever.
A trio of toy-sized truffle arancini were piping-hot and – what I initially thought – a touch underseasoned. Turns out my first bite was wrong (I can only put it down to the palate finishing its occupation with such a great cocktail); all subsequent mouthfuls were so spot on, we ordered another round (£3). Chunks of warm octopus with firm chickpeas, the soft crunch of pine nuts and baby gem were yielding and tasty, but could have benefited from a touch more depth in the sauce. Yet weirdly, again, it seemed to improve as I continued to eat it (£9.50).
The cacciuccio (I'm so glad my dining partner ordered the thing we were neither able to translate nor pronounce) was a fish stew triumph; had the fish in it had a chest, I would have pinned a medal to it. A rich and deep broth with a touch of chilli, saffron and fennel, we spooned the sauce straight to our lips with great zeal whilst simultaneously lamenting over the diminishing volume. The white fish in it was just gorgeous, and the prawns were soft – really soft (I'm not sure I've had such soft prawns before). Served in an oven dish with a hardened and gloriously chewy thin bit of bruschetta slathered in a pesto so vibrant I'm sure it was blitzed moments before, I was still cooing over it once I got home (£8.50).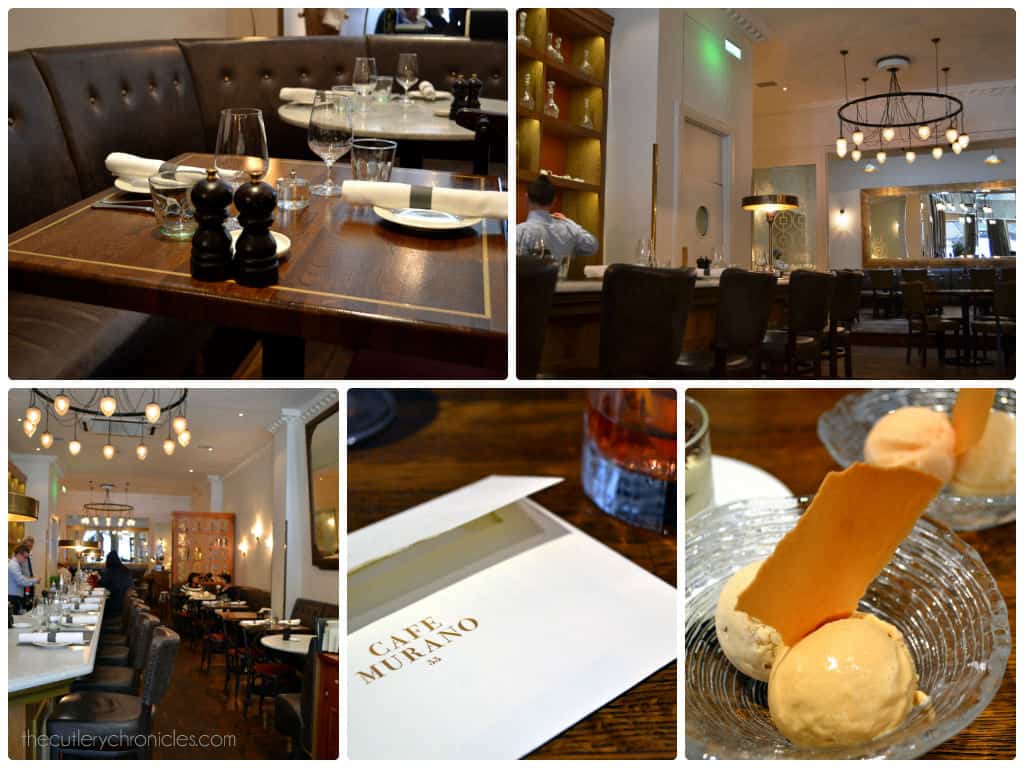 And then there was the primi – the pastas. The surface area of the linguine with lobster, garlic and chilli had a roughness substantial enough to detect on the lips; the sharp and sweet tomato sauce clinging to every microscopic crevice as though an amorous embrace (£18/£26).
The gnocchi – good grief, the gnocchi. Simply the finest texture of its form I've encountered – fluffy and sticky and disintegrating into a silken substance from the pressure of the tongue against the roof of the mouth. Each one browned a little on one side, lacquered with a sauce and joined by such spring time seasonal delights as morels, asparagus and wild garlic (£11/£16.50). It was still great even after an engaging catch-up left a little of it to go cold.
Only a madman would fall for the ill-fated lethargy a carb-on-carb attack almost always induces – who orders polenta as a side to pasta (apart from Italians)? I do (it was raining, remember) and thank goodness for that. How ground corn and Parmesan can be whipped up into something so light and so delicate is a little beyond me, but well done to the kitchen for that mini-triumph. Some of the best I've had (£3.50).
When will this gushing end? Soon – bear with me. The tiramisu was without fault (it's such a good gauge of an Italian restaurant – £6), the scoop of salted caramel ice cream and another of cinnamon had ethereal textures (and the flavour balance of the former was so completely right), and the pink grapefruit and melon sorbets finished the whole exquisite encounter superbly (£1.75 per scoop).
Quite simply, this is my new favourite Italian in town. Granted, I have a few of note I'm yet to try but regardless, Café Murano will be difficult to top. I have little choice but to visit Murano now – oh well..
Liked lots: all of the food, great atmosphere, spot-on warm service, feels special whilst having accessible pricing, that fish stew; there is a set lunch menu of three courses for £35
Liked less: let me get back to you
Good for: a second date (so I'm told), a first date, a 23rd date, all of your dates
My rating: 4.5/5
Find the menu on Zomato.
Afiyet olsun.