Last Updated on July 9, 2020 by Leyla Kazim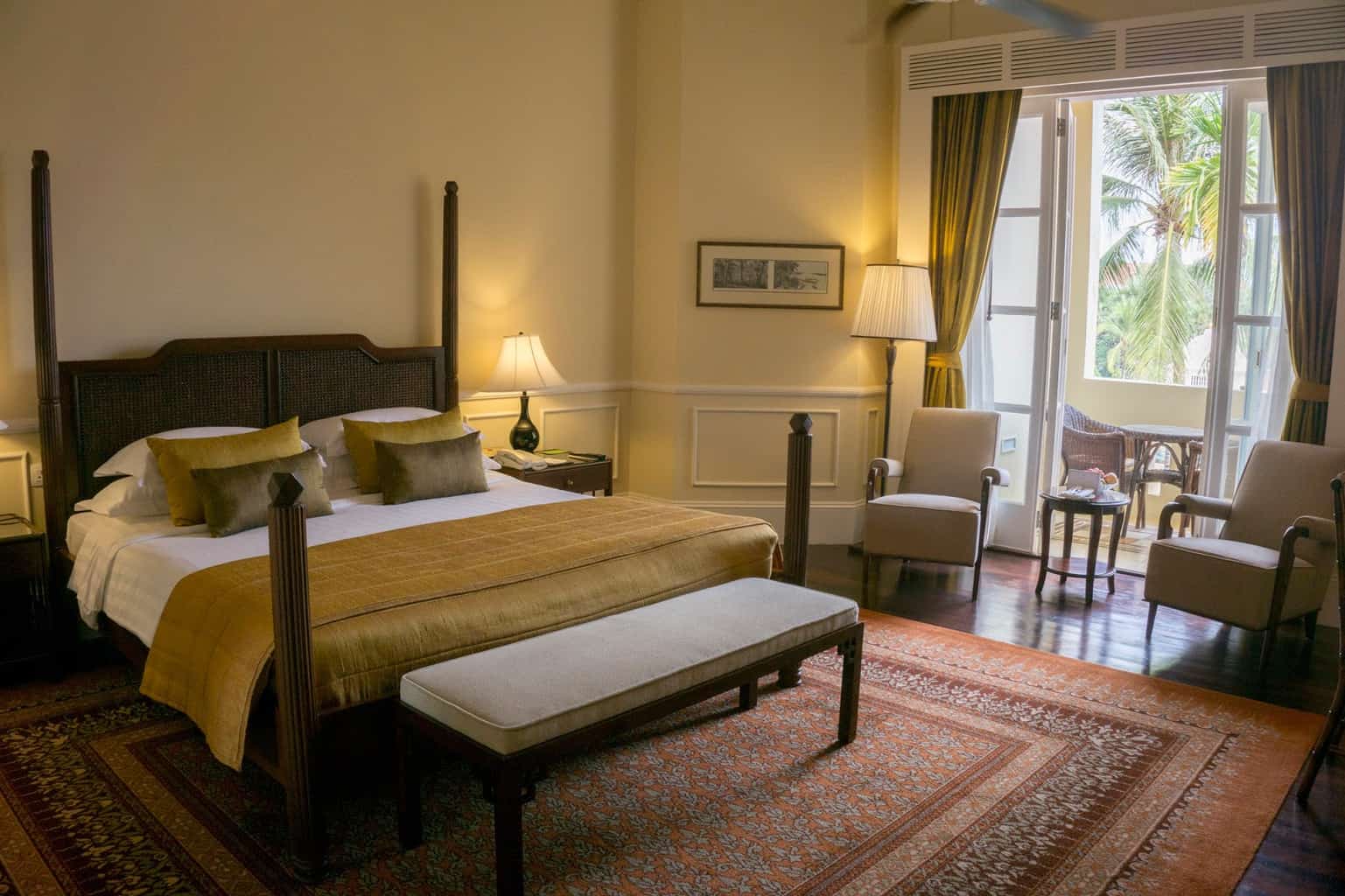 Raffles Grand Hotel d'Angkor, Siem Reap – Cambodia
In a nutshell
A legendary building set in 15 acres of beautifully landscaped French gardens, combining charming grandeur with a hefty dose of peace and tranquillity.
Where is it?
You'll find it in the Old French Quarter in the heart of Siem Reap, and very conveniently only 8km from the Angkor Wat temple complex.
It overlooks the Royal Garden, is just around the corner from the National Museum, and guests can amble along the picturesque riverside to the markets in less than ten minutes, or get there in three minutes by tuktuk.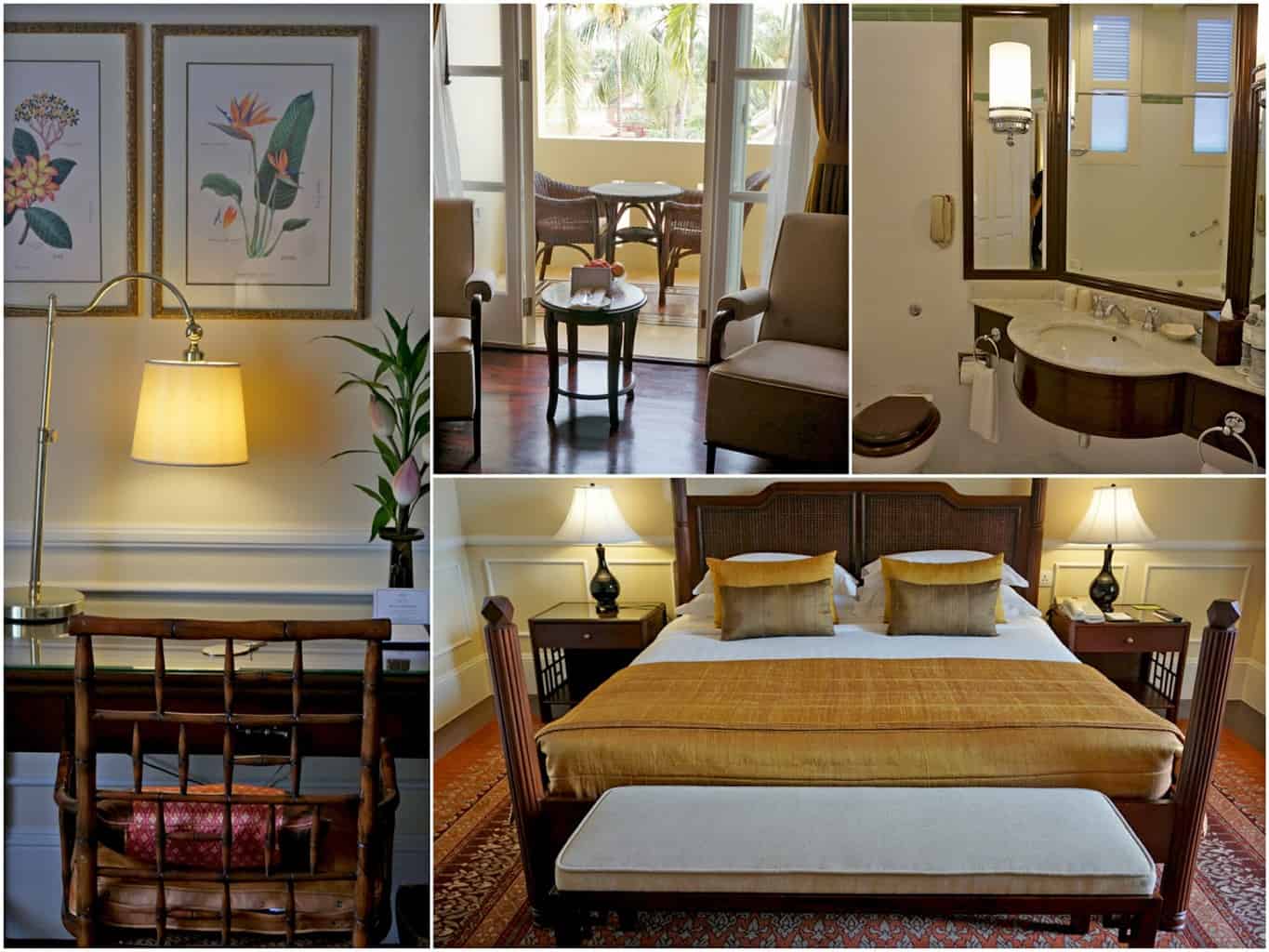 Raffles Grand Hotel d'Angkor, Siem Reap – Cambodia
Style and character
It sure is nice when a hotel retains some old-world charm. At Raffles, you 'll find heavy-set wood-panelled doors with a good old-fashioned lock and key, and proper round door knobs.
A gentle ginger fragrance meets you as you enter your room, with framed botanical prints and vintage brass light switches adorning the walls. I completely loved the golden-green hues of the soft furnishings (coveted them, in fact) and the cool white marble of the bathroom, against the dark wood of the floor and crafted four-poster bed.
An elegant cage elevator – an original from the 1920's – adorns the lobby, gracefully carrying guests upwards. Ceiling fans gently beat a rhythm to shift the heavy air, and from a cool uncluttered lobby, Art Deco black-and-white tiled halls lead you to very splendid rooms.
What's unique?
This hotel is home to the largest swimming pool in Cambodia. It's inspired both in design and size by the ancient bathing pools of the Khmer Kings in Angkor Wat, and set at the heart of the hotel's private tropical gardens. It's pretty nice.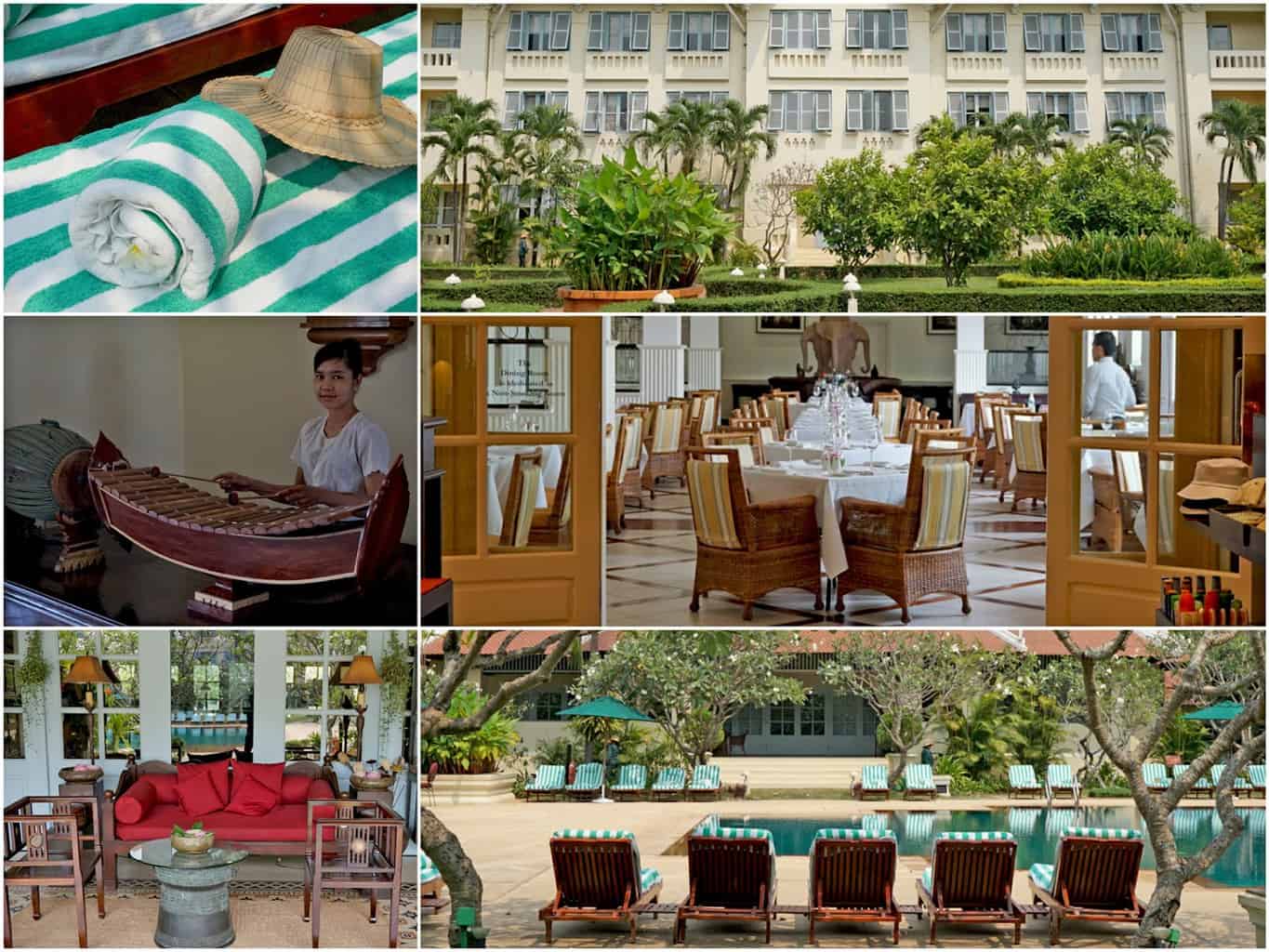 Raffles Grand Hotel d'Angkor, Siem Reap – Cambodia
Who goes?
I noticed a significant proportion of the clientèle to be in the over 50's category, often friends in groups of four, but that is by no means to say we felt out of place.
There were also a few families spotted as well as young couples (honeymooners, I'm told), with those from the UK, America and France making up the majority of the customer base.
Breakfast
Served in the bright and baroque Café d'Angkor, (also open for lunch and dinner) and recognising their diverse client base, it's an international offering with a pleasing slant towards French.
The quality was truly superb, some of the best breakfasting I've had in any hotel, and a key thing to commend here is that everything is made in-house; they even smoke their own meats.
As you'd expect from a Gallic-influenced kitchen, baked goods are big hitters. Think banana cake, berliners (traditional German doughnuts), carrot cake, blueberry muffins, apricot Danishes, brioche, almond croissants, chocolate Danishes, sourdough rolls, rye and walnut, raisen brioche, and a whole load more.
The waiters will even come to your table with trays that have come straight from the oven, so you don't miss them while they're still hot.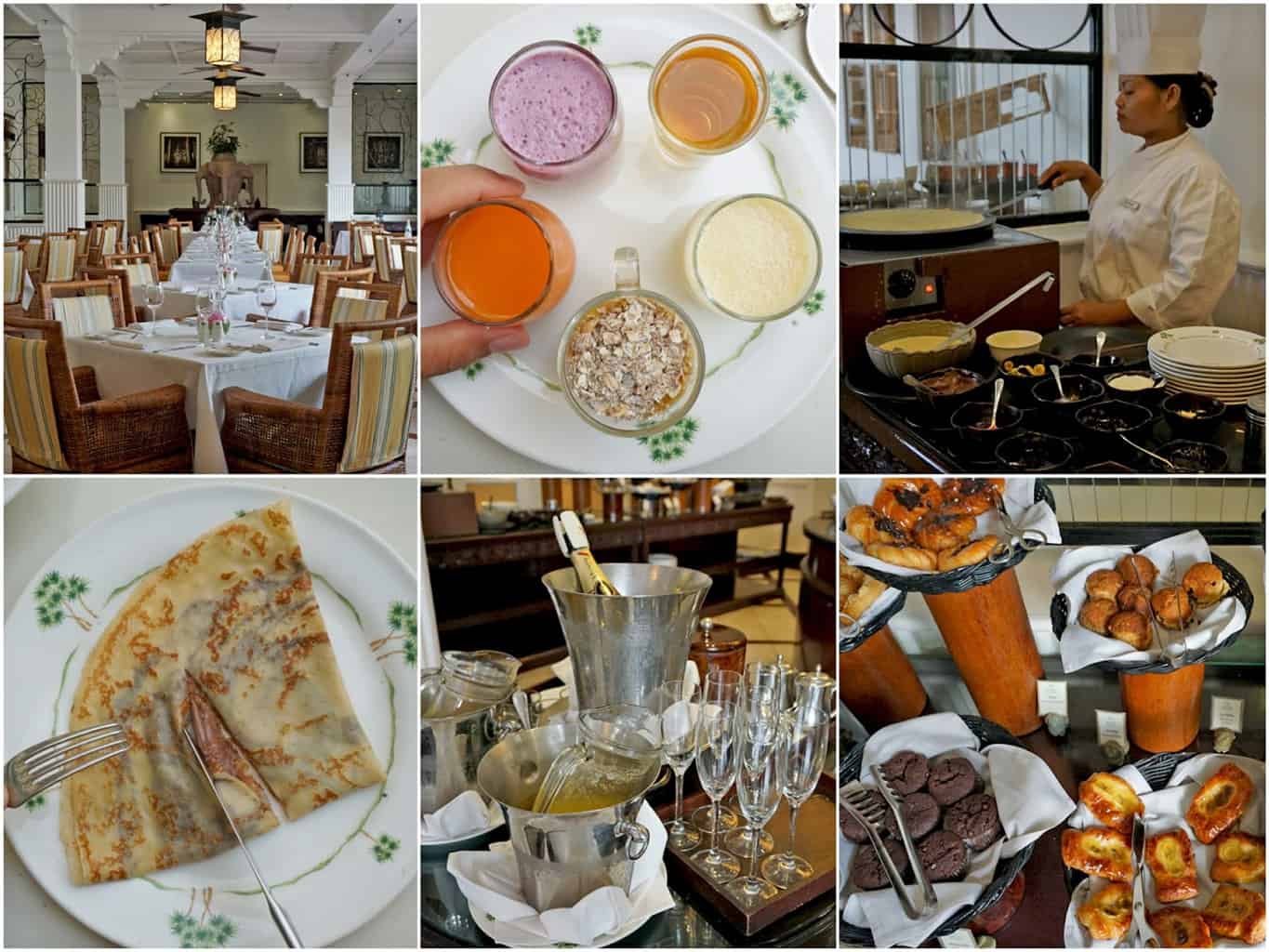 breakfast at Raffles Grand Hotel d'Angkor, Siem Reap – Cambodia
l
The cold cuts include roast pork, salami, smoked chicken, and mortadella, and cheeses are a roll call of some of the continental greats. Then there's siu mai, taro paste buns, and char siu bao with great gorgeous chunks of pork in – you can really tell they're made from scratch – to be plucked out of what must be the world's largest bamboo steamer.
Tomato and basil ragout, beans, grilled bacon – with the option of crispy bacon – which is great. Sweet and sour chicken, veal sausages, wok-fried greens in oyster sauce, grilled minute steaks, grilled fish with lemon butter, and more.
And to wash it all down, knock yourself out with champagne. Not actually, though. Bubbles at a breakfast buffet; things could get messy before 10am. Or your choice of exotic smoothie concotions such as green tea, pandan leaves, cinnamon and orange.
What you want to do is get there early and allow yourself a long and langorous breakfast, it might just be the best part of your day.
Dining
Brit and Executive Chef Stuart Doust is doing a fantastic job comandeering his team to turn out the great eating available at the hotel, and that includes breakfast (above).
Restaurant Le Grand showcases both Khmer and Western cuisine in a timeless and elegent fine dining room. You can delight in the likes of a starter platter including prawn cakes, duck salad, chicken breast with salsa, and deep fried spring rolls. There are fresh and vibrant prawn and mango salads, and a completely glorious pumpkin soup lifted by lemongrass and cumin, which reminded me of something my dad makes. So uncomplicated, so very wonderful.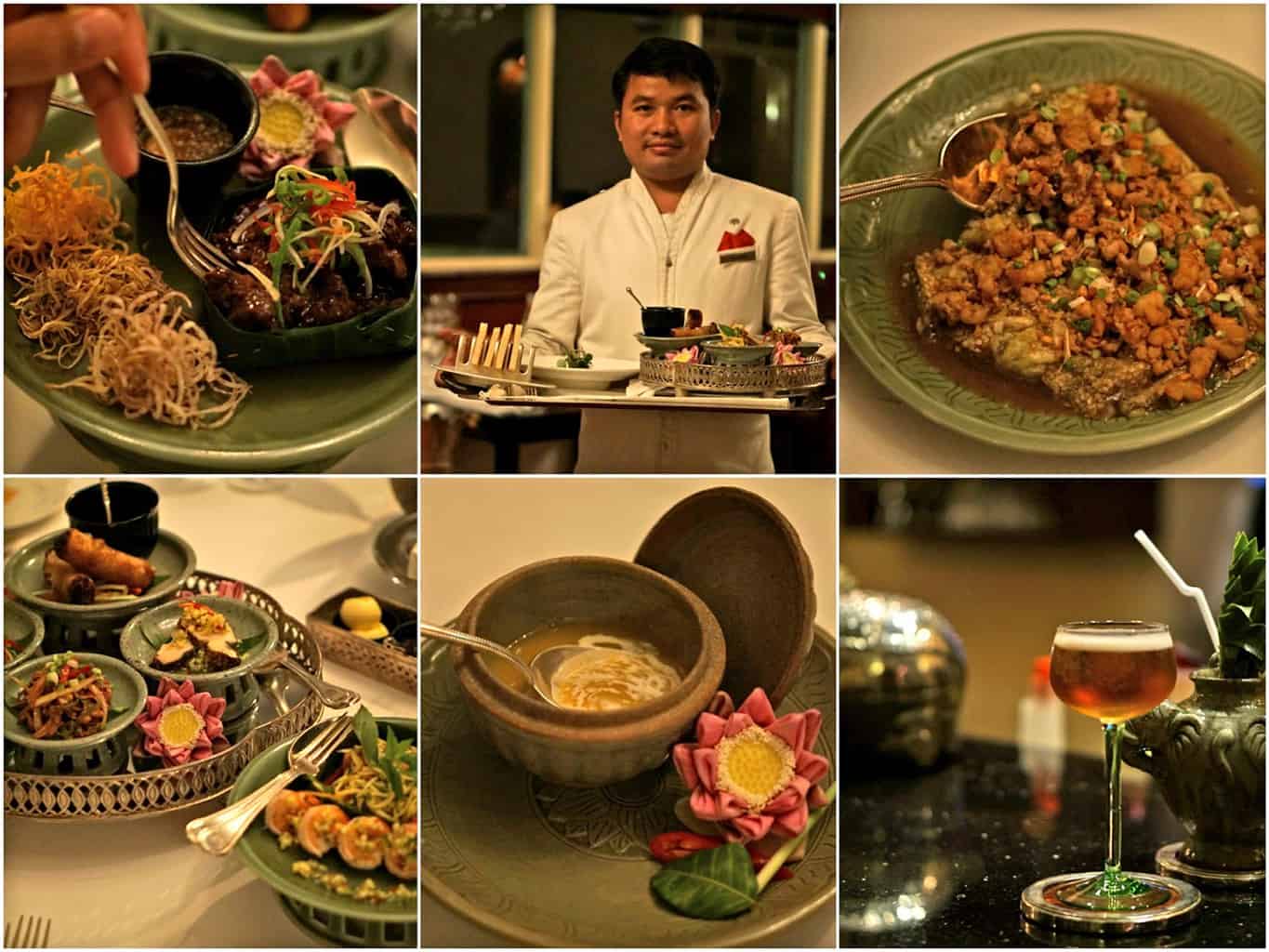 dining at Raffles Grand Hotel d'Angkor, Siem Reap – Cambodial
l
Then there was steamed elephant fish with spring onions, ginger, shiitake mushrooms, and beef loc lac (marinated, slow cooked succulent slithers of steak), with deep fried filaments of taro, ginger, sweet potato, and a pepper and lime sauce. This was one of my favourite dishes in Cambodia, and I recreated it in the excellent Royal Khmer cooking class I attended at Raffles the next day – scroll down to The best things I ate this week in the post.
I'd strongly recommend propping up the Elephant Bar to close the evening, and making the Femme Fatale cocktail your choice of tipple. It's the signature libation of the bar of the same name at their sister hotel, Raffles Hotel Le Royal in Phnom Penh, and was created specifically to commemorate Jacqueline Kennedy's visit to the hotel in 1967. It's champagne-based with Crème de Fraise Sauvage and a dash of Cognac. Hard to go wrong, really.
Service
The staff are a highlight of this hotel. All were very courteous, patient and accessible, always saying hello when walking past.
Liked lots / liked less
Liked lots
The outfits of the doormen, inspired by uniforms from the Royal Palace.There are different coloured trousers for each day of the week. If it's orange, you know it's Monday.
The property's 60,000 sqm of landscaped gardens, with more than 20,540 different species of tropical plants and a whole cacophony of exotic birds.
The excellent Royal Khmer cooking class available there – scroll down to The best things I ate this week in the post.
Liked less
I could hear all of the noise from outside the room – doors closing, suitcases along the floor, people talking, toilets flushing. It's one of the downsides of having those beautiful wooden floors as opposed to carpet, I suppose. Bring some ear plugs if you're a light sleeper and you'll be fine. I'd rather do that than lose those floors.
Price point
Prices from around £270 a night for a state double room, to £340 for a landmark double, including breakfast.
Contact
1 Vithei Charles de Gaulle, Khum Svay Dan Kum, Siem Reap
+855 63 963 888
@raffleshotels
Website
Note: This stay was kindly hosted by the hotel as part of a media package. All views remain my own.


Related posts
Week 13: CAMBODIA – Siem Reap (and Angkor Wat) → Phnom Penh
Week 14: CAMBODIA – Sihanoukville & Koh Rong Samloem Island
Week 15: CAMBODIA – Kep