Last Updated on June 15, 2020 by Leyla Kazim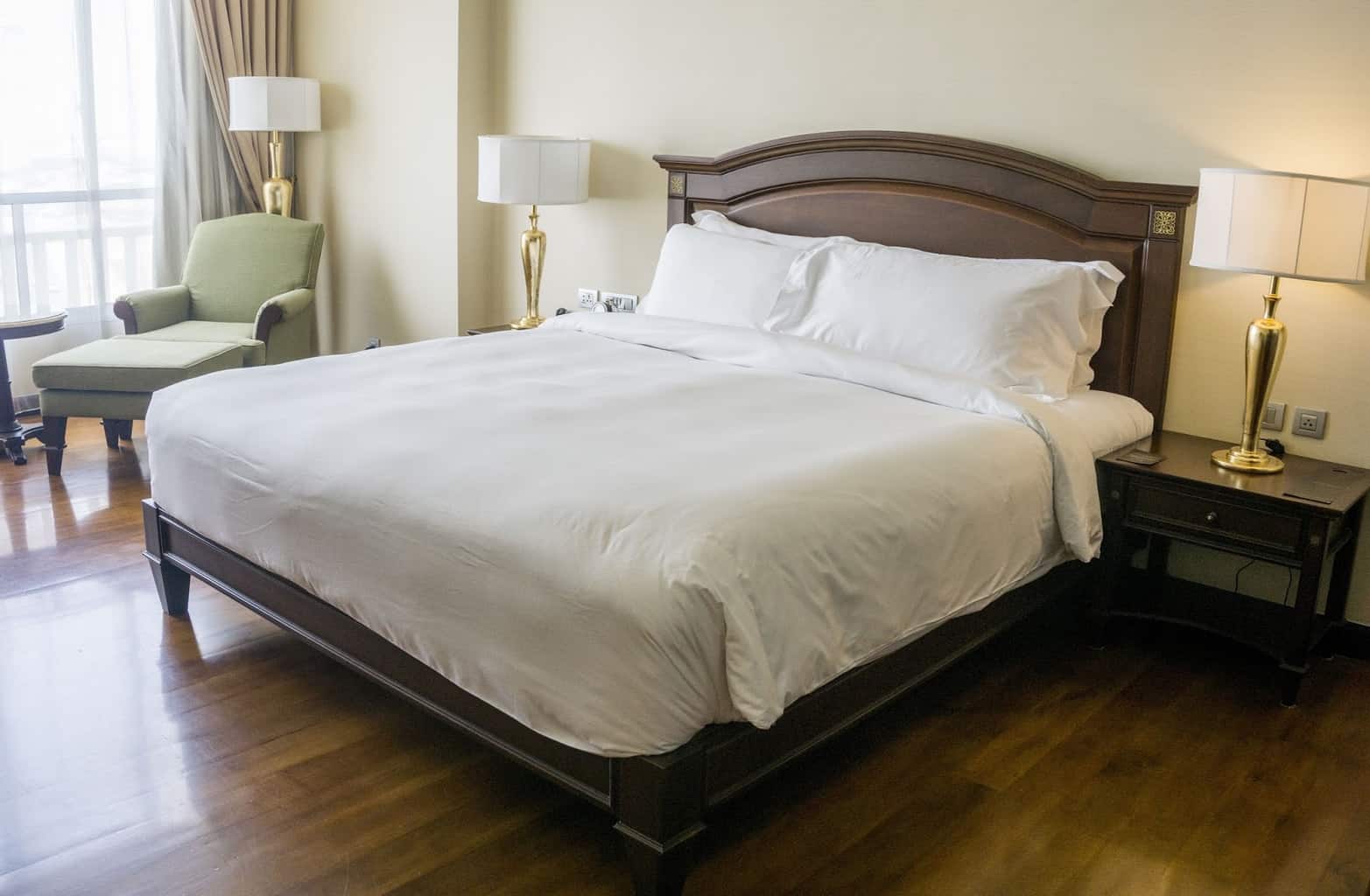 Sofitel Phnom Penh Phokeethra, Phnom Penh
In a nutshell
A 201-room, five-star, neo-classic urban oasis in the country's capital, overlooking the Mekong and Bassac Rivers, with an awards cabinet full of accolades.
Where is it?
Sprawling over six hectares, this hotel's riverside setting is minutes from key landmarks and attractions of the Royal Palace, National Museum and Sisowath Quay. The Old Market and Central Market are a ten minute drive, and the international airport is just 30 minutes away.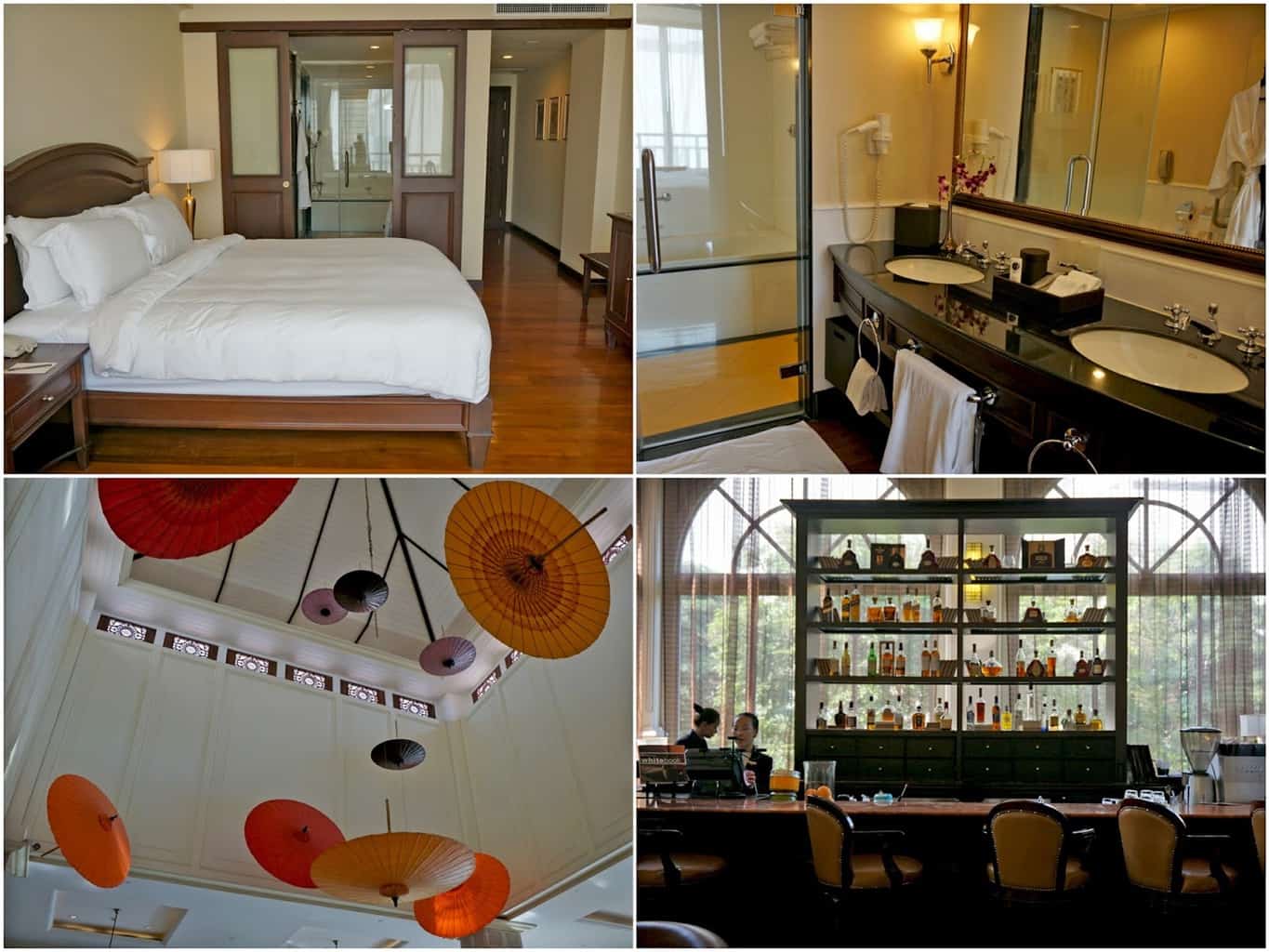 Sofitel Phnom Penh Phokeethra, Phnom Penh
Style and character
The 12-story, light-flooded hotel artfully blends contemporary sophistication with 1920s elegance. There's a striking lobby with polished marble floors, lofty coffered ceilings and wrought iron chandeliers – fully French colonial. Rattan furniture, gleaming hardwood and the gentle beat from wooden ceiling fans lend to local influences, and the soft white linens and plenty of Khmer touches reflect sophistication and yesteryear refinement.
On the top floor you'll find an exclusive lounge for high tea indulgences (very good it was too), a pool table and table tennis in the sports club, live piano played in the lobby bar, an upscale spa and two very beckoning pools.
What's unique?
The hotel chain is part of Planet 21, an initiative encompassing their commitment to sustainable development. It's active every day in the areas of nature, carbon, innovation, local development, employment and dialogue.
For example, all taps are fitted with water flow regulators, only eco-friendly cleaning products are used for the rooms, they have a commitment to protecting children through training on sex tourism, and local food products are promoted in the restaurant.
In addition, the hotel is the first in Cambodia to have received the internationally recognised HACCP certification in February 2015. This means food safety is addressed through the analysis and control of biological, chemical, and physical hazards from raw material production, procurement and handling, to manufacturing, distribution and consumption of the finished product.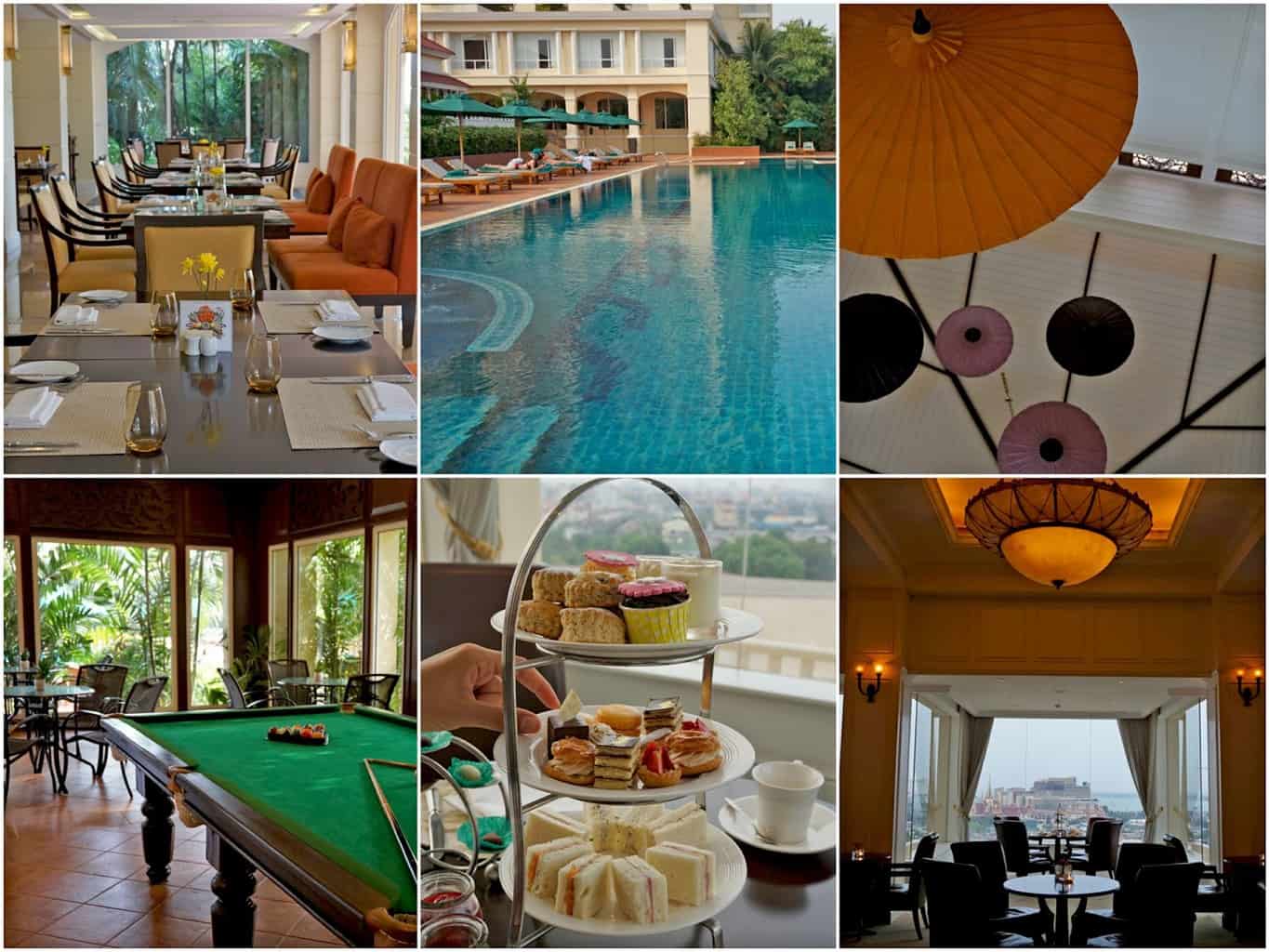 Sofitel Phnom Penh Phokeethra, Phnom Penh
Who goes?
I spotted a family with four kids, a lot of international business people at the early 6.30 – 7.00am breakfast, and many leisure visitors.
Breakfast
Served in the bright and airy all-day dining restaurant La Coupole – one of the nine drink and dining options available within the property – and recognising their diverse client base, it's an international offering with a slant towards French.
Expect the likes of cereals, dried fruit, fresh blueberries, ice cream (!), chocolate fondu, a waffle and pancake station, oat cookies, fancy mango and papaya jams, peanut butter, Nutella, freshly baked breads, brioche, cake, smoothies shots, fruits.
You'll find cheese, crackers, cheese and ham toasties, banana fritters, French toast, meat sliced to order with a big meat slicer, smoked seabass, grilled vegetables, salad items, sauces and a big wooden bowl to toss it all in.
There's a big noodle station with five different types of noodles, green papaya salad, dough sticks. At the Japanese section you'll find an assortment of pickles, seaweed salad, grilled salmon heads and miso. You'll also find an egg station making them to order whichever way you like them.
Dining
The hotel has a few dining options, but the promise of dashi and a heart aching for Japan since we left in April 2014 had us heading straight for Hachi.
The familiar clip-clopping of the traditional wooden footwear worn by the staff set the backdrop to what was a very good Japanese meal. There was a rainbow of oshinko moriawase (Japanese pickles), some fantastic niku udon with fat and slippery noodles and tender slivers of beef, and a sprightly seaweed salad. Not to mention the very good vinegared mackerel and tuna sushi, and the sesame ice cream with red bean paste to close.
I'd have happily gone back for it all again if we had another evening there.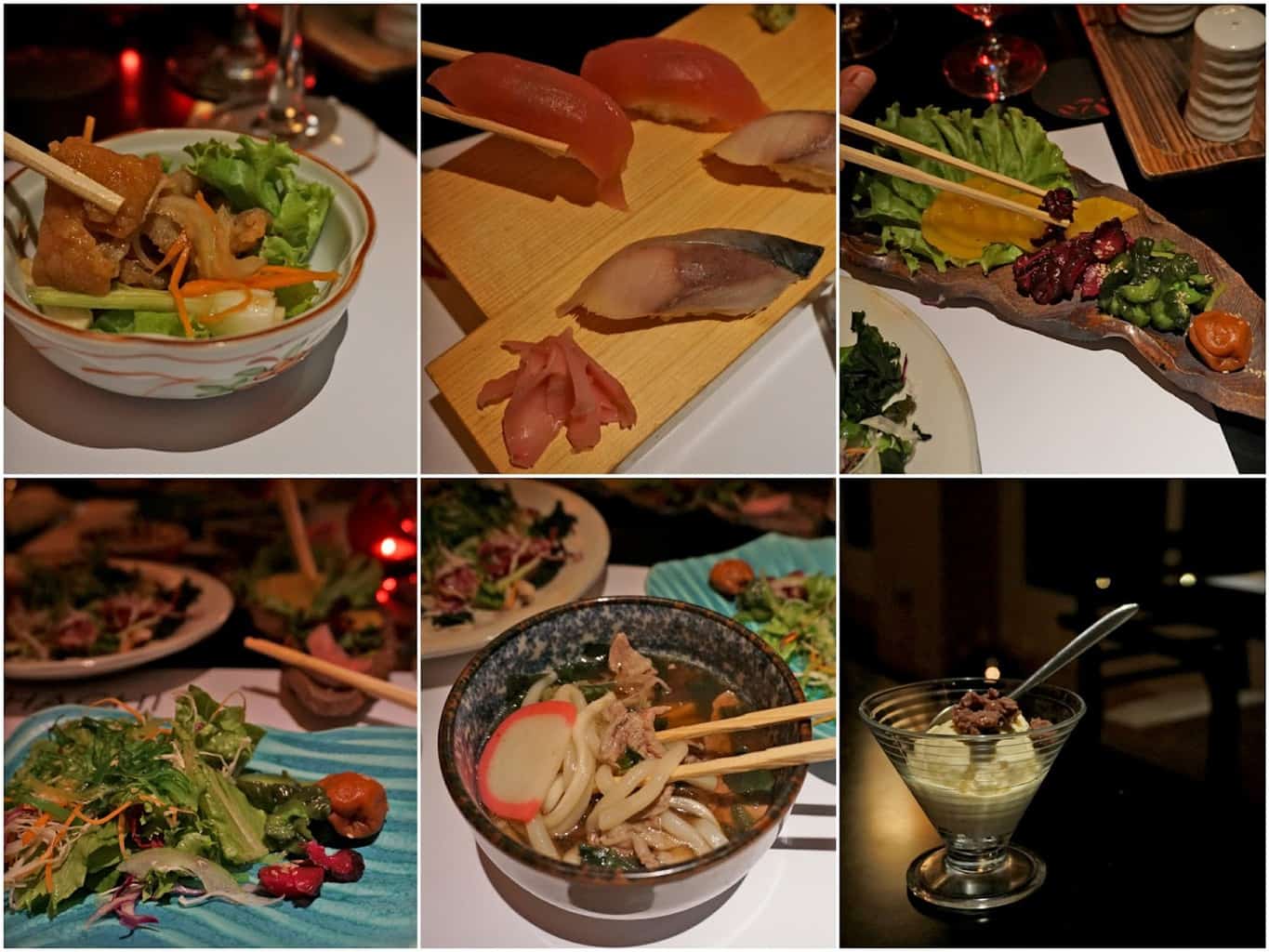 dining at Hachi, Sofitel Phnom Penh Phokeethra, Phnom Penh
Service
All the staff members were wonderful, and very smiley, opening doors, calling lifts, and closing their palms in the traditional Khmer way as a greeting every time they passed a guest – I really liked that. And the international team come from 14 different countries, covering many languages between them.
Liked lots / liked less
Liked lots
During our stay, the "Wonders of 1929" photo exhibition was being held at the hotel. It was on for four months and consisted of 84 of the best images from mysterious French travelling actor Georges Portal's travels through Cambodia 85 years ago. There were some fascinating images – a really insightful collection. More information here.
Liked less
Traffic on the roads surrounding hotels can be pretty bad, so if you plan on using wheels, try to keep it outside rush hour.
Price point
Prices from £170 for a superior double to £460 for a prestige suite.
Contact
26 Old August Site, Sothearos Boulevard, Sangkat Tonle Bassac, Chamkar Mon, Phnom Penh
+855 23 999200
Website
Note: I stayed as a guest of this hotel as part of a media package. All views remain my own.
Related posts
Week 13: CAMBODIA – Siem Reap (and Angkor Wat) → Phnom Penh
CAMBODIA: Review of Raffles Grand Hotel d'Angkor, Siem Reap
CAMBODIA: Review of Sofitel Angkor Phokeethra Golf & Spa Resort, Siem Reap
CAMBODIA: Review of La Rose Boutique Hotel & Spa and La Rose Suites, Phnom Penh