Last Updated on November 17, 2022 by Leyla Kazim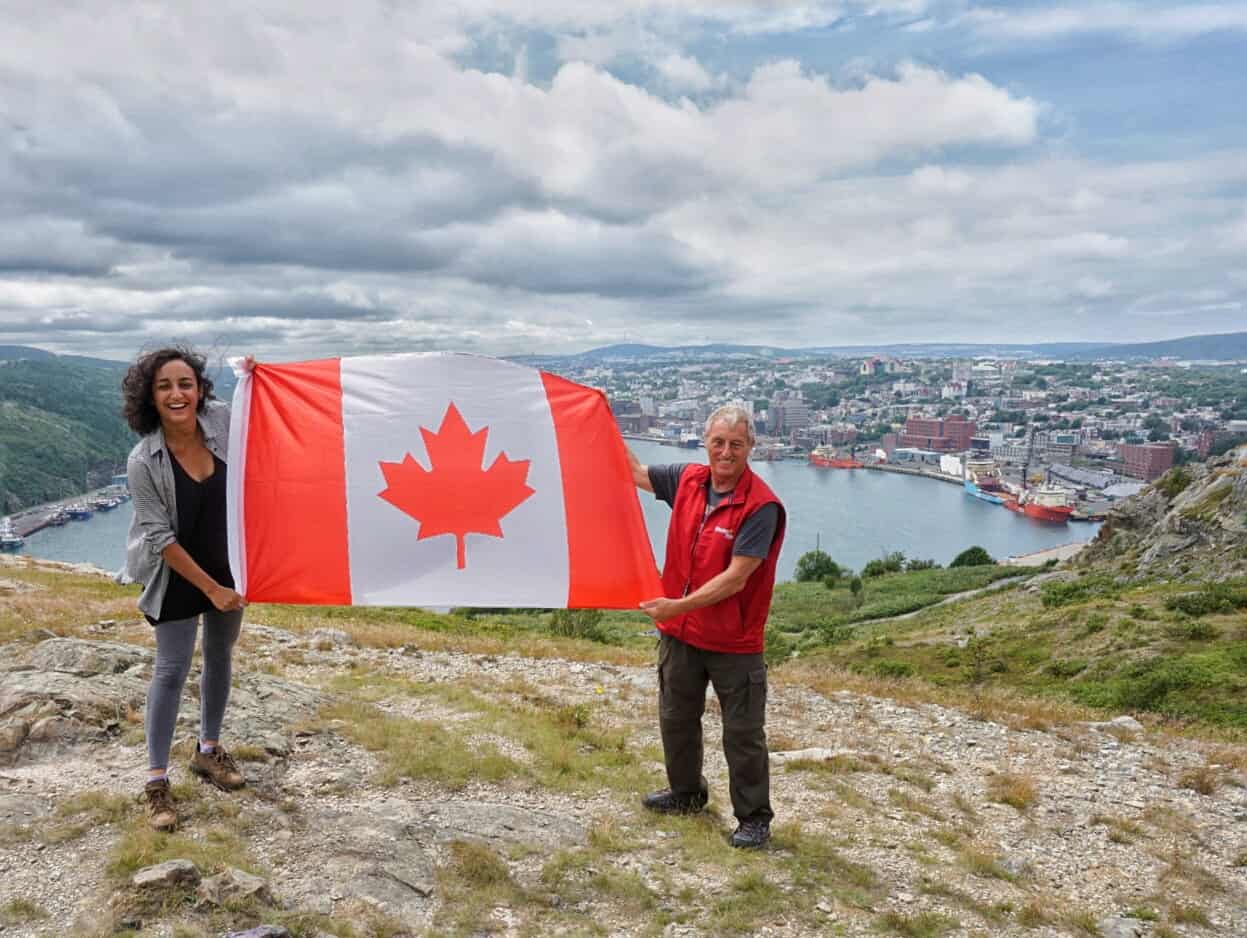 Larry and I flying the flag at Signal Hill in St John's, Newfoundland
A little about how Newfoundland came to be
One of the first things the effervescent Larry Hann – our guide from McCarthy's Party during our time in Newfoundland – first told us in his delicious Irish / Canadian hybrid accent, was that "cod is king in Newfoundland." In fact, if you say the word "fish" in these parts, it's automatically assumed you mean cod. The reason? This humble creature can be traced back as to why Newfoundland is here today.
The Canadian province of Newfoundland and Labrador is the most easterly in the country (outlined in red on the map below), and in it you'll find Newfoundland. An island, built much like an iceberg with most of its mass beneath the water, it used to be its own self-governed country and Britain's oldest colony, with locals even driving on the left, until it joined Canada as the tenth province in 1949.
The cold Atlantic waters around the island don't get above 10C, and the nutient-rich soil that was once on the land, gradually migrated into the sea over time, thanks to the slow grind of glaciers. These nutrients, combined with the cold ocean, made the fishing areas around Newfoundland one of the richest in the world. And it was mostly cod.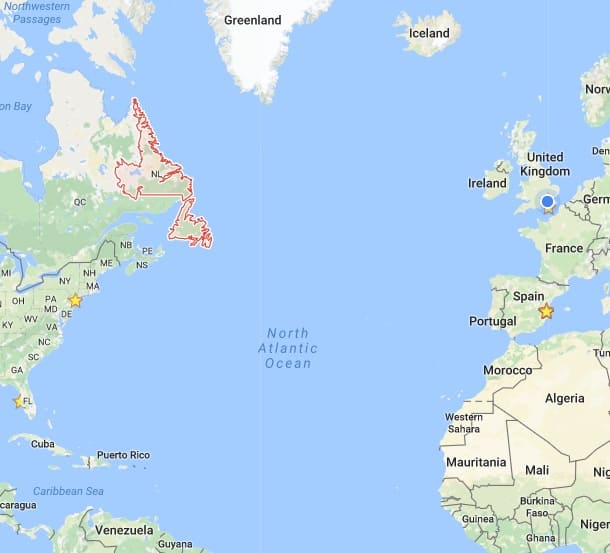 the location of Newfoundland and Labrador in Canada
This abundance of fish drew a big crowd. The English and Irish (here's a guide to eating and drinking in and around Belfast) would travel across the ocean on contracts to haul it. But over time, rather than risking their lives with the treacherous journey there and back each season, and to protect their fishing rights, they eventually decided to just – stay. And thus, the first permanent European settlement in all of Canada came to be (more on that below).
Newfoundland's unique location as the point of the New World that is closest to Europe, has also meant it's been the site of many transatlantic firsts, such as flying, and communication cables (more on that below too). And during the 9/11 attacks, any aircraft that was heading west over the North Atlantic during that time was told to make for the airport in Newfoundland, the point of land they could reach the quickest. So many craft were grounded in the city that day, that schools were open to house the thousands of stranded passengers.
Newfoundland has that winning combination – unique history, extraordinary wildlife, and a stunning setting – that makes it such an ideal place to visit. I knew nothing about this province before my trip, and given that it's less than a five hour flight from London, and the prospect of successfully swimming with whales is pulling me back, hard (more on that below), I can't imagine it will be my last.
Larry even did a private tour with Canadian rock legend Bryan Adams once, who reckoned Newfoundland and Labrador should be declared as the 7th wonder of the world. It really is that beautiful.
Here's my guide on how you could spend a terrific three days around the Avalon Peninsula, Newfoundland's East coast.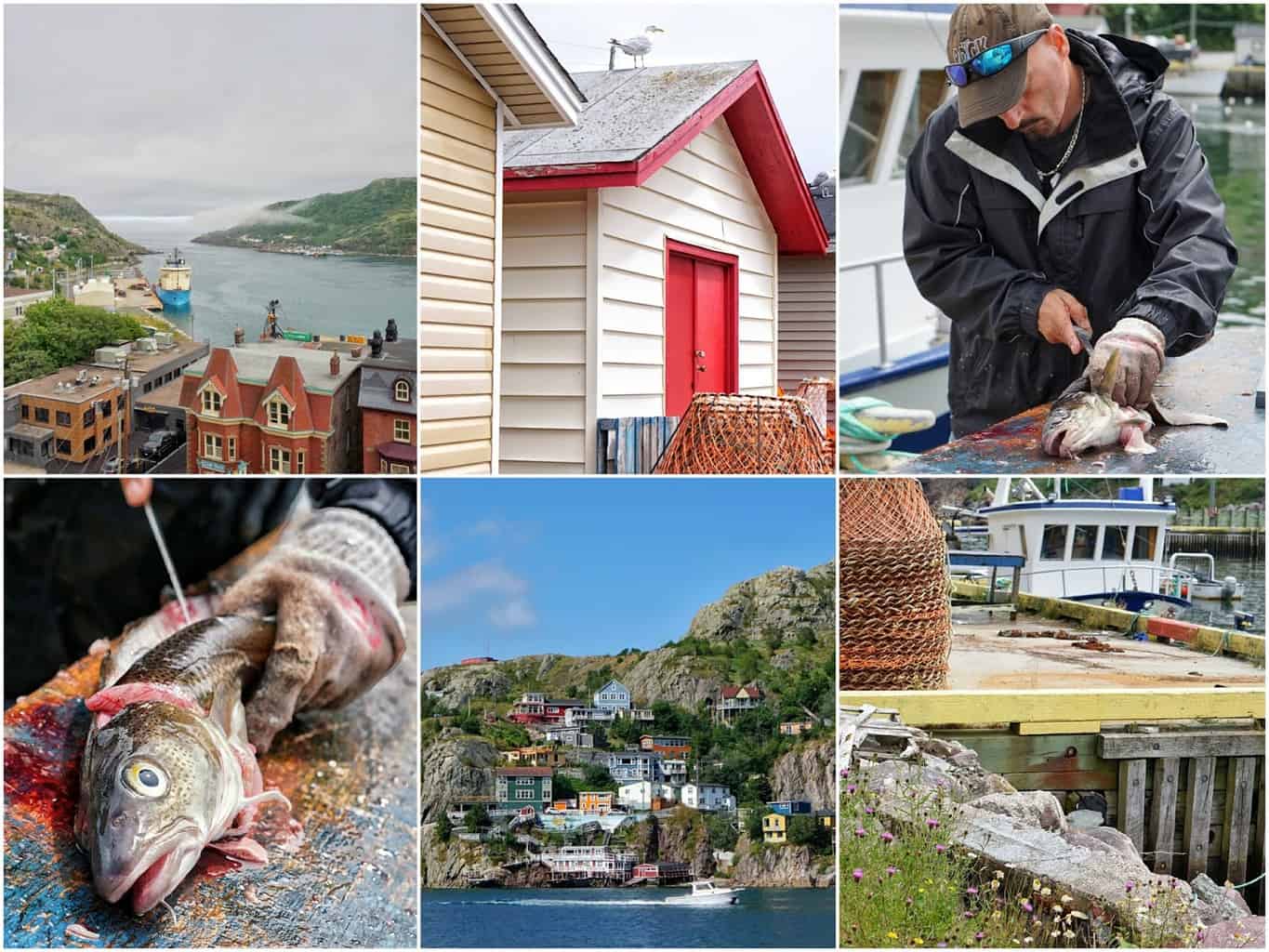 around St John's in Newfoundland
Day 1 | HISTORY AND VISTAS
MORNING
Today's full driving itinerary on Google Maps here.
1) Soak up the views whilst driving the coastal Baccalieu Trail
Take the scenic route from the capital of Newfoundland, St John's, to Cupid's Cove Plantation, along the spectacular coastal drive know as The Baccalieu Trail. You'll pass bucolic fishing villages and sensational scenery – be sure to stop for photo opps.
While you're on the road, keep a look out for moose. They're not native to the island, but there are a heck of a lot of them – around 125,000. Introduced in 1904 from New Brunswick province, they're mainly around for their meat, and 25,000 big game licenses are issued each year, allowing locals to hunt them. But what's comforting to know is this isn't a sport – moose are only ever killed for their meat, a popular source of protein for the locals. It can even be preserved in a can or bottle.
It's also worth noting that these huge beasts cross roads, and when they do, it can be a very dangerous thing indeed. Many people are killed each year from vehicle collisions with moose, and Newfoundlanders will rarely drive after dark for this reason.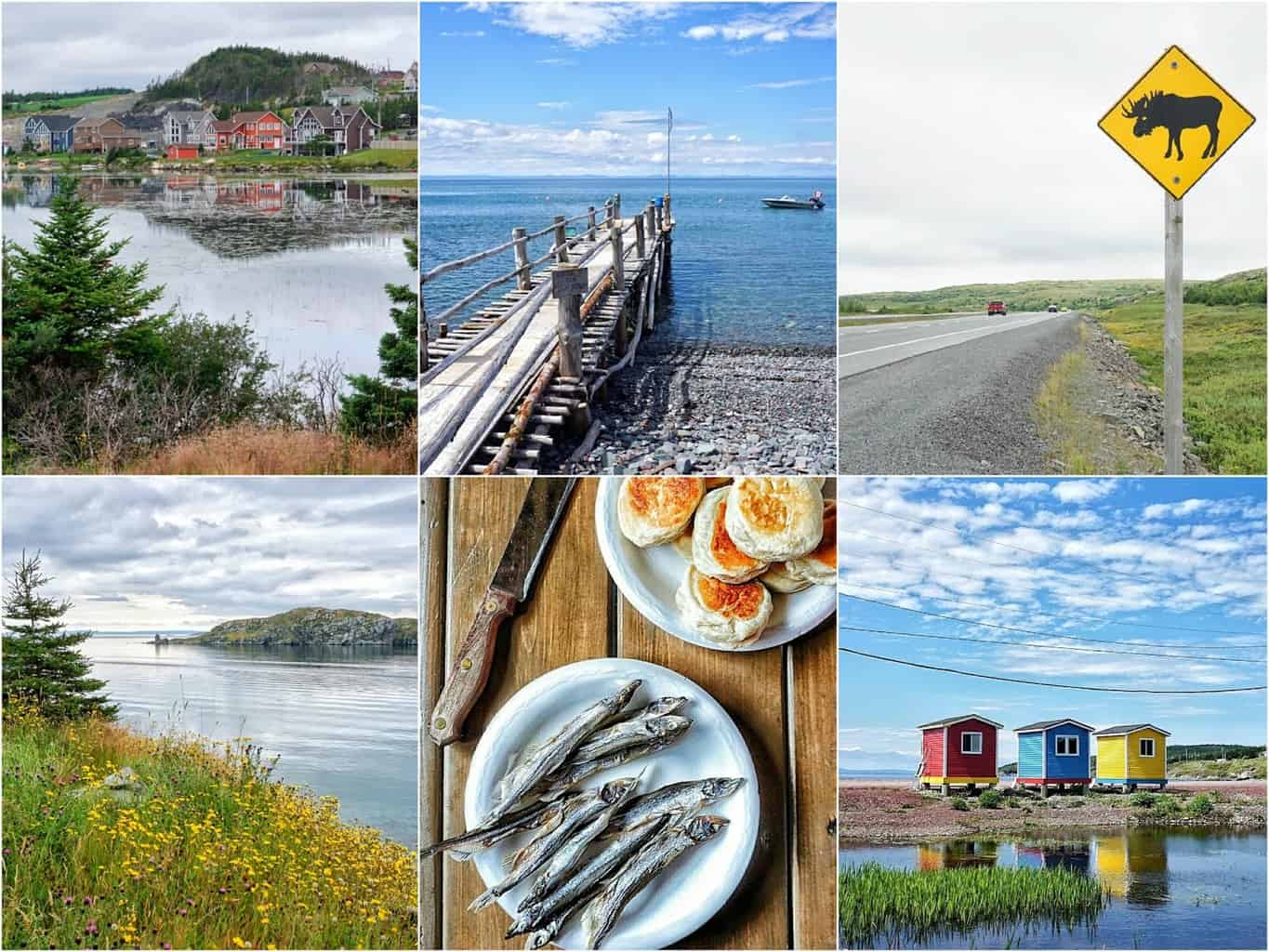 scenes from Trinity Bay and Bay Roberts, Newfoundland
2) Visit the site of the first permanent English settlement in all of Canada

Cupid's Cove Plantation is the fourth oldest permanent European settlement in North America, and the oldest in all of Canada. In 1610, a British fellow called John Guy brought a small group of colonists to this protected harbour, turning Newfoundland from a seasonal fishing ground into a home. And the rest makes for some great history.
The migrants from England and Ireland were attracted by the abundance of cod in the surrounding waters. They would lightly salt it and take it down to the Caribbean to trade for sugar and Jamaican rum, or what the locals coined as 'Newfoundland screech'. And getting 'screeched in' is a Newfoundland right of passage. Something about drinking rum and kissing a dead fish. Sounds like a good night.
The original site of Cupid's Cove was rediscovered in 1995, and active archaeological work continues to this day every summer. It's a fascinating place to visit, and the archaeologists there will happily show you around, and maybe even tell you a folktale or two.
368 Seaforest Drive, Cupids, NL
cupidslegacycentre.ca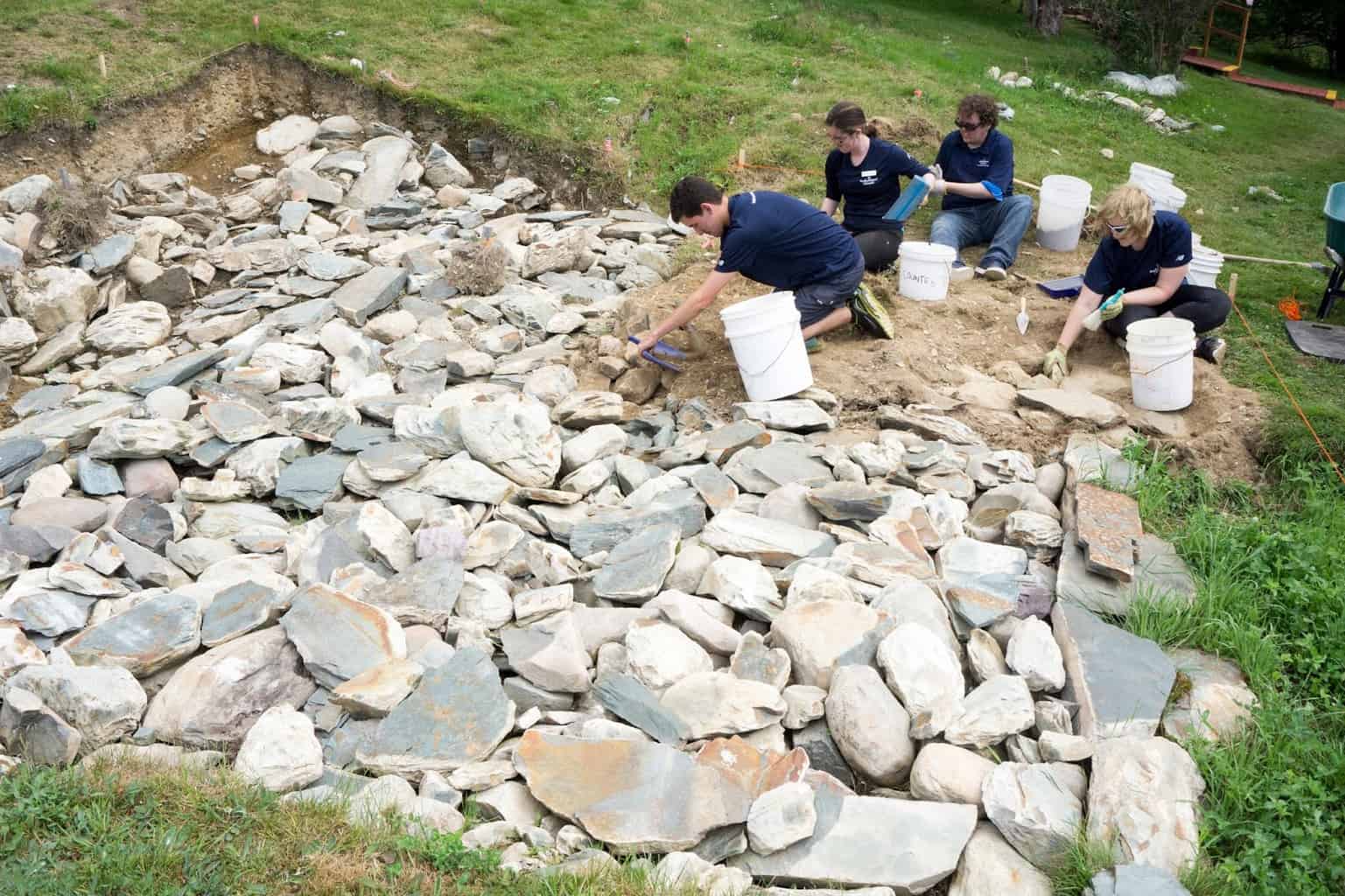 archaeological excavations at Cupids Cove plantation, Newfoundland

3) Explore the Bay Roberts shoreline and visit the Cable Museum
Meet up with the lovely people at Bay Robert's Tourism, who will gladly take you on a saunter around the beautiful bay. We got some great insight into the history, nature and culture of this thriving community by Lois Dawe, and also popped into the Cable Building for a meander around the museum and galleries.
These guys also do a lot of culinary events, including the Newfoundland Fishcake Championships (HELLO). Plus, they have a very tempting Toutons and Tunes tour, which involves enjoying toutons (fried bread with a slick of molasses or jam) with capelin (little silver fish, the same ones that attract puffins and whales) – a picture of that above – whilst listening to some traditional folk music, and having an all round good jolly.

bayroberts.com
Cable Building National Historic Site, 321 Water Street, Bay Roberts, NL A0A 1G0
4) Local lunch at Skipper Ben's, Cupids
This is a lovely spot. A very quaint restored 1890's seaside property in the heart of the oldest English settlement in Canada, right next to the water. With very welcoming owners. Get the fishcakes. And the chowder.
Website
Skipper Ben's, 408 Seaforest Drive, Cupids, NL A0A 2B0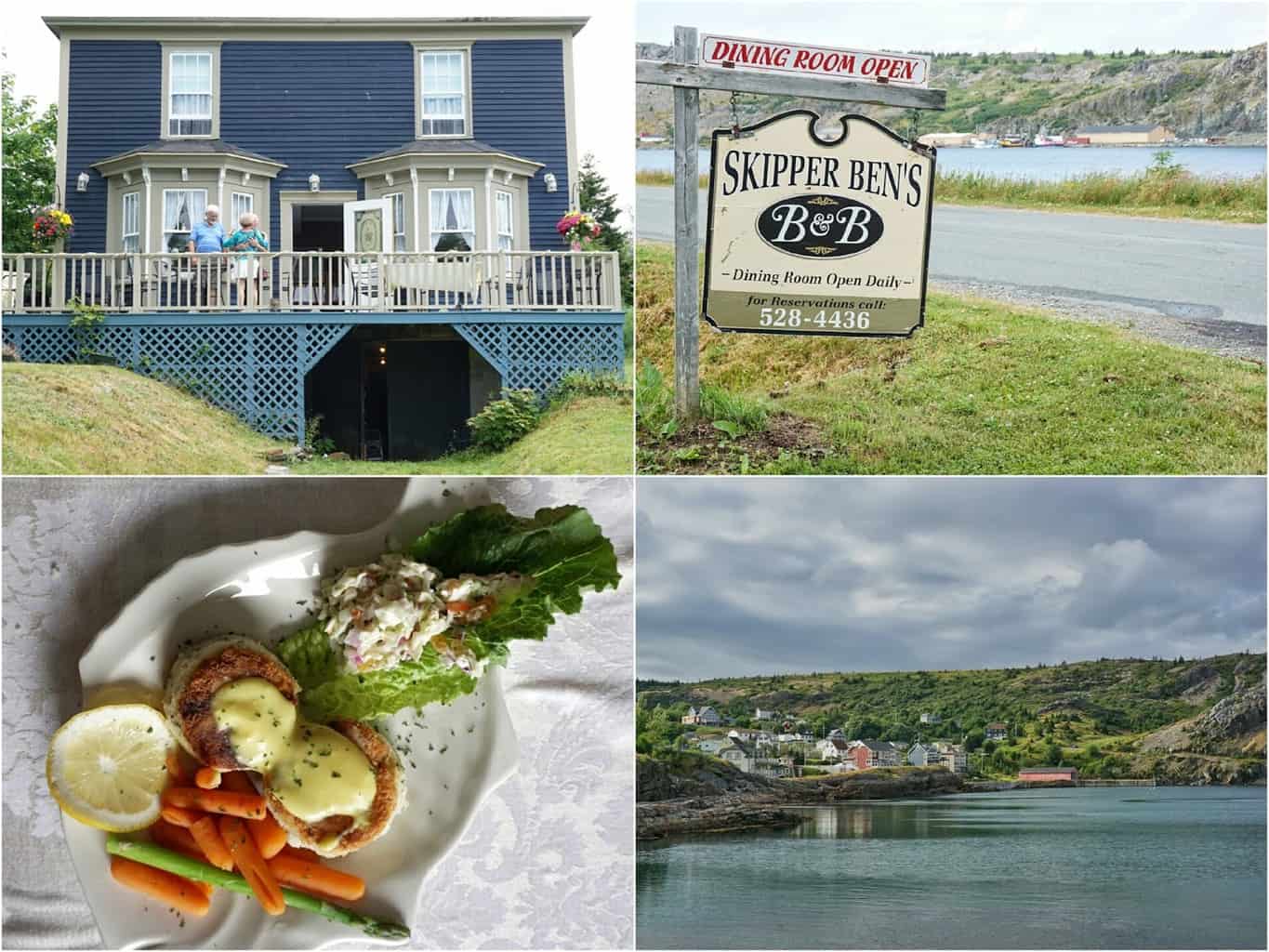 lunch at Skipper Ben's in Cupid's, Newfoundland
AFTERNOON
5) Visit Heart's Content, where the first transatlantic telegraph cable was pulled ashore
Back in the old days, getting news from North America to Europe took at least 10 days by boat. But then, in 1866, the first transatlantic telegraph cable, a tangible and physical thing connecting these two continents, was pulled through the Atlantic and hauled ashore at Heart's Content. The first morse code message was sent through this cable, and global communications changed forever.
Just imagine; a great big ship, dragging a cable through the ocean, from Ireland to Newfoundland. It's an incredible feat. There were nine years of several failed attempts prior to this, and the story behind it is a terrific one.
That was 150 years ago, and I attended the anniversary celebrations. A monumental milestone that Newfoundlanders are rightly proud about. It's humbling to think just how far communications technology has progressed since then.
Website
Highway 80 | Heart's Content, Heart's Content, NL A0B 1Z0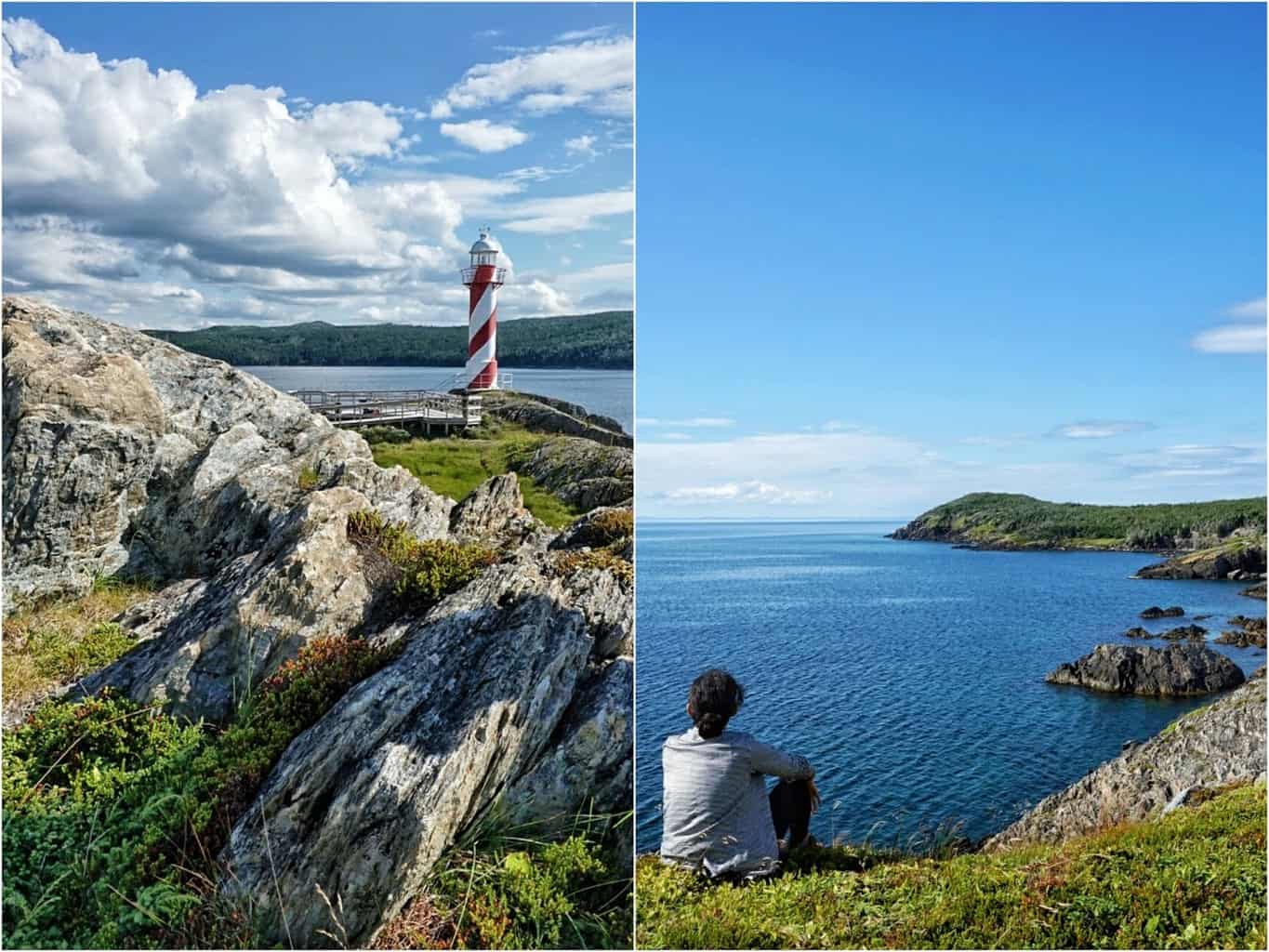 views from Heart's Content, Newfoundland
WHERE TO STAY
6) Doctor's House Inn and Spa, Green's Harbour
Just an hour from St. John's, and a million miles from anywhere. That's the strap line for Doctor's House Inn and Spa, and it's spot on. This is an elegant Tudor mansion, with a 100 acre ocean-front estate, and could possibly be Newfoundland's best kept secret.
There are glorious grounds and gardens, along with several barns, chicken coops and outbuildings, with Newfoundland ponies, cows, sheep, goats, and other very happy animals, roaming the property.
At check-in, the very lovely owner (pictured below – I forget his name – drat), mentioned Newfoundland is one of the best places in the world to spot whales, from land. He told me guests often see them from their room balconies. And he wasn't kidding. Like clockwork the next morning, I woke up, pulled back my balcony door, and heard the unmistakable spout of a whale. I looked across into the bay, and in the distance saw two dark shapes slipping in and out of the water, spouts occasionally spraying with abandon.
What a way to start the day.
doctorshousenewfoundland.com
21 Old Hopeall Road, Green's Harbour, NL, A0B 1X0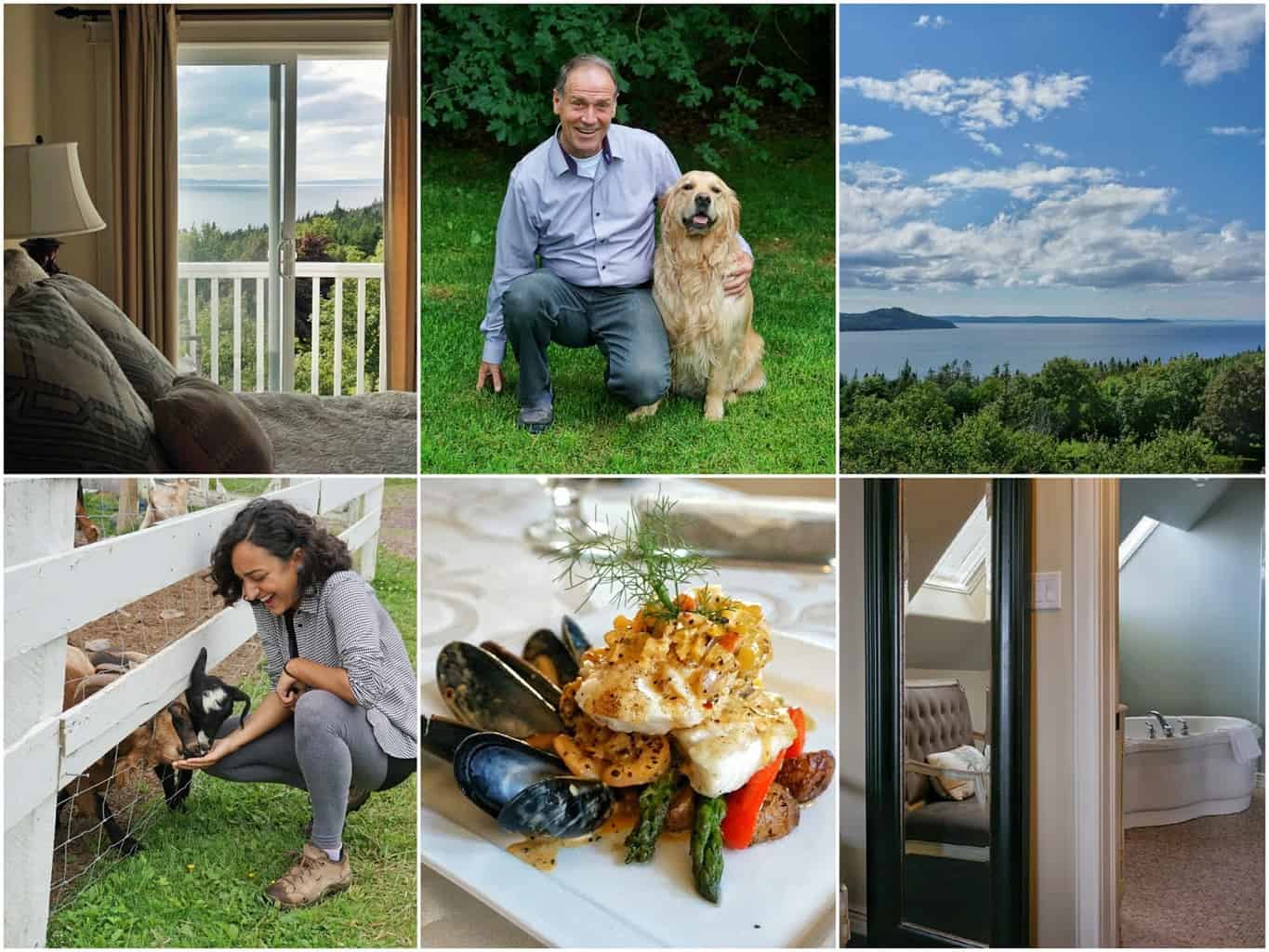 the beautiful property and grounds of Doctor's House Inn and Spa, Newfoundland

Day 2 | WILDLIFE AND THE GREAT BLUE YONDER
MORNING: OPTION 1
The full day's driving itinerary for Option 1 on Google Maps here.
1) Go find those whales, puffins and seabirds
Around a one hour and ten minute drive from Doctor's House Inn and Spa, you'll come across Witless Bay Ecological Reserve, a place alive with the rhythm of 400 million beating wings, along with 40 tonne whales pulsing through the clear blue waters.
Get out onto the ocean with Gatherall's and their Puffin and Whale Watch Tour. We were out in the morning on a foggy and very atmospheric Atlantic, with the dramatic granite rock islands of the reserve appearing through the mist. The whales were being shy, but boy, I've never seen (or smelt!) so many sea birds.
A blizzard of puffins with their colourful beaks, as far as I could see into the mist. Did you know, they're only about 10 inches tall – pictures are often zoomed in and people tend to think they're as big as penguins. There are 300,000 pairs of Atlantic puffins in this reserve, and 2.5 million seabirds in total. They were flitting about in the sky above us, clumsily and hilariously landing and taking off on the water, diving into the deep, and darting through the ocean beneath on the hunt for capelin.
If you look up, don't open your mouth!
gatheralls.com
90 Northside Road, Bay Bulls, NL, A0A 1C0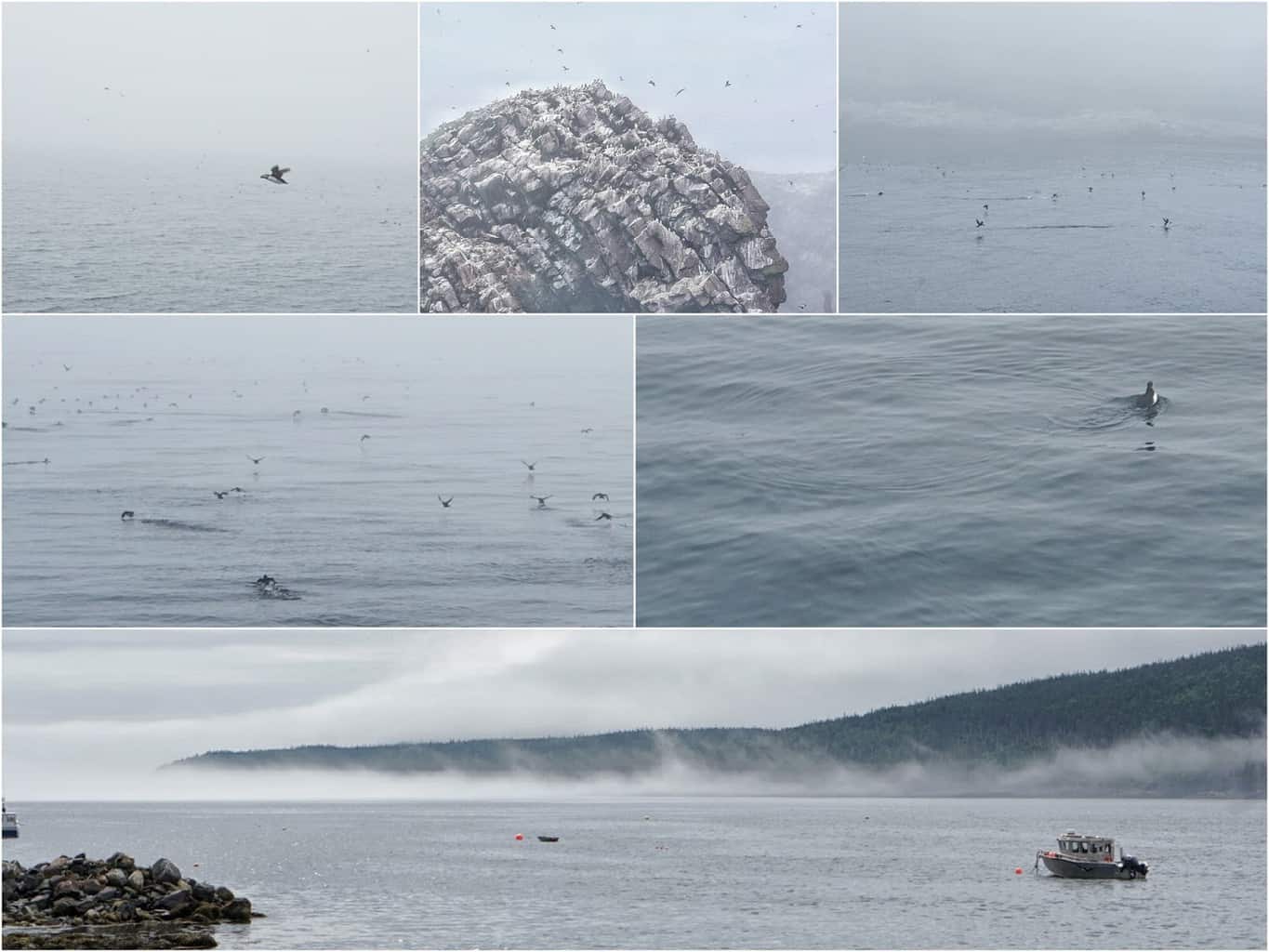 puffins, puffins everywhere, with Gatherall's in Newfoundland

2) Have a picnic lunch at North America's most easterly restaurant
If you start your morning with Gatherall's, head 40 minutes south to enjoy lunch by a lighthouse.
A Newfoundland picnic, made in North America's most easterly restaurant, found inside a lighthouse built in 1870. Expect the likes of fabulous daily baked molasses bread made on site, chutney-glazed ham and Brie sandwiches, orzo salad, freshly squeezed lemonade, and homemade cakes and tarts, with local Newfoundland berries.
You'll find it at the end of a 1km walk along a natural isthmus, with the Atlantic surrounding both sides of the path. You'll have the company of whales, seabirds and a view that goes on forever. Unless it's foggy, which made for some atmospheric eating.
Point to note, these guys are very popular and get booked up well in advance, so do plan ahead with your reservation.
lighthousepicnics.ca
Lighthouse Picnics, Ferryland, NL A0A 2H0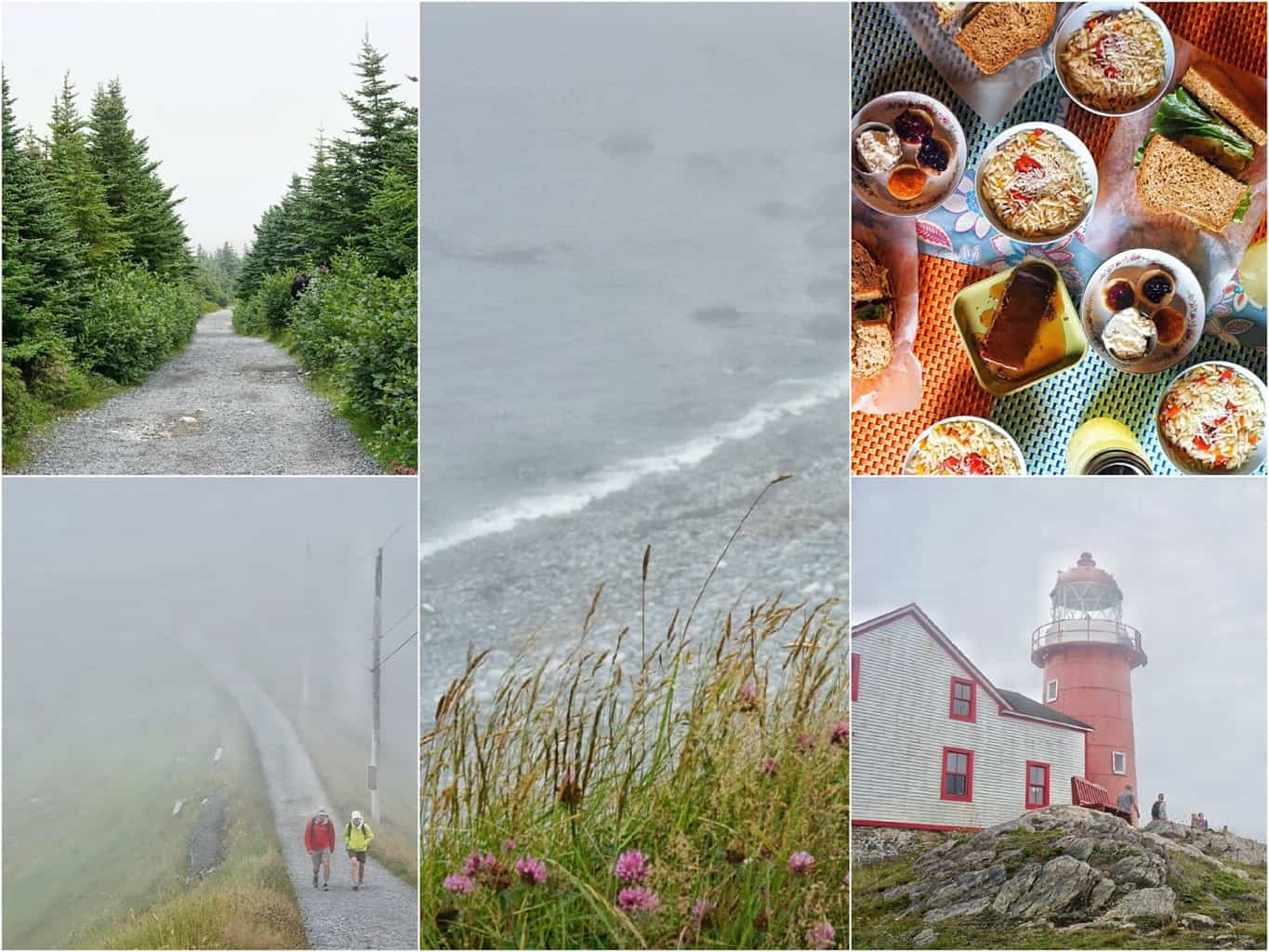 an atmospheric Ferryland Lighthouse, Newfoundland

MORNING: OPTION 2
The full day's driving itinerary for Option 2 on Google Maps here.
1) Snorkel ALONGSIDE whales. Maybe.
How brave do you think you are? Would you get in the water alongside a 40 tonne whale?
If the answer to that is HELL YES WHERE DO I SIGN UP (along the lines of my response), then you have got to do this. Around a one hour and fifteen minute drive from the previous night's accommodation, very close to the capital of St John's, you'll find the guys at Ocean Quest. Their big draw? They offer a three hour close encounter Snorkelling with Whales tour. Watch the video at that link for the type of experience that is very possible, and often takes place. It looks INCREDIBLE.
When it comes to the natural world, as much as it's one of my greatest passions, I believe I am mostly jinxed. I've never seen the Northern Lights, or whales in the water from a boat, despite several previous attempts at both. So, despite my visit timing with peak whale season in Newfoundland, I didn't actually get to snorkel with whales. We didn't even spot any. They were clearly otherwise engaged. Or more accurately, the silver capelin fish the humpbacks follow and feast on, had probably moved on by that week, and hence, so had they.
But we did see speedy dolphins. And snorkelling in the 5C Atlantic as a whole was a pretty awesome experience. Check out the video below.
oceanquestadventures.com
40 O'Leary Avenue, St. John's , NL A1B 2C7

2) Cod and chips lunch at Chafe's Landing, Petty Harbour
What to do after a foggy morning snorkelling in the freezing Atlantic on the hunt for mammals? Get fish and chips from Chafe's Landing, a 25 minute drive away. Newfoundland cod, skin-on fries, a dressing of bread crumbs, locally grown savoury (a herb), and onions. Gravy for the chips. A cup of tea. And vinegar out of a Corona bottle. It totally hit the spot and warmed the cockles – fantastic.
chafeslanding.com
11 Main Road, Petty Harbour, NL A0A 3H0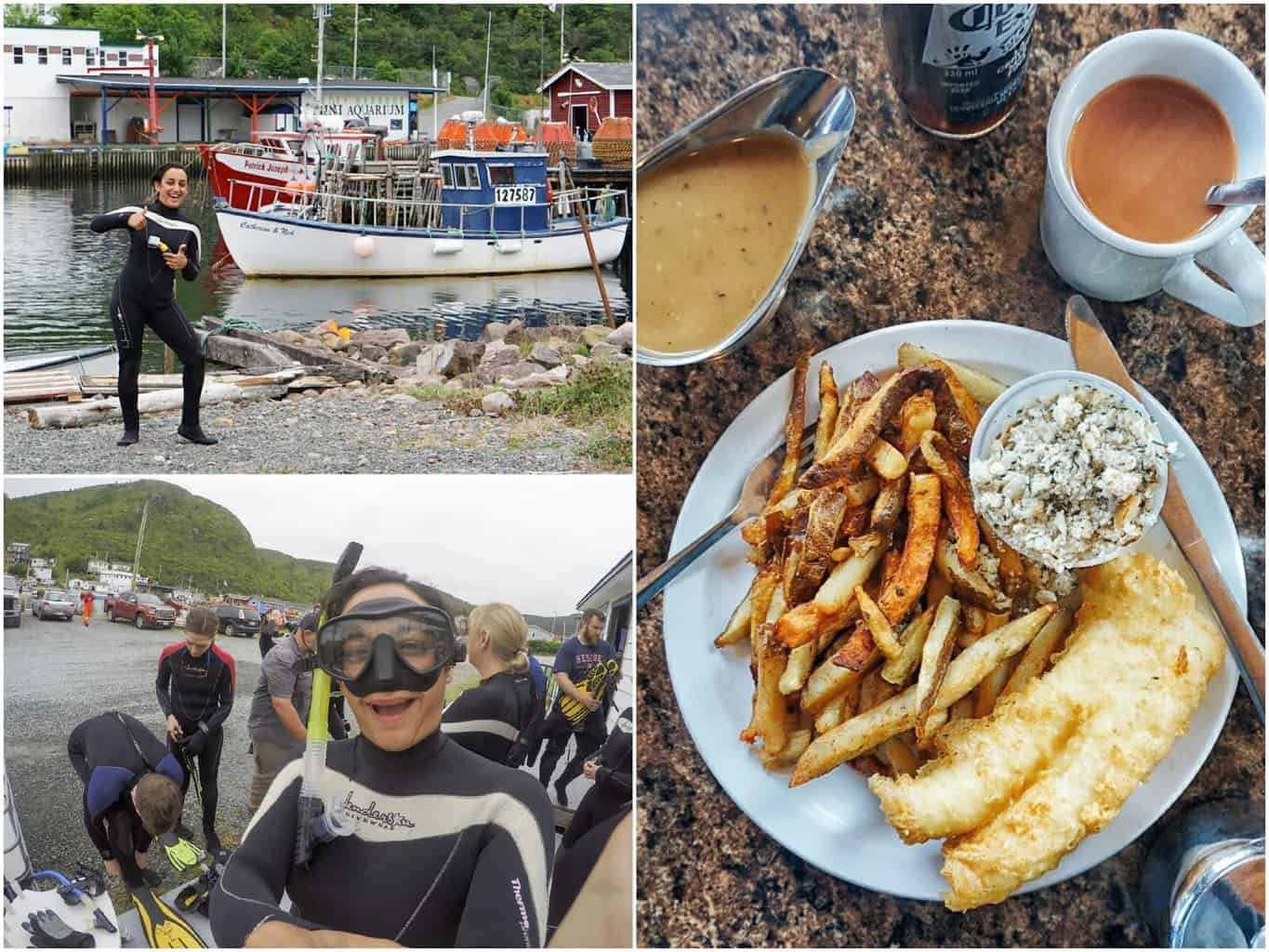 pre-snorkel with Ocean Quest, and post-snorkel cod and chips at Chafe's Landing, Newfoundland

AFTERNOON
3) Drive back to St John's
WHERE TO EAT
Head back to Newfoundland's capital, and use this time to do some exploring at your own leisure.
4) Dinner at The Reluctant Chef, St John's
These guys offer a "set" 5-course meal that changes completely every two weeks. Their Red-Seal chef works with the sommelier to create food with a unique and local flare, designed to be enjoyed with the wine pairing.
thereluctantchef.ca
290 Duckworth Street, St. John's, NL
WHERE TO STAY
5) Sheraton Hotel, St John's
A very comfortable stay was had at the Sheraton, and my room had some glorious views of overlooking the historic St. John's harbour. Watching the fog roll in and obscure everything, then roll out again within half an hour, was very cool.

sheratonhotelnewfoundland.com
115 Cavendish Square, St. Johns, NL, A1C 3K2

Day 3 | ST JOHN'S & THE SURROUNDINGS
MORNING
Today's full driving itinerary on Google Maps here.
1) Hike the trails around Signal Hill, the highest point in the capital
Work up an appetite at the historic site of Signal Hill, by hiking the five kilometres of trails. Especially the famous North Head Trail, boasting a unique traverse along the Narrows of St. John's Harbour, and into a colourful community called the Battery.
It's worth noting in the winter, this part of the world can reach -20C, or -30C with wind chill. The salt water in St John's harbour freezes, but all the ships that pass through it keep it open. In September 2015, icebergs actually made it to St John's – it's very unusual to see them so far south. A huge piece of ice, the size of Manhattan, had broken off from Greenland, and fractured off into smaller pieces. Global warming…
Website
230 Signal Hill Road, St. John's, NL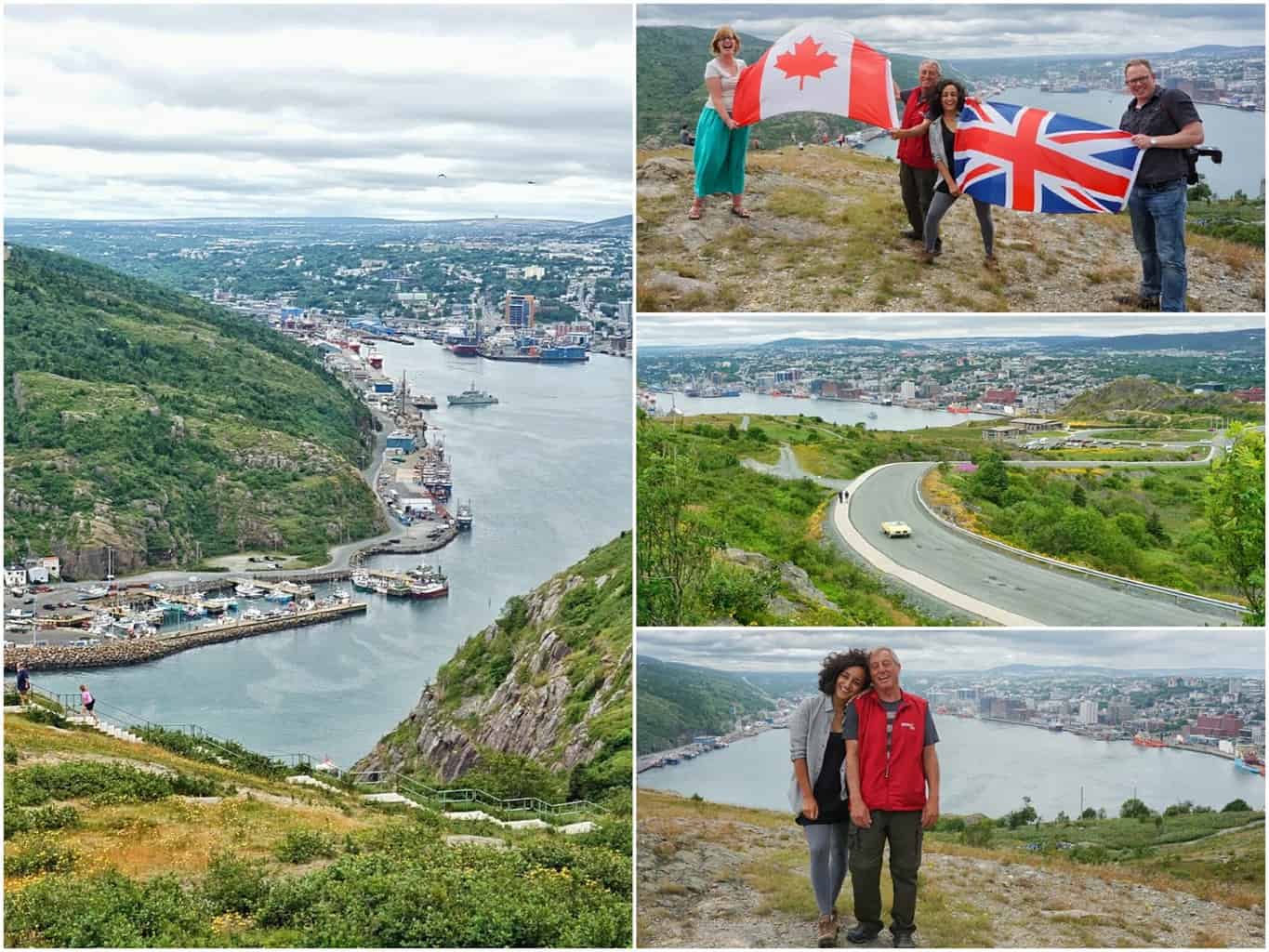 fabulous views from the top of Signal Hill, Newfoundland
2) Lunch at Signal Hill Chocolate Cafe
You could take a packed lunch, or make a pit-stop at Newfoundland Chocolate Café, inside the Signal Hill Interpretation Centre.
Website
Signal Hill National Historic Site Visitor Information Centre, St. John's, NL
AFTERNOON
3) Visit Cape Spear, the most easterly point of North America
Head to the place where the sun first rises in North America, Cape Spear. It's at the most easterly point of the continent, and is home to the oldest surviving lighthouse in Newfoundland and Labrador.
Time this visit with a good weather forecast. You'll have some stunning views of the Atlantic, and can enjoy the many walking trails. You might even have some better luck than me, and actually spot a whale in the water.
Website
Cape Spear Drive, NL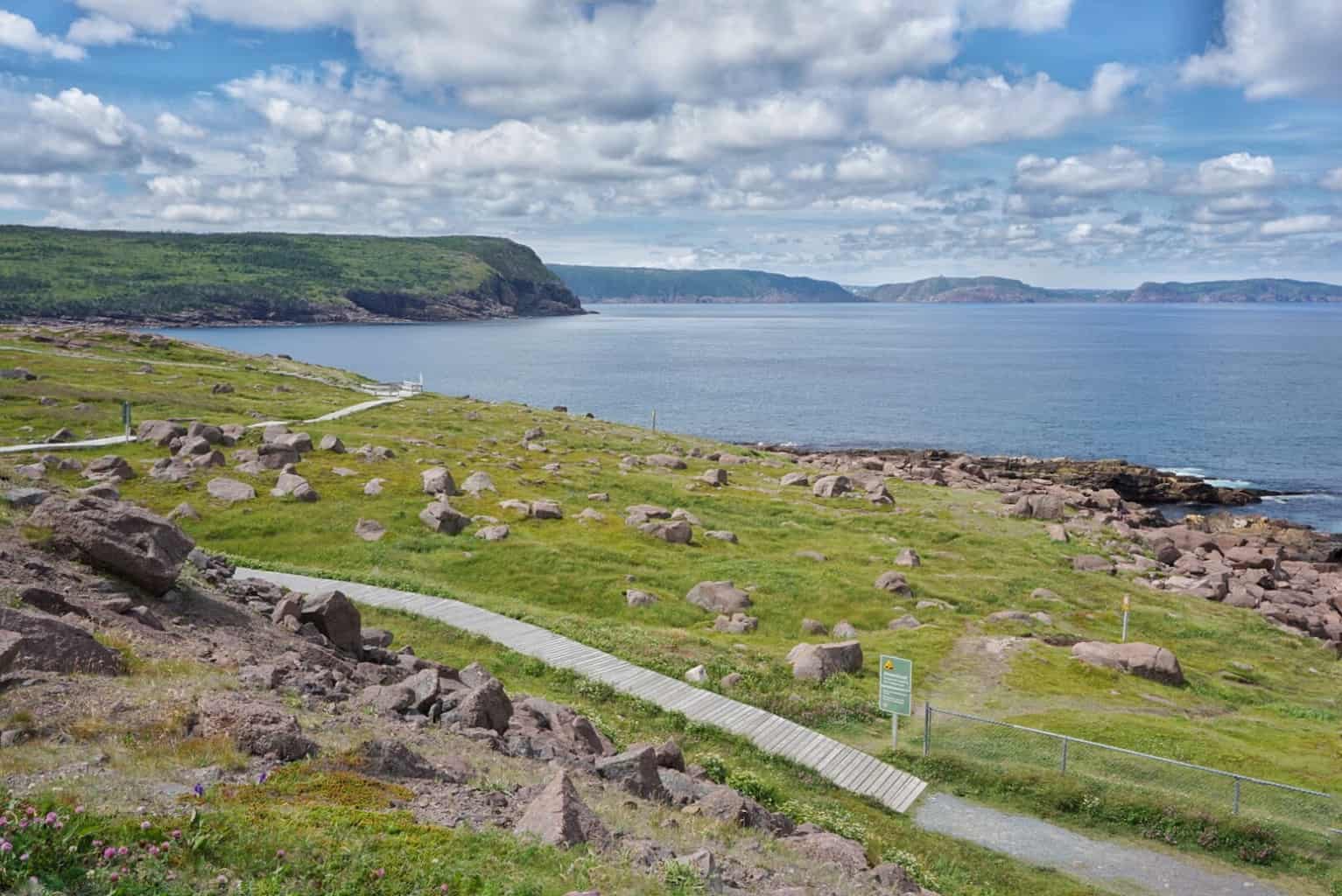 views from Cape Spear, Newfoundland

4) Sample the favourite local tipple at source at Quidi Vidi Brewery
Quidi Vidi is a great name. It's also a place that's been brewing world-class beer for the past fifteen years. They've got eight brands at the moment, and their most recent is the Quidi Vidi Iceberg beer. Can you guess the unique ingredient? It's pure, unsullied iceberg water, harvested from ones that break off Greenland and drift south towards Newfoundland. Now that's pretty cool.
You'll be hard-pressed to find Quidi Vidi beer outside of Newfoundland, as they only really make enough to just about meet the local demand. Those locals like a tipple or two.
quidividibrewery.ca
Quidi Vidi Brewing Company, 35 Barrows Road, Quidi Vidi, St. John's, NL A1A 1G8
WHERE TO EAT
5) Dinner at Blue on Water, St John's
A hotel with a fantastic restaurant attached, we had a great meal here on our first night. Including some very fine oysters from PEI (Prince Edward Island).
blueonwater.com
319 Water St, St. John's, NL A1C 1B9
Note: I visited Newfoundland as a guest of Newfoundland Labrador Tourism, as part of a media visit. All views remain my own, as always.