Last Updated on June 10, 2020 by Leyla Kazim
There are few feelings more enveloping in their warming comfort on a stiffly bitter evening than those conjured up by a big plate of hot and steamy carbs – specifically pasta. In my opinion, the best pasta dishes are the most simple. If you have some wonderful al dente linguine, parmesan, quality olive oil and black pepper, there's often not a lot else you need to achieve full satiety.
With pasta comes the obligatory associated calories (of which I try my best to keep at least a lazy eye on), and so I regard these dishes as treats rather than regular occurrences. But when I do throw my hands up in defeat after a long day at work, with a rumbling stomach doubled over in anticipation at the very thought of rolling in the digestive presence of an over-sized portion of pasta, there are three winter recipes I almost always turn towards. One is pasta with chestnuts, mushrooms and a parsley pesto; the second is a Turkish pasta dish involving halloumi (a white cheese from Cyprus) and dried mint (I'll save those two for another day); and the third is the classic and well-loved pasta carbonara.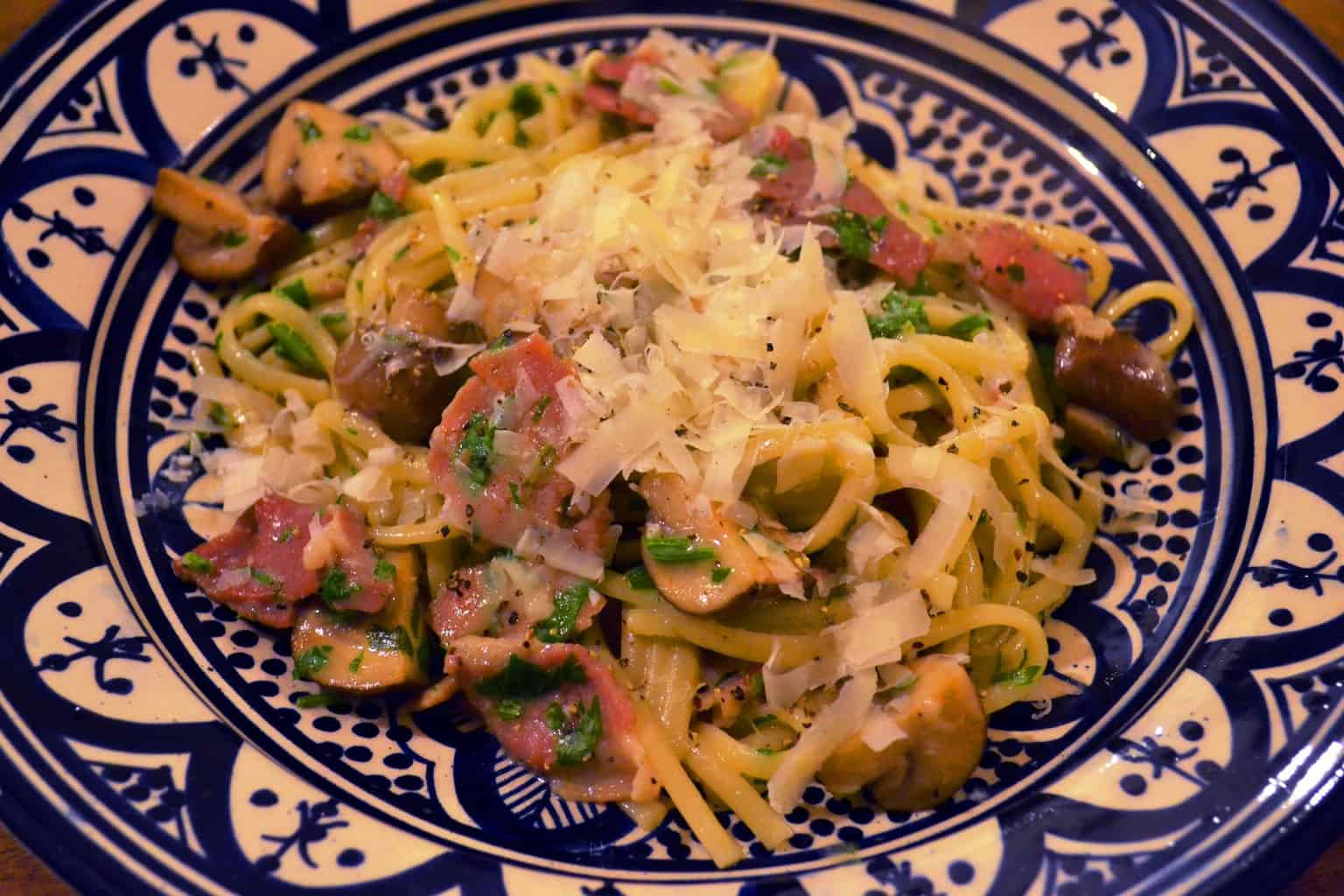 Bacon with eggs is a flavour combination older than time itself, and one of the best. Couple that with the filling qualities of pasta and the nutty saltiness of a hard Italian cheese, and you've got a plate of satisfaction able to transport anyone to their happy place.
The recipe in this post is Matt's take on the classic, and classics are there to be interpreted and provide a base for experimentation. But if you want to be a purist about this, then by all means please do – I fully support it and it is the recipe I was brought up with when my mother would regularly make the dish. To do so, just omit the parsley and mushrooms. But if you fancy at least an attempt at the inclusion of one of your five a day (albeit a sorry one) to keep the guilt pangs at bay, as well as the wonderful extra flavours they bring to the plate, then keep them in.
There are a few additional rules I would strongly recommend. These again lean towards a purist stance, but I favour them as I believe they provide the best taste sensation:
Rule number one – No to cream
The carbonara sauce should NOT include any cream, only eggs. It's an unnecessary addition that only renders the dish heavy and too rich whilst adding nothing to the flavour. The common theory is that it was introduced by restaurants looking for a short-cut to achieve the creamy quality of a carbonara sauce, without having to contend with the perfect timing required when adding eggs to a hot pan and ending up with a creamy sauce as opposed to pasta alla scrambled eggs. If you find a restaurant that doesn't use cream in its carbonara, return.
Rule number two – Pecorino over parmesan
Use just pecorino. Or use a combination of pecorino and parmesan. But don't only use parmesan. It's just a bit too overpowering in its cheesiness and claggy when melted when a lot of it is used (the quantity of cheese as well as the obligatory quality is necessary for this dish) . Pecorino is made from ewes milk and is slightly lighter than parmesan, with an excellent level of saltiness.
Rule number three – Panchetta over bacon
Contrary to the photograph, you really want to source some quality pancetta instead of bacon. Bacon is more of a last resort, but it's an acceptable alternative when it is all you have in the fridge (as in this case) and an evening trip down to a decent supermarket is unlikely.


Rule number four – No black pepper? Forget it
You need black pepper, and lots of it. Not having freshly ground black pepper to hand is in my mind a situation severe enough to not bother even starting the dish. Also, what sort of kitchen doesn't have black pepper? If this is your kitchen, shame on you my friend.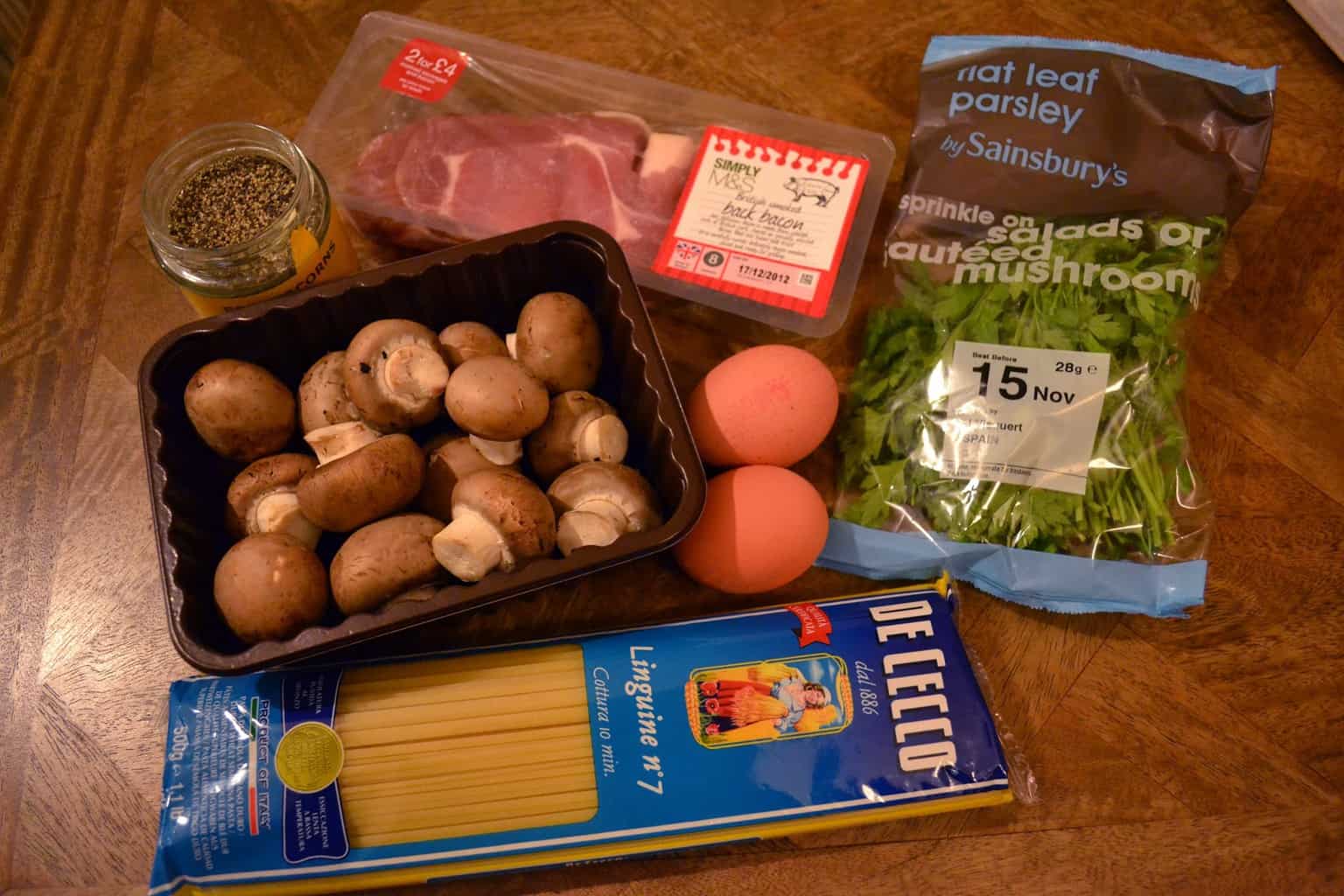 Linguine Carbonara alla Matt
Makes enough for two people.
200g linguine
2 x large free range eggs, beaten
Chestnut mushrooms, roughly chopped
Panchetta or bacon – one pack
Handful of flat leafed parsley, very finely chopped
30g of finely grated pecorino
Freshly ground black pepper
Olive oil
Bring a large saucepan of well salted water to the boil. Add the linguine and cook until al dente.
Add the grated cheese to your beaten eggs in a bowl and ensure all fully combined. Add lots of black pepper to this egg and cheese mix. When you think you've added enough, add some more. A bit more following this, would still not go amiss.
Meanwhile, cut the pancetta into lardons (if it didn't already come that way) or the bacon into lardon sized pieces.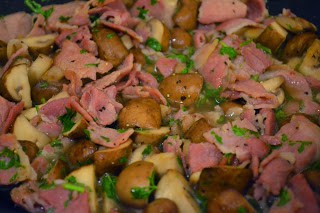 Heat a large, deep frying pan over a medium-high heat (woks are good for this), add the oil and mushrooms and cook for a few minutes until they've expelled their juices. Drain off the mushroom juices into a bowl, then add the pork to the pan and fry until crisp and golden.
Add a couple of spoonfuls of the pasta water to this pan to help the cooking sauce along, and add your parsley.
Drain the pasta (don't worry if it's not completely dry), tip it into the frying pan with the pancetta, mushrooms and parsley, add the mushroom juices back to the pan and cook for a couple of minutes to allow the pasta to absorb the juice flavours.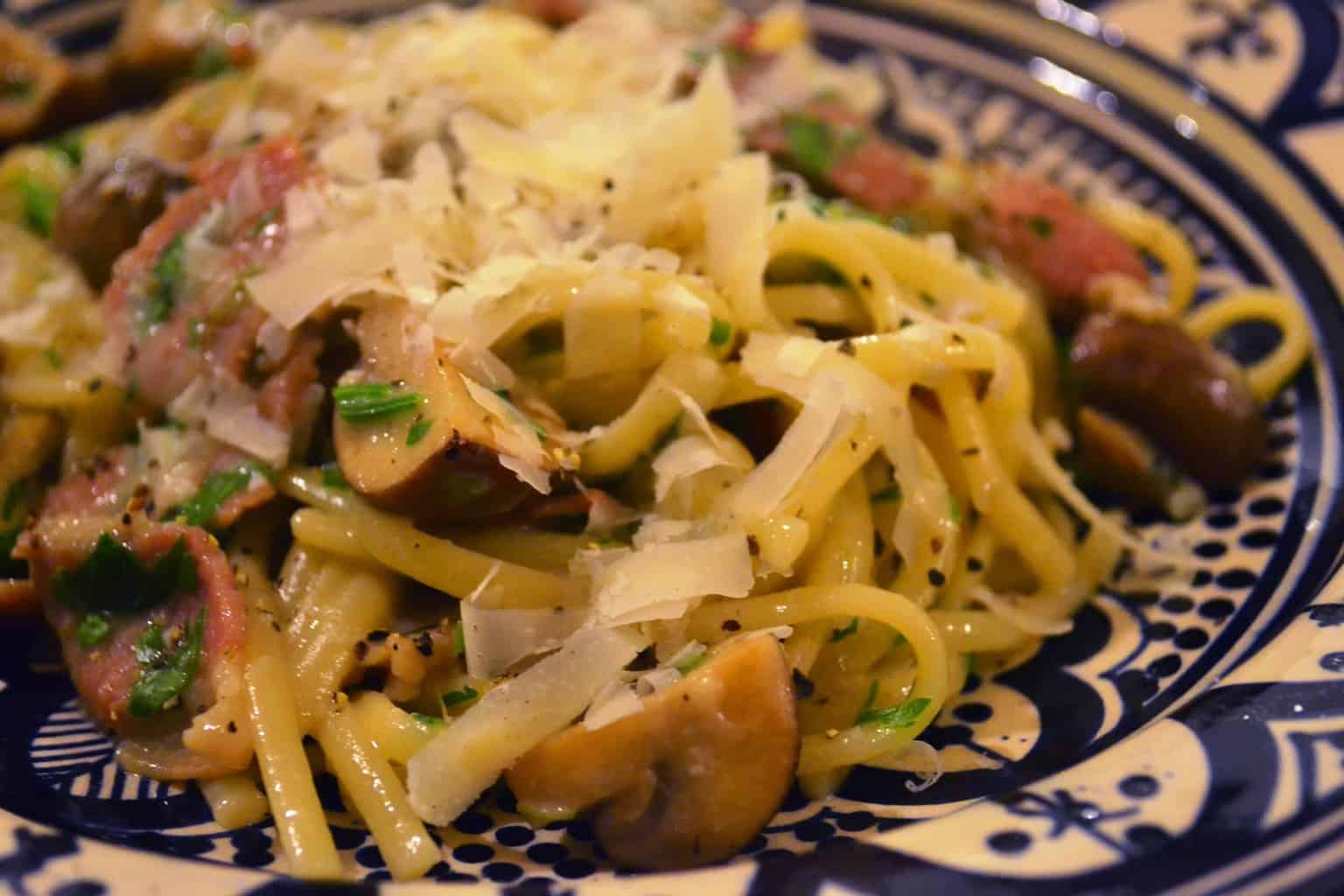 Remove the pan from the heat (this is important before the next stage), then add the beaten egg and cheese mixture, tossing everything together very well. The heat from the pasta and mix will cook the eggs enough so that they're not raw, but not scrambled – a wonderful creamy and coating consistency.
Season with additional black pepper and more shavings of the cheese.
Eat immediately in warmed bowls while piping hot.
A plate of food surely divinely intervened.
Alfiyet olsun.