Last Updated on June 17, 2020 by Leyla Kazim
I can't pretend to know much about Brazilian cuisine, but there are a handful of relatively useful nuggets of information I can throw into the ring.
I know of Rodizio Rico, mostly through bad press rather than a personal experience, specifically this review by Matthew Norman from The Telegraph, which made me guffaw when I first read it. I can't imagine you'd find many natives eating there.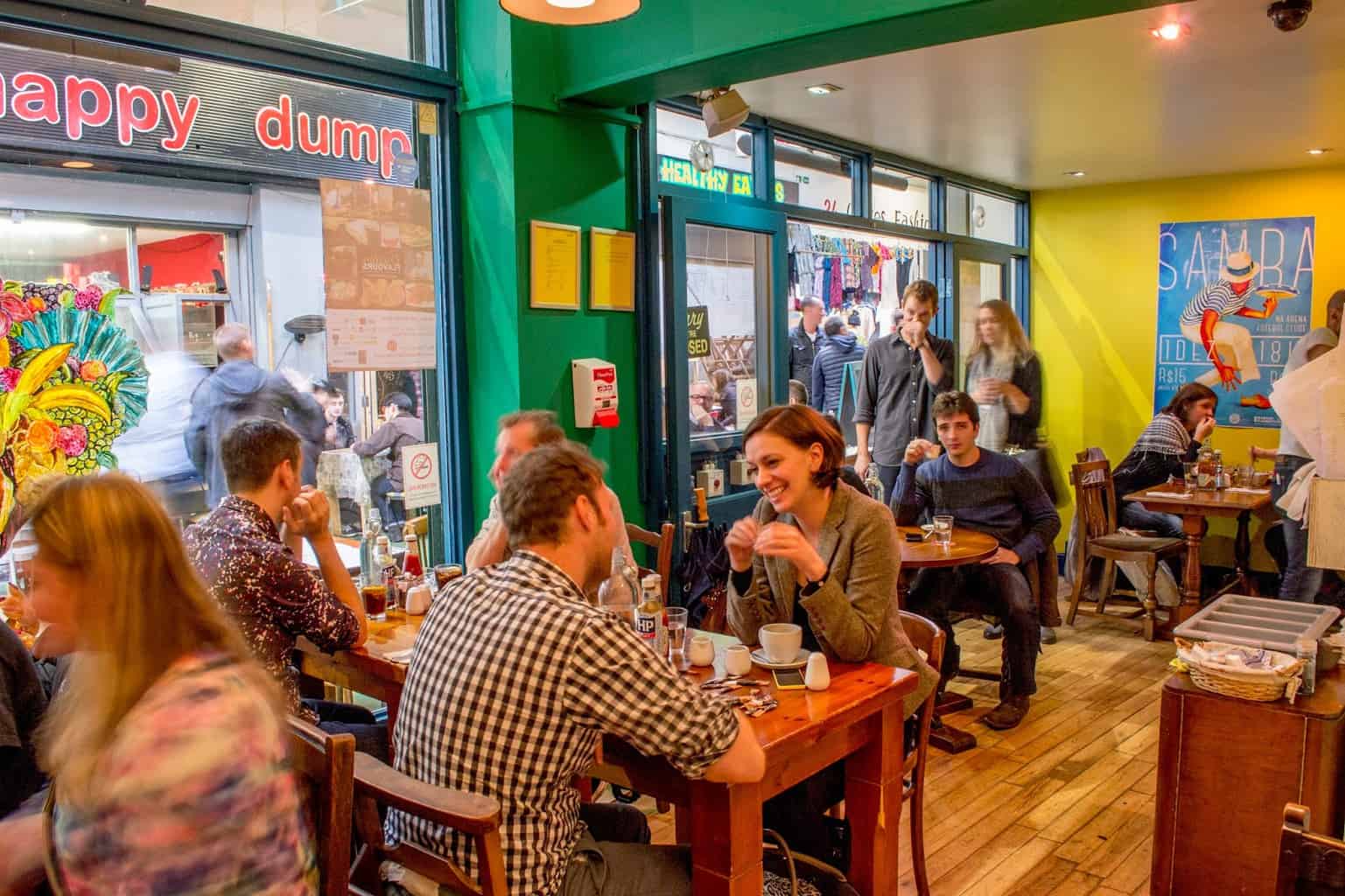 I also know of a little place in the depths of south west London, far away from everyone else but close to me, called Katavento in the quaint Merton Abbey Mills found near Colliers Wood station. The area is a pocket of arts and crafts stalls on the River Wandle, with an open air mini weekend market, live music, and a few places to eat gathered round the old water mill.
It specialises in pastels, crispy thin envelopes of pastry encasing some sort of filling. I remember coming across the place around World Cup time, stopping for a very pleasant and al fresco beef and felicci (Brazilian cream cheese) pastel, and thinking, 'this could be the place to be when Brazil are playing'. The website said reservations for game nights had filled up months before.
Finally, I know Brazil is home to the largest population of Japanese outside Japan; a really interesting nugget of information, I remember thinking at the time. It's something I learnt from Italian-Japanese chef and supper club host Luiz Hara, himself born in São Paulo. You can imagine the culinary fusions thanks to that relationship.
But that is ultimately where my knowledge of Brazilian cuisine ends. Prior to last week, I wouldn't even know where else to go in London to sample and find out more.
It turns out, a good place to start on your quest for Brazilian-food enlightenment – and one that has in fact been around for a little while – is Carioca. You'll find it amongst the knot of compact, independent, international eateries on Market Row in Brixton Market.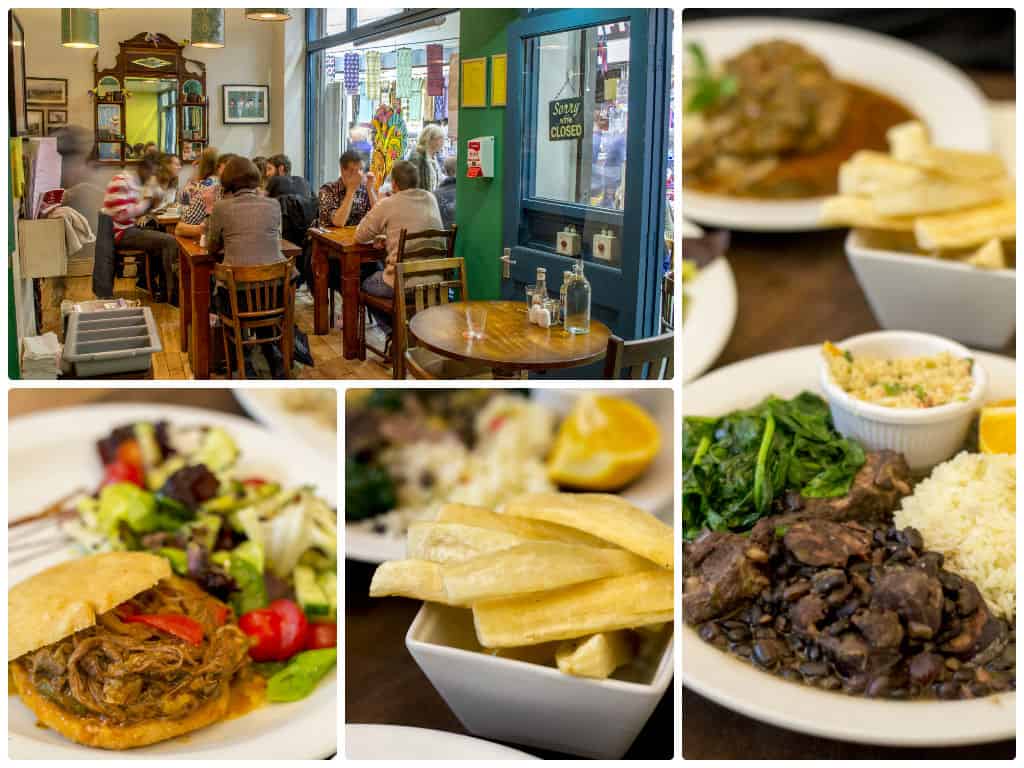 They initially launched and operated under the name Prima Donna, with lacklustre interiors and the kind of matching wallpaper and lamp shades that would be at home in a DFS showroom.
From the name, people understandably assumed it was Italian. So they've given it a face lift with an injection of South American colours, enhanced the menu with more authentic Brazilian dishes, and relaunched as Carioca, the word used to refer to native inhabitants of Rio de Janeiro. And the premise behind the food here.
I popped in for a weekend lunch, where the vibe is very much coffee shop come café come Brazilian restaurant. At 1pm on a Saturday, clientele were mostly feasting on one of four variations of a full English breakfast, or one of five ways to have eggs on muffins with hollandaise. I get that they need to cater for the hungover masses unable to move past the desperate craving of eggs, beans, bacon and toast. And they'd be losing out on business if those weekend staples were missing. But, you know – BORING.
Don't come here for those, as tasty as I'm sure they are. Instead, venture onto the second page of the menu, where you start to see homemade Brazilian dishes make an appearance.
The feijoada can be found here, and likely every other restaurant calling itself Brazilian, considering it's the national dish of the country. A stew of black beans with chorizo, beef, lean pork, bay leaves, stir fried greens and a pot of yuca flour which you mix into the rest, is hearty and comforting and there's enough meaty juices to soak into the rice (£11.95). This was the dish my companion favoured.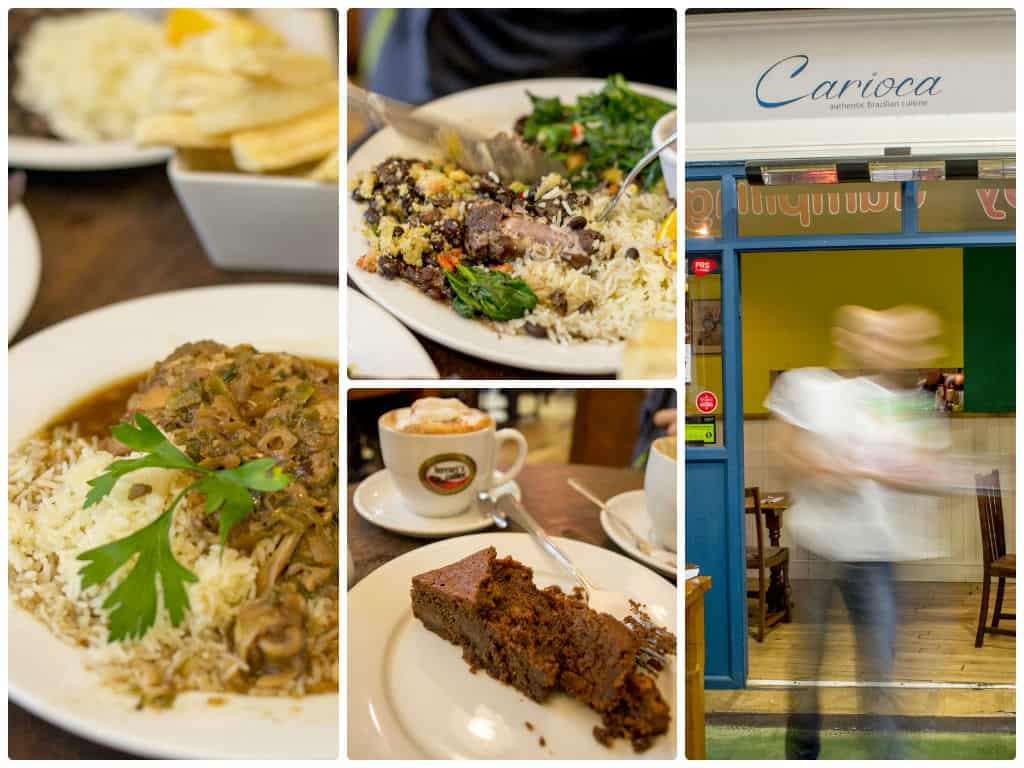 For me, the winning plate was the chicken caipira. It's food from the Brazilian countryside, a story of slow-braised meat cooked with shallots, ginger, garlic, spices, spring onion and parsley.
It reminded me of my mum's excellent coq au vin (she does it with white wine), the meat having the kind of surrendering physical state that offers negligible resistance against a fork. And it swims in a pool of wonderful juices to satisfyingly soak cassava chips (£3), rice, bread or any other carbohydrate of choice, I'm sure. I could eat this every day. Reassuring, wholesome, feel-good food (£8.95). It's also one they've recently added to the menu; I suspect it will be staying.
There was also an arepa, a sandwich of maize bread stuffed with pulled beef, onions and bell peppers, of which I preferred the carb component as the meat seasoning was a little too sweet for me. The other half wolfed it with little deliberation (£7.85).
There isn't much in the way of dessert other than some accomplished home baking, with a handful of cakes displayed on stands, still warm from the oven when we selected. The chocolate and almond with orange was declared a moist and yielding success, but I would like to see a presence of what would typically satisfy the sweet teeth of Rio. But maybe that is just cake, who knows.
In terms of authentic Brazilian fare, the lunch menu is a little limited compared to what's on in the evening. There's a whole starters section not included during the day, with the likes of homemade churrasco sauce (the sauce they put on grilled meat) slathered on chicken wings, cured and grilled Portuguese chorizo on sourdough, beef back rib and mozzarella croquettes, breads infused with cheese, braised beef empanadas, Bahian fish cakes (also at lunch), chargrilled ribs, and steaks with more churrasco.
I'd like to return to try these, and I'd suggest an evening meal for a true insight into what they've got going on.
Carioca has a good buzz about it. It's a cozy spot to shelter from the outside world, hunker down and enjoy some hearty South American home cooking, with a few welcoming outside-but-covered tables if you can get past the unflattering market spotlights. Regardless, I suspect I'll be back.
Liked lots: chicken caipira, cake, staff, great vibe and simple but jolly interiors
Liked less: would be good to see traditional Brazilian desserts (whatever they are), and some of the evening dishes available at lunch
Good for: making it a local favourite, learning the ropes of Brazilian cuisine
My rating: 3.5/5
Find the menu on Zomato.
Afiyet olsun.
Note: I was invited as a guest to this restaurant.