Last Updated on June 17, 2020 by Leyla Kazim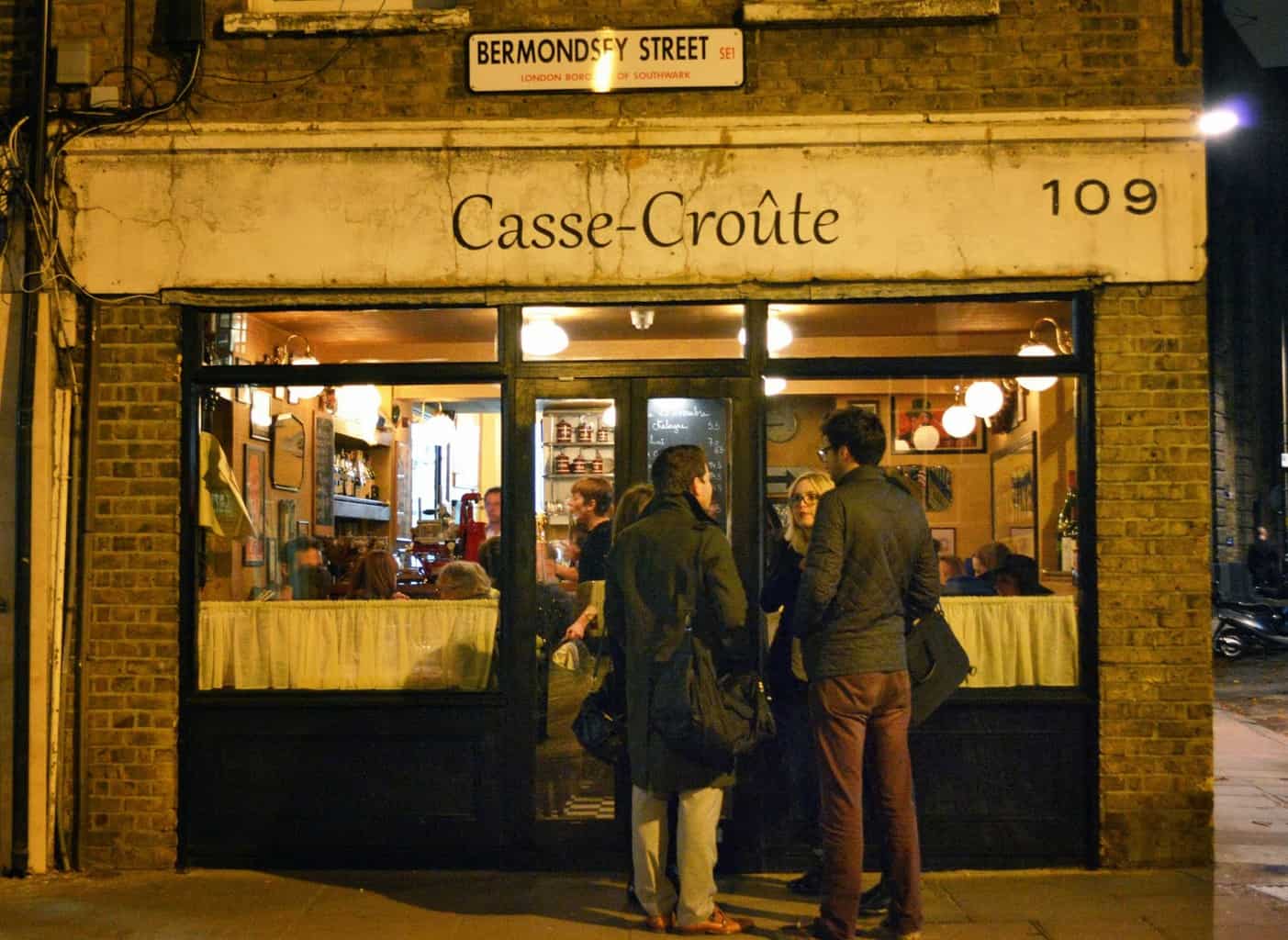 If it was possible to pluck a fictional eaterie out of the Parisian back streets of the film Amelie and plant it on Bermondsey Street in London, it would look exactly like Casse-Croûte. This small bistro with around 20 seats and a few spaces to prop up the digestif laden bar is about as French as Gérard Depardieu sporting a beret and belting out the full run of La Marseillaise. But more bijou (thankfully).
It has everything to match the French bistro of your mind, the sort you would hope to stumble into on the left bank after a walk from Montparnasse late one evening to continue a conversation about the works of Yann Tiersen over pastis and cassoulet..
Complete with red gingham tablecloths, café curtains, a black and white checked floor, heavily accented staff and French paraphernalia adorning the walls, it is the perfect place to entertain an intimate evening of animated conversation, saucisson and some very good vin rouge.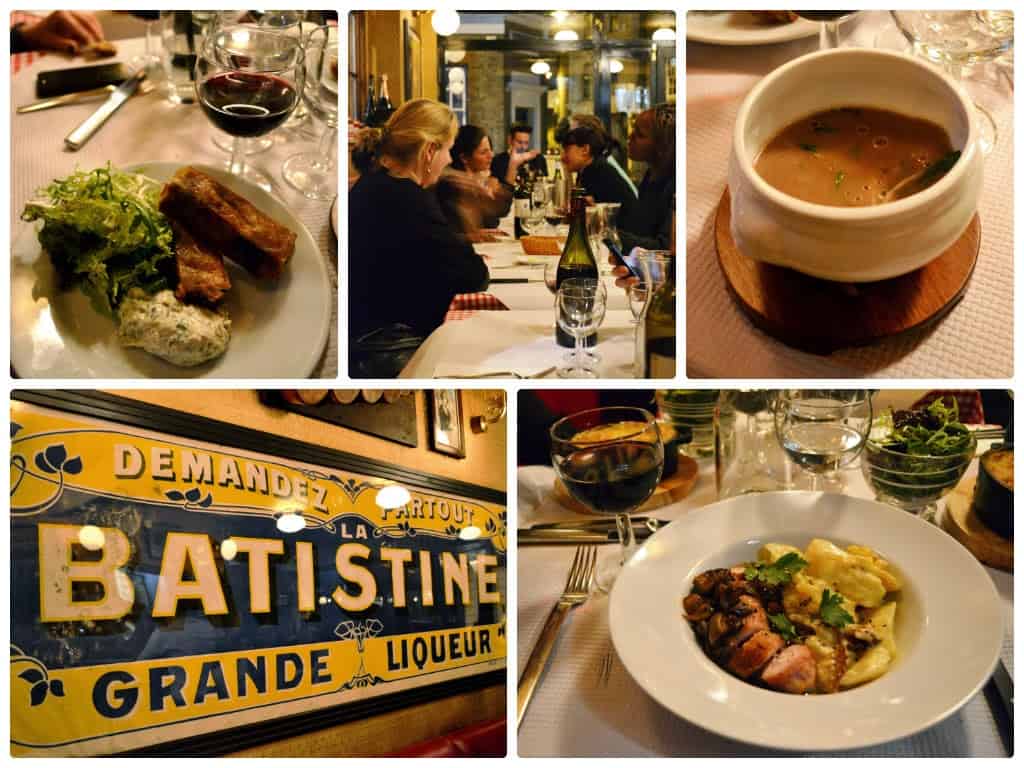 The restaurant opened in July this year, the brainchild of Hervé Durochat (co-partner of José across the road) and set up by Durochat and Alexandre Bonnefoy (ex-assistant head sommelier at Arts Club). The brief and daily changing menu is scrawled in French on a chalkboard at the back of the room – three options for each of the three courses with a welcome translation from the waiters should you need it.
A glance at these photographed and shared on the Casse-Croûte twitter account each morning reveals a kitchen cooking up staples such as black pudding, tartares, confit de canard, bouillabaisse, veal stew, coq au vin and regular entries from lesser used cuts of meat such as beef tongue, brains, veal kidneys and on the evening of our visit, pig trotter meat (curiously shaped into cuboids and surrounded by a delicate pastry).
Sampling a forkful, it was heavy with the same gelatinous collagen that forms when boiling chicken feet (so I was informed by my companion – Taiwanese – obviously). Not to my palate, but she lapped it up. 'Great for the skin!'. If you say so. My herby chestnut soup was far more appetising; earthy, comforting and poured over a pile of coriander, dill and parsley at the table.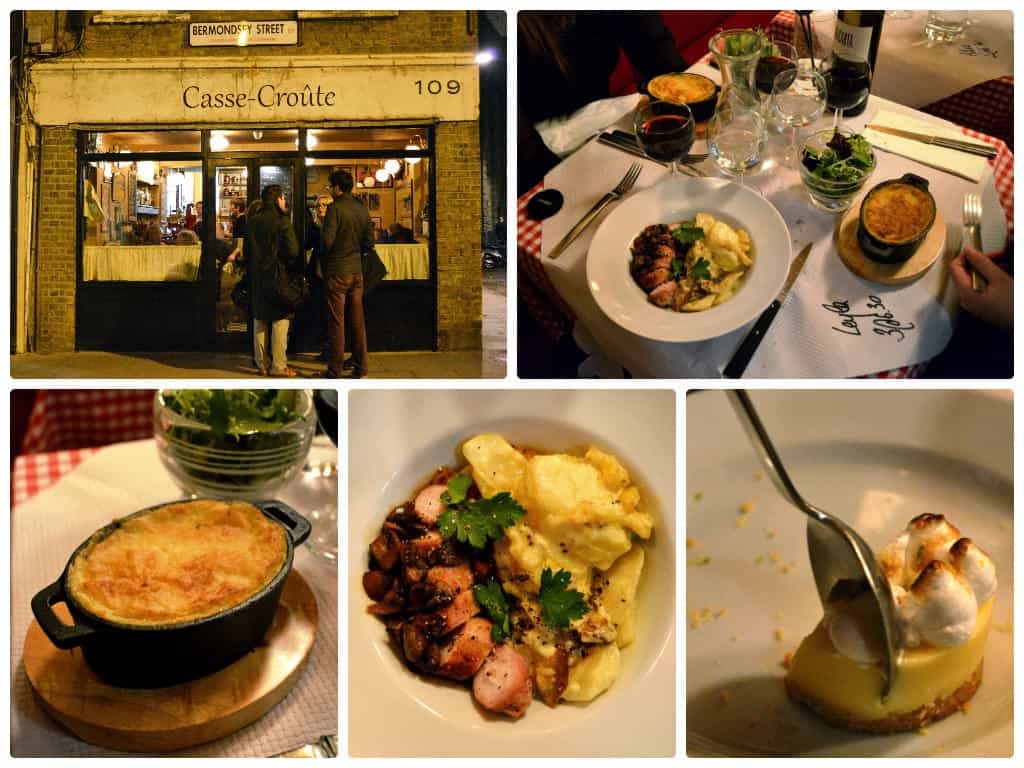 The rabbit was good, disintegrating into a boiled egg yolk like paste on the tongue (an acquired texture I suspect), the meat beefed up with creamy dauphinoise, garlic mushrooms, and the whole plate well seasoned with salt crystals. The girls had a duck pie topped with potato concealing rich, dark, slow-cooked meat within, and I had a side of food envy.
We three each opted for a dainty portion of tarte au citron topped with soft meringue for dessert. Perfectly pleasing, but since the juice from lemons may as well run through my veins (the Turkish side speaking), more citrus would have pleased me further.
When, at the end of an evening, what I ordered matches what I wish I had ordered, the venture can be deemed a success. On this occasion, the fromage and charcuterie managed to escape my clutches despite the busy saucisson slicer in full view; there was every intention to order it, but we were defeated.
In addition, the three of us were cramped around what should have been a table for just two, next to the toilet door which at times had clientèle outside waiting to use. My friend had her chair repeatedly kicked by a very apologetic but albeit completely mal-coordinated waiter due to her being sat where there should not have been a seat. These perils in exchange for the intimacy created by the snug space – I would specifically request a different table on my return.
And return I am certain I will do. With such a frequently changing menu there's a lot that needs working through. Not to mention the draw of a gloriously stinking French cheese platter.
Liked lots: atmosphere, French-ness, daily changing menu, neighbourhood restaurant
Liked less: our specific table that was too cramped
Good for: romantically lit date, small groups, an authentic taste of France without the Eurostar
My rating: 3.5/5
Afiyet olsun.