Last Updated on June 17, 2020 by Leyla Kazim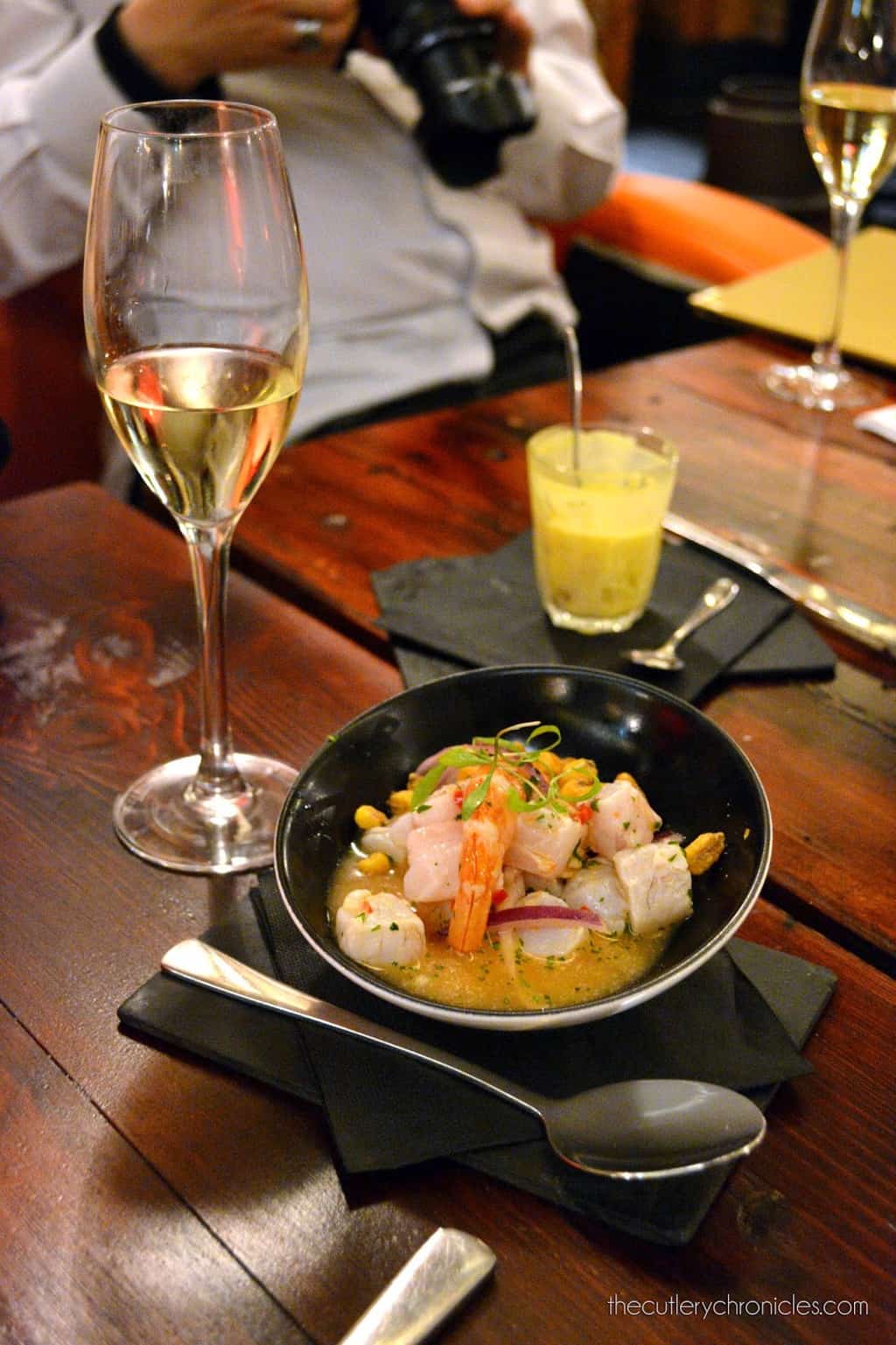 I like a glass of fizz as much as the next person. But I'll be the first to admit I know little about the intricacies and variations of wines – oenology (yes, I had to look that up) isn't quite my bag. That said, when it comes to bubbly I know what I like the taste of and I'm always willing to learn. Couple this with a deep-set appreciation for a plate (or nine) of quality tapas, and the opportunity to attend a cava tasting evening with complimentary Spanish bites reads as a perfect way to spend an evening.
A handsome bare-bricked subterranean haunt situated just a minute's inebriated stumble from Blackfriars and brought to us from the team behind Comino (upstairs), Copa de Cava is the UK's first restaurant and bar dedicated to that very quaffable Spanish sparkler. They stock an impressive range of 29 types of cava and have devised a menu (different to Comino) to compliment each one. I'm very drawn to the idea of whiling away a few hours over their tasting menu with a different glass for each dish; "here is my money, bring me everything that is good".
Here's that learning bit. All cava is made using a traditional method of fermentation in deep underground caves and tunnels (similar to the process for making champagne). It's not a quick job, but does result in the range of complexities that can be found in this wine. There are ten grapes from which cava can be made, all of which are indigenous to Spain (apart from the Champagne grapes Chardonnay and Pinot Noir), and 95% of cava comes from Penedès in Catalunya in the North East.
Then there's the aging; a Brut has done so for a minimum of 9 months and will be fresh and light, a Reserva has laid patient for at least 15 months resulting in richer and more structured aromas, and a Gran Reservera is the mature Grandaddy of the lot with a minimum of 30 months under its belt.
Behind the science lies the proof in the eating (and drinking) – how did it all taste? The overwhelming response to which is, good. Very.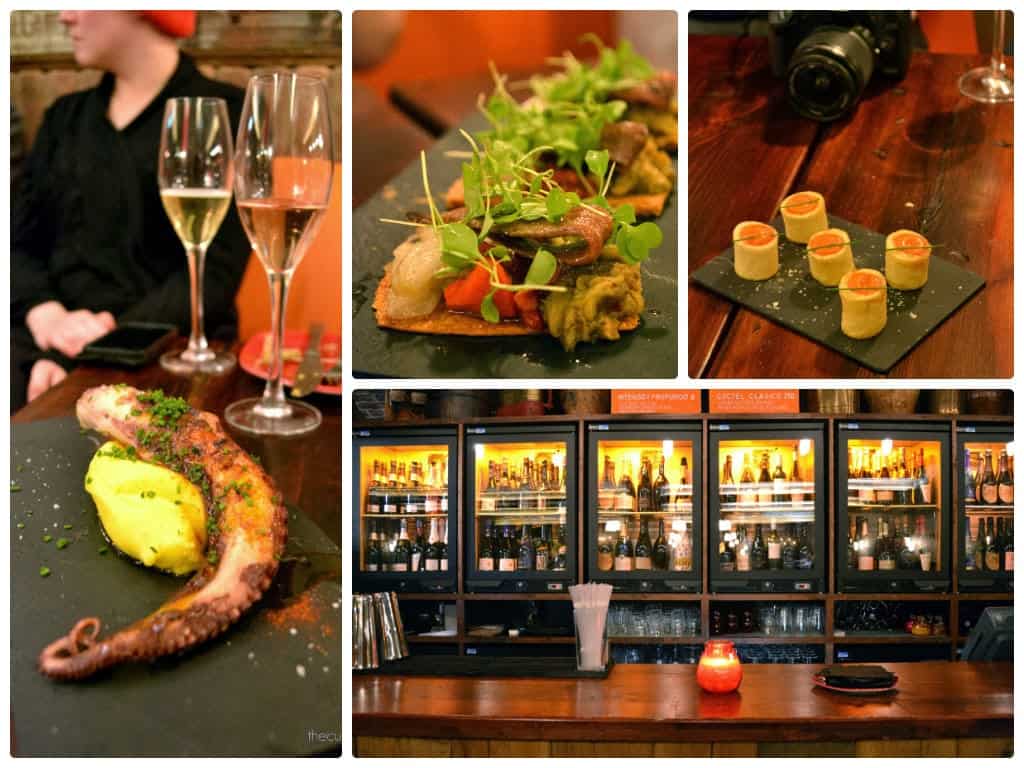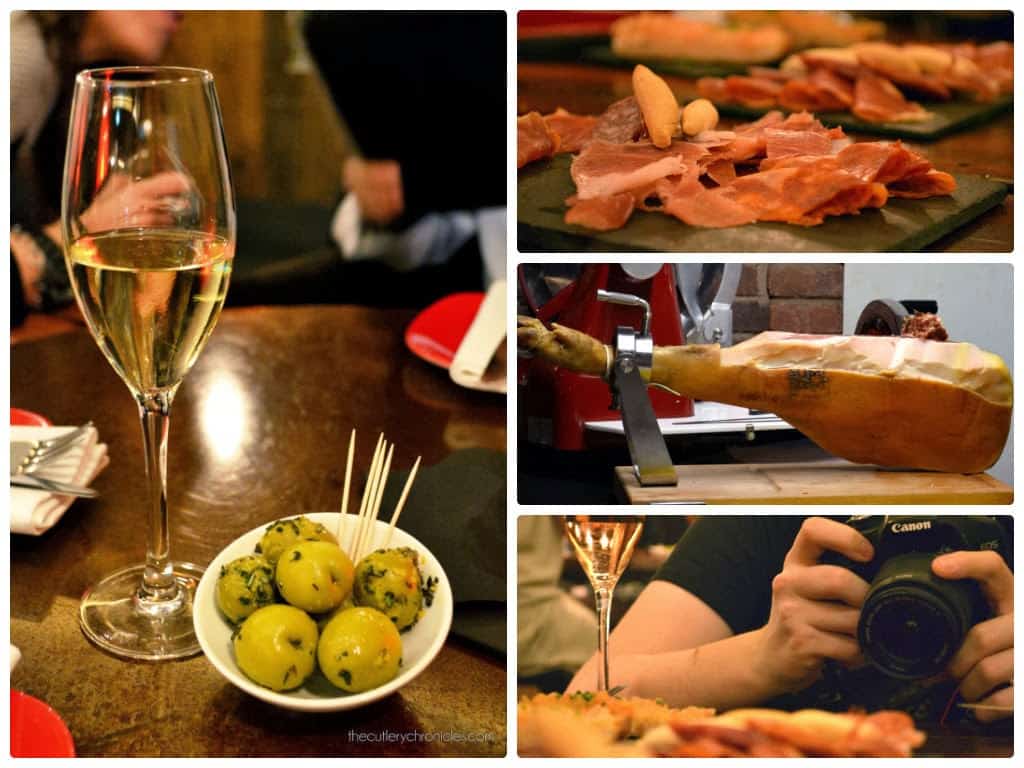 Gobstopper-sized Gordal olives dressed with lemon zest, rosemary and a splash of cava vinegar came paired with the Vatua Colets Brut; crisp and balanced, this glass works well as an aperitif and with light dishes.
The dry and delicate qualities of the pink Raventós í Blanc de nit Reserva 2010 (a combination of red and white grapes) made best friends with the plates of pan con tomate (toasted rubbed with roasted garlic and spread with tomatoes, olive oil and salt) and cured meats that busied our searching fingers.
Glasses topped up with the smooth and rich Conde de Haro Brut (Rioja) coincided with three tapas dishes. Abalone mushrooms that looked like fat slabs of foie gras were substantial and earthy and elevated with garlic and chilli. The tortilla was deconstructed, playfully served in a glass with a bottom layer of fluffy crushed potato topped with an egg mixture similar to a Benedict sauce – I had two. The patatas bravas were also in a novel format, potato-roll bites filled with the spicy tomato brava sauce – I had many.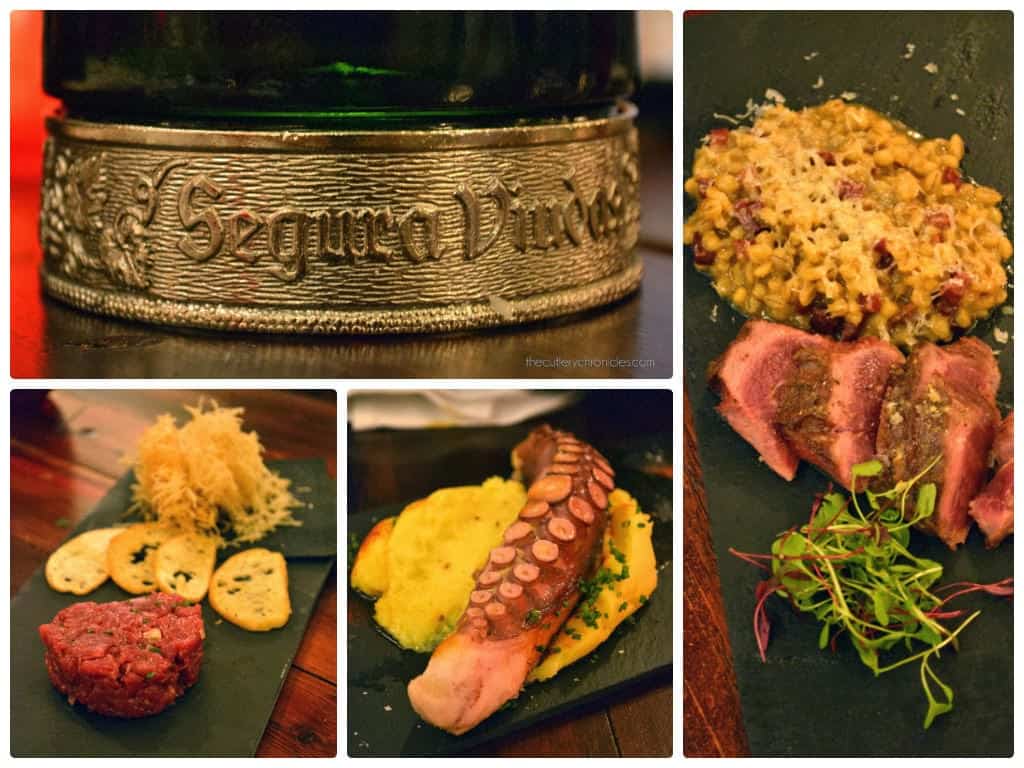 Then there were hunks of stonebass and prawns denaturing in a bath of lime, chilli, onions, coriander, and with a flourish of corn kernals. A stellar dish, the juice of which I sunk from two bowls after the meat had gone, the salt burning winter-chapped lips and the sourness aching the gum line. God, I love ceviche. With this, a creamy and zesty Raimat Gran Brut Dominant.
Roasted peppers and aubergines with anchovies and onions perched on crisp sheets of pastry accompanied a dry and grown-up glass of Mont Marcal Reserva, and alien-looking octopus tentacles covered in suckers and paprika and as thick as a baby's arm looked a picture but could have been softer. But it did marry with the olive oil mash and a fresh and tangy glass of Albariño (Mar de Frades Brut Nature) extraordinarily well.
Iberico pork shoulder was tender and still glistening pink at the centre, the creamy pearl barley a touch too al dente. And then there was one of my favourite steak tartare encounters – unveiled beneath a glass dome with captured smoke, the flavour imparted onto the meat. With the crisp shreds of fried potatoes and a sip or four of an intense and elegant Reserve de la Familia Gran Reserva, this was a winning course.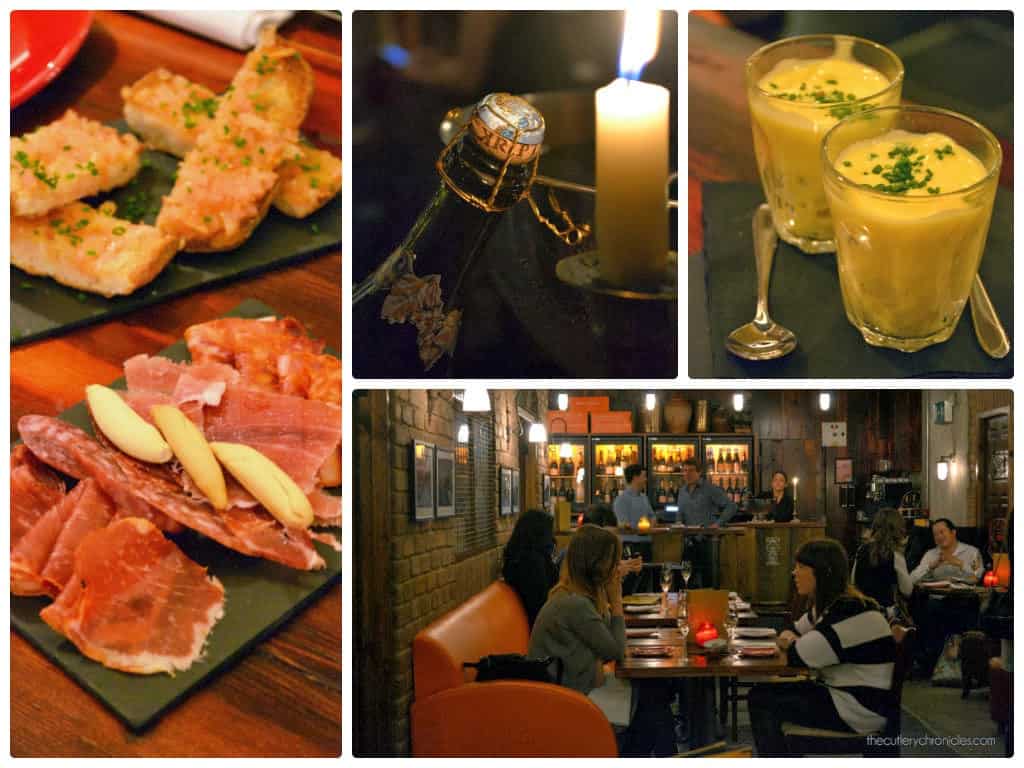 Little dark chocolate truffles filled with white chocolate mousse accompanied La Rosita Brut and as if we hadn't been swigging quite enough cava, Richard the owner generously cracked open a stunning bottle of rather special Kripta, Gran Reserva Brut Nature.
If my maths serves me correctly – and let me tell you it's difficult to count beyond the fingers of one hand after this many bubbles – we sampled ten different cavas that evening, with top-ups for each. I make that a lot of glasses. Inebriation aside, this is just the sort of place that appeals to me; somewhere that focuses on one thing very well, with a lot of good food to go with it. Do visit.
Here are some blogger pals who also attended, check them out: Matt – The List, Wilkes888, The Faerietale Foodie, The Cafe Cat.
Liked lots: location, interiors, specialising in one very lovely type of lubrication, novel takes on traditional tapas
Liked less: the headache the following morning
Good for: letting experts guide you on what to enjoy with what
My rating: 3.5/5

Find the menu on Zomato
Afiyet olsun.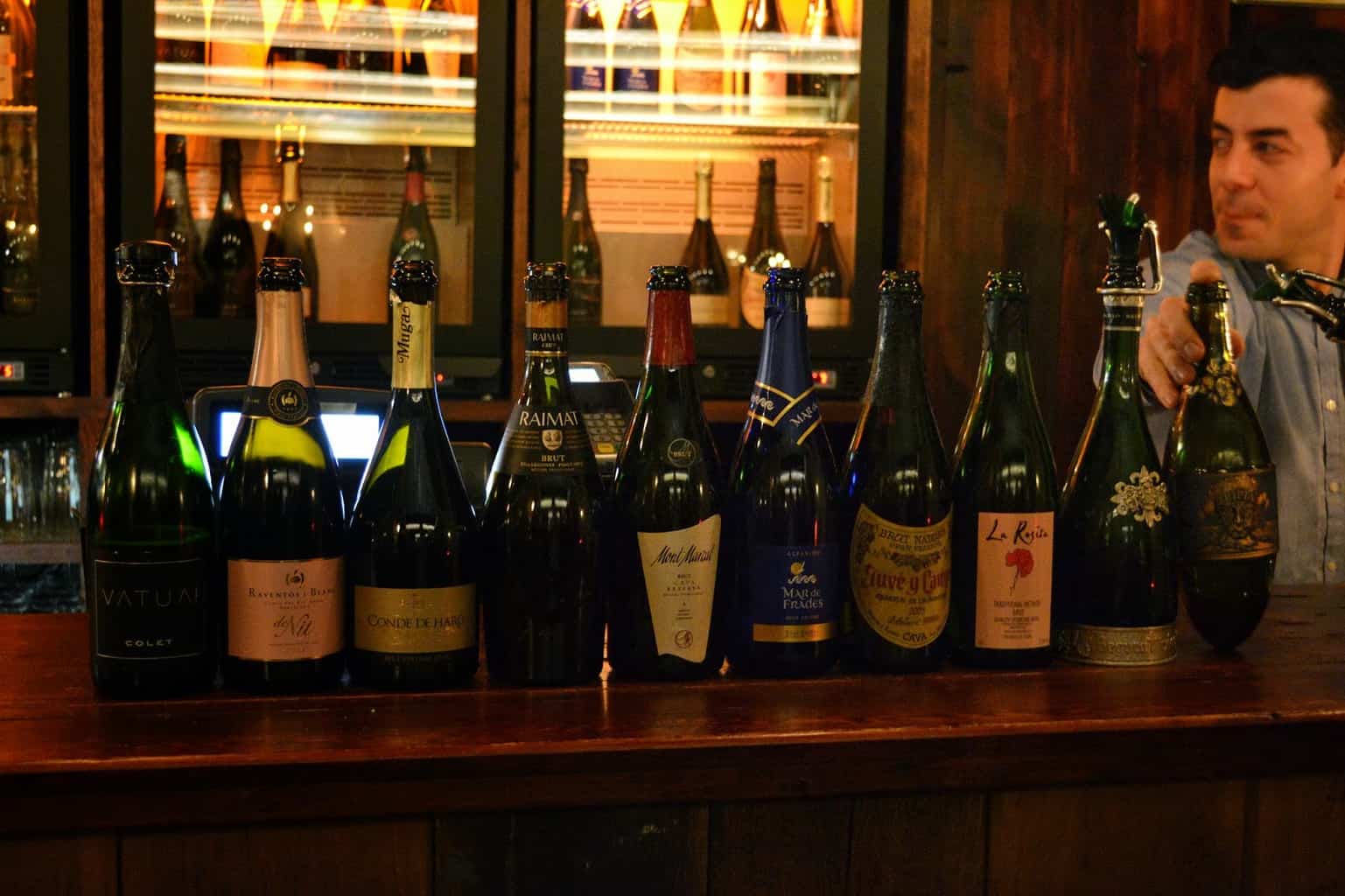 Note: I was invited as a guest to attend this event. Many thanks to Sauce Communications and Copa de Cava for organising.