Last Updated on November 2, 2021 by Leyla Kazim
The dark cold nights of the end of October usually bring with them stories of ghosts and ghouls and kids dressed up in bed sheets knocking on your door for treats. But there is an alternative Mexican way to celebrate the dead, with a little less fear and a little more cheer (and possibly some tequila).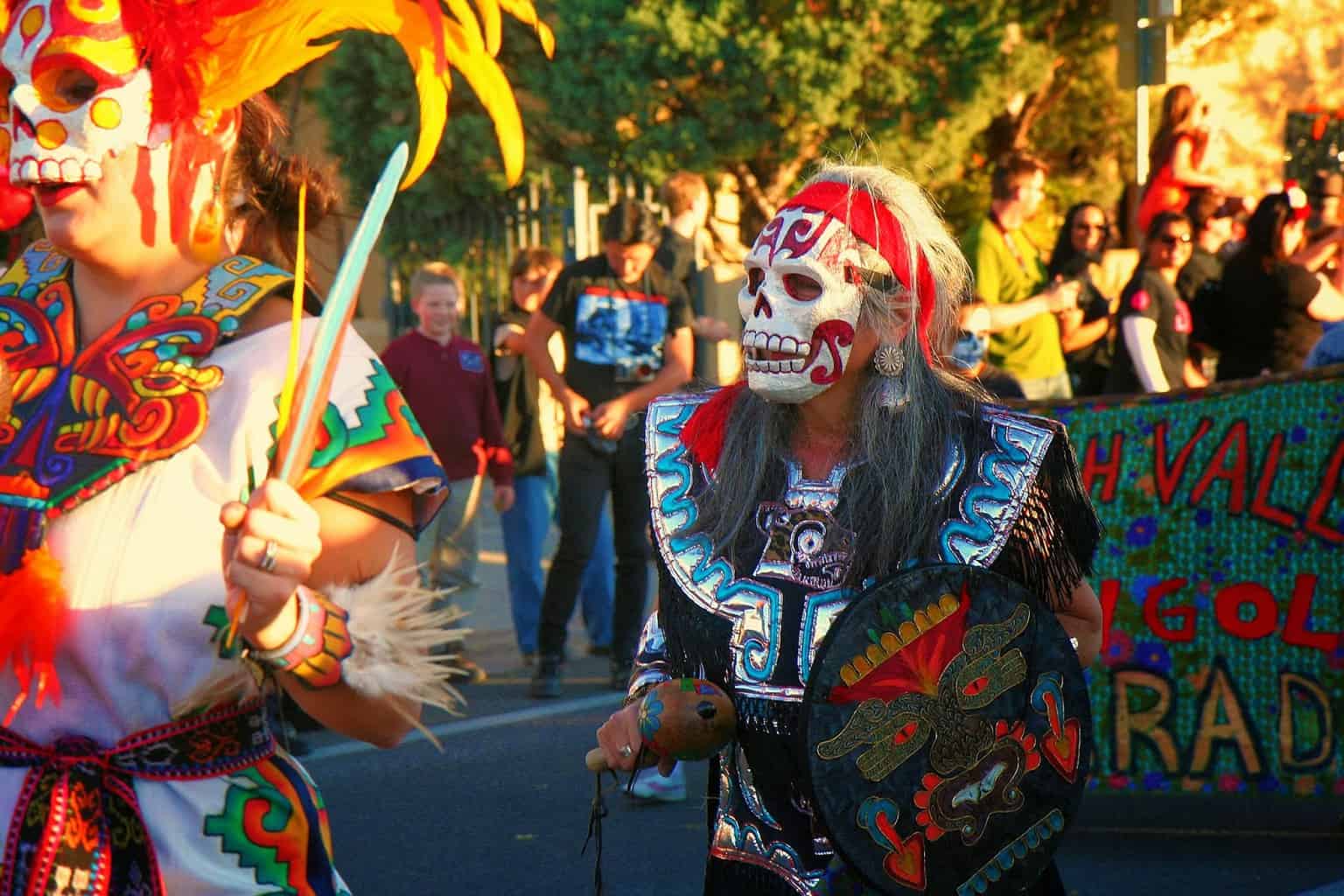 Present to me an excuse to eat good food in celebration of an interesting subject matter in the name of a national holiday, and I'm happy to temporarily entertain religion and even feign an alternative nationality in order to take part in the frivolities.
The autumnal occurrence in the UK of the much celebrated Mexican holiday of Día de los Muertos (Day of the Dead) presents the perfect opportunity to sample an entry from the international world of public holidays and the way in which food almost universally plays a significant role in them.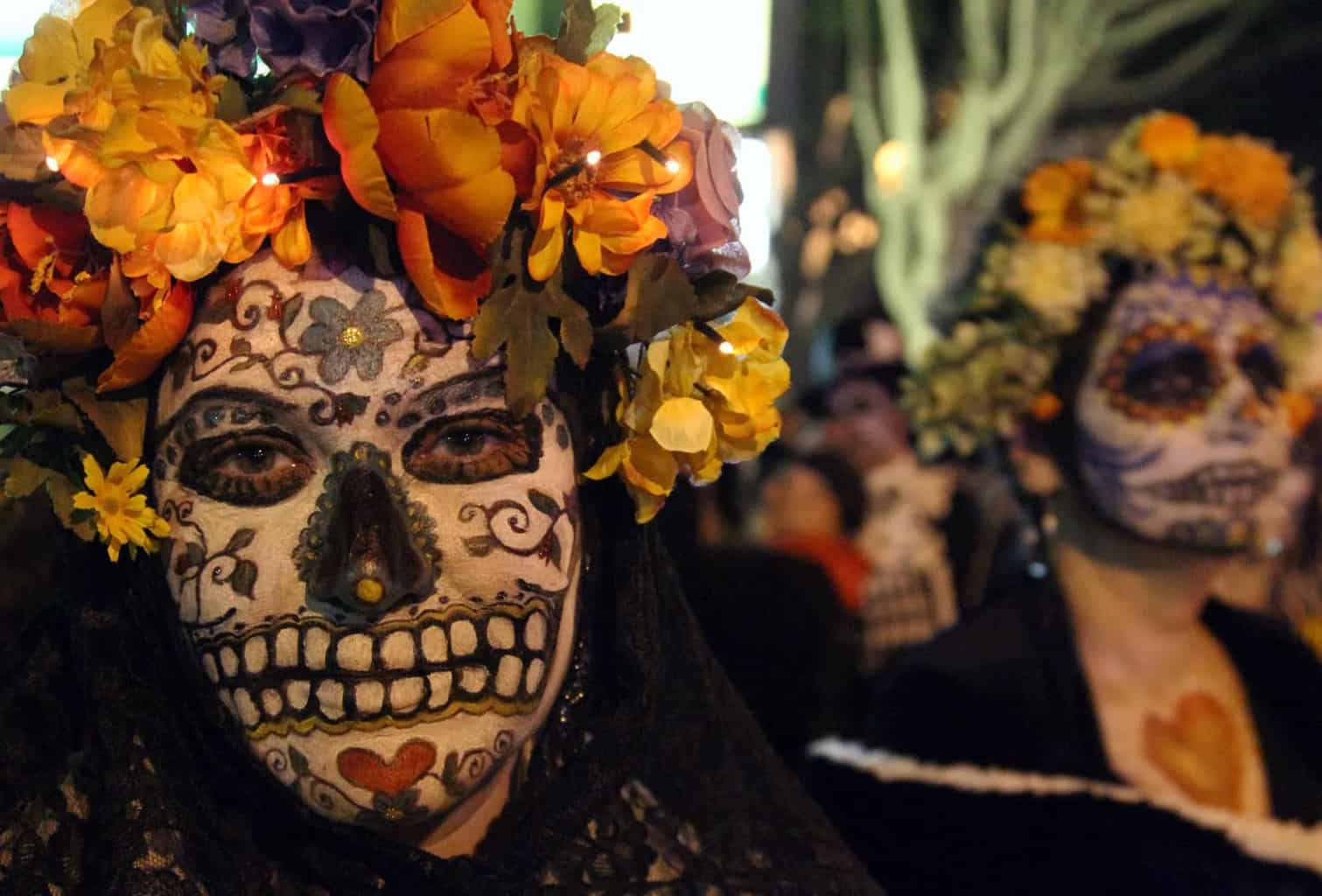 Between 31st October and 2nd November each year, the living dedicate three days to remembering those close who have passed, celebrating their lives and rejoicing in the memories they have left. A unique version of the Roman Catholic feasts of All Saints' and All Souls' Days, the premise of this fiesta is to give the departed the opportunity and means to visit and provisionally party on with those they left behind.
Despite the macabre connotations, this multi-day event traditionally centres around elaborate festivities complete with jubilant music and dancing, decorative costumes and face paint, and plentiful food and drink.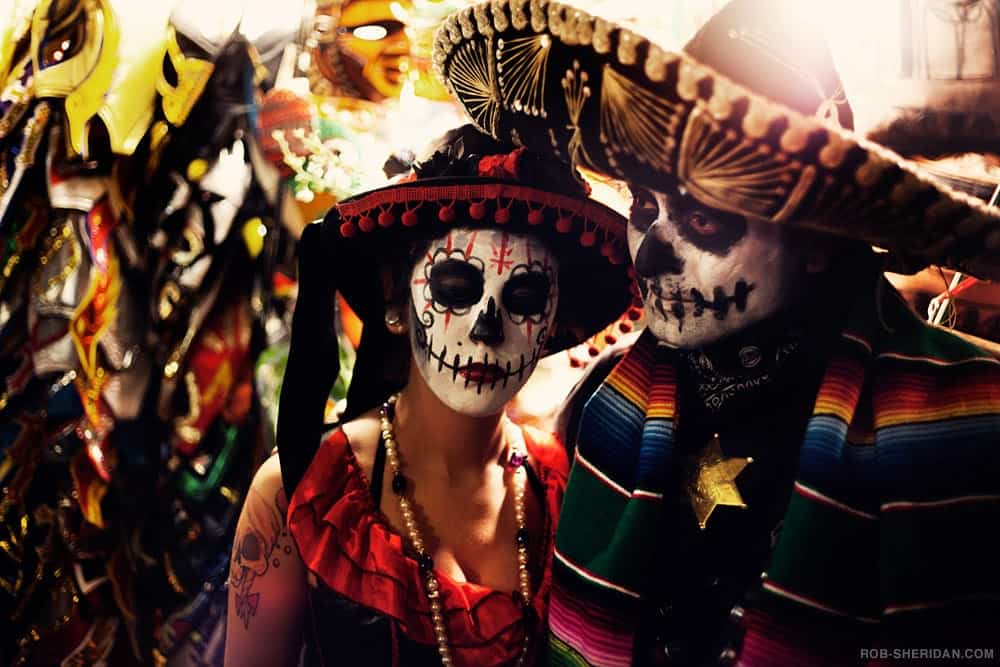 Altars are built in remembrance and graves are spruced up for the fleeting visitors. Satirical short poems and stories are written and recited, often affectionately ribbing those who have passed in the way only a close friend or relative could. Soft furnishings are set out in homes for souls to rest after arduous journeys from the after world. Warm-blooded participants are entertained by storytelling, dancing and mariachi bands with the noise intended to 'wake the dead' and encourage them to swing on by.
The characteristics of the modern festival emerge in the 18th century with original roots reaching as far back as the Aztec era. And as the Aztecs presented gifts of food and drink to sustain their visiting ancestors, Mexicans make ofrendas (offerings) of similar culinary delights. Along with music, flowers and keepsakes, they are used to furnish the home, altars and graves of the deceased to entice them back to earth whilst also providing fuel for their return journey to the afterlife.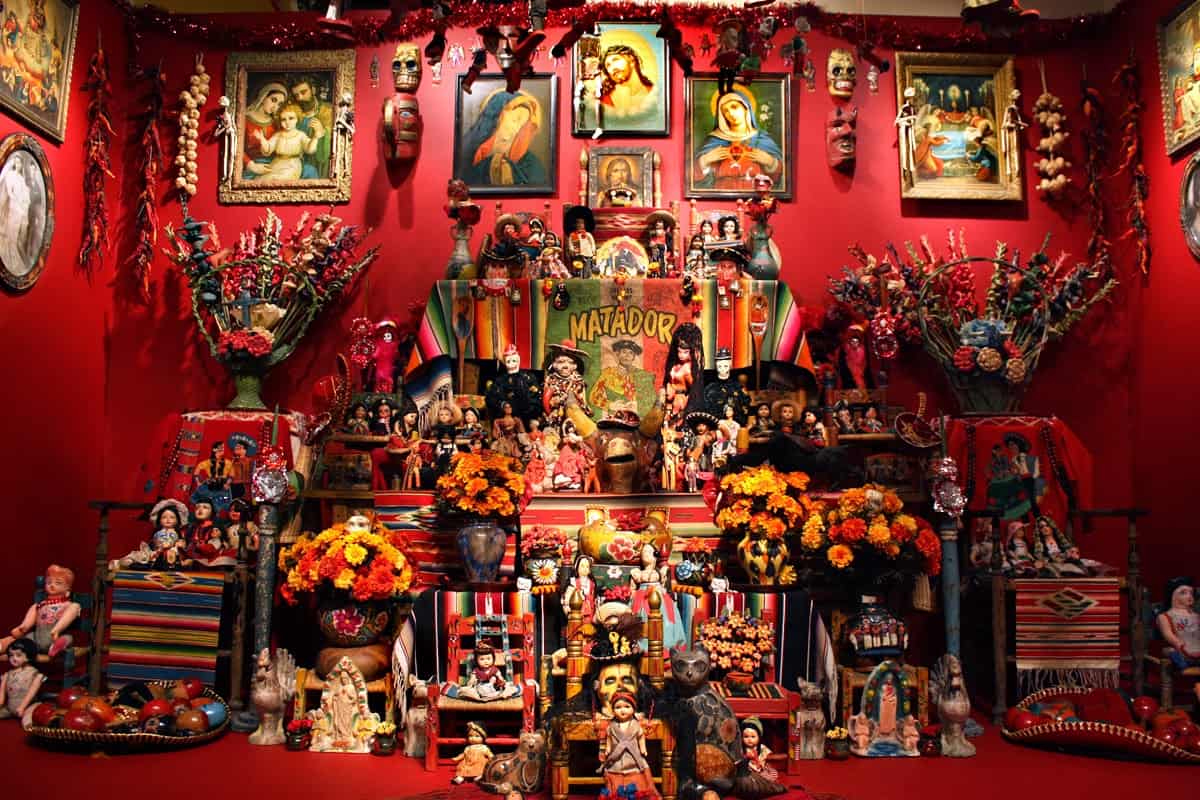 It seems the dead have a sweet tooth – that or the still terrestrial Mexicans don't pass up an opportunity to indulge theirs.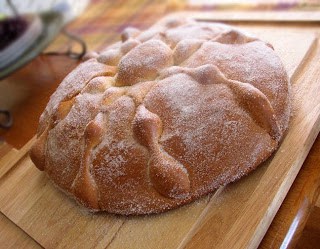 The offerings include a range of candied items including the well recognised calaveras de azúcar (sugar skulls). Often purchased ready made and decorated by the whole family with coloured frosting, they can also be made from scratch by combining granulated sugar, icing sugar, water, and setting in a mould overnight.
Pumpkin also makes an appearance on this menu for los muertos, handy as there tends to be a lot of it around at this time of year. Simmered in piloncillo (Mexican unrefined brown sugar), cinnamon and orange zest until tender, they add to the tooth-aching and colourful spread. Pan de muerto (bread of the dead) is a sweet eggy loaf baked into various shapes and often decorated with white frosting to imitate twisted bones.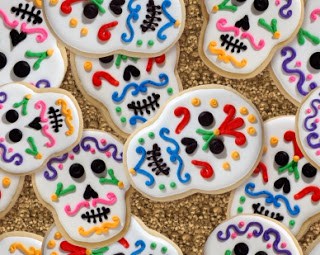 Atole is a hot masa (corn flour) based drink, spiced with cinnamon and vanilla and sweetened with more piloncillo – further sugary delights to help wash the rest of them down.
Whilst you may (somewhat unsurprisingly) find your offerings untouched by your guests, it's often believed they consume the "spiritual essence" of the food whilst leaving the physical forms intact. This loosely translates to us mortals indulging in a sugar rush once the festivities come to a close. Well, someone's got to do it.
Let the well-worn Halloween take a backseat this year – instead get your fiesta on and join in some of the Día de los Muertos celebrations taking place about town – olé!
Mestizo
A special ofrenda altar will be displayed in the restaurant to welcome back the 'dear departed', of which you can add photos of those you wish to remember. This coincides with their fifth 'Festival del Mole' featuring a special menu of 12 mole sauces and authentic recipes to tuck into.
Available until Saturday 2nd.
Wahaca
Complimentary tequila for diners visiting on Friday 1st and Saturday 2nd and a special edition Blood Orange Day of the Dead Margarita on offer for £5. Enjoy them amongst the traditional decorations and ofrenda altars in remembrance of famous Mexicans, and you can also get your face painted to embrace the spirit.
Rich Mix
Screening Mexican horror movies on Saturday 2nd to help get your scream on, along with 'undead' DJs and dancers in zombie attire to help get your groove on. Helps if you understand Spanish.
£8/£6, prebook,7.30pm
Day of the Dead Festival
This four day celebration takes over the Dalston Department Store pop-up venue starting with a good old fashioned party on Friday and following with three days of traditional craft workshops. Learn how to make Aztec flowers, sugar skulls, masks and watch the March of the Dead through London's streets on Saturday 2nd.
£7/£5.95 per day, prebook
Silent Disco
Help raise money for next year's New Cross & Deptford free film festival by attending their Day of the Dead Silent Disco fundraising event. Celebrate at Hill Station Cafe with music, dancing and cocktails in eerie silence. Fitting.
£15.00, prebook, 1 November from 7.30pm


Horniman Museum & Gardens
Head over to this south London museum on the evening of Thursday 7th for carnival processions, film, puppet theatre performances, dance and a tour of the Natural History collection with a focus on bones.
£3, prebook, 7 November from 6-9pm
Afiyet olsun.