Last Updated on June 10, 2020 by Leyla Kazim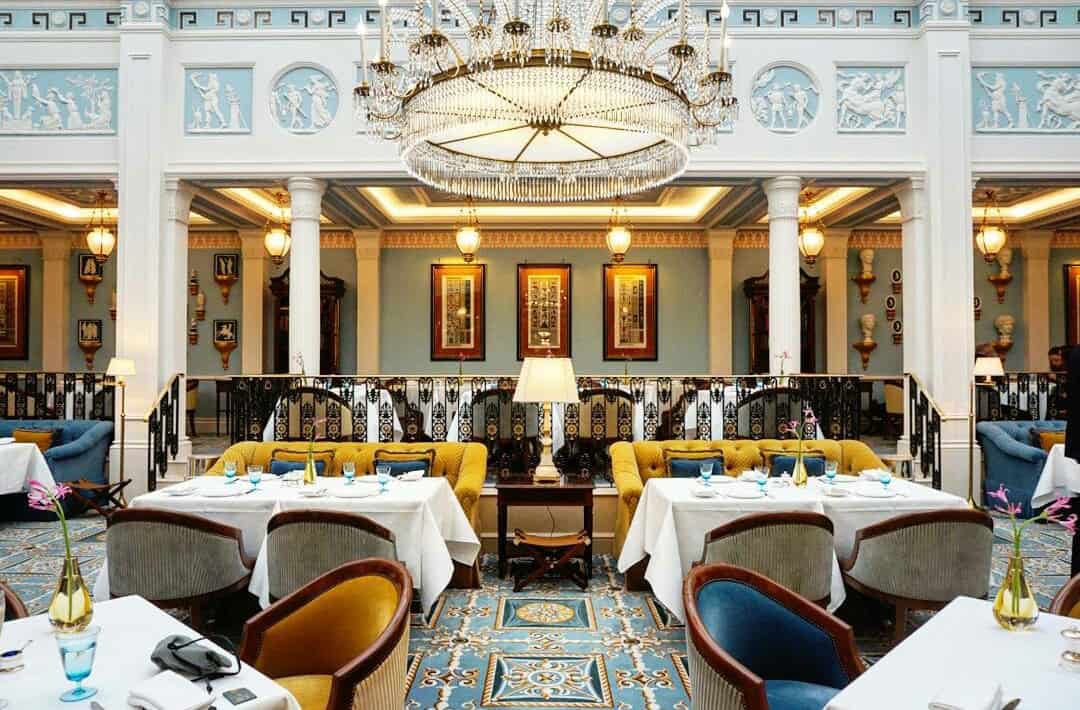 Celeste at The Lanesborough
It's been a whole ten months since I last penned some thoughts about a London restaurant; last year's ambitiously-priced Christmas menu at Quattro Passi, and gamey delights from The Hyde Bar in Knightsbridge, were the last two.
Regular readers will know I sodded off galavanting shortly after those write-ups, mostly to eat my way around the rest of the world. I did quite well with that, but I've been back for a couple of months now, and through catching up with friends, peers and contacts, I was invited to pop over to The Lanesborough near Hyde Park, to check out the recently refurbished, rebranded and let me tell you, resplendent, Céleste.
I've dined in this space before, under its former guise of Michelin-starred Apsleys. I spent the best part of a frigid December afternoon warming the cockles with a giddying concotion of champagne, Early Grey and mulled wine, whilst getting hopped up on finger sandwiches, toasted teacakes and homemade scones. And a very pleasant – if not somewhat squiffy – visit it was too. It was their Christmas-time champagne afternoon tea, in case you hadn't already figured that out.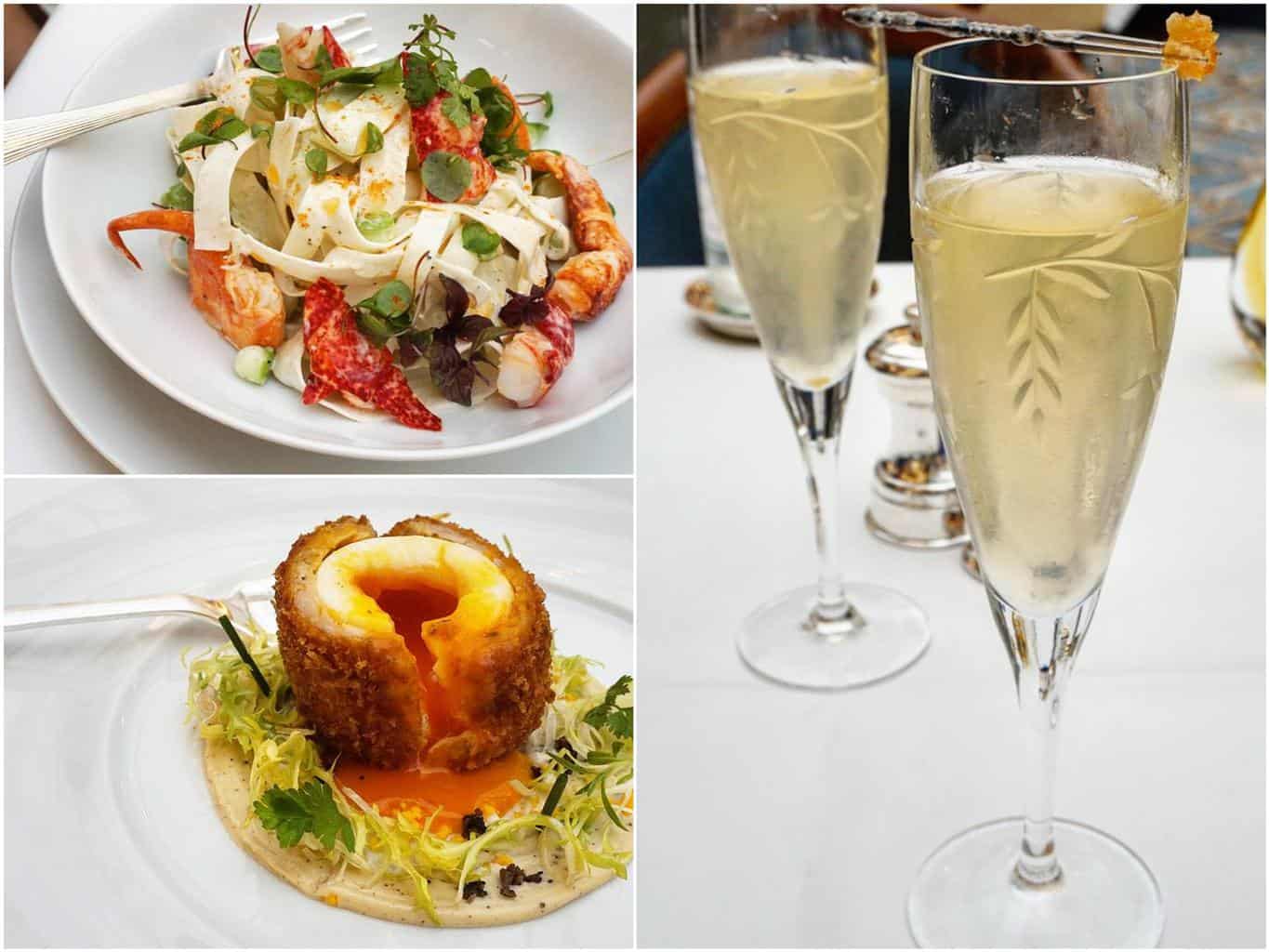 Celeste at The Lanesborough
In December 2013, about a year after my first visit, the whole property closed. The hotel was stripped back to its shell, then each corner meticulously refurbished and transformed by world renowned interior design studio, Alberto Pinto. Eighteen months and truck loads of money later, it reopened it's doors. The Lanesborough never did comment on how much the refurbishment cost; a telling sign in itself. The official line on the matter was "no expense has been spared," – quite apparent once you're in it.
I'm a sucker for a pretty room, and this space lays it on thick. Richly decorated with 250 bas-relief mouldings surrounding the frise under the glass domed roof – through which light floods in – there are fluted columns, powder-blue walls, and English crystal chandeliers, the largest of which weighs in at 200kg. It might be over the top, but that's the point. And I love it. It's still a very easy place to relax, despite everything going on on the walls around you. Which is key.
Executive chef at The Lanesborough is Florian Favario, formerly head chef at Epicure in Paris. He was chosen by chef patron Eric Frechon – Paris' most esteemed three Michelin-starred chef and a leading figure at Oetker Collection's Le Bristol since 1999 – as the person to lead one of London's most celebrated addresses into a new gastronomic chapter.
The Lanesborough is often referred to by it's unofficial name, 'the most expensive hotel in London'. With doubles coming in from £720 per night and the lavish Royal Suite at an incogitable £26,000 per night, the whole property is likely dismissed as entirely unattainable by most.
Except, that this doesn't necessarily apply in Céleste. Mere mortals can bask in a slice of this lavish grandeur for an altogether more accessible £44 for a set three-course lunch menu, £48 for a traditional afternoon tea, or £55 / £95 for a five-course / seven-course dinner menu.
Celeste at The Lanesborough
There was a terrific posh scotch egg – a Burford Brown encased in mince of chicken and rosemary-spiked lardo from Colonatta, crispy, with a rich and golden runny yolk and earthy truffle mayonnaise (£14 a la carte, also on set lunch menu). My brother had a cold starter with lobster – good chunks of meat presented as a sort of salad, with tagliatelle-style ribbons of a vegetable we couldn't identify and forgot to ask about.
A somewhat better result than what the must-have fad gadget of the moment – the spiraliser – would produce, I suspect. But it's annoying this irritating trend of making vegetables look like pasta has reached beyond the blogs and cookbooks of the skinny / affluent / female bone-broth elite of West London, and into restaurants. My brother would have preferred actual pasta. The creamy dressing was bland, and the dish was altogether a bit uninspiring – the weakest plate from both our meals (can't locate on website for price).
I had lobster in my main, with conchiglioni pasta and it's own light and frothy bisque. I enjoyed it, but I suspect I would have done so much more with the absence of peppers, the flavour from which I felt had no place on the plate. The capers though, definitely (£34 on a la carte).
My brother nailed his choice – roast Norfolk black chicken, confit crispy leg, and girolles mushrooms. As good as it reads – savoury, umami, like the chickeny essence had been extracted from 50 fine birds and concentrated into one plate's worth of food (£24 a la carte, also on set lunch menu).
Laudable desserts came in the form of a vibrant mango eton mess, shards of meringue sticking out like ship sails in the wind (£12.50 a la carte, also on set lunch menu), and a gloriously seductive Guanaja chocolate mousse with streusel crumble, demonstrating some impressive paint brush skills (£12.50 a la carte).
I had a glass of good, light red with my meal, and there were champagne cocktails with a clump of golden British honey on the end of a fork to stir in, so potent in its nectar we could smell it before the waitress had turned the corner with them from the bar. Heady and delightful.
Liked lots: the unashamed opulence of it all, their scotch egg and chicken, desserts and service
Liked less: the lobster salad starter
Good for: basking in magnificent surroundings; impressing a date; pretending you have a room
Note: This meal was kindly hosted by the restaurant. All views remain my own.
You may also like..
Saturday Brunch at Hélène Darroze at The Connaught, Mayfair – Review
Dinner by Heston Blumenthal at The Mandarin Oriental, Hyde Park – Review
Scarfes Bar at The Rosewood Hotel, Holborn – Review