Last Updated on September 13, 2021 by Leyla Kazim
I like to think that when it comes to Mediterranean bites, I know my onions. The influence of my part Turkish-Cypriot heritage means I've snacked on a good few olives, caperberries and cloves of pickled garlic in my time.
So when I heard that the recent collaboration between Spanish chef Omar Allibhoy (author of Tapas Revolution) and Spanish olive and Mediterranean food brand Fragata, was to be celebrated with a dinner hosted by the man himself at his restaurant in Westfield Shopping Centre, I needed little convincing to pop over and check it out.
The partnership makes a lot of sense. Fragata is a long-standing family-run business based in Seville and established in 1897, a brand well-loved by the Spanish. Spanish olives (a vast range of them too) are their main offering but they've also branched into other antipasti-type products.
Omar has been on a mission to make traditional Spanish cuisine accessible and bring it to the masses for some time through his recipe book (very good, by the way) and many TV appearances. He also told me on the night "I've tried all the olives on the market and these are the best". The two together are a fitting marriage.
I've visited Tapas Revolution in Westfield and met Omar before at a separate event launching his book of the same name. The consistency in the quality of the food has remained; I sampled many plates of solid, reliable and very agreeable tapas. Each menu item that evening involved something from the Fragata product range to demonstrate the many ways in which it be used.
Endless jugs of sangria and small bowls of Halkidiki and Kalamata olives marinated in rosemary, garlic and chilli entertained our fingers and palates in the spaces between the more substantial plates.
Pan con tomate – demonstrating the power of well executed simplicity – is just toasted bread rubbed with garlic, dressed with tomato, salt and olive oil. But it's great. Mackerel escabeche (poached fish marinated in an acidic mix) came with guindillas hot yellow peppers (like the ones you get with kebabs and who doesn't love these) and Ajo encurtido garlic cloves, the piquant chillies playing very nicely with the oily fish.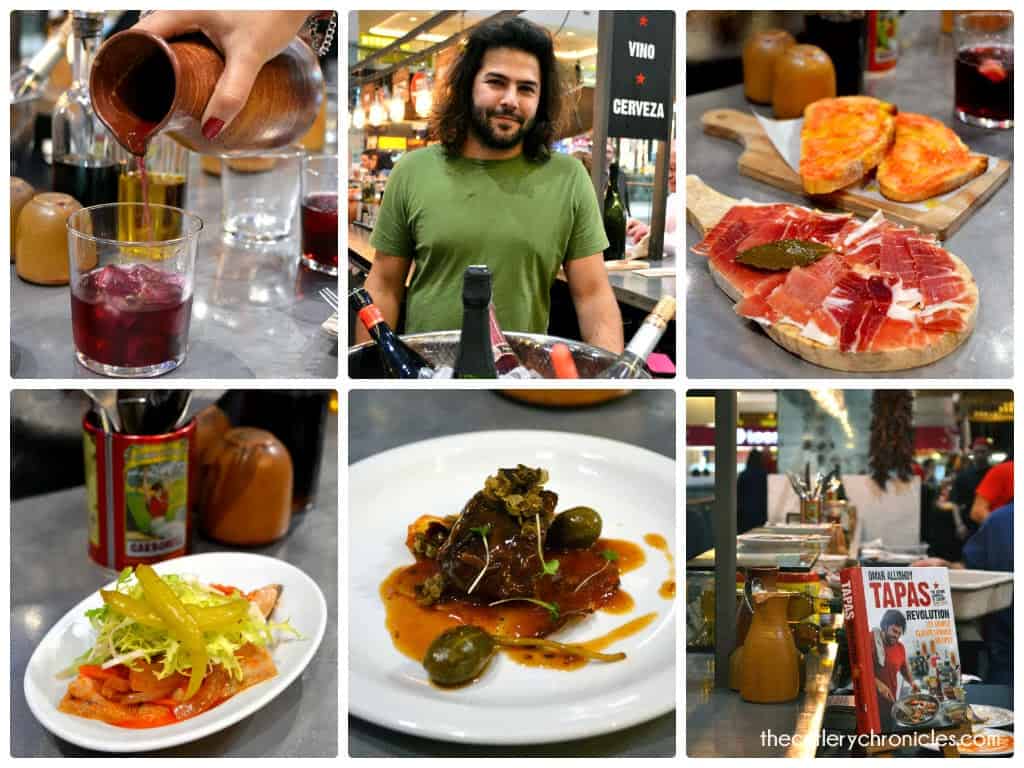 A clay pot of pimiento piquillo peppers stuffed with wild mushrooms and concealed by a piquillo pepper and bechamel sauce imparted all the pleasure of a light pasta-free lasagne.
The rounds of morcilla (Spanish black pudding) were great; sitting on sweet apple they sported a hat of vibrant green olive, caper and pistachio paté with a little flourish of finely sliced hot piri-piri peppers. I do prefer my morcilla more pungent, but they still went down barely touching the sides.
Handsome pork cheeks, lacquered with a dark jus, braised with olives and capers provided pleasure beyond it's compact size; deep and flaky and delightful. Then there was the chocolate fondant laced with the flavour from Seville oranges and punctuated with bitter rind from the La Vieja Fabrica marmalade (currently available in Waitrose). Dastardly decadent.
When your feet are weary from traipsing after new season pieces at Westfield, stop and eat at Tapas Revolution because the menu there is good, authentic and devised by Omar who knows his stuff. Lucky for all of us, many of the dishes I had that night are resident on the menu.
And if you're after titbits for your own tapas feast recreation at home, make like a Spanish chef and try out Fragata – they seem to be a very safe bet.
My rating: 4/5
Afiyet olsun.