Last Updated on November 17, 2022 by Leyla Kazim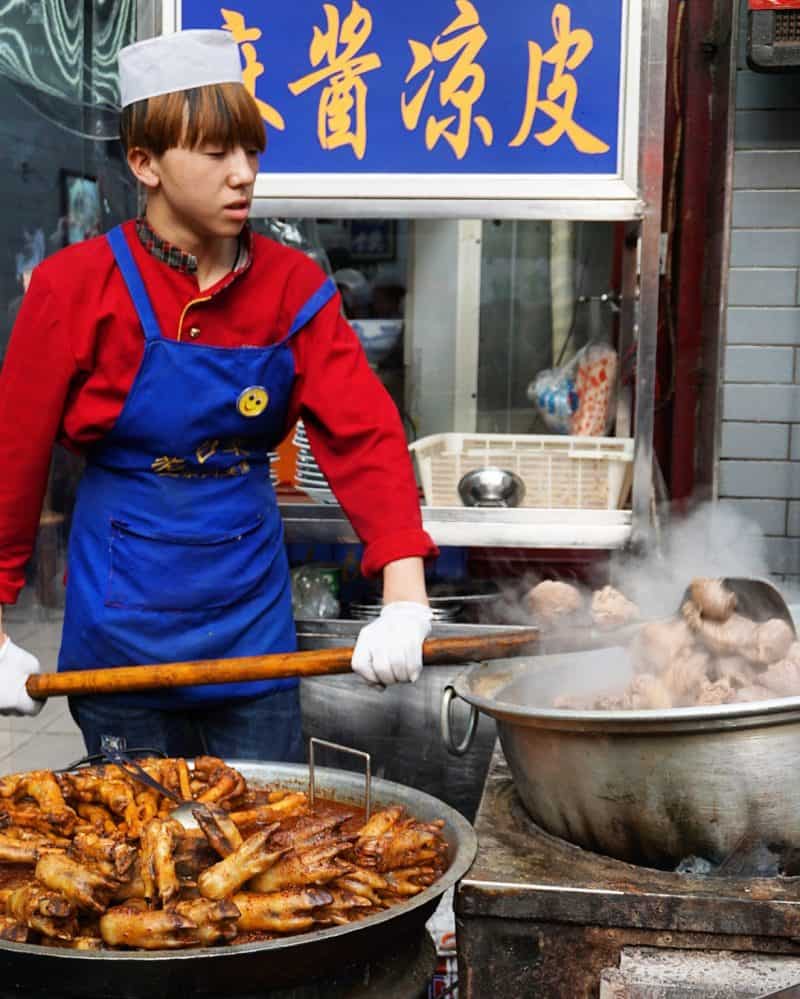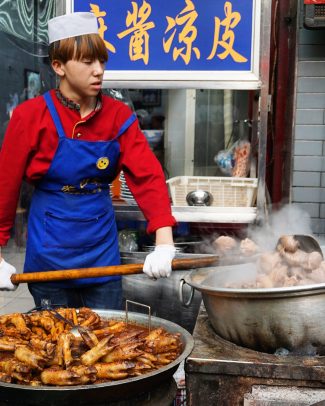 What to eat in Xi'an's Muslim Quarter
China's ancient capital of Xi'an (here's my post on how to spend a couple of days in Xi'an) once marked the terminus of the Silk Road. The trading opportunities drew people from across Asia, and migrants became an integral part of the city.
Fast forward to today and the result is an exciting melting pot of cultures and religion, which also happens to be the failsafe formula for great food – check out my culinary adventures in Penang in Malaysia for another good example of this.
In Xi'an's Muslim quarter, you'll find sights familiar to both Chinese and Middle Eastern culture.
Hawkers roast walnuts, carve watermelon, and pick out the seeds from giant sunflower heads. Perspiring cooks stir-fry cubes of spiced lamb in roaring woks set over screaming-hot coal ovens. Steamed mutton and beef dumplings stacked high in bamboo baskets sit alongside vendors selling a kaleidoscope of fresh fruit, and little old ladies frying potatoes for optimal walk-and-eat snackage.
It does get busy; Xi'an as a whole sees a lot of tourists. Mostly Chinese. But it's fun to get swept along with the hungry crowds, and if that's your thing, get there for around 7.30pm. If you prefer to avoid the masses, and for easier photo opportunities, head over in the afternoon or early evening. Either way, and regardless of how hungry you are, you won't end up spending much more than around 40 Yuan (£5) to get totally stuffed.
Below are a few pointers on what to eat in Xi'an's Muslim Quarter. As ever, it's by no means an exhaustive list, but it's certainly no bad place to start.
1) Rou jia mo – steam and griddled bread sandwiches with lamb or beef
These aren't exclusive to Xi'an – the Chinese are pretty good at stuffed sandwiches, where they're called rou jia bing across the rest of the country. But the local dialect in these parts refer to them as rou jia mo, and you won't be finding any pork in them.
Instead, the bing are stuffed with chopped beef brisket, a bit like corned beef, but more moist. The meat is braised and cured in a vat, then the cook takes a big cleaver to it on a wooden block. The bread is split open, covered with a slick of chilli oil, and stuffed with the beef. Often enjoyed with some sesame cold skin noodles, the two together are great.
2) Pao mo – bread and mutton soup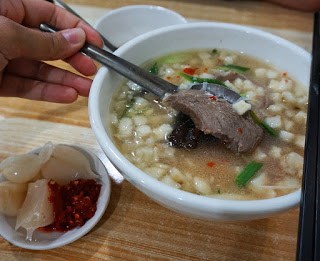 This bread and mutton soup is found across Xi'an, but especially in the Muslim quarter.
This was gorgeous – tiny cubes of torn bread, thin rice noodles, chopped greens, braised mutton, and a thick meaty broth, served with pickled garlic and sweet chilli paste. Hugely comforting, full of flavour – it's a signature local dish to seek out when here. And it's only about £1.80.
The way the locals eat it is that they tear the bread into the bowl themselves, then it gets whisked back to the kitchen where the chefs add the rest of the ingredients (see the video below) to make the final soup.
But my bread was already torn; I suspect it was easier for the lady to do it herself than try to explain what I was supposed to do. Either way, it's lovely stuff.
3) Hammered nut candy
There are two main observations to note with this guy below. Firstly, that's not dough he's stretching. It's in fact warm sugar. Secondly, I watched him for a while, and not once does the sugar touch the spit-covered floor. Skills.
Xi'an is obsessed with nuts, and their sweets reflect that. This guy repeatedly folds and stretches hot sugar across a hook, then the candy gets transferred to a large wooden stump where it's sprinkled with nuts. Guys then go at it with big wooden mallets, pounding the nuts into the warm candy until it hardens , then it's cut into pieces.
The mallets are pretty noisy and always draw a crowd, as does the sugar-stretching boy. Fun theatre, and a tasty sweet treat.
4) Fried liang fen – green bean starch jelly
I walked past this assuming it was animal based, because we're in China, and the Chinese eat everything, right? Wrong. I mean, the Chinese are pretty good at eating all of the animals, but that doesn't mean they don't love their veggies. And in fact, the whole Muslim Quarter and the city of Xi'an as a whole is a great place for vegetarians, in a country where meat is a symbol of prosperity.
These were cubes of liang fen, a sort of tofu-like jelly made with green bean starch. They were studded with chillies and spring onions, and fried in shallow pans. Outside of Xi'an they're often served cold and coated in a hot chilli Sichuan sauce. But these ones retained both kinds of heat well, and got nice and crispy round the edges. Another great snack to graze on as you walk and scout for the next treat.
5) Persimmon doughnuts
Oh boy, did I love these. I actually had them in a restaurant in Xi'an, rather than the Muslim street food strip, but wherever you go looking for them, make sure you do actually find them.
These are interesting in texture, and have fantastic flavour. Inside they're dense and chewy a bit like Japanese mochi, thanks to an unleavened dough made from dried persimmons. But outside they're fried and crisp. There are apparently lots of varieties available, each with a different filling at the centre.
But if you don't know the language, and you don't know what options are available, just point to what the person before you ordered. You can't go too far wrong.
6) Skewers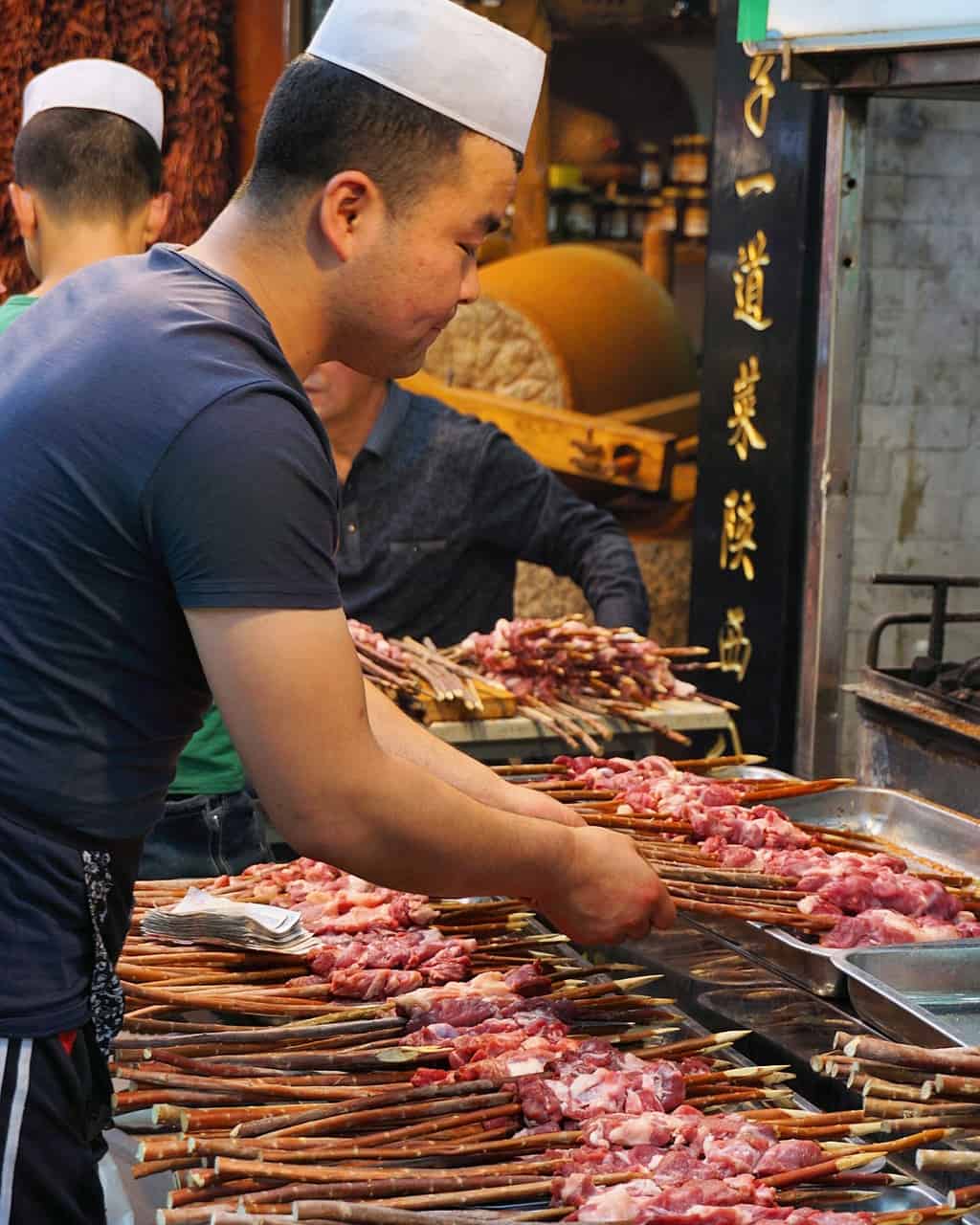 Speaking of the Silk Road, there's a restaurant in South East London called Silk Road, and they're particularly well known for their cumin-crusted lamb skewers. And you'll find exactly these in Xi'an too.
The Chinese as a whole are prolific consumers of things on sticks, be that grilled, fried, simmered, or however else you can think of cooking them. This is particularly prevalent in Xi'an where you'll find grilled lamb or beef shish kebabs on pretty much every street throughout the city; it's almost impossible to return to your room after wandering the streets without honking of meaty coal smoke.
In the Muslim Quarter though, there's more choice. You'll find tiny chunks of fatty lamb coated in chilli oil and dusted in cumin, dried chillies and salt. There's also mutton, beef, lamb's liver, chicken wings, quail's eggs, all of the sausages, all sorts of vegetables, and most other things you could think of.
Sticks go for around 1 Yuan a pop, which is like, 12p. Try to resist spending more than 40p on these supremely tasty skewers, or you'll struggle to find room for everything else.
How to get to Xi'an
Finnair were the first Western European airline to fly non stop to China; it was Beijing in 1988. They were also the first Western European airline to fly to Xi'an. Another claim is they were the first airline in the world to send SMS messages to customers regarding their flights. Which is fitting, seeing as SMS was invented in Finland.
Their minimum connection time in Helsinki is 35 mins, and they're rather proud of their extremely low statistic of only losing 4 in 1000 pieces of luggage – that's a very good number.
I was lucky enough to experience their fully flat beds in business class, which included some of the best food I've eaten at 30,000 feet. That's thanks to the new culinary collaboration for long-haul business passengers, with world-class chefs Steven Liu from China and Sasu Laukkonen from Finland, launched in April 2016 this year.
Think such Nordic delights as cucumber and dill soup with yoghurt and smoked salmon tarter; pressed beef neck with celeriac puree, herb butter and spring vegetables; Peltolan Blue and Viinitarhuri Finnish cheeses; organic Finnish ice cream by Jymy; and a very healthy stock of the excellent Finnish Napue gin, voted the best gin in the world to have with tonic, according to the International Wine and Spirit Competition (IWSC).
Get a couple of those down your neck along with some fine bubbles, and you can start the holiday well before you get there.
Note: This trip and the flights was hosted by Finnair. Thank you to everyone involved for a truly wonderful experience. Must get back to China… All views remain my own, as always.
Related posts
CHINA | How to spend 2 days in China's ancient capital, Xi'an
CHINA | 8 Sichuan dishes to eat in Chongqing