Last Updated on September 7, 2017 by Leyla Kazim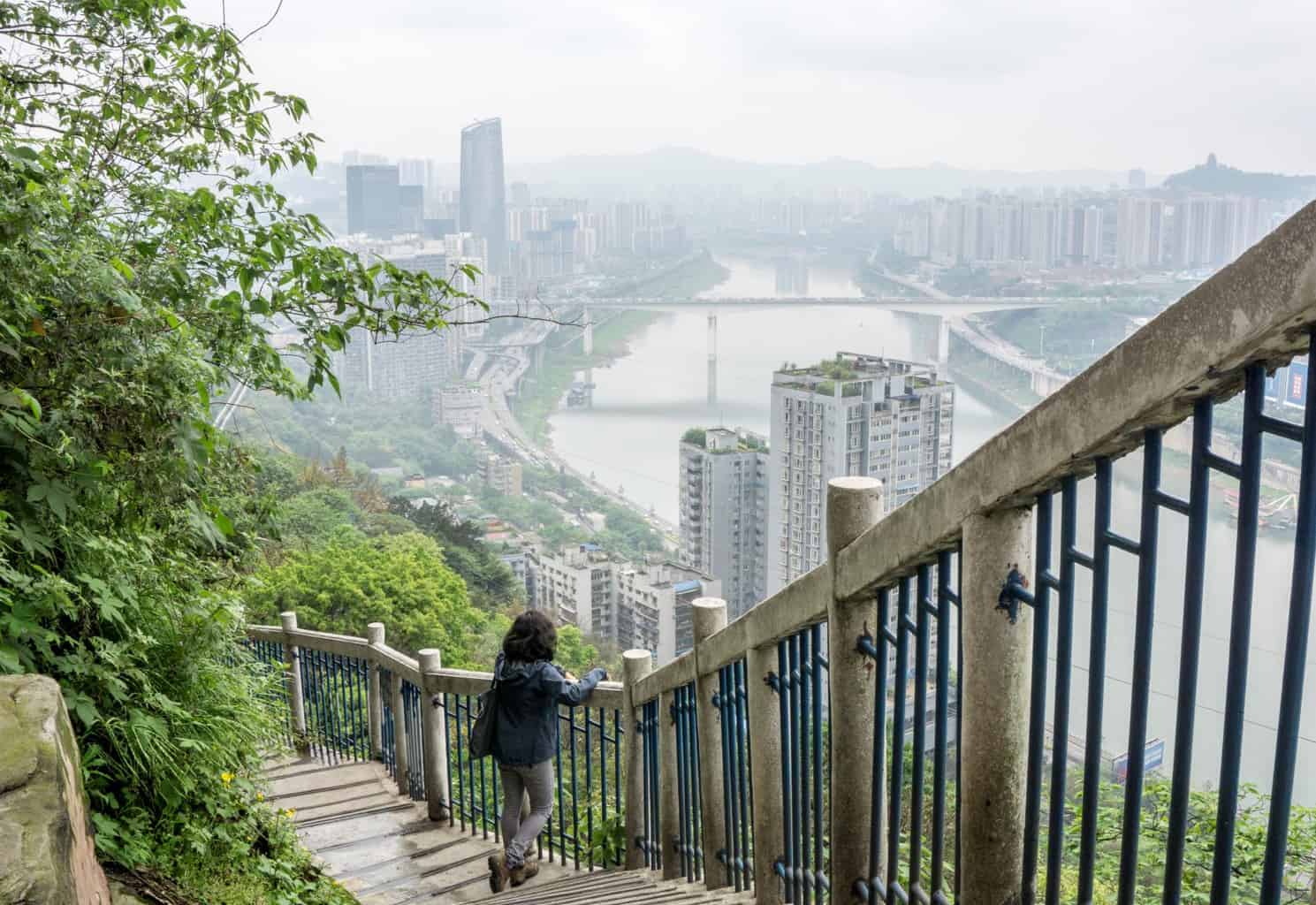 head to Eling Park for fantastic views over Chongqing
Sichuan dishes to eat in Chongqing
You may not have heard of Chongqing – a mountainous municipality, pitched at the confluence of the Yangtze and Jialing Rivers in south west China, about the size of Austria, and with a population of around 30 million – but if you're a person that's into your food, you have almost certainly heard of Sichuan cooking.
Chongqing was in fact part of Sichuan province until 1997, when it became one of China's four municipalities controlled directly by the central Government (the other three being Beijing, Shanghai, and Tianjin). They might have parted ways in the 90's, but their culinary roots continue to unite them; along with the city of Chengdu, Chongqing is one of the best places to get your chops around fiery Sichuan food.
The backbone of this internationally-heralded regional Chinese cuisine, is the permeating smoulder of dried chillies, the slap of raw garlic, and a tingling tongue from numbing and citrusy Sichuan peppercorns, all balanced out with dashes of black vinegar, fermented soya beans, ginger, star anise and peanuts. The same handful of ingredients showing up in so many of the local dishes, does sometimes mean they merge into one long chilli-train flavour profile. But if it's a flavour profile you like, (or in my case, love), you're in for a treat.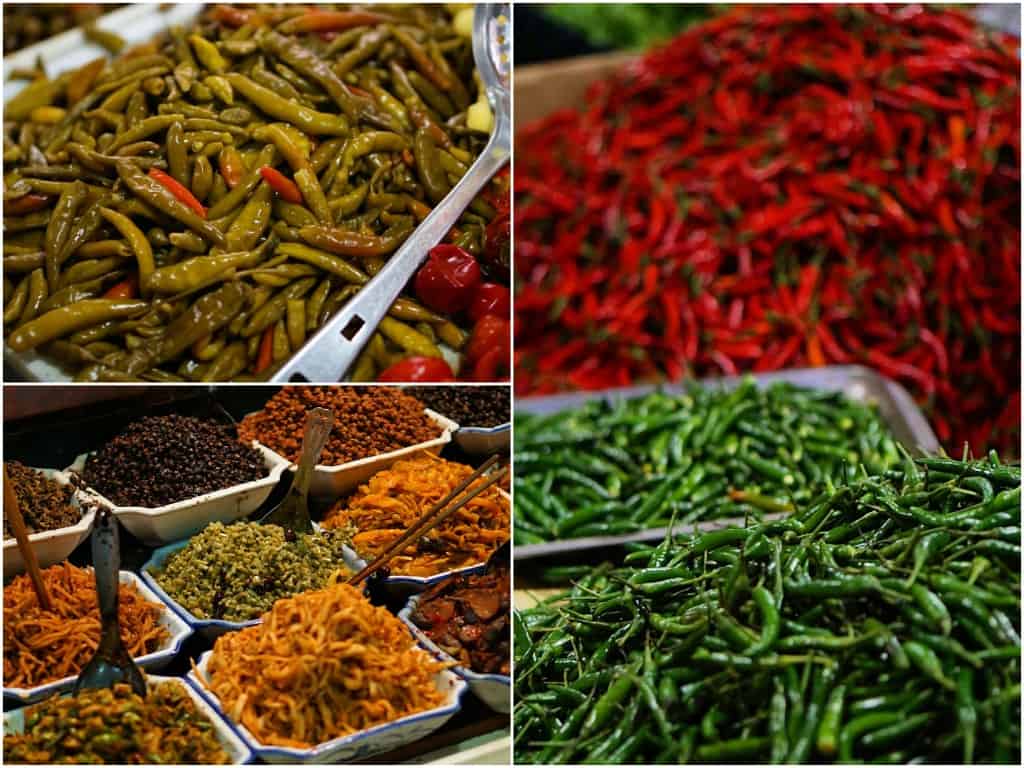 chillies, funky fermented things, more chillies – Chongqing
This was my first visit to mainland China (I've been to Hong Kong and Taipei – both of which I adored), and I'll be honest, I had a few not-so-favourable preconceptions; I was bracing myself. To both my surprise and relief, none of these were confirmed. The people were very friendly, the city was seriously clean (street sweepers everywhere), and the constant spitting which I hear plagues parts of urban China was barely present.
First impressions count for a lot, and based on my experience of Chongqing, I'd go back to China in a heartbeat. Which just goes to show how important it is to experience something first hand and make up your own opinions. I may get my money's worth from that three year visa yet.
What I found particularly impressive is that before 1993, there were only ten or so buildings that had ten floors in Chongqing. Today, it's earnt the title of one of China's 13 emerging mega-cities, with around 1600 skyscrapers stretching into the horizon. And in terms of dining habits, I noticed the Chinese (at least those in these parts) tend to eat their evening meal earlier than the rest of the continent, with street food stalls and restaurants packing up at around 9-9.30pm.
My advice: get out early and hunt down as many of the below essential Sichuan eats as possible. It's not an exhaustive list by any means, but it's what I managed in my limited time there, and it's a damn good place to start.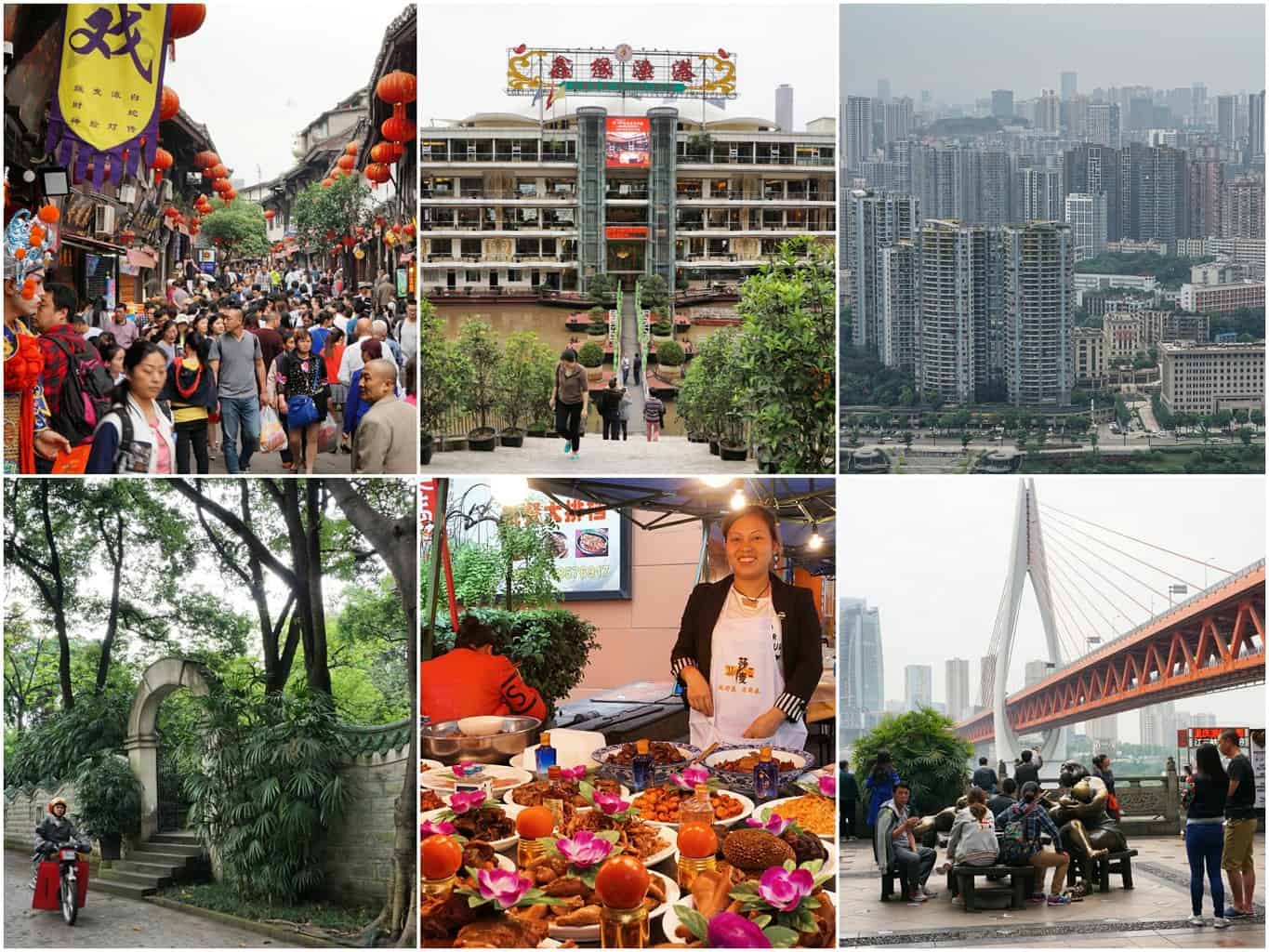 scenes from Chongqing
1) Gong Bao (Kung Pao) Ji Ding – chicken with peanuts and dried chillies
A very tourist-friendly dish and a good place to begin is with kung pao chicken, often found on Chinese menus outside China, especially in the States. The main ingredients are diced chicken, spring onions, dried chillies and peanuts, yet it's a dish that isn't actually that hot.
The flavour is dominated by a sweetness, with a mellow hint of fire. It also lacks the fermented funkiness found in many other Sichuan dishes. Still full of flavour and very satisfying, this is a great dish through which to introduce the uninitiated to the local fare, and an easy one to replicate at home.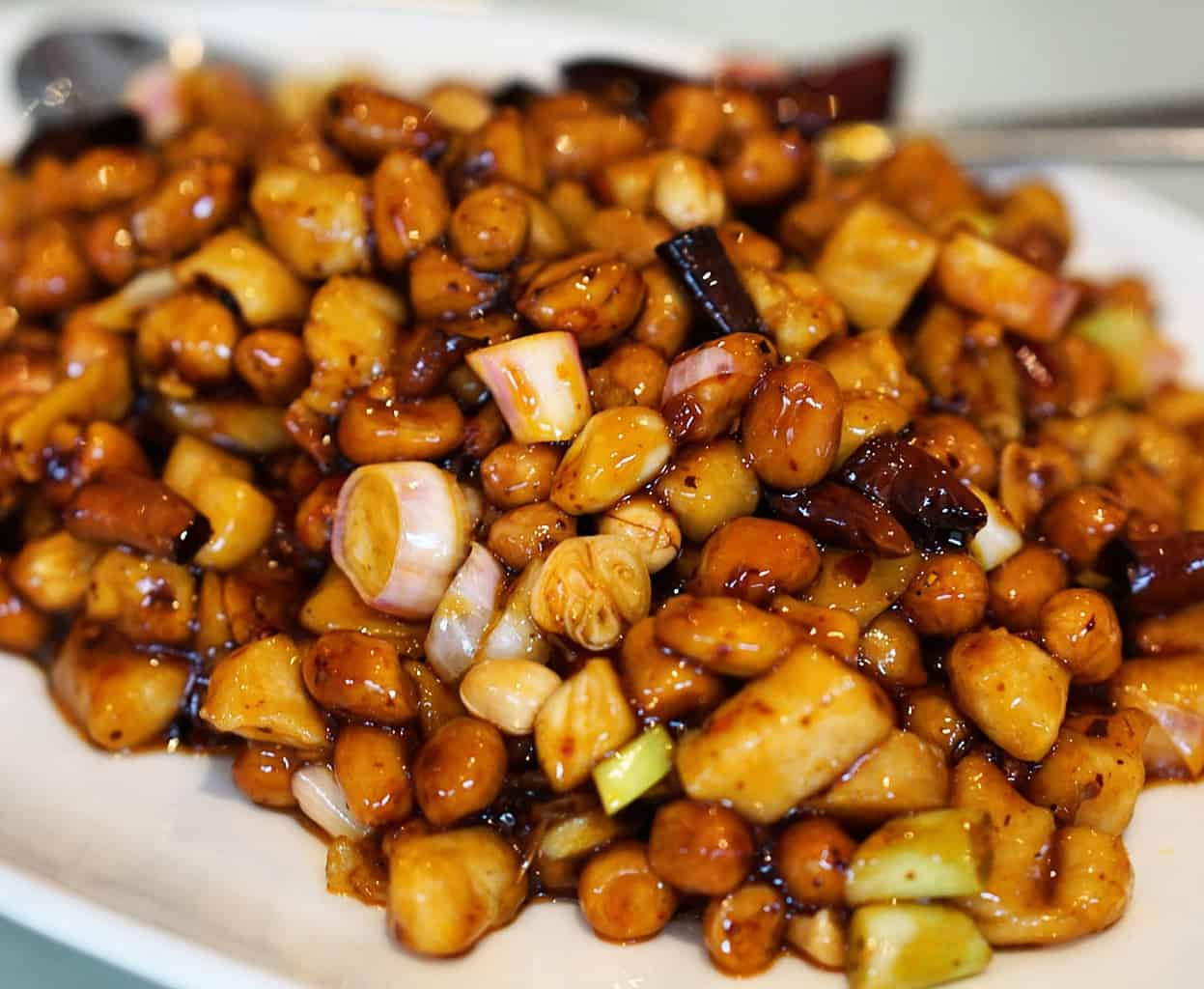 gong bao (kung pao) chicken in Chongqing
2) Suan La Fen – sour and hot glass noodles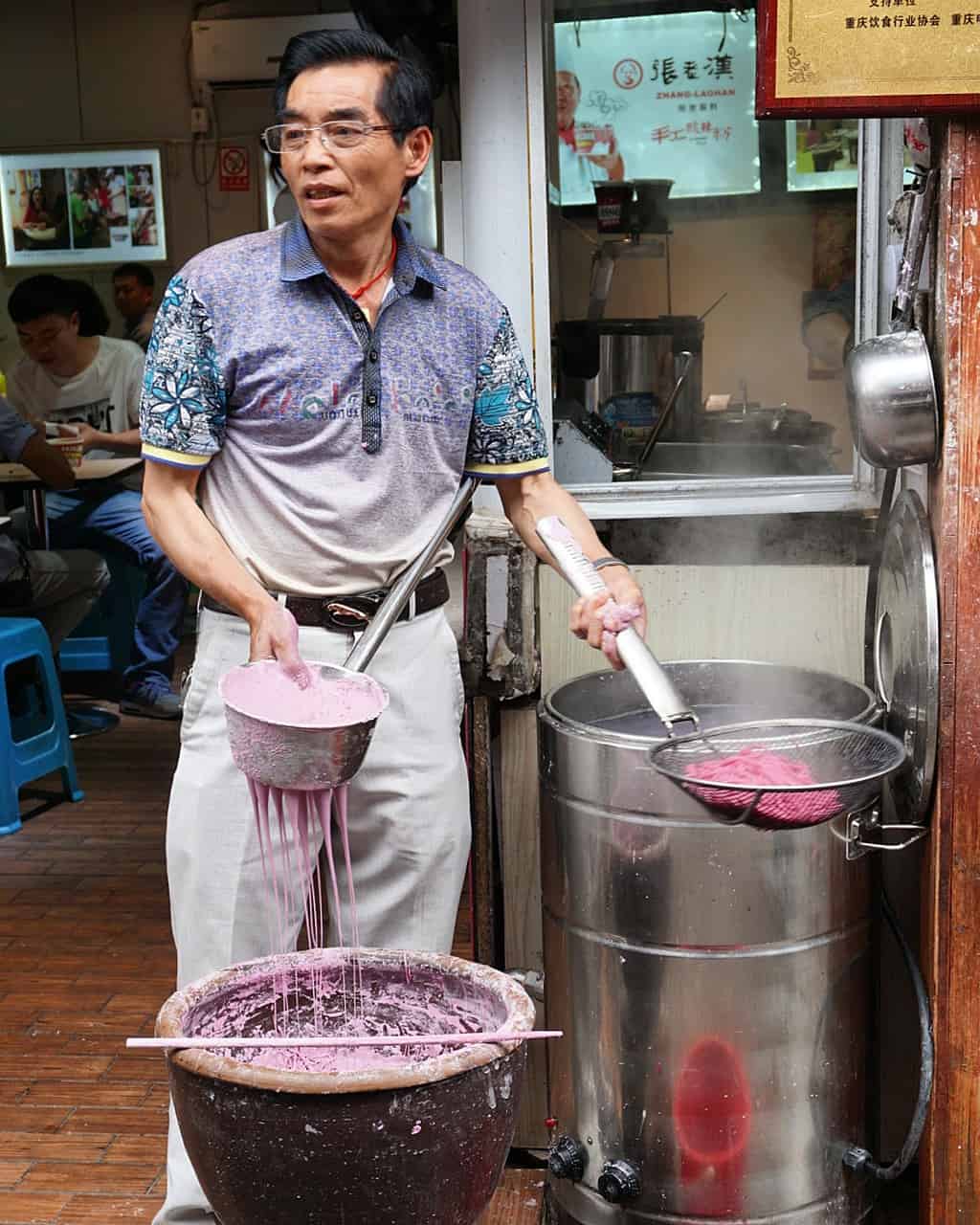 suan la fen, sour and hot sweet
potato noodles in Chongqing
This guy is making suan la fen, sour and hot glass noodles. A stiff dough is made from sweet potato starch (hence the colour), which is then placed inside a bowl with large holes in the bottom.
The mixture is thixotropic, meaning its viscosity changes depending on how much it's moved; the more it's aggravated, the more liquid the substance becomes. A bit like ketchup.
The dough which starts off firm ends up flowing out of the holes as the guy shakes the bowl. It falls into the water and cooks as chewy long strands, which are then served in a hot and sour chilli broth, topped with peanuts and coriander.
I snapped this cook in the old town of Chongqing, but you can find this dish all over. It's pretty easy to spot if somewhere sells suan la fen, just look for the pictured set up.
3) Mapo Doufu
This is a big favourite when it comes to Sichuan cuisine. Translated literally as "pock-marked woman's tofu," the dish was created in the 19th century by a lady with a pock-marked face, to sell from her family-owned tavern. The principal behind her creativity was to make a tasty and soulful staple from simple and inexpensive ingredients – silken tofu, ground beef or pork, fermented chilli bean paste, sichuan peppercorns, and lots of hot chilli oil.
You can find the dish all over China, so do try to seek it out wherever you are in the country. The chilli heat doesn't blast the cobwebs in one hit; expect it as a more gradual and layered presence, coming through as both sweet and hot.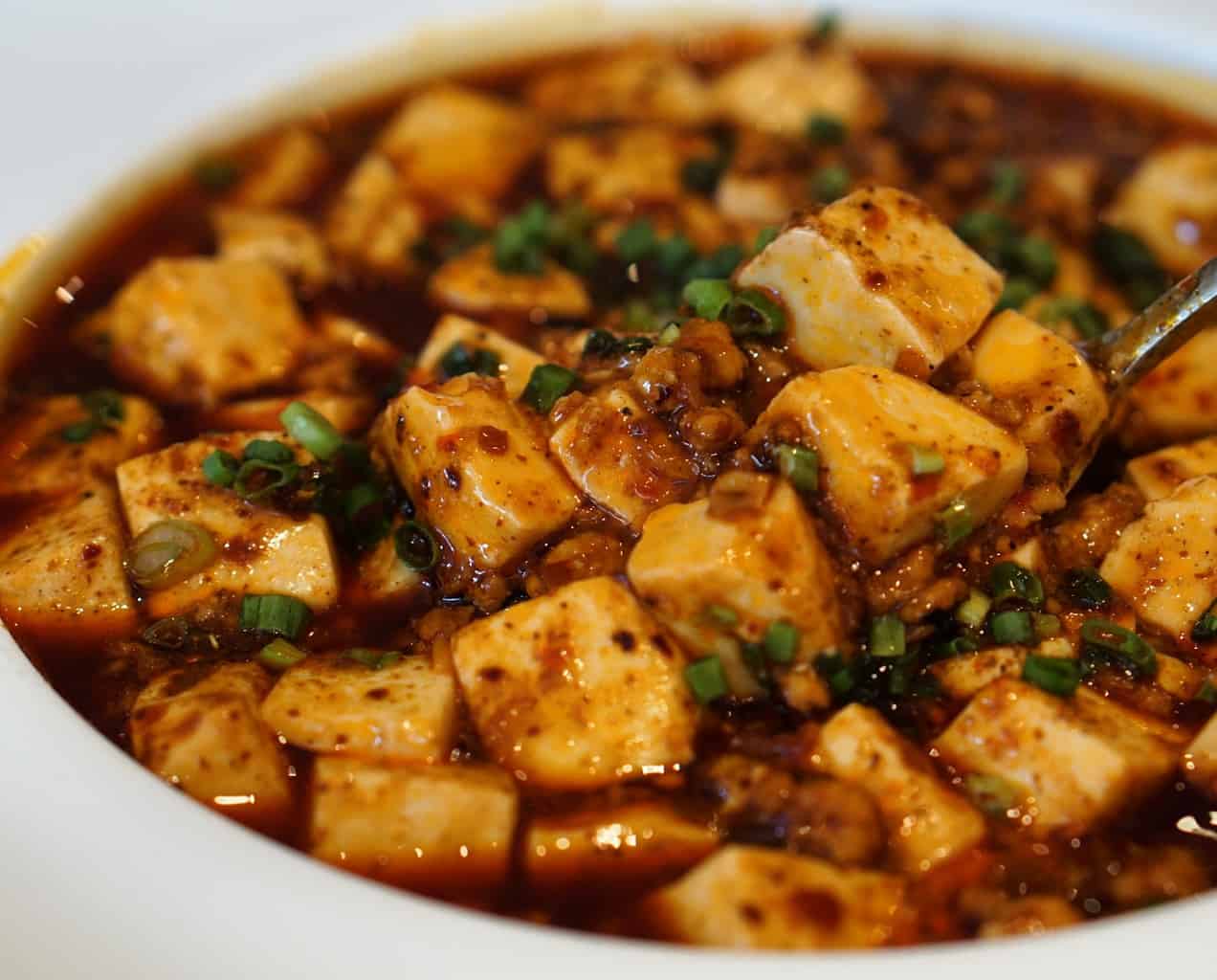 mapo doufu in Chongqing
4) Dan Dan Mian – noodles with pork, chilli, garlic and vinegar
Dan dan noodles is another Sichuan dish commonly seen outside of China, and one of my favourite things I ate during my visit. Spicy noodles will always be a failsafe crowd pleaser, and boy, does it please me.
There are vendors selling this stuff everywhere, where piles of fresh, bouncy, and stretchy noodles are topped with dried chillies, soy sauce, black vinegar, sugar, salt, MSG, garlic, ground peanuts, chopped spring onions, ground Sichuan peppercorns, chopped pickled mustard root, and the omnipresent chilli oil. You can sometimes get ground pork too, if you're feeling fancy.
It's just so good. Sucking up the first of those savoury, oily, fiery strands sets the pleasure receptors into overdrive – obscenely delicious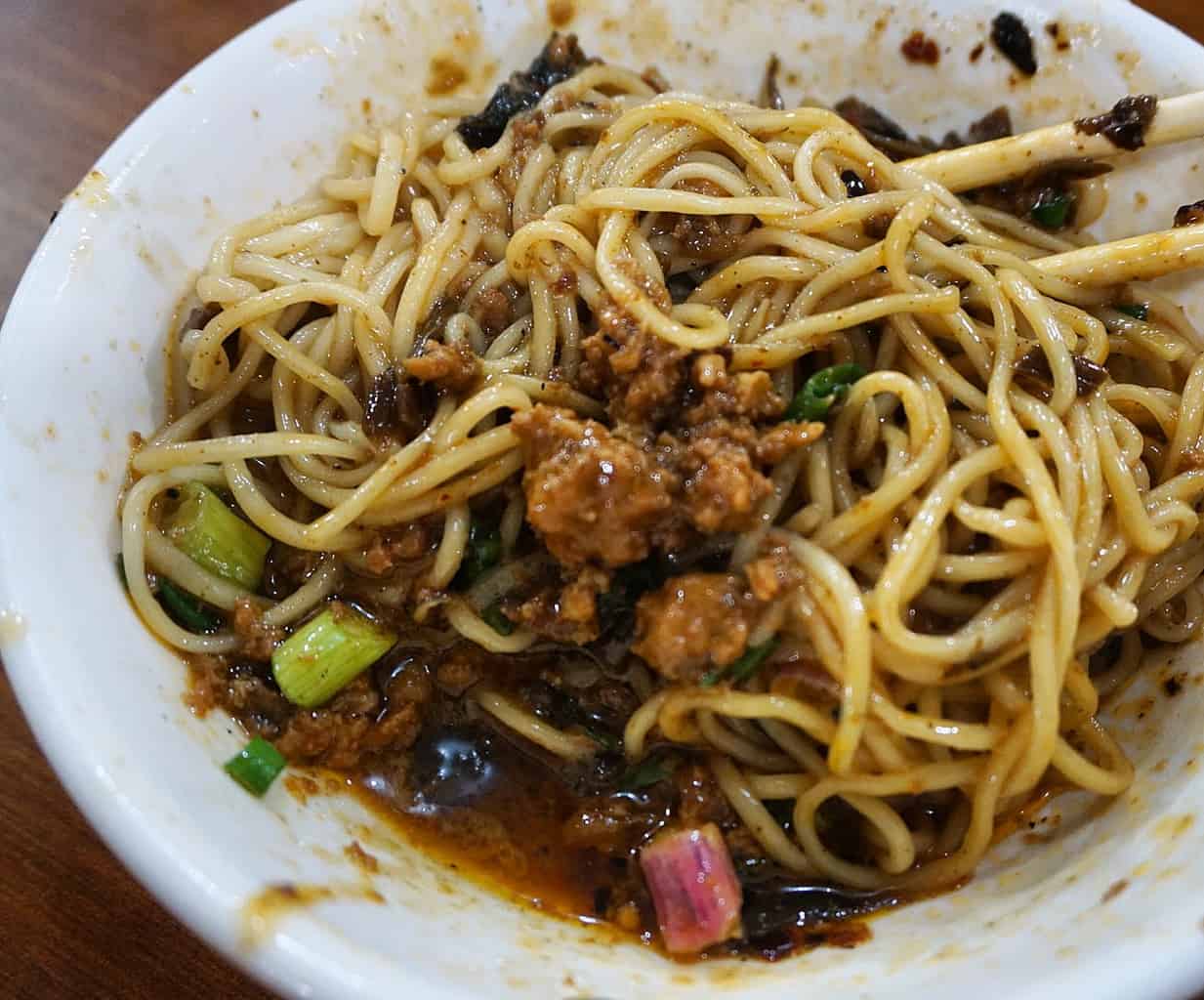 dan dan noodles in Chongqing
5) Hot Pot
You're not allowed to visit Chongqing and not have hotpot – it's an unwritten rule. Now readily available all over the country and beyond, it is Chongqing that's the birthplace of China's version of fondue.
How it works is a group of friends sit around a circular table, at the middle of which there is a bubbling vat of broth over a gas flame, surface scattered with whole star anise, sichuan peppercorns, and a heck of a lot of dark red chilli oil. Furiously boiling liquid magma, plus all those chillies, makes for a seriously warm dining experience.
Plates of fresh and raw ingredients are brought to the table – anything from vegetables and tripe, to squid and thinly sliced beef – and each person dunks in what they fancy, cooking their food in the broth themselves. There are dipping sauces to coat your goods in before popping them in your mouth, such as sesame and of course, more chilli oil.
The social aspect is a big part of hotpot, so it works best when there are a few of you, rather than just two or someone dining solo. If you are on your own, make some friends and join another table – I bet they'd love to have you. Once you get past the shock of the huge block of white lard that's put into the broth at the start to melt and flavour the stock, the whole thing is a very fun experience. Especially with a few ice-cold local beers.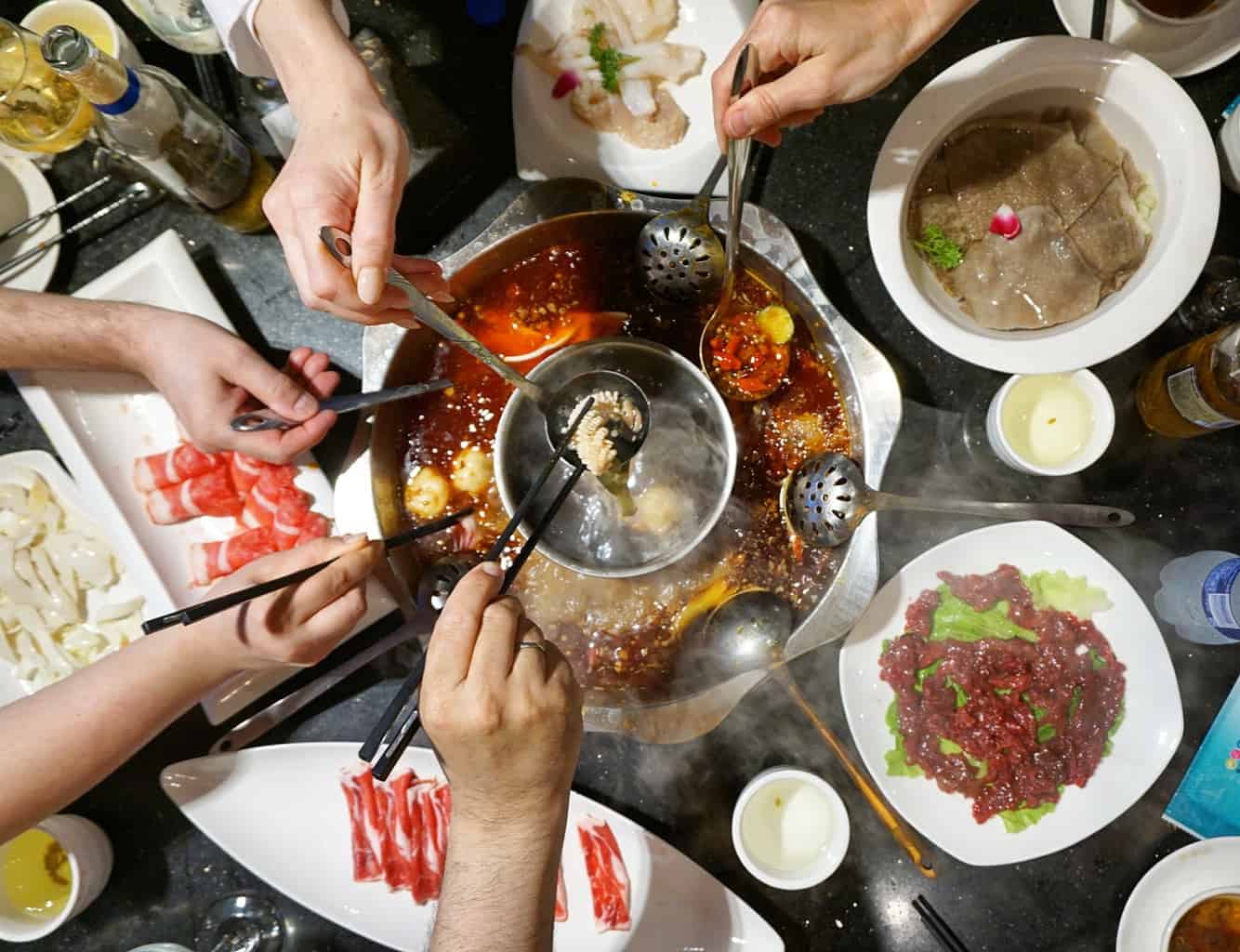 hotpot in Chongqing
6) Shuizhu Rou Pian
This dish often uses fish (yu) but our version was with pork (rou pian). Either way, expect the copious amounts of chilli oil in it to be so extensive, that it will be slopping out the sides of the bowl by the time it's reached your table.
Tender fillets of meat are marinated and brined, coated in cornstarch, and consumed by hot broth with a thick layer of chilli oil, and a smattering of dried chillies and sichuan peppercorns. As you drag the meat out from its fiery bath through the spicy oil, it will get a flavoursome coating, as may you shirt.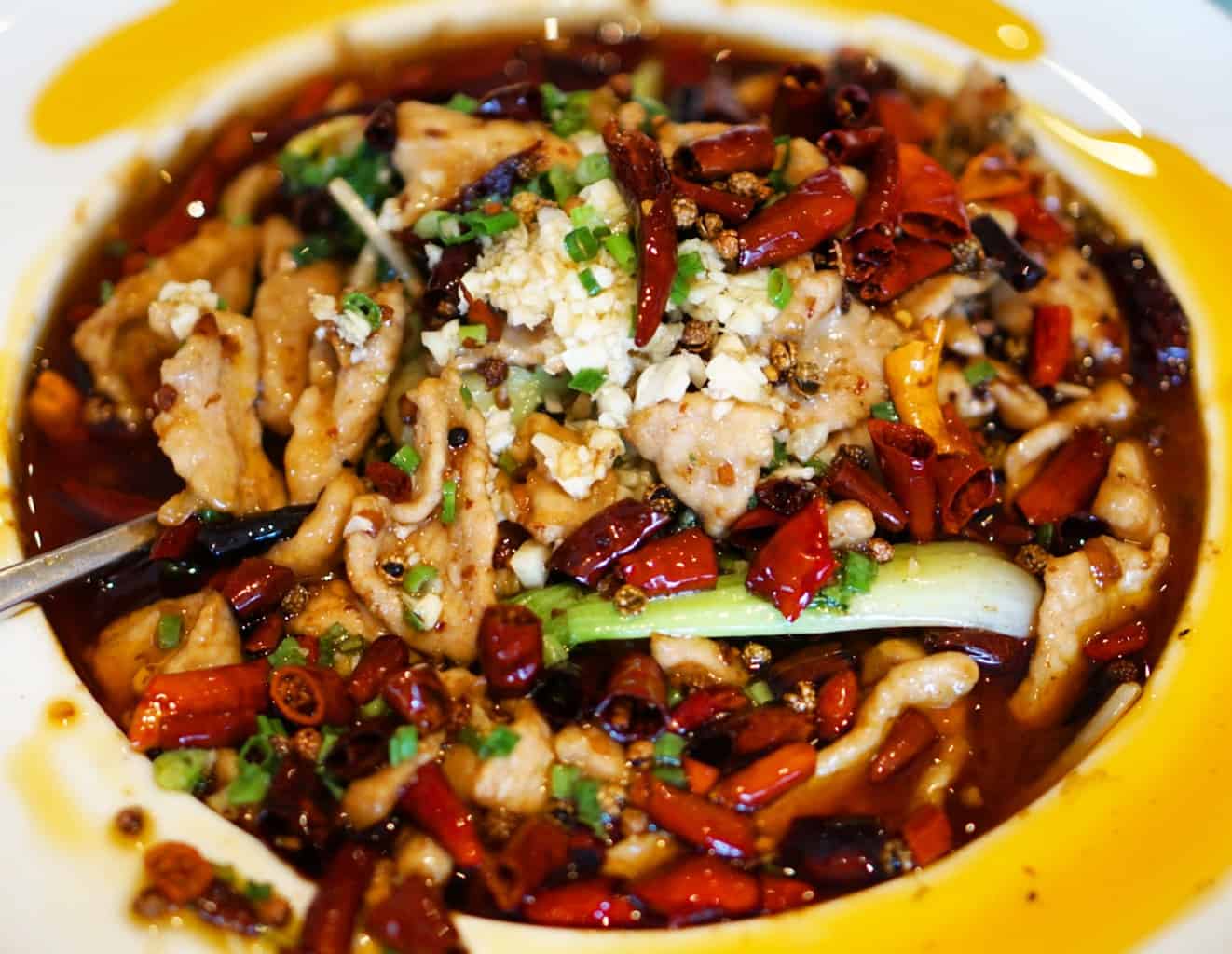 shuizhu rou pian in Chongqing

7) Shao Kao – grilled skewers
Grilled skewers are representative of the country as a whole, rather than Sichuan areas specifically – they can be found on street corners throughout China. If you can thread it onto a stick, you'll find someone giving it a good grilling. Particularly popular in summer months when patrons seek out night bites and cold beers on balmy evenings. Whether you're in Chongqing or elsewhere in the country, get yourself a handful.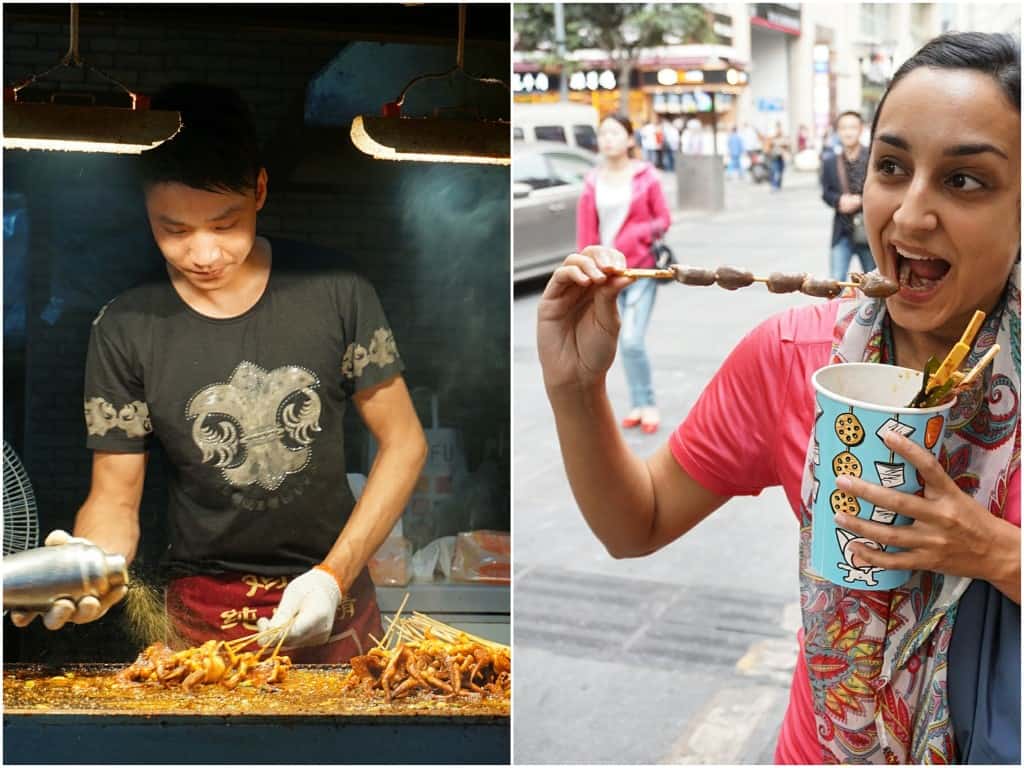 BBQ skewers in Chongqing
8) Chuan Bei Liang Fen – mung bean jelly with chilli sauce
It's far from obvious what this is when you first spot it at a street stall or on someone's plate in a restaurant; I thought it might have been boiled down and cut up cartilage. This white and opaque jelly-like substance is in fact slippery mung bean jelly – made by boiling mung bean starch in water – and it's a favourite cold dish of Sichuan cuisine.
It will come covered in numbing and hot chilli paste, with the usual sugar and vinegar to help balance things out. Expect plenty of deep, smoky, roasted heat – lovely stuff.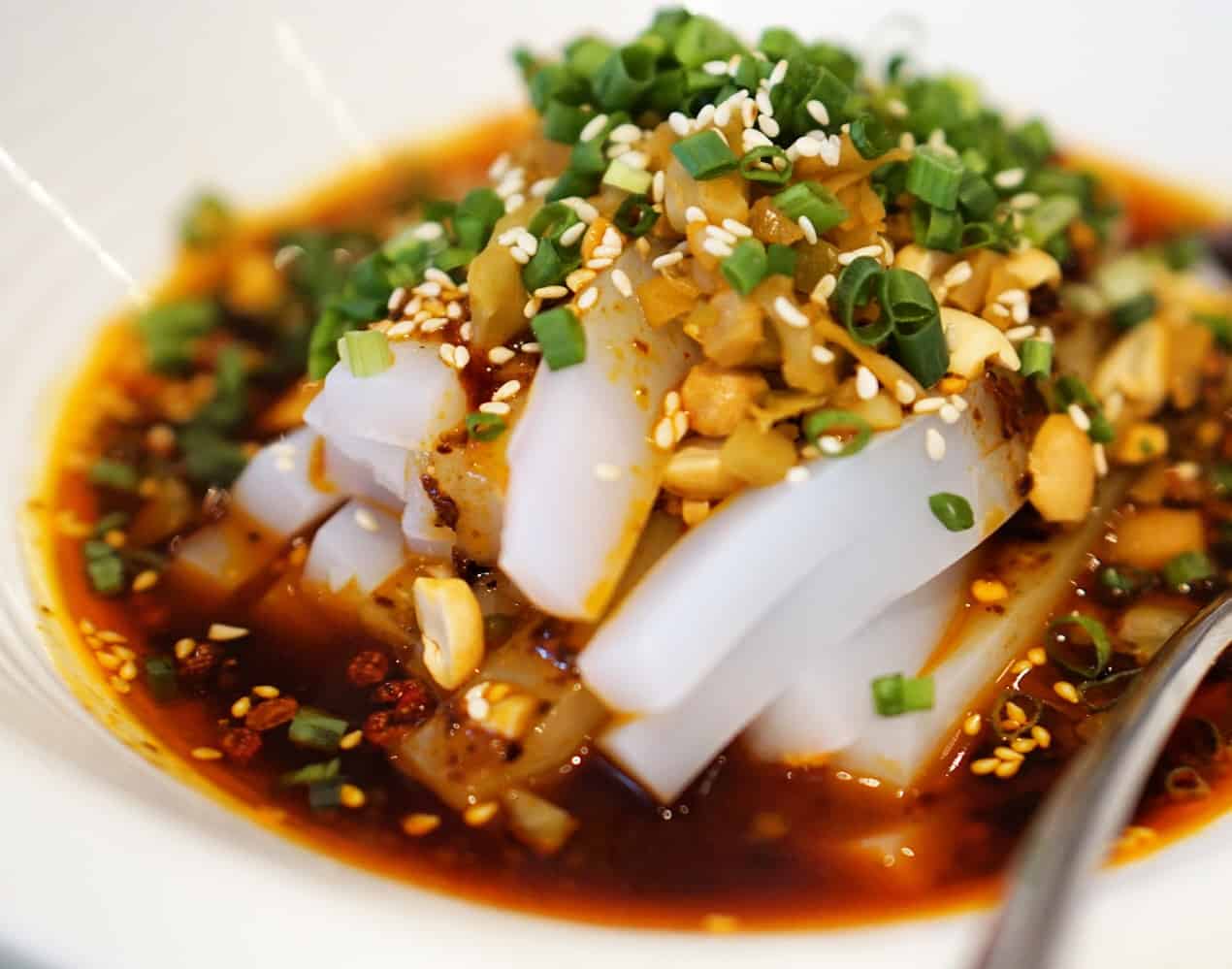 chuan bei liang fen – mung bean jelly with chilli sauce in Chongqing

How to get to Chongqing
Just when I start to think I'm getting to know the aviation industry, I'm reminded I still definitely do not. For example, I had no idea a Nordic airline was one of the best and most popular ways to get over to Asia.
Finnair were in fact the first Western European airline to fly non stop to China; it was Beijing in 1988. They were also the first Western European airline to fly to Xi'an, the place with great Muslim Chinese food and the world-famous terracotta army (see this post for more on that). Another claim is they were the first airline in the world to send SMS messages to customers regarding their flights. Which is fitting, seeing as SMS was invented in Finland.
Their minimum connection time in Helsinki is 35 mins, and they're rather proud of their extremely low statistic of only losing 4 in 1000 pieces of luggage – that's a very good number.
I was lucky enough to experience their fully flat beds in business class, which included some of the best food I've eaten at 30,000 feet. That's thanks to the new culinary collaboration for long-haul business passengers, with world-class chefs Steven Liu from China and Sasu Laukkonen from Finland, launched in April this year.
Think such Nordic delights as cucumber and dill soup with yoghurt and smoked salmon tarter; pressed beef neck with celeriac puree, herb butter and spring vegetables; Peltolan Blue and Viinitarhuri Finnish cheeses; organic Finnish ice cream by Jymy; and a very healthy stock of the excellent Finnish Napue gin, voted the best gin in the world to have with tonic, according to the International Wine and Spirit Competition (IWSC).
Get a couple of those down your neck along with some fine bubbles, and you can start the holiday well before you get there.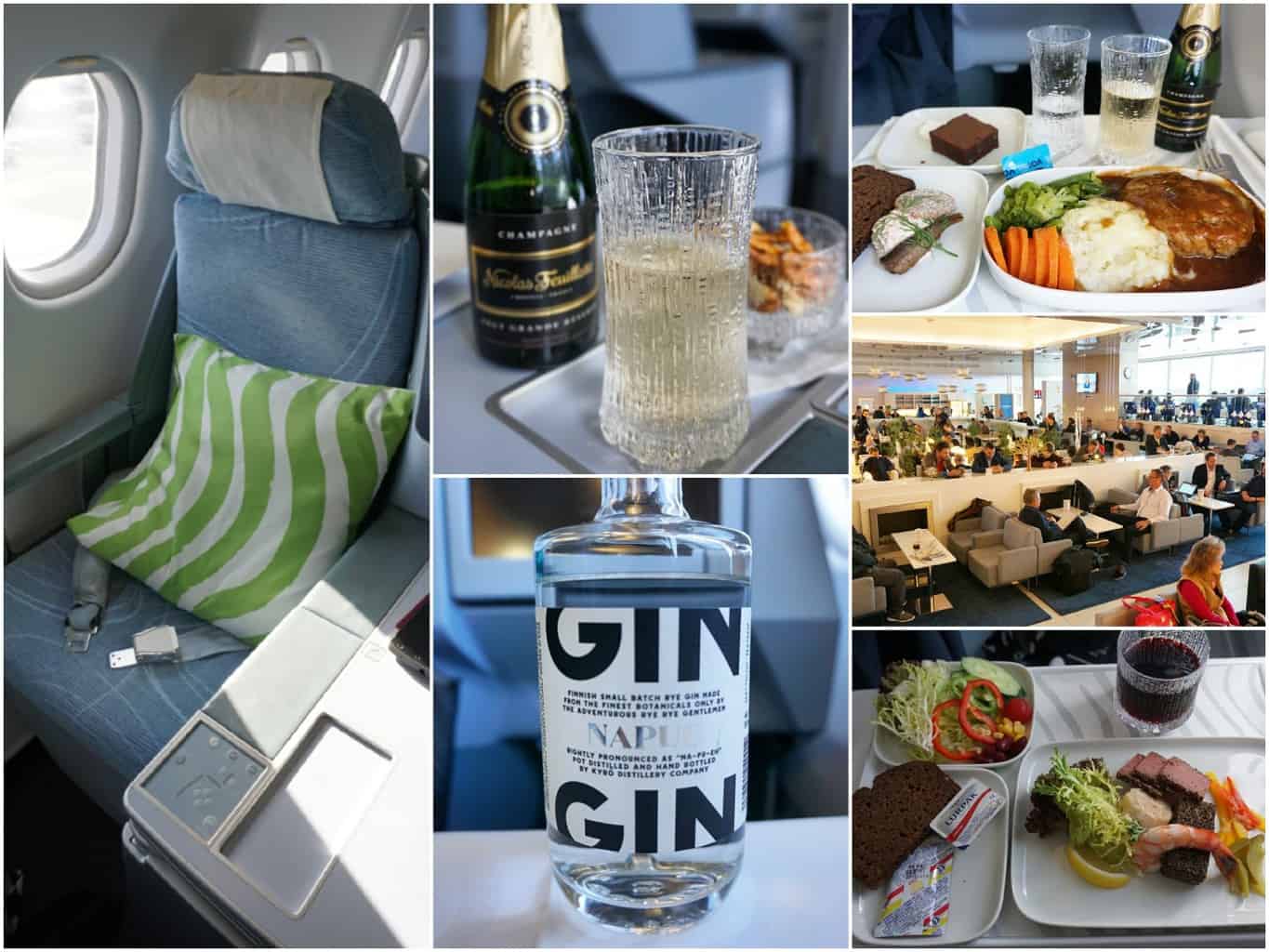 aboard a Finnair flight from Helsinki to Chongqing
Note: This trip and the flights was hosted by Finnair. Thank you to everyone involved for a truly wonderful experience. Must get back to China… All views remain my own, as always.
Related posts
CHINA: How to spend 2 days in China's ancient capital, Xi'an