Last Updated on June 10, 2020 by Leyla Kazim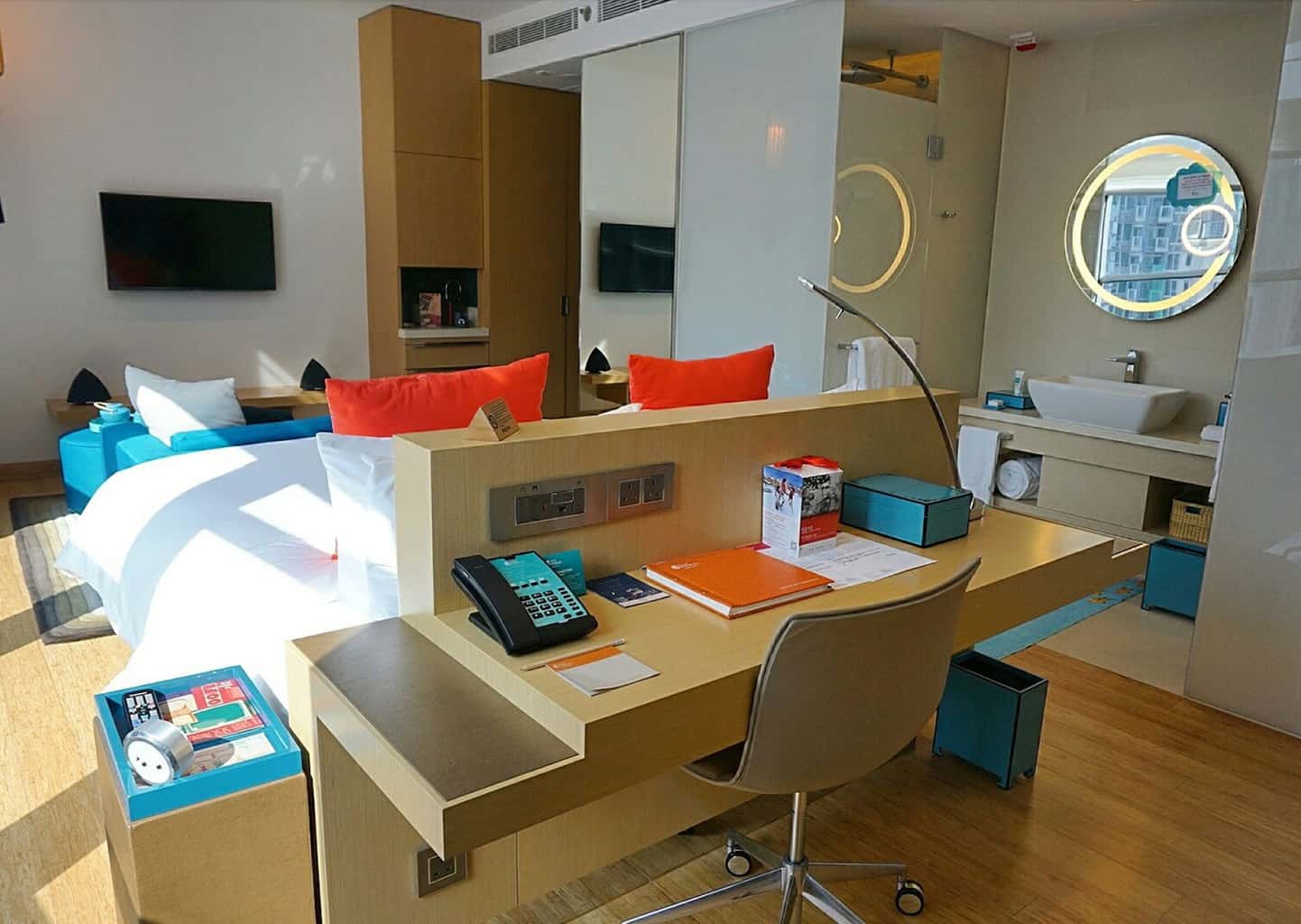 Hotel Indigo Hong Kong
In a nutshell
Filling a gap that's long existed in the city between the top dollar rooms with extortionate price tags, and the hostelries at the other end of the spectrum.
Hotel Indigo is fast becoming the accommodation of choice for the young business people who want five-star facilities, without having to pay top whack when in Central and Tsim Sha Tsui.
Where is it?
Wan Chai is ideal wandering territory, with old tenement blocks, fascinating back-streets, markets, temples and an abundance of restaurants and coffee shops to keep you busy for hours.
Queen's Road East is a perfect location to combine a vibrant, authentic and fast-disappearing slice of Hong Kong with access to the city's Central business district (two stops on the MTR) or the Hong Kong Convention and Exhibition Centre (about a 15 minute walk).
Each room has a handy directory listing the history of the area, plus recommended places and restaurants to visit.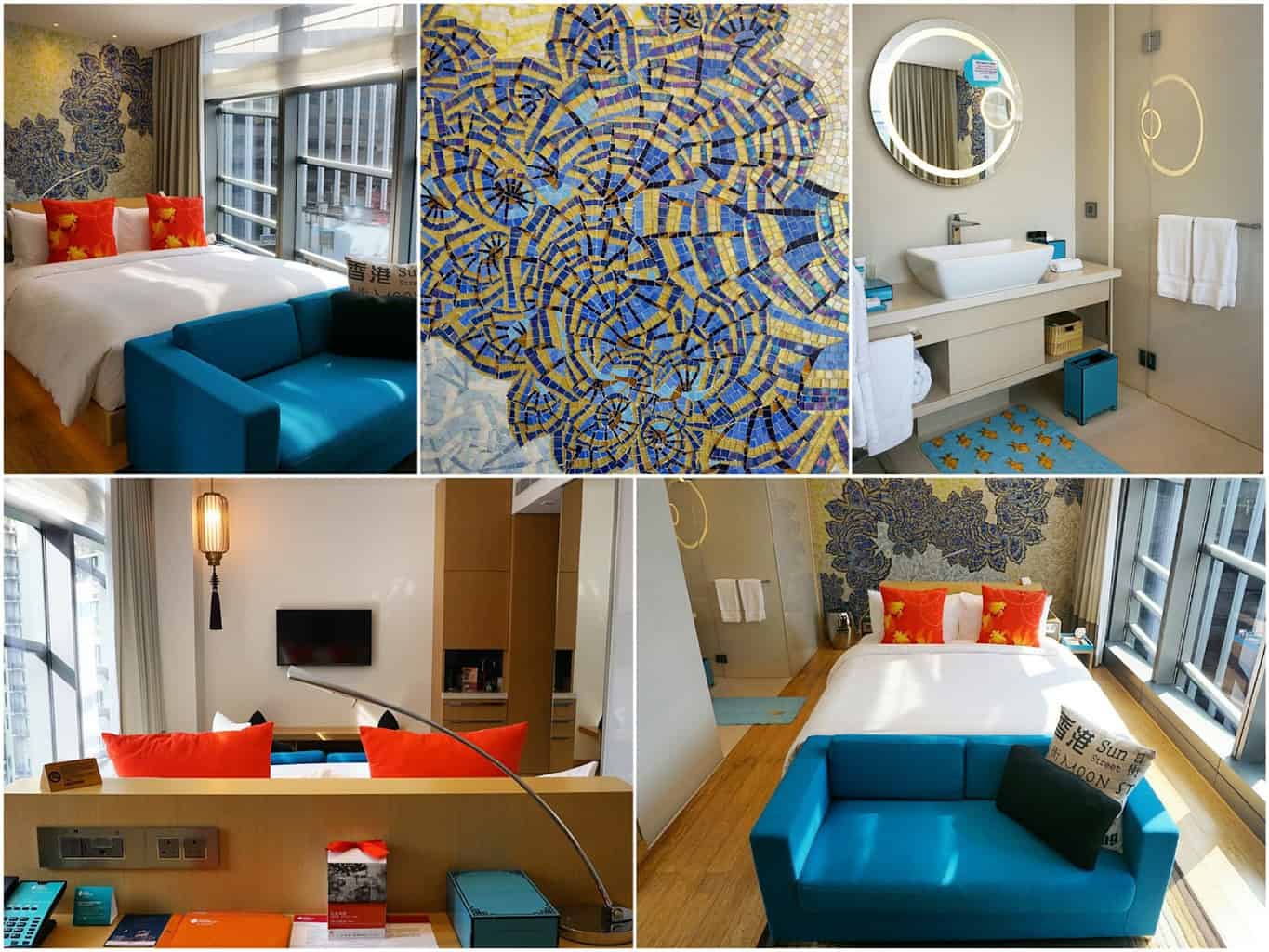 Hotel Indigo Hong Kong
Style and character
Hotel Indigo is the boutique arm of the InterContinental Hotels Group, with this branch opening in April 2013. It has just 138 rooms and an undeniable look, seen in the individually styled rooms, and carried through to the public spaces. It's in fact won a major architectural award, and is a lot more individual than it's parent company might suggest.
They do a good job combining local flavour with an unpretentious slickness. There's a lot of detail in the design of each room, from the high end brands (Bang & Olufsen speakers and a Nespresso coffee machine) to the fun knick-knacks, photos and paintings, customised furniture, and themed fittings and furnishings, also seen in the corridors. Like sleeping in an Ikea showroom, most of the things that furnish it are available to buy.
Rooms have a window filling an entire wall, a colourful mosaic occupying another, and the pillow menu includes the likes of chrysanthemum, jasmine, cassia tora seed, and lavender. The room layout is quite linear, with a desk neatly fitted behind the bed headboard, and a small sofa at the foot end.
Whilst the shower and toilet cubicles are self-contained, the rest of the bathroom (i.e. the basin) is open plan to the rest of the room – probably a less awkward set-up for those occupying a double rather than a twin.
All in, I was totally charmed by the aesthetics of the whole building. Refreshing, original, and good fun.
What's unique?
There's a stylish rooftop Sky Bar which offers some pretty cool urban views along with your cocktails or bubbles with some clever interior design holding on to the nostalgia of the surrounding neighbourhood and local culture
Also, value for money. It's not cheap, but for Hong Kong standards, it's a good deal (see Price point below). And that's with a top location and cool atmosphere.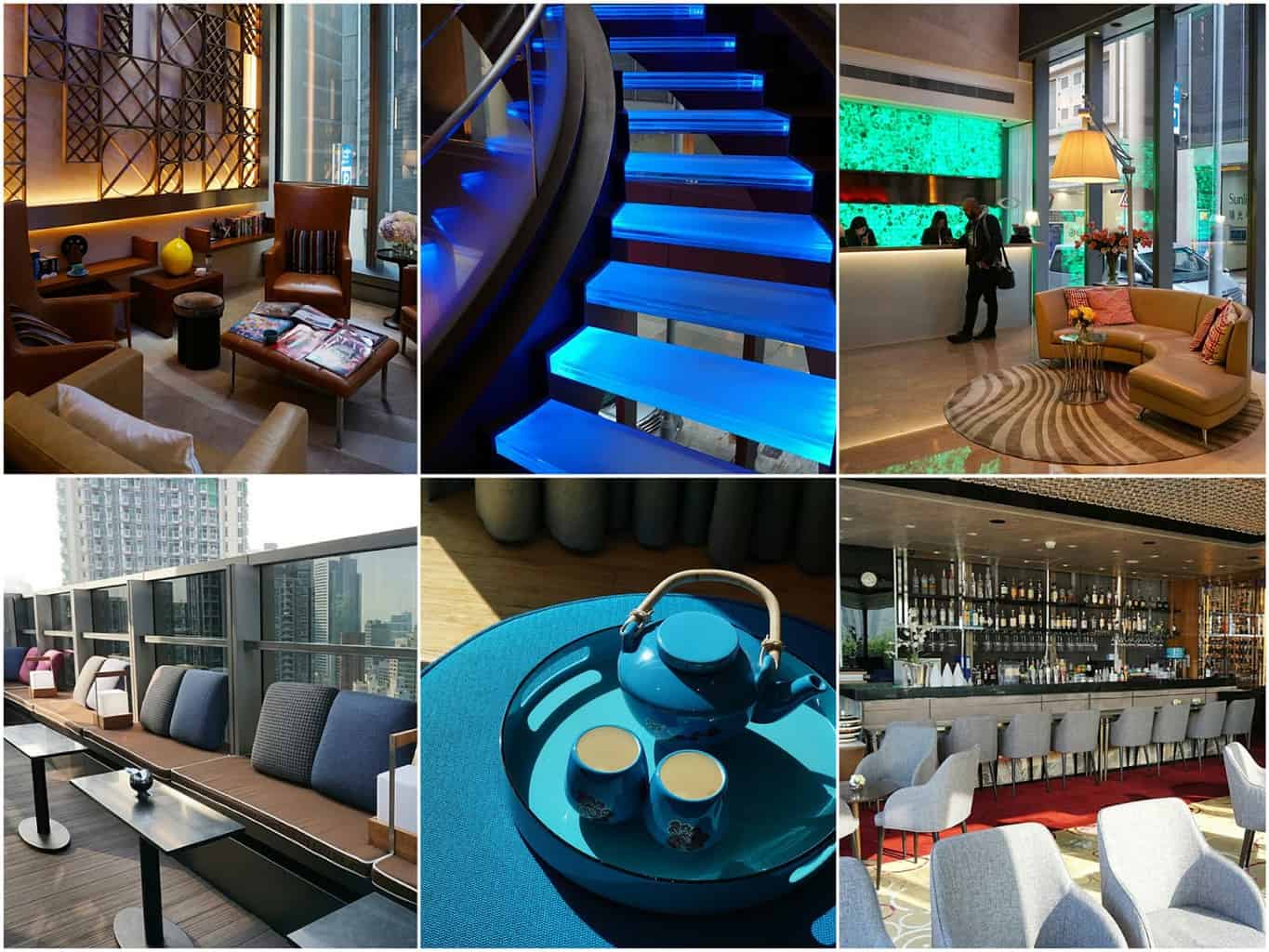 Hotel Indigo Hong Kong
Who goes?
Spotted quite a few business folk. But it certainly does not feel like a business hotel, in that it is both homely and individual – I tend to associate them with being dull and lonely places.
This is a property suitable for anyone who wants comfort and a great location, appreciates good design, but doesn't want to pay for it through the nose. I'd recommend it to anyone.
Breakfast
Served in their intimate restaurant Café Post on the second floor, the space makes it feel as though you've been invited for breakfast at a friend's home. There are colourful tiles, a breakfast bar, central cooking island, stylish pendant light fittings, and food served from Le Creuset-esque colourful enameled cast-iron cookware.
Expect fruits, smoked salmon, cheeses, cereals, bread and butter pudding, cakes, pastries, baguettes, a big jar of peanut butter (always good to see), jams, noodles, dim sum, bacon, an egg station, beans, fried potatoes, and some superb coffee specially sourced from a local roaster called Rabbithole.
The restaurant also has an al fresco lounge area directly opposite to the Old Wan Chai Post Office that captures the spirit of the local history.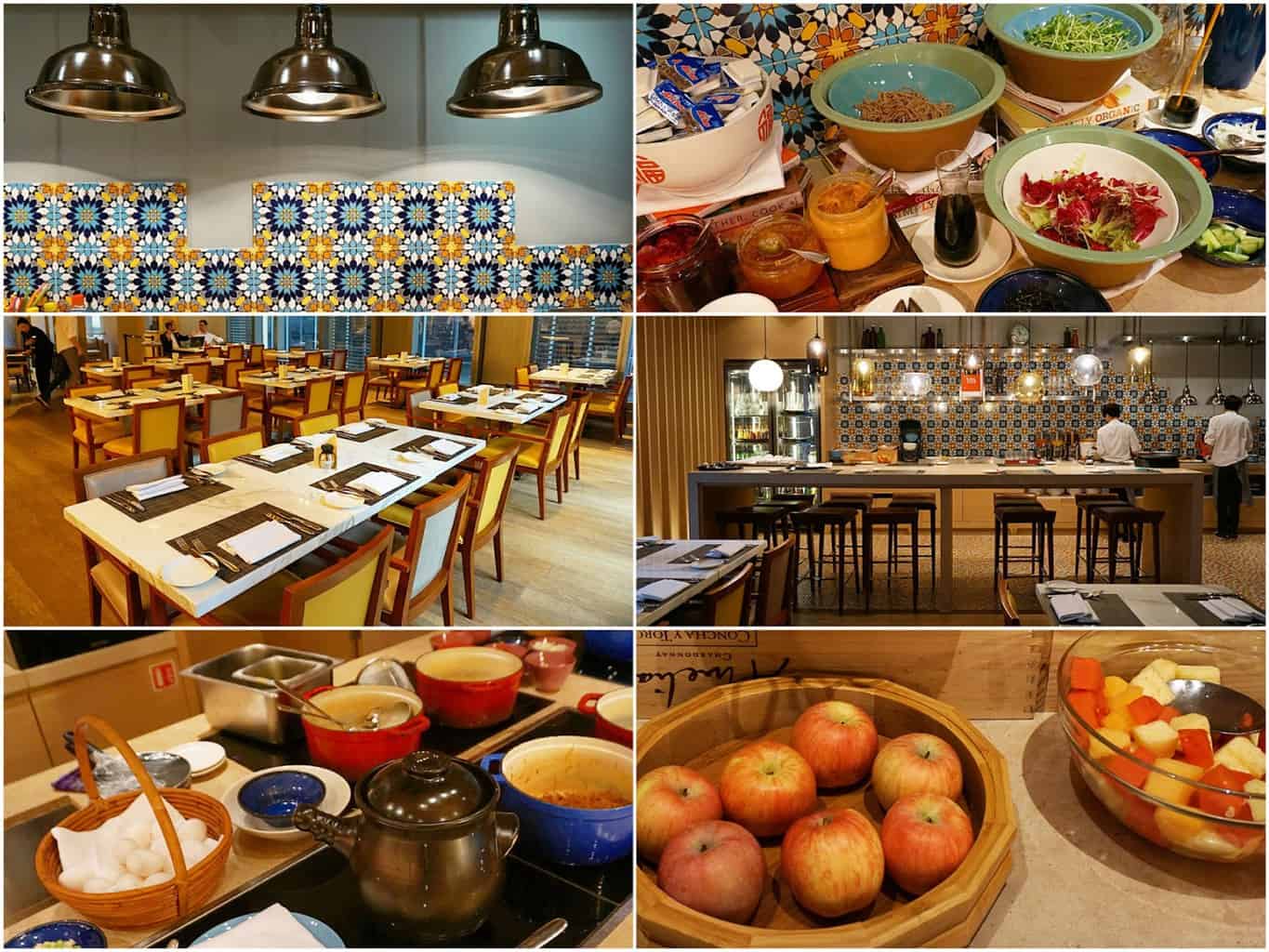 breakfast at Hotel Indigo Hong Kong
Service
A really nice touch were the daily notes left in the room along with some kind of sweet treat – macrons, chocolate – letting us know to get in touch with the team should we need any assistance with our plans, and hoping we had a wonderful stay.
I also asked the reception if they could get a package sent back to the UK for me. A member of staff took it to the post office early in the morning, and scanned and emailed the confirmation receipt and tracking number, all at no extra charge.
Liked lots / liked less
Liked lots. Definitely the design and the colour-pops used everywhere. The elevators have very cool colour-changing walls that I think are a mosaic of thin cross-sections of pretty stones (?), and the funky blue stairs in the lobby.
Liked less. As I mentioned, the unusual half-open plan layout of the bathroom doesn't provide masses of privacy, if you wanted to get dressed in there after a shower, for example. It didn't bother me personally, but I imagine might for others.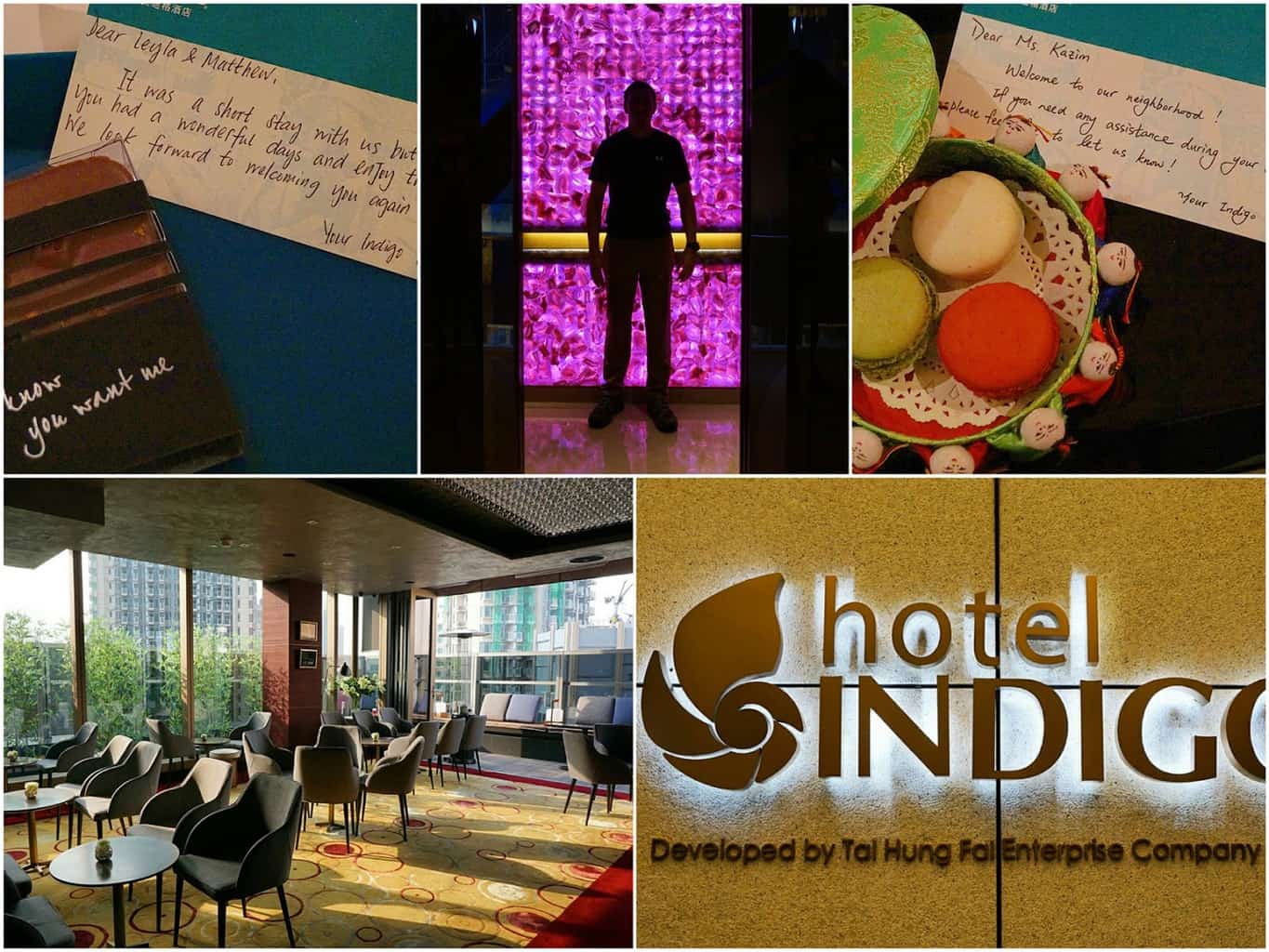 Hotel Indigo Hong Kong
Price point
Prices from around £250 for a Superior King room to £435 for a Premier King Suite, including breakfast.
Contact
246 Queen's Road East, Wan Chai, Hong Kong
0871 942 9242
Website
@hotelindigo
Note: This stay was kindly hosted by the hotel. All views remain my own.


Related posts
Week 7: CHINA & VIETNAM – Hong Kong → Hanoi
CHINA: Review of The Mercer, Hong Kong
CHINA: Review of Hotel Pennington by Rhombus Hong Kong