Last Updated on December 8, 2020 by Leyla Kazim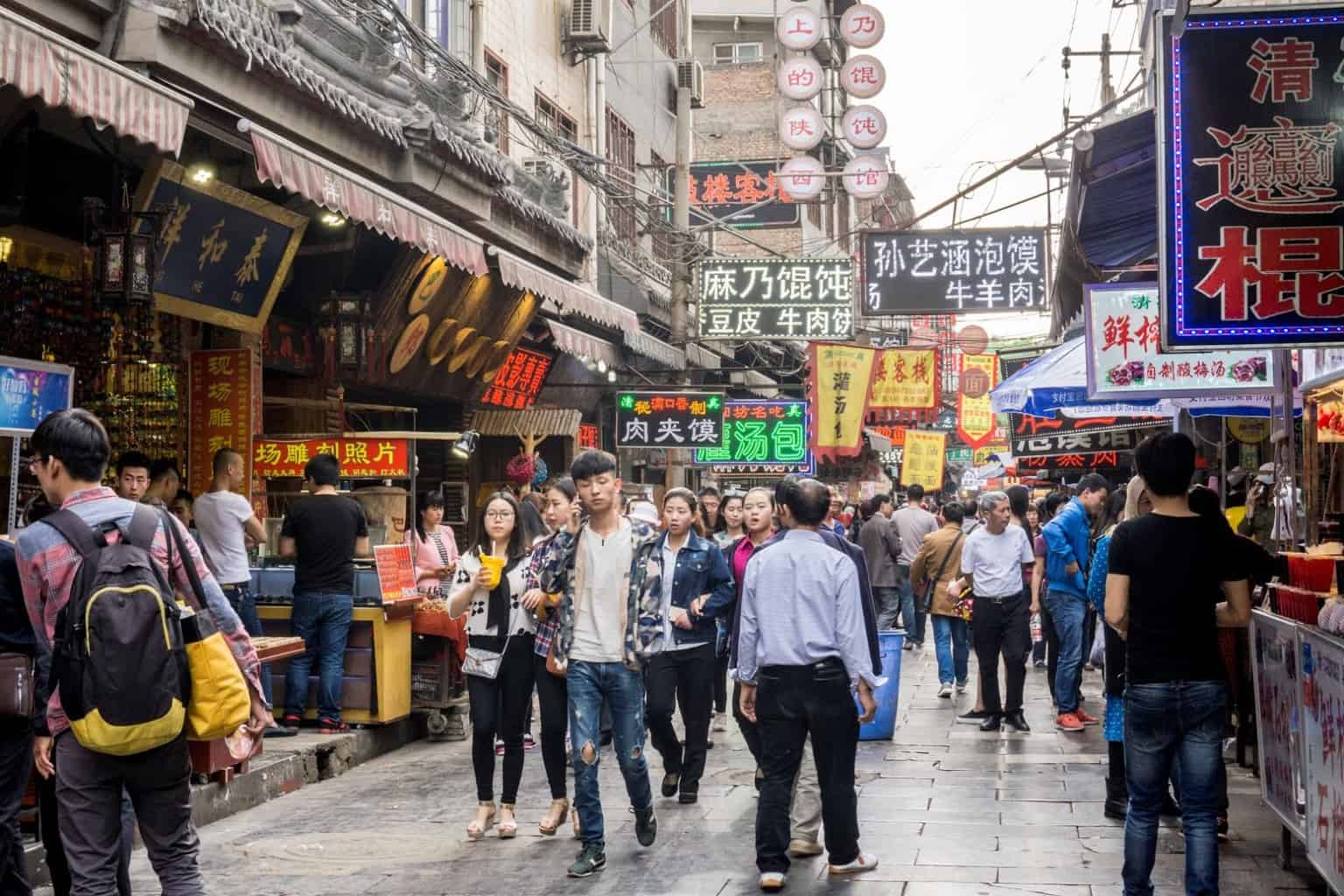 Xi'ans Muslim food district, China
How to spend two days in Xi'an
After spending a couple of days in Chongqing – one of the country's emerging mega-cities – we took a domestic flight to nearby Xi'an in Shaanxi Province, to experience a truly ancient pocket of China.
It's a humbling 3000 years old, and was the country's capital during no less than thirteen dynasties, spanning 1000 years. Once the terminus of the Silk Road, it brought migrants to China from the likes of Mongolia and Korea, as well as Muslims. The result today is a vibrant and exciting melting pot of cultures and religion, and some seriously good food (check out my post 6 must-eat dishes from Xian's Muslim quarter).
Xi'an's glory days – occupied by great emperors, merchants, warriors, poets and courtesans – may be long gone. But the history remains, and there's a lot of it to take in. The Ming-era city walls are still there, and the narrow lanes and street hawkers of the Muslim Quarter will keep most people entertained for hours. Dynastic enthusiasts could easily stay busy for a week.
Below are a few pointers on what to see and do that could nicely fill a couple of days or so. As always, if you're able to stay longer, do. I wish I had extended my trip by two more days, as I felt I'd only just tapped the surface. I really enjoyed Xi'an and it's intimacy. And I absolutely loved the food. I hope to be back some day.
What to do in Xi'an
Take a morning Tai Chi lesson
How zen does our Tai Chi master in white look below? We popped over to Revolution Park one morning to both witness and participate in some of the daily group exercise routines that take place. It was full of elderly people working up a sweat, bending and flexing whilst doing aerobics, dancing, Tai Chi, playing sports, and generally putting us young bucks to shame.
We were privileged to have a Tai Chi grand master show us some basic moves, having practiced the discipline himself for 30 years. His precise and fluid movements drew a big crowd, who also stuck around to watch (and film) us westerners give it a go too. We did pretty well in the heat; it's far more demanding on the body than it looks! Kudos to the little old ladies who can lunge with far greater stability than the rest of us – great glute action.
And it reminded me of that time I was coerced to join in a similar activity in the village of Mae Rim near Chiang Mai – that was a great evening.
There's nothing stopping visitors turning up and latching onto a group, copying the movements. It's good fun.
Revolution Park, 53 Siwu Road, Xi'an 710004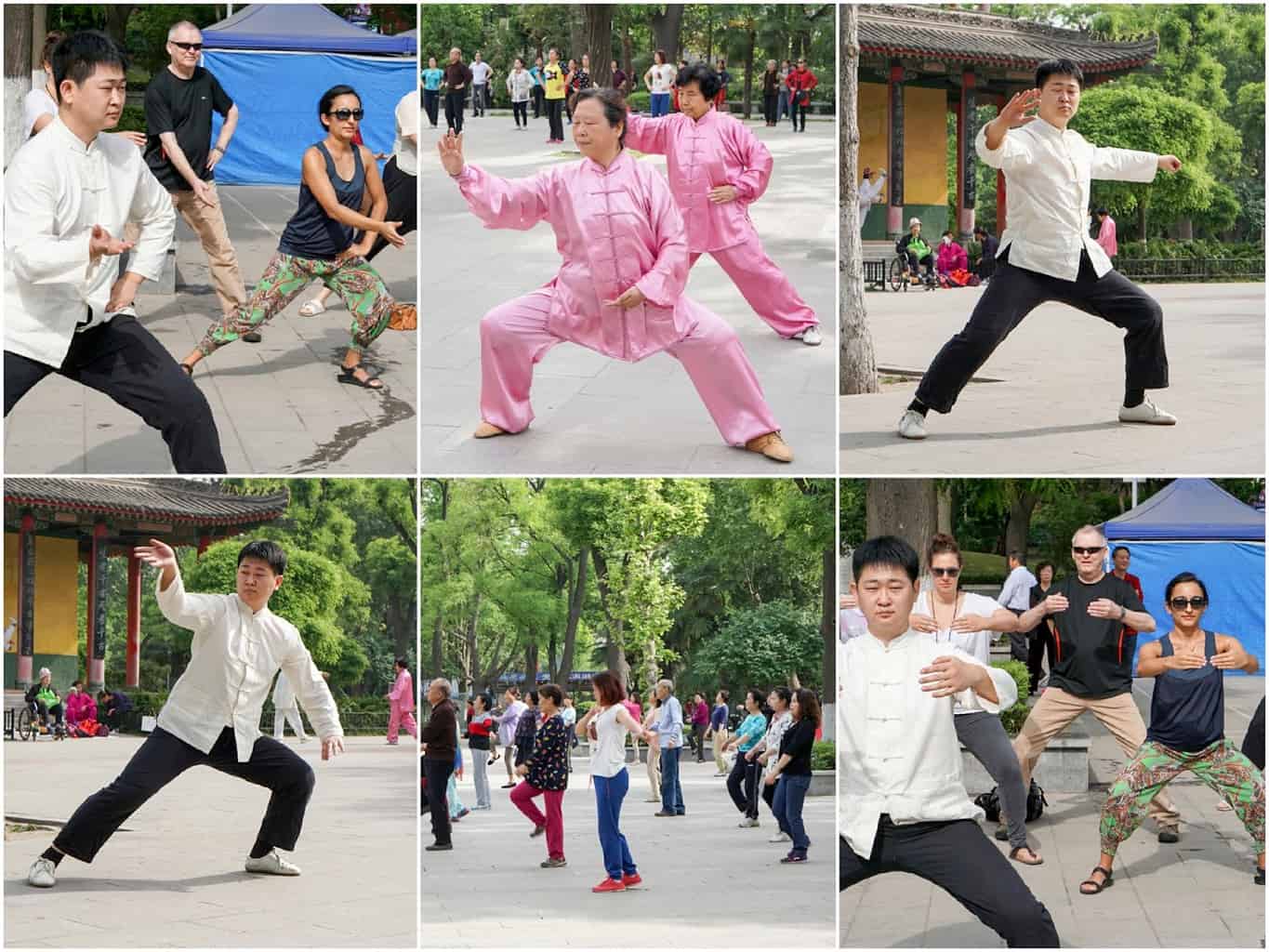 early morning Tai Chi in Revolution Park, Xi'an
Marvel at the vast Army of Terracotta Warriors
This UNESCO heritage site is so much awesome, really. All these thousands of clay statues were accidentally discovered just 40 years ago, which is pretty cool in itself.
So, what's the story? In a nutshell, two thousand years ago, three large underground pits were created, housing these armies of soldiers with real weapons in their hands. The Qin Dynasty emperor at the time, who these were made for to protect him in the afterlife, made no recording of their existence – he wanted them to remain a secret forever. He even had those who designed the pits killed so they couldn't reveal how to find them. They were hidden there, covered by a wooden roof and buried under five meters of soil, for 2000 years.
Fast forward to the 1970's and a farmer stumbled across some fragments as he was digging his field to make a well. The rest as they say, is history. The farmer himself did pretty well out of the discovery; credit to him for not keeping it a secret for fear of angering the gods (as his friends wanted to), and sharing it with the relevant authorities.
Two thousand soldiers currently stand, but archaeologists estimate there are around 8000 in total. They're still excavating and reassembling the pieces today. Only one terracotta warrior was found completely in tact – the kneeling archer (the close up below). The rest were smashed to pieces which have painstakingly been put back together over the last 40 years, in what is possibly the world's biggest jigsaw puzzle.
The place is fascinating, and there's so much more to it than I can do justice here. Saying it's a must visit when in Xi'an is an understatement; people from around the world visit Xi'an because of the Terracotta Warriors. Heck, my boyfriend joined the queue at 6am one Saturday morning to ensure he got in, when some of the warriors were loaned to the British Museum in London a few years back. He was a little envious I got to see the real deal.
It costs about 200 RMB (£23) to get a taxi from Xi'an city to the Terracotta Warrior museum, and is roughly a fifty minute drive. My advice is to get a guide to talk you through the history of it all; it will really bring it to life.
Mausoleum of the First Qin Emperor, Lintong, Xi'an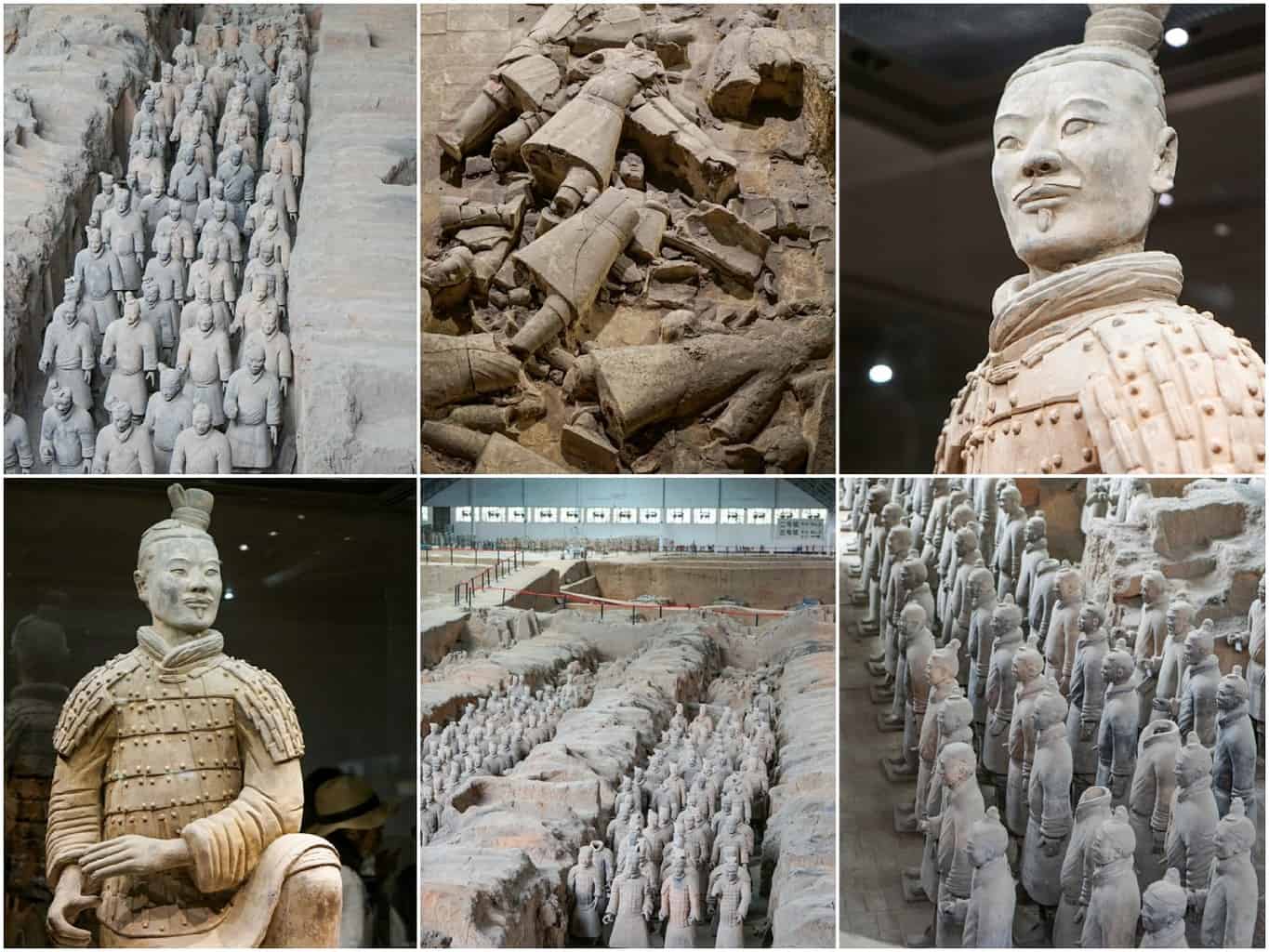 the Terracotta Warrior Museum, Xi'an
Learn how to make (and eat) dumplings
The latter is a lot easier than the former, let me tell you. I've tried making Chinese dumplings before; let's just say I'm lacking in natural talent.
Xi'an was the capital of the whole of China for a whopping 13 dynasties spanning more than 1000 years, and it's regarded as the home, if not the birthplace of the fine art of dumplings. And who doesn't love a good Chinese dumpling. No one, is the answer to that.
Rice isn't grown in this part of the country as the climate is too dry, and it's too far from the sea. Instead, corn and wheat is the staple, which means noodles and dumplings are the carb of choice in Shaanxi cuisine.
De Fa Chang is one of Xi'an's most famous restaurants, and it's the place to visit for dumplings. The chefs craft these little packages of joy in every conceivable shape, colour, and with a whole host of fillings. Enjoying a dumpling banquet here is highly recommended (see below), but if you can get someone who knows the lingo to organise a dumpling demonstration for you too (perhaps ask your hotel concierge to give them a call), all the better for it.
De Fa Chang, 3 West Street, Lianhu, Xi'an +86 29 8721 4060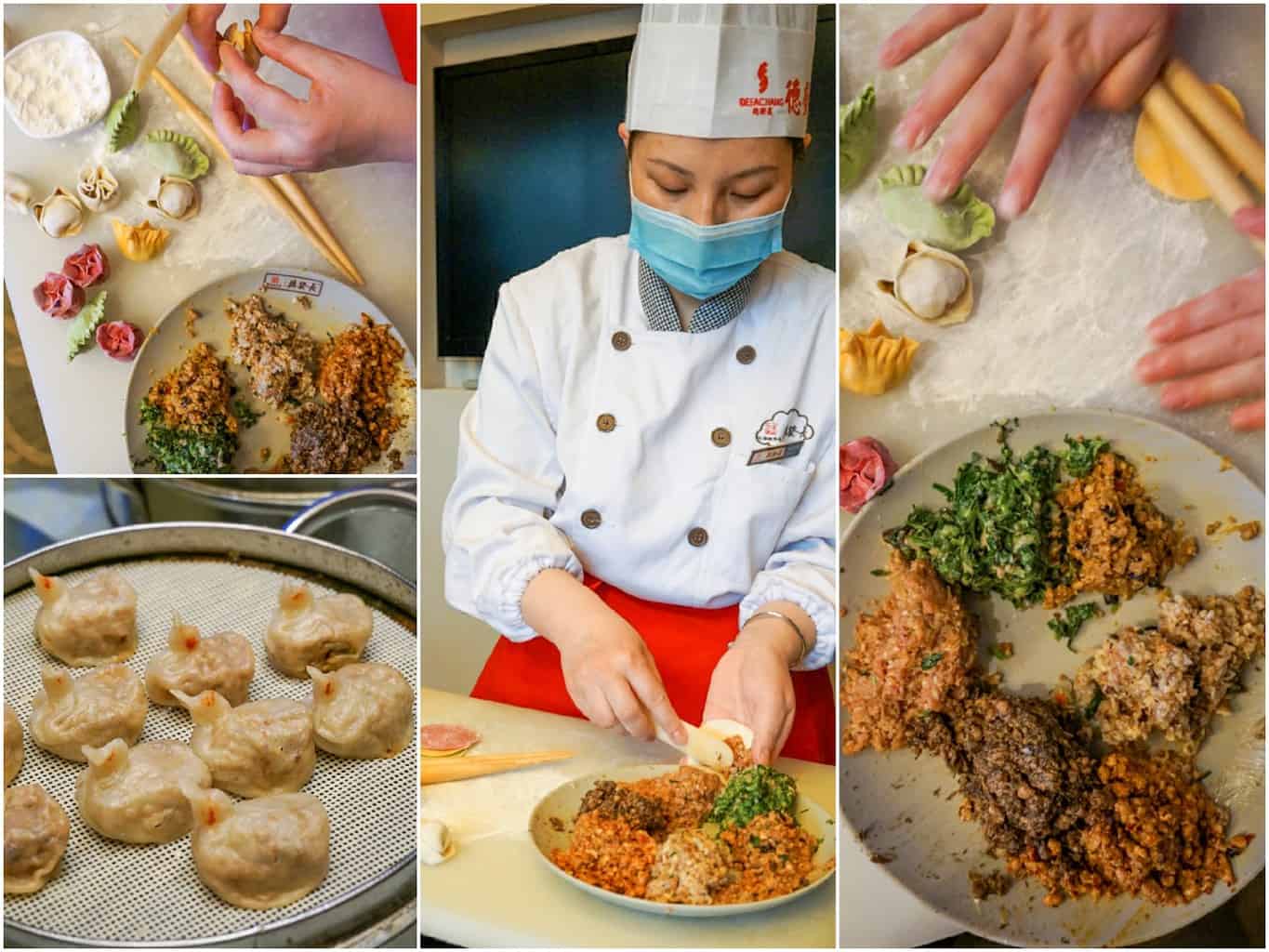 dumpling making at De Fa Chang Restaurant, Xi'an

Soak up Xi'an's Muslim quarter
Look for the old Drum Tower located in the northwest quadrant of the ancient walled city, and you have the main entry to Xi'an's Muslim Quarter. Initial impressions are dominated by loud hawking and bright neon signs. But spend a little more time here and you'll soon realise it's an area steeped in history.
This neighbourhood has been home to a largely Muslim population since the 7th Century AD, and many say the local cuisine found in these parts have changed little since then. I'm writing a whole separate post on what to eat in Xi'an's Muslim Quarter – stay tuned.
Expect lots of tourists. Tons of them, mostly Chinese. But walk these streets, sample the street food, and soak up the great atmosphere. And when it all gets a bit too hectic, head to the serenity of The Great Mosque.
Unlike most mosques found across the rest of the world, The Great Mosque in Xi'an is completely Chinese in construction – not a dome or traditional minaret in sight. Built in 742 AD during the Tang Dynasty, it's a stunning example of Islamic culture and traditional Chinese architecture blending seamlessly, and is one of the most revered mosques in the country.
The Great Mosque, near the Drum Tower on 30 Huajue Lane, Xi'an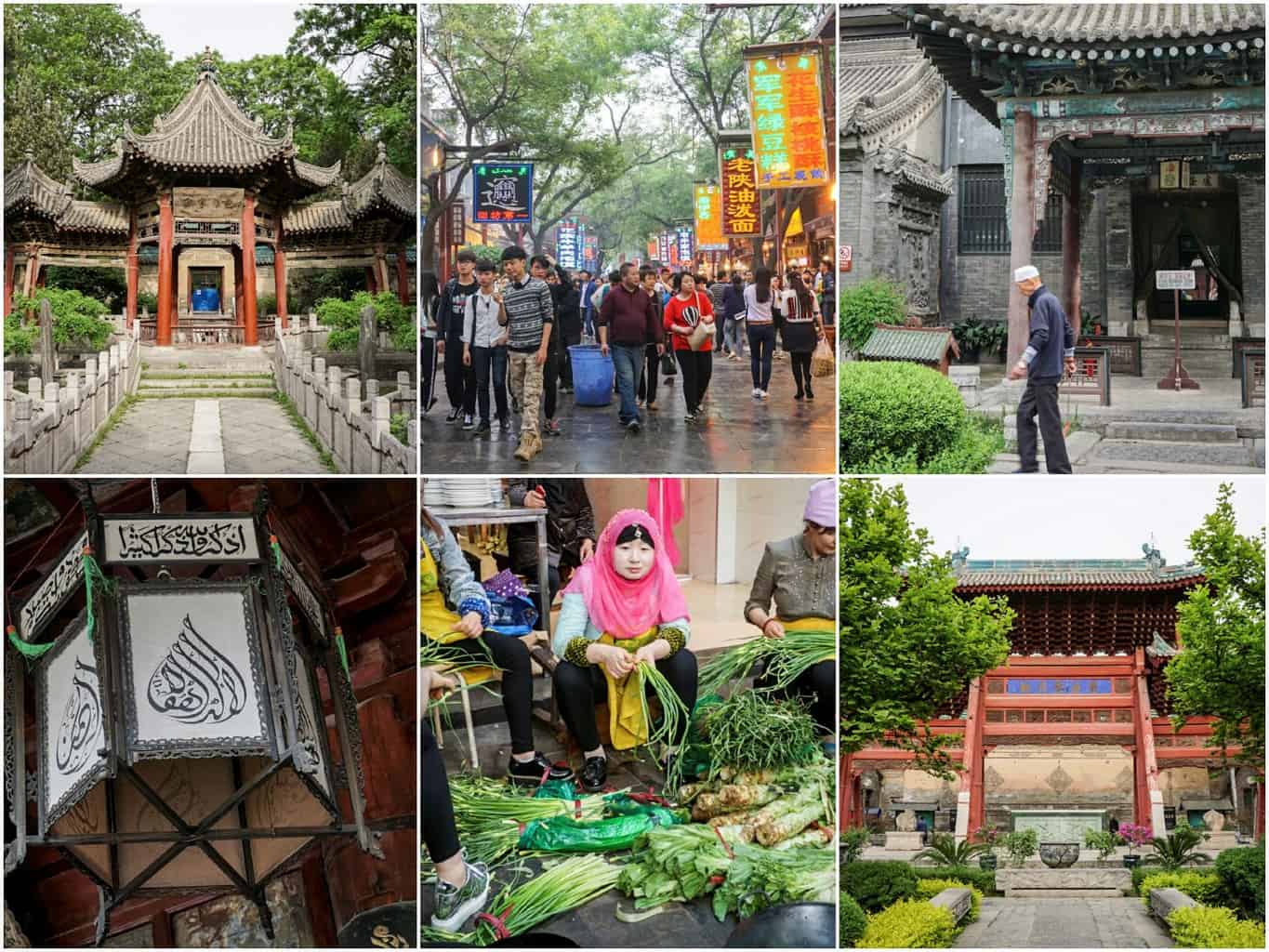 scenes from the Muslim quarter and the Grand Mosque, Xi'an
Where to eat in Xi'an
Full on Shaanxi feast at Shaanxi China Folk's Restaurant
This small chain started as a modest eatery, expanding to eleven sites across Xi'an since it launched in 1999; they're very popular with locals after classic Shaanxi cuisine. We visited what's probably the most accessible location on The North 2nd Ring Road. As is often the case with Chinese restaurants in China, it's big. Covering two floors, it also has an 800 square meter banquet hall to accommodate big events.
All sorts of beautiful food was brought to our table, including stuffed lotus root, a whole fried chicken, vegetables and more. But the winning dish, and one of my favourite things I ate throughout the whole China trip, was their you po mian (biang biang) – hot oil noodles. Wide and very long belt noodles, ground meat, vegetables, black vinegar, red-hot peppers, and garlic, with hot oil being added last, then the whole thing is tossed. Simple and so very excellent.
Bai Xing Chu Fang (China Folk's Restaurant), No.111-1, Weiyang Road, Weiyang District, Xian
029-86276599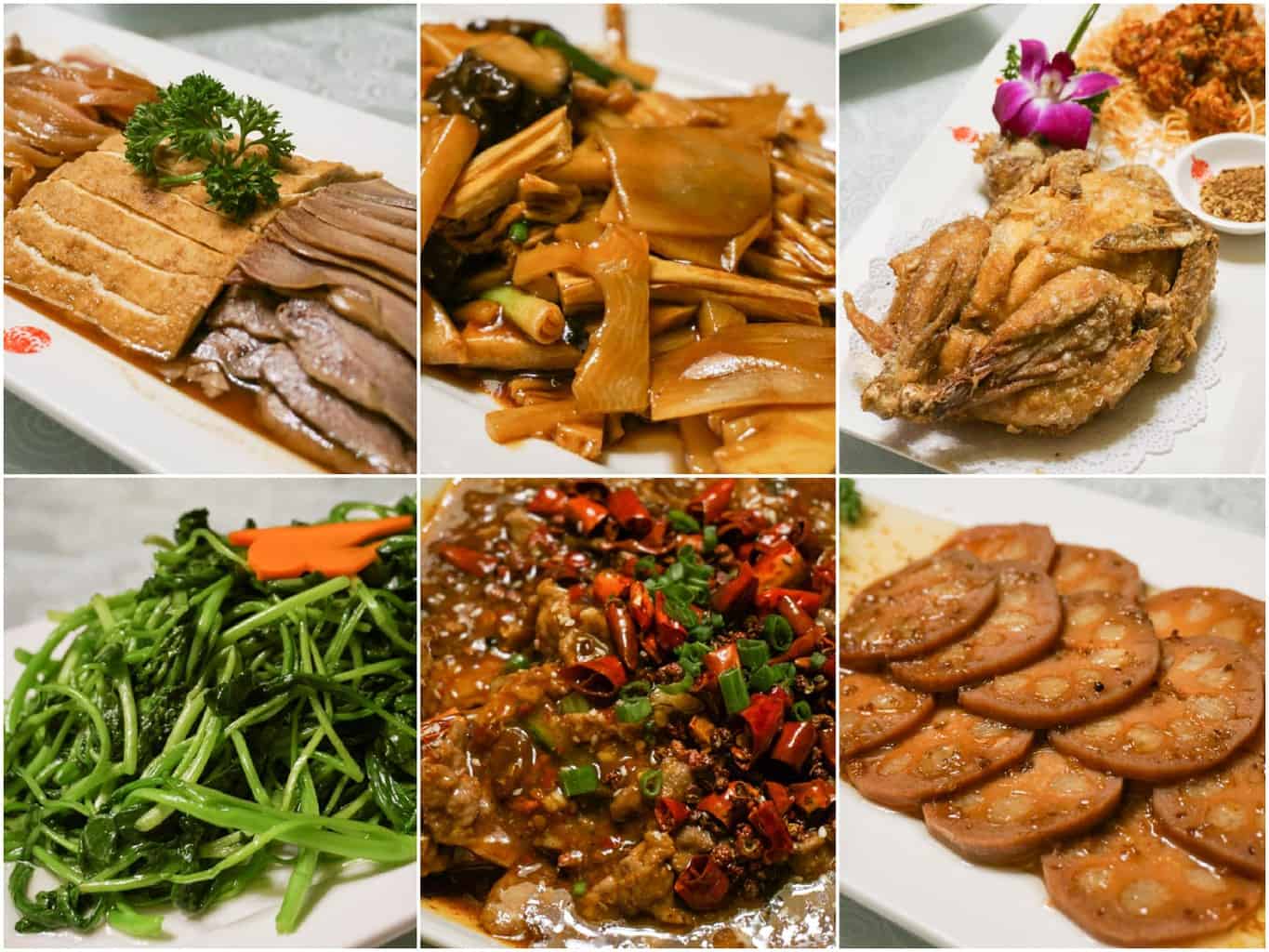 Shaanxi dishes at Bai Xing Chu Fang (China Folk's Restaurant)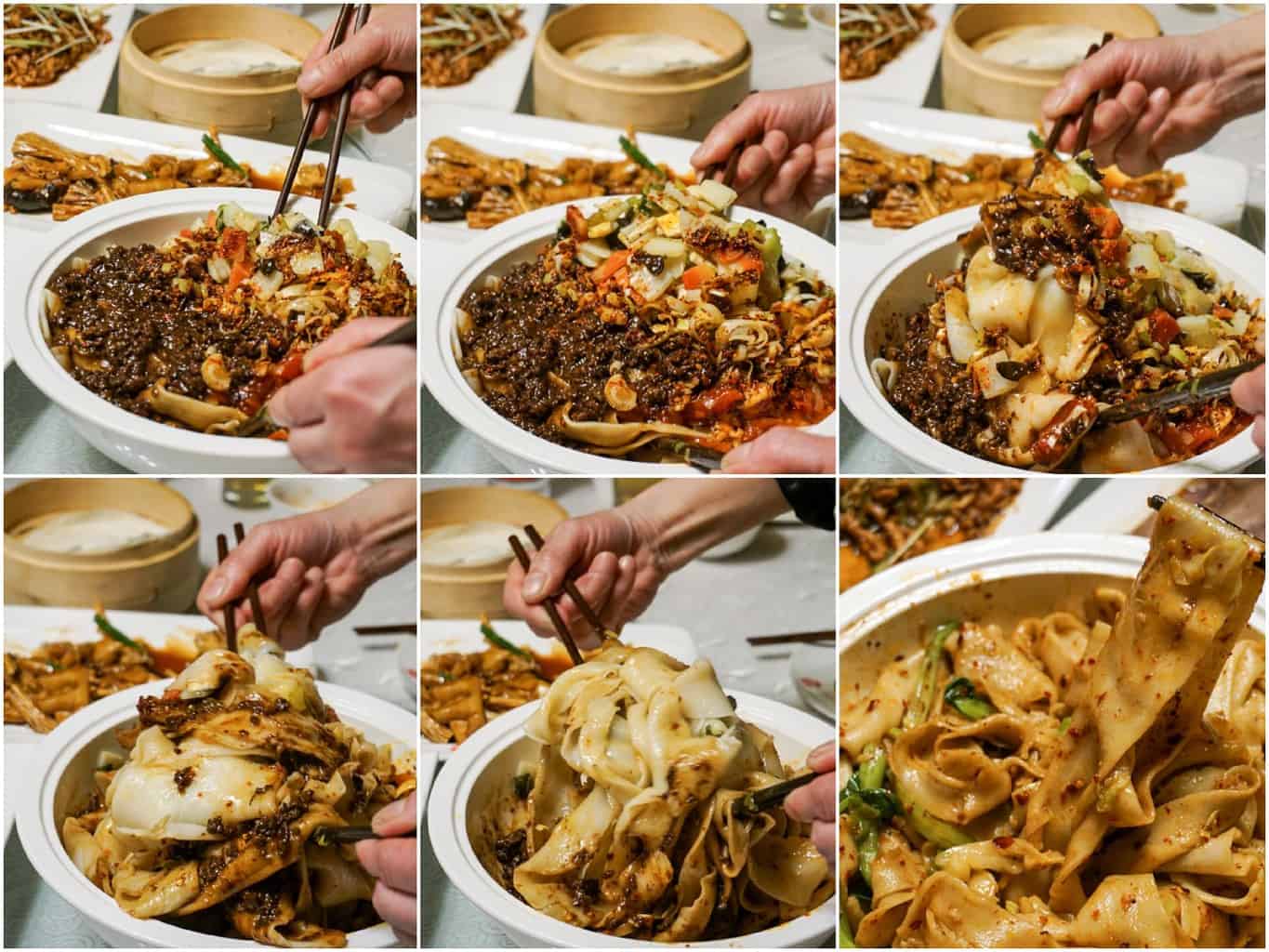 you po mian at Bai Xing Chu Fang (China Folk's Restaurant), Xi'an
Dumpling banquet at De Fa Chang dumpling house
Following on from the dumpling demo above, we went on to enjoy De Fa Chang's fourteen course dumpling banquet. A formidable array of stuffed dough with some serious tourist appeal, pretty much everyone who visits Xi'an will come here to experience this. That's not necessarily a bad thing, as the majority of those tourists are Chinese. And if anyone knows a good Chinese dumpling, it's the Chinese. Right?
There were loads of different colours and shapes, with fillings like duck and sesame, pork with black fungus, pork with leek, and spicy chicken. There were Shaanxi fried dumplings with celery, pork and chilli, even more dumplings, plus half a dozen non-dumpling plates for starters. It ended with the Empress Dowager Cixi Hotpot, which involves your fortune being told by how many teeny chicken dumplings end up in your bowl. I got three, which means a good career, I'm told. I have to say, I really enjoyed this meal.
De Fa Chang has been at the foot of the historic Bell Tower, serving up bite-sized parcels of pleasure, since 1936. They boast over 300 varieties of dumpling, and I would advise going for the full on banquet set menu served upstairs, rather than choosing from the a la carte downstairs. For all that food, it was only around 150 RMB per person, about £15. Be sure to get your hotel to book ahead.
De Fa Chang, 3 West Street, Lianhu, Xi'an, China, +86 29 8721 4060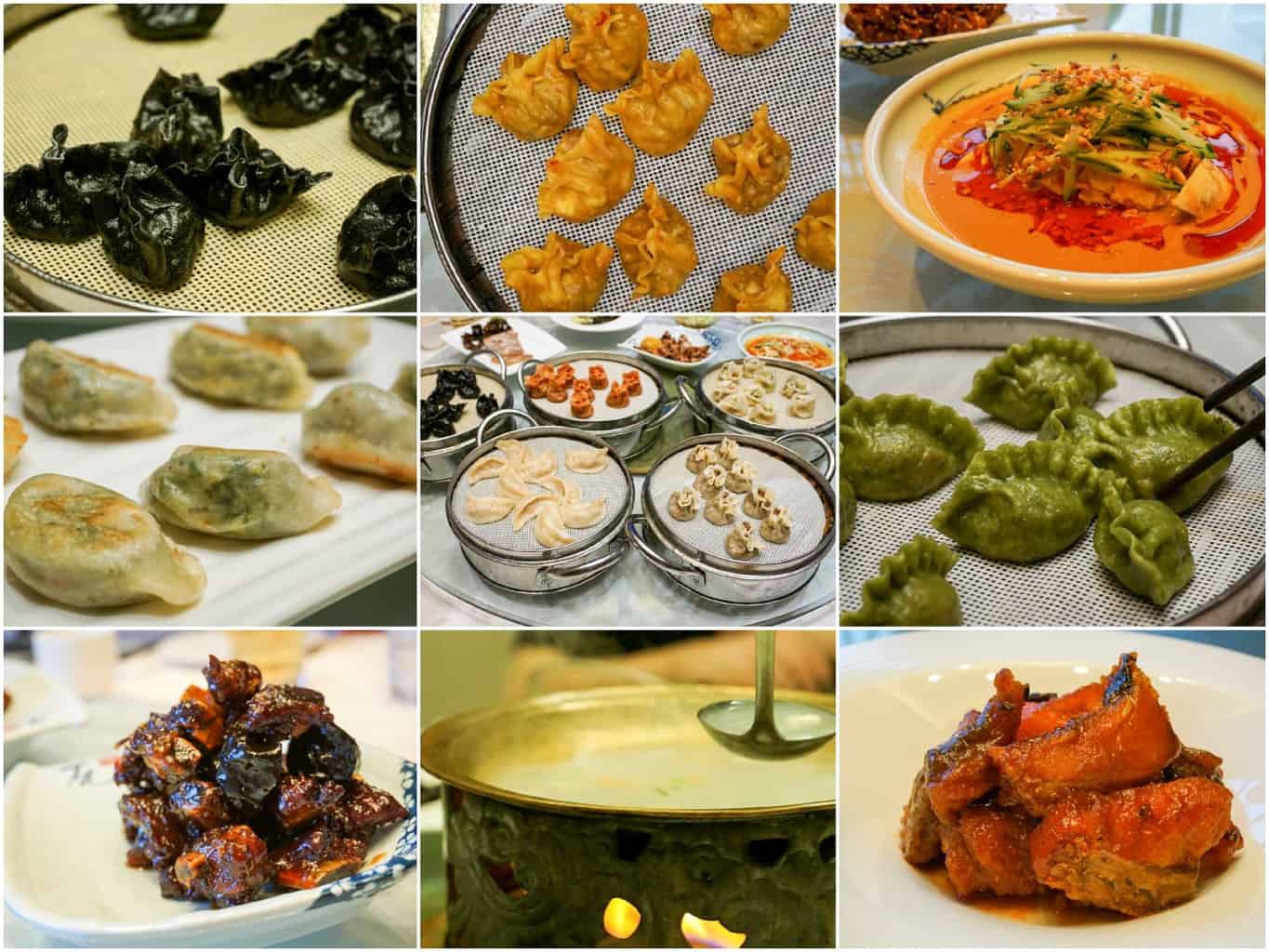 dumpling banquet at De Fa Chang dumpling house, Xi'an
Ancient Qin Dynasty feasting at Qin Restaurant of Real Love
Any excuse to don a cool ancient Chinese outfit in a restaurant with a funny English translation. Qin Restaurant of Real Love is a Qin dynasty themed get-up, housed in a modern high-rise. The meal involves a series of small dishes that capture the flavours and techniques that once graced the dining tables of emperors.
What struck me was how very Japanese this experience was, from the table set up, to the way of eating, to the traditional attire which looked exactly like a kimono. Of course, the response to me raising this observation was that the Japanese stole all this from the Qin Dynasty. I'm sure the Japanese have a similar, but opposing view.
Dishes were very different to modern day Shaanxi meals, altogether much more delicate in flavour. Think hot and sour soup, seasoned cold noodles, smoked fish, deep-fried meat balls with spiced salt, boiled white radish with abalone sauce, steamed pumpkin with fried vegetables, steamed bean curd, stewed pasta with pork and vegetables, and pan-fried golden persimmon cake.
You'll receive a copy of the menu written in both Chinese and English, along with a stamp of the emperor's seal on the back – a nice souvenir to take away.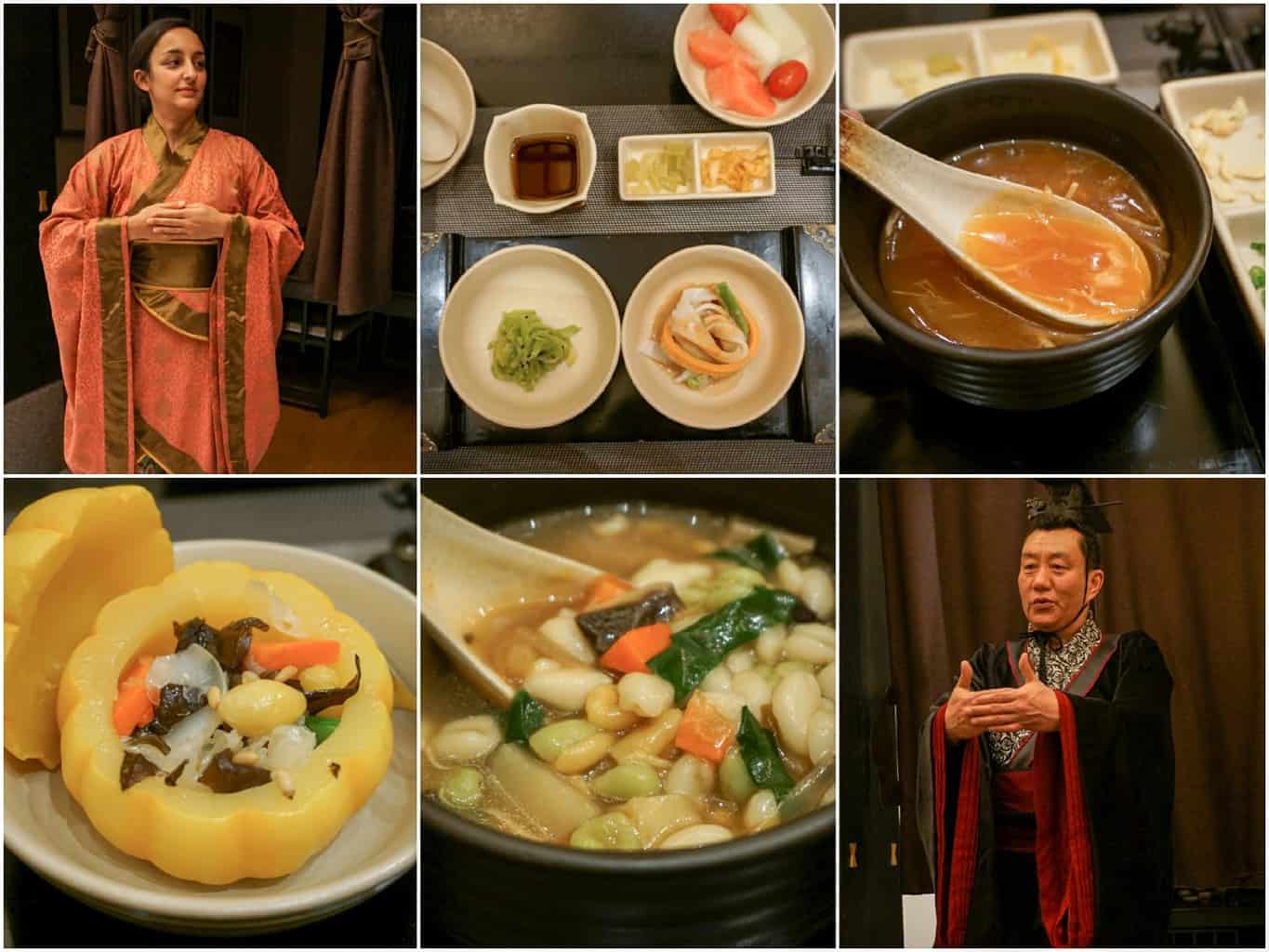 traditional Qin Dynasty banquet at Qin Restaurant of Real Love, Xi'an
Where to stay in Xi'an
I had a very pleasant stay at the Hilton Hotel in Xi'an, with an elegant and large room and a glass wall separating the bathroom to the rest of the space. It's in an ideal location, set within the ancient City Wall, and very close to landmarks like the Bell Tower, which is where you'll find De Fa Change dumpling house.

Hilton Hotel Xian, 199 Dongxin Road, Xin Cheng District, Xi'an 710005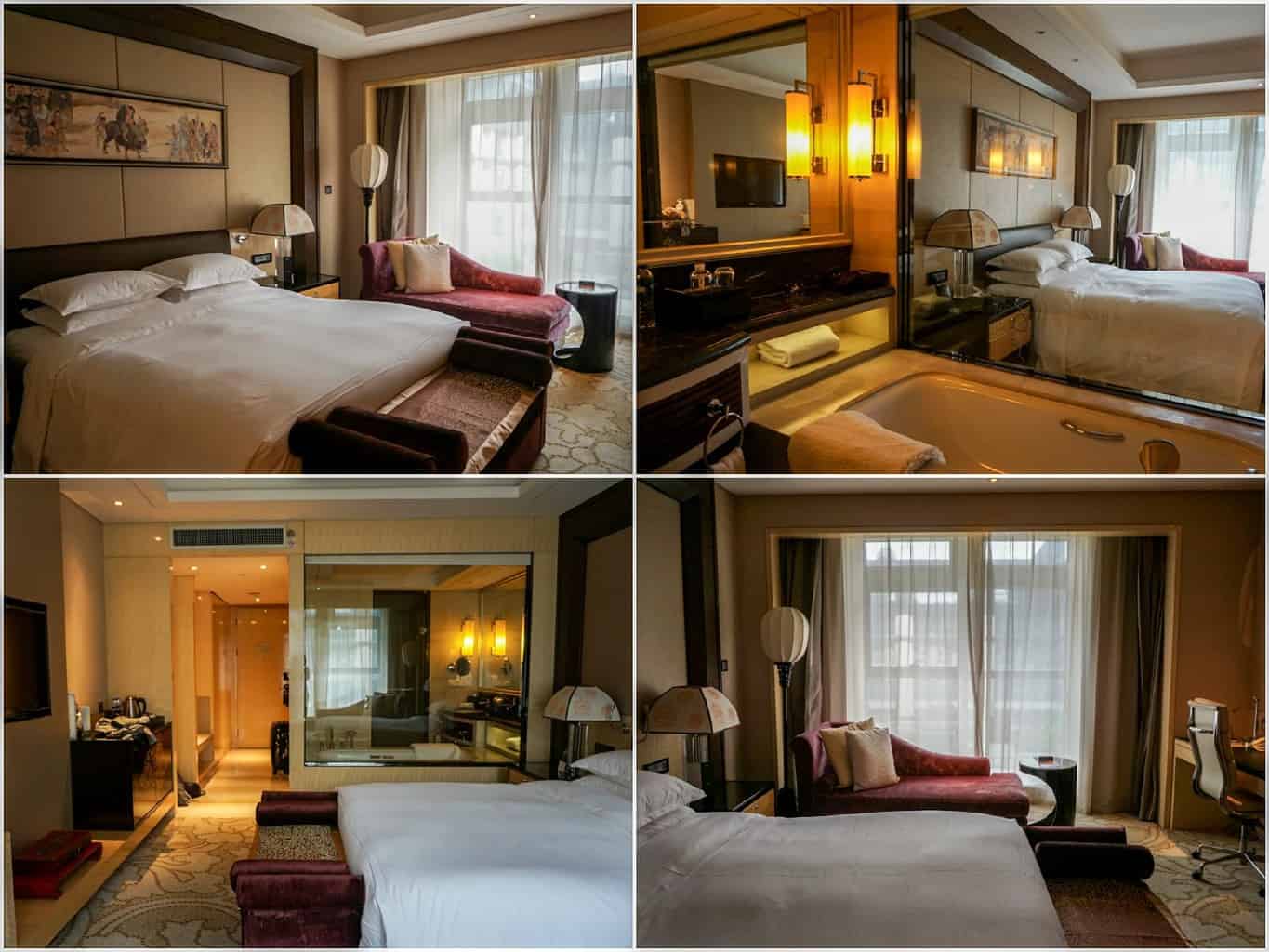 The Hilton Hotel, Xi'an
How to get to Xi'an
Finnair were the first Western European airline to fly non stop to China; it was Beijing in 1988. They were also the first Western European airline to fly to Xi'an. Another claim is they were the first airline in the world to send SMS messages to customers regarding their flights. Which is fitting, seeing as SMS was invented in Finland.
Their minimum connection time in Helsinki is 35 mins, and they're rather proud of their extremely low statistic of only losing 4 in 1000 pieces of luggage – that's a very good number.
I was lucky enough to experience their fully flat beds in business class, which included some of the best food I've eaten at 30,000 feet. That's thanks to the new culinary collaboration for long-haul business passengers, with world-class chefs Steven Liu from China and Sasu Laukkonen from Finland, launched in April 2016 this year.
Think such Nordic delights as cucumber and dill soup with yoghurt and smoked salmon tarter; pressed beef neck with celeriac puree, herb butter and spring vegetables; Peltolan Blue and Viinitarhuri Finnish cheeses; organic Finnish ice cream by Jymy; and a very healthy stock of the excellent Finnish Napue gin, voted the best gin in the world to have with tonic, according to the International Wine and Spirit Competition (IWSC).
Get a couple of those down your neck along with some fine bubbles, and you can start the holiday well before you get there.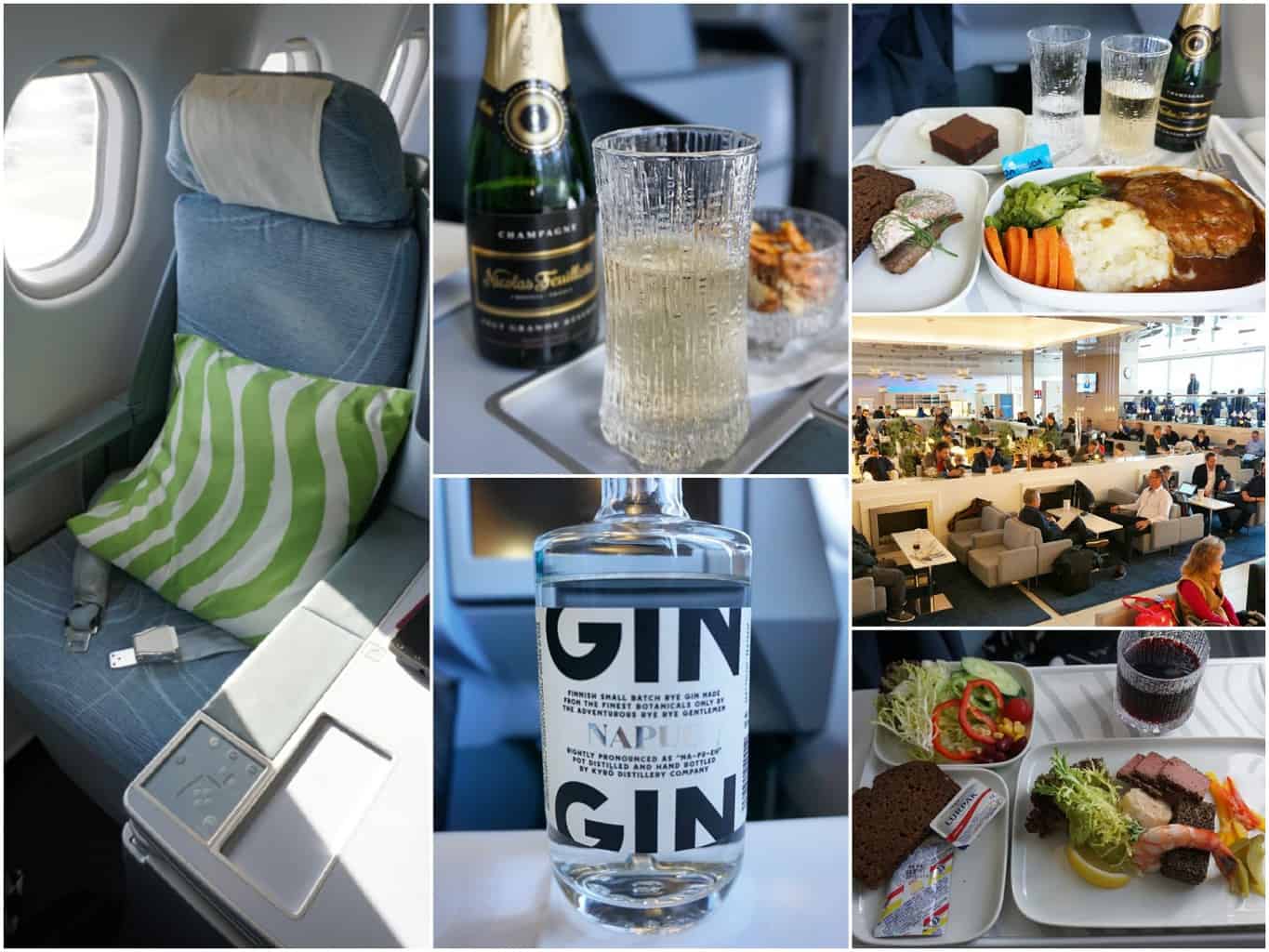 aboard a Finnair flight from Xi'an to Helsinki
China Guides
Finnair worked with the China International Travel Service for the guides that accompanied us in both Chongqing and Xian.
Note: This trip and the flights was hosted by Finnair. Thank you to everyone involved for a truly wonderful experience. Must get back to China… All views remain my own, as always.
Related posts
CHINA: 8 Sichuan dishes to eat in Chongqing
CHINA: 6 must-eat dishes from Xi'an's Muslim quarter