Last Updated on October 8, 2020 by Leyla Kazim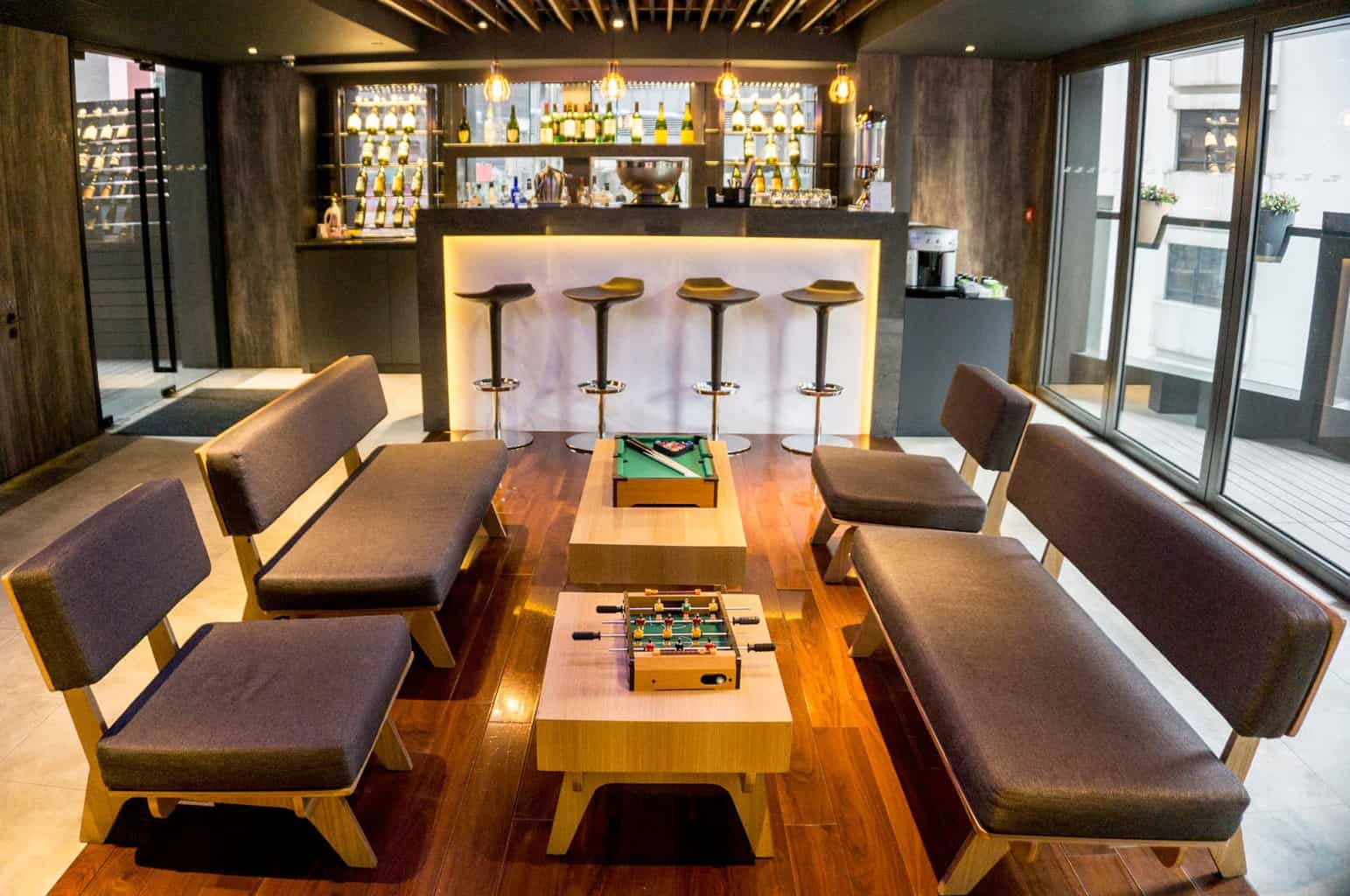 lobby at Hotel Pennington by Rhombus, Hong Kong
l
In a nutshell
An award-winning (and pet-friendly!) four star property managed by the hands-on Rhombus International Hotels Group, with 79 rooms, found in the heart of Causeway Bay.
Where is it?
The hotel has access to a lot of the city's transport options from its doorstep. Major business venues like the Hong Kong Convention and Exhibition Centre (HKCEC) are minutes away, as well as the local iconic shopping centres such as Times Square, SOGO, Lee Gardens and Hysan Place.
It's just a minute walk, via either Jardine's Bazzar or Yee Wo Street, from the MTR Causeway Bay Station, Exit F.
Style and character
The hotel has 79 rooms kitted out in five contemporary styles. They feel as though they've been designed with business travellers in mind, what with the in-room business centres with hi-tech power tracks, USB charging, sliding power sockets, etc.
Speakers are built into the ceiling and the rooms have sliding partition walls sectioning off the bathroom and the bedroom to personalise and maximise space. Also, they have very lovely posh rice grain soap bars as part of the toiletries – some of the best I've come across in a hotel.
This property also features art pieces by renowned local artists on each floor, which is a welcome individual touch. Each piece showcases one of the city's iconic attractions, traditions and lifestyles – their intention is to introduce guests to the dynamic social and cultural aspects of the city, from within the hotel.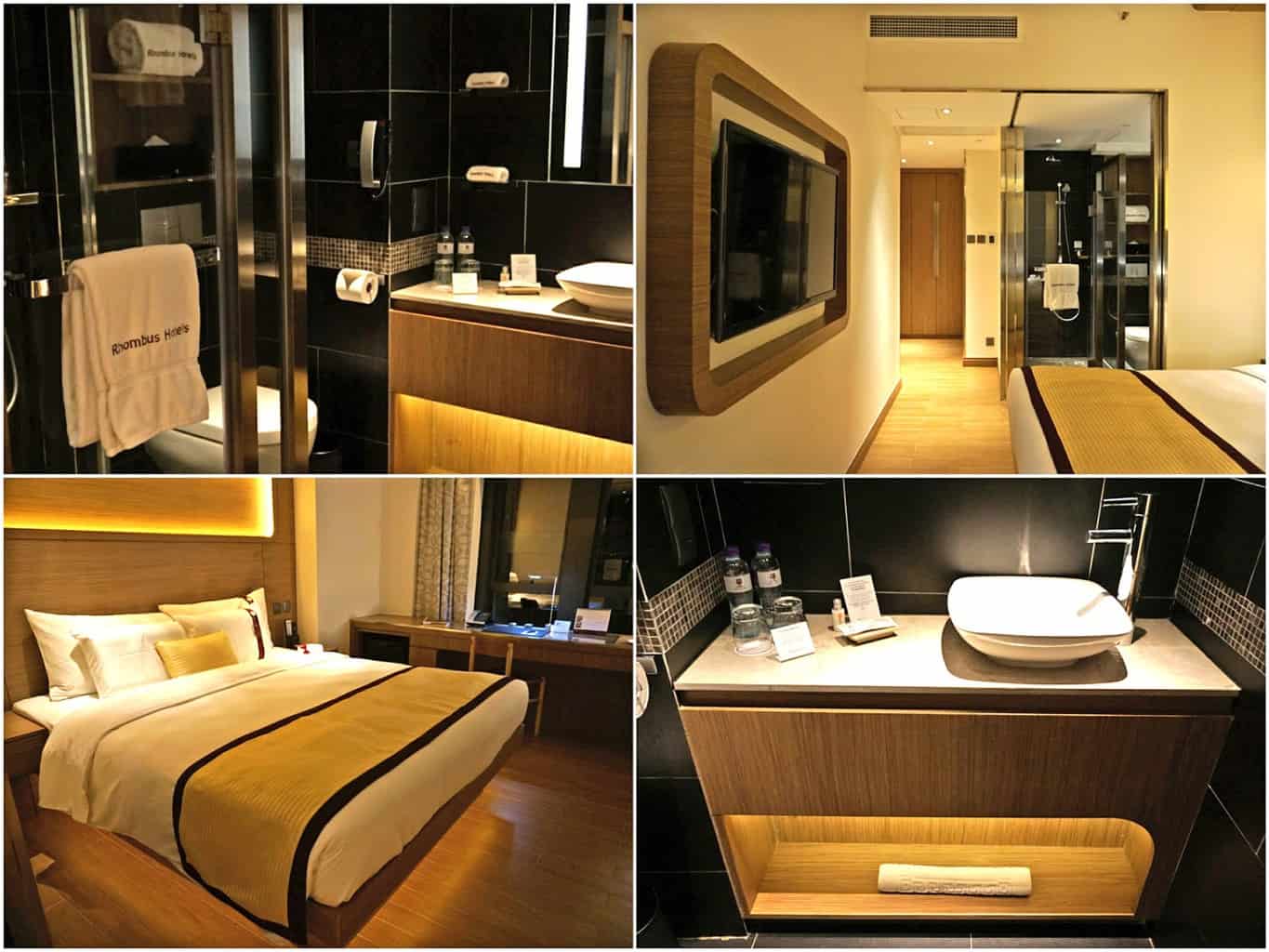 bedroom at Hotel Pennington by Rhombus, Hong Kong
l
What's unique?
It's pet-friendly! I don't think I've ever stayed in a pet-friendly hotel before, not that I saw any pets while I was there, which is a shame. They'll allow your furry friends in as long as they're not heavier than 25lbs (so, maybe no great danes) and they have their own fully-paid room, where they can get pampered with some exclusive pet care amenities.
The hotel group has been recognised as Caring Company 2013/14 by the Hong Kong Council of Social Services (HKCSS). Part of the commendable things they do includes all surplus food being delivered to the needy in Hong Kong via Foodlink, and having partially-used soap collected, recycled and redistributed to disadvantaged regions in Asia-Pacific. Good work.
Who goes?
I suspect business people use this hotel a lot, but it doesn't feel like a business hotel, in that it feels quite hip and trendy. I tend to associate them with being dull and lonely places.
But I noticed mostly leisure tourists, specifically Asian couples. There weren't that many people to see at breakfast, but then we did get there late.
Breakfast
There are three set-menus available: a fry-up, an oriental breakfast, or a continental one.
They're not exactly full on spreads, but they're certainly adequate. Although, all three being priced at $138 (£11) if not included in the room doesn't seem quite right. The continental is little more than a bowl of cereal, some bread, a croissant, yoghurt, a juice and a coffee (which doesn't include a cappuccino, only filter).
To get your money's worth, I'd go for the fry-up or the oriental.
The breakfast space is a brooding room with industrial features; concrete floor, dark brown leather chairs, lots of grey and steel, with some bar seating by the kitchen – I very much liked it. There was also some filming going on of the dishes during out meal, I suspect for marketing activities or the website.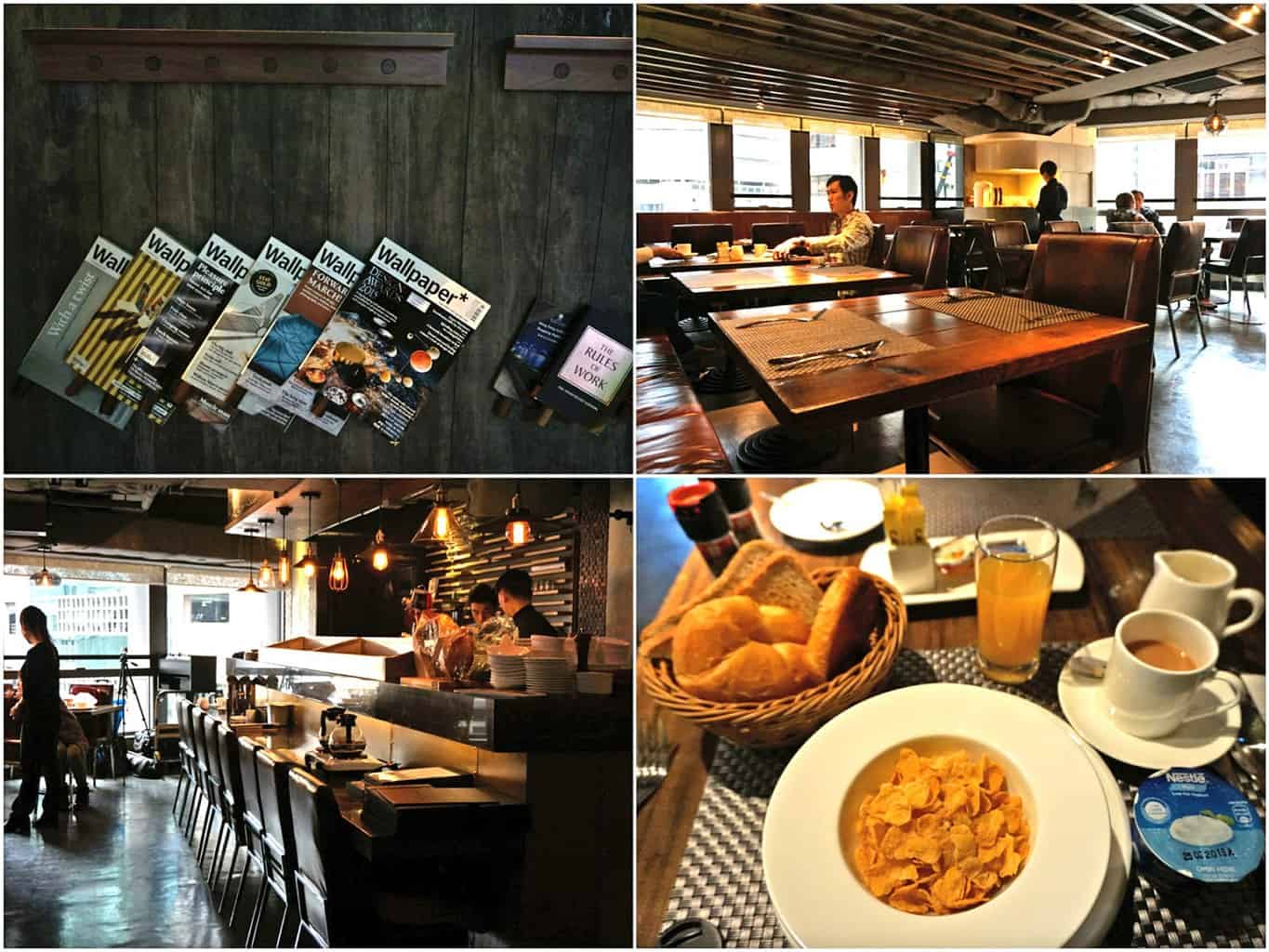 breakfast at Hotel Pennington by Rhombus, Hong Kong
l
Service
All staff members were warm and welcoming, particularly the doormen. There was also a little towel that had my name stitched on it as a gift, nice touch.
Liked lots / liked less
Liked lots. I liked the small and personal lobby area on the 4th floor, with the great Wallpaper reading material, funky bar, floor-to-ceiling windows leading to an outside decked area, and table-top games.
Also that you're also able to rent useful gadgets you might not have on you from the hotel, like wireless speakers or a tablet.
Liked less. Sound travels well through the walls here – I could hear quite a lot of movement from the neighbouring rooms, including running water.
Price point
Prices from around £100 for a Superior room to £240 for a King Studio, including breakfast.
Contact
13-15 Pennington Street, Causeway Bay, Hong Kong
+852 3970 0688
www.hotelpennington.com.hk
Note: This stay was kindly hosted by the hotel.


Related posts
CHINA: Review of The Mercer, Hong Kong
CHINA: Review of Hotel Indigo Hong Kong
Week 7: CHINA & VIETNAM – Hong Kong → Hanoi