Last Updated on June 10, 2020 by Leyla Kazim

Have I mentioned I really love Japanese food?
The Taste of London food festival, held in our great capital every summer, is one I have a soft spot for. I've been a few times, and when the sun is shining, it's a difficult day to beat. One of the reasons I particularly enjoy this food festival over others, is because of the huge range of cuisines on offer.
Have I ever mentioned Japanese food is in my top three cuisines on the planet? It in fact might well be my number one. A big claim, I know. But the love is real (on that note, you might want to check out my recommendation of 10 Things to Eat in Tokyo). I'm actually a bit obsessed with the country as a whole, and I'm truly desperate to return. I have everything crossed, and kneel before the Travel Gods on a daily basis.
An invitation from Celebrity Cruises
When the nice folk over at Celebrity Cruises asked if I'd like to pop along to their stand at food festival Taste of London, my ears pricked. I would be taken on a '30 minute gastronomic journey around the world', one of the options being with a fourth generation sushi chef.
This was actually Celebrity Cruises' fifth year bringing global flavours to the visitors of this London festival, through their Taste of Travel experience. How their tastings work is you're welcomed into a cool space, that looks a bit like the inside of one of their ships. You're handed a Celebrity Cruises 'passport', and are told your seat number. Then for 30 minutes, the chef plus a couple of hosts, will wine and dine you through a destination-inspired food and wine pairing.
There was also a 'Taste of Galapagos' and a 'Taste of Tuscany' on offer, but it always had to be a 'Taste of Japan' for me.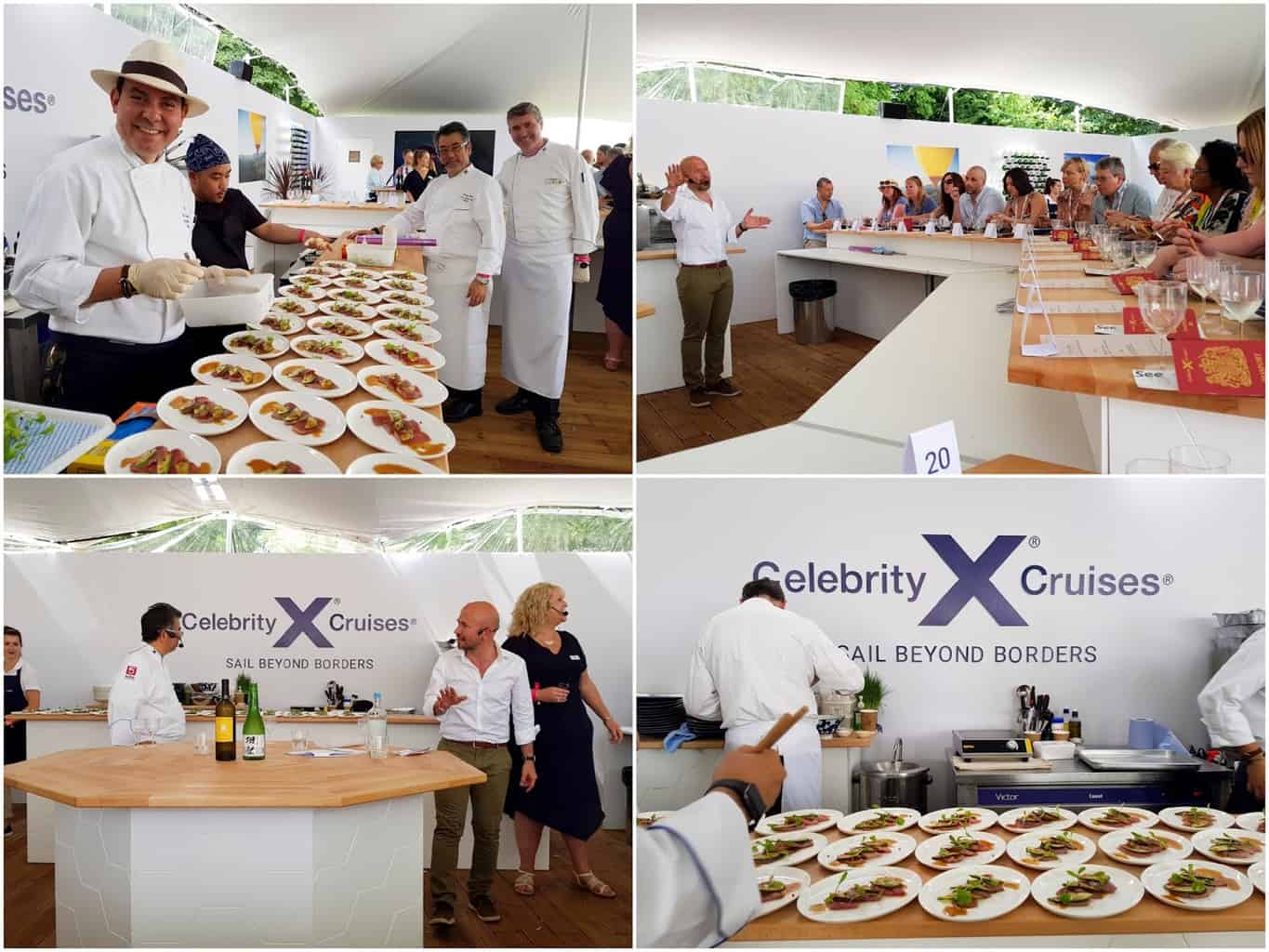 chefs plating up the tastings, and hosts chatting to the crowd
A food festival 'Taste of Japan' by Celebrity Cruises
The intention of these tastings is to give visitors an insight into the sort of culinary experiences you can expect to find at the destinations themselves, and on board their ships. Celebrity Cruises sail to over 300 destinations, and one of those is in fact Japan (wonder if they hear my pleas..). I had a front centre seat to watch Celebrity Cruises Japanese Master Sushi Chef, Yoshikazu Okada, at work.
As well as sampling dishes from their award-winning culinary team, Celebrity Cruises have also partnered with The Wine Show. The show's resident experts, Amelia Singer and Joe Fattorini, were the hosts of the experience. They guided the guests through the dishes, along with their ideal wine pairing. It's also worth noting, the cruise company's extensive cellar boasts the largest and rarest wine collection at sea. Who doesn't enjoy a fine tipple with some salty sea air.
The 'Taste of Japan' first course was a superb truffle Albacore (longfin tuna) tataki. There were thin slices of lightly seared tuna with cucumber, micro coriander, a light ponzu dressing, and a little truffle oil. Paired with a glass of Viognier "La Violette", Jean-Luc Colombo, Languedoc, it was glorious. Then there was a supremely tasty morsel in the form of a lobster and shrimp wonton with some fabulous Junmai Daiginjo Dassai sake. To round it off, everyone got a little white chocolate truffle with a yuzu centre – stellar.
the 'Taste of Japan' tastings at the Celebrity Cruises stand, Taste of London
It was a fun way to spend half an hour on a sunny day in London. I was surrounded by what were clearly some life long fans of Celebrity Cruises, many of who had been sailing with them before.
Has this food festival experience whet my appetite enough to want to live the real deal on board one of the Celebrity Cruises ships? Most definitely. So Celebrity, when do we set sail?
Note: This is a sponsored post in partnership with Celebrity Cruises. I'm very pleased they invited me along, it was good fun, and very tasty. Now I just need to get on one of their voyages… All views remain my own, as always.
Related posts
CRUISE | Review of Silver Sea cruise ship Silver Spirit
CRUISE | A gourmet 7-day cruise through the Mediterranean with Silver Sea
JAPAN | 10 things everyone should eat in Tokyo
JAPAN | What to expect from a traditional Japanese tea ceremony in Kyoto
JAPAN | The Tsukiji Fish Market tuna auction in Tokyo: 10 FAQ's answered
JAPAN | Onsen etiquette: a guide to taking a traditional public (and naked) bath
DINING | Luiz Hara's London Japanese Supper Club
RESTAURANT | Casual cafe-style Japanese cuisine at Koya W1
RESTAURANT | Handmade ramen at Japanese Shoryu SW1
RESTAURANT | Copenhagen-based Japanese chain Sticks'n'Sushi SW19
RESTAURANT | Japanese sushi and maki rolls at Makiyaki SW19
RESTAURANT | Ramen chain Tonkotsu W1