Last Updated on January 5, 2014 by Leyla Kazim
Perhaps the air is a little thinner 40 floors above London. Perhaps it's the threat of vertigo when peering over the precipice. It could even be the vitalising qualities of a room flooded with natural light from the wrap around floor-to-ceiling windows. Whatever the reasons, dining at Duck & Waffle made me feel a bit giddy, in a good way.

There are a couple of uncommon attributes occasionally found within the London dining scene that come together here: it is the highest restaurant in the UK (with the spectacular views to go with that accolade) and it welcomes and serves people at any hour of every day. Combine these two crowd-pleasers with very agreeable things coming from the kitchen and striking interiors, and you've got something that feels quite special.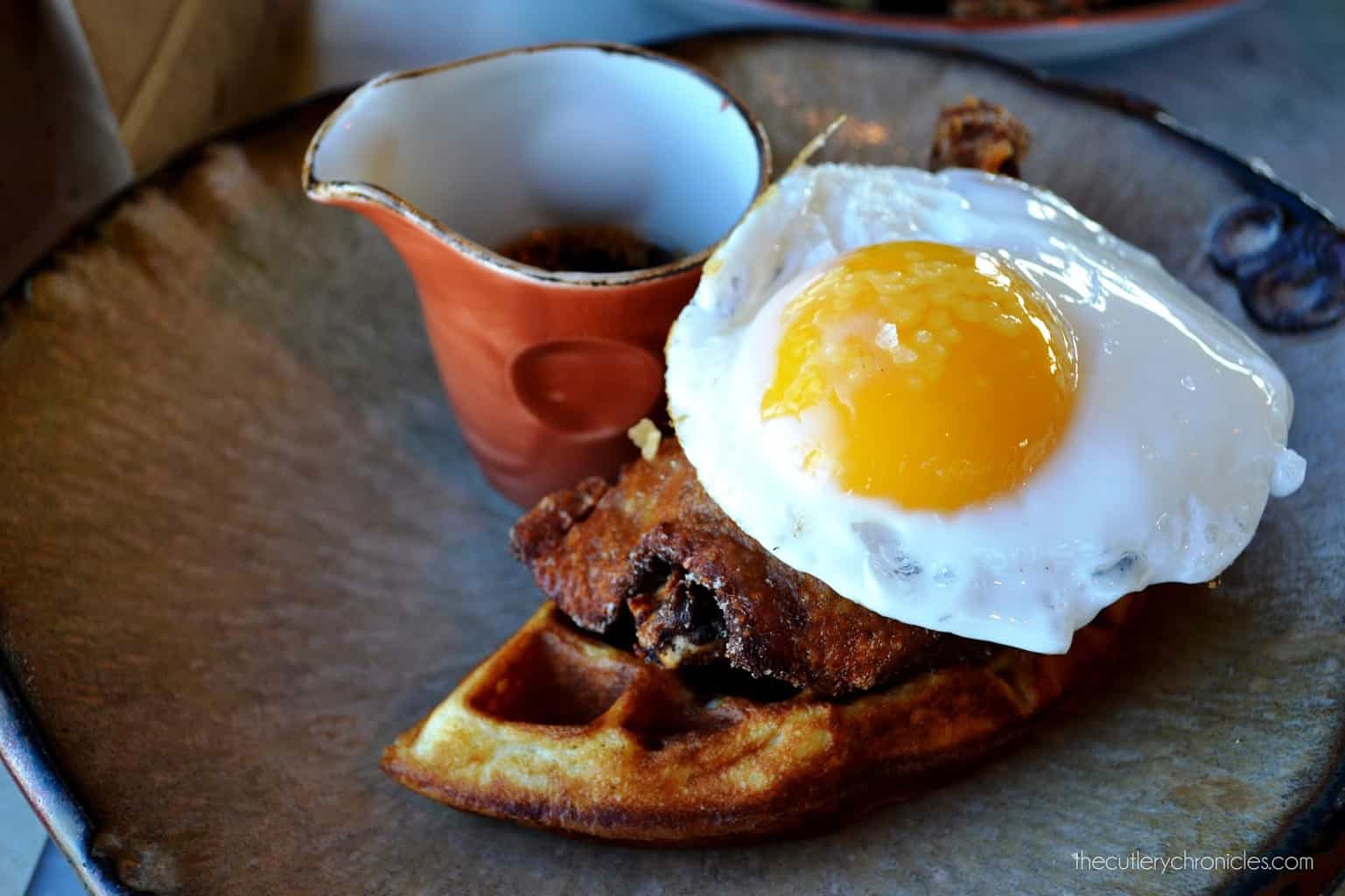 Whilst there are a handful of menus on the website reminding us of the times at which most eat during a day, the vast array of offerings these imply is mostly an illusion – bar a couple of exceptions and the compulsory presence of eggs at breakfast and brunch, they are almost identical.
Dishes at 11am on a Sunday contain a few expected dependables – English breakfasts, pastrami on sourdough, fried eggs and mushrooms. For the adventurous, a good proportion are more reflective of the kitchen's creativity with an 'I want to return for that' intrigue almost certainly securing a subsequent visit – spicy ox cheek doughnuts with apricot jam, foie gras crème brûlée with butter roasted Scottish lobster, raw yellowfin tuna with chilli watermelon.
Firmly at home in the latter are the BBQ spiced crispy pigs ears – Jay Rayner describes them as tasting like Frazzles and he is spot on. Thin strips, most deep fried to a crunch (some with a less preferable chew) and covered in sweet paprika, I think. Brown paper bagged with the faux-wax duck-on-a-waffle seal spotted around the venue and spots of grease permeating the paper, they were very good.
The dish of smoked mozzarella bears an adjective I was unable to identify, but it was soft and milky and worked wonders with the bite and bitterness from seeds and nuts, all sliced through with some Amalfi citrus.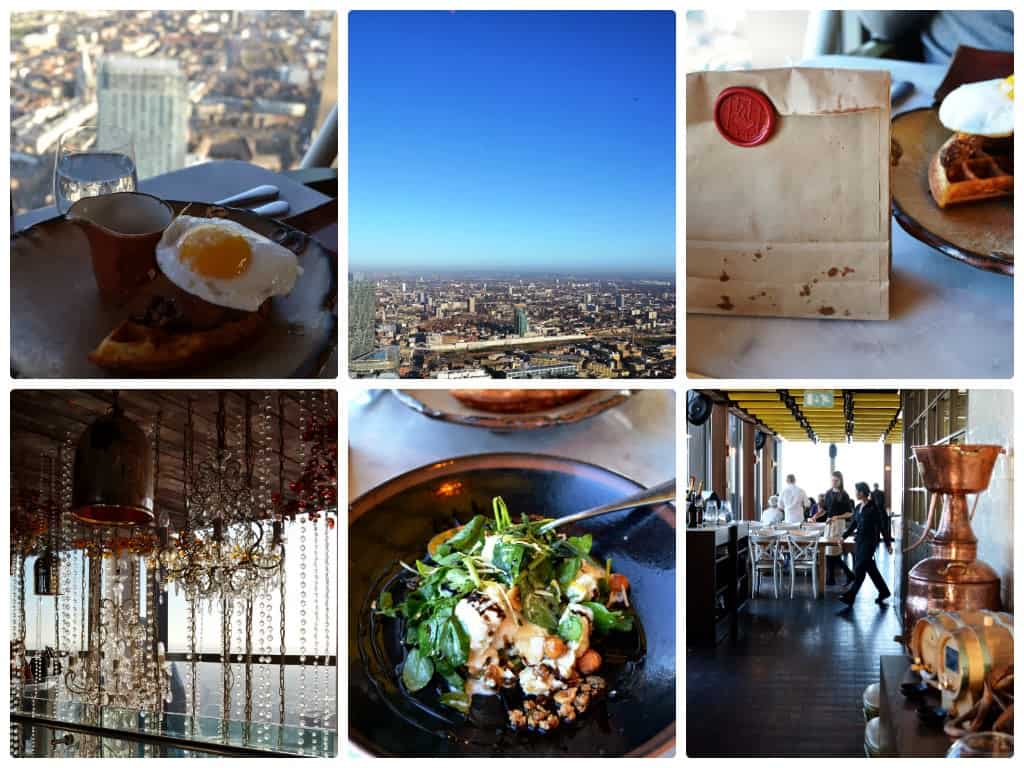 The namesake dish (unavoidable on a maiden visit) is, I suspect, a novel combination on these shores. But on a recent trip to New York I discovered sweet waffles with savoury meat is typical of southern soul food as seen at Amy Ruth's in Harlem (where I had the type of fried chicken for which defibrillators were specifically made).
A suitably spruced up version of that, the Duck & Waffle offering is duck egg, crispy confit leg, waffle, and a glorious mustard maple syrup to bring it together. Described as 'for the table', it's not the easiest to share. And it should come with a whole waffle, not half (it's only batter after all). Still, the meat was great and I would hope so for £17. Ensue the obligatory bone gnawing following any cooked meat still attached to the bone.
That waffle-half was a tease, the desire for more manifesting in dessert. Belgian waffles with caramelised banana (the surface of which cracked like a crème brûlée); fabulous homemade Nutella dark and viscous and heavy with hazelnut; ice cream; and some crunchy peanut stuff – it was a corker. But again, half a waffle. The torment.
Tables were not all occupied during our visit despite being highly sought after for weekend brunches – I suspect reservations allow two hours but some take less time for their first meal of the day. The atmosphere was light and relaxed with a lot of lively chat. It's worth noting not all tables are next to the windows and so for many, the unrivalled views over the expanse of the city are obstructed. Had this been the case for my visit I would have been disappointed, as I'm sure others must get. But we were next to glass and the experience was elevated for it.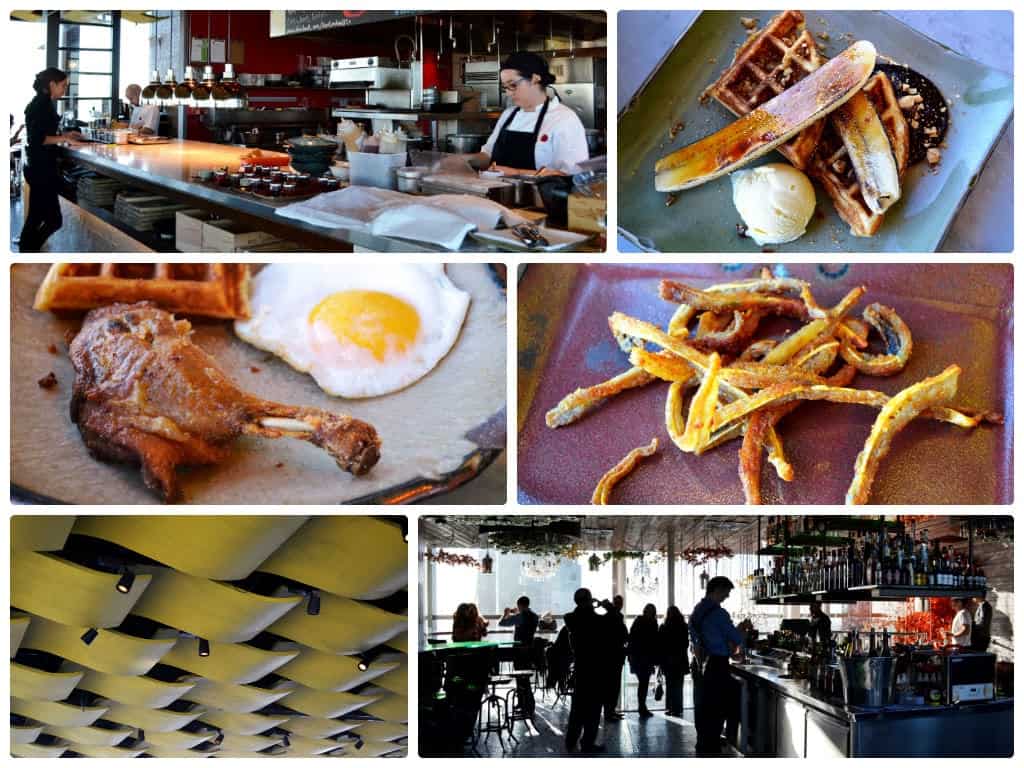 If the food at Duck & Waffle was served without a view of the horizon, I suspect it would be a little tougher competing with the unending list of both existing and new quality eateries in town, many at more wallet-friendly prices. But with the unique selling points it does have, the dining experience as a whole has successfully differentiated itself from the rest of the market and I think it deserves all the applause for it.
I really liked the place and I'll return. The romance of an intoxicated just-before-dawn visit to watch the sun rise over our great city with an oyster in hand is what I intend to aim for. Magical, I have little doubt.
Liked lots: design, location, the views, open kitchen, 24/7, creative dishes, those crispy pigs ears..
Liked less: a little pricey but you are of course paying for the privilege of eating from such great heights; not all tables have unobstructed views; waffle dishes should come with a whole waffle and not half
Good for: taking London visitors, impressing, a meal with a view, romantic dates, eating at any time of the day
My rating: 3.5