Last Updated on June 22, 2020 by Leyla Kazim
I sit here writing this entry on the rooftop of our medina riad, clinging to the last few hours of our time in Marrakesh in the warm November sunshine, with the ubiquitous and obligatory sweet peppermint tea for companionship. It's a city that has welcomed us warmly, overwhelmed us with its generosity and will be hard to say goodbye to. I shall miss its mayhem, its charm and most of all, its people. From the softly spoken story telling Nomads and Berbers we stayed with on the fringes of the Sahara, to our always smiling riad hostess and her effortless French elegance at any hour of the day.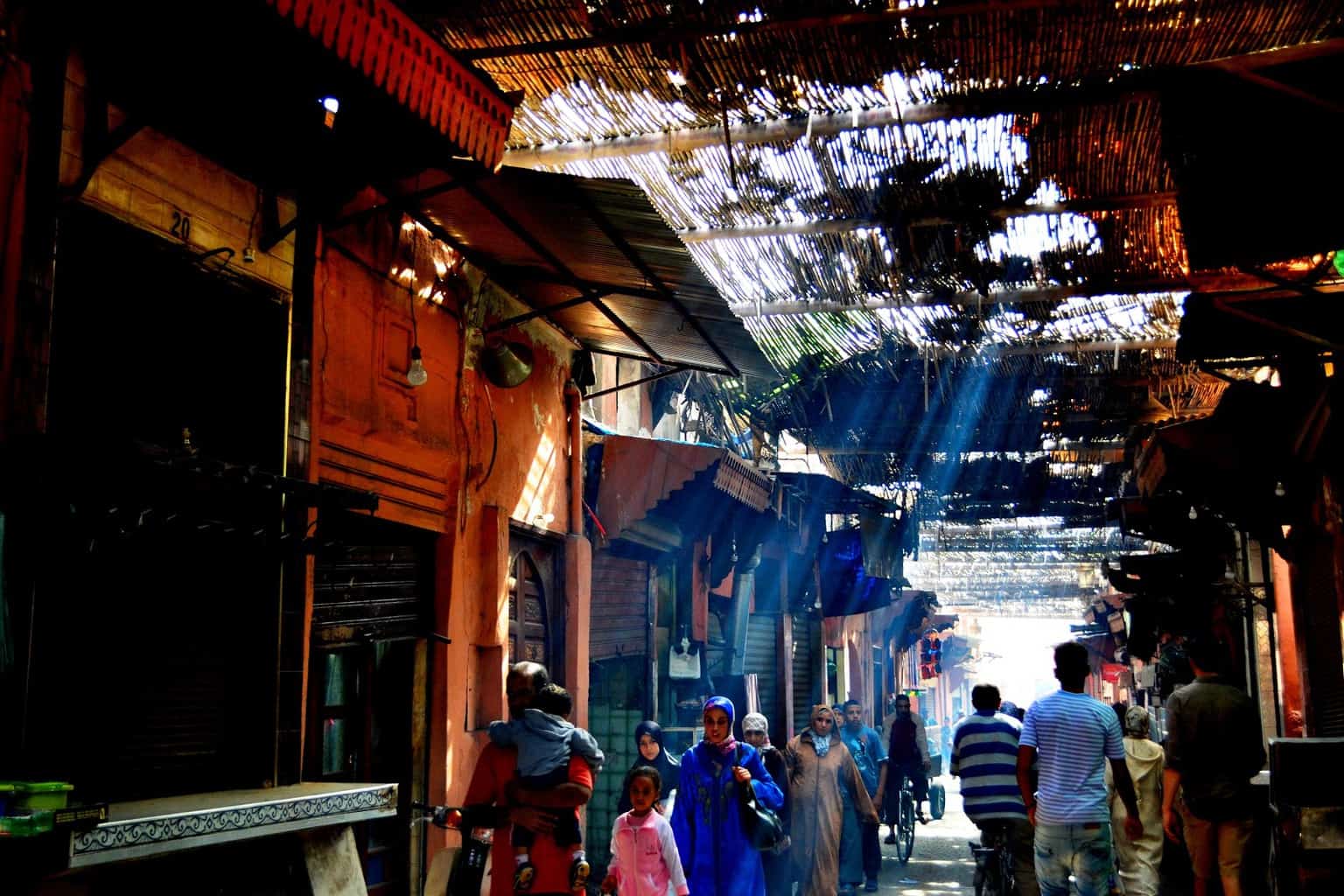 Souks
There are a few aspects of Marrakesh that have particularly stood out for me during this trip. The first is the skill of the locals demonstrated in their crafts and art, almost irresistible to any tourist wishing to capture a piece of North African design to lavish upon their friends, family or abode. The souks (open air markets) are vast and Ikea-esque in their format – once you've been swallowed whole it's near impossible to escape, especially empty handed. But who would want to?
Each sense takes a full on assault as you meander through the labyrinthine alleyways – beckoning hands urging you to come and taste a fresh date or a newly cracked walnut; wafting aromas mingling in the dusty air – cinnamon, olives in brine, donkey manure and young men marinating in too much aftershave; the play of light and colour through intricately forged metal lamps hanging from every available space and the hypnotizing quality of the shifting patterns they cast; the unending stream of rich textiles flowing through the streets – leather, silk, linen, cashmere all fighting for your finger tips; and the familiar white noise of many a foreign city – revving mopeds, the chatter of unfamiliar birds, car horns, banter between locals, the enchanting call to prayer carried on the breeze from the local mosque, stall owners asking you to 'come and have a butchers' and that they'll give me a 'good Asda price'. I don't believe I've ever left a country with as big a bounty of goods as I have from here, along with the unenviable challenge that accompanies such treasures – trying to pack it all safely and stay within the militant Easyjet weight limit. I have everything crossed, particularly for the mirror.
There is then the aspect of the city which I of course came with the specific intention of scrutinising – the culture of food. And I have made several observations.

The sweet life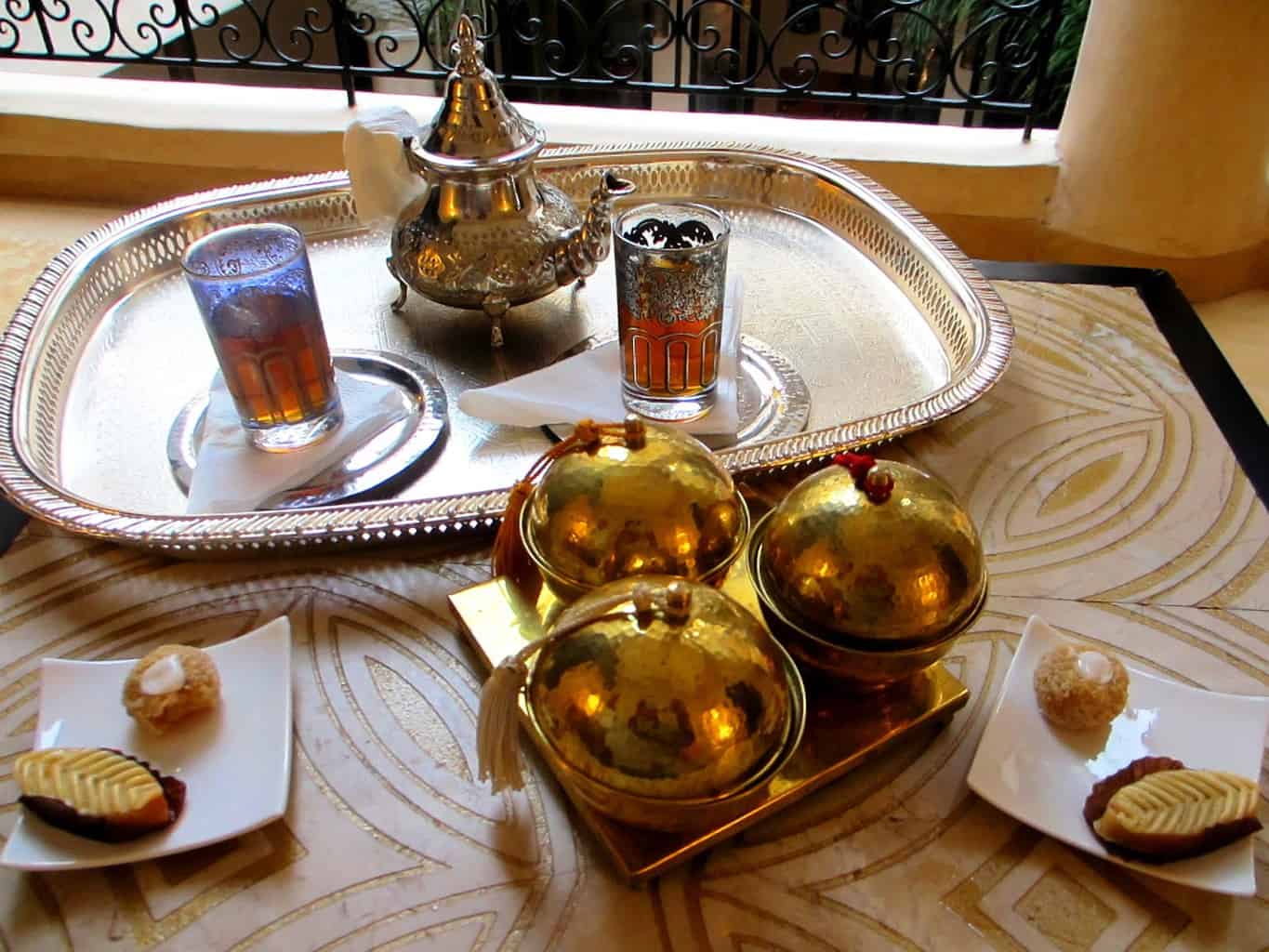 Mint tea served with almond sweets
Morrocans have a very, very sweet tooth. Trying to source a dish not containing some level of sweetness was a challenge. Tagines often contain fruit – apricots, currants, pomegranate, quince. 'Fromage' pastries as labelled in the patisserie were in fact sweet. Quick snacks and bites to eat are centred around sugar – for example coconut macaroons sold on metal trays throughout the souks or small and sweet almond biscuits. Supermarket bakery departments adorned with bountiful and intricate petit fours, but not a wide range of bread. Pastilla, one of the countries delicacies – a filo pastry parcel containing shredded chicken or pigeon mixed with egg and crushed almonds and topped with cinnamon and sugar icing. One of the key characteristics of Moroccan cuisine is their ability to blend sweet, savoury, and spices and they do this well and in abundance. But for someone who would choose savoury over sweet any day, it's a palette that takes a little getting used to.
In addition, mint tea accompanies every conversation, transaction, respite, meal, thought and the general passing of time in Morocco. Each of these small glasses of tea has at least 3-4 heaped teaspoons of sugar in it. I would say the average Moroccan consumes 10 or so of these a day, if not more. Needless to say with dental hygiene routines not equal in intensity to the consumption of sugar, it is all too common to meet folk in their 20's already with a few gaps in their smile. But hey, they are still smiling.
Cheese
Our journey through the twisted roads of the Atlas mountains en route to our overnight desert trip welcomed us with some spectacular landscapes – deep red earth against autumnal greens, yellows and silver foliage of the valleys running through them. And with a sun low in the sky, the long and dramatic dark shadows cast by the numerous peaks only enhanced the majesty of the surroundings. The journey also unveiled to us the most common source of income after tourism – agriculture. We went past many farms with fields of maize and mint, forests of date palms and lots of wild stock – there were many goats and sheep throughout the landscape we journeyed through.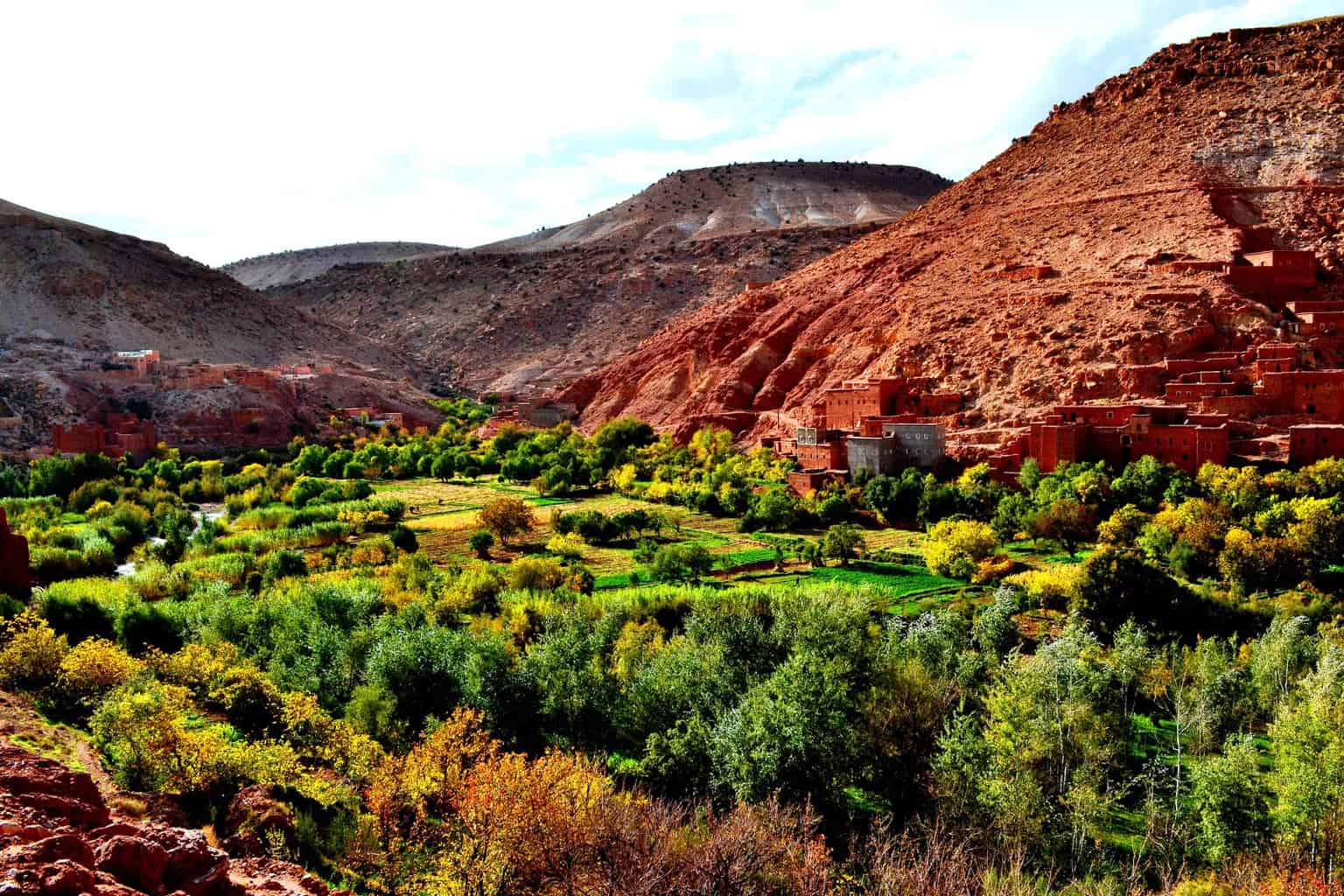 Drâa Valley in the Atlas Mountains
My food related observation here is that for a country bountiful in sheep and goats, and therefore their milk, local cheeses seem to be almost non-existent. For someone who is a) half Turkish where good local white cheese is next to Godliness – the opinion of myself as well as most, if not all, Turks and b) one of the biggest cheese fans one is likely to encounter, this discovery was an quite a blow. Whenever Matt and I visit a country, the breakfasts are the meals we hold out most anticipation for. This is mostly due to the fact that they are likely to involve a local breakfast cheese – this on some fresh and still warm bread with a slathering of honey or jam is one of life's most welcomed pleasures. Turkey, Italy, Malta, Spain, France all do not disappoint. But alas, Morocco fell short. Seeing no evidence of said cheese after two days in the country prompted me to check with our driver taking us towards the Sahara. He confirmed our observations – there aren't really Moroccan cheeses. He did reference a far off corner of the country that makes some (the name of which I didn't catch) and said it was quite delicious, but otherwise the only cheeses you'll find in supermarkets are imported from France and also, Laughing Cow triangles. I found this a great shame. But I suppose that while a stretch of the country does neighbour the Mediterranean, this is in fact Africa – a continent with an inevitably different palette and requirements to that of the Mediterranean – the diet of which I am much more familiar with.
Favourites
There are a few things we ate in Marrakesh that we particularly enjoyed.
Baghrir – a sponge like pancake with little open-air pockets on the top, similar to a large crumpet. We were served these for breakfast in the riad every morning – delicious with honey.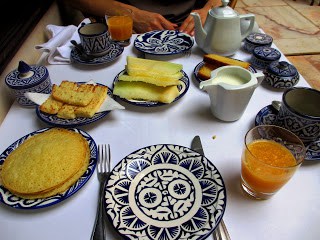 Riad breakfast with baghrir
Raib – home made Moroccan yoghurt made with orange blossom water and vanilla. A little pot of these were also served with breakfast in quaint glass flip-top jars. One of the best yoghurts I've ever tasted – completely divine.
Berber tagine omellete – something in between a frittata and scrambled eggs, these were cooked in a tagine with tomatoes, onion, coriander and a hefty dose of cumin. Served still sizzling and with a chilli sauce side, of which the waiter informed me was a 'viagra natural'. Thanks for the tip.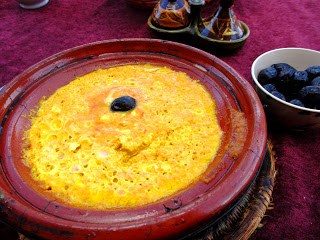 Berber omelette

Ghoriba – a coconut macaroon, excellent after dinner with a glass of mint tea. They have a chewy texture as expected from a macaroon, but the semolina content also gives them a wonderful crunch.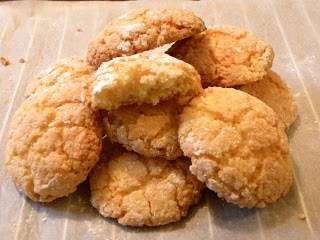 Coconut ghoriba
The last and best supper
It's near impossible to visit Morocco and not encounter a tagine or two. They are presented to you with a grand unveiling at your table from beneath a conical terracotta lid, revealing a pyramid of stacked vegetables with the meat of the dish sitting at the centre. We sampled a couple of chicken tagines with preserved lemons. They varied in quality, with the more superior being the one had at our riad. They were OK, but I wasn't swept away on the crest of a wave of flavour and spices. I'm almost certain I've made better ones. We did have a beef one too, where the slightly charred and sticky edges of the meat pieces stuck to the base and these nuggets of concentrated flavours were very pleasing. But again, not as good as I had hoped or anticipated.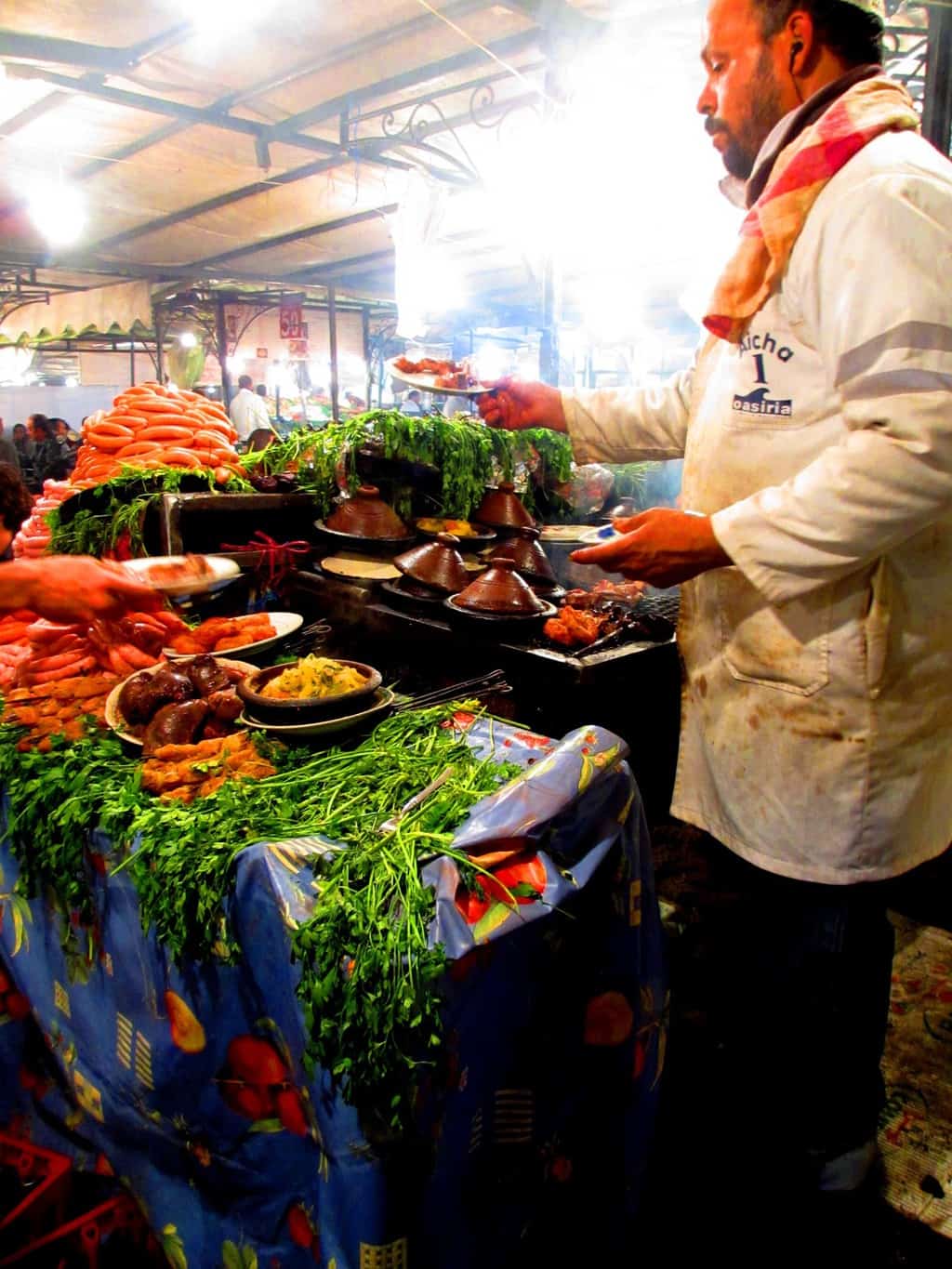 Cooking at Stall No. 1
Four days of similarly underwhelming tagines sent us towards Jeema El-Fna on our fifth night, the square and market place central to the old part of the city (the medina). Each evening as the sun slips away under the horizon, hundreds of cooks and waiters cart their equipment, ingredients, table and chairs into the square by donkey, setting up for another night of frenzied cooking and serving. This is the place to eat in Marrakesh. Under every stall, long stainless steel tables are covered with paper (replaced after each customer) or just wiped down between servings. Benches are crammed with locals and tourists alike sitting elbow to elbow. Dishes are served on stainless steel plates with a round of bread of which you pick up your mouthfuls – only the tourists request cutlery and that's at the risk of it being rinsed in a bucket of tap water – best avoided. And don't bother asking for a serviette – there are none. The cooking areas sit within a circle of tables for each stall – men toiling at every station for supply to meet demand. Calloused and scarred hands revealing the longevity of the cook, no longer even flinching at the popping and splatting of searing pan oil onto their skin. The bellowing cooking smoke rolling out from under the canopies and spiralling into the night sky can be seen from some distance.
Your appetite is only restricted by your imagination and bravery is embraced in the square – from cauldrons of boiled snails served with toothpicks to separate meat from shell; whole goats heads on a plate including brains and eyes; tripe and testicles; and everything in between. Alas, I'm not that brave. So on our last day we took a seat at stall No. 1 as advised by many favourable online recommendations. It also seems to be the only stall out of 100 or so run by a woman. Turns out, this was the best meal we had in Marrakesh. And it was the cheapest, with the least amount of frills – and isn't this just always the way.
First we were presented with a khübz each – a round and flat loaf with a small plate of almost luminescent tomato sauce to dip it in. We ordered starters of spiced and smokey aubergine dip called zaalouk, alongside cooked chopped spinach. For mains we had a mixed brochette (grill) with skewers of chicken, lamb, beef, merguez sausages with their hot and wonderful oiliness bursting between your teeth, and kefta – minced balls cooked in a tagine. And my goodness, the meat was truly excellent. I'm rarely successful in eating lamb cooked over coals as I always find it too chewy. But the lamb with this meal was impeccable – tender as if beaten into oblivion, marinated in a sublime set of spices, breaking away in your fingertips from the skewer. The keftas were generously spiced and incredibly tasty, with the rest of the meat following suit. To accompany them, Matt ordered a vegetable couscous. Of which I had little intention eating. I saw it as a fodder dish to ensure you leave full, rather than something you order to specifically savour the taste of. I mean, how good can a vegetable couscous be? After all, it's just couscous – with vegetables. VERY – is the answer to that. I've never tasted a couscous like it – nothing like the bland and boring couscous I've had back home, that can only be saved with lashings of lemon and mountains of parsley. This couscous had none of the flavours of the Mediterranean that I'm used to or would expect from this dish, but was absolutely delicious and far superior. After the first mouthful with a hunk of bread as my utensil, I cast a wide eyed and confused gaze at Matt: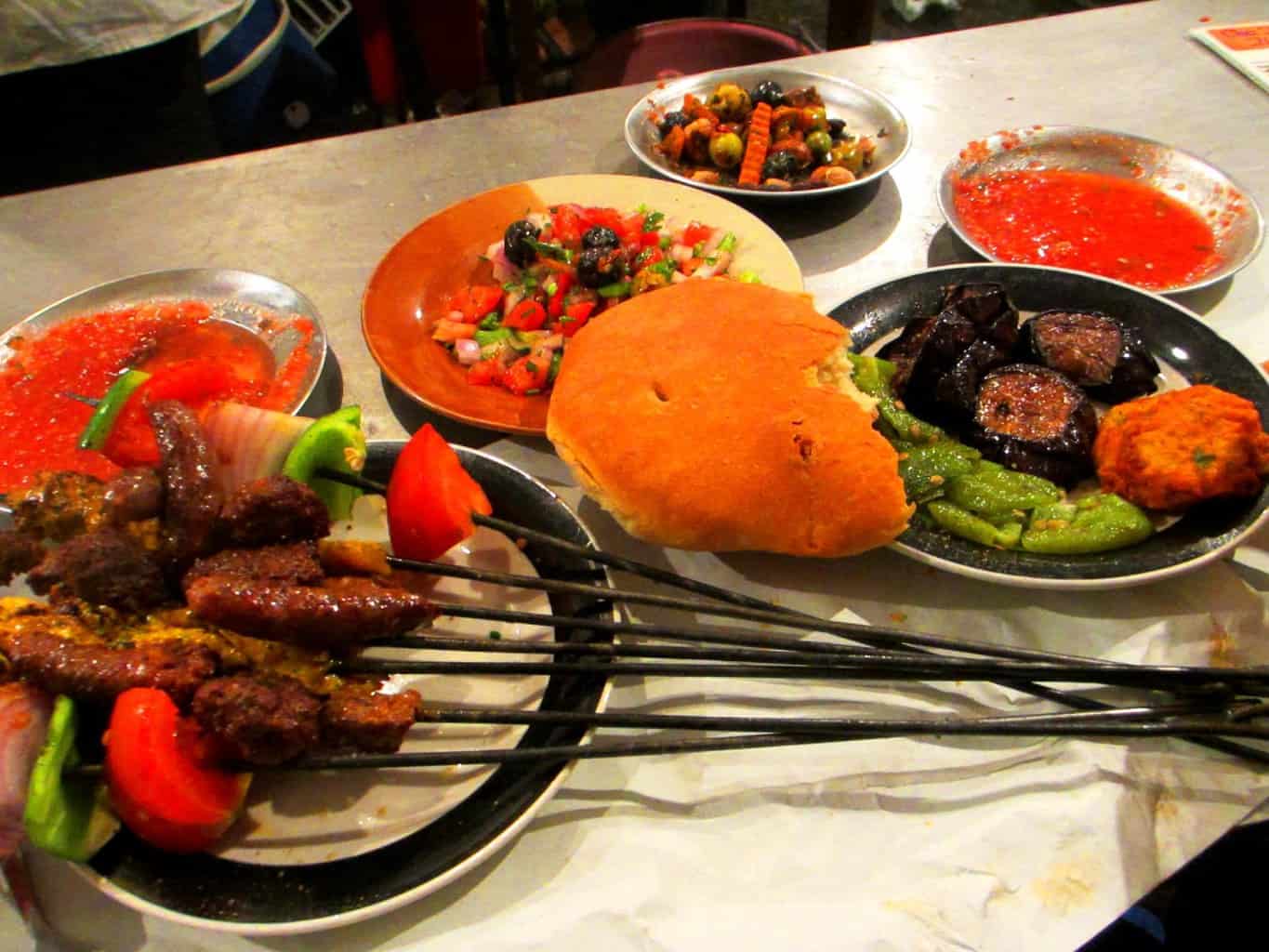 'Matt – have you tasted this?
Isn't this couscous?
Bloody hell it's so good!
I don't understand, how can it be so good?
What's in it?'
And so on.
I'm not sure what sent this humble grain into the next dimension for me. But it tasted rich, buttery and had a beautiful creamy texture. I don't even think there was that much to it, but it worked so well with the spiced meat whilst also valiantly standing it's own ground. I would have been happy just to have eaten that. Needless to say, I promptly ate more than half to Matt's great disappointment.
The whole meal came to just over 100DH, which was around £8 for the two of us. Wet wipes at the ready, we handed over a note, paid our compliments to the woman running the gaff, and wondered over to a lady balancing a tray on her hand with the other on her hip, to buy a couple of macaroon biscuits for dessert – about 20p each. Climbing two flights of stairs to a balcony café overlooking the square, we ordered a mint tea for two, sat back and absorbed the atmosphere of the outdoor spectacle that is Jeema El-Fna on our last night. Sated, smug and contemplating a return.
Alfiyet olsun.