Last Updated on November 17, 2022 by Leyla Kazim
Iceland was pretty – well icy. Bloody beautiful, but very cold. And icy. We're talking about three inches of compacted ice on some of the pavements. I did fall over – only once though. Matt didn't seem to have any problem with slipping. He puts this down to his size 13 feet – too much contact with the ground to fall over, so I mostly clung onto his sleeve.

But the country is gorgeous – really quite stunning. Exactly the sort of breath taking views I anticipated. The sun started to think about rising around 10am every day and was soon skulking away by 3pm. Because it stays so close to the horizon, the sky was in a perpetual state of sunrise / sunset meaning everything was swathed in a constant dusky pink haze when it wasn't dark. Reflecting on the undersides of clouds, on the peaks of snowy mountains, on frozen rivers and lakes – it gave the country an ethereal glow.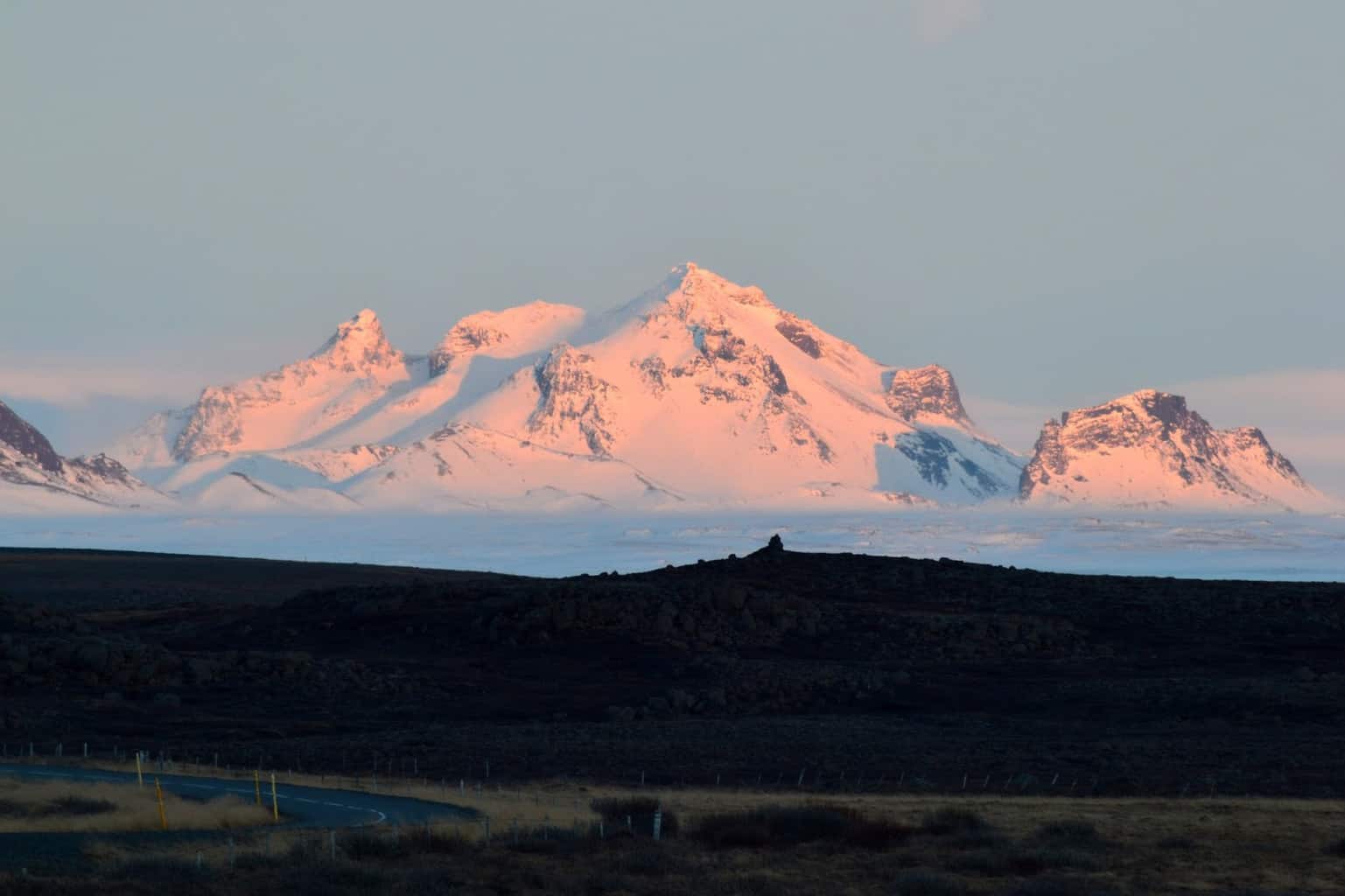 Particular highlights included:

Hot springs and geysers
The hot springs in the Geysir geothermal field – the heat rising from the bubbling sulphuric waters condensing in the cold air into great columns of steam clouds, cast away by the light breeze against the backdrop of a long and slow sunset. Also, witnessing Geysir itself (the name given to the biggest geyser in Iceland) erupting about 30m into the air.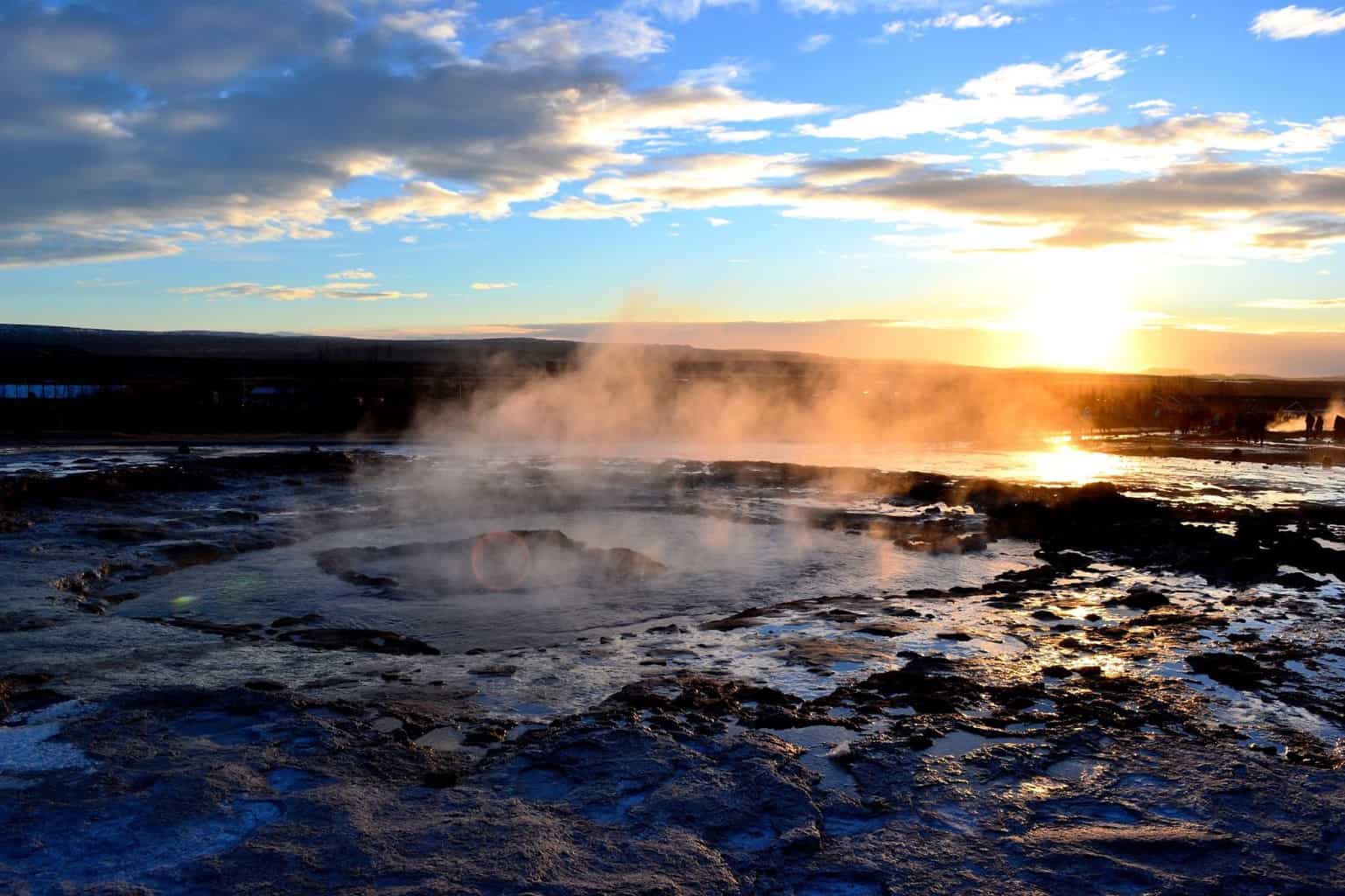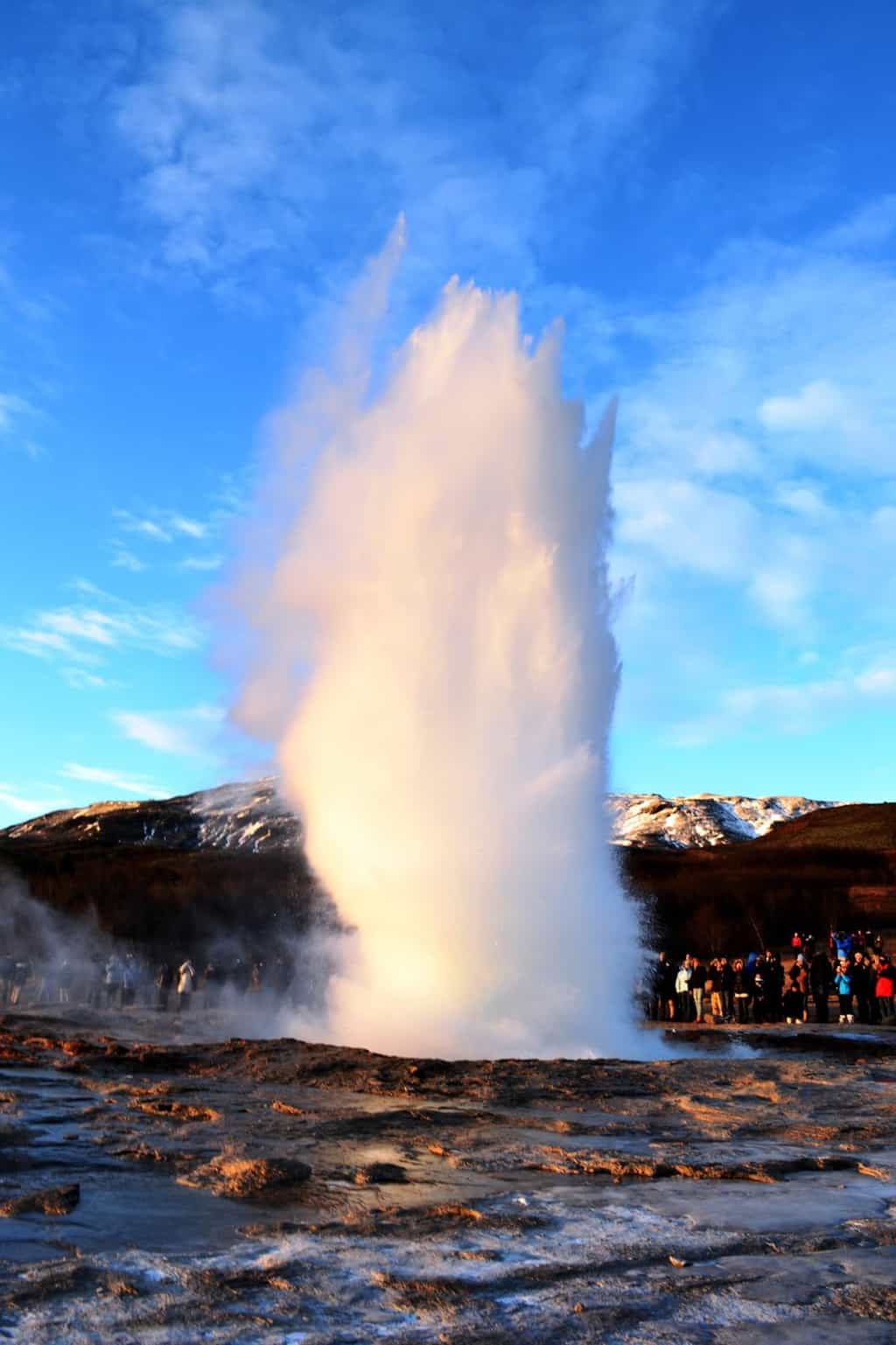 Gullfoss (Golden Waterfall)
Gullfoss waterfall is Europe's largest waterfall located in south-west Iceland and is fed by the melt waters of Langjökull glacier (the second largest in Iceland). It's certainly the most spectacular waterfall I've ever encountered. The volumes of water were a lot less that you would see in the summer, however it was so cold that the spray clouds from the tumbling torrents were freezing in mid-air, then hitting your face (and eyeballs). Invigorating, to say the least.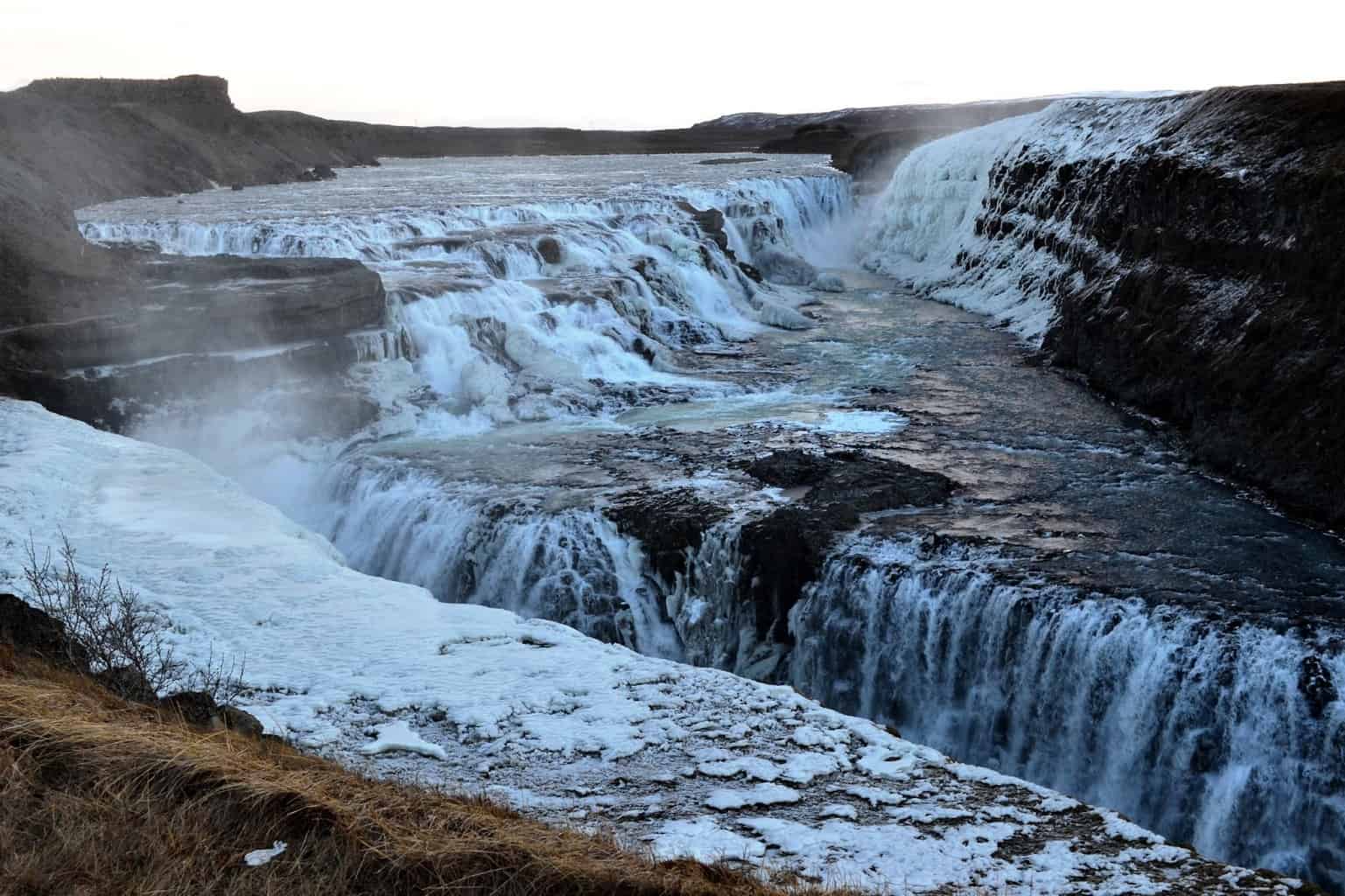 Clear night skies
Bracing the frigid midnight winds in the exposed and pitch-black Thingvellir national park, frozen fingers trying to set up the SLR on the tri-pod in the hope of catching the other worldly green haze of the Northern Lights. Alas, we weren't successful but did take some beautiful shots of the night sky.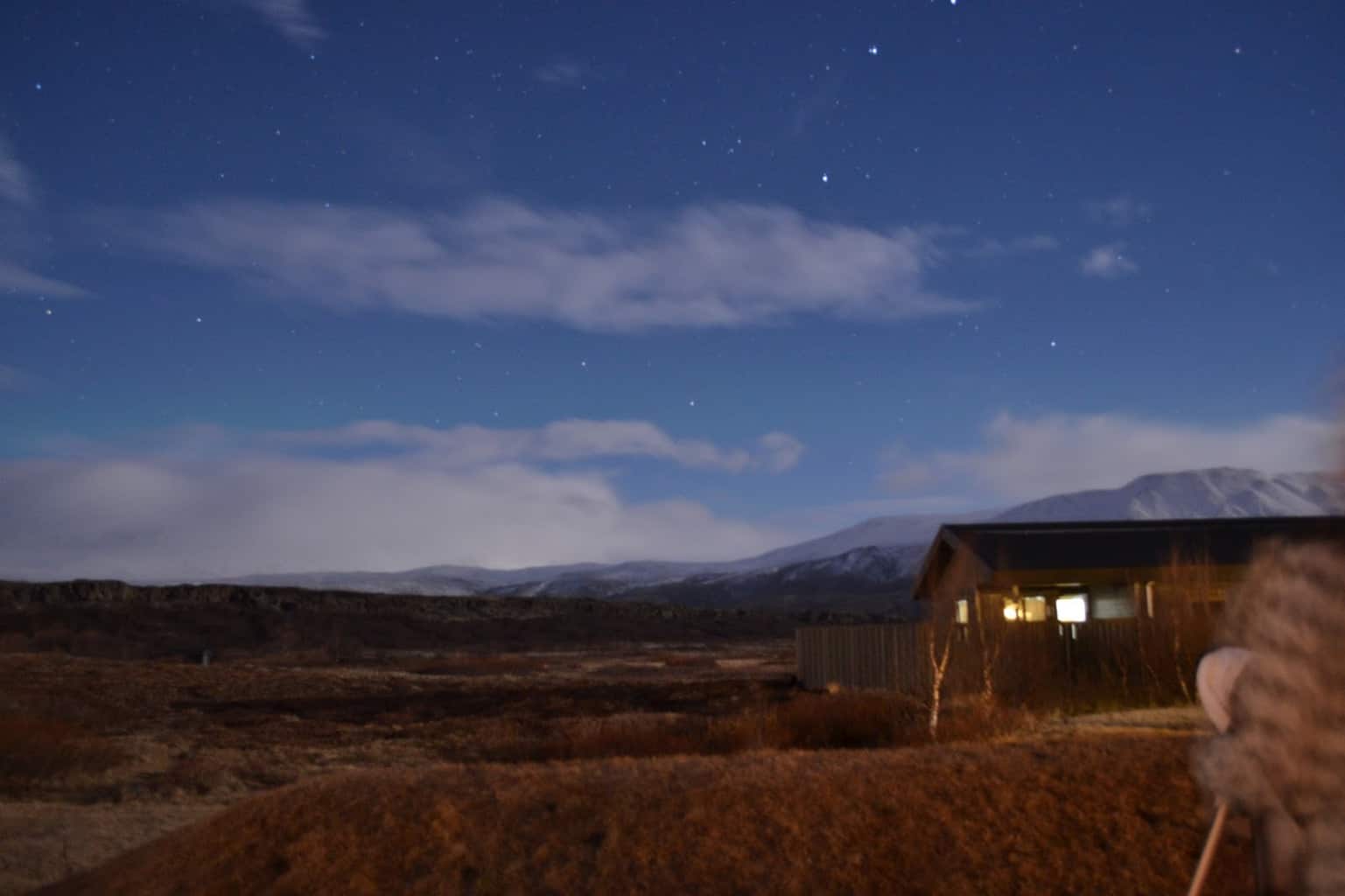 taken with high ISO and long exposure

Mid-Atlantic Ridge
Gazing down the rifts that mark the crest of the Mid-Atlantic Ridge (where the two tectonic plates are pulling apart and leaving water filled gorges) and seeing Thingvallavatn, the largest natural lake in Iceland, and the rivers around it being almost completely iced over.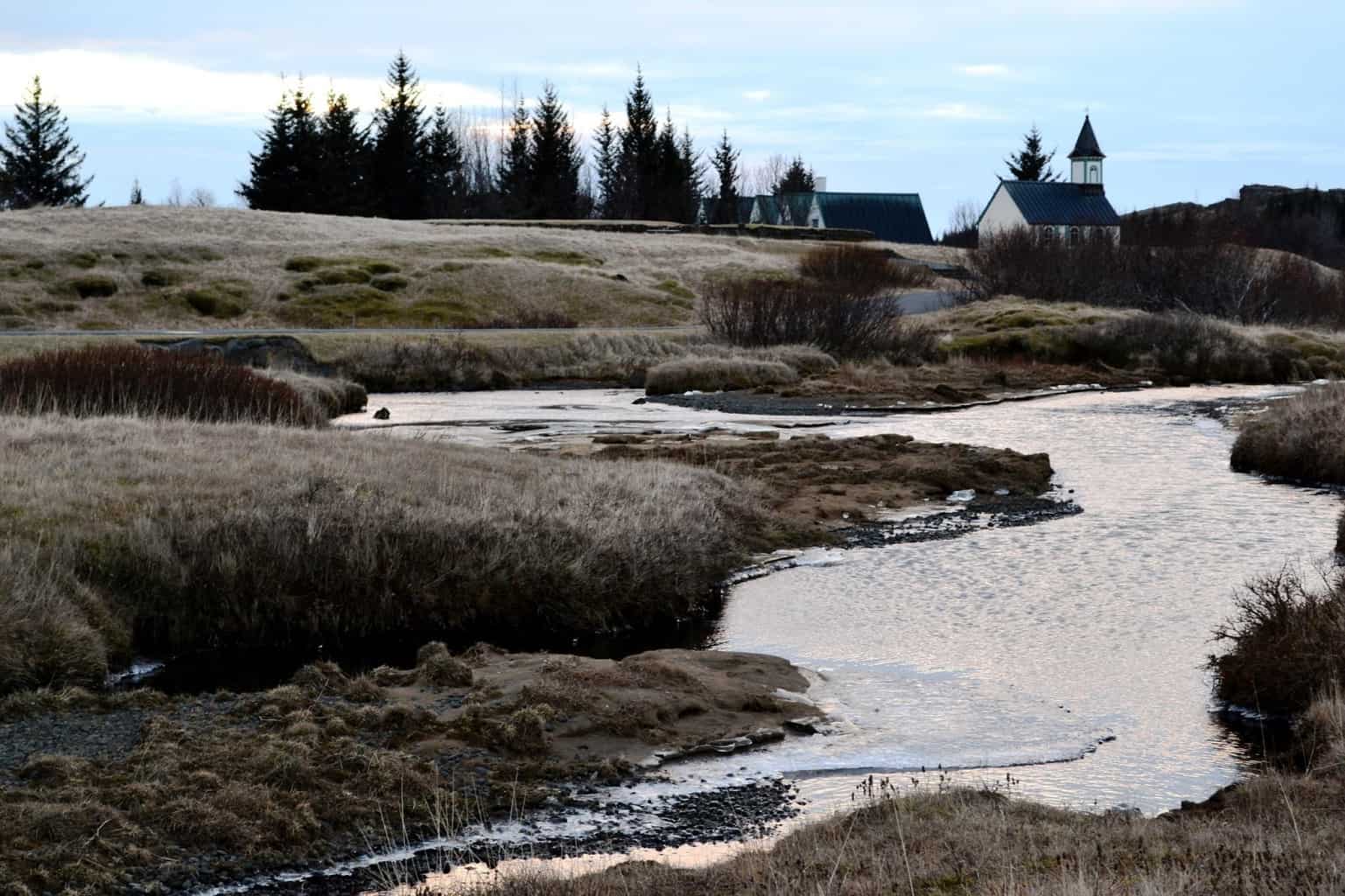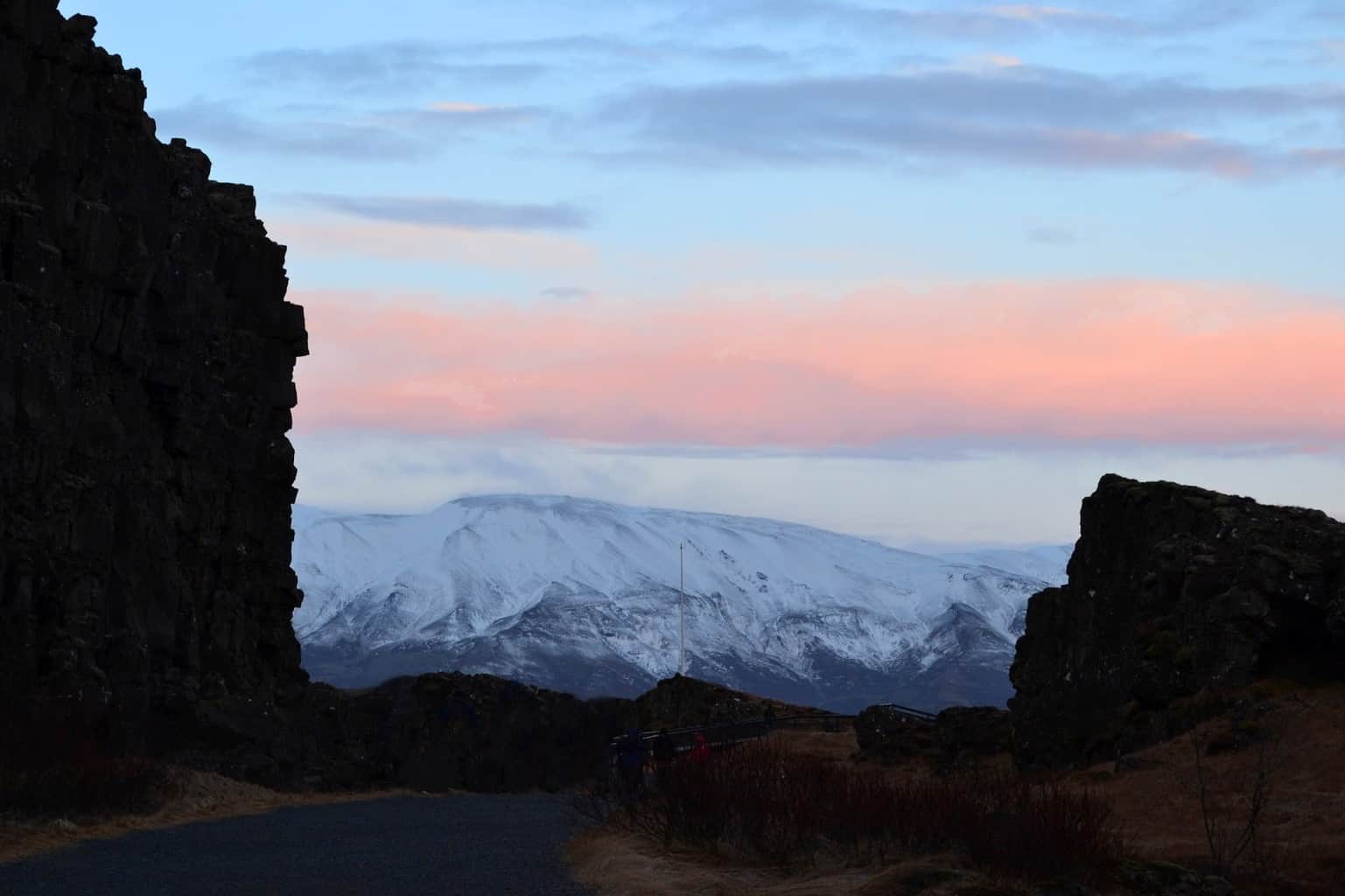 Basking in the Blue Lagoon
Super-heated water is vented from the ground near a lava flow and used to run turbines that generate electricity in a nearby power plant. The steam and hot water is then fed into the lagoon, full of skin healing minerals like silica and sulphur and kept at a very comfortable 39C. We squeezed in a few hours of relaxation on route to the airport on our final day.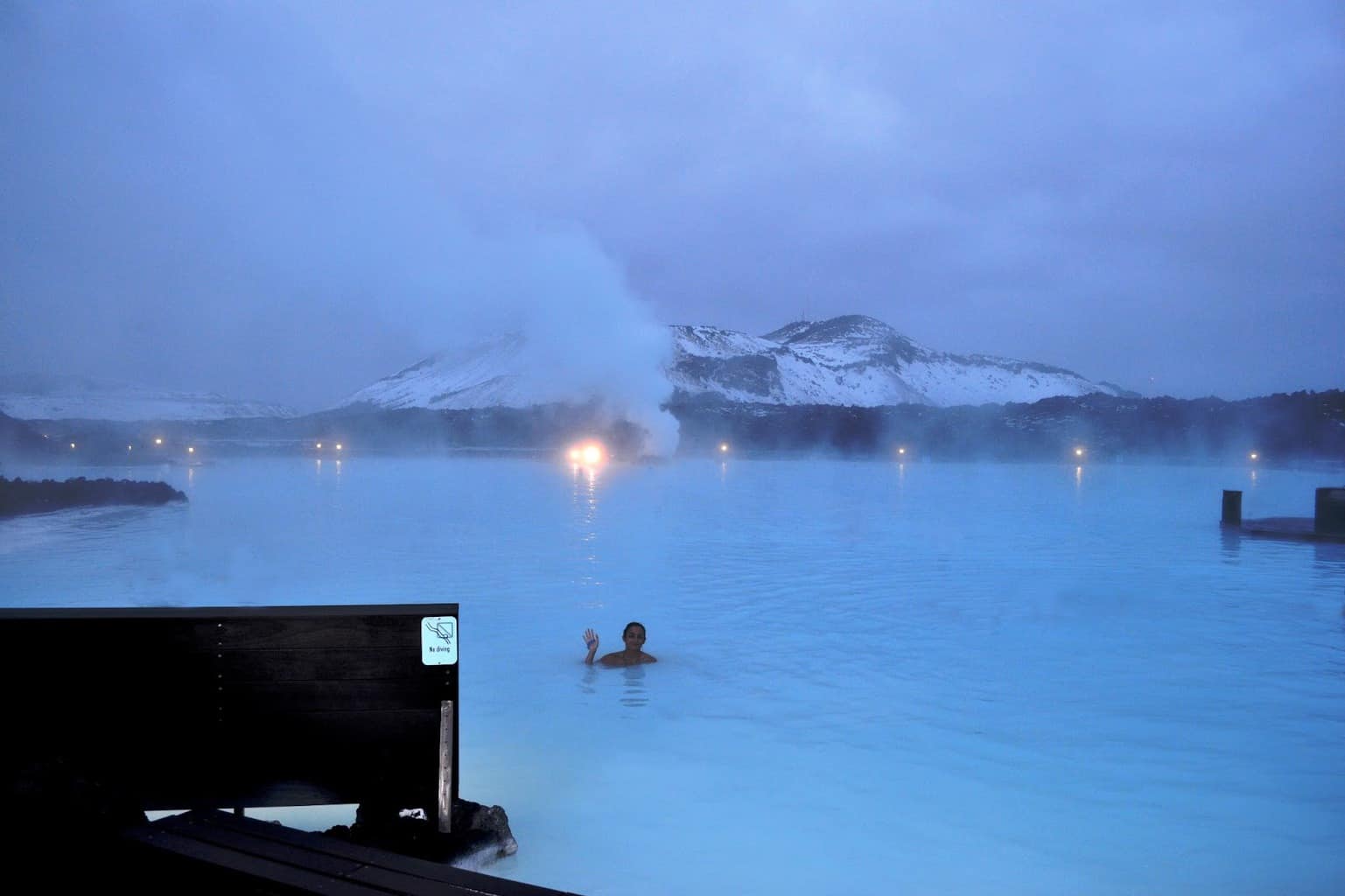 New Year's Eve FireworksWatching the city of Reykjavik from the roof-top of our apartment erupt with fireworks, filling every available scrap of sky in all directions as far as the eye could see with exploding and cascading riots of colour in the half hour approaching midnight on new year's eve.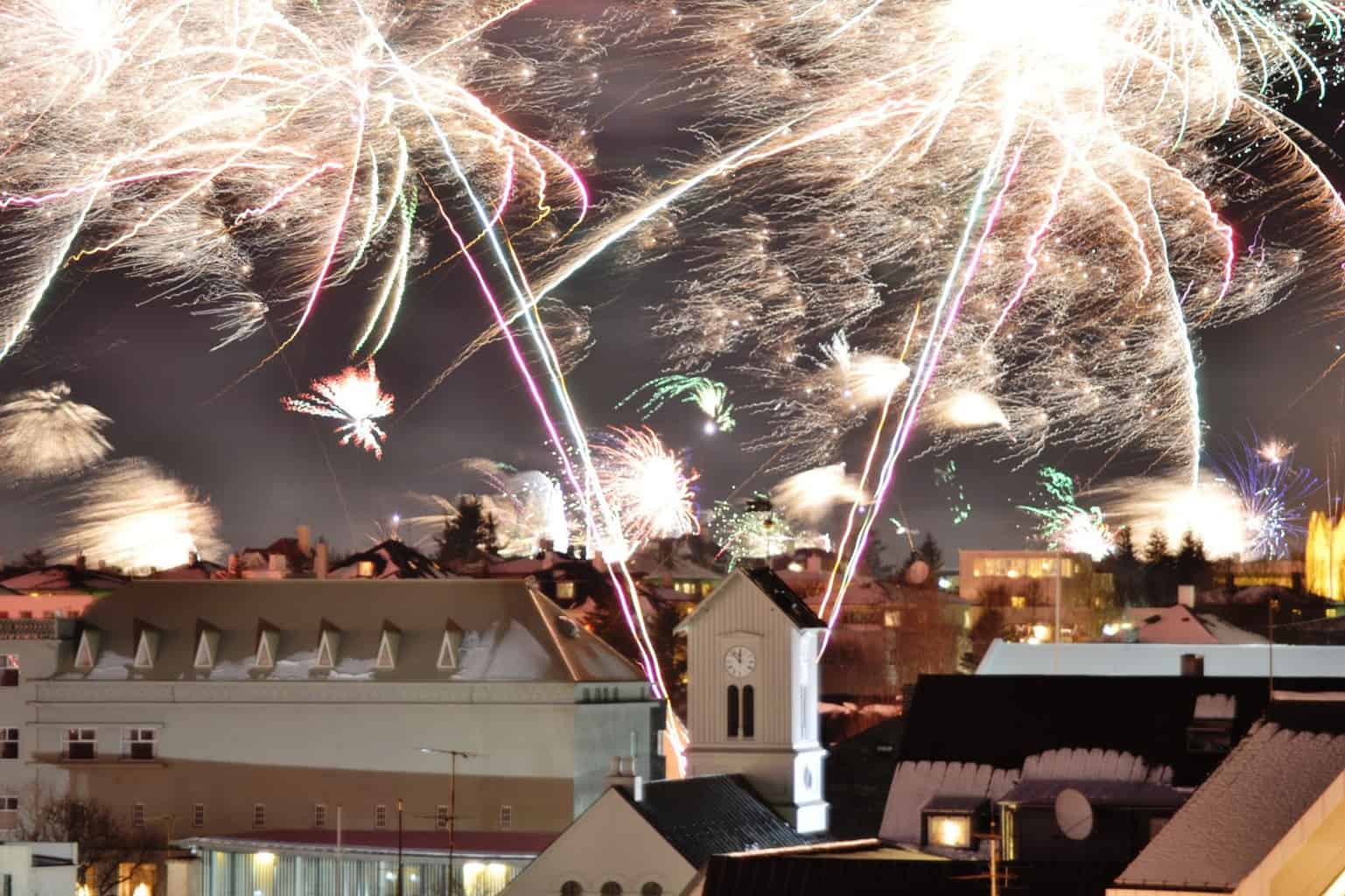 And finally, but of course by no means least, there was the eating.
Eating in Reykjavik
I had a lot of plans for eating in this city (my holiday plans are always centred around the food I will be consuming, and where these sought after venues are located), based on sound research and reviews. A couple of useful sights for food related information included Cheap eats in Reykjavik and The Best of Reykjavik 2012: Dining and Grub from The Reykjavik Grapevine – the latter an absolute treasure trove of useful information if you're into your food. I think every city should have a similar level of food related detail available on the web. Definitely one to bookmark if you plan on visiting the city and look forward to the culinary delights it has to offer.
Alas, due to the time of year we visited we were plagued with several of the anticipated venues being closed. Both the 31st Dec and 1st Jan are Bank Holidays in Iceland, and many, many restaurants, cafés and dining outlets were closed over these two days. In addition to this, some didn't open at all over the whole Christmas period. This meant we had to miss off with heavy-hearts some of the places I had eagerly anticipated. These included:
Bæjarins Beztu Pylsur
They do hot dogs And they do them well. They do them so well that The Huffington Post thinks they could possibly be the best hotdogs in the world.
Danish influence and the only place you'll find mørrebrød in Reykjavik – tasty open sandwiches with a wide variety of toppings.
Grái Kötturinn
'The grey cat' is a tiny (six tables and it's also quite difficult to identify – we walked past it four times before locating it and then of course realising it was closed) 50's style café. It's apparently frequented by local artists (there are lots of them in Reykjavik) and intellectuals and serves excellent breakfasts – think bacon and eggs, fluffy American pancakes, bagels etc. Also noted for its early doors opening hours – from 07.15 – 15.00 on weekdays and 08.00 – 15.00 on weekends.

TiU Dropar
One of the oldest cafés in Reykjavik – quintessentially Icelandic with breakfasts of eggs, bacon and waffles. Reliable grilled sandwiches mostly based on ham bacon and gouda. Turns into a 'vin de salle' at night with a selection of wines and intimate atmosphere.
This hip-happening hostel is known for its excellent breakfast buffets – fresh bread, Icelandic cheeses, cured meats, preserves, porridge. All you can eat for around £7. Sounds like a great way to start the day. I don't think this was closed while we were there, but we alas just never made it during our fleeting visit due to some early tour starts.
But fear not – we DID eat.
The Laundromat
The place we ate on our first night. Well known for its family friendly atmosphere – posters proudly displayed urging you to not feel shy about breastfeeding as they like 'both boobs and babies'. A colourful interior with walls covered in huge maps, photographs and posters. Always buzzing and full of tourists and locals alike. Mostly a young hip crowd (and strangely, didn't actually see any children in there) – single diners with the glow from their Apple Mac behind their plate on their face just as comfortable in this setting as groups of friends playing cards over their dinners.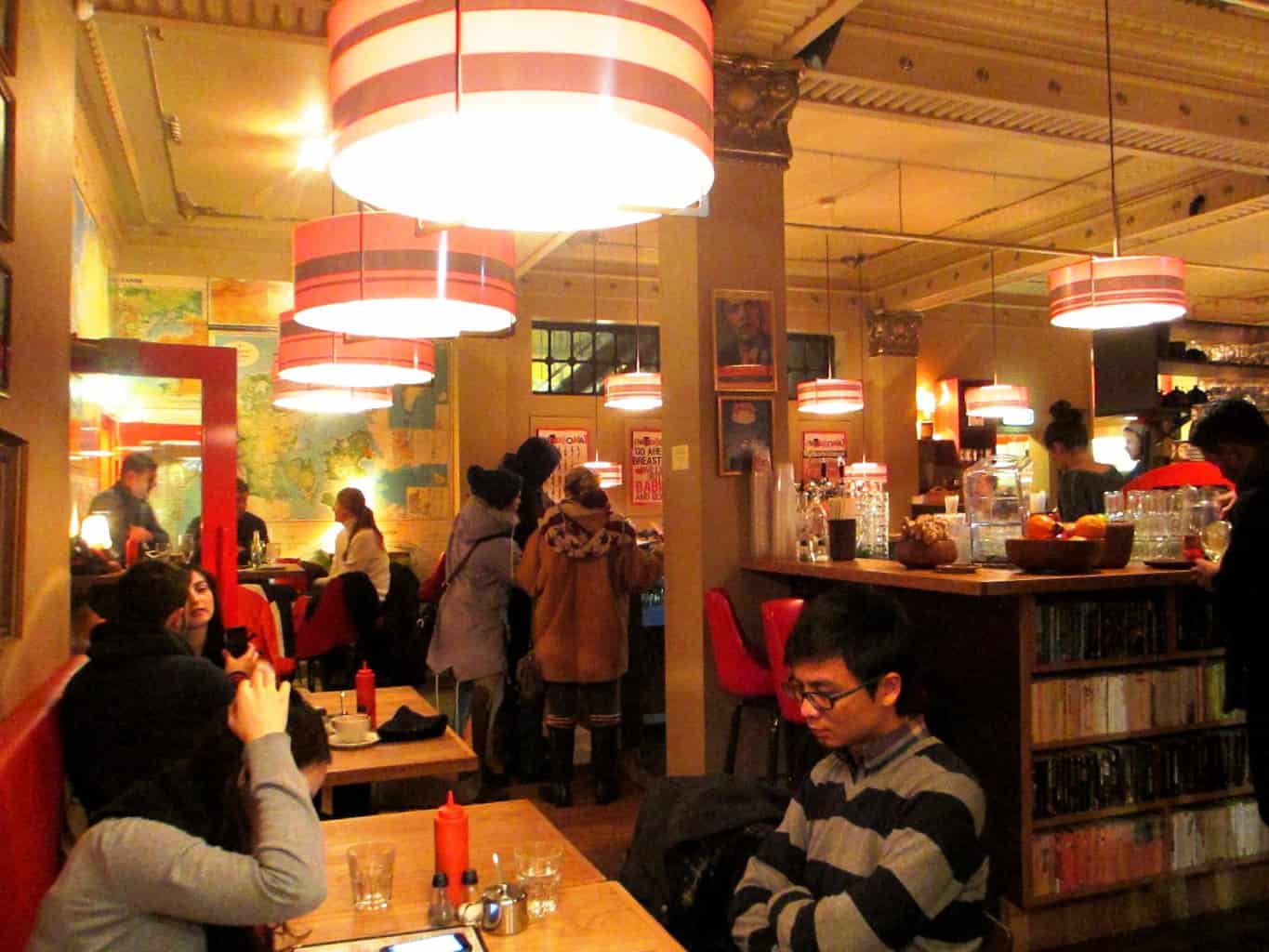 This place is reputed to do a mean breakfast, but alas was only open on the first night of our trip, so we didn't get the chance to try it. But if you are wondering, they sound something like this:
Spiced sausages, bacon, eggs, fried potatoes, grilled tomatoes, cheese, yoghurt with muesli, fruit, American pancakes, baguette, rye bread and mango and ginger juice – £9.
I'll take that.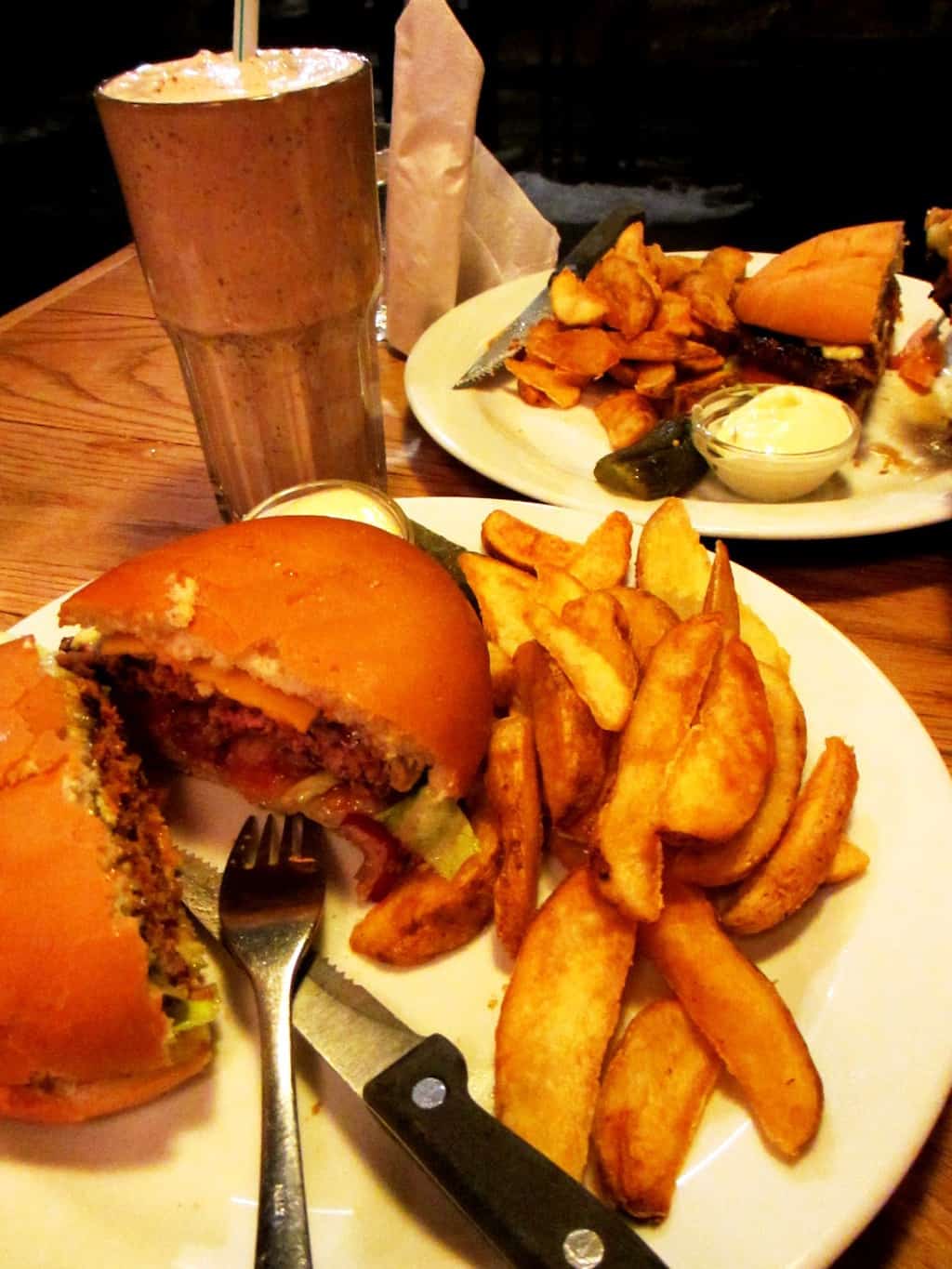 We ordered a couple of bacon cheese burgers with fries. Apart from a bun that didn't initially seem that appealing (too akin to those you get on cheeseburgers in a Maccy D's) but in the end tasted alright, this was excellent. Juicy meat that actually tasted of beef, with lettuce, tomato, gherkin (oddly a hint of sweet amongst the sour) along with really excellent hand cut chips. Slightly crispy outside, fluffy inside, already well-seasoned, piping hot.
Despite excellent burgers, my favourite thing on the table was the chocolate milkshake – exactly how they should be. Full fat milk and ice cream along with wazzed up dark chocolate, so you get little nuggets of it throughout. You will think I'm crazy, but dip your hot salted chips into your cold sweet milkshake – I'll put money on you enjoying it. Remember opposites complement each other, before you reach for that straight jacket.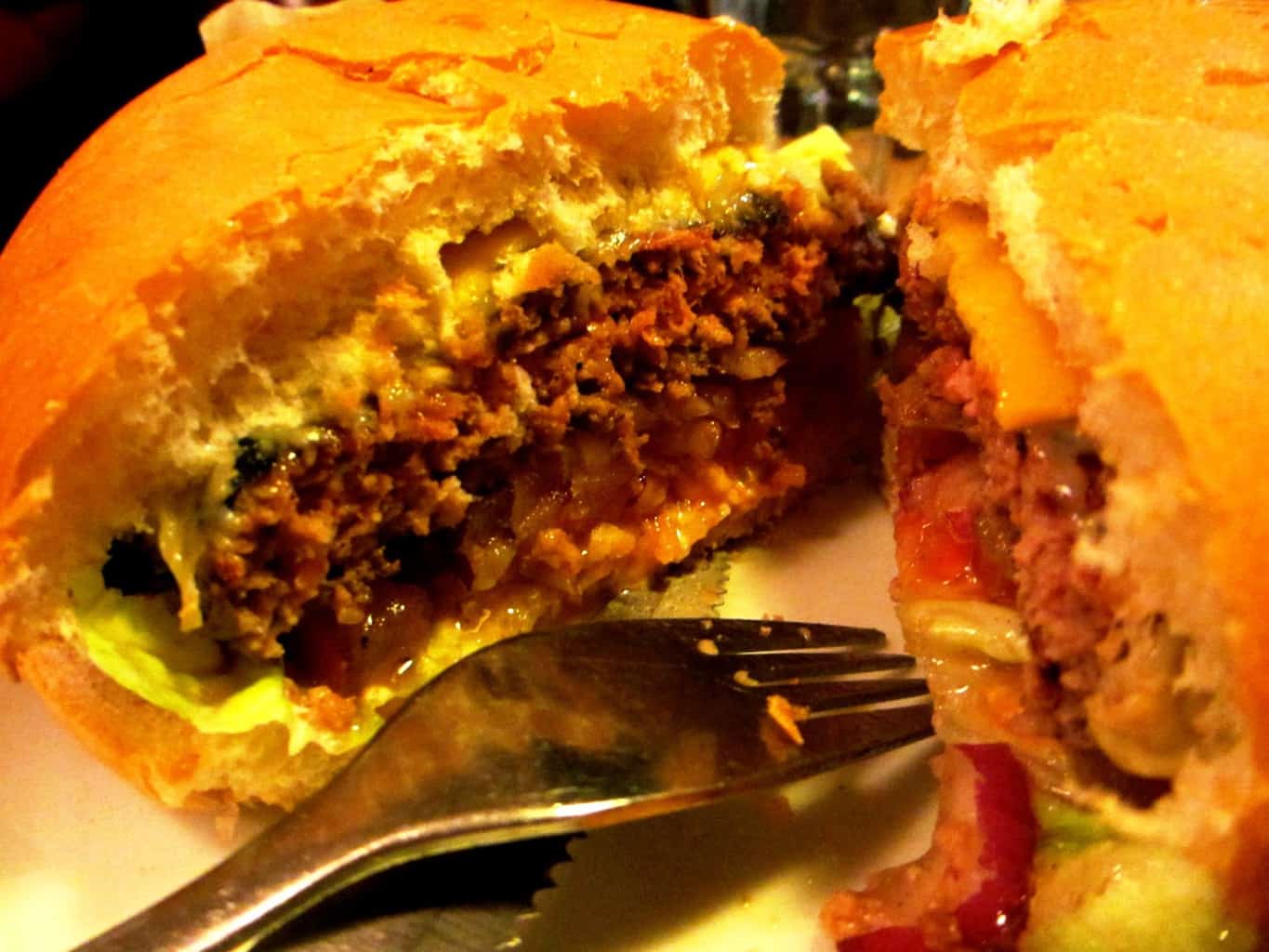 Gulfoss Kaffi
If you go on a one day Golden Circle tour (which you will do if you visit Reykjavik), then one of the stops will be Gullfoss Waterfall (as seen above). You'll probably get there around lunchtime and you'll be hungry. And likely freezing. Climb up the stairs and at the back of the souvenir shop you'll find quite a large café. Order the lamb stew – it's delicious. A cockle warming broth with chunks of lamb, potatoes and vegetables. Really incredibly tasty, wonderfully savoury and every piece of meat was tender with no fat or sinew. Served with bread and Icelandic butter and topped off with a very good coffee, I was more than brought back to life from the cutting cold.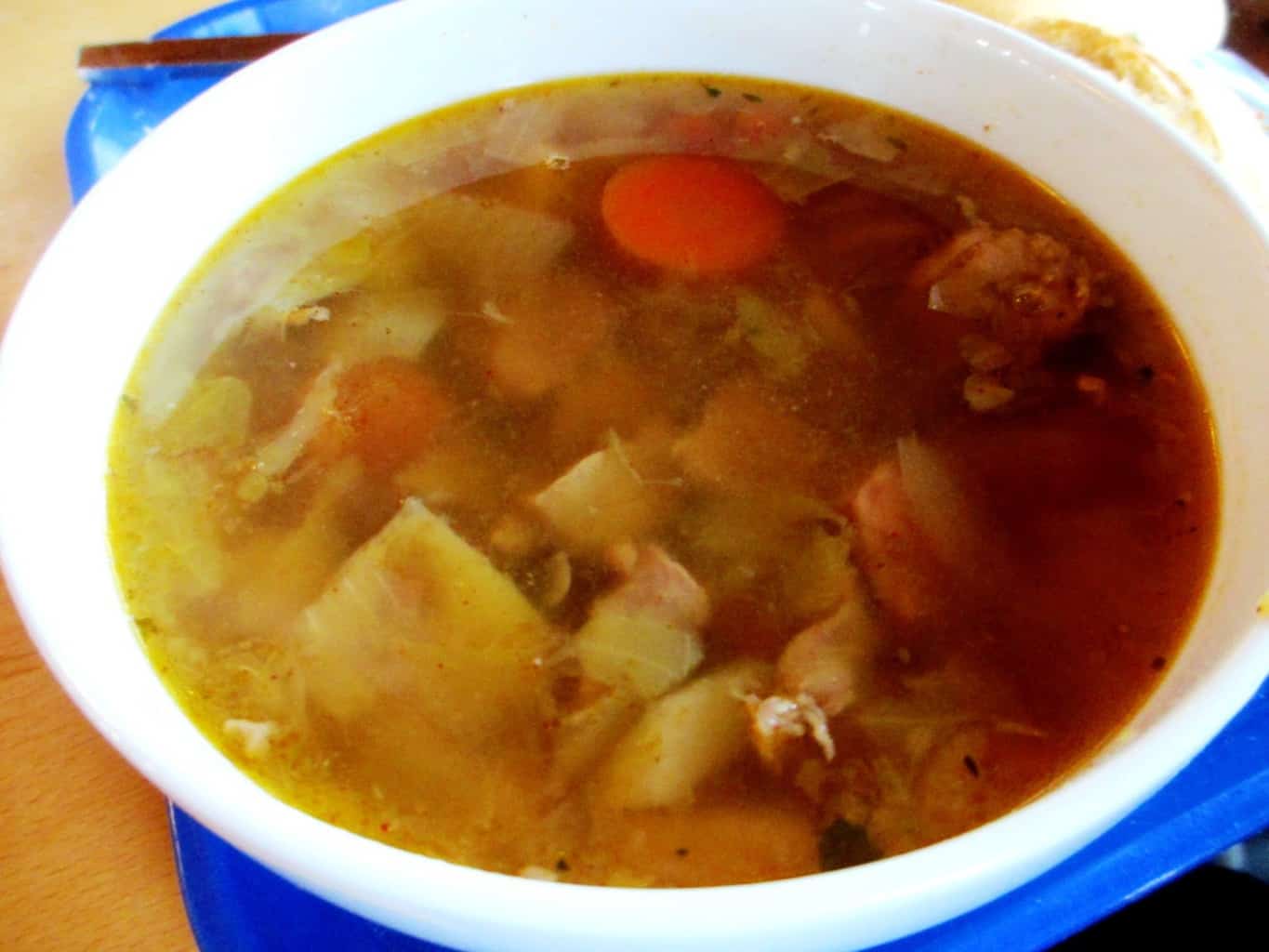 Icelandic Fish & Chips
It should come as no surprise that a key part of the Icelandic cuisine revolves around seafood. An island surrounded by the fertile waters of the Norwegian Sea and Atlantic, it's going to produce some wonderfully fresh sea-dwelling ingredients.
Our first encounter with such delights was at a well reviewed fish and chip place at the harbour. It was a sit in restaurant as opposed to fish and chips to takeaway, as we may be more familiar with here in the UK. And I'd call them posh fish and chips, with the restaurant only using organic ingredients. The portions were typically smaller than you would find here, but I suspect that's down to the superior quality of the meat. Regardless, it was in fact the perfect sized meal.
The full menu includes cod, plaice, monkfish, halibut, catfish, ling cod and blue ling but what will actually be available depends on what has been caught that day – an excellent sign of its freshness.The batter used is made from spelt and barley giving it a lightness and crispiness I've never experienced on battered fish before – an absolute delight. In addition, they choose to oven roast their hand cut chips rather than fry, opting for the healthier alternative.
The also make their own 'skyronnaises' – the name they give to the dips / sauces to accompany your fish. I opted for the blue ling (from the cod family) with chips roasted in olive oil, parsley and Maldon sea salt (below). Matt went for the cod with rosemary chips. We both chose a skyronnaise of classic tartare but more exotic were available such as coriander and lime, ginger and wasabi for example. Our meals were delicious.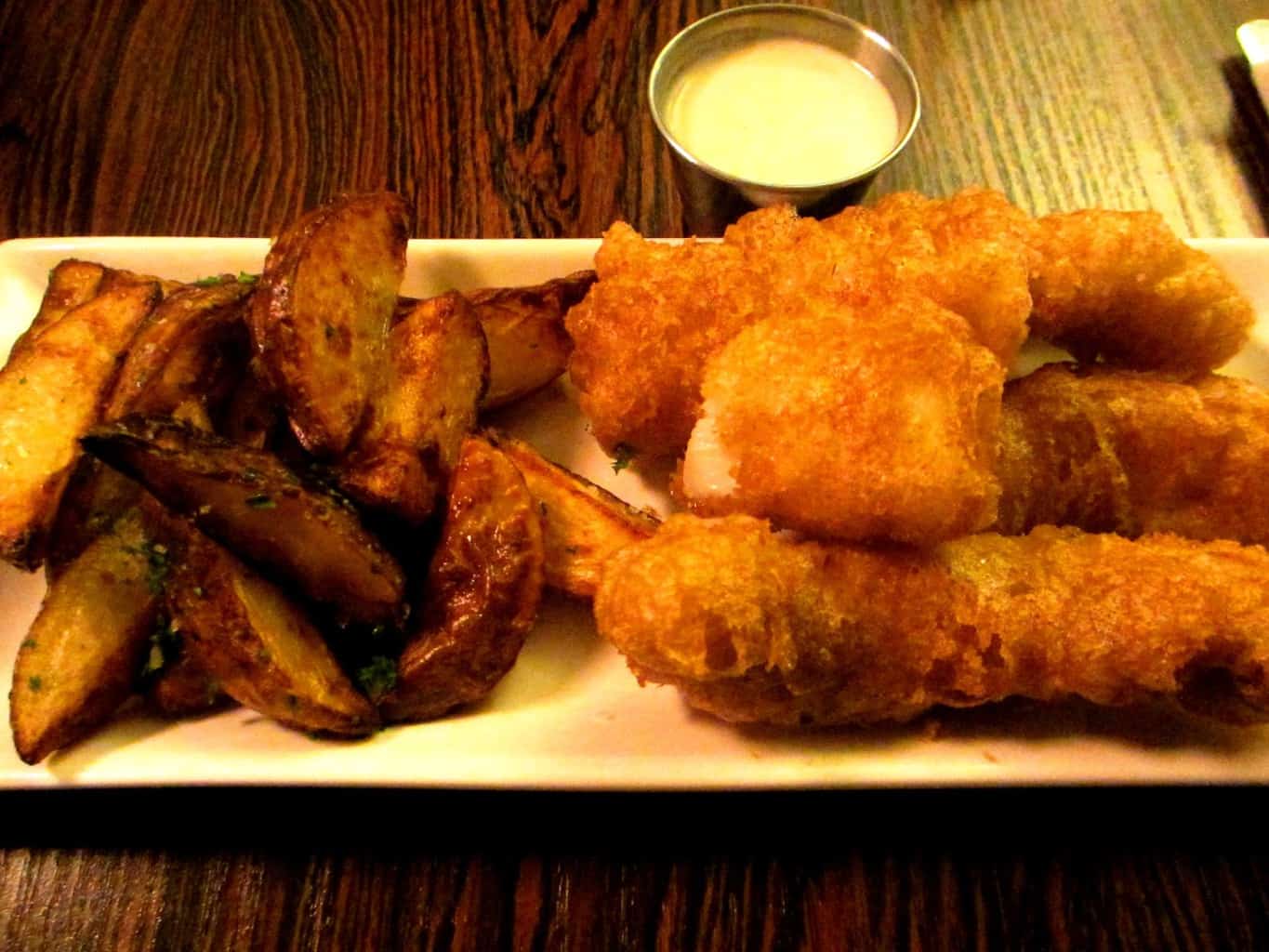 Sægreifinn (The Sea Baron)

This is a small green hut by the harbour run by a reputedly salty old sea dog plastered on the interiors via the medium of photography, although we didn't see him in the flesh on our visit. Three long tables with benches and a fridge full of wonderfully fresh fish on skewers, ready to be pointed out by salivating clientèle They had salmon, hake, shrimps, cod, angler, catfish, skate, halibut, lemon sole, plaice, blue ling, river trout, smoked eel and all spanking fresh from the sea on the doorstep.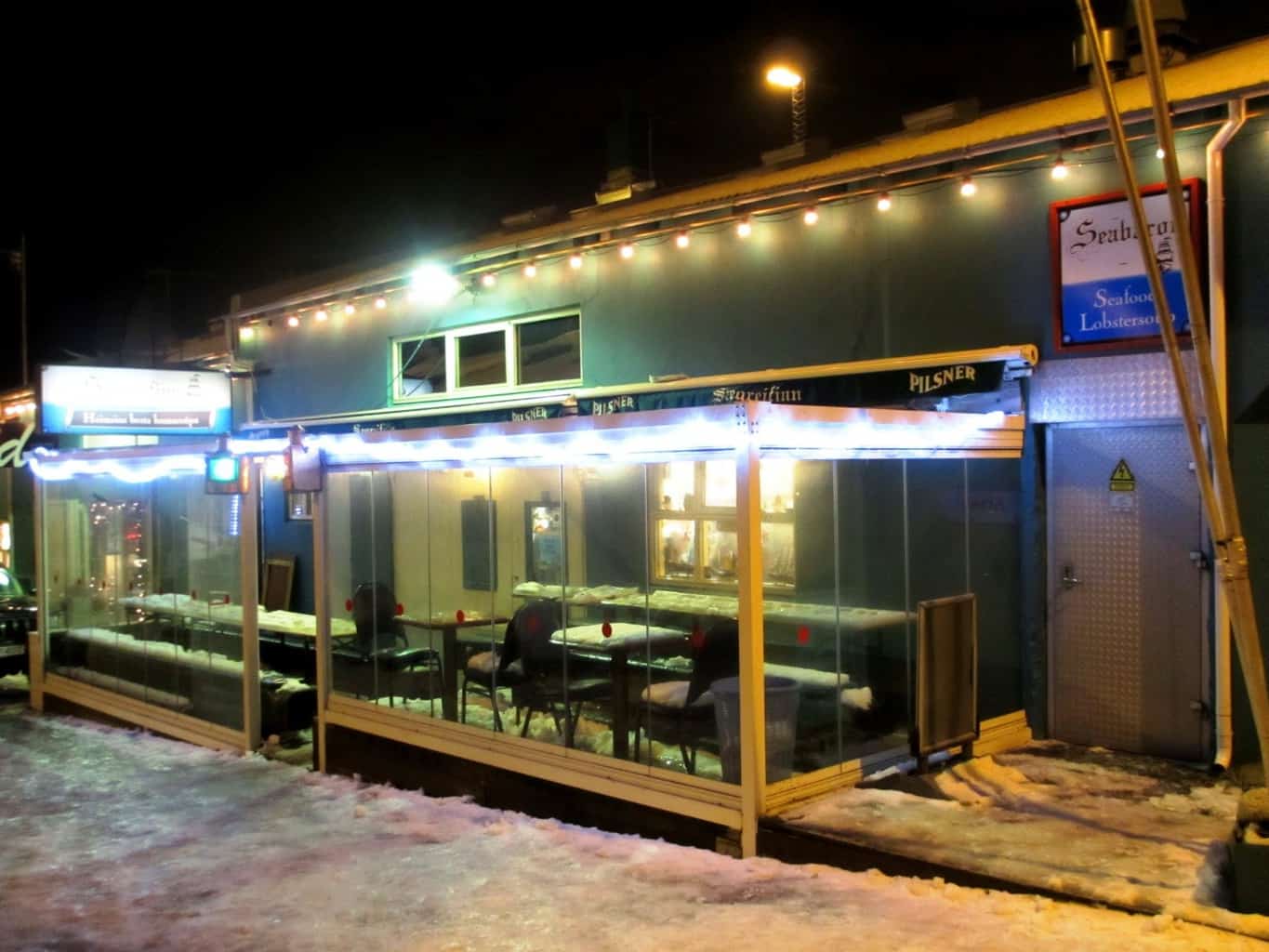 They'll grill these for you and are delivered slightly charred and delicious. Other options on skewers to help fill the void are little new potatoes and vegetable skewers. Also on offer was some minke whale meat which I was almost tempted to pick out to try, however at almost £20 for one skewer I decided against it. I'm pleased I was swayed this way as one of the young strapping lads from the English group behind us decided upon a portion, to impress his friends no doubt. I believe the tough red meat sat pretty in his stomach on top of his new years eve hangover, got stuck in his teeth, and was almost impossible to cut with cutlery. He declared he wished he had opted for some succulent salmon instead and his friends laughed into their fresh fish as he tried desperately to swallow almost whole as much as he could to get his money's worth.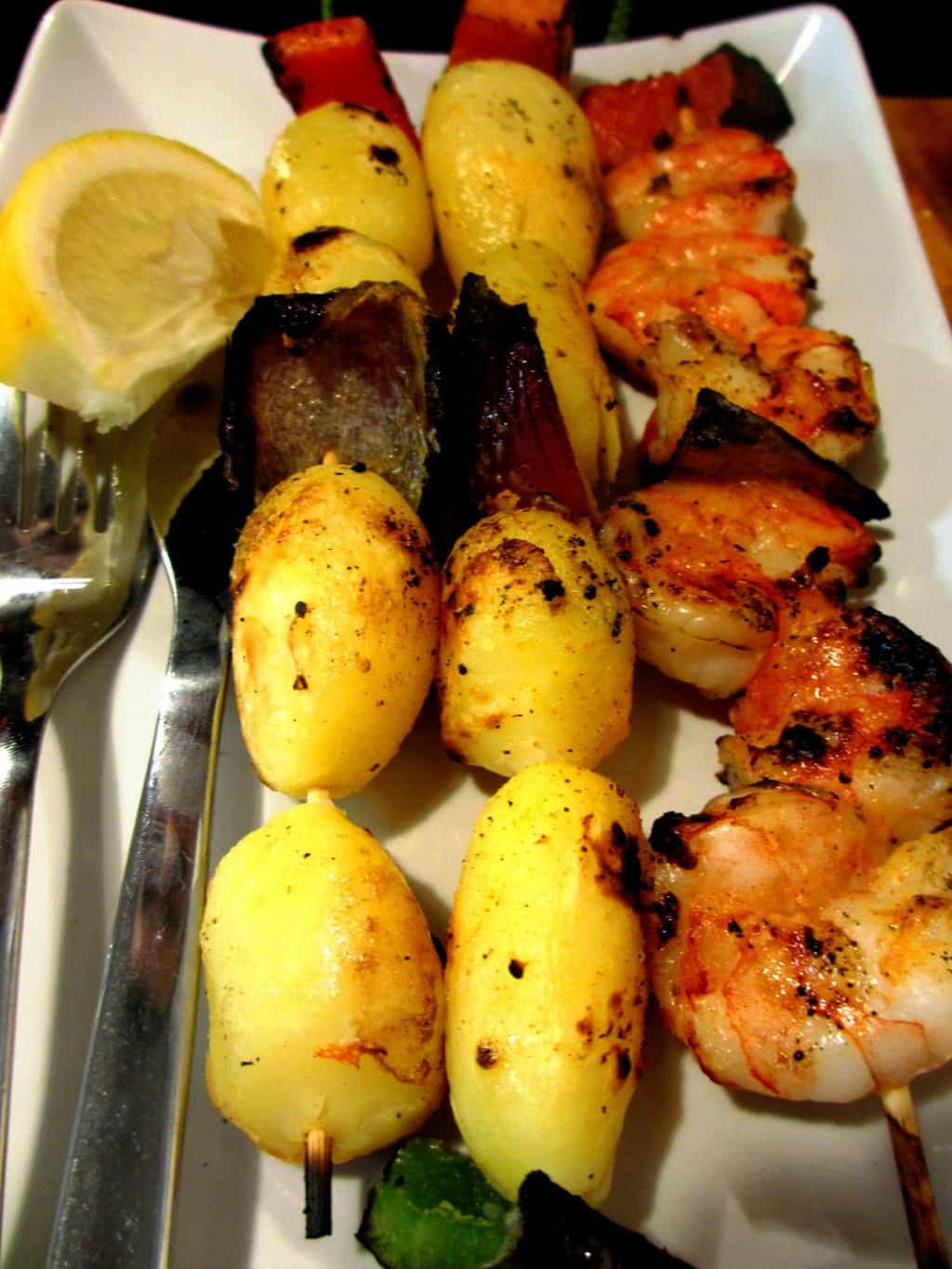 But what you really want to visit The Sea Baron for is the famous lobster soup. And bloody hell – it isn't half excellent. A spiced, thick tomato based (I think) broth with wonderful pieces of lobster, served in a huge mug. Again, fantastically seasoned – this is something I've observed amongst Icelandic cuisine (more about this a bit further down). Also with celery and carrots. Just really delicious and tasty. Not the flavour I would have expected from it when first launching into the bowl, but more than pleasantly surprised. We feverishly devoured these after a blisteringly cold afternoon out at sea scouring for whales. Alas the only ones we saw that day were in the fridge of the restaurant.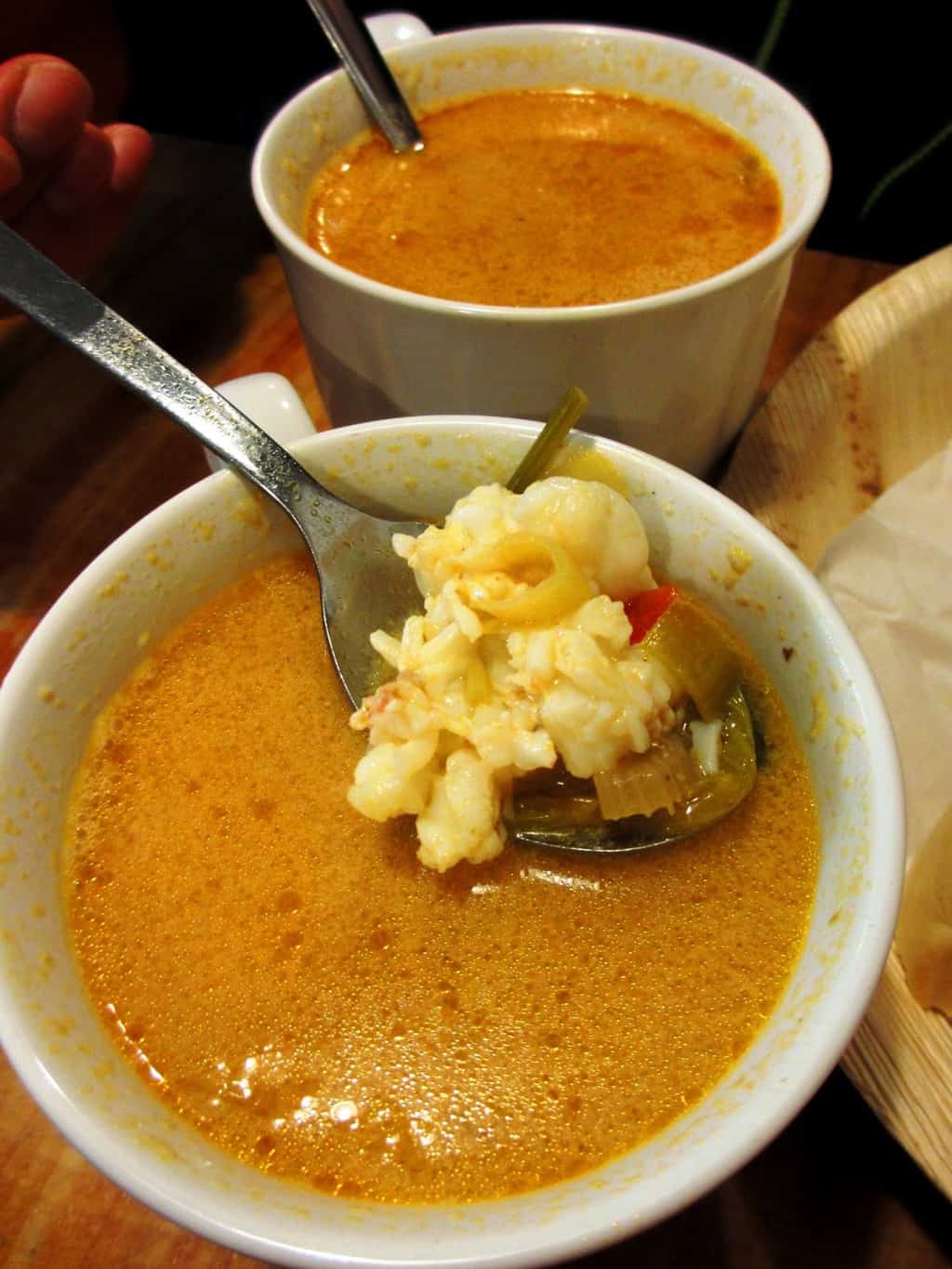 Quite devastated that the 'best hot dogs in the world' were unavailable, after eating our soup and fish above and with it being our final evening, we were determined to squeeze in a part two to this last meal and decided on a burger from an alternative fast food joint almost equally renowned.
The building to this place was about two minutes walk from the sea baron (make that five if you're taking it slow on the ice), an anusual round hut type venue with an open kitchen, lots of hipster Americana on the walls, ceilings and walls strewn with fairy lights and festive wrapped presents hanging from the ceiling. These burgers were also great and recommended – a bacon cheeseburger with fresh tomatoes and fried onions each and we were definitely fit to bursting.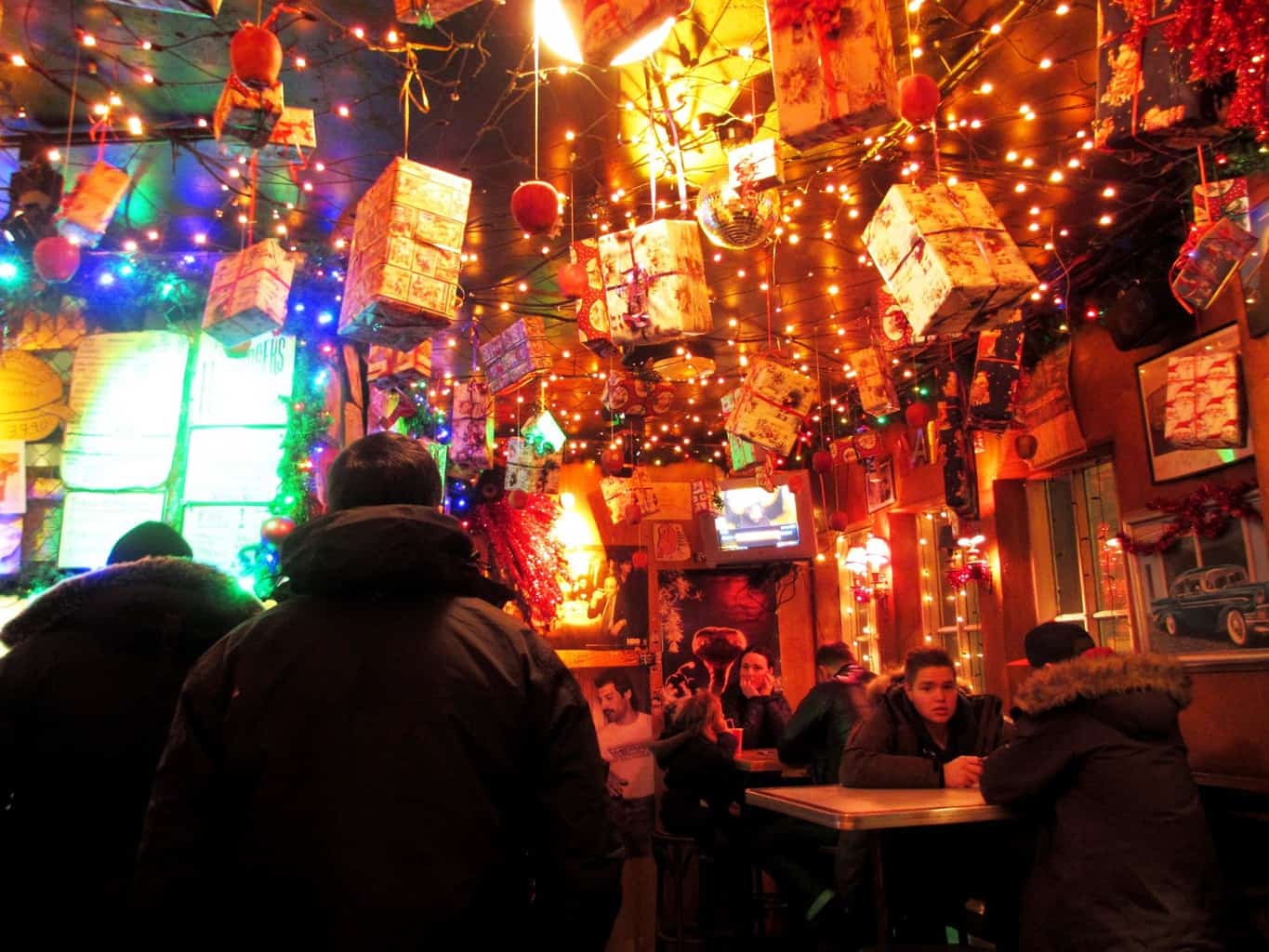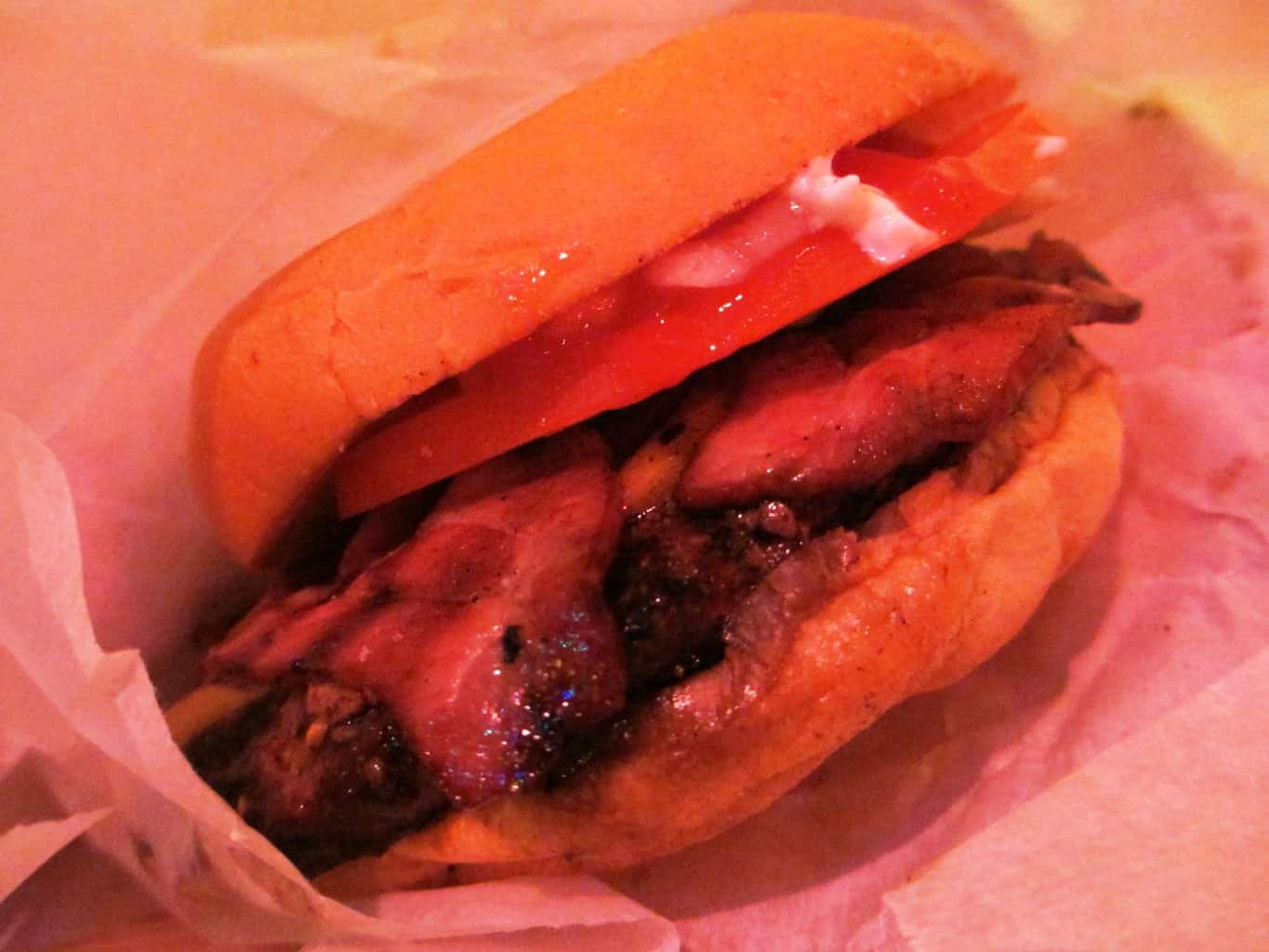 Dill Restaurant
We booked this table well in advance for our New Year's Eve meal. The restaurant is located in a wild bird reserve in the middle of Reykjavik overlooking the lake and old town. It consists of a small room with 12 tables and an open kitchen, situated in a building built by a renowned Finnish architect in the late 60's.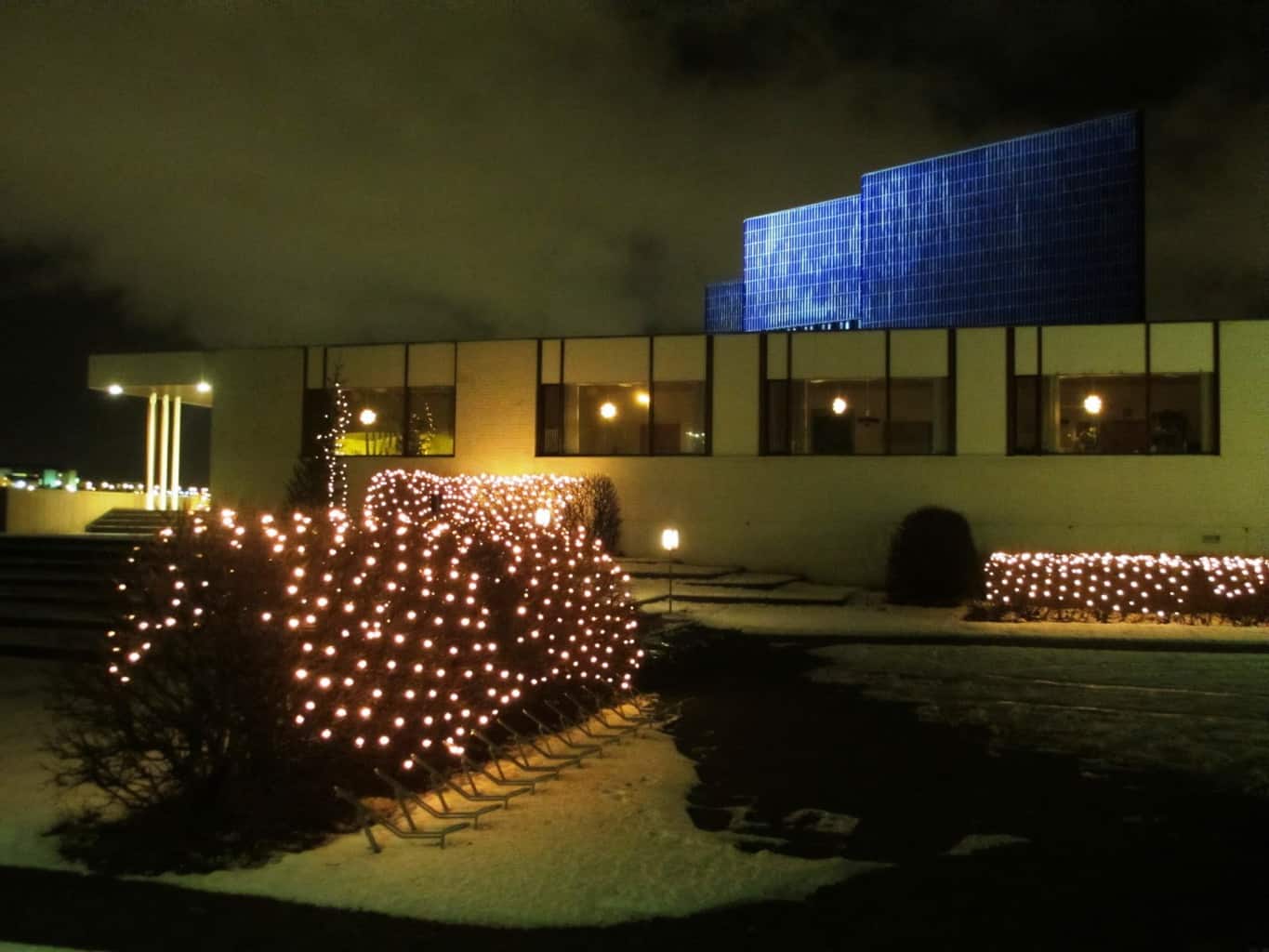 The New Year's Eve menu consisted of four courses with three amuse-bouches, and the menu was innovative and exciting whilst still using traditional and locally sourced ingredients.
First up and already waiting for you on the table was pine cone in a pot, with wafer thin crispy wafers of smoked lamb and poppadom like Christmas bread precariously perched on the individual plates of the cone. You could smell the smokiness from the lamb immediately after arriving at the table and it had a wonderful saltiness.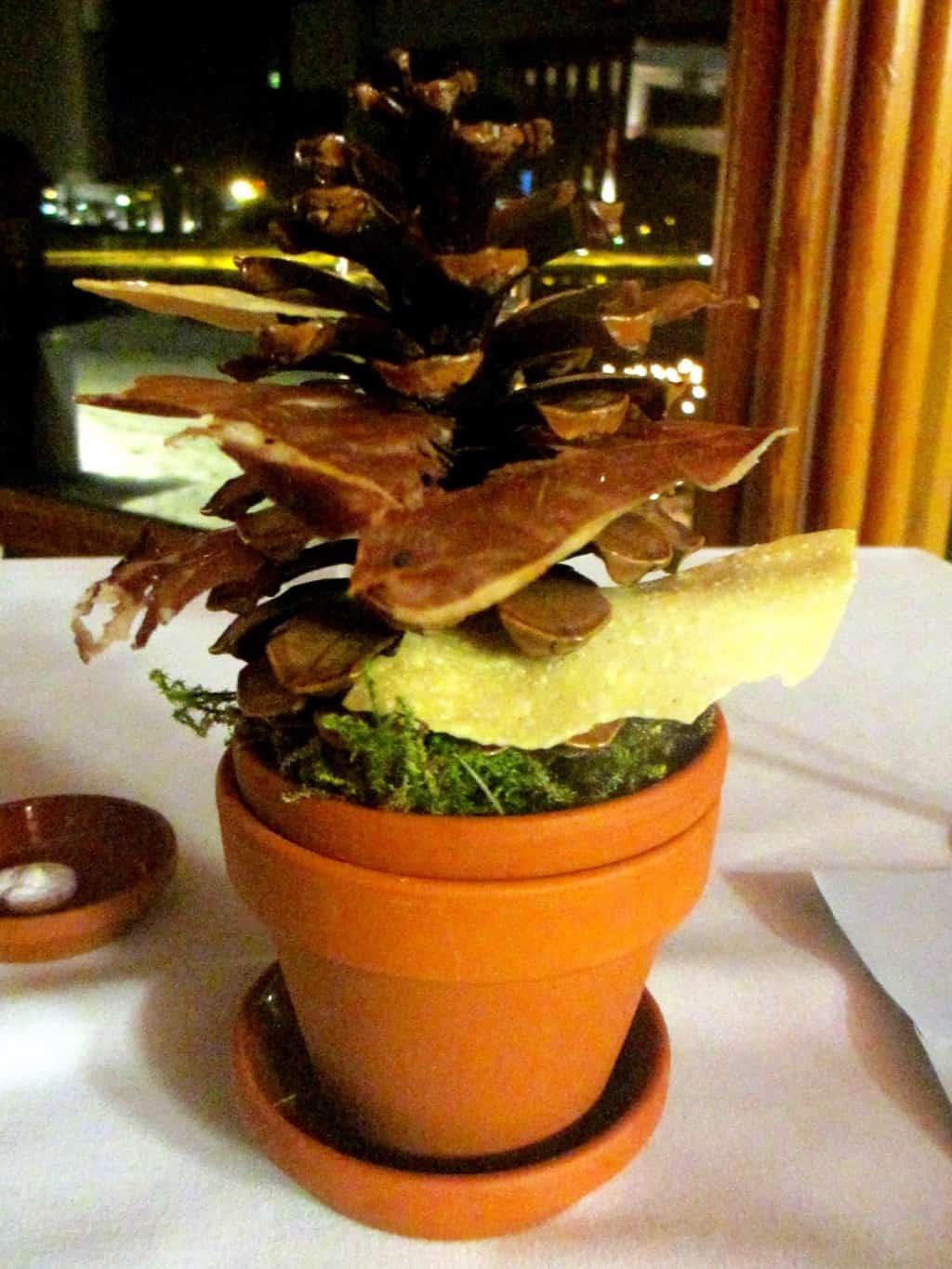 This was followed by the second amuse bouche described as 'petrified potato in holiday spirits'. This was in fact a hot new potato coloured blue with squid ink, sitting on soft powdery crumbs of panchetta and halibut, with a carraway mayonnaise and served in the corner of a square of black slate. Very delightful, so much so I used a swipe of my finger to clean up the remaining mayo and without shame.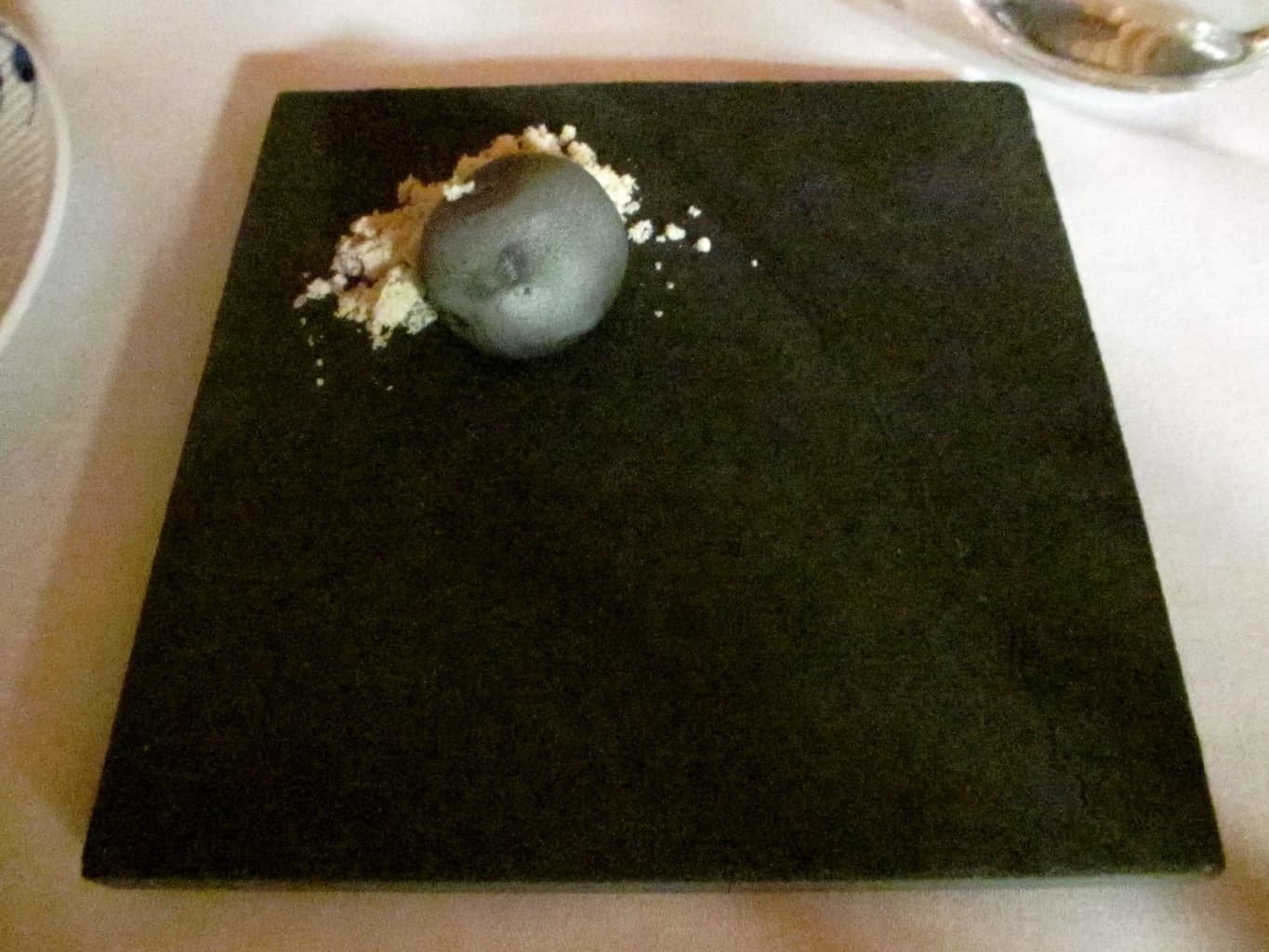 The third and final appetiser before our main was noted on the menu as 'dried duck, buttermilk and parsnip'. This arrived in the form of pureed parsnip, dried grated duck, pickled parsnip, dried buttermilk. This, while interesting, was probably my least favourite of the appetisers. It was a little too difficult to distinguish the flavours or what was what.
We were then presented with the breads to accompany the meal. A sweet white bread (almost brioche like) and a malted sourdough. On a small wooden board there were two soft butters – a slightly green one with the colouring caused by the presence of spruce oil (the oil from pine or Christmas trees). And goodness, the pine aroma certainly came through making the sensation of eating it fantastically festive. The other butter had little nuggets of salty bacon bits and with these was a little pile of Icelandic salt from the western fjords – very clean and a couple of flakes on the beautiful bread and butter making the mouthfuls a sheer delight.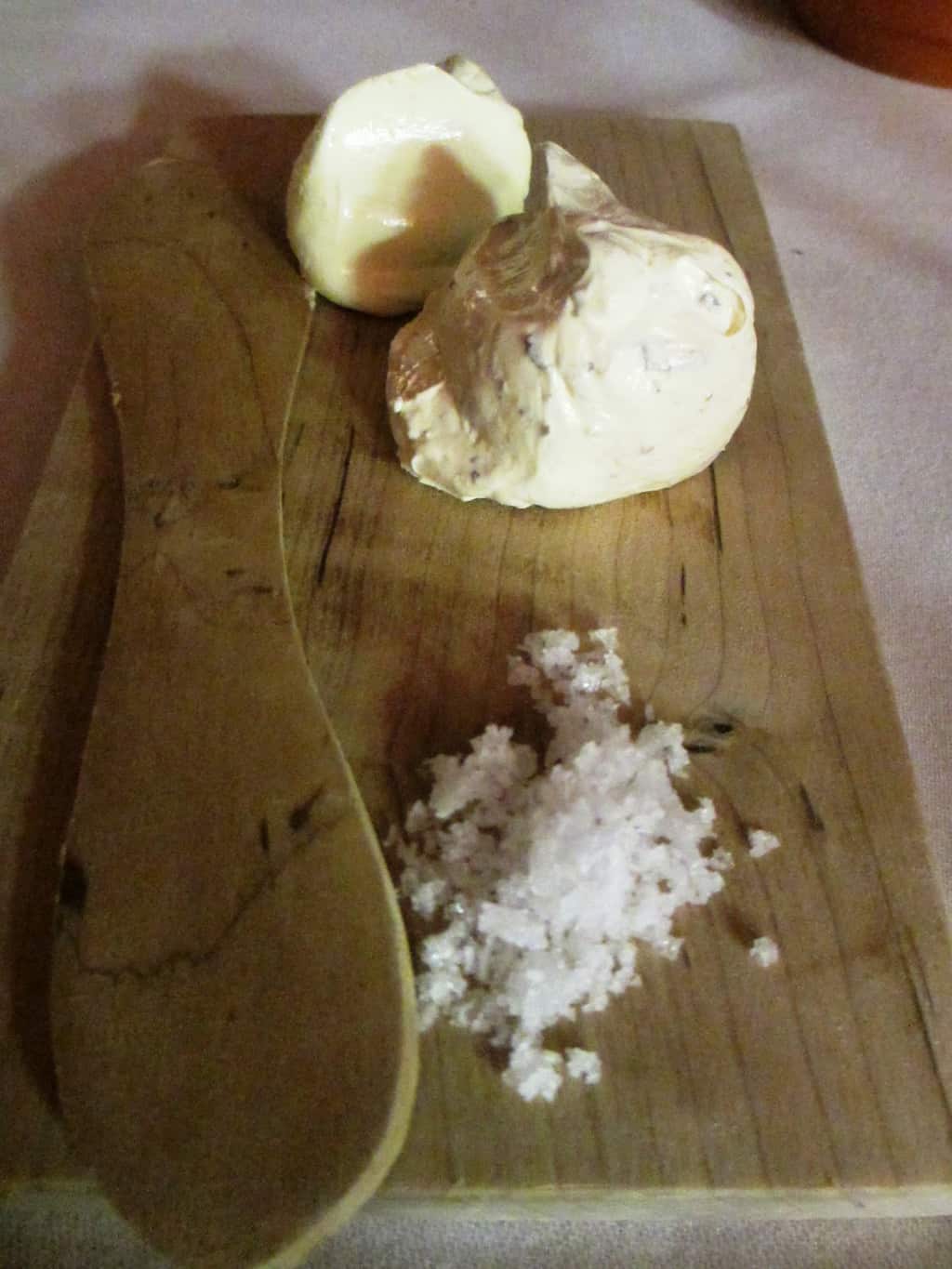 Now it was time to begin the meal and the first course was described as 'mustard herring, rye bread ice cream, onions and dill'. This was my favourite course of the evening and met all expectations from a cuisine I would hope to find in Iceland. Nordic influenced and with pickled stuff – beautiful. It consisted of pickled herring, rye crumbs, a soft scoop of rye bread ice cream, pickled shallots, small cubes of potato, dill, chives and a mustard sauce. The savoury ice cream was a revelation and the creamy coldness from it complimented the pickled fish so very well. All the textures on the plate married perfectly with the rye crumbs providing a wonderful crunch, and the tang from the pickled presence cutting through the ice cream.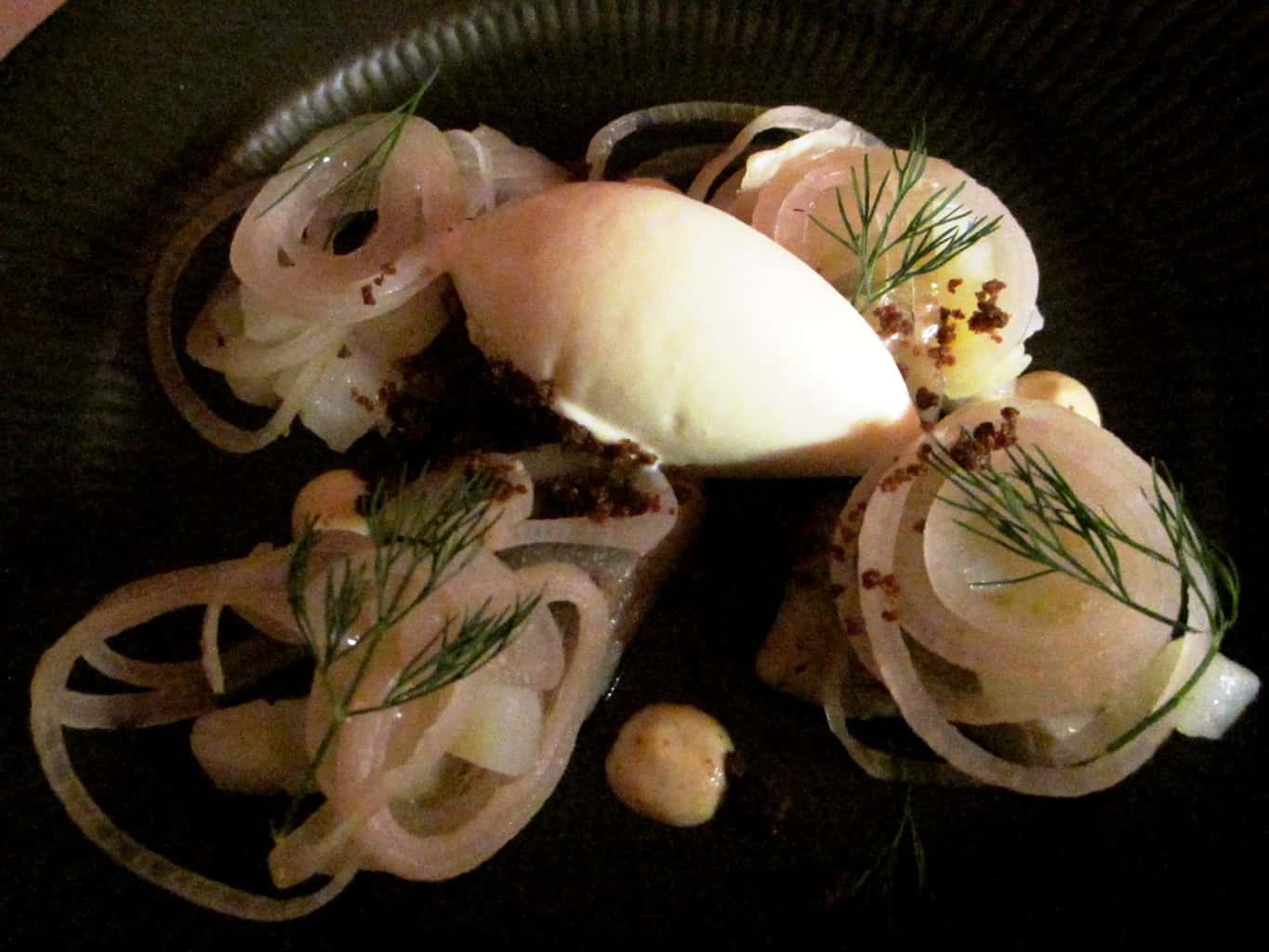 The second course was a fillet of pan fried Icelandic cod, superior even to Norwegian cod the well informed waiter was eager to tell us. It came with sauerkraut, onions cooked in beer, buerre noisette (burnt butter) infused with Christmas aromas including cloves, cinnamon, cardamom, as well as dill oil. I think perhaps, there were a few too many flavours and aromas going on in this course. I wasn't convinced all the festive spices were necessary with the delicate fish and a nose-full or these aromas was just a bit too overpowering. I also think my fish was slightly over done. An ok plate, but not my favourite.
The next course introduced us to some red meat in the form of a sirloin of beef. Interestingly, we were not asked how we would like it cooked and it came out almost with a pulse – just a bit too rare for me. It was clearly rested very well however as despite it only seeing a few seconds of heat each side, there was barely any blood on the plate. However, this did make it really quite difficult to masticate and swallow – not the best piece of beef I've had cooked for me. Also on the plate was a very aromatic and vibrantly green herb sauce – I think a mixture or rosemary and mint. Also a potato cake topped with a wonderfully pungent Icelandic cheese called 'isbui' – this was essentially like cheese on soft toast slightly charred from a blow torch. There was also an earthy and sweet Jerusalem artichoke purée along with some red cabbage and a couple of sprigs of lambs lettuce. I've said before that cheese and red meat go fantastically well together, and if it wasn't for the chewy beef, this would have been a very well received plate.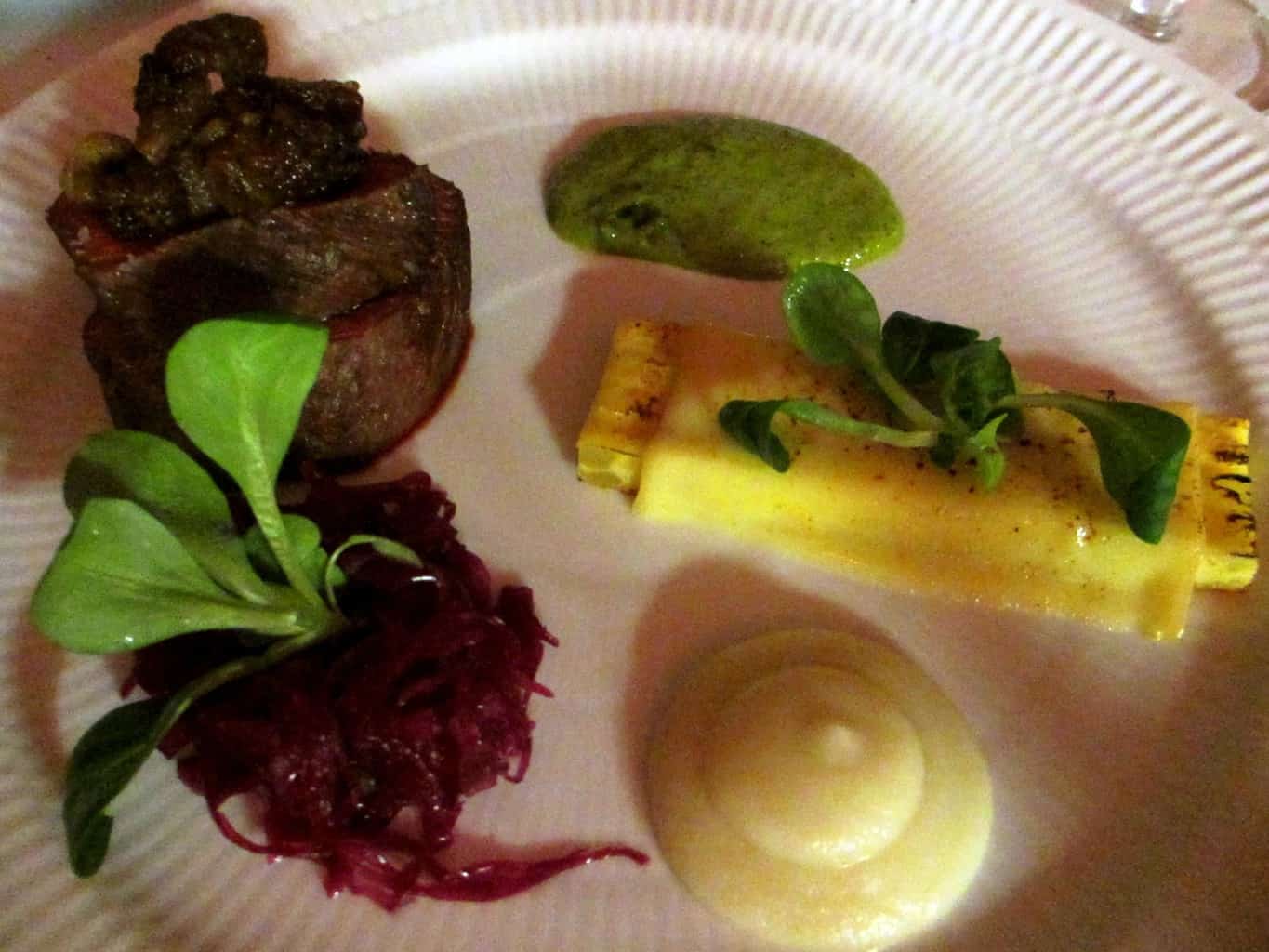 Last but certainly not least, was the dessert. I often find it's the starters and the desserts that are the most well executed courses to a meal, and this was certainly the case at Dill Restaurant. Described on the menu as 'mandarins, spruss and nuts. All you'll want for Christmas' my expectations were not that high. But we were delivered a very welcomed plate of sheer delight – a small carrot and walnut cake, a shard of beautiful cinnamon meringue not at all too sweet, mandarin and carrot foam and sharp, sweet mandarin ice cream. The cold and clean fresh citrus of the plate was well thought out and completely necessary after the rich and complex flavours from the previous courses. This was my second favourite course after the rye starter – wonderful.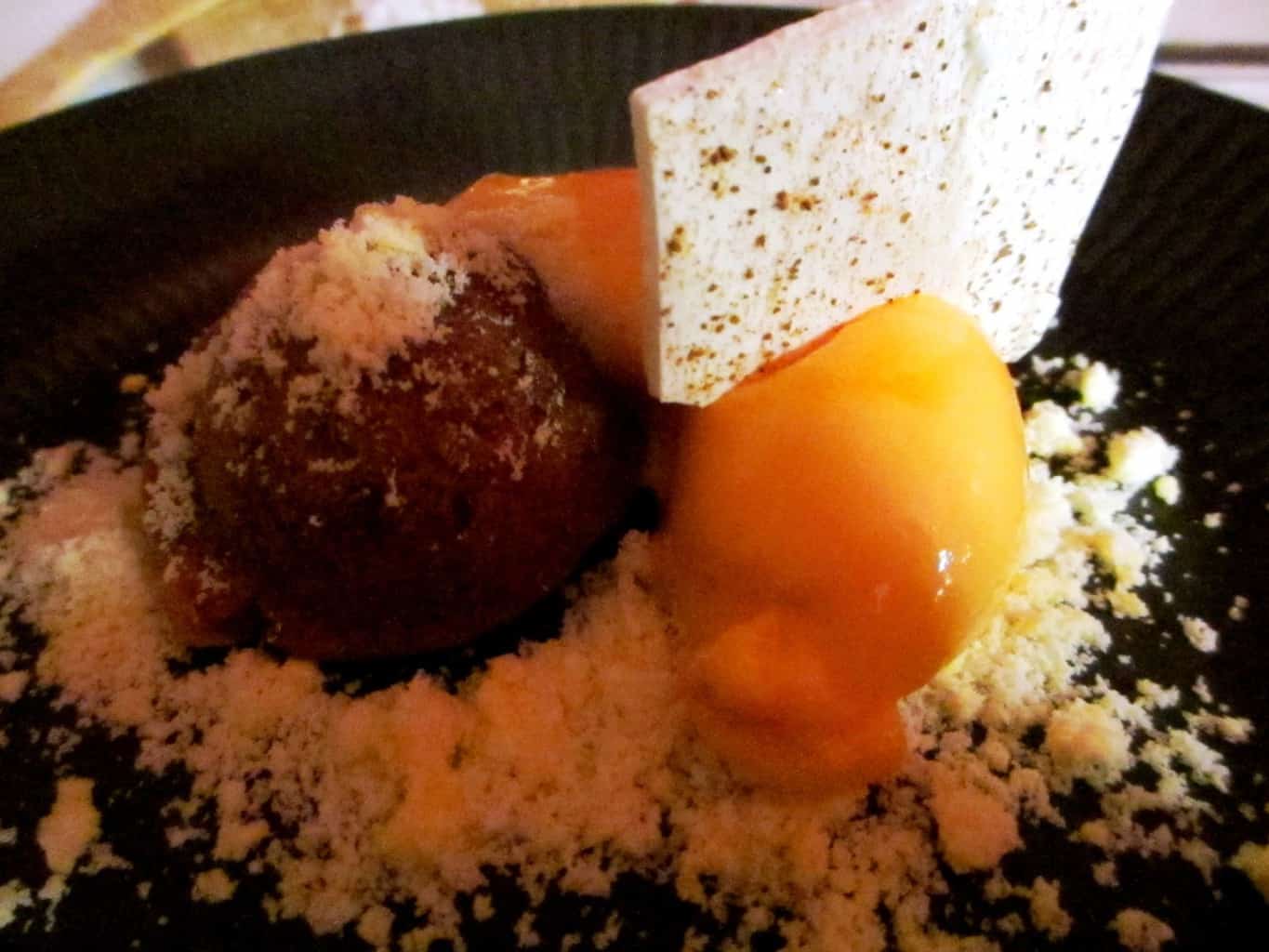 All in all, the service and intimate atmosphere at Dill Restaurant was a pleasure, and fireworks across the lake had already begun once we were seated, providing a wonderful view. Whilst some of the courses were a bit hit and miss, I would still recommend it and return.
I've made a couple of observations while in Iceland:
Driving
Icelandic drivers don't seem to indicate. Instead they abruptly decide to turn into a side street just as you are crossing it. I can let this slide however as their driving generally it very good with excellent roads and lane discipline – just on the right instead of the left. I reckon I could give it a go. Not to mention the impressive and monstrous super jeeps with wheels up to your shoulders you see occasionally – more than capable of tackling the snowy and rugged terrains of the more mountainous areas.
Seasoning
When it comes to cuisine, Icelandic people are not afraid of their seasoning, and I love that. I certainly have a savoury tooth and I'm not afraid of a decent helping of quality salt in my dishes – this could well be from my Turkish background – I recall aunts shaking salt over their meals for a good 7 seconds before even lifting their cutlery. In addition, flakes of sea salt are often available on the side if you wish to add even more to your dish. A couple of flakes is often perfect at enhancing the flavours in a mouthful.
Water
Water is a fabulous asset in Iceland and present in abundance. I learnt on my trip that all hot water and heating in Reykjavik is directly sourced from the geothermally heated waters underground and reaches houses almost boiling. It's also incredibly cheap (one of the few things that still is in Iceland) so you don't need to feel guilty about having a very long hot shower after a frozen day in the wilderness, as one tour guide was keen to inform us. In addition, every restaurant has tap water readily available and on your table without you even asking for it. The tap water in Iceland is some of the cleanest in the world, and it goes without question that you would want to drink some. Very few people (only really tourists who are not used to drinking water from taps) order any bottled water, but there is really no need. It's wonderfully refreshing getting tap water delivered without having to feel awkward about requesting it in the first place.
The Arts
The island seems to be full of culture – numerous poets, artists, authors, musicians – some of which have won nobel prizes for their work. Book shops, galleries, cafés frequented by intellectuals, and museums are abundant. There's also an annual music festival in November. With such an incredible landscapes full of science, geology, nature and weather, it would be difficult not to be inspired to channel your surroundings through some form of artistic outlet.
Iceland is a part of Europe that some may not instantly think of paying a trip to. However, it's somewhere I've wanted to visit for a long time and I'm immensely glad I did and would highly recommend.
Afiyet olsun.