Last Updated on December 17, 2012 by Leyla Kazim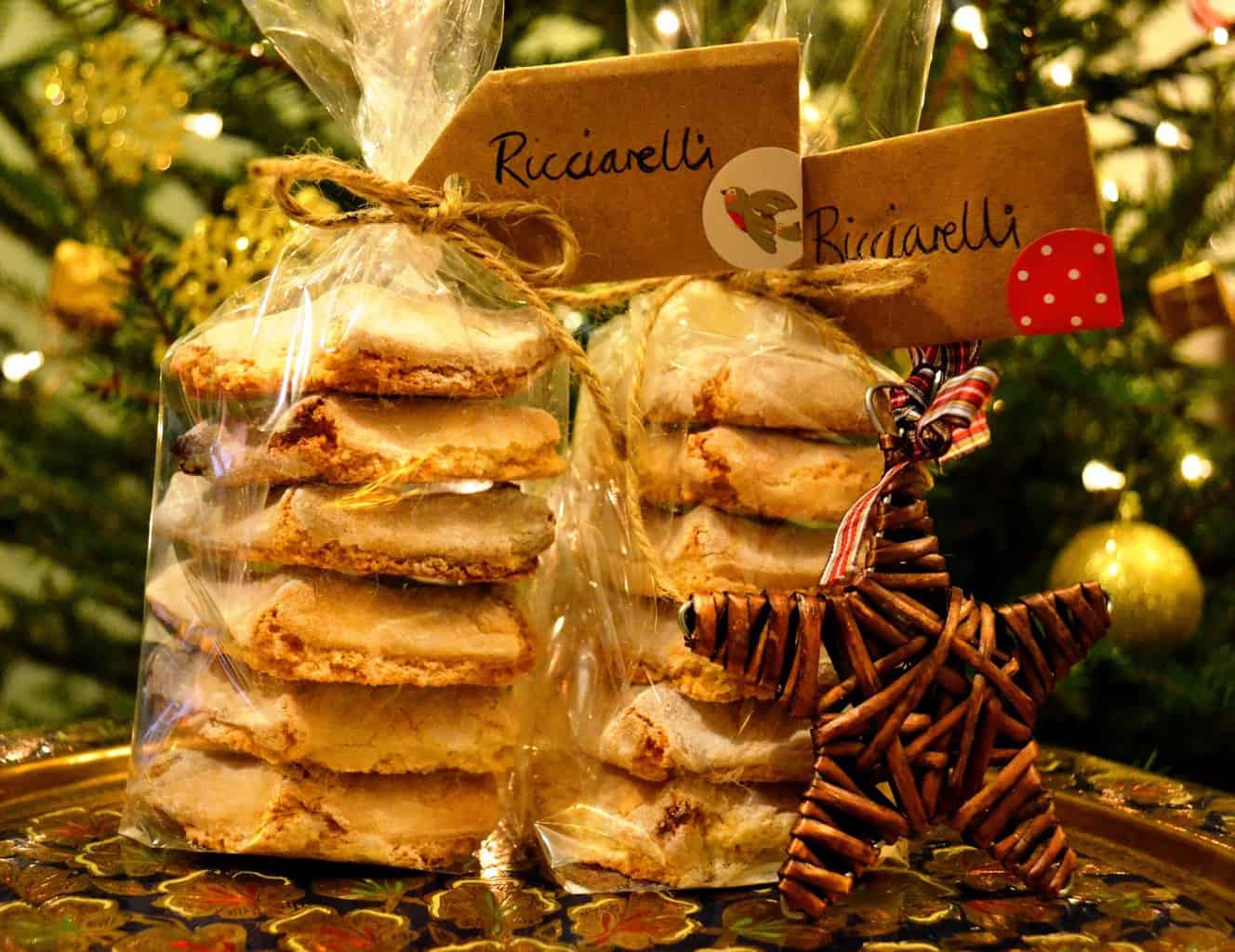 The majority of the homemade Christmas gifts I have cooked up this year seem to have an Italian theme. And there's certainly nothing wrong with that. What better way to tackle the excesses from the festive night before than with a strong dark espresso complemented beautifully by a sweet Italian riciarelli biscuit the morning after. Sounds good to me. I hope my friends think so too.
These little biscuits can often be found in the window displays of Italian cafés. They originate from Siena and are essentially a combination of ground almonds and icing sugar, bound together by egg whites. Wonderfully simple and enjoyable to make.
Riciarelli biscuits
Sweet Italian almond biscuits, perfect with the morning's strong coffee. No flour involved.
Makes about 24 biscuits
250g ground almonds
250g icing sugar, plus extra to coat
½ tsp baking powder
2 large free-range egg whites
1 tsp vanilla extract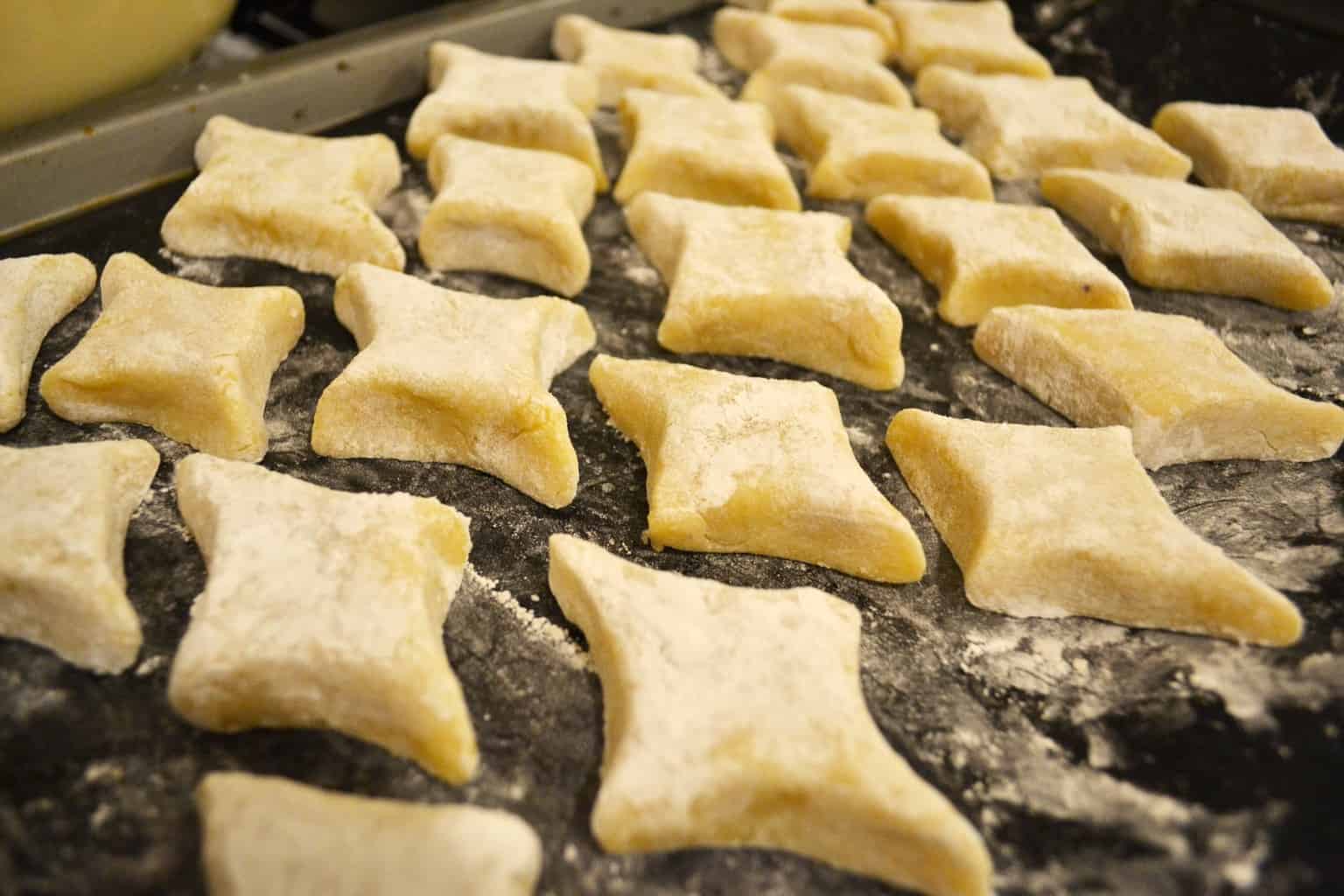 Preheat the oven to 180°C/fan 160°C/gas 4. In a large mixing bowl, combine the dry ingredients and mix well so they're equally distributed. In a separate large bowl, whisk the egg whites until stiff. Add the vanilla extract to the bowl of dry ingredients, then fold in the egg whites using a metal spoon or spatula. Don't worry too much about knocking the air out of the egg whites – the dough will quite bit sticky and heavy.
Tip If you want 24 pieces, divide your dough in half, then quarters, then eighths. Then divide each of these into three pieces, and you'll end up with 24 separate pieces of dough. Separating the portions out all at once before creating each biscuit means you'll be more successful in keeping them closer to the same size. If you would like each biscuit to be small (say half the size of the ones in the picture) then feel free to divide each final piece into two for 48 pieces. Don't forget that these would cook quicker.

Shape each of these pieces of dough into a ball, then roll in a shallow dish of icing sugar to coat. Flatten the ball lightly in the palms of your hands, then pinch the sides into a rough diamond shape. Lay on a non-stick baking sheet about a centimetre apart (they do puff up a little during the cooking process), then repeat with the remaining dough.

Tip You can of course choose any shape for the biscuits. Trying to make all the diamonds look uniform and not like squares on their side can be a bit fiddly, so feel free to opt for the flattened ball, or perhaps a flattened oval.

Transfer to the oven and cook for 10-15 minutes until the biscuits start to turn golden brown. Remove the tray from the oven.Leave the ricciarelli to cool completely on the tray (pick one up early and it will leave its base on the tray). Once cool, you can lift them easily off the sheet with a flat knife. Give them another light dusting of icing sugar and they're ready to enjoy.

In order to package these up as gifts, I had initially intended to store them in glass jars. However, they turned out far too large to fit into them (I will make the biscuits in my next batch much smaller so I can do so). Instead, I decided to stack them and wrap in cellophane.

I did so by taking a long strip of plastic, laying a row of the biscuits on top of it and bringing in the bottom and sides of the cellophane and securing with clear tape, a bit like wrapping a present. I then gathered the excess at the top and secured with jute string. I tried to make sure any gaps in the wrapping were sealed so it was as airtight as possible, to prevent the biscuits from going soft. Regardless, I informed the recipients that once they had enjoyed the decoration, it would probably be best to transfer them to Tupperware in order to keep them fresher for longer.

These are simple, beautiful and delicious gifts, well received by my wonderful friends and family they were intended for.

There is no need to restrict the making of these to just the festive period – they are worthy in their own right to be rustled up at any time of year.

A perfect way of using up egg whites left over from some decadent chocolate fondants, perhaps.

Afiyet olsun.