Last Updated on December 8, 2020 by Leyla Kazim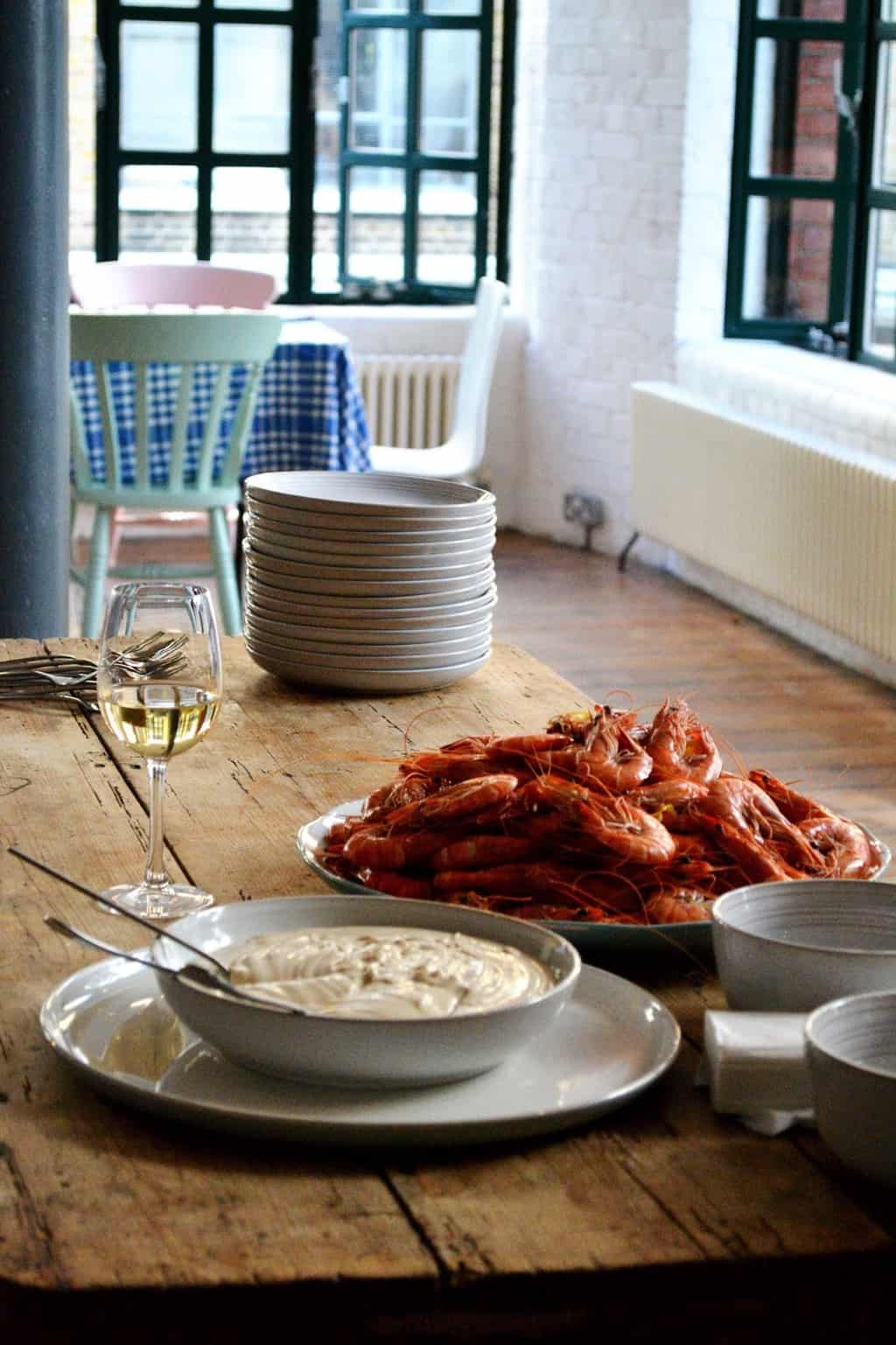 How does one seduce a bunch of lovely ladies to brave the stifling depths of the Northern Line during rush hour on one of the hottest days of the year, to pay a visit to Old Street? With the promise of dinner and booze of course – particularly appropriate when the ladies* in question are all food bloggers. I think I speak for most when I say the way to our hearts is a full-throttle culinary steam train bulldozing its way to our stomachs.
The crew at JamieOliver.com had an intimate evening planned, inviting ten to twelve of their favourite food bloggers (more than humbled to be included) to a supper featuring some of the recipes from Jamie Oliver's website. The purpose of this event was to share with us the delights that can be achieved with ingredients people often find more difficult to cook with (based on the traffic in these areas on the Jamie Oliver website) such as game, seafood, vegetables and cheese. The idea is to get people to try cooking what may sit just outside of their comfort zone, or differ to what they may be accustomed to.
* It's worth noting that while the main organiser of the event, Merlin Jobst, is quite the sweetheart and lady charmer, the single sex occupation was not intentional. Alas, some of the male bloggers that had been invited unfortunately could no longer make it. I believe that meant more food for us. Result.
The fabulous food bloggers invited to this event included the following – do take the time to check them out:
Rosana McPhee @Rosana_McPhee hotandchilli.com
Sally Prosser @MyCustardPie mycustardpie.com
Selina Periampillai @yummychooeats yummychooeats.com
Ren Behan @renbehan renbehan.com
Regina Sabur-Cross @gastrogeek gastrogeek.wordpress.com
Rachel Smith @The_FoodIEat thefoodieat.org
Su-yin @breadetbutter breadetbutter.wordpress.com
Tess Ward @tesstheyeschef theyeschef.com
Location and Graduates
The location of this banquet was the space above Fifteen and incidentally where most of Jamie's cookery shows are filmed, such as 15 Minute Meals. A large, white-washed expanse straight out of the window of a Shoreditch estate agents looking for well-to-do artists to occupy, flooded with natural light from floor to ceiling sash windows and kitted out with tableware and sharing platters typical of Jamie's cooking style. Unfortunately, the man himself was unable to make the evening but was kind enough to record a short film thanking us for our attendance and insisting we have a blast. Not to mention, accrediting Merlin entirely for the inevitable success of the evening. In the meantime, through an opening into the bare-brick walled kitchen, Merci and Tyrone, a couple of past graduates from the Fifteen Apprentice Programme, were toiling away over hot stoves rustling up our dinner.
Head Chef Cooking Demonstration
The Head Chef of Fifteen, Jon Rotheram, was kind enough to take time out from his hectic kitchen schedule downstairs to give us a private demonstration of how to address game. He spoke at length of his first four months in the restaurant, his love of offal (particularly sweetbreads), different ways in which it can be cooked, and the benefits of choosing it over alternative and more expensive cuts. With flare and finesse, he rustled up in the blink of an eye devilled lambs kidneys served on toast. Flavoured with spices and finished with a few drops of homemade curry oil, these were served pink in the middle on a slice of crunchy sourdough, with warm flavoursome juices soaking into the bread. We were all urged to dive in. It was so moreish I went back for a second and third bite. Standard behaviour.
Supper is Served
Whilst I was entirely engrossed in Jon's sautéing skills, I'll admit I was more than a little distracted by a completely irresistible volume of fat and glistening king prawns piled high on a large plate, beckoning with black beady-eye come-hither glances, feelers motioning me towards them with their extension. One after another and with hypnotic repetition, I ripped off the legs, head and shell, dunked them into the accompanying Marie Rose sauce for a lick of seasoning, and popped each juicy morsel into my mouth. So simple but goodness, they were entirely glorious. I estimate my consumption of that entire platter to be approximately 37%. In addition, we were presented with mounds of herb salad with goats cheese. Generous creamy chunks of cheese mixed with rocket and fresh herbs and delivered with a wisp of heat on the tongue from finely chopped chilli. It took an enormous amount of self-control not to gorge myself on this single course alone.
Pint of prawns with Marie Rose recipe here.
Herb salad with goats cheese recipe here.
The mains involved of a South Indian crab curry. Would you like any curry with that crab? There was so much crab. Certainly not too much crab though, it's not possible to have too much crab. Creamy from coconut and gently spiced, it slid down with very little resistance. The vegetarian option was an equally flavoursome cauliflower Keralan curry complete with chickpeas and pineapple chunks. Both were paired with an oven dish full of zesty lemon rice – fluffy white mounds punctuated with the yellow and green from lemon rind and coriander leaves respectively.
South Indian crab curry recipe here.
Keralan veggie curry recipe here.
Lemon rice recipe here.
Dessert was made by Merlin the Magnificent (not an actual wizard) himself – a baked vanilla cheesecake with a (very boozy) cherry compote. With a smooth creamy middle and flavoursome biscuit base, it was a perfect way to round off the evening's eating. Alas, I didn't get a decent shot of it so there is none here. Lack of cheesecake photography and increase in alcohol consumption no doubt correlate quite nicely, I'm sure.
Bloomin' easy vanilla cheesecake recipe here.
Tipples
Which leads me neatly onto the booze. Spoilt with a choice of wine and beer, glasses were never empty.
The San Patrignano brand of wine available that evening ironically has a very sobering backstory. San Patrignano is based on the Amalfi Coast in Rimini and is one of Italy's largest rehabilitation centres for recovering drug addicts. It welcomes all young men and women and even whole families who have serious drug abuse problems regardless of their background – and completely free of charge. Since 1978, the centre has taken in over 20,000 people, offering them a home, healthcare, legal assistance, and the opportunity to study, learn skills, change their lives, and regain their status as contributing members of society. I vividly recall an episode of Two Greedy Italians when Contaldo and Carluccio visit San Patrignano and listen to the residents talk of the institution saving them from certain destitution and even death – it was moving to say the least.
Danny McCubbin has worked with Jamie Oliver for many years in various roles and in addition, volunteers at San Patrignano. Wine making is a result of one of the 52 different skills the residents learn during their rehabilitation and these rather quaffable bottles are the result. Danny spoke passionately and with emotion about San Patrignano (whilst serving us Merlin's cheesecake) – a force of pure good if ever I heard one.
All in, the evening was a riot. The thing that really struck me were the people involved from Jamie's side – from the graduates, to the Head Chef, to the online staff, they were all wonderful individuals completely unashamed of the immense amount of passion they have for what they do. We ate until our bellies were full, engaged in raucous conversation and eventually relocated the proceedings to the Fifteen cocktail bar where we were very generously treated to pisco sours, gin from teapots, cocktails with face-busting chilli and indulged in bad jokes and inappropriate conversation.
I like to think new friends were made here and I want to give a particular shout out to the talented and gorgeous Merci @Murrrcii, the suave salt shaking Joe Gray @JoeGray_, and my new favourite person Merlin Jobst @merlinjobst. Along with my sister from another mister Selina @yummychooeats, we'll see you kids for cocktails next week to carry on where we left off.
Afiyet olsun.