Last Updated on November 17, 2022 by Leyla Kazim
Bar food. Or more accurately, the food found in bars. Their prime objective to provide the grease / stodge / salt an alcohol-sodden soul so desperately craves by their fourth drink. Serving little purpose other than to negate the need for a drunken stumble to the nearest Burger King on the way home, I tend to steer clear of the food offering in bars. Because generally, it's pretty shit.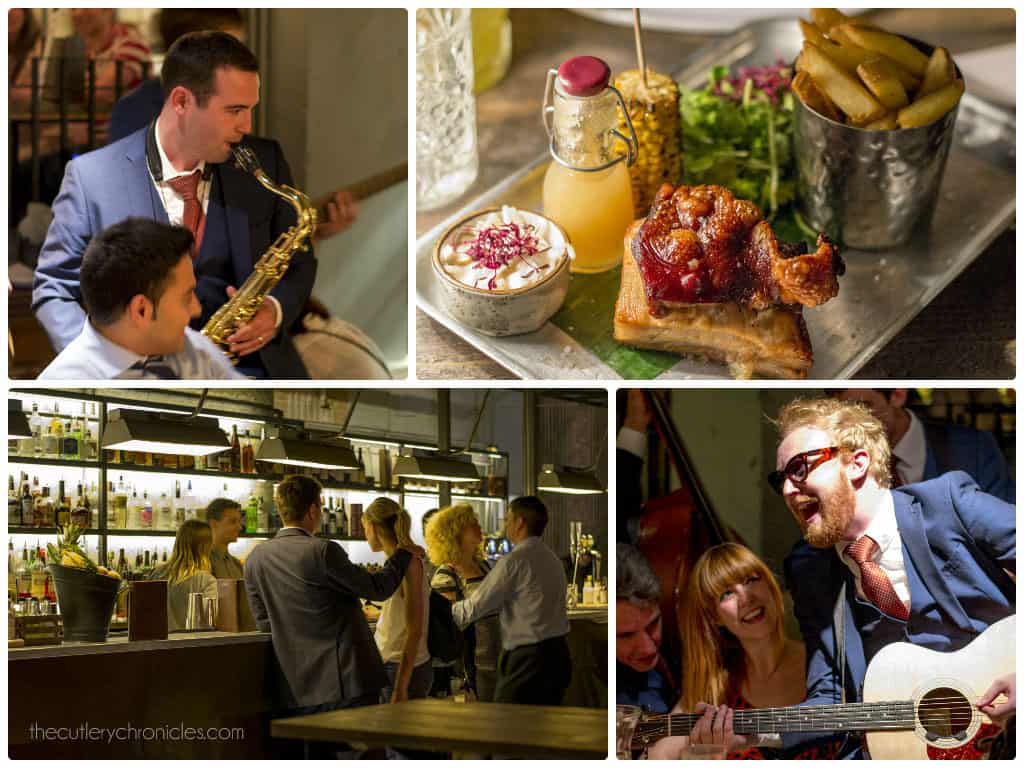 So imagine my surprise when I ate at the newly opened Forge Bar round the corner from Bank, and found it to be rather good. The site was previously Abacus; my friend and I entered with low expectations. "Abacus was a meat market for suits," he said on the way in. "And they didn't serve food. I hope this has a different vibe."
I hadn't visited Abacus (in reality I probably have, but there's little hope in me being able to recall it), and so I couldn't compare. But the £20m refurbishment the Late Night London Group have ploughed into this site, completely gutting it of it's interiors and questionable reputation, has resulted in a pleasant surprise to be found in this part of town.
It's not a meat market, and it's not all suits. It's a lively, sophisticated yet informal space that's gone for bare-brick industrial chic with a much broader clientele than Abacus ever had. Yes, it does have one of those high-spec basement club areas with VIP tables that require a £500 minimum spend and sparklers when posh fizz is ordered, but feel free to avoid or only descend once the night gets really late.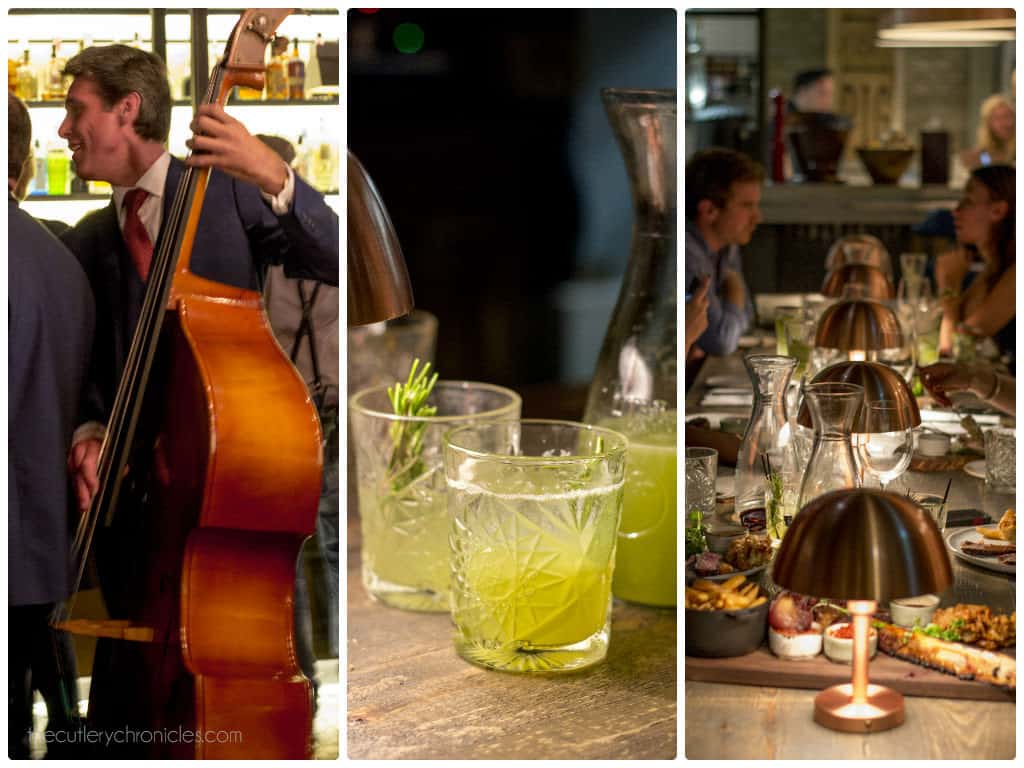 I had a chat with debonaire Giles, the restaurant manager. He hails from The Jones Family Project over in Shoreditch, and injects a touch of the dapper tweed-adorned hipster (with compulsory facial hair) into a part of town that can be stiff and grey before The City starts drinking. He's been in hospitality as long as he can remember, and is utterly charming. His passion for his industry shines, and you should visit Forge Bar to have a drink with him if nothing else.
But there are other reasons, and quite a few. The cocktails are ace. I can't quite recall which ones I sampled (a sign they're of commendable strength), but I do remember settling on an excellent sour, and when I asked Giles if I could please have it extra sour as I like my jaw to ache from citrus, his face lit up: 'I know exactly what you mean – I'm the same.' Extra sour it was, they were great, and I think I had five. So that was good.
The food. You won't find delicate portions here: it's big, meaty and in your face. It hits all those spots I mentioned before that need hitting alongside a few beers or cocktails, but with skill you'd be hard pressed to find at other bars in the area.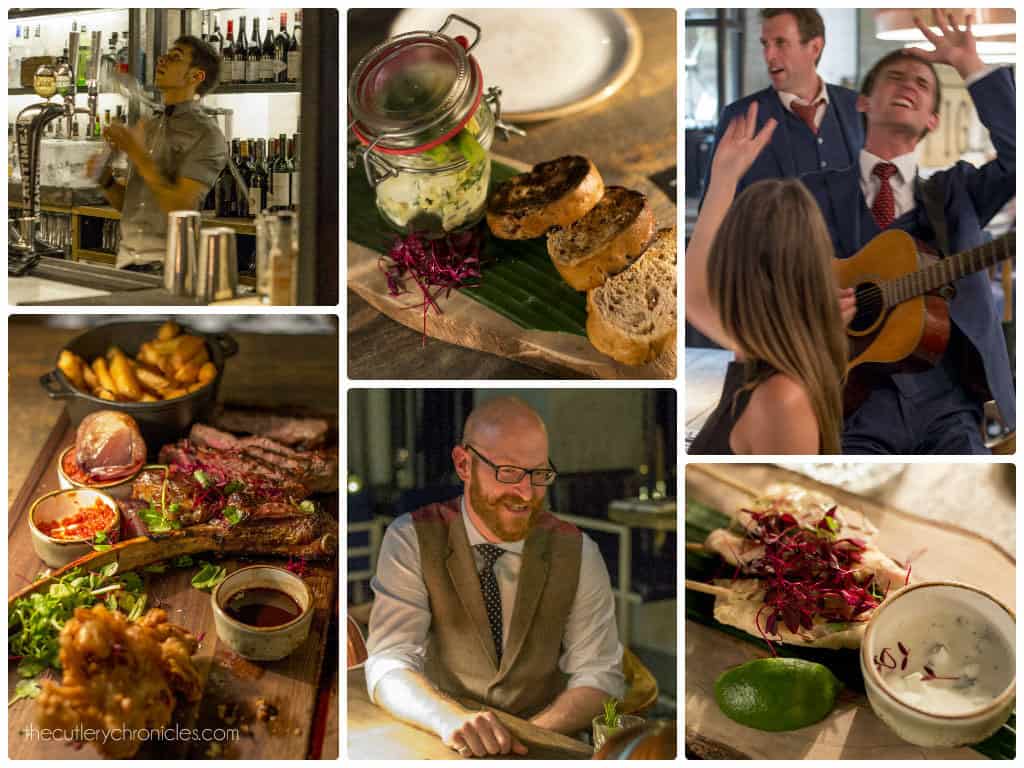 There were beef short ribs with meat that fell off the bone from a hard stare alone (£6). Skewered chicken was expertly cooked – still soft and succulent – and with peanut butter, lemongrass, coconut and green chilli (£6). The cider pork with chunky chips and vanilla and Bramley apple sauce had the most cracking crackling I've come across in a long time, and a belly that wasn't fatty beyond enjoyment, which is so often the case (£13). Someone else ordered the 20oz Tomahawk steak for two, so I took a picture – I reckon it could feed a family of four for at least two days (£50).
My advice would be come hungry or willing to share – a few of the small plates or a main between two would likely more than suffice on most occasions.
Then there's The London Essentials. I understand these guys can be found making the rounds at a few top bars in London. They play here every Wednesday, and they're excellent; there's nothing that gets a vibe swinging more than live music. What's particularly good about this acoustic act is they move around the venue with each song they play, serenading different tables and sets of people with whatever request you throw at them. They were a lot of fun and I'd want them to be there next time I visit.
Don't be put off by the Forge Bar website. I'm not sure their content marketing is quite right with phrases like 'a new breed of euphoria'. What it is, is a spacious bar in The City with it's top button undone, that embraces the eclecticism of our pals further east, that does good reasonable food, great cocktails and often has live music.
That's almost my full checklist of a good night out.
Liked lots: not too crowded, central location, pork belly crackling, Giles, value for money
Liked less: the menu has a focus on heavy meat – opt for the smaller plates if you're not in the mood for meat sweats
Good for: a full night out without having to eat and drink in different locations, or settle for rubbish food in order to avoid doing so; dancing like a loon to live music after a few cocktails
My rating: 3.5/5
Afiyet olsun.
Note: I was invited as a guest to review this restaurant.