Last Updated on September 2, 2020 by Leyla Kazim
Swing a right down an alleyway opposite Hamley's on Regent Street, and you'll find yourself on a quiet and short strip of road called New Burlington Place. The only people that seem to know about it are the cabbies that turn into it from adjoining Saville Row for a three-point-turn, and to drop off the well-suited elite; there's little else there.
Except, that is, for new Italian fine dining restaurant and wine bar, Frescobaldi. Despite an almost complete lack of passing footfall, little launch fanfare, and having only being open for two weeks, it was almost full late Saturday lunch time.
People knew it was on this invisible road, and were coming for it specifically.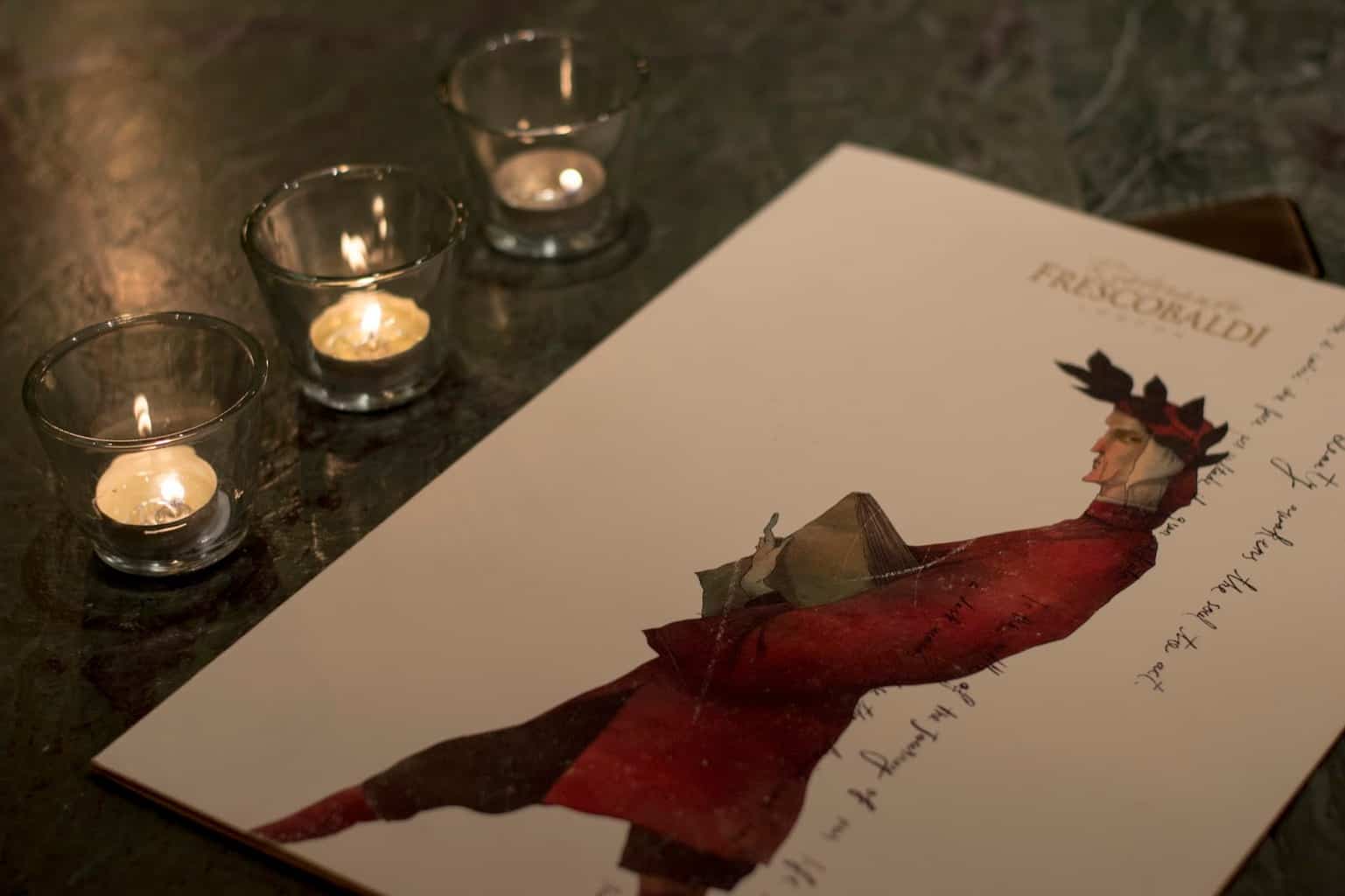 If the name rings a bell, you may have seen their restaurant on the lower ground floor of Harrods, their branded Laudemio olive oil sold at Fortnum & Mason, or come across their outposts in Florence and at Rome's Fiumicino airport.
Their major claim to fame though, and the focus around which this new restaurant is based, is that the Frescobaldi family produce wine, and have done for a very long time indeed (more information on that in this recent Independent article).
It's an involvement that dates back centuries. During the renaissance, we're told they traded bottles with Michelangelo for works of art, and they were major financiers to the kings of England, with receipts signed personally by that great wine-quaffer, Henry VIII.
Most of their nine estates can be found in the hills around Florence and Siena, and a range of wines from the likes of Mormoreto (a single-vineyard cru of Castello di Nipozzano) to the flagship Frescobaldi cuvée (Brunello di Montalcino Castelgiocondo Riserva) take pride of place on the new restaurant's menu.
To launch this first independent site in the UK, the Frescobaldis have partnered with Good Food Society, a new hospitality venture promoted by fellow Turk, Levent Büyükuğur (also founder of Istanbul Doors, an international restaurant group with over 40 venues).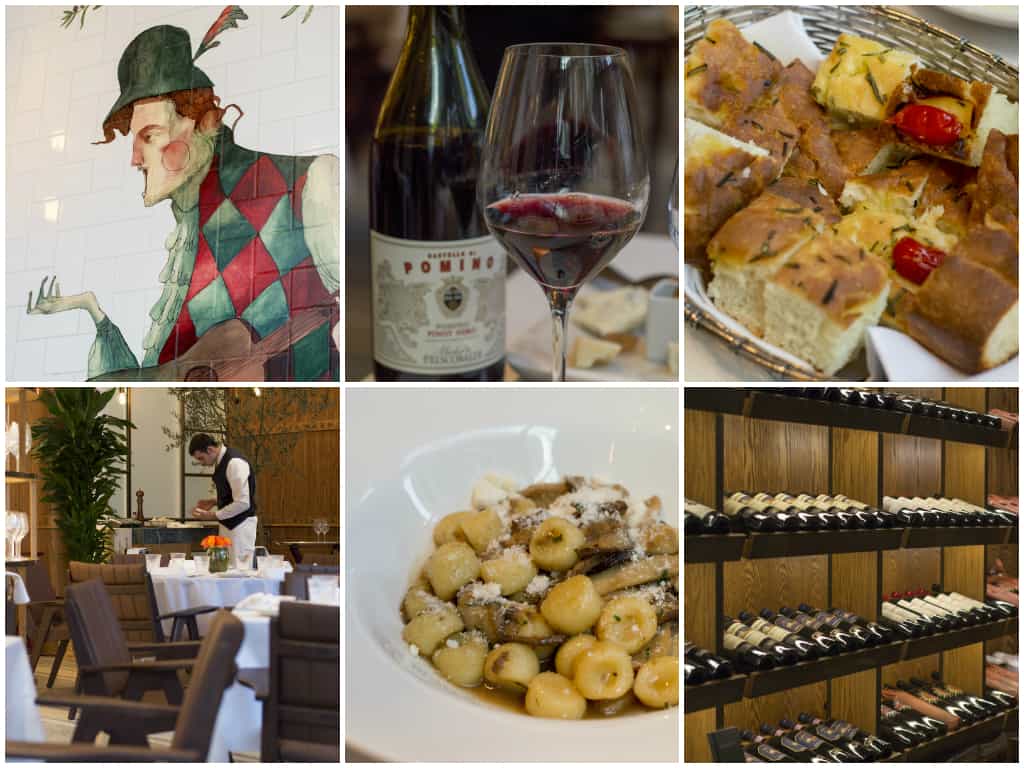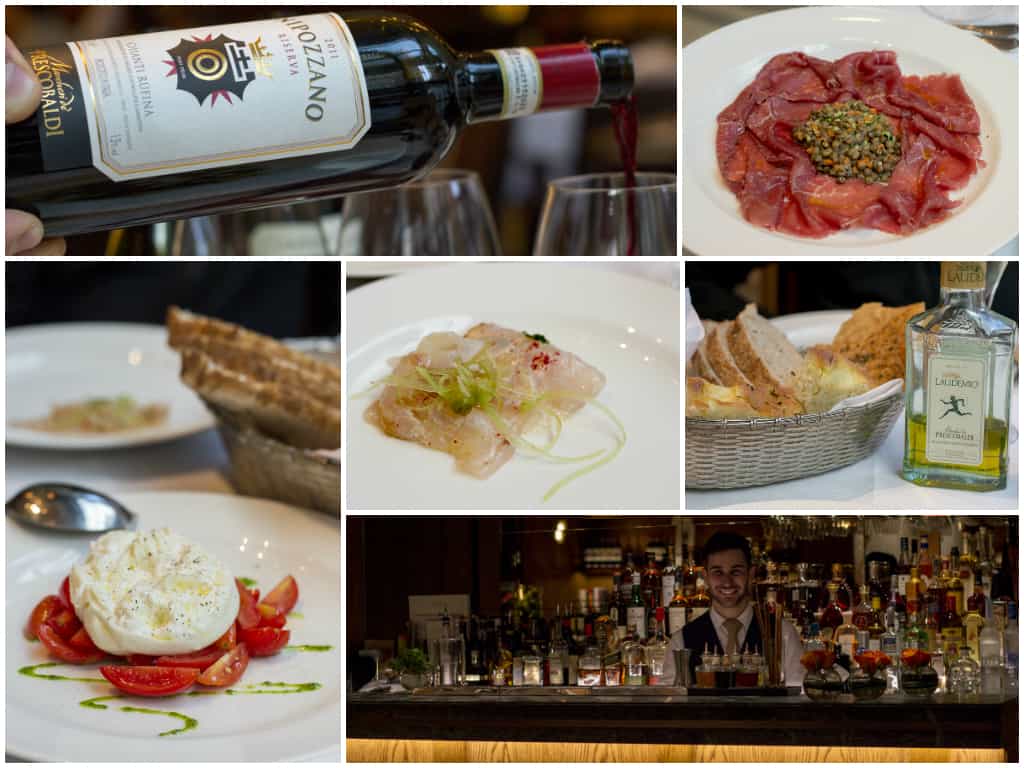 They've done very well with the interiors. A great wall of glass for the frontage, striking frescos of Italian renaissance characters painted onto the tiled walls, a great central column with shelves housing Tuscan paraphernalia and bottles of wine poured by the glass – it's a handsome space.
At Frescobaldi, you'll find the largest menu you've ever seen, in size rather than content – open, it's almost as wide as the wingspan of an albatross. The extra maneuverability the broad and comfortable chairs provide are as good for big bottoms as they are for accommodating the perusal of the massive things; best to read them turned sideways for the sake of a smashed wine glass.
In it, a confident and concise menu with less than a handful of entries under each section: antipasti, carpacci, tartare, primi piatti (pasta), to share (salads, cheese and charcuterie), secondi di pesce (fish mains), seconde di cane (meat mains), contorni (sides).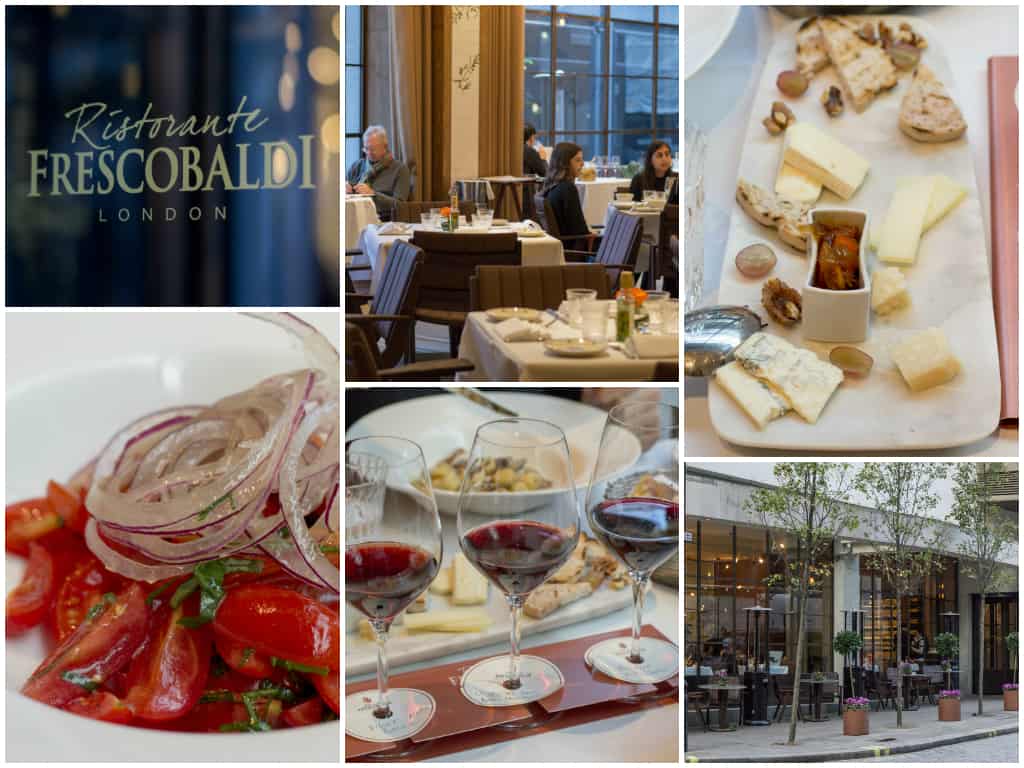 Bread was great and made on site, the soft and salty focaccia still warm from the oven, crisp Sardinian flatbread entirely void of moisture, and the basket comes with a bottle of that Laudemio olive oil to glug at your pleasure.
There were rippled sheets of seabass carpaccio with pink peppers, soy sauce and fresh curly celery strips, that could have done with a touch of astringency (£16). The lactating Puglian burrata, with rocket pesto and ripe tomatoes, was just about the creamiest I've encountered (£12.50).
I thought the marinated black Angus beef with lentils and courgettes would come as a salad with cooked slices of steak, and I expected it to be dull. It was actually like a plate of joyous lemony bresaola, with a little gathering of fantastically dressed firm green lentils and tiny cubes of courgette (£15).
The wide ribbons of pappardelle with the veal cheek ragu were gorgeous – great bite and deep yellow from yolk. The pappy but pleasing sauce, quite sweet from the meat, needed the contrasting texture it got from a flourish of small crisp rosemary croutons scattered before serving – very good (£15).
There were small and soft dimpled gnocchi with porcini mushrooms and an earthy umami sauce, although I do like my dumplings sporting the marks of a longer fry (£15). The ossobucco was a loaded plate of flaking veal, flanked by a barrier of unctuous white polenta, and with a great slug of marrow that slipped out of the bone after just a little persuasion (£23).
Tiramisu came in an unusual format, a mound of yellow sponge, coloured from extra yolk I presume, with a moat of coffee sauce and bitter toasted beans. It was cleared in the same amount of time it took me to register it had arrived (£9).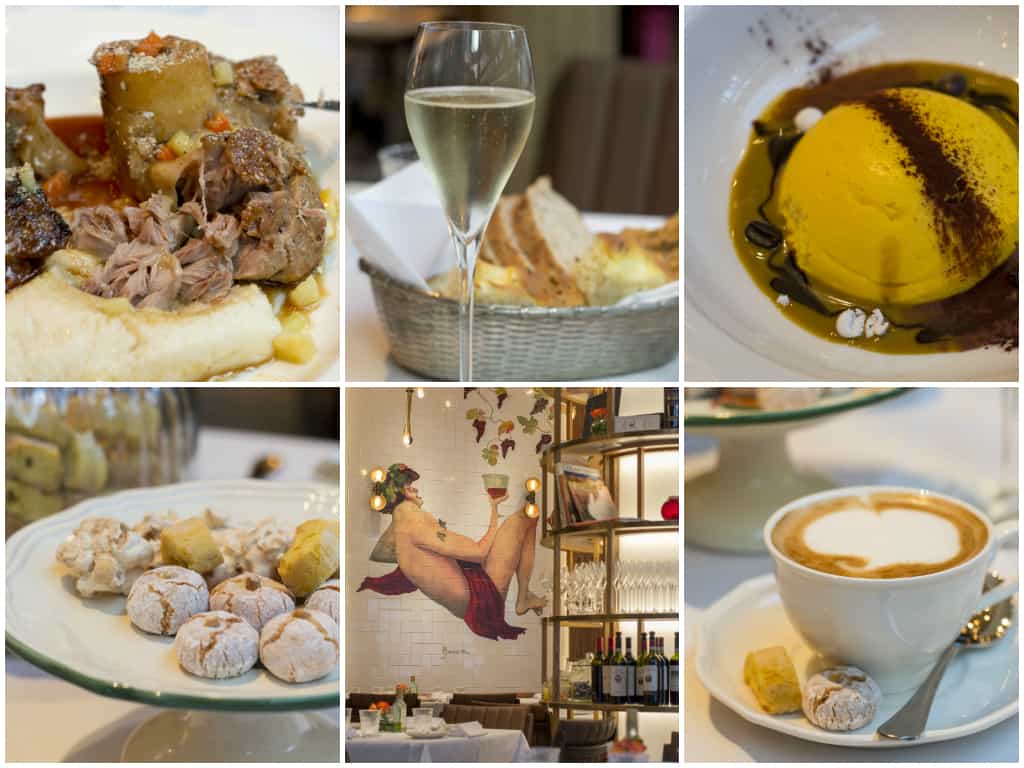 They've been smart in making more of their wines accessible to diners, by offering small and reasonably priced pre-grouped wine flights. You get a taste of three glasses (125ml each), and there are different groups of three to choose from, ranging from £16 – £68. I had the Red Flight "Sangiovese" at £21.
Two female maître d's were wearing the same sophisticated monochrome dress that wouldn't have looked out of place at a cocktail bar, and service was charming and very attentive, if a little too enthusiastic at the beginning of our early lunch reservation, when we were the only occupied table.

Fellow diners ranged from groups of American visitors, to distinguished and impeccably dressed Italian matriarchs enjoying a girly lunch, to young couples, to a Turkish family, which may have been a Mr Büyükuğur influence.
Like I said, I don't know how these people knew it was there. I did, because my visit was in the capacity of critiquing it for the consumer publication for British Turks & Turkophiles, T-Vine (thanks to Mr Büyükuğur's involvement).
But know about it, people seem to. And now you do too.
Liked lots: accessible and reasonably priced wine flights, interiors, there's also a very becoming bar below deck to enjoy both wines and spirits in
Liked less: Frescobaldi won't win any prizes for 'bargain restaurant of the week', but considering the location and setting, it's not trying to. That in mind, with a bit of considered ordering, you can keep a reign on the bill and enjoy a very good meal
Good for: respite from the hectic shopping streets of the West End, impressing a date

4/5
Find the menu on Zomato.
Afiyet olsun
Note: I was invited as a guest to this restaurant.