Last Updated on June 10, 2020 by Leyla Kazim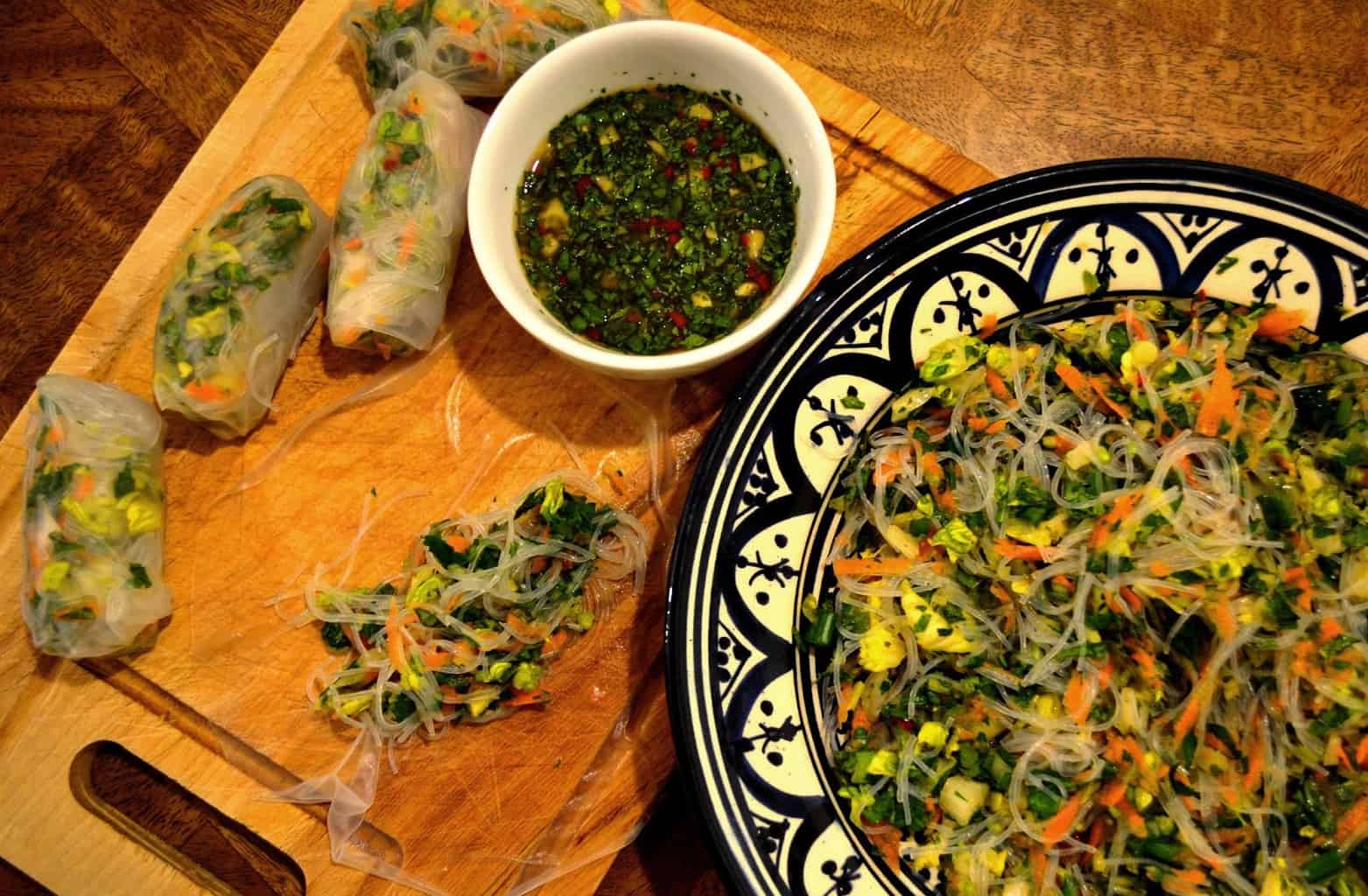 The sticky pork ribs contained flavours from the Orient – soy, Shaoxing rice wine, Sichuan peppercorns, garlic and ginger and I knew they'd be crying out for something light, fresh and crisp to help compliment the viscid richness of the glaze smothering all that meat. Sticking with the theme, some fresh spring rolls with a punchy dip was decided upon.
I've mentioned the huge Chinese supermarket Hoo-Hing a few minutes walk from my house before here, and it was from Hoo-Hing that I procured some rice paper sheets for the spring rolls. It's the first time I've used them and they're pretty cool – hard and brittle circular sheets of what initially looks and feels like plastic with some sort of embossed pattern on them. To transform them into something more workable, simply dip into a bowl of luke warm water until they become soft and delicate. They tend to stick to themselves once out of the water so it takes a couple of goes to get the knack and not tear them.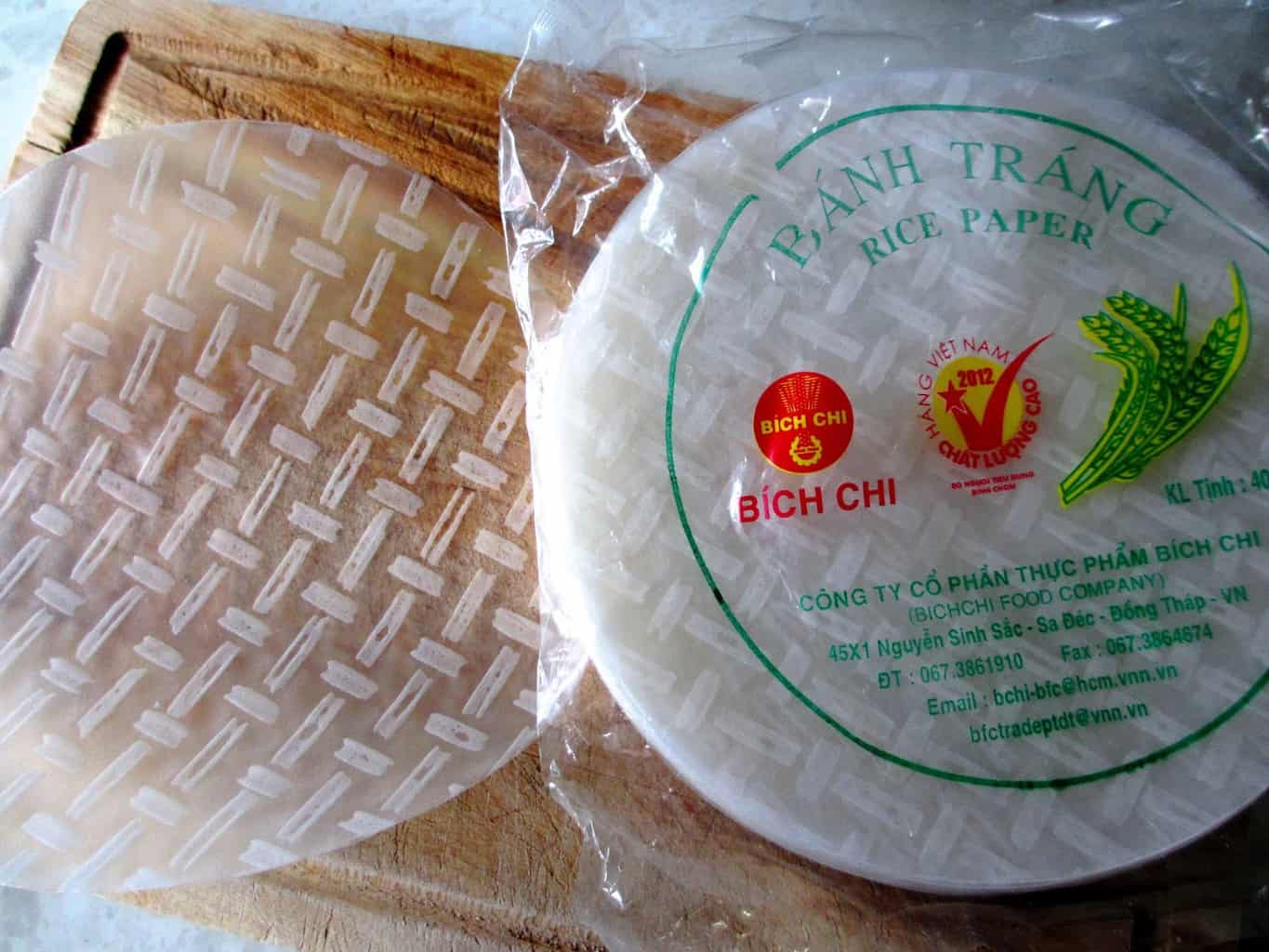 Rice paper rolls are common in Vietnamese cuisine – served soft and can be filled with crisp vegetables and herbs and eaten cold, as opposed to other spring rolls people may be used to which use thin pastry as the casing, are fried and served crispy and hot.
You can really compose the salad of anything you want. For example I haven't included any bean sprouts or water chestnuts, both of which would provide some lovely additional texture. But stick to the dressing / dip and tweak to taste as you wish. And of course, serve with those sticky ribs.
Fresh spring rolls
Makes 12 – 14
For the salad
50g dried vermicelli or fine rice noodles (see Tip below)
1 baby gem lettuce
2 spring onions
1 large carrot, grated
A load of chopped coriander
A load of chopped Thai basil
A load of chopped fresh mint leaves
Juice of two limes
12-14 rice paper sheets
For the dipping sauce
2 tbsp caster sugar
2 tbsp rice vinegar
60ml fish sauce
2 red chillies, deseeded and finely chopped
1 garlic clove, peeled and grated
1 spring onion
A sprinkle of chopped coriander
A sprinkle of chopped mint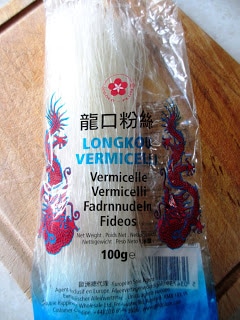 To rehydrate the vermicelli noodles, soak them in boiling water for 3-4 minutes until they become soft. Drain and refresh under cold water. Shake off excess water and leave to one side.
Tip You can see the brand of noodles I bought in the picture, also from the Chinese supermarket. You might have difficulty finding this and rice paper in a standard supermarket. It's certainly worth locating your nearest one if you haven't already. And they're actually 95% mung bean – which I thought was cool.
To make the dipping sauce, mix the sugar, rice vinegar, fish sauce, chillies and garlic and mix well until the sugar has dissolved. Add the remaining ingredients. Mix, taste and adjust accordingly.
To make the rolls, roughly chop the noodles in a bowl and mix with the vegetables and herbs. Add the lime juice along with 2 tablespoons of the dipping sauce and mix together. Taste and adjust the seasoning, adding more of the sauce if needed.
Dip a rice paper in a bowl of luke warm water until soft and pliable. Splash a board with a little water before placing a rice paper on it (this will stop it sticking). Put a spoonful of micture into the centre of the paper and fold the bottom up and the sides in, then roll up tightly into a spring roll shape. Repeat with the remaining mixture and rice papers.
Tip If your water is too hot, the rice paper will become soft too quickly for you to be able to handle properly and you'll inevitably end up tearing them. So stick to luke warm water.
Tip You can make the rolls ahead and keep them in the fridge until you're ready to serve. I think it's better this way as the rice paper gets a chance to harden slightly which in my opinion provides a better texture.
Serve them with the dipping sauce on the side and enjoy.
Alfiyet olsun.