Last Updated on March 1, 2022 by Leyla Kazim
We all have one. That single friend who is almost impossible to please when it comes to choosing where to have dinner. That person with a list of allergies, intolerances or preferences longer than the Magna Carta, that must be met before they even consider leaving the house for a meal.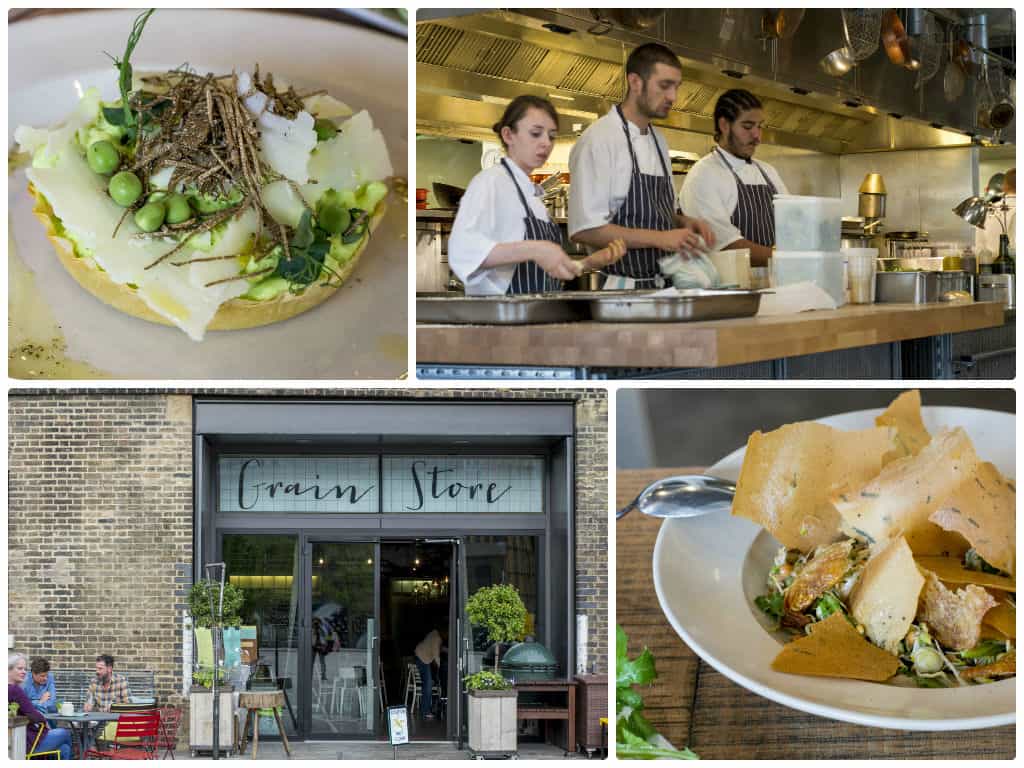 Mine in question is a vegetarian who doesn't like goat's cheese. Almost enough alone to warrant real life defriending, but I persevere; it's with her I have one of my longest friendships.
She also rules out Indian, as she is Indian and eats the stuff at home all the time. To this no-go zone, add most of the rest of Asia. Her reasoning: she lived in Canada for a year, where Asian food is big, and feels she has consumed a lifetime's worth in those months.
She's not a huge fan of eggs, particularly the yolks (the specific reason the rest of us eat them), doesn't like vegetarian food that's 'just a bunch of vegetables on a plate', will only entertain centrally located destinations, and does not care for 'poncy' restaurants which roughly translates to anything that might dare have a tasting menu.*
Thank goodness then, for Grain Store; one of the few restaurants we've eaten in that has both met her uncompromising list of requirements and at the same time been very good. One of its (several) selling points is it caters for almost everyone; vegans, vegetarians, meat lovers, innovation seekers, the health conscious, cocktail chasers, interior design fanatics. There's a lot going for the place.
*Despite her foibles, she's a great person, so don't feel bad about me outing her dining downfalls on here. Pretty sure she doesn't read my blog anyway. This will be a good test.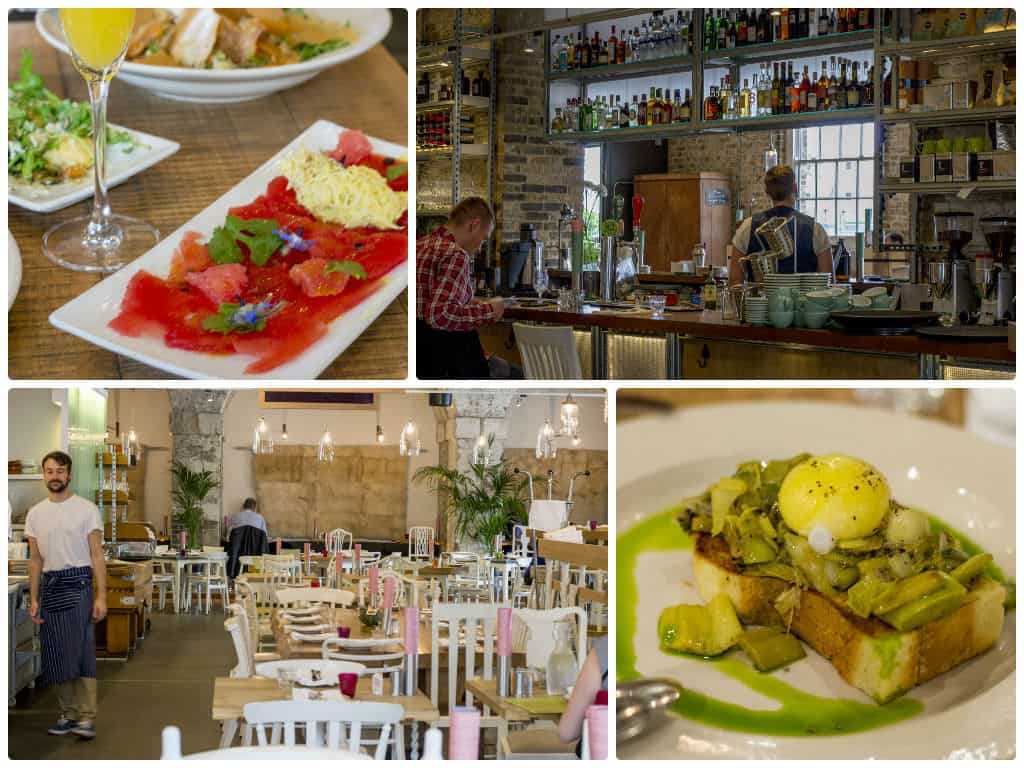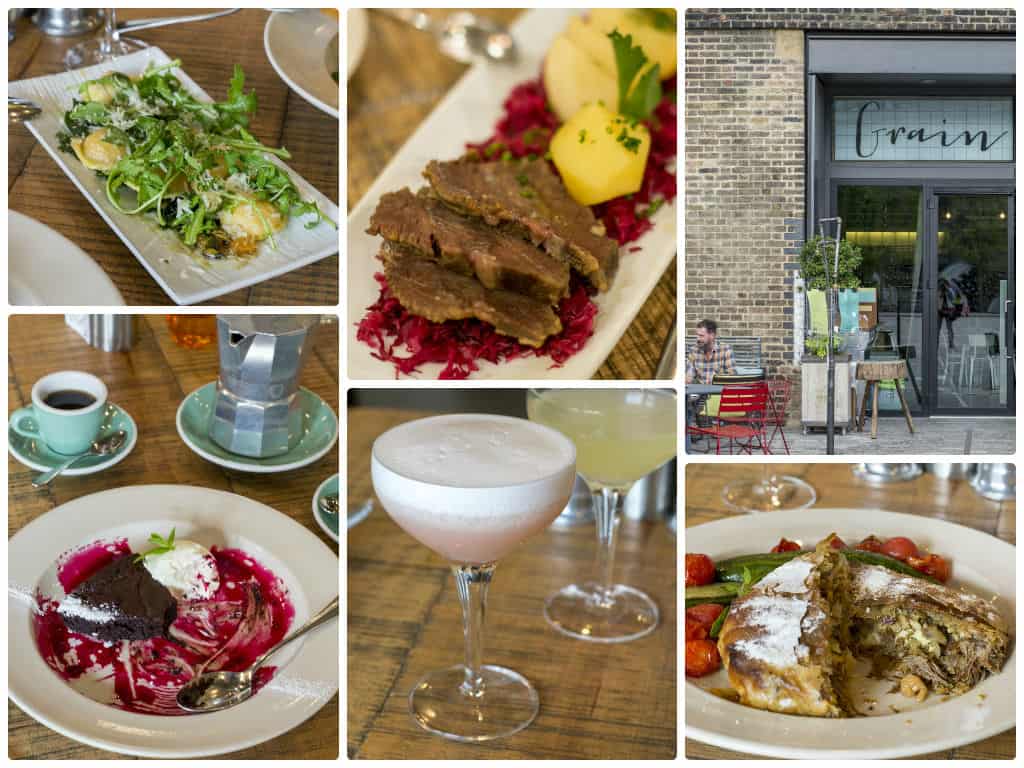 This is chef Bruno Loubet's second outfit following the success of his self-named bistrot in Clerkenwell. It's been open since June 2013, yet managed to evade my diary for almost a year and a half.
I'll be honest, I put that partly down to my thinking it was a vegetarian restaurant for a lot of that time. The menu gives vegetales an equal billing against fish and meat, if not the starring role; I think this message got lost in translation and I was just too lazy to cross-check it.
The space is cavernous, whilst still able to offer intimacy and warmth. Exposed industrial steel ducts and pipes criss-crossing the high ceiling, great panes of glass and bare brick contrast and compliment the choice of furnishings, which seems to be homely and shabby chic with mismatched white wood chairs and tables.
The open kitchen is certainly that. There's an unrivalled view into the workings of the engine room, and one that looks after 140 covers with another 80 or so at the bar and on the terrace is as loud and boisterous as you might expect. The chefs shout to overcome the restaurant noise, the restaurant gets louder in return, and it goes on – I personally love feeling like I'm in the thick of it.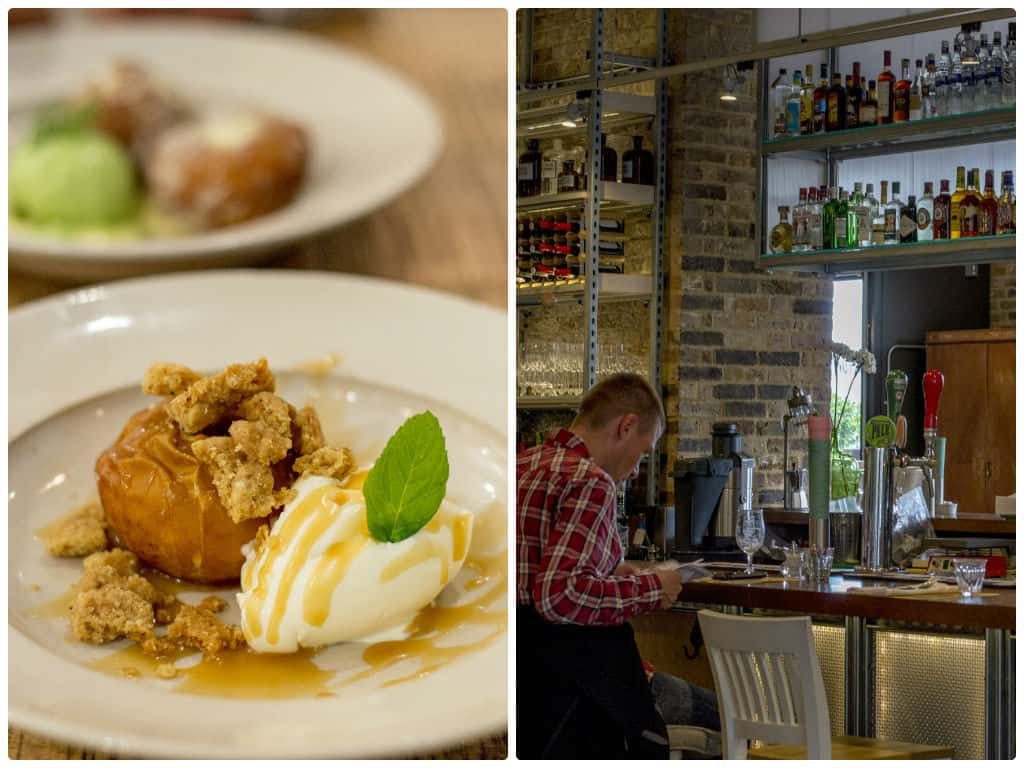 To make up for having missed out for almost 18 months, I went twice within seven days and good timing meant I got to eat from two different menus; I caught the end of summer on my first visit, and the newly launched autumn menu on my second.
The overriding message that comes from the kitchen is innovation. I can imagine a pep-talk from Loubet around the time of menu development going something like, 'Right team, zis is your playground. Show me your creativity, show me your skill, show me what excites you, showcase your flare, but above all, don't forget to ave fun. Allez!"
The food is playful and inventive and different and interesting. It's stuff I can imagine is a lot of fun to cook. How can sweet potato doughnuts with citrus curd and dill and vodka ice cream not be a pleasure to deal with, either creating or consuming? (Incidentally, very good. Light but substantial balls of sweetened dough with tart curd and the cool soothing hint of aniseed – £6)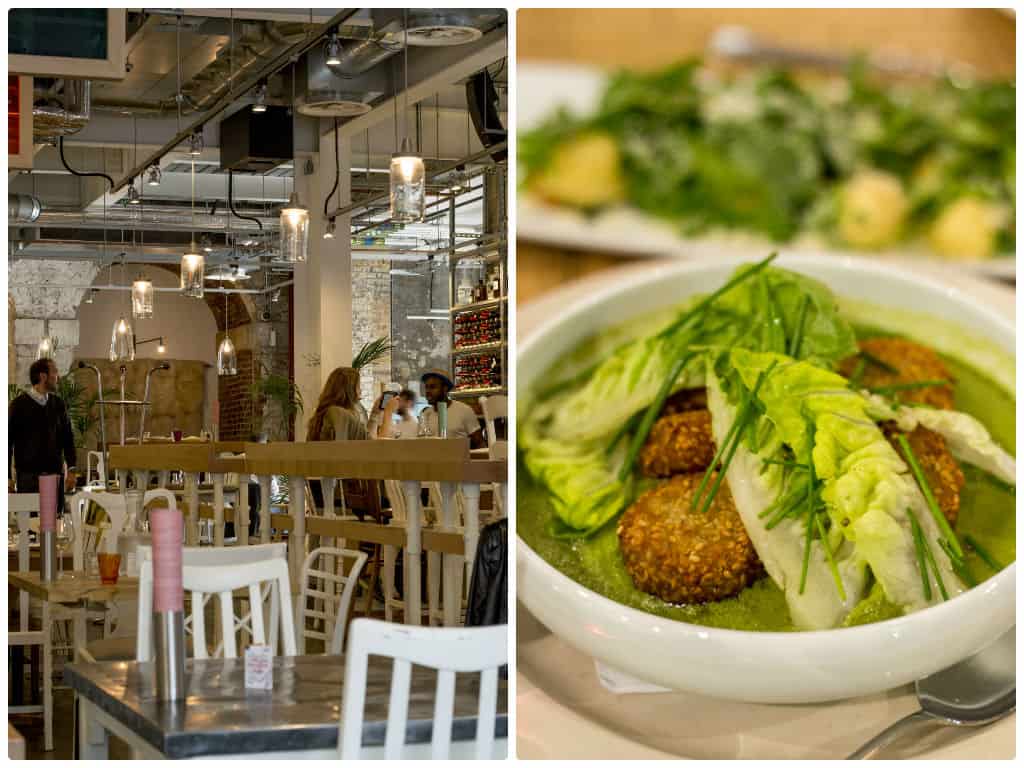 From lunch first time round, salted watermelon with minty borage flowers and curried crab mayo would be ideal enjoyed in the shade of the summer's midday sun. A very light pea mousse tartlet with slithers of dark summer truffle, shavings of parmesan and the last hard and sweet raw peas of summer was delicate and savoury.
A big bowl of sprouting pulses and miso aubergine had the type of crispy citrus skin nuggets the fork desperately roots around for after tasting one, but the sails of thin potato wafers that stuck out went a bit soggy in the mouth (£6.50).
Duck pastilla with grilled Lebanese cucumbers was a little too clunky compared to the buoyancy and finesse of the rest of the dishes, and the quinoa tamale with pork belly – a corn-based dough cooked within the corn husk – was good, but not particularly persuasive (£15).
But then there was the squash ravioli, a dish that remains a permanent fixture year round thanks to its popularity. Rightly so. Exquisite little al dente parcels of well-seasoned, well-cooked squash, served with rocket, a sprinkling of parmesan, the crunch from toasted pumpkin seeds, and a second layer of sweetness from mustard apricots. Simple, solid and very satisfying (£7.50/£14.50). I'm told if you pop in around opening time you can see the chefs assembling hundreds of these every morning in full view of the restaurant, a pleasure to watch I'm sure.
From the autumnal dinner, there were piping-hot wild mushroom croquettes, heavy with the essence of funghi, served on a mattress of pine needles and with pine needle salt (£6). Finger food inevitably means you'll lose one or two to companions; limit it to that.
The tarlet appears again in a similar format, this time with a celeriac and hay mousse instead of pea. Even lighter than before, possibly a little too light almost, verging on an 'air', but great flavours regardless (£10).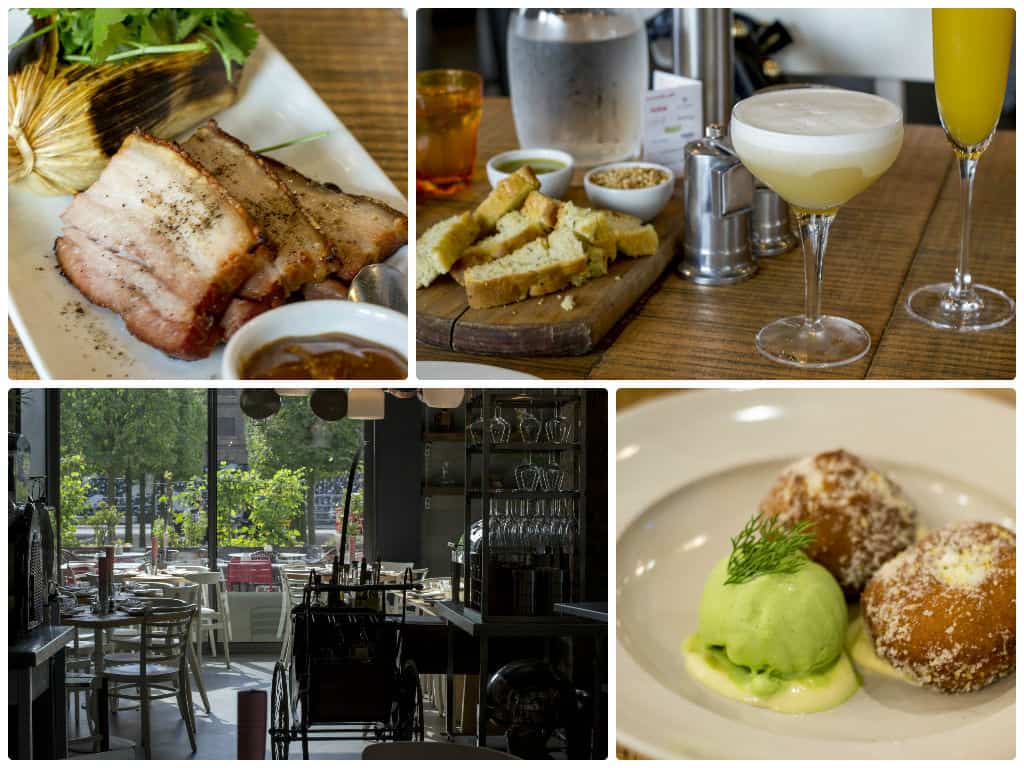 The squash ravioli made a second appearance, of course. Then there was a roasted fermented corn brioche with burnt leeks, a slow cooked duck egg and lovage oil. Fitting for both a lazy weekend brunch or a Friday night meal (£7). Slabs of salt beef cheeks with fermented cabbages, salt baked turnips and hot pickle mustard was like a deconstructed salt beef sandwich, with potatoes instead of bread, and meat that surrendered to the molars on contact – I very much enjoyed it (£17).
"Caesar custard" is an interesting idea. It's the main flavours of a Caesar salad – cool green lettuce, Parmesan, lemon, perhaps a bit of anchovy – set as a warm green custard in a bowl. On top of this, good chicken and quinoa falafels, and some romaine leaves. Sounds weird, does work (£15).
Grain Store win some serious points with dessert. My summer lunch finished off with a dense and decadent dark chocolate and beetroot torte with creme fraiche, the texture of which I gushed about so audibly, I was generously given two further slices in a doggy bag to take home.
Dinner a few days later saw those excellent sweet potato doughnuts and a whole baked apple with rosemary crumble, creme fraiche and salted caramel sauce (£6). All things you instantly know will work together before tasting.
From the two, I preferred the autumn menu. Portions are generous and three courses along with the unusually textured but very enjoyable focaccia (to be dunked in the oil then squished into the little pot of dukkah) and some wine will leave you full, satisfied and with a bill per head of around £50.
Three of us were left to occupy an early table for over three hours on a Friday night; you wouldn't get away with that in most places. Staff are attentive, knowledgeable and all look like they enjoy their jobs. I can't think of anywhere else that's quite like Grain Store; that in the restaurant industry, is an achievement in itself.
If you haven't already, head over to the now very slick Granary Square and check it out. And be sure to take the most pernickety person you know, I bet they'll love it.
Liked lots: cocktails are a big deal with dish pairings suggested; doggy bags are encouraged should you have leftovers
Liked less: a couple of dishes were less inspired than others, but the autumnal menu was consistent in what we ordered
Good for: taking a group of people who all like different things
My rating: 4/5
Find the menu on Zomato.