Last Updated on June 10, 2020 by Leyla Kazim
Hakkasan is the long-serving establishment that did the slick-lined, low-lit, subterranean celebrity haunt thing before most others. Since 2001 it has served as a dining vestibule for evenings often ending in whichever night-life hotspot is currently most impenetrable.
It certainly lends itself to this clientèle. The interiors are dimly lit enough for wisp thin socialites of the evening crowd to avoid interacting with the food without attracting too much attention to the fact. There's a lot of black leather, dark wood and deep pockets.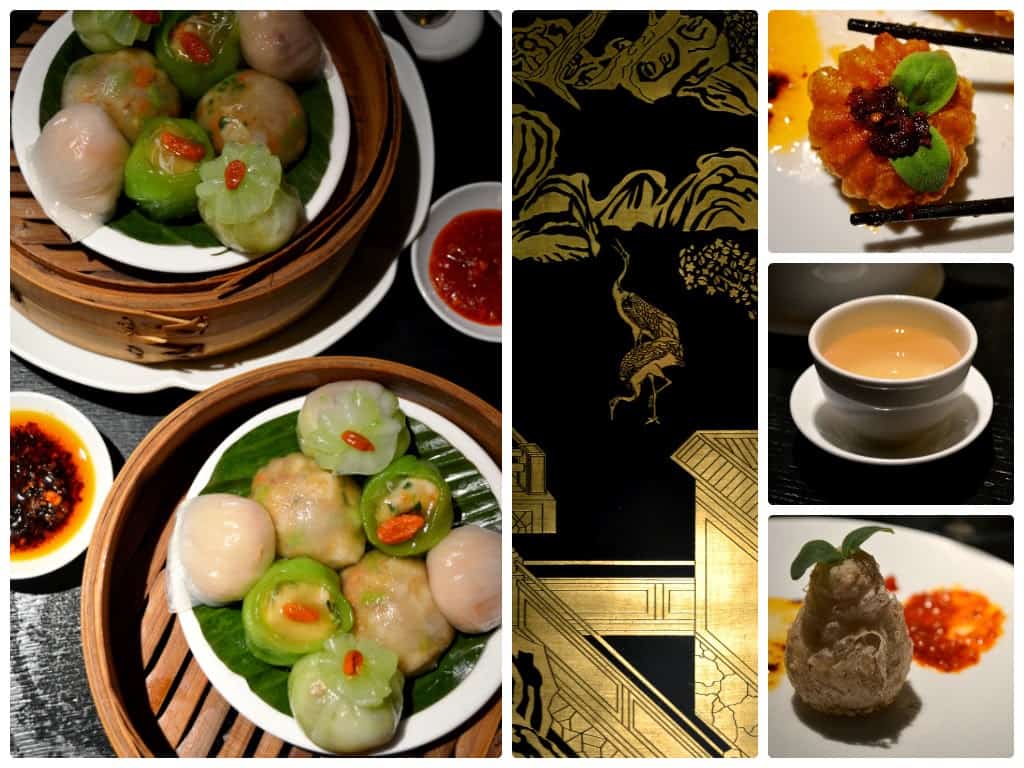 And it's probably one of the only restaurants in London (other than The Ritz) to exercise a desire for certain attire: 'Our dress code is smart casual. No sportswear. Jeans are permitted as long as they are worn smartly with shoes and a collared shirt. Please do not wear hats inside Hakkasan.' I'm not sure the girls blinding waiters with full body sequins were planning to do so whilst wearing their Converse.
In an attempt to broaden their customer base beyond tourists, business men and debutantes, Dim Sum Sundays launched in the tucked away Hanway Place branch in September this year. The menu available each week from 12-6pm is a rather good excuse to get sloshed during daylight (but in the dark) whilst eating good food to the backdrop of beats chosen by the lounge DJ (thankfully proving to be nothing more than elevator music).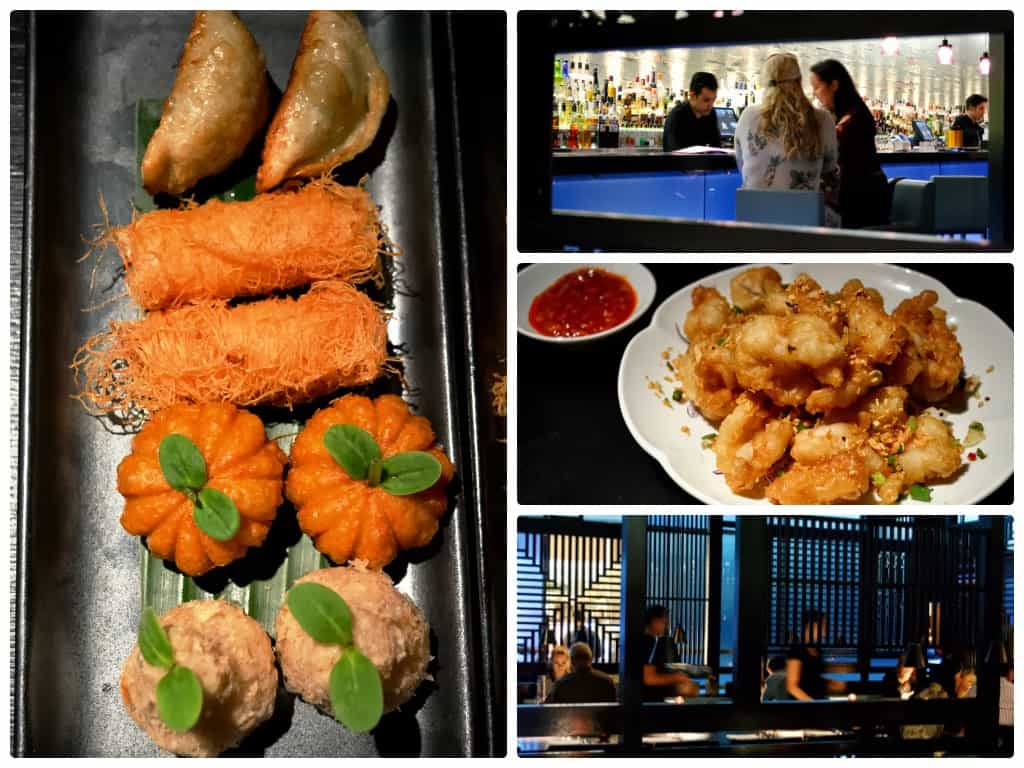 There are two set menu options with the main difference being the volume of alcohol involved. If you were hoping for a dry lunch, hope some more; at a minimum you will be drinking two (strong) cocktails. At a maximum add to that half a bottle of Perrier-Jouët Blason Brut Rosé Champagne (blimey). Unless you opt for the non-alcoholic drinks, of course. Witness any good intent to boycott the booze dissipate as the desire to get your money's worth overrides.
The atmosphere was freer and less self-obsessed than I recall in my last visit on a Friday night some years ago when the corridor to the ladies acted as a makeshift catwalk runway. But one would hope so, at 1pm on a Sunday afternoon.
Pre-lunch cocktails were quickly followed by a crispy duck salad with well textured nuggets of meat slightly sweetened from a glaze, lifted by fresh segments of pomelo and sprightly salad leaves.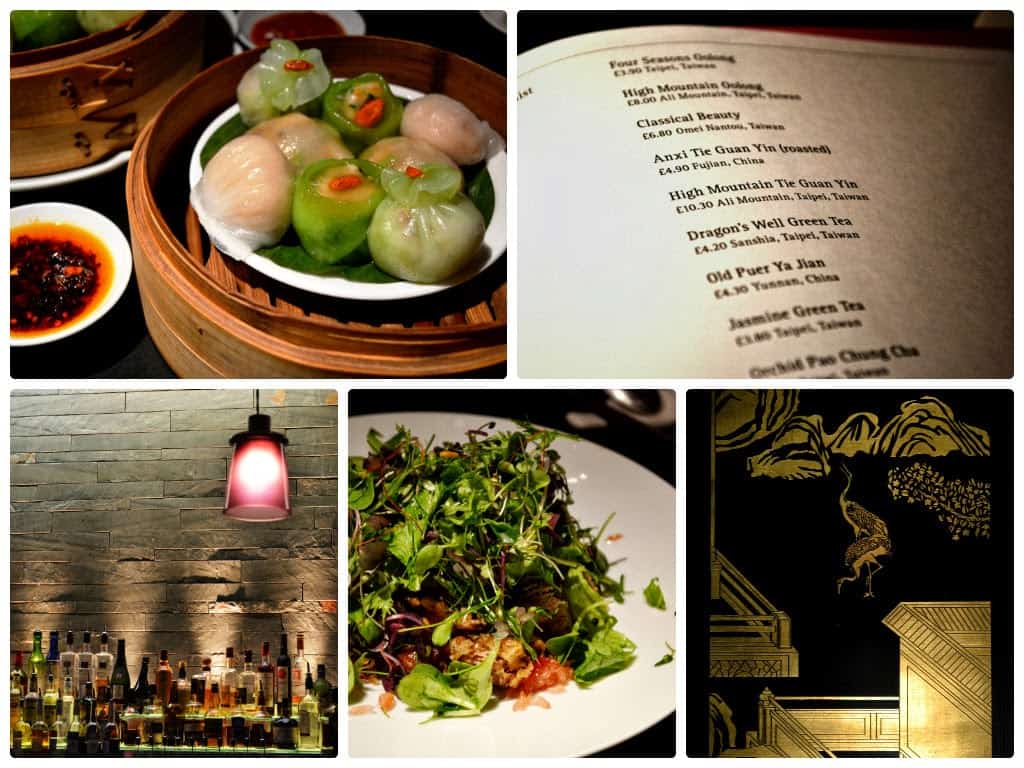 From the option of seven steamed dim sum, we selected smooth and transparent har gau bonnets filled with firm little shrimp with bite, Chinese chive dumplings with prawn and crab meat topped with goo and a goji berry, spicy seafood sauce and scallop rounds with Thai asparagus and lingzhi mushrooms, and morel mushroom and lemon sole mouthfuls – the superior and most discernible of the four.
Then there was the fried, baked and grilled course and while the same swathe of golden glow adorned all four of our choices, shapes and designs were interesting enough for us to wonder out loud how they were achieved.
A light and crisp pumpkin puffball encasing a smooth middle of the gourd flesh itself along with the (apparent but undetected) presence of smoked duck, creamy lobster meat rolled in ultra thin rice noodles and fried into something lighter than air, Shanghai dumplings with ground pork, and poofed up pear and taro (starchy root vegetable) balls with another beautiful centre, and in the shape of pears!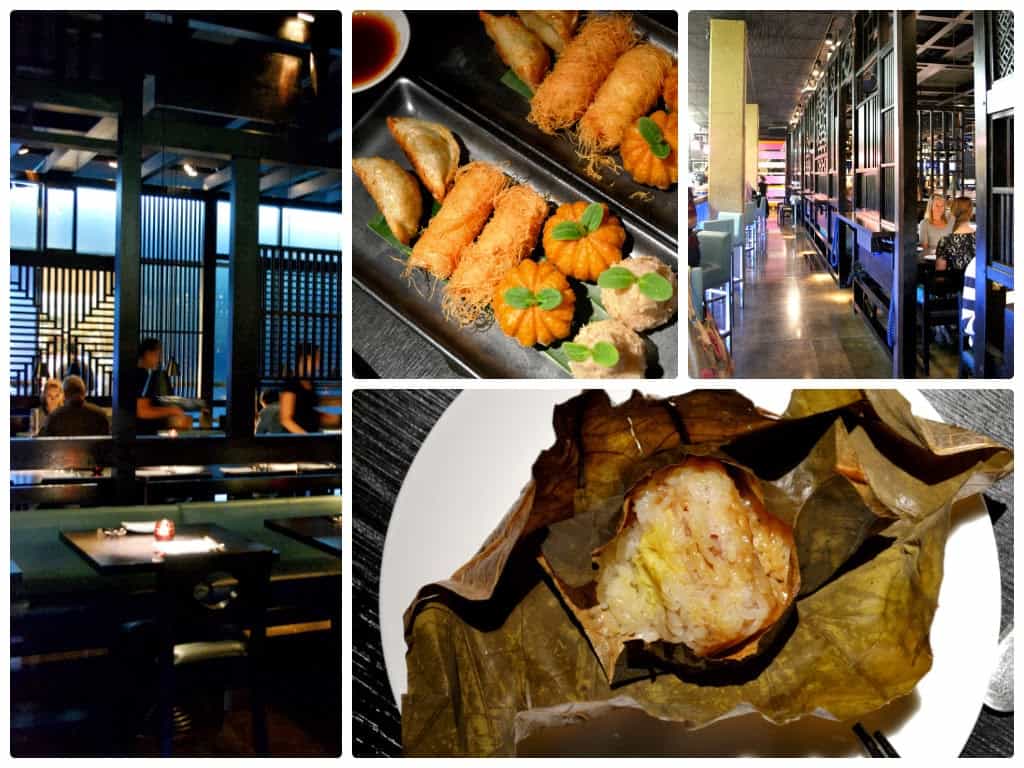 From the small eats we swapped out the two available options in exchange for the salt and pepper squid from the alternative menu at the cost of a decent course.
It came heavily battered and fried; an unwanted vision after previous plates of the same vein. Bereft of the levels of (white) pepper needed to satisfy the two present of Chinese and Taiwanese heritage, it was not befitting of its label; "this has been made for the western palate and is not at all authentic". It was a plate of slightly better than bog-standard calamari and was an effort to entertain.
For mains, a luminescent grilled hunk of Chillean seabass made a vibrant orange from something I don't believe we ever identified. The Chinese honey coating rendered it too sweet for my palate after a couple of forkfuls, but the flesh was cooked so precisely that despite the sugary mouth, I was unable to leave it alone. Soft and smooth, just the right side of opaque, breaking away in meaty flakes with a slither of crisp fatty skin full of flavour. Really very good.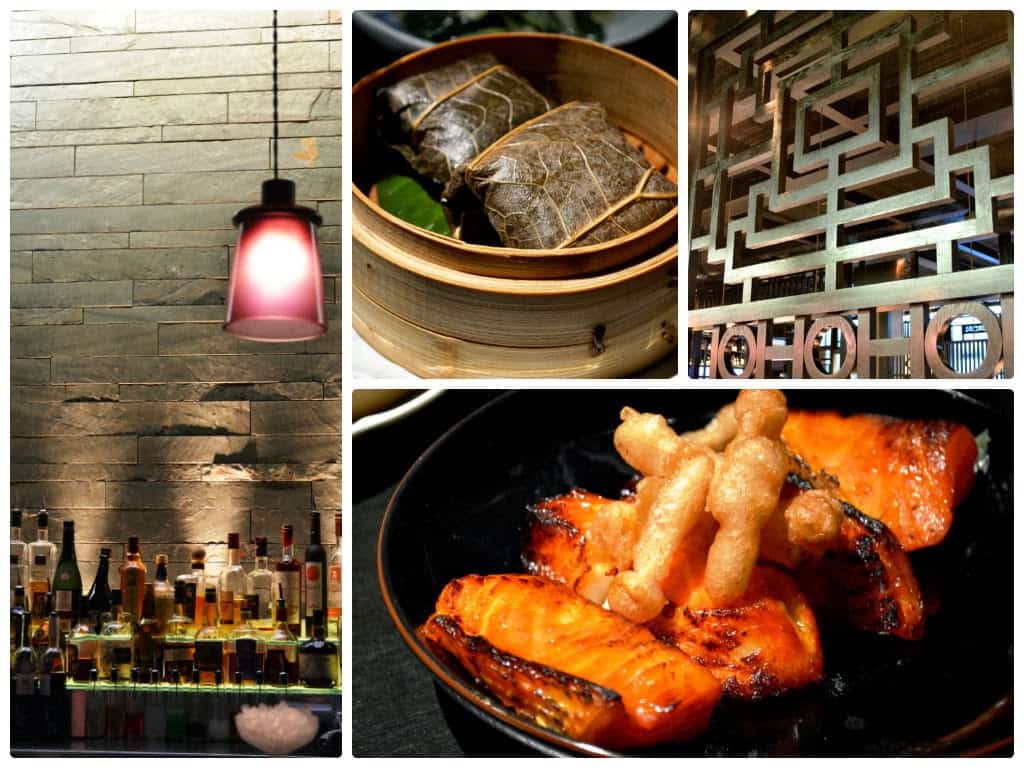 To accompany the bass, pak choi with al dente whites and wilted tops cooked with Shaoxing wine and garlic (I could eat barrels of this), and a wad of sticky rice wrapped in lotus leaf, punctuated with nuggets of sweet Chinese sausage and grainy salted egg yolk.
To conclude, a choice of three desserts, the best of which I selected. A smooth and fudgy dark chocolate bar shot through with a very cherry sauce along the length of its centre, with a sweet and tart cherry sorbet imparting the sensation of submerging my head into a bucket of them freshly picked from the tree.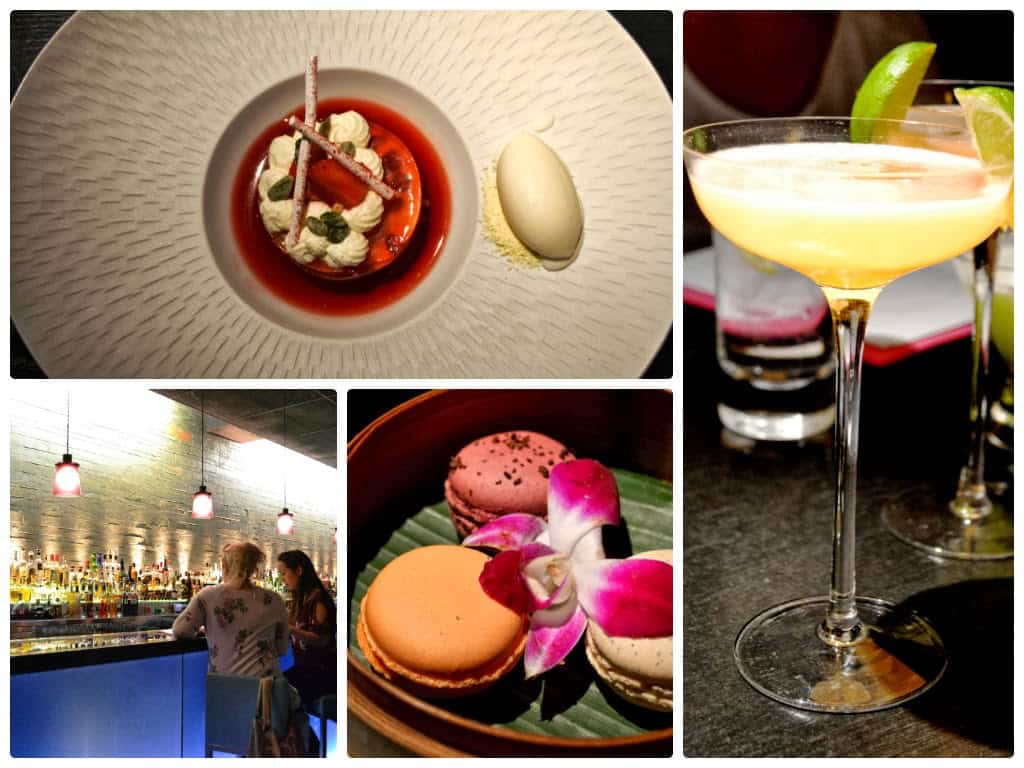 Also of note was the elderflower sorbet with the strawberry panna cotta, chantilly cream and elderflower jelly – one lick of the spoon left a ringing of the tak-tak sound of sourness as the tips of our tongues smacked the roof of our mouths. The macaroons were ok, mostly with indistinguishable flavours.
With the meals came endless pots of freshly brewed loose leaf Taiwanese tea; delicate, cleansing, refreshing and altogether more preferable to the cocktails, the post-lunch ones of which remained mostly untouched.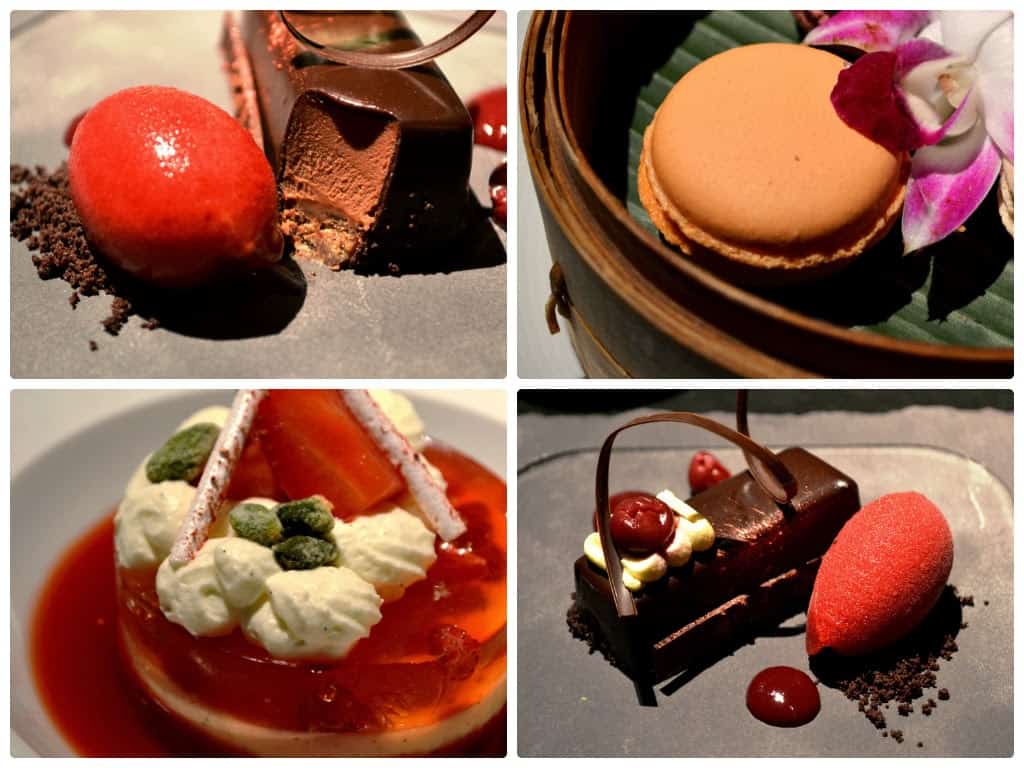 I was duly impressed with all courses, particularly my dessert but excluding the squid. And should one's lunch desires involve a good saucing on a Sunday afternoon, the value is of note when considering the drinks involved; the menu described above is £48 and the one including the champagne is £58. Quite reasonable for an establishment that has retained it's Michelin star since 2003.
The praises from the Taiwanese and Chinese were a little muted. Whilst they enjoyed it, proclaims of 'but I have had better' followed any accolades. The day I too eat truly authentic dim sum in China or Taiwan itself is the day I suspect I may mirror their sentiments. Until then, I'll settle – in the loosest sense of the word – for Hakkasan.
My rating: 3.5/5
Afiyet olsun.