Last Updated on June 10, 2020 by Leyla Kazim
I have a long list of Michelin-starred restaurants I'm yet to visit. Within London and beyond, the order of priority is a fickle science loosely based on what recent dishes catch my eye, and recommendations. The third very influential factor is the availability and value of set menus.
A set menu in a Michelin restaurant allows mere mortals (like me) to visit them a little more frequently than we could afford to if we had to fork out for a la carte each time. The accessibility of their prices allow a greater number of people to sample some of the best cooking in the industry, without needing to remortgage the house to do so. If you're not a fussy eater and your time is flexible, there are a number of Michelin establishments that have some great-value deals.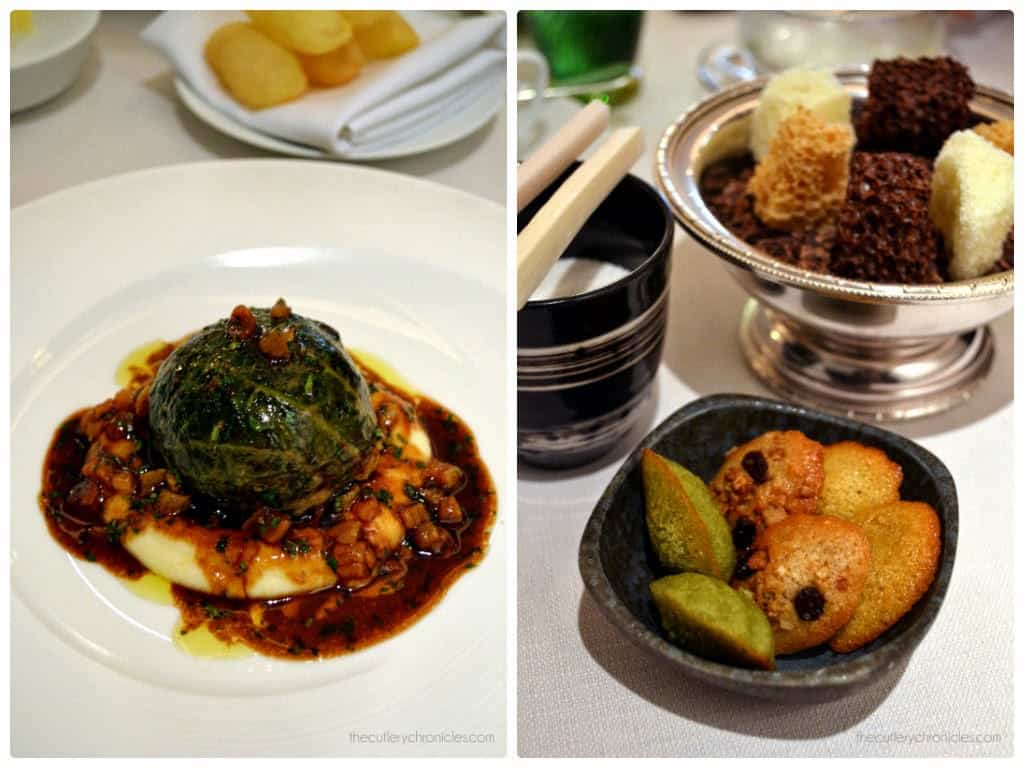 The Saturday brunch at 2-star Hélène Darroze at The Connaught is one of the best – three courses of exceptional ingredients and cooking, with course one and two being buffet. That's right, 2-star Michelin buffet. As much tea and coffee and juice served in stunning Hermes crockery as you can handle, and all for £55. You'll be in there for three hours and won't eat again for twelve.
Hot Dinners recently published a handy guide to the best London restaurants with set lunch deals, my first port of call when searching for somewhere to accommodate two ladies for a long, posh (and preferably boozy) lunch. The Hibiscus entry grabbed me by the shoulders screaming, "PICK ME". Three courses of sublime 2 Michelin star French cooking, half a bottle of wine, petit fours and coffee for £49.50? Well shut the back door and call me Mary, you've got yourself a deal.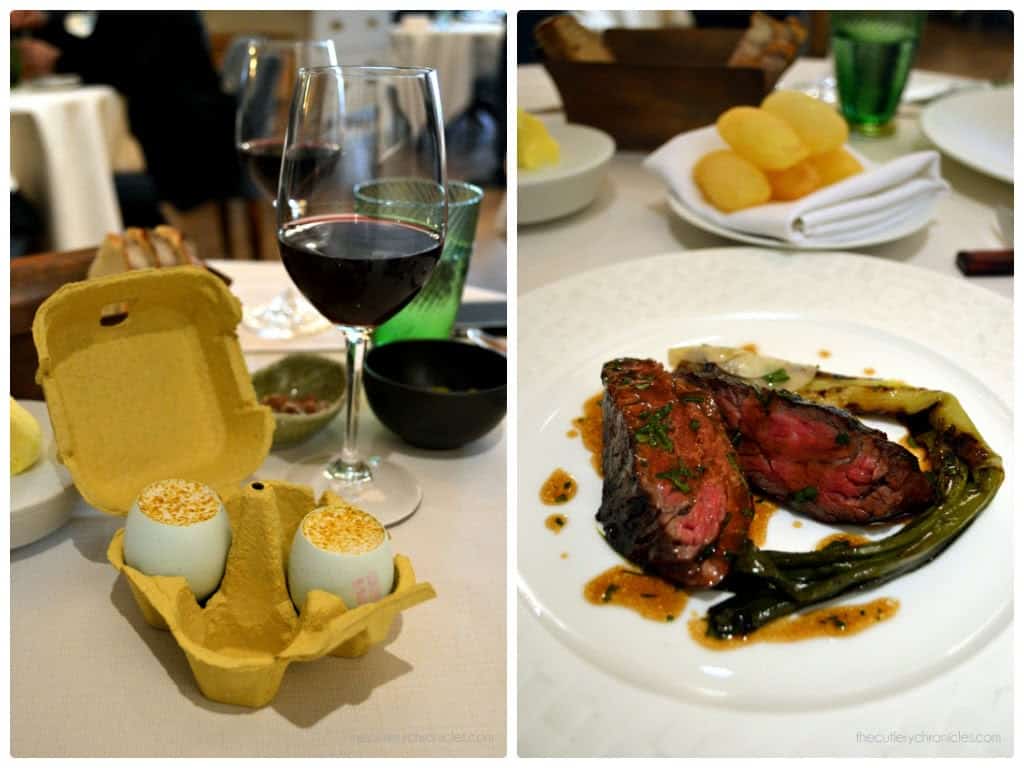 The fact around a third of the tables remained unoccupied during the Tuesday lunch service we visited is beyond me – business folk, tourists, and people who never seem to work alike, get yourself a table. With an unassuming frontage that would beguile the misinformed of the kitchen-workings within, you'll find Hibiscus neatly tucked away on Maddox Street in the heart of Mayfair (I walked past it twice before realising where it was).
Following its revamp in early 2013, the dining room is now one of understated elegance and sophistication, without being stuffy – a pale wood floor, white walls with contemporary art, upholstered blue chairs, and a playful and brightly coloured theme found in the knife holders and water glasses.
It also acquired a new bells-and-whistles development kitchen where Head Chef Claude Bossi and team unleash their creative juices on new menus. Not to mention front-of-house were a complete joy; when my companion lamented over wine being the first thing she would consume that day after a stressful morning, our waiter quipped with a smirk, "Wine is better than orange juice anyway". Good point.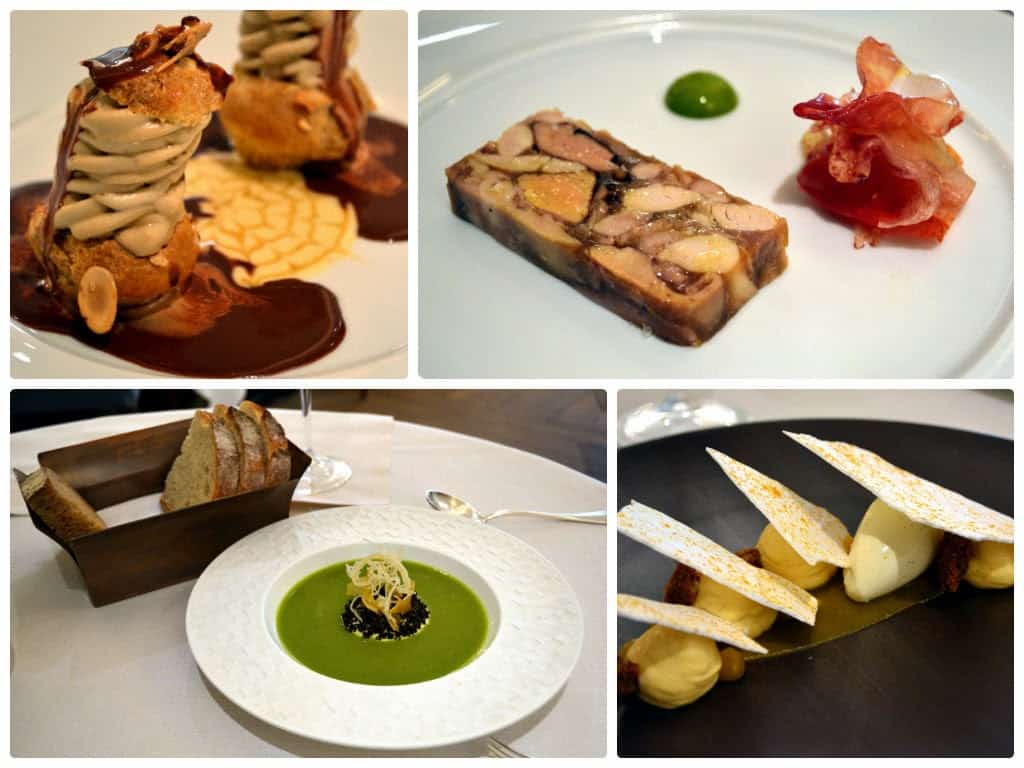 On our table soon after ordering, an egg box with two pale blue shells filled with mushroom royale, frothy coconut foam, a touch of cheese somewhere, the surface speckled with curry powder. It was still early enough for brunch and these felt like a splendid start to one.
The rabbit and foie gras terrine with apple, elegantly arranged radicchio and a pea-green dollop of hot lovage mustard had all the pleasure of a slab of cold-cut enjoyed on a picnic blanket amongst overgrown grass.
A jug of vichyssoise (a soup of leeks, onions, potatoes, cream, and chicken stock) poured at the table, created an island of black truffle topped with ornate parmesan crisps in a grass-green sea. Light and earthy.
Scottish beef bavette (from the sirloin, between the porterhouse and the hind leg), with its crusted exterior, deep pink middle, rich jus, sweet barbecued Spanish calcot onions, and horse-fat pommes hollowed out like puris, was a triumph. The sort of soft and yielding meat you cut tiny amounts from at a time in an attempt to make the dish last longer.
Choux farci is the French term for stuffed cooked cabbage leaves, like one massive, glorious dolma. In this instance, concealing a mound of flaky slow-cooked ox-cheek, seasoned with anchovy, sitting on a velvety parsley root purée, doused in cooking juices and diced apricot for a touch of sweet. Hugely inviting, with the breach of the cabbage casing imparting a lot of pleasure and table-cooing.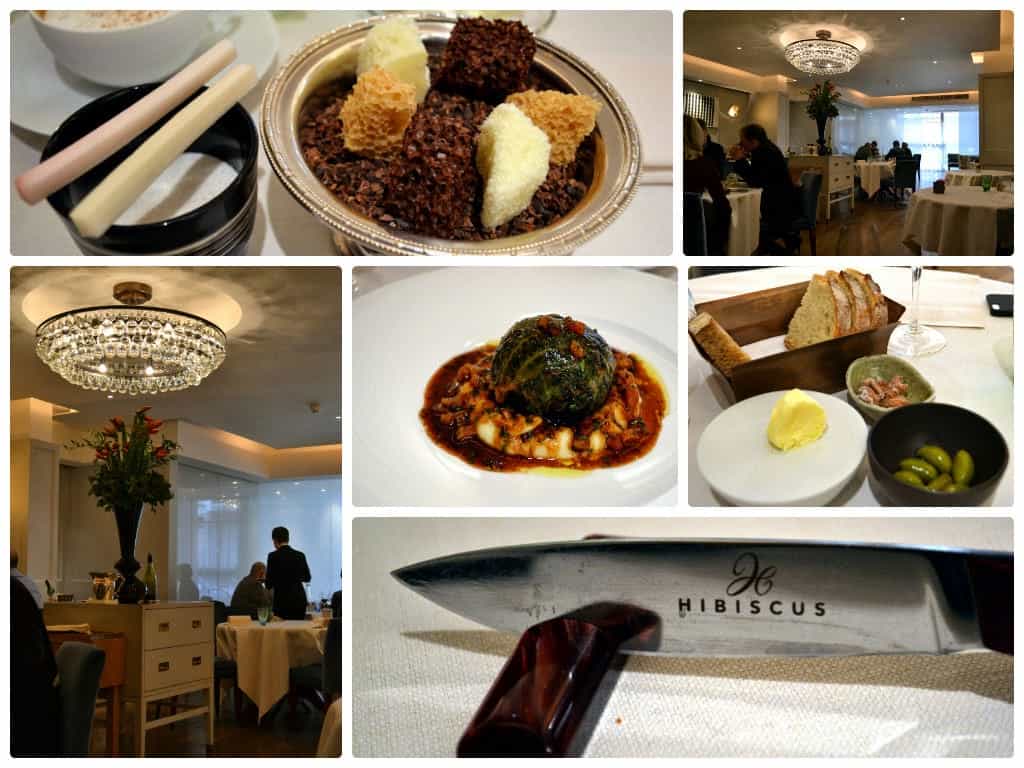 Towers of piped coffee sorbet sandwiched between two halves of choux pastry were model profiteroles by which all others should be measured. Two flanked each side of a pretty whisky crème Anglaise pattern on the plate, and were smothered with melted dark chocolate. On the menu, it read so well. It tasted better.
A drift of sweet potato and clementine hillocks with a single cheesecake-mix quenelle, topped with speckled meringue shards, was an ingredient combination I wish I could come up with.
There seems to be a current trend of petit fours invoking childhood Cadbury-related memories of late – the delightful dark chocolate Crunchy bites at The Quality Chop House and now the wonderful minty Aero-esque mouthfuls at Hibiscus. Restaurants, please continue with this theme – I'm really enjoying it. Batons of blanched rhubarb that were tart and juicy came with a pot of vanilla sugar in which to dunk them. Mini madeleines reached the table still warm, pistachio, orange and oats and raisins, light and buttery.
Claude Bossi's cooking is assured yet playful, seemingly effortless yet expertly constructed, and he creates menus of things you want to eat. There is no pomp and circumstance and it's not in the slightest bit intimidating. There's just a lot of wonderful, accessible cooking with flare, enjoyed in rested and accommodating surroundings. Lunch there felt like a mini-holiday – I left revived, happy and entirely satisfied. I will be back, and back.
Liked lots: incredible lunch set-menu value; amount of wine included (we didn't even finish it); Bossi himself coming out of the kitchen and saying hello to each table – a warm touch I've not experienced in another Michelin restaurant; exemplary cooking; they were entirely accommodating about my big SLR
Likes less: we were charged £5 for table water, which was from a jug. If they charge for water from the tap, that's annoying and they shouldn't
Good for: an accessible introduction into Michelin-standard cooking; a nice chat with front-of-house; some great eating
My rating: 4.5/5
Afiyet olsun.