Last Updated on June 10, 2020 by Leyla Kazim
It's a little early to be making these – usually I'd make them over Easter weekend itself. But I won't be around this year, I had a hankering for some warm soft pillowy buns, and so they manifested themselves this week. I walked into the house after work and began making them almost immediately having only decided I would as the key reached the lock. Luckily, the ingredients required are staple baking ones and so I already had stock for everything I needed.
I've attempted these in previous years and I recall even though the flavour was there, the texture just wasn't. This was before I had fully mastered the art of baking (but I'm no pro – I'm certainly still learning). I would knead the dough, but never enough for it to reach the required consistency that would render a light and fluffy end product. So the buns tasted good, but were too dense and leaning more towards cake like than bread like.
Since finally learning how to properly handle enriched dough when making panettone this Christmas (after three years of trial and error), I am now confident of the consistency needed to get an excellent rise in the bread. As anyone tenured baker will tell you in books or on TV shows, there's only so much that can be done with machinery – the rest needs to be done by hand for you to become accustomed to, and handle your way towards, the end dough product.
The recipe below is from Paul Hollywood's How to Bake, with some minor alterations.
Hot cross buns
Makes 12

500g strong white bread flour, plus extra for dusting
10g salt
75g caster sugar
14g instant yeast
40g unsalted butter, softened
2 medium eggs, beaten
120ml warm milk
120ml cool water
150g sultanas (optional – I didn't use)
80g chopped mixed peel (optional – I didn't use)
Finely grated zest of 2 oranges (optional – I didn't use)
2 tsp ground cinnamon
2 tsp allspice
Tip Instead of the mixed peel and orange zest, I used some Aroma Panettone which I have left over from Christmas. This oil adds the aromas and flavours of candied fruit, vanilla, honey and spices without having to add the ingredients themselves which can in fact slow fermentation in yeast dough – according to the website. I used it mainly because I didn't have any candied peel or oranges though. So you'll of course be absolutely fine following the original recipe.

For the crosses
75g plain flour
75ml water
For the glaze
75g apricot jam
Tip I didn't have apricot jam either, so warmed up some honey in a saucepan and used that instead.
Put the flour into a large mixing bowl. Add the salt and sugar to one side and the yeast to the other. Add the butter, eggs, milk and half of the water and turn the mixture round with your fingers.
Continue to add water a little at a time until you have picked up all the flour from the sides of the bowl. You might not need to add all the water – you want a dough that is soft but not soggy. Use the mixture to clean the inside of the bowl and keep going until it forms a rough dough.
Tip it out onto a lightly floured surface and begin to need. Keep needing for 15-20 minutes. Work through the initial wet stage until the dough is no longer sticky and forms a soft smooth skin.
Tip The dough will be really wet at first and the best way to tackle it is to shape one hand into a claw and repeatedly draw a circle in the dough. Use a dough scraper to bring any wandering bits of dough back to the main mass. This is an enriched dough and so behaves a lot like the dough in my panettone post, but to a lesser extent as it doesn't have quite as much butter or as many eggs as the panettone. However, take a look at that post to get an idea of what this dough will look like at the different stages of kneading. In summary, you need to be patient and persistent – I was hard at it for about 20 minutes before I achieved the end result. Don't be tempted to short cut by just adding more flour – this is what I used to do and you'll end up with dense bread instead of it being light and fluffy.
You will eventually end up with something like the below.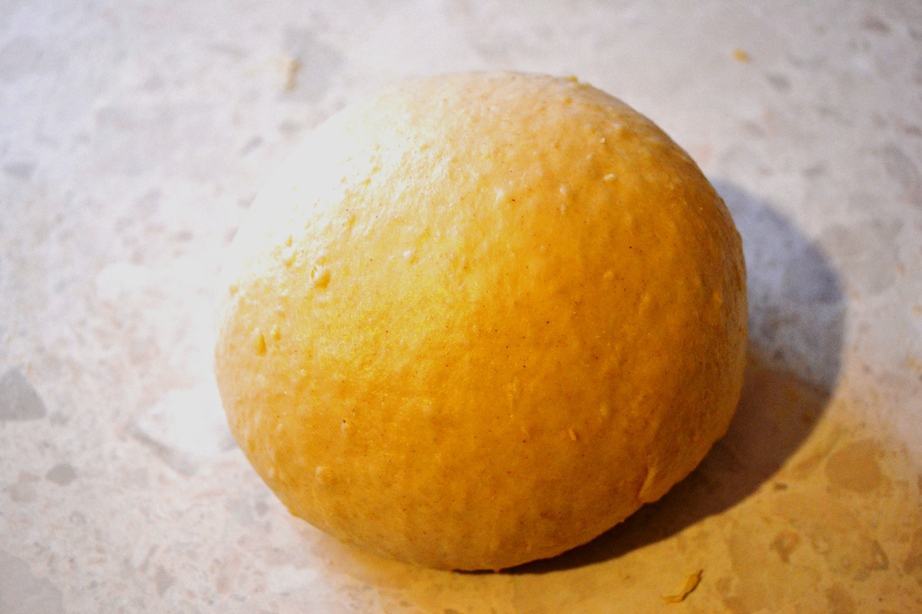 When the dough feels smooth and silky, put it into a lightly oiled large bowl. Cover with cling film and leave to rise in a very low oven until at least doubled in size – at least one hour but two or even three are ok. If you are proving in a low oven, make sure it's barely switched on, so around 30C or so.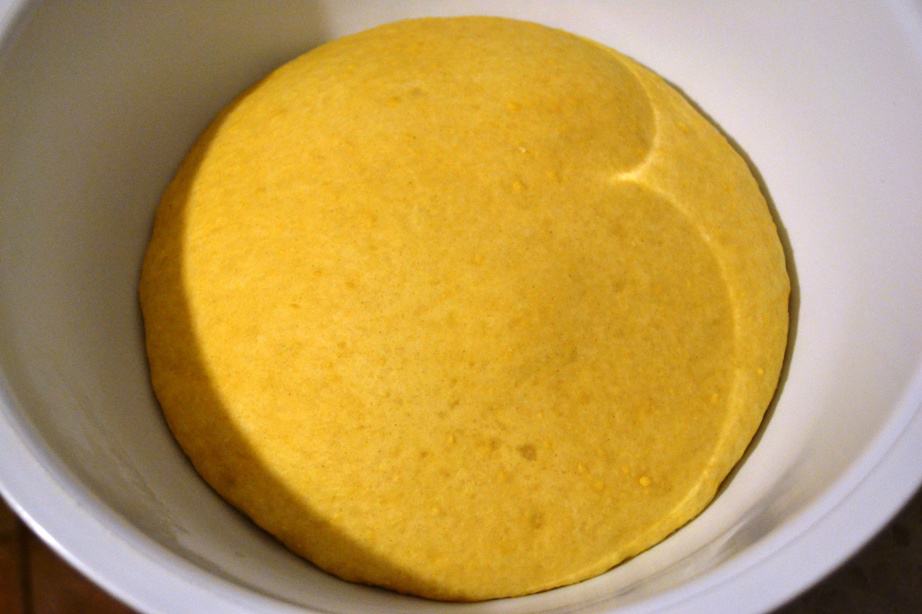 Tip the dough onto a lightly floured surface. Scatter the sultanas, mixed peel and orange zest, cinnamon and all spice on top. Knead in until evenly incorporated. Place back in the bowl, cover and leave to rise for another hour.
Tip The only reason I didn't use any currants or mixed peel is because Matt isn't a big fan of them, and so I generally keep them out of my baking. At this stage, I added a teaspoon or so of the Aroma Panettone instead.
Fold the dough inwards a few times until all the air is knocked out. Divide into 12 pieces and roll into balls. Cup your hands around the balls with your little finger against the work surface, and drag the dough towards you to create a taught surface for each ball of dough. Place them fairly close together on a baking tray lined with non-stick baking paper or silicone paper.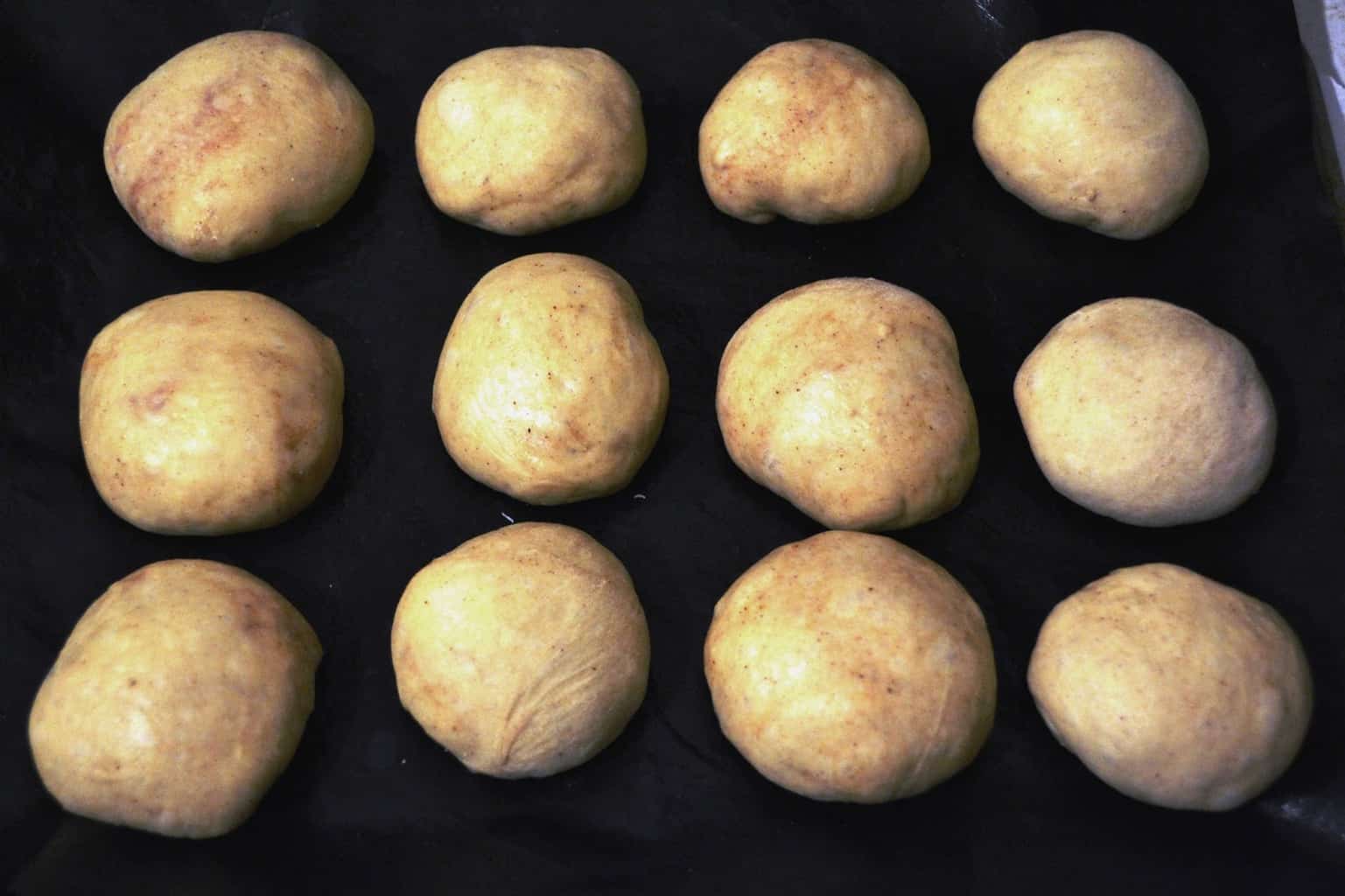 Wrap the tray in cling film (allow give for the buns to rise) and put back in the very low oven for another hour until they have at least doubled in size. They should look something like the below (without the crosses, yet).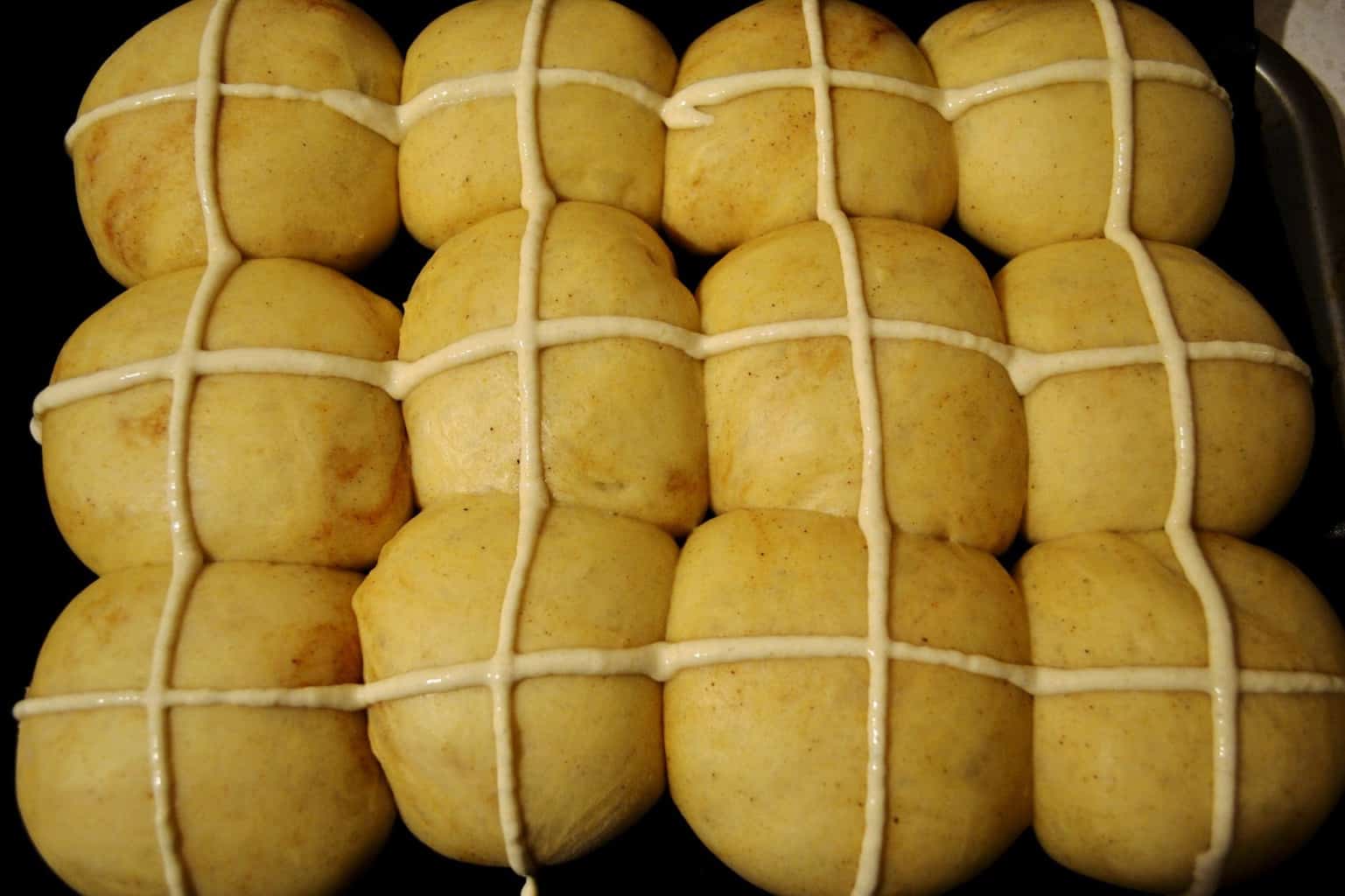 Whack the oven up to 220C while you cross the buns. To do so, mix the flour and water to a paste. Use a piping bag with a small nozzle to pipe crosses on the buns in long continuous lines.
Tip If you don't have a piping bag, cut off a very small corner of a sandwich bag and use that – works just as well.
Place in the oven and bake for 20 minutes or until golden brown. These buns will colour very quickly because of the butter and egg content, but won't mean that they're actually cooked. If they start to get too dark, cover the tray with foil, turn the temperature down a bit and continue to cook for the full 20 minutes.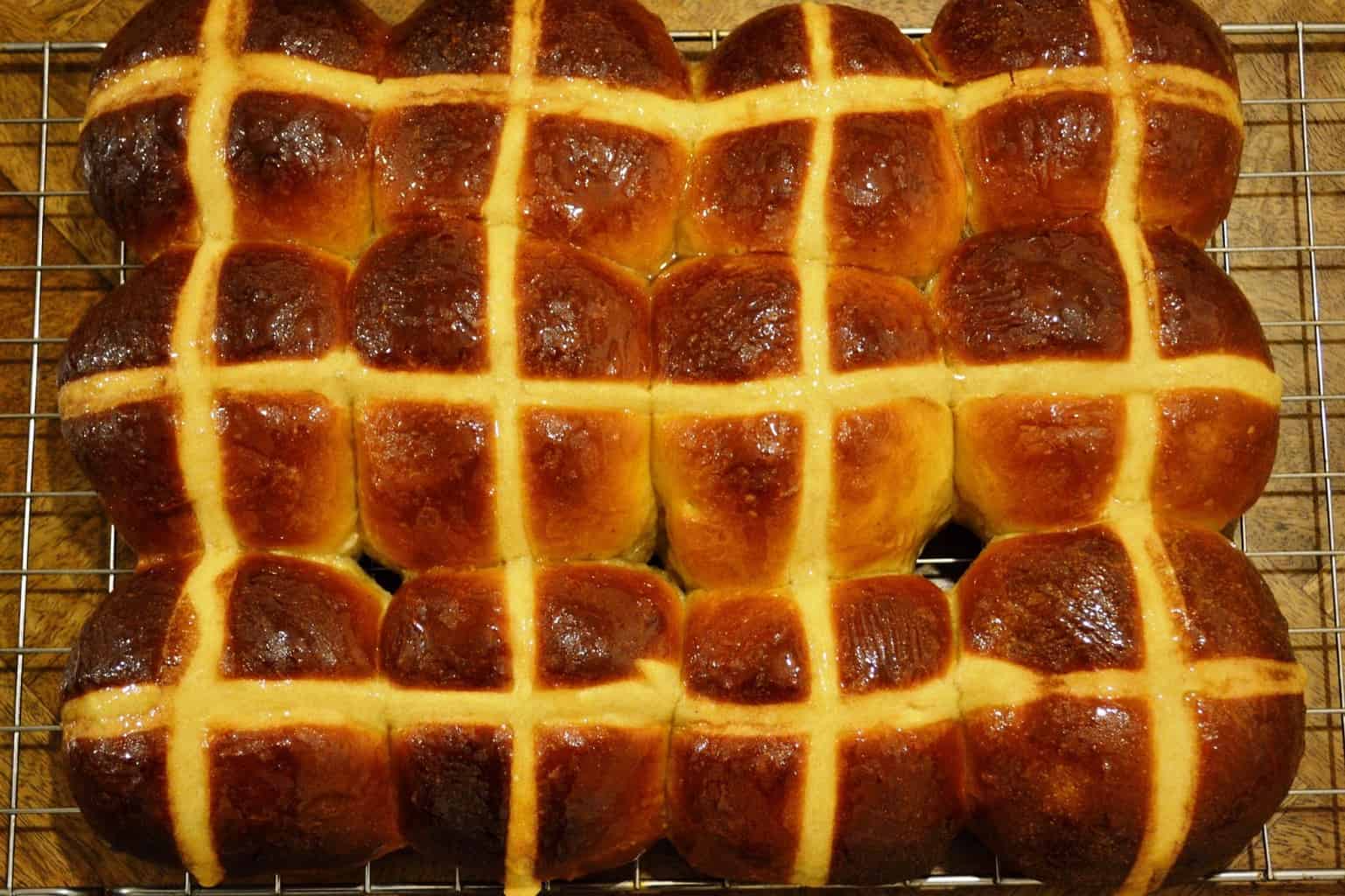 As the buns are cooling, warm up your jam with a tiny splash of water in a small saucepan to loosen it up. Brush over the warm buns to glaze. Cool on a wire rack.
Tip The warmed honey worked just as well, although once they had fully cooled the glaze wasn't shiny any more. That seemed to be the only difference.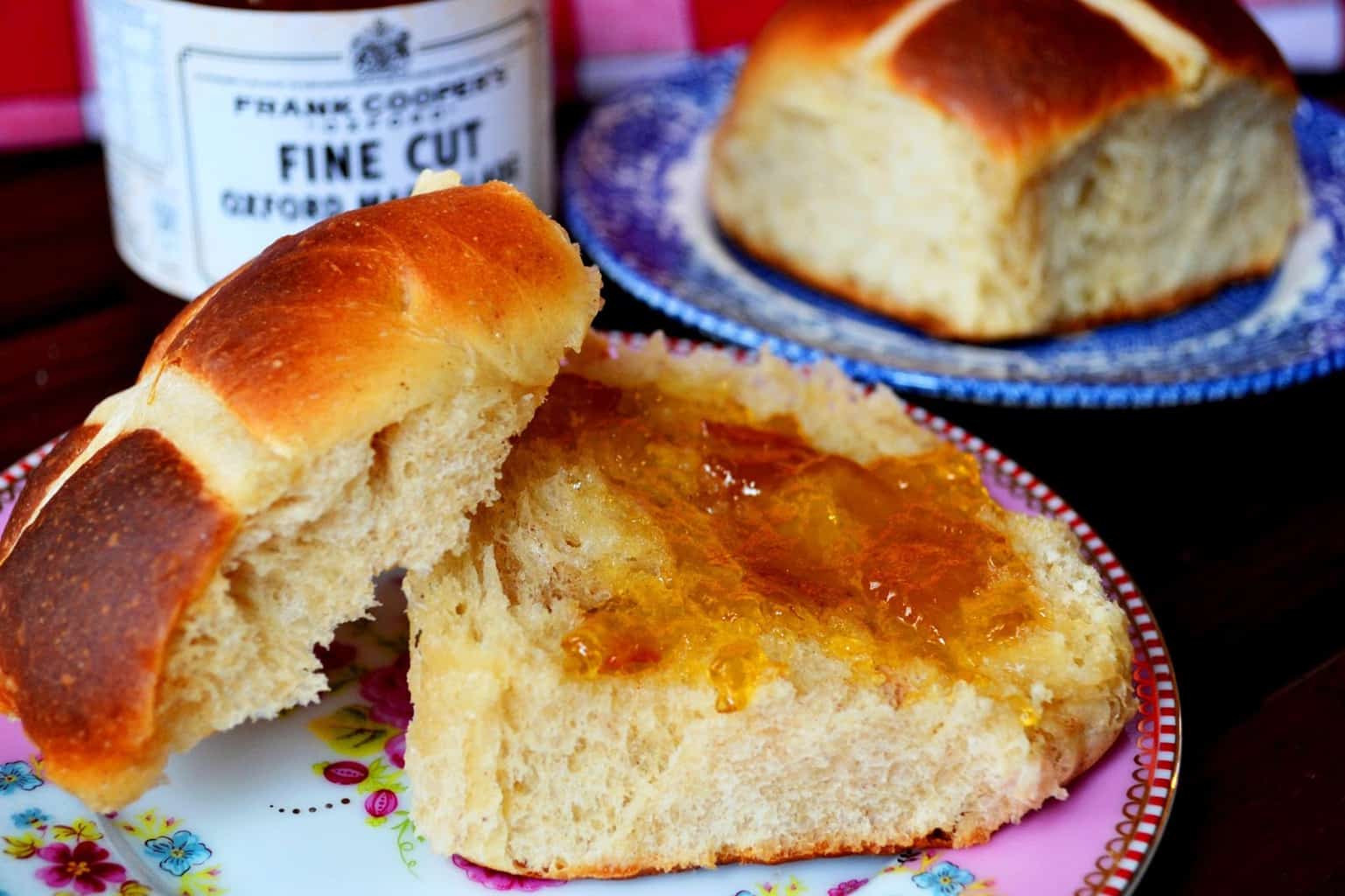 The best way to eat these are warm out of the oven when freshly baked. However, even the most enthusiastic of couples can't consume a dozen between them in one sitting. If eating these over the next couple of days, just warm them up in a low oven (80C or so) until piping hot and that will bring them back to their former glory.
If you still have some left over after a couple of days, wrap them in cling film and freeze. Reheat in an oven until piping hot when desired. Serve with a slathering of butter or your favourite conserve.
Should you find yourself faced with a wet weekend (a sign from the heavens to get baking in my eyes), give these a go. The flavour from one of these made by your own two hands is on an entirely different level to anything you can buy in the shop. Happy Easter!
Afiyet olsun.