Last Updated on November 17, 2022 by Leyla Kazim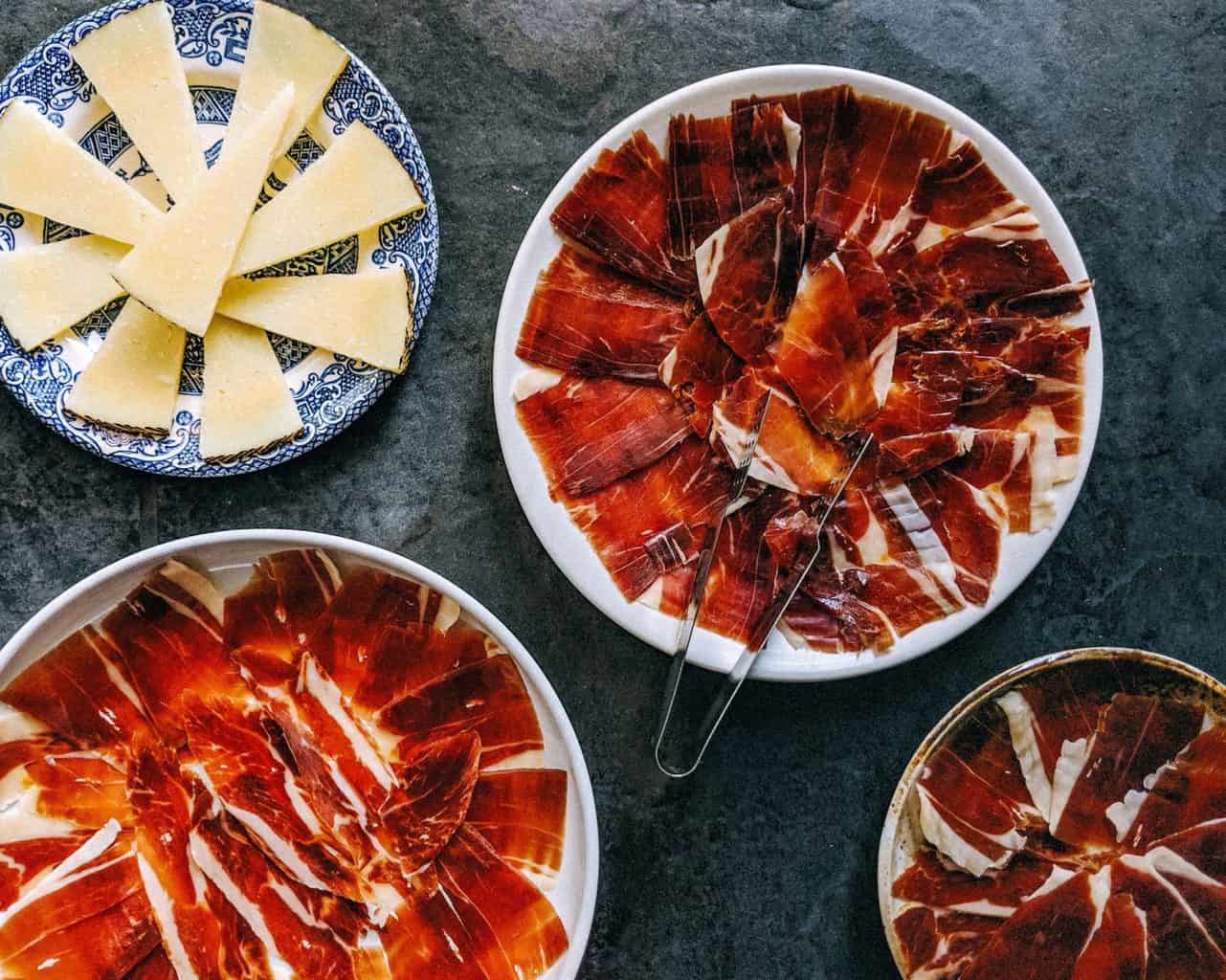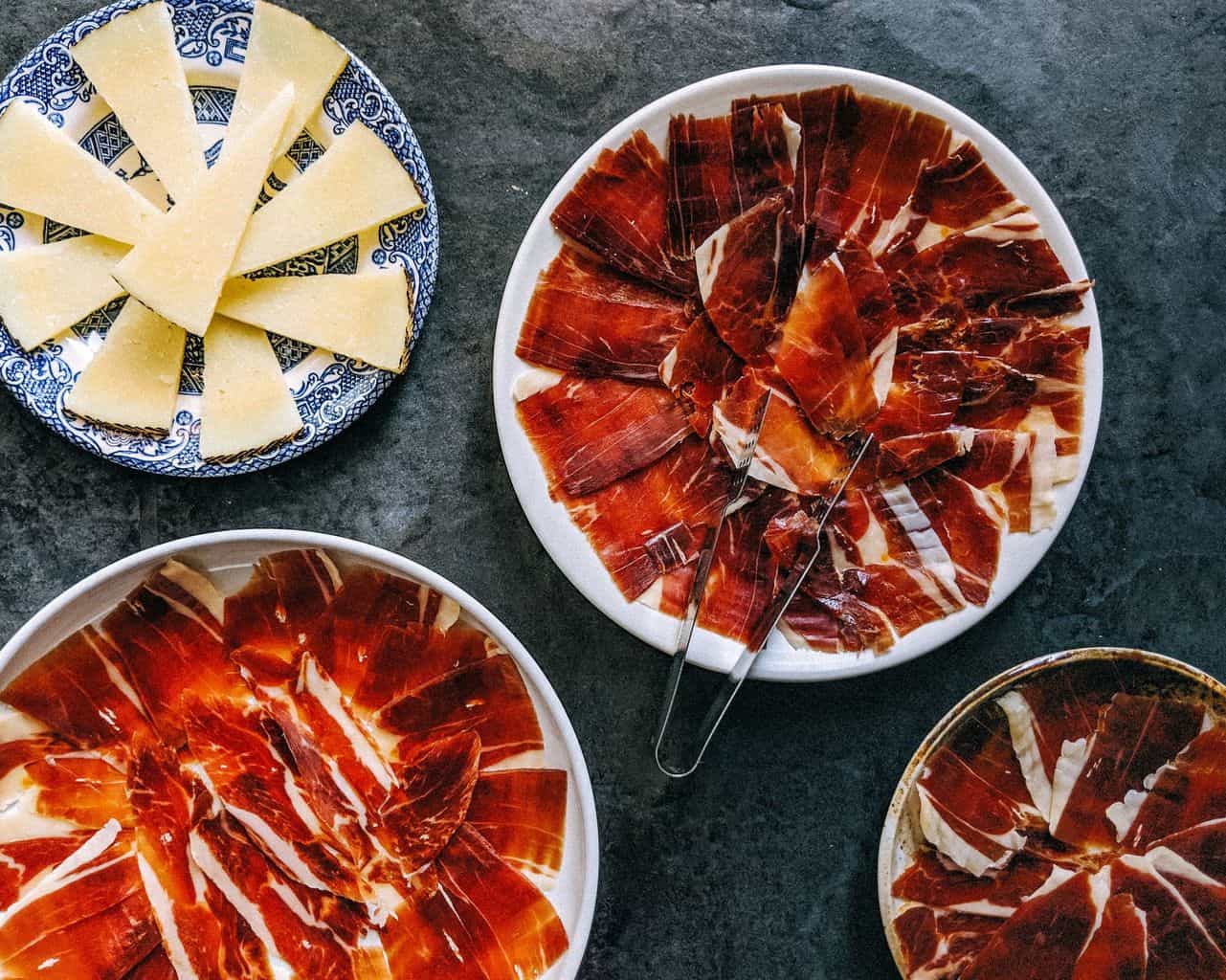 Eating acorn-fed Iberian ham (jamón Ibérico) is an experience you would never forget
Buying the best quality food products that are ethical, sustainably produced and crafted from ancient skill and knowledge is something I'll shout about all day. There are few better examples of this than Iberian ham – aka jamón Ibérico or pata negra ham – produced from Iberian pigs.
In my opinion, jamón Ibérico de bellota (from acorn-fed Iberian pigs), is without question the best ham in the world. It certainly isn't cheap. But if you ever get the chance to try it, you will never forget it.
5 reasons why Iberian ham (jamón Ibérico) really is the best ham in the world
Dark red and well marbled, this pata negra ham is served as paper thin slivers at a warm room temperature.
The fat melts on the tongue, first with sweet and nutty notes, that then releases further flavour complexities.
Here are 5 reasons why Iberian ham (jamón Ibérico) really is the best ham in the world.
1) Iberian pigs are a unique breed dating back millennia
Iberian pigs are the original swine of Spain, tamed over centuries. They're big and black, with very little hair, slender legs and a long snout.
They also have black hooves which is where the term pata negra (black leg) comes from. It refers to the black hoof that remains on the ham and distinguishes Iberian ham from Serrano ham.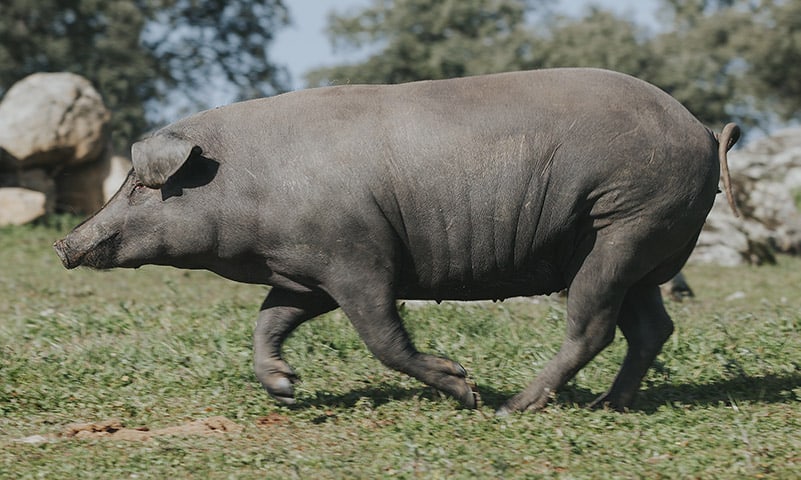 Iberian pigs are also much fatter that your standard white pig. These guys eat a lot (see point 3). Meaning they have veins of fat running through their muscle too.
This, along with the large amount of fat layering in pata negra ham, allows them to be cured much longer. This results in a complex and intense flavour, with unique sweet notes.
2) The dehesa is where Iberian pigs call home, a stunning natural environment that only exists in Spain's Iberian Peninsula
Back when cavemen were still around, a huge Mediterranean forest stretched over vast swathes of Spain. Over millennia, most of the forest was cleared, but a large portion survives to this day.
This is the dehesa, an ancient land of around 20,000 km squared in southwest Spain.
It's an ecosystem where oak and cork trees, grasses and aromatic plants thrive. And Iberian pigs are an essential part of the balance of this biosphere.

Along with Retinta cows, Merino sheep and fighting bulls, these livestock preserve this millenia-old ecosystem.
By clearing out saplings and other plants that could take over and disrupt the balance of flora, they essentially keep the weeds down.
Both the evergreen cork trees and the oaks produce acorns at different times of year. This extends the period of feasting for the Iberian pigs.
Along with grasses, saplings and wild legumes, they make up the vast majority of the diet of these animals.
3) Jamón ibérico de bellota is the highest quality Iberian ham. But what makes it superior to standard jamón ibérico?
An important point about Iberian pigs: they alas don't all live freely in the Spanish countryside.
The majority of pata negra ham is made from Iberian pigs who live normal farm lives, eating corn and other feed.
It's still excellent ham, as we're talking about Iberian pigs after all.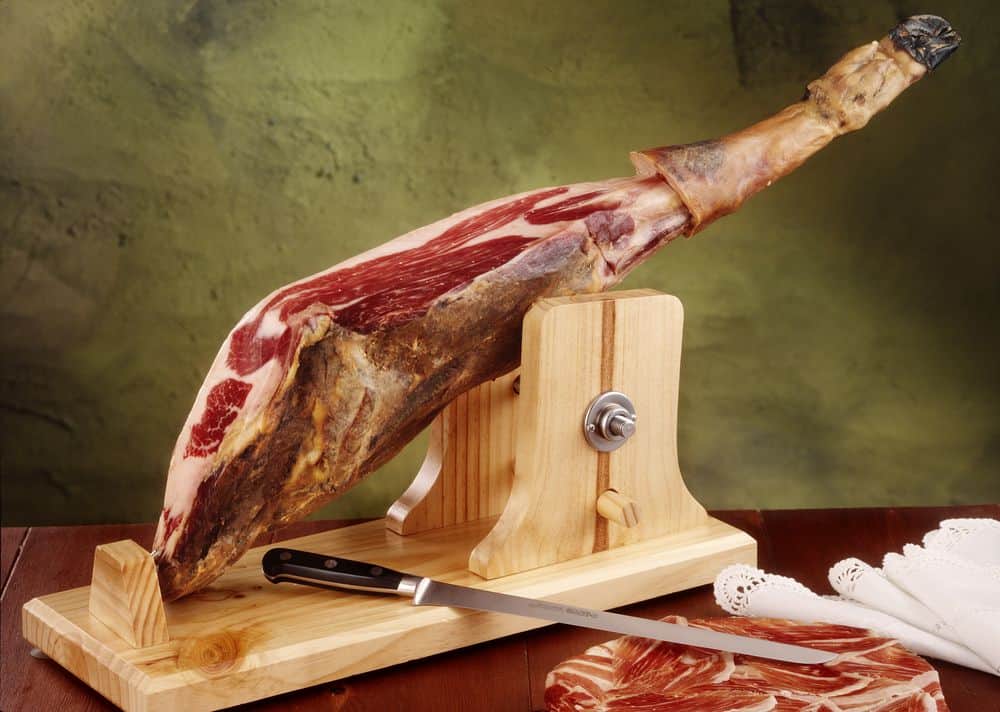 But for the best pata negra ham, you specifically want jamón ibérico de bellota, bellota meaning acorn. Iberian pigs destined for this category finish their lives grazing the dehesa until slaughter day.
And Iberian pigs love acorns. Like, they really love acorns. Each beast can scoff 10kg of them a day, gaining up to two pounds of fat every day!
After 3-4 months of gorging, they roughly double their weight and are ready for the matanza, or sacrifice.
4) The saturated fats in jamón ibérico de bellota are changed into healthy mono-unsaturated fats high in oleic acid; the only fat higher in oleic acid is olive oil
The sacrifice would traditionally be a family affair, with the whole animal butchered and preserved for the rest of the year.
Chorizo, salchichón and morcilla sausages would be made immediately. Choice Iberico pork cuts would be cooked and eaten fresh.
And the fatty legs would be packed in sea salt and hung to dry in the cool winter air.
This process still continues in some towns as it has for thousands of years. Today, family factories are able to cure pata negra ham in large quantities, still using the same methods.
Iberian ham cures for around two years, but Iberico bellota hams cure for around four years.
This remarkably long curing process is possible because of the huge amounts of fat on each Iberian ham, and the antioxidant quality of their acorn diets.
With the bellota hams, the most miraculous transformation is of the fats. Through the period of heating and cooling, salting and drying, the fats are broken down.
Because of the antioxidants in the acorns and the unique curing process, the saturated fats are changed into healthy mono-unsaturated fats high in oleic acid. The only fat higher in oleic acid is olive oil.
5) Buying and eating Iberian ham and Iberico pork will help preserve the unique dehesa landscape for the future
The unique ecosystem of the dehesa is a perfect example of sustainability; a balance between respect for the environment and the sustainable use of natural resources.
With the construction boom in modern Spain, there has been pressure on the owners of the dehesa to convert the land into real estate.
But the renaissance of Iberian ham and Iberico pork – which began around thirty years ago – has been key in preserving this jewel of Spain for future generations.
In fact, work is currently being done to declare the dehesa a protected natural space and a UNESCO World Heritage site.
Have you ever tried jamón ibérico before? Did you know Iberian pigs were a unique breed? Had you heard of pata negra ham before, but wasn't sure what it was (me too!)? Have you ever noticed Iberico pork on a menu? What are your thoughts on the Iberian ham product after reading this? Let me know in the comments below!
This is a sponsored post in partnership with The Ham Passion of Europe. The Spanish non-profit organisation ASICI (Interprofessional Association of the Iberian Pig) and the EU have united their efforts to spread the word about jamón ibérico.
I think it's one of the best hams in the world (if not the best!), so it's a privilege to collaborate on such a great campaign, thank you!
Hungry for more? Here are some recipes you might like:
And some posts about eating Spanish food!
Don't forget to subscribe to my YouTube channel!