Last Updated on June 17, 2020 by Leyla Kazim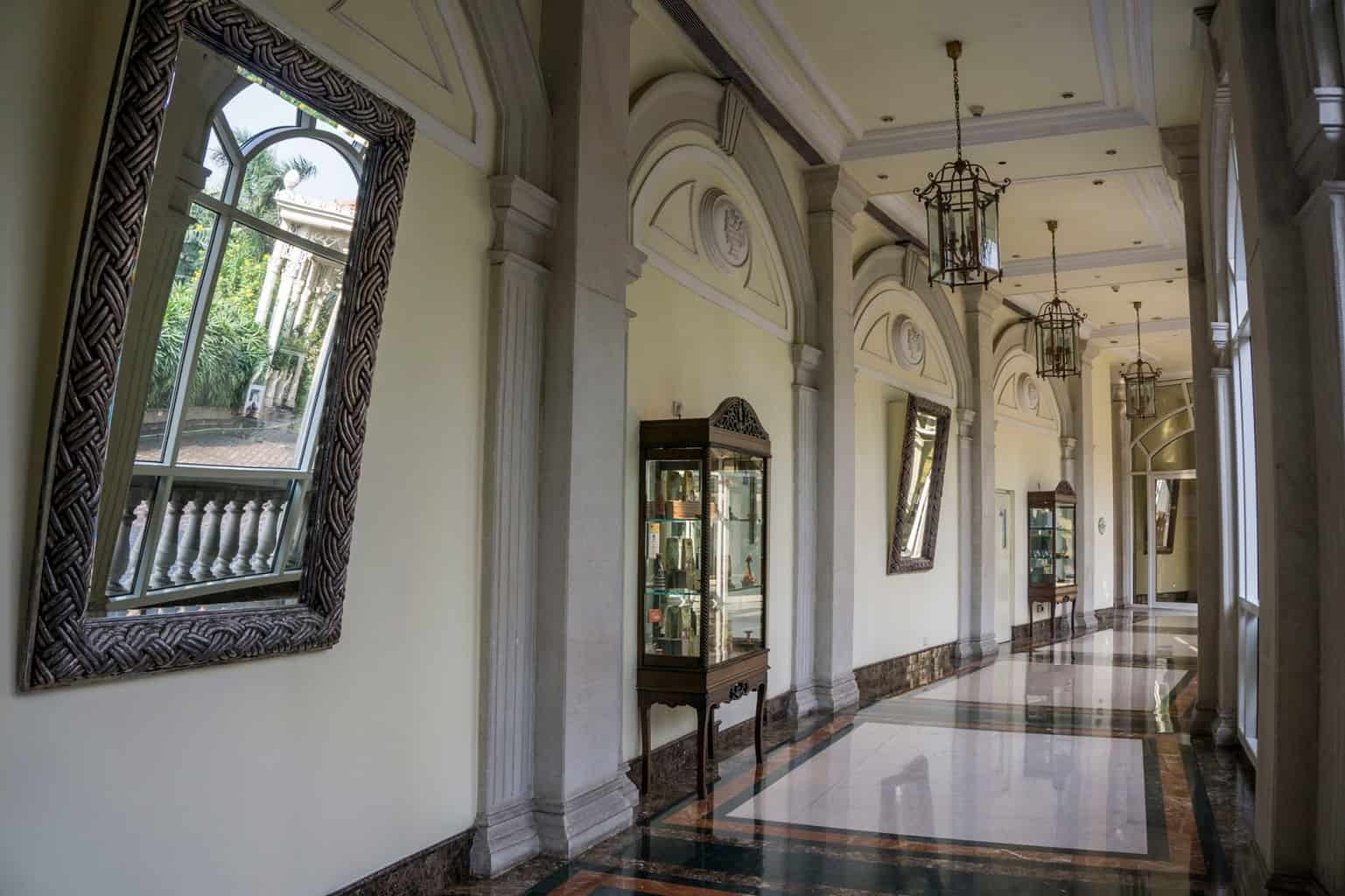 In a nutshell
A luxury tower housing 242 rooms, standing tall as an ochre red presence in the neighbourhood of Parel in Mumbai.
Where is it?
It has a good location, just a few minutes from the key leisure and commercial districts of South and Central Mumbai. It's 15km from the domestic airport, 22km (45 minutes) from the international one, and 20 minutes from Nariman Point.
The area used to have a high concentration of cotton mills and prior to that, was a colonial residential settlement where the erstwhile governor of Bombay – Sir William Hornby – lived. Today, the district retains the old world charm of a bygone era, despite it being cited as one of the fastest developing neighbourhoods in the world (outside of China).
Style and character
The building is handsome and refined, with the design of the public spaces inspired by British Colonial architecture of old Bombay, giving it a stately air of grandeur. It's height and tall spire cuts a striking figure against Parel's skyline, and the cobble-paved Mill Square and central fountain provides a strong focal point.
The Peace Zone (the tower that houses the rooms) is separated from the Celebration Zone by Mill Square, where the restaurants and business and banqueting facilities are. They're connected by a rather pretty corridor, furnished with large leaning mirrors and a polished marble floor (see main pic).
Frederick's Lounge is a particularly attractive space. A spot for morning coffee and pastries, afternoon tea, or snacks and cocktails, the big bay windows overlooking the garden courtyard allow light to enter and reflect off all the shiny polished surfaces. Wicker garden-style furniture with plump seating, brass chandeliers and a gleaming black floor create a casual but sophisticated atmosphere.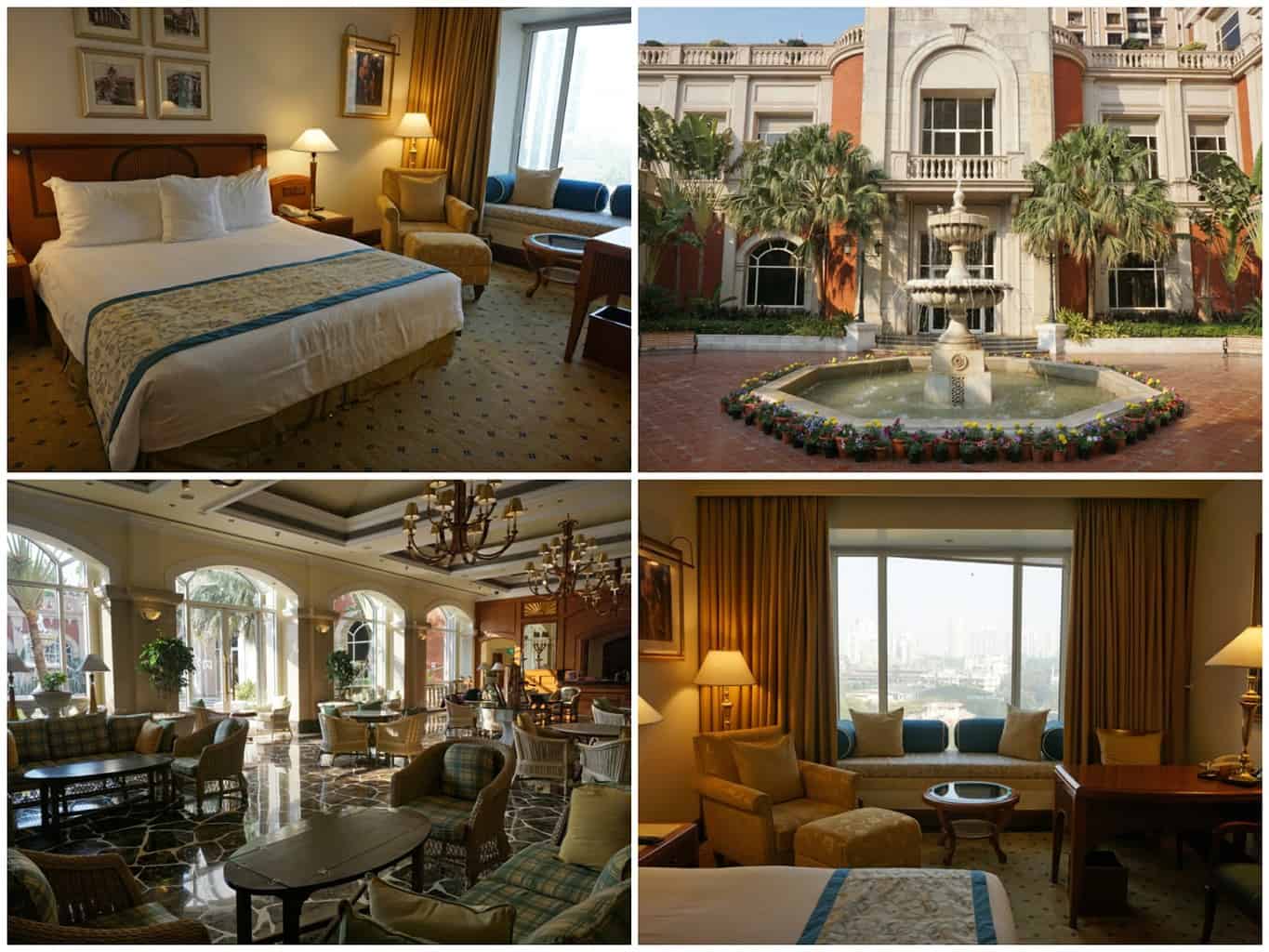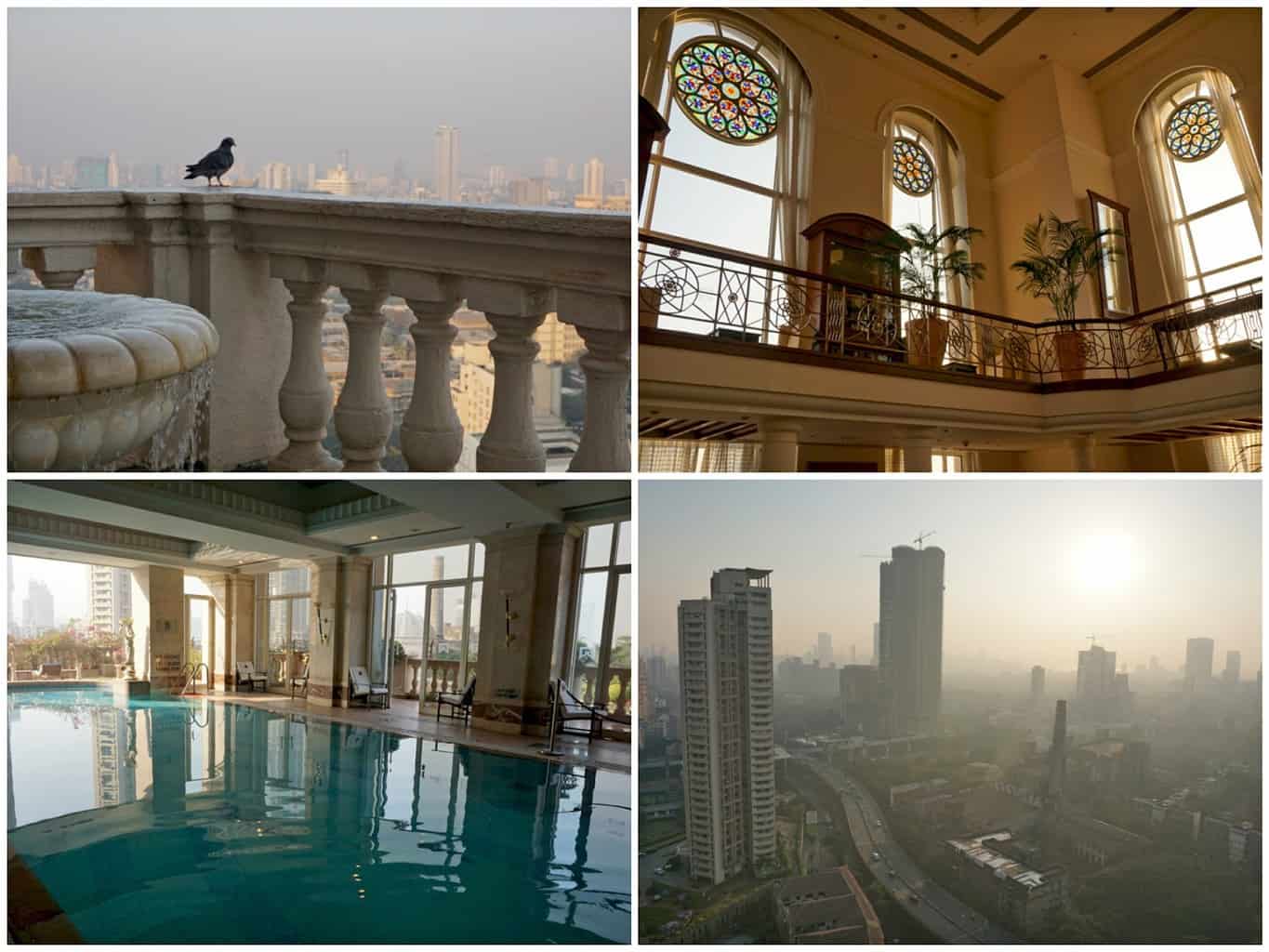 Add caption
What's unique?
The hotel has the rooftop, split-level Point of View lounge, where you can actually go outside and look over the city – I'm not sure those sort of views, without a pane of glass in the way, are that common.
ITC business hotels (including this one) have been the first in the country to dedicate entire floors with standardised facilities for women travellers, which they call Eva floors. What are deemed to be 'feminine needs' – like full-length and make-up mirrors, iron and ironing boards, smaller hangers, bath robes, and an assortment of extra cosmetics – are provided especially for solo women travellers.
Security is also a big deal on the Eva floors, with guests only being able to get off the elevator if they have a room card for that floor, along with video phones that allow residents to identify who's at the door.
Who goes?
I'd say the majority were business folk, often seen having meetings over coffee in Frederick's Lounge, but we did also see families, couples, tourists from India and those from further afield.
Breakfast
The buffet breakfast takes place at the 24hr dining restaurant Hornby's Pavillion (with buffets available at lunch and dinner too) and recognising their diverse client base, it's an international offering.

There are some Far Eastern entries with miso, congee, clear chicken broth, and dim sum; there are European cold cuts, cheeses and breads; lots of Indian offerings including a dosa station where they're made fresh to order; grilled tomatoes, mushrooms, and baked beans; and an egg station.
It was the first place in India that already had rock salt and a pepper grinder on the table, and also the first with skimmed milk readily available without having to ask for it. A fresh juice bar that would blitz up whatever concoction you fancied from what they had on display proved popular too.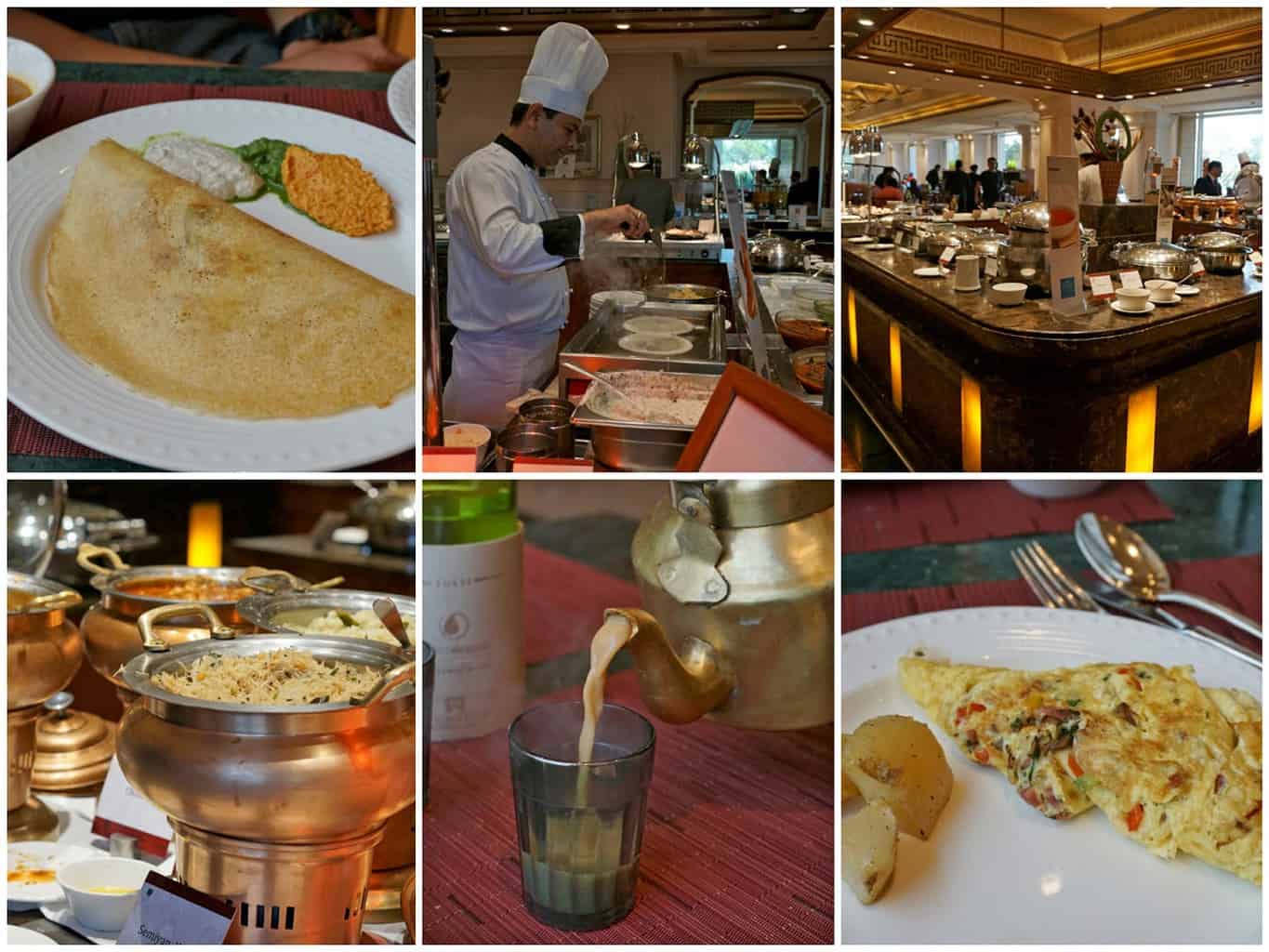 Dining
Kebabs and Kurries aims to serve food from the royal courts and battlefields of a time gone by. They use sealed deghs and copper handis, clay and iron tandoors, and angethis and tawas, to rustle up a menu that, as the name suggests, focusses on meats and curries, and does them rather well.
Forget pizza base spinning. I managed to take a good snap of rumali roti in the making (below, top left). It's handkerchief-thin bread, cooked on top of (the convex side) an inverted kadhai (Indian griddle) – lovely stuff.
We had some murgh tandoori – chicken marinated in yoghurt, malt vinegar, ginger and garlic paste, lemon juice, red and yellow chillies, turmeric, garam masala, skewered and cooked in the tandoor. First bit of chicken for some time, what with all the great vegetarian offerings across the country, and it was mighty fine.
There was also a pot of garlic achaar as part of the condiments which we emptied in minutes. Pickled garlic, with mustard oil, asafetida, fenugreek, cumin, coriander seeds, nigella seeds, chillies, salt, lime. They might have thought me odd if I asked for another, so I didn't. Shame.
Then there was the rather decadent dal bukhara. A voluptuous bowl of black lentils, tomatoes, ginger, garlic, simmered overnight on a low charcoal heat, finished with butter and cream, of course.
Hornby's Pavillion is a good shout when you need to fill the gap between lunch and dinner and your body clock is yet to adjust to local time. It's open 24 hours and as I've found to be the case at all the ITC hotels I've stayed at, does international cuisine rather well, if you fancy a change.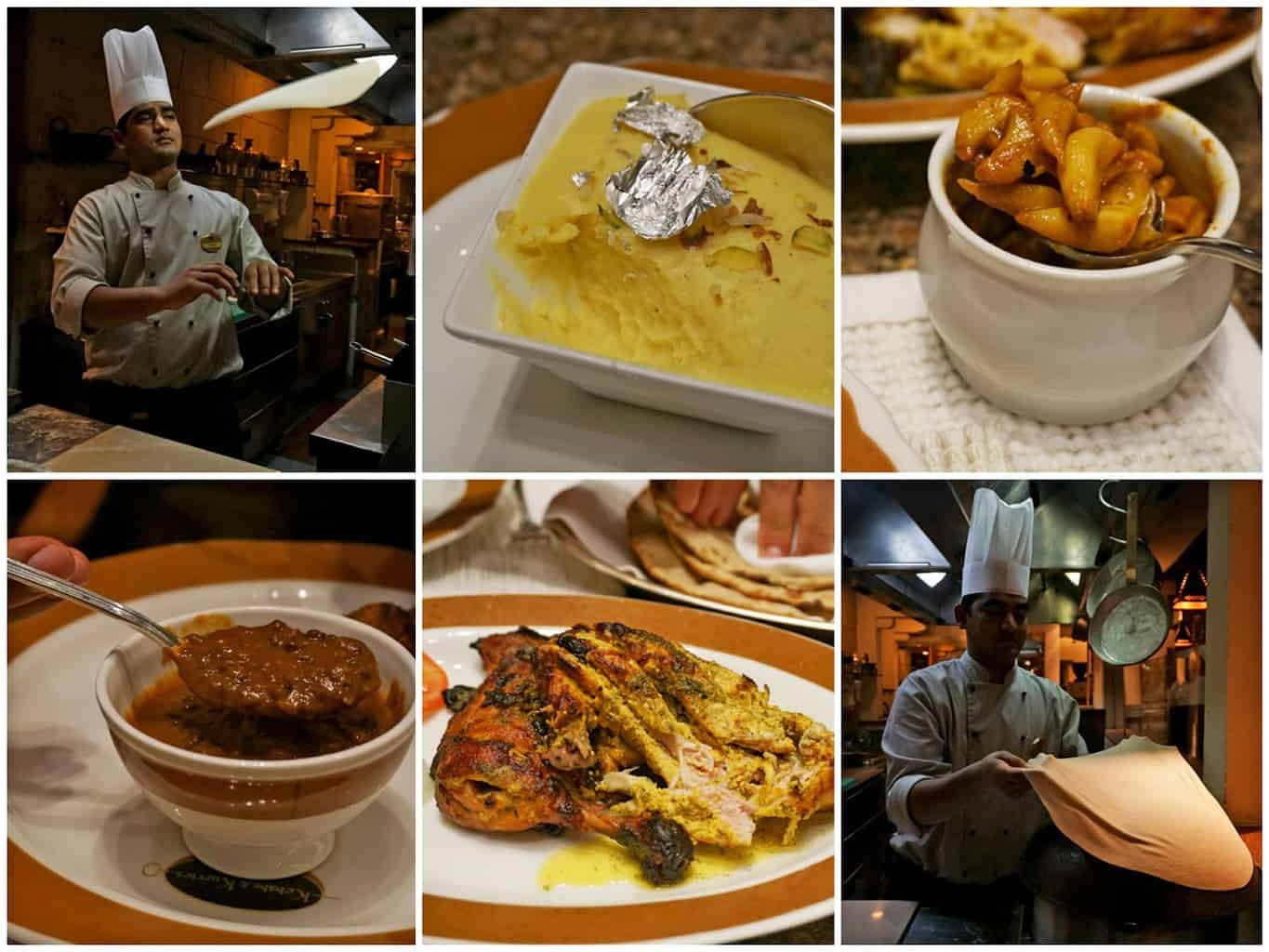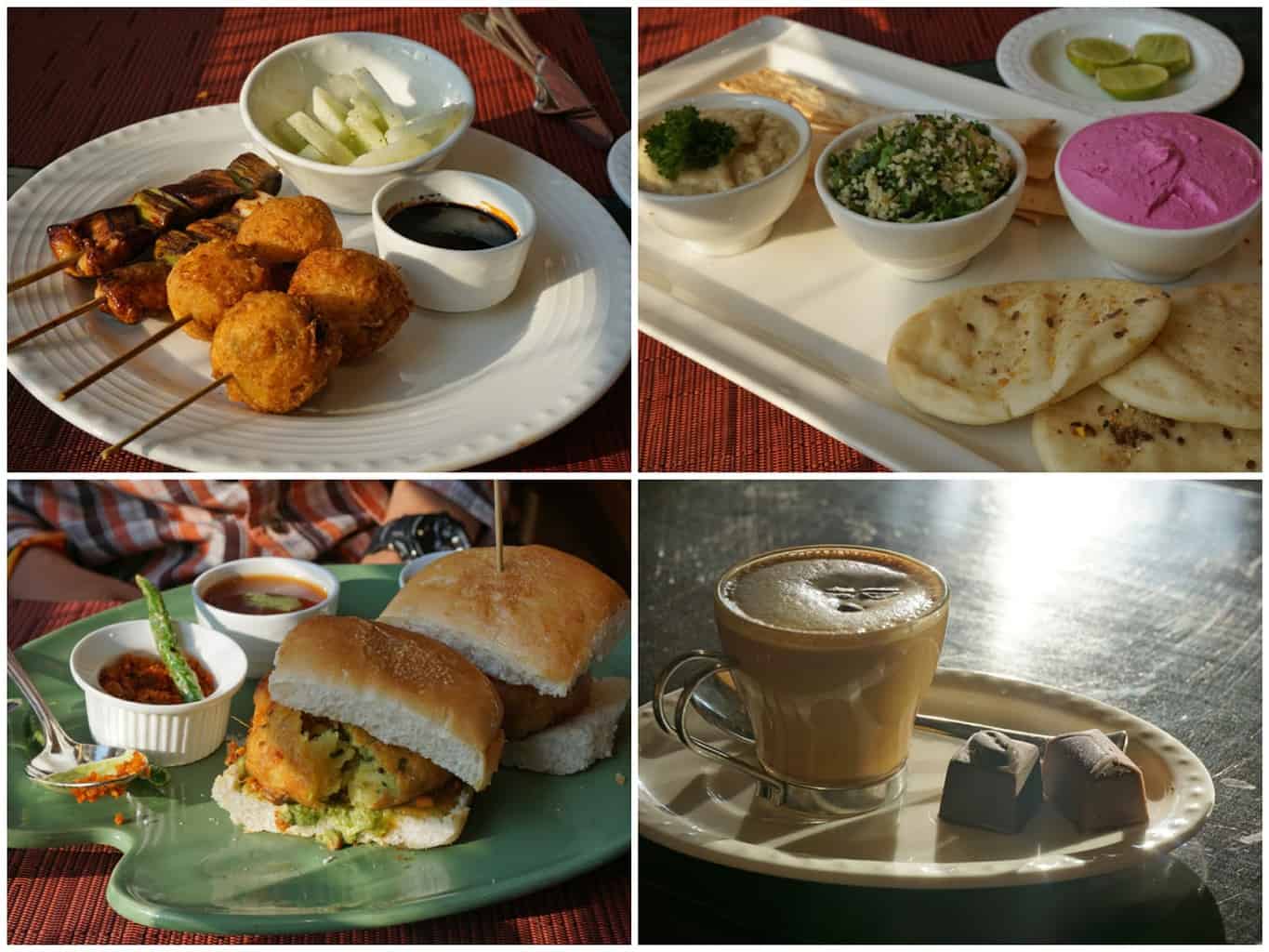 Service
This was very good, particularly in the restaurants. I was talked through the workings of the kitchens at Kebabs and Kurries, and one of the chefs was asked to make some romali roti just so I could see how it was done (where the snap is from).
The staff at breakfast were great too, with some Mumbai cutting chai made up so I could try something a little different and typical to the city.
Liked lots / liked less
Liked lots. The hour long Absolute Pearl Illuminating facial I indulged in, at the hotel's Kaya Kalp Spa. It involved a face massage, a scrub, a steam to open the pores, a very thorough blackhead scrape, an outstanding scalp and neck massage as the face mask that was applied was drying, followed by a facial bone structure massage (I'm talking brow bones, cheek bones, eye sockets, jaw bone), then finishing with moisturiser. This was the most thorough and most comprehensive facial I've had.
It knocked the dust and grime from the past few weeks in India right out of my epidermis layer, and I left looking positively radiant.
Liked less. This would have to be the same point raised in some of my other ITC hotel posts – their wifi is not included in the room, which seems strange in this day and age.
Price point
Prices from around £165 a night for an Executive Club room to £1000 for the Queen Suite, rooms inclusive of breakfast.
Contact
287 Dr Babasaheb Ambedkar Road, Parel, Mumbai 400 012, Maharashtra
+91 (22) 24101010
Website
@ITCHotels
Note: I stayed as a guest of the hotel.


Related posts


Week 1: INDIA – Mumbai → Goa
Week 4: INDIA – Pondicherry → Chennai → Mumbai
INDIA: Palladium Hotel, Mumbai