Last Updated on June 17, 2020 by Leyla Kazim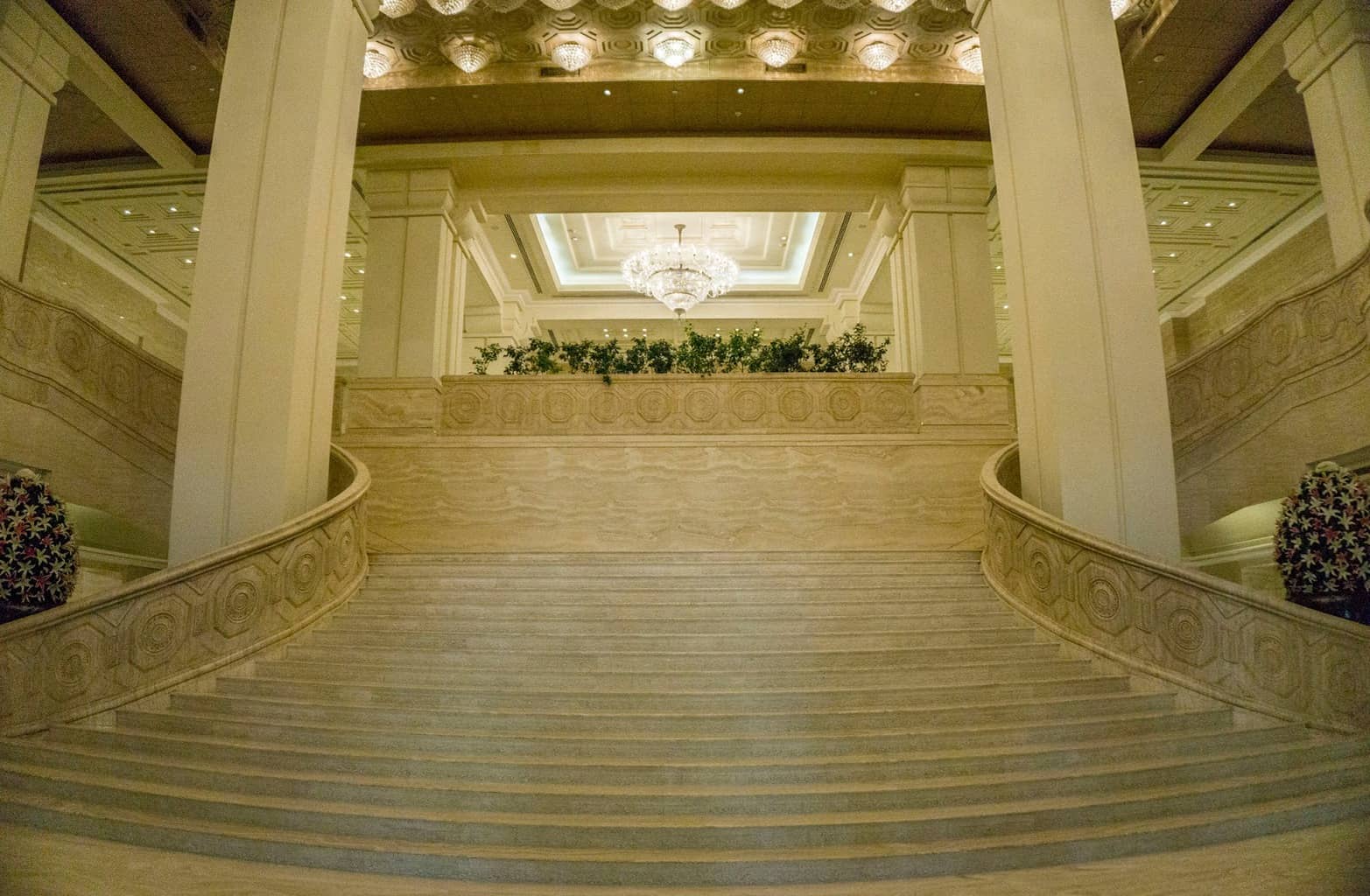 In a nutshell
Channelling the glory of the Chola Dynasty – one of the greatest and longest-ruling maritime dynasties in the history of southern India – this is ITC Hotel's flagship property in the region. Boasting 522 rooms and 78 luxuriously appointed serviced apartments, it's 'grand' in every sense of the word.
The highest standards in Indian hospitality, balanced with elegant restraint, in a sensational property, with a distinct personality. Simply put, this was, by far, the best out of both the ITC Hotels and hotels in general we stayed in during our five week visit to India.
Where is it?
Equidistant from the city centre and the airport, the hotel is close to the business hubs of Mount Road, Olympia Tech Park and Guindy.
It's very handily only 8km from the international airport, but that does mean it's a little way from the city centre. However, the well-connected highways and flyovers mean you can easily and quickly (outside of rush hour) reach the key parts of the city.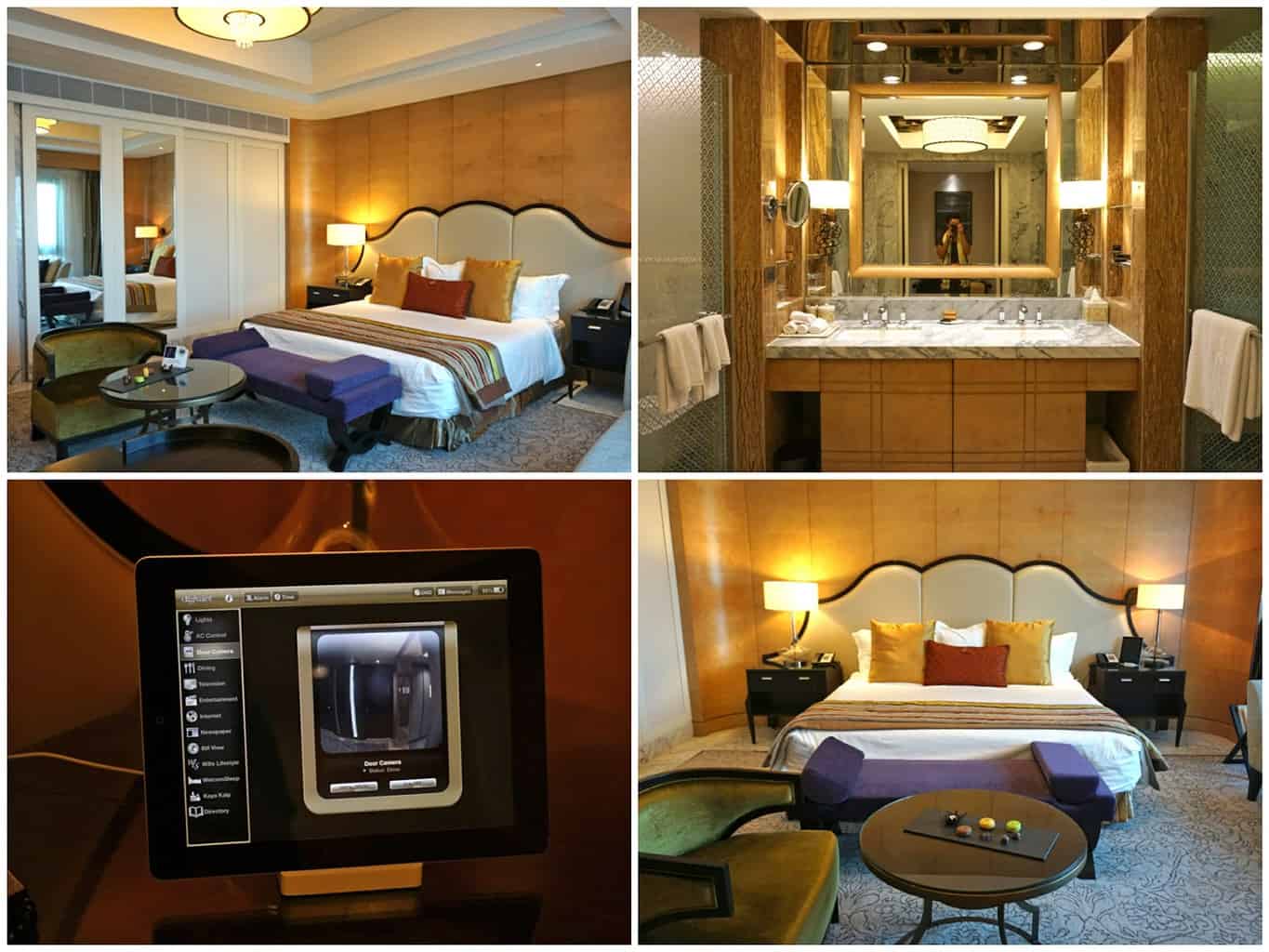 Style and character
The clue is in the name. The property is so large and so impressive that it has three different reception desks for each of its three wings, with the main lobby basking in the grandeur that is a magnificent sweeping central staircase.
The vast spaces, splendid columns, alabaster granite and marble walls and floors, sweep you along the corridors; you take another turn, get into another elevator, come out on yet another floor or mezzanine. It's a little confusing to navigate (particularly if you have no sense of direction, like me), but it's the sort of place you don't mind getting lost in, and don't really want to leave.
This ornate, palatial tribute to Southern India's greatest empires – the Imperial Cholas – overlooks a central outdoor swimming pool fringed with palm trees.
The first thing that struck me on entering the lobby – something I believe to be a signature of ITC hotels, but which I found to be most prevalent here – was the wonderful fragrance. To be able to make every corner of such a huge space smell so gorgeous is impressive. I was told a key ingredient to the aroma was lemongrass. I want some.
Furnishing so many public areas (and this place has a lot of them) is a huge task. Here, it's done particularly well. The impeccably carved temples, beautiful bronze sculptures and keen attention to detail in aesthetics from the Cholas are reflected in the pieces used to dress the seating areas, corridors, lounges and receptions. Guest rooms are upholstered in elegant fabrics with delicate hues, and plump furnishings.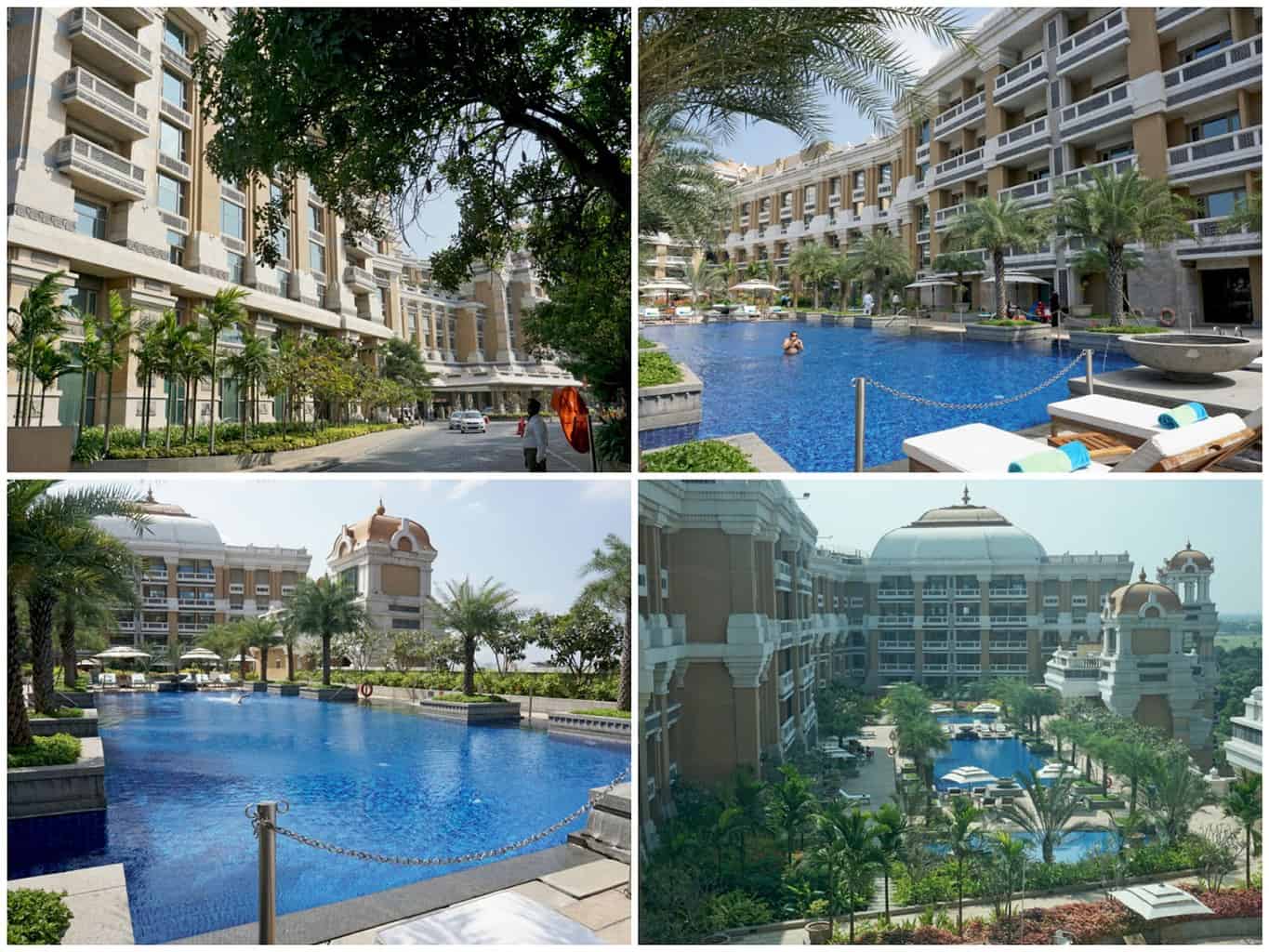 What's unique?
The outside of the building would look mighty impressive at night with some strategic spot-lighting, but they choose to use a minimal amount of bulbs in order to conserve energy. There's even an eco-friendly setting in the room which will only illuminate small LED lights close to the floor – more than enough to see with, whilst using little electricity.
The green credentials of the chain as a whole are so good, that they boast the highest number of LEED® Platinum Certified properties, and are recognised as the 'Greenest Luxury Hotel Chain in the World'. Here is more information on their responsible luxury.
The Grand Chola has the largest banquet and exhibition space in the country, and all the in-room functions are controlled by an ipad – lights, AC, entertainment – you can even see who's at the front door and open it from the comfort of your bed.
Who goes?
The Grand Chola has had the greatest mix of people I've seen so far in the hotels in India. It does describe itself as a five star 'business hotel', and because it's so close to the airport, there were a lot of international business groups attending breakfast, complete with name tags and briefcases under the table.
But it's most definitely suitable for leisure pursuits too, if not more so. I also spotted both Indian and international tourists, families, couples, and the first place with quite a few Americans – I had wondered where they'd all got to.
Breakfast
The buffet breakfast takes place in the Madras Pavillion restaurant (with buffets available at lunch and dinner too) and recognising their diverse client base, it's an international offering.
There's a Far Eastern corner with miso, congee, clear chicken broth, and dim sum; there are European cold cuts, cheeses and breads; lots of Indian offerings including a dosa station where they're made fresh to order; grilled tomatoes, mushrooms, and baked beans; and an egg station – it was the first place I came across that could make poached eggs, and successfully.
Along with some of the other ITC Hotels, they also have a 'carefully selected and mindfully prepared' menu some of which is gluten free, uses more grains and I think is supposed to be healthier and more innovative with the flavour pairings. Expect the likes of finger millet and almond meal pancakes with aloe vera and blackcurrant relish, and buckwheat waffles with maple glazed bacon and poached pear.
There are ready-packed bags to grab if you're in a rush. There's a coffee man that goes round pouring it from a great height from one vessel into another to create the signature Indian froth, whilst also patiently posing for the the videos and photos people were taking.
It's a good idea to make a reservation for breakfast so you don't need to wait around when you get down there – just ask reception.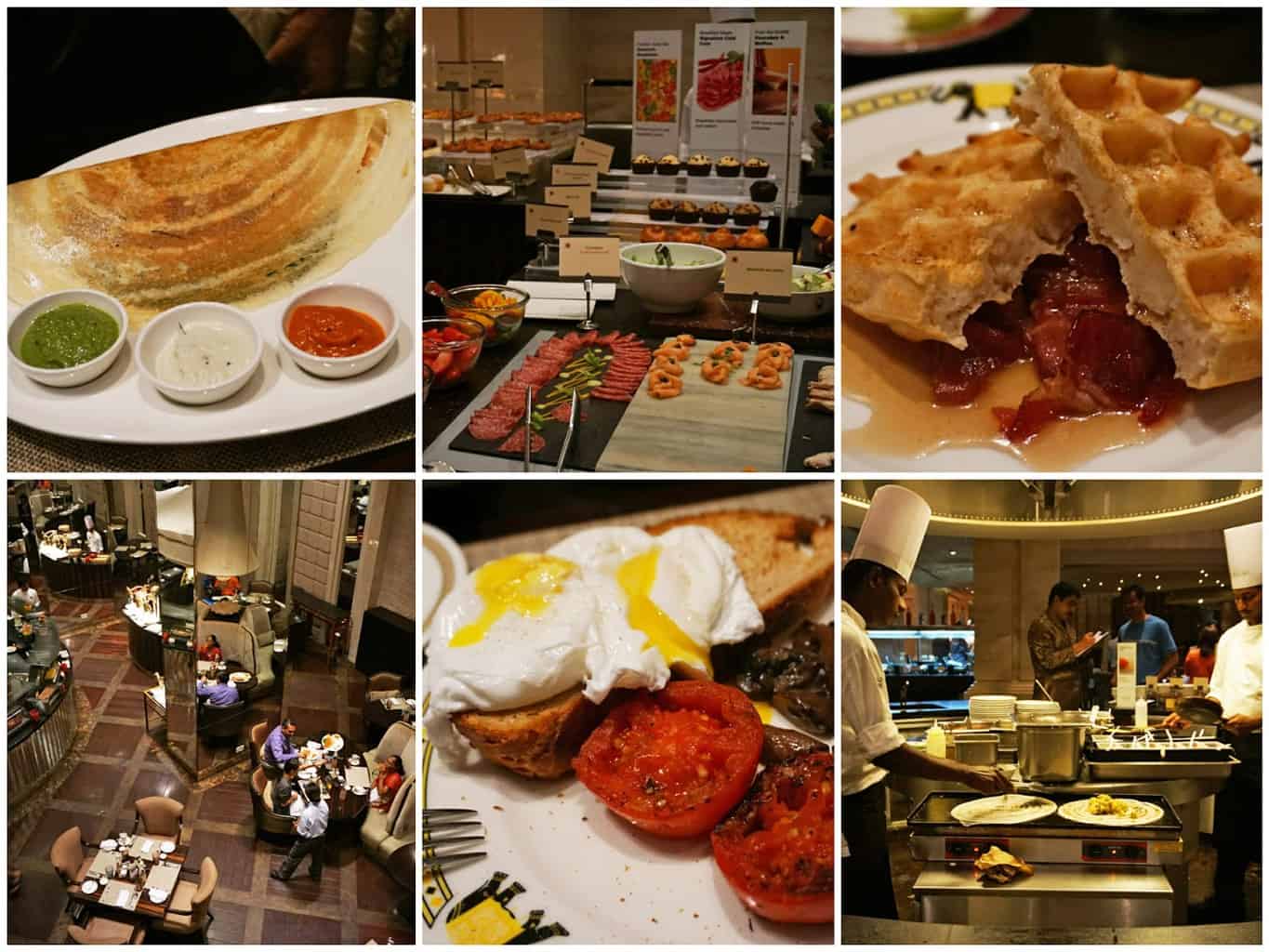 Dining
The hotel has no less than ten separate drinking and dining destinations, including a 24hr coffee house (which also serves food), a boulangerie, a cigar and whisky lounge, Italian restaurant Ottimo Cucina Italiana, and highly acclaimed Far Eastern restaurant Pan Asian, to name a few.
They really do make it easy to leave the place.
I had a really good Mulligatawny soup in the Cafe Mercara Express – it was hot with lots of pepper and great with a squeeze of lemon.
But the real show stopper, and strong contender for the best meal I've had in the full five weeks in India, was the unexpected stellar performance from fully vegetarian restaurant, Royal Vega.
The food is based on ayurvedic principles – the understanding of the medicinal properties of plants, herbs, fruits, vegetables and grains. Chef Varun Mohan uses seasonal ingredients, and the 'rassa' or 'taste' of these traditional dishes passed down through the royal kitchens, plays a big role in the menu.
We had a sensational thali meal, served in traditional tableware, with unique flavour combinations that I am yet to encounter elsewhere in the country. These were:
Anardana raita. Jewels of pomegranate and mint folded into thick yoghurt, seasoned with salt and roasted cumin.


Idiyappam with kai kari korma. Soft rice noodels manipulated into a patty, topped with a fantastic sweet and nutty korma with seasonal vegetables such as lotus stems, corn, edamame and a cashew and coconut gravy.


Avrakkai poriyal. Freshly podded and sliced broad beans tossed with mustartd seeds, curry leaves and green chillies – hot and vibrant.


Palak chaaman. Incredibly soft cheese made on site, with a fantastically concentrated and chlorophyllic spinach gravy.


Ganika. Rice cooked in the water that fresh jasmine flowers have been simmered in. Delicately fragrant.
Angakarhi. Unleavened whole wheat flat bread, pinched into concentric spirals, flame grilled.
Vzhaipoo vadai. Deep fried patty made of banana blossom.
Mangochi pakauri. Ground mung daal, rolled into balls, spiced with dry fenugreek and red chilli, simmered in mung lentil and turmeric buttermilk, tempered with asafetida and white cumin. The whole meal was great, but this was something else.
Shatawari purva. Asparagus tips, whipped saffron butter, pistachios, raisins, and Himalayan gucchi – a type of hard-to-come-by morel.
Kheer sagar. Paneer made on site, slow cooked with cardamom flavoured milk, reduced to a sweet rabi, with a shimmer of silver leaf.
A round of applause, please.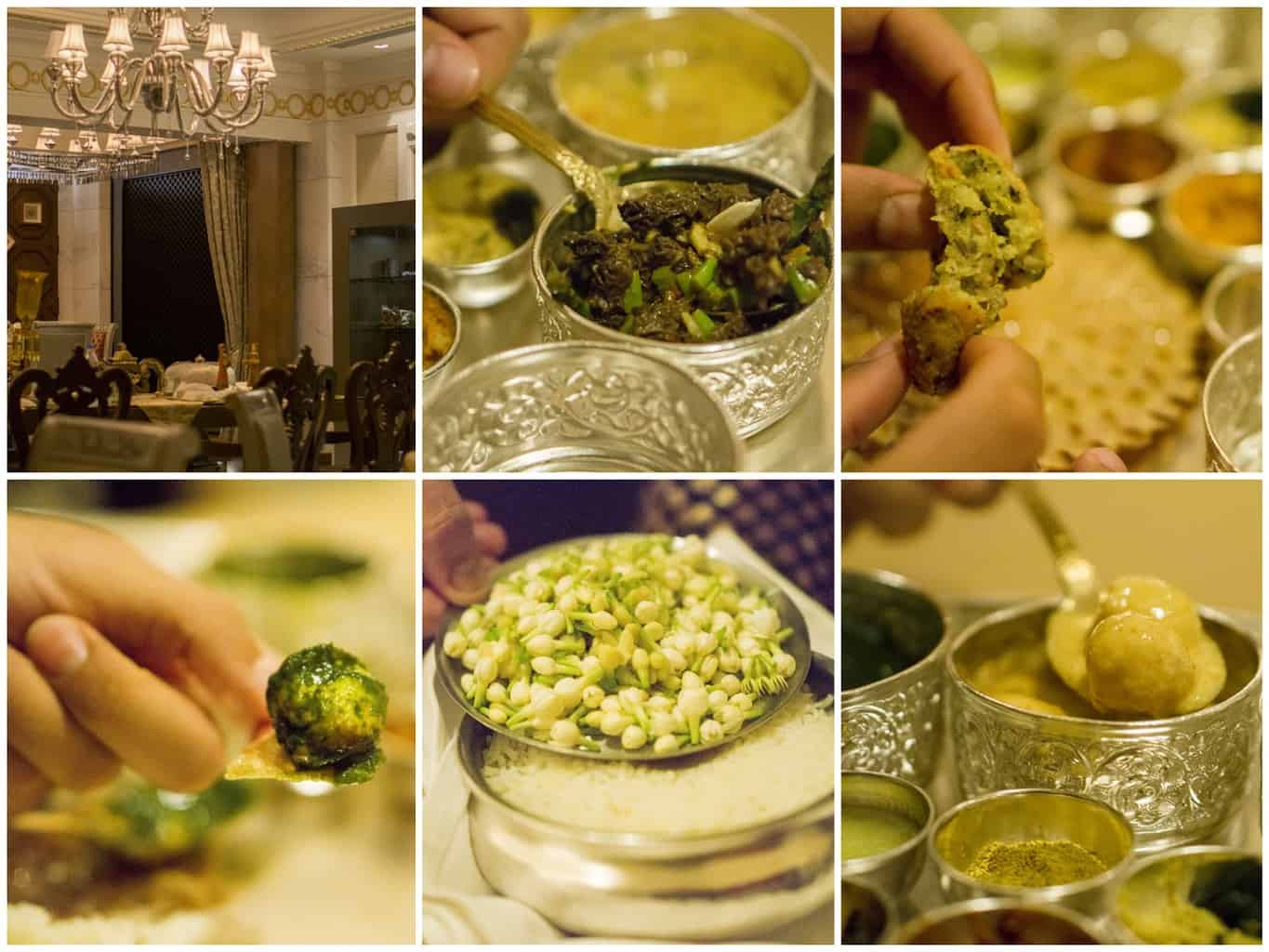 Service
It's going to be difficult for other hotels to match the service I received here.
We pulled into the train station after a five hour ride, wondering how we were going to locate the hotel driver who was due to pick us up. Worry not – two impeccably smart members of staff were already waiting for us on the platform, standing right at the door of our carriage (the details of which I did give in advance, so not just a lucky guess).
As I stepped off with my huge bag, a voice said 'Miss Kazim?' and the moment I responded, the bag was whisked away before I even got a chance to haul it onto my back. No other hotel who has picked us up from a train station has managed that level of service.
Some of the high-end rooms, namely the suites, include a butler service. We weren't in one of these, but we were gifted the service, and what a luxury it was. Our butler was the fantastic Anu. She organised our days, made reservations, waited inconspicuously in the wings wherever we were in the hotel should we need her, and was there to cater to our every whim.
The butlers stay with guests from check-in to checkout, and are only ever assigned to one room at a time – they go to bed when you do. How the other half live, eh. Could very easily get used to someone like Anu.
A really special touch was the welcome card in the room when we arrived. Not only did it have my picture on it, but it was made out of white chocolate – the whole thing was edible. I doubt there's anything in the hotel that can rustle one of these up, so they must have gone outside to get it done. And that in itself is quite lovely.
The traditional greeting when you first enter the lobby has also been the best we've received. We were given soft drinks, a thumb printed bindis onto our foreheads, and traditional Indian scarves were draped over our shoulders. Very nice ones too, which we got to keep.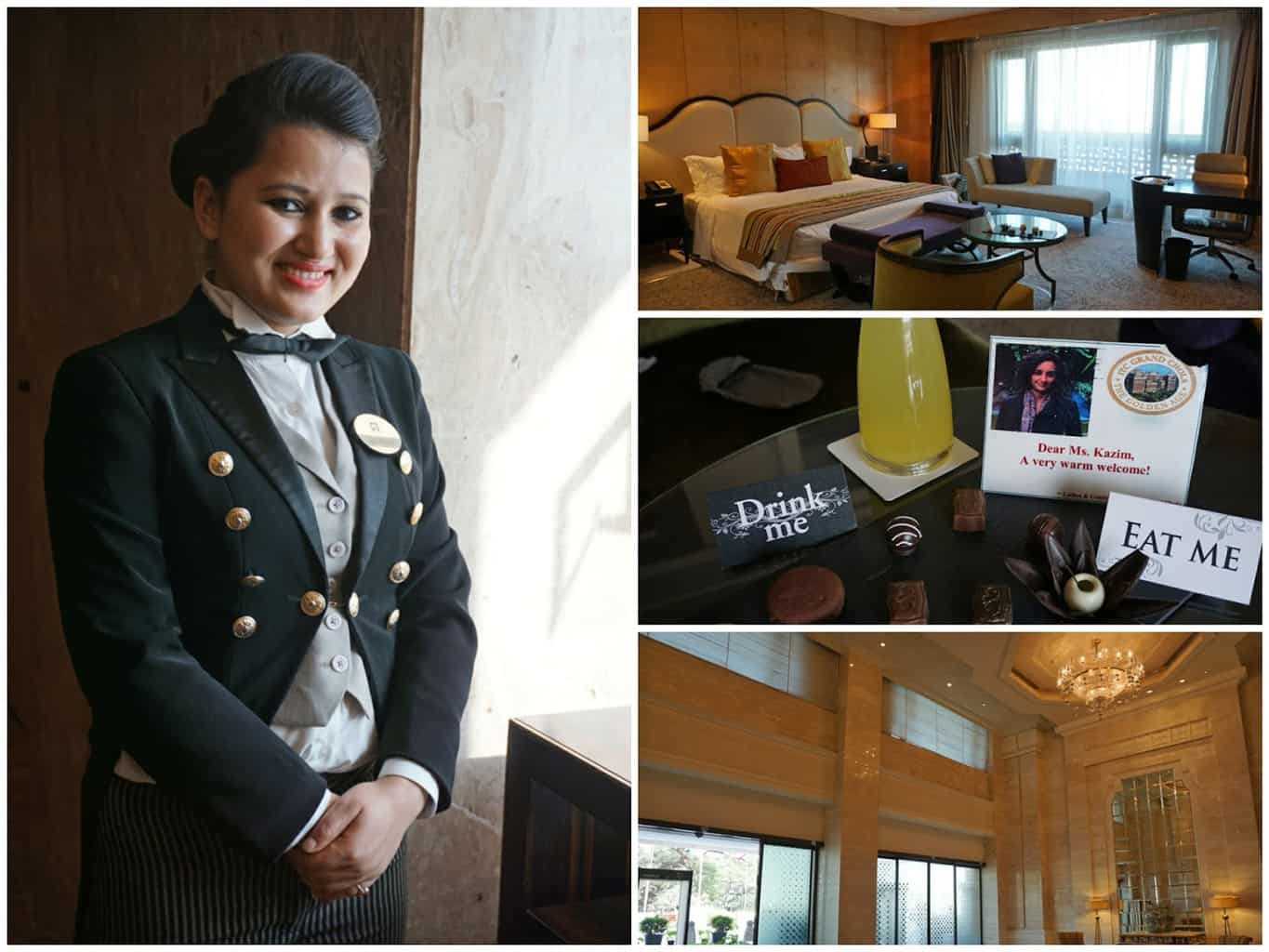 Liked lots / liked less
The signature Kaya Kalp full body massage I had at their spa was great. It started off with a herbal tea in the reception. A few labyrinthine corridors and corners turned later, and I was at my treatment room.
It began with my feet being bathed in warm water with eucalyptus salts, then the soles of my feet being gently pounded with a wooden hammer to increase circulation. The massage itself was spot on – it felt as though there were three pairs of hands on me and it was full body in every sense of the word, from my toes to my finger tips, including my stomach, head and even my ears (which are my sweet spot – giggedy).
A lot of consideration goes into the treatment rooms, with ensuite showers and toilets in each, as well as a bowl full of fresh crysanthamum flower heads to look at through the head rest. This doubles up nicely as a dribble-catcher – don't be surprised if that happens, it was a damn good massage.
In terms of lowlights, it seems unusual in today's age of advanced technology, for such an otherwise well-kitted out property, with all mod-cons and whims of luxury you could possibly think of, to only have wifi available at an extra charge. Medium speed is 6000 (£6) rupees per day, high speed is 15000 (£15). This should be included in the room, as has been the case in every other hotel I've stayed in. I do wonder what the reasoning is behind this decision. It's worth noting, wifi comes at a charge in all ITC Luxury Hotels, it seems.
Price point
Prices from around £105 a night for an Executive Club room to £250 for the Chola Suite, rooms inclusive of breakfast.
Contact
No. 63, Mount Road, Guindy,Chennai 600032
+91 (44) 2220 0000
Website
@ITCHotels
Note: I stayed as a guest of this hotel.


Related post


Week 4: INDIA – Pondicherry → Chennai → Mumbai