Last Updated on June 17, 2020 by Leyla Kazim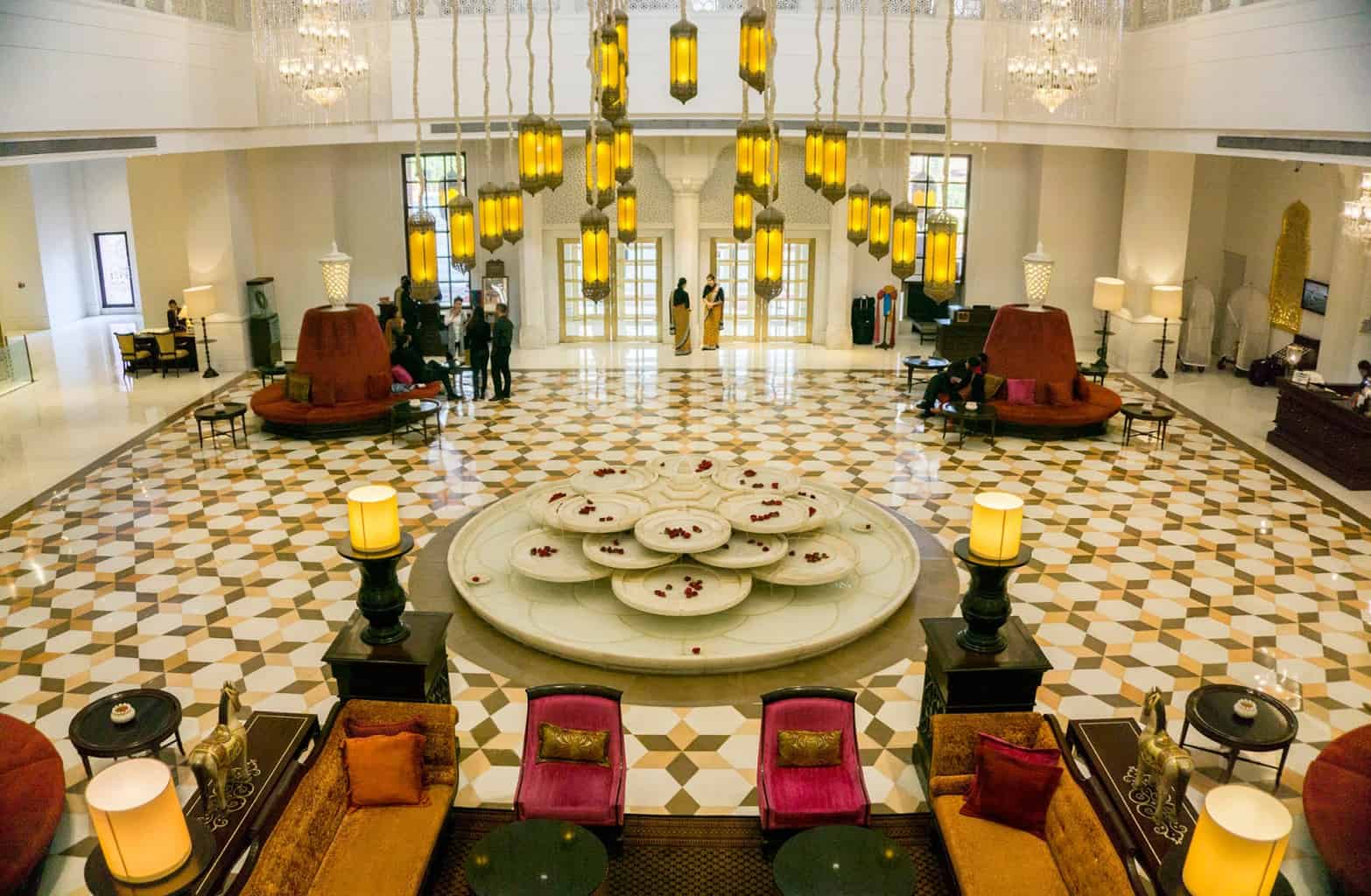 In a nutshell
A five star property with 218 guest rooms and suites that reflect the spirit of Rajasthan and its royalty, designed along the lines of traditional havelis – the historic private mansions of India.
Where is it?
It's in downtown Jaipur, quite literally around the corner from the railway station and 14km from the airport.
The hotel is on land known as 'Atal Van' and used to be the residence and rose garden of Mr. Amar Nath Atal, who was the Finance Minister of the State of Jaipur.
Style and character
The design pays homage to 'Rajpootana', the citadel of the Rajput clan. It's created in the style of a cluster of buildings with red brick exteriors, rising to different levels around a central area. I personally thinks it looks a little too much like the 80's council housing found in East London, but the outside beguiles the beauty within.
The interiors are some of my favourite yet, in fact. There's a beautiful latticed central marble staircase in the lobby, and this section of the property is open plan, with public spaces leading off from the reception, without the need for corridors in between.
The courtyard has a large swimming pool, and the windows of rooms face eachother over this central area – I initially thought people could see in so was fumbling around in the dark for a lot of the time, then realised they're one-way windows.
The Sheesh Mahal Bar is particularly nicely done, taking inspiration from the halls of mirrors, so much a part of the Rajputana palace design. Thousands of tiny mirrors embedded in the walls add a starry glitter to the muted lighting in the room.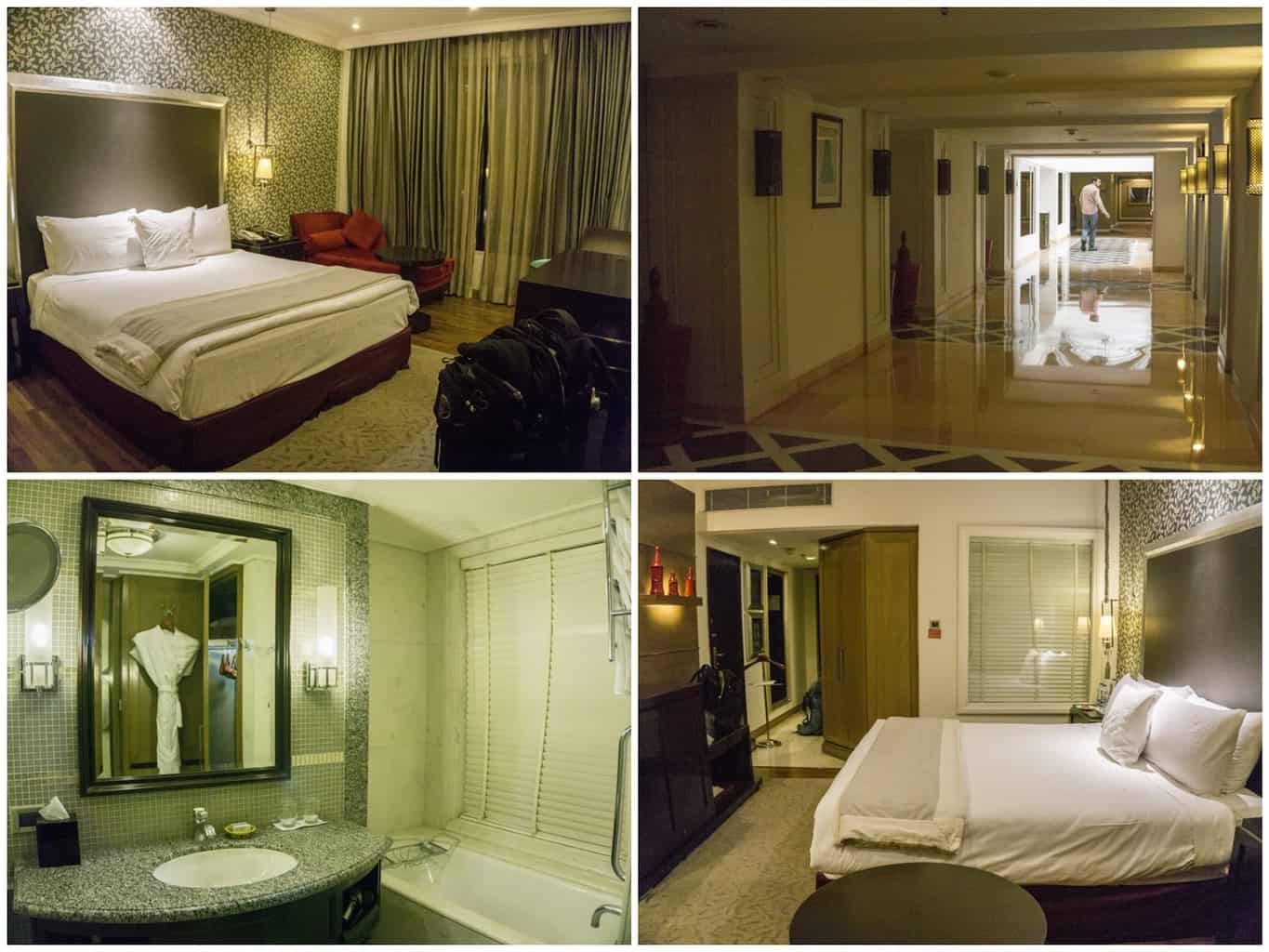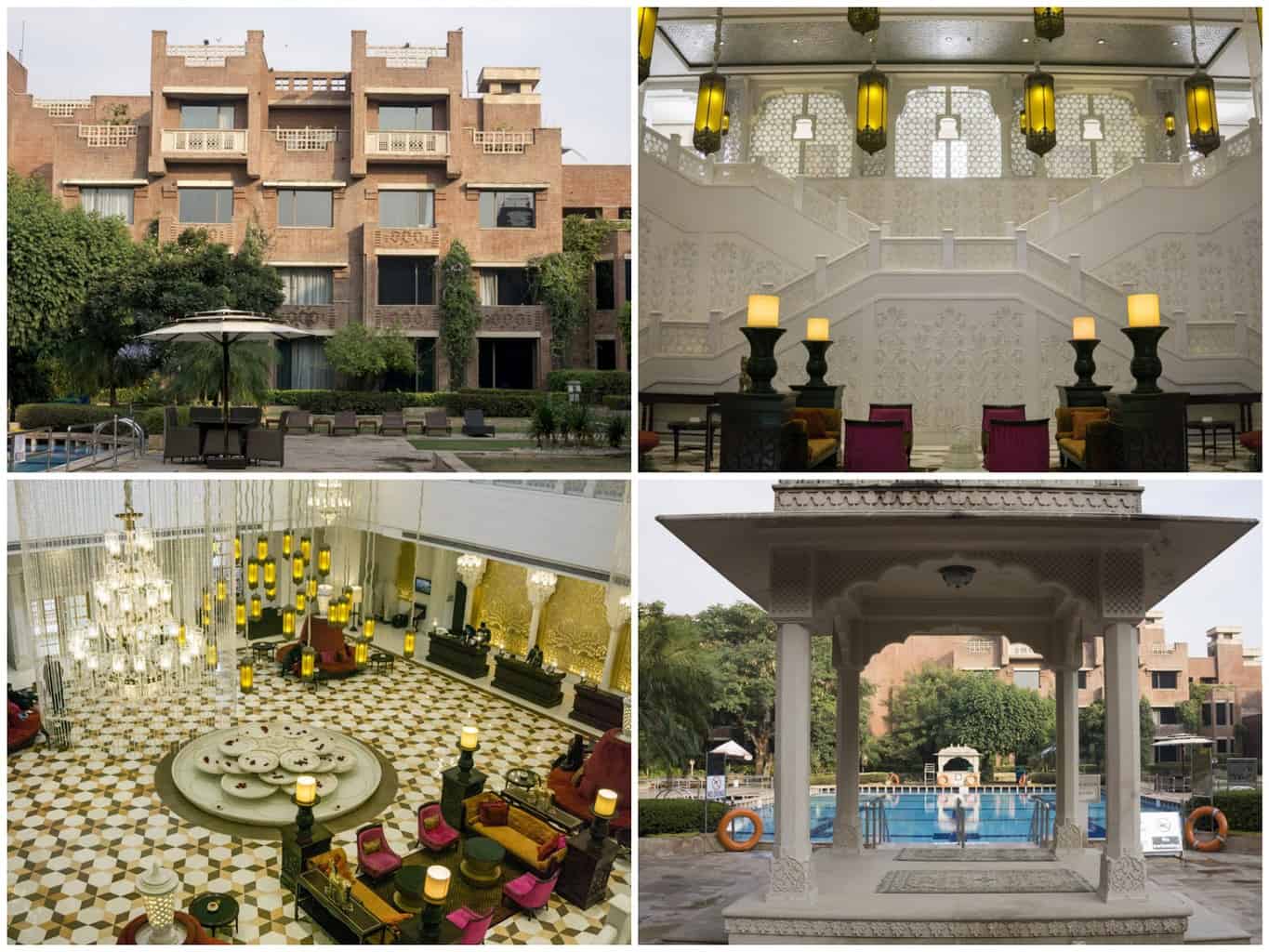 What's unique?
The green credentials of the chain as a whole are so good, that they boast the highest number of LEED® Platinum Certified properties, and are recognised as the 'Greenest Luxury Hotel Chain in the World'. Here is more information on their responsible luxury.
Who goes?
A healthy mix of business folk, couples, tourists from India and those from further afield.
Breakfast
The buffet breakfast takes place in the Jal Mahal restaurant (with buffets available at lunch and dinner too) and recognising their diverse client base, it's an international offering.

There are some Far Eastern entries with miso, congee, clear chicken broth, and dim sum; there are European cold cuts, cheeses and breads; lots of Indian offerings including a dosa station where they're made fresh to order; grilled tomatoes, mushrooms, and baked beans; and an egg station.
The almond meal and finger millet pancakes with aloe vera, blackcurrant and rambutan were fantastic – great texture and full of flavour. There was a fresh juice bar that had beetroot, and the oats did not already have sugar added, which is a good sign.
The restaurant also has fountains at the centre and live performances by 'Ghazal' singers, which is a nice touch in the morning.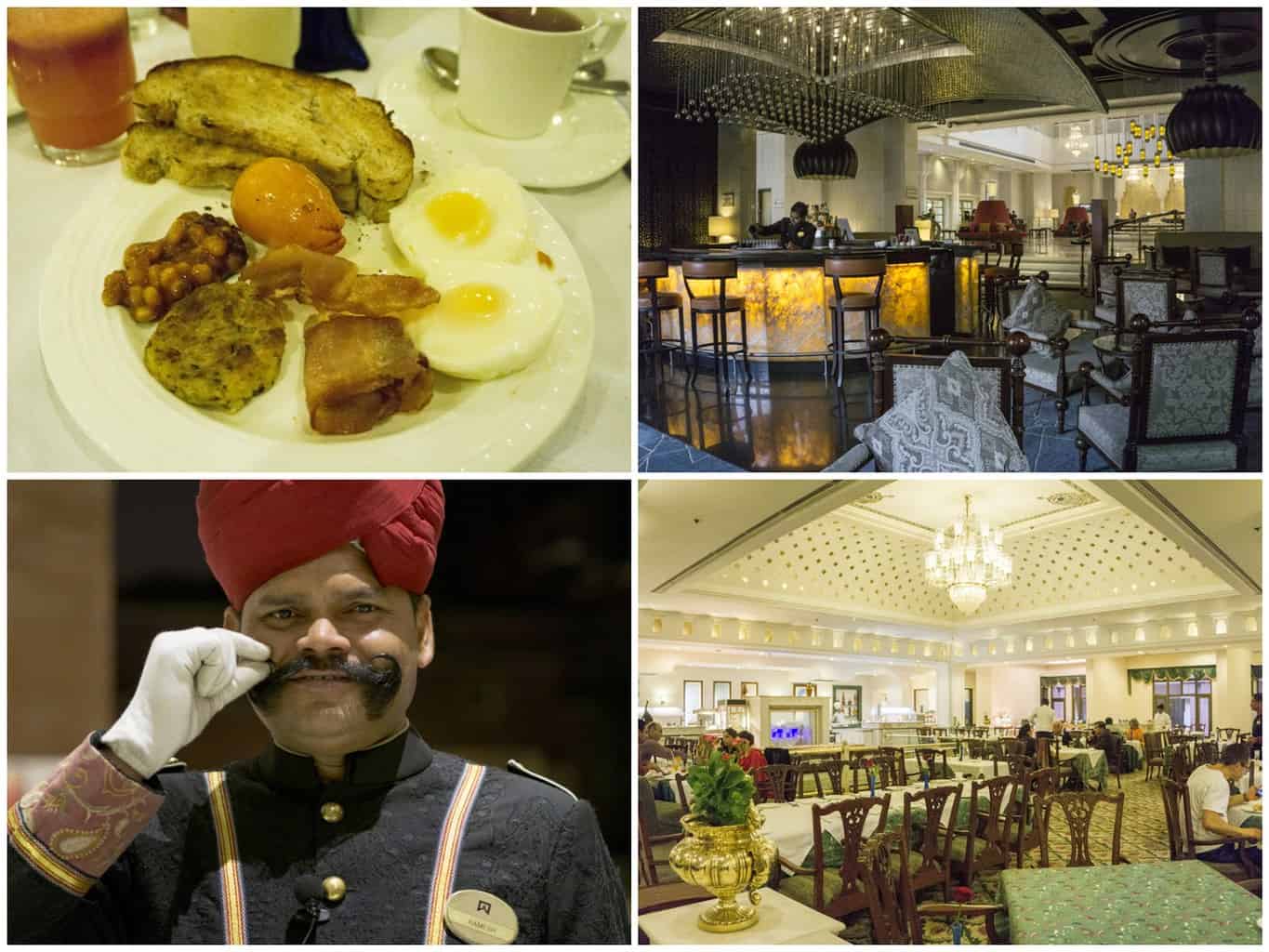 Dining
Chandravanshi Pavilion is a good shout when you need to fill the gap between lunch and dinner and your body clock is yet to adjust to local time. It's open 24 hours and as I've found to be the case at all the ITC hotels I've stayed at, does international cuisine rather well, for when you fancy a change.
A big thumbs up for the spaghetti carbonara, and the chef making it without cream as I requested.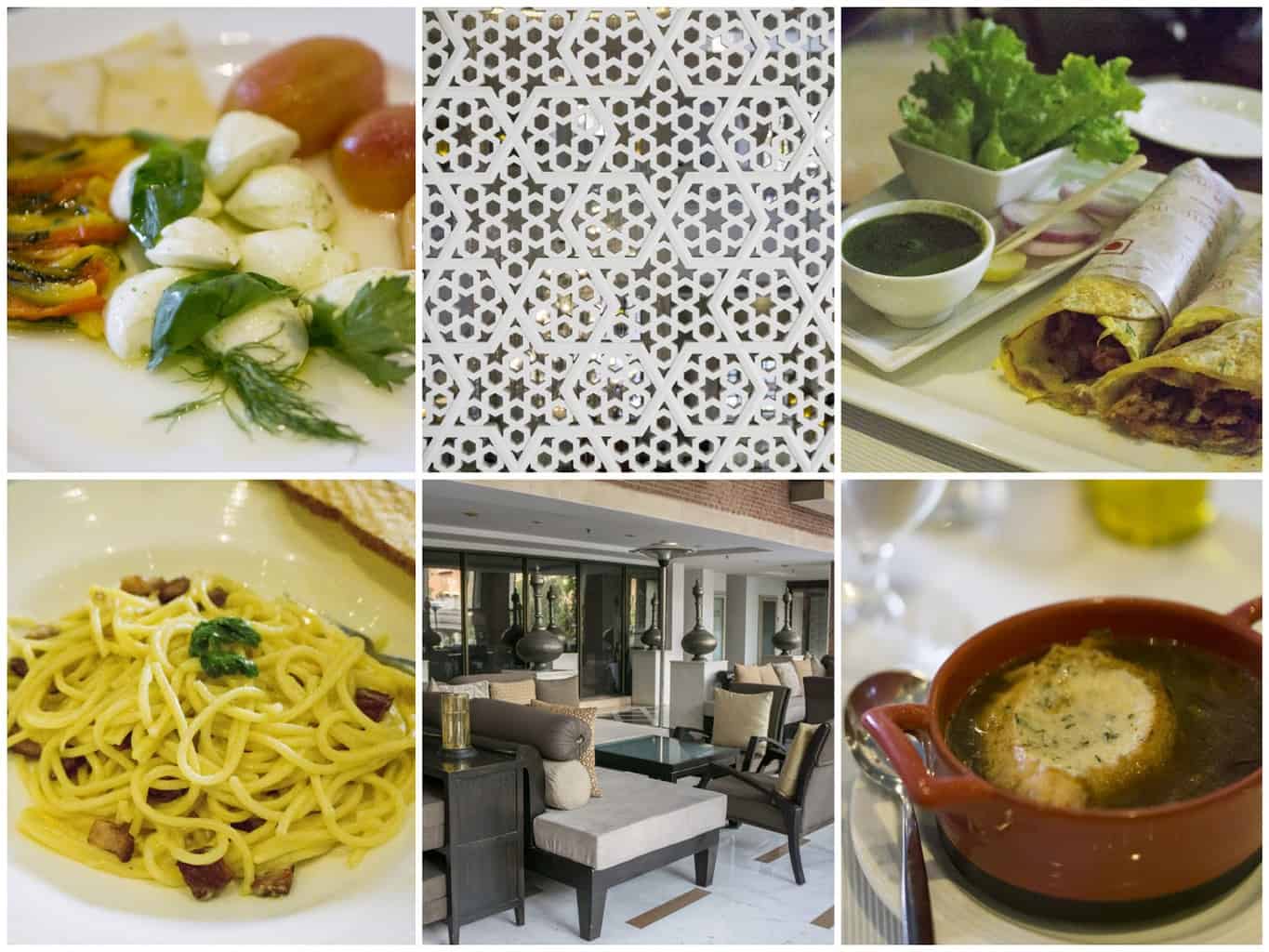 Their restaurant Peshawri is an extension of their award winning Bukhara restaurant brand, serving up the robust flavors of the north west, with its rustic rugged décor and show kitchen.
Everything is cooked in tandoor ovens (separate ones for meat and veg), and there are a lot of similarities with Turkish food – charred meats, yoghurt, raw onions, chillies, lemon. And what's not to like about that.
Mega prawns made up the tandoori jhinga, marinated in a carrom seed mix with yoghurt, red chilli, turmeric, garam masala, skewered and roasted in the tandoor.
Then there was the kastoori kabab – chicken marinated in ginger and garlic, dipped in a gram flour batter, coated with an egg yolk wash, cooked in the tandoor.
Gulab jamun were huge. Reduced milk dumplings, at Peshwari stuffed with pistachio and cardamom, deep fried and doused in syrup. So very good.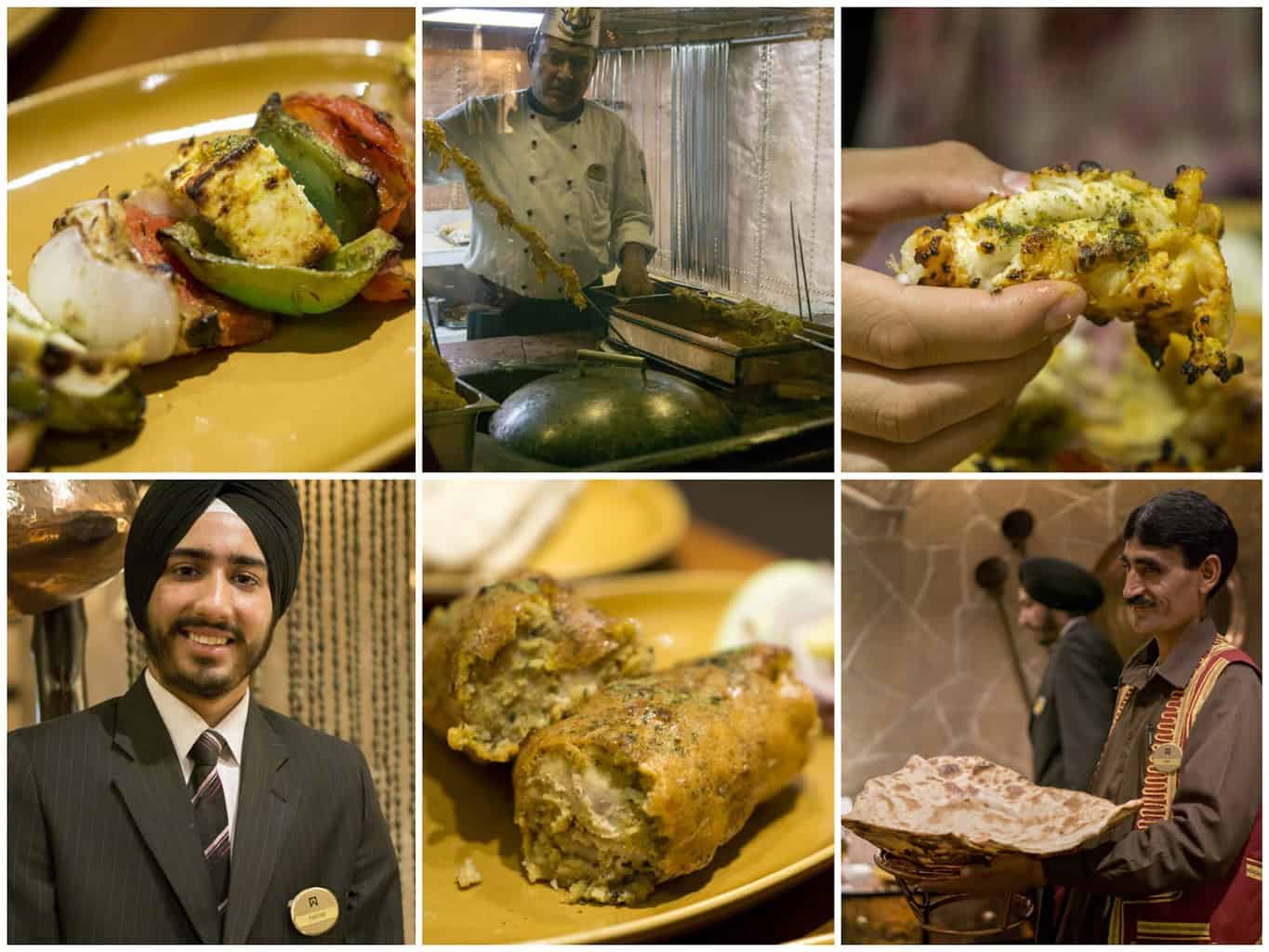 Service
A special mention to Partab (pictured above, bottom left). He was on hand at every meal, consistently provided excellent service, remembered preferences, and is an all round great member of the hospitality industry.
I tweeted I was having a duvet day at the hotel (tagging them in). They saw this and called the room to check if I was feeling ok and asked if I needed a doctor! That was sweet.
Also, the guy at breakfast remembered our drinks order from the day before, that's not bad considering how many guests pass through.
Liked lots / liked less
Liked lots. I really did like that lobby, I believe it was quite recently redone. I'm such a sucker for some nice lattice work.
Liked less. The exteriors are not quite to my taste. But then what do I know.
Price point
Prices from around £150 a night for an Executive Club room to £300 for the Thikana Suite, rooms inclusive of breakfast.
Contact
Palace Road, Jaipur 302006, Rajasthan
+91 (141) 5100100
Website
@ITCHotels
Note: I stayed as a guest of this hotel.


Related post


Week 5: INDIA – Varanasi → Udaipur → Jaipur → Delhi