Last Updated on June 10, 2020 by Leyla Kazim
No neighbourhood can ever have too many good restaurants. When the fridge is bare, when the working day has been too long or when the prospect of facing a pile of washing up makes you wince, the salvation a reliable eatery can provide – a casual jaunt down the road or around the corner – is a cherished convenience.
I am fully aware of the sometimes-forgotten fact that there are countless numbers of off-the-beaten-track, independent, family-run businesses throughout London that serve food people enjoy eating. They need recognition too – it's not all about the showy, centrally-located openings, with their fanfare, chef pedigree and marketing budgets.
Whilst I do cover the latter (and there are a lot of them), I like to devote some of my time trying out local places about town, such as Bibo in Putney, Sorabol in New Malden and Makiyaki in Wimbledon.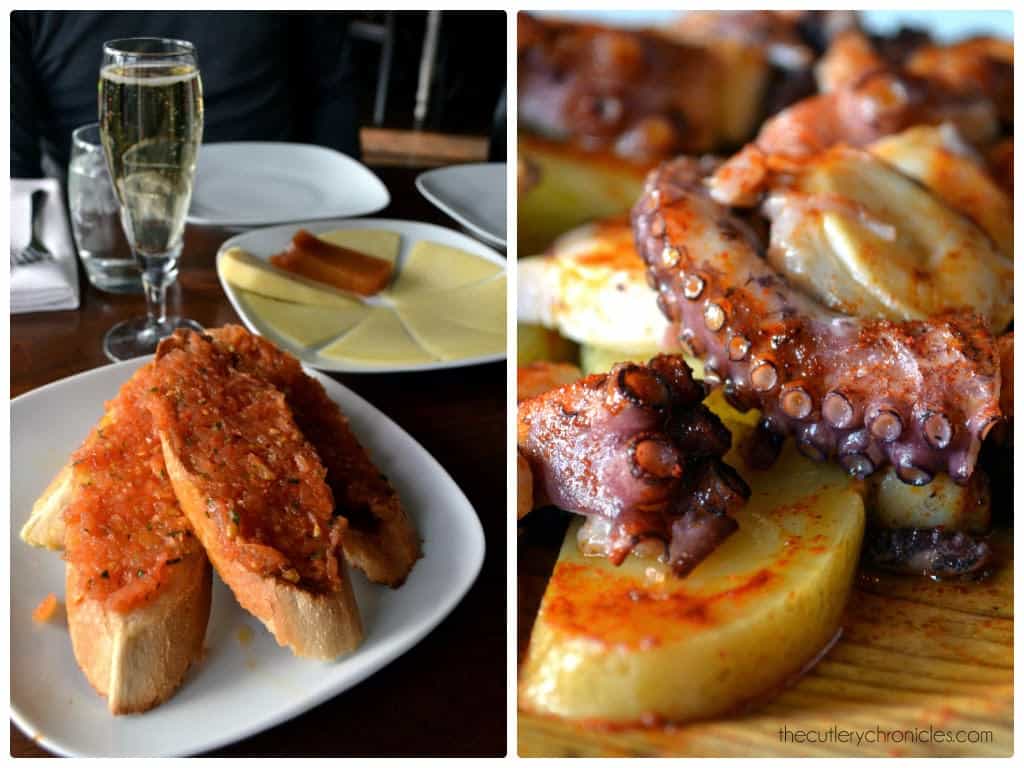 Most recent has been a glorious and unseasonably warm Saturday afternoon spent grazing on tapas and a glass of prickly cava in La Mancha on Chiswick High Road. Whilst Chiswick isn't my own neighbourhood, I'd heard promising things about this Spanish restaurant and concluded the District line hike would be a fair price to pay for the prospect of a good lunch.
Whilst La Mancha might be a relatively new kid on this particular block, it was previously located on Putney High Street where it fed local patrons for more than 20 years. Proprietor, Mr Salvatore, upped sticks and re-located to this smaller and more manageable (but still substantial) site in the past year.
With a south-facing bi-fold glass shop front allowing the unobstructed flooding of natural light, al fresco seating fully occupied at the first hint of sunshine, gentle Spanish guitars playing in the background and Spanish diners in the full flow of conversation to the right of me, it could almost have been Seville.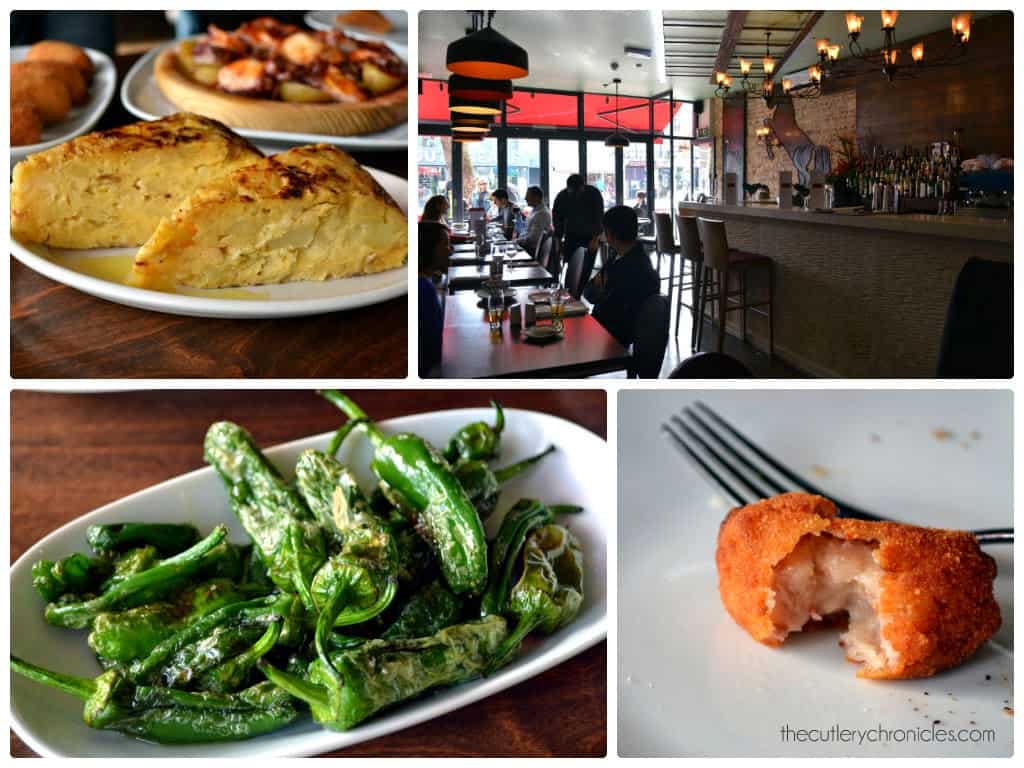 Tomatoes, bread, cheese and sweet quince felt like the perfect way to begin a brunch whilst basking in the sun's warmth – intensified by the glass – like a lizard on a rock. These components form the base of most breakfasts I eat during summertime visits to Turkey, and it's one of my favourites.
Pan con tomate was generous (three large slices) with soft bread that was crisped on the outside and a superbly seasoned mash-up of fresh tomatoes, garlic and olive oil. They were probably the best I've had – a winning balance of texture, flavour and top seasoning, with no way for them to be improved (£3). The cheeses were nutty Manchego and mild Galician tetilla – both as good as you would expect from Spanish queso (£8).
The tortilla was, again, seasoned well with a fabulous concentration of garlic. However, it is served as slices from a bigger pie, the remainder of which I suspect is left in the pan until needed, allowing the cooking process to continue. A desired texture of a runny-centre it had not, but the flavour was certainly not lacking (£5.20).
Padron peppers reached the table direct from the plancha and finger-scalding hot, seasoned with fat flakes of sea salt, lightly blistered from the quick and high heat (£5.50). Soft, steamed octopus (a texture so often not achieved with this meat) with tentacles displaying their handsome suckers, were nestled with potatoes and heavy with olive oil, the whole plate burnished orange from smoked paprika (£9.95). Chicken and Ibérico ham croquetas were little packages of childhood Findas pancake memories – alas, I suspect none will ever match those found in Fino (£5.50).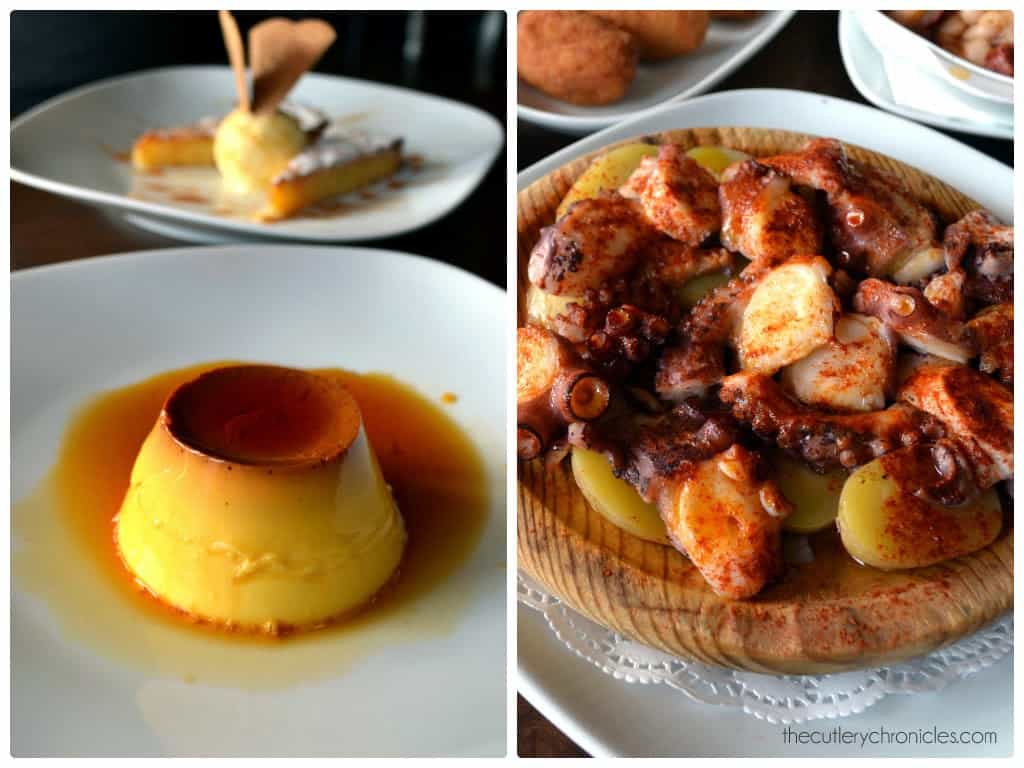 Fabada asturiana (white bean casserole with pancetta and black pudding) looked a little insipid on receipt, like it needed more cooking or more oomph. It was a look that was entirely beguiling of its flavour – a hearty and savoury plate, sauce thickened from disintegrated pork fat and mashed up pulses – don't allow a lick of it to remain (£5.95).
The crème caramel wobbled audaciously at every nudge of the table. Smooth and delicate with a hint of orange, I spent a good few minutes attempting to spoon up the final dregs of the deep caramel sauce from a flat plate (£5). The Tarta di Santiago – a traditional Galician almond cake, made here with Amaretto – had a very pleasing open crumble and was a fitting companion to a closing coffee (£5.50).
The quickly-formed impression of La Mancha soon after being seated is one of homely familiarity and ease. Mr. Salvatore makes a point to welcome everyone that walks through the door, new visitors and regulars alike (the majority seemingly the latter), ever-present yet in no way overbearing; I felt as though I'd been coming here for years after just 15 minutes. The offer of a light hazelnut liqueur was made to each table at the end of meals, along with what seemed to be an overdue catch-up with many.
The food here is not revolutionary – don't expect veloutés or foams or popping candy; what you can expect is good, honest, competent Spanish cooking. When it's too much effort to replicate at home, let a well-versed local kitchen like La Mancha take the reigns – you'll be pleased you did.
Liked lots: the menu says their tapas portions are generous – they're not kidding; pan con tomate; polpo; dessert; Mr Salvatore; staff; the cava – rough and dry; location – it's a nicer-than-usual-high street with a Franco Manca next door
Liked less: would have liked a runny centre for the tortilla
Good for: whiling away a languorous weekend lunch; private parties – there's a whole separate area downstairs with its own bar that's free to hire
My rating: 3.5/5
Afiyet olsun.
NB I was invited as a guest to review this restaurant.