Last Updated on October 7, 2017 by Leyla Kazim
A jack of all trades, or a master of one; the latter has always been a draw for me. A person or place that can do one thing very well is an attractive quality, be that whittling wood, playing an instrument or a restaurant serving up little else but steak and chips with a closely-guarded and very secret sauce.
Sure, they could tells us what makes up the brown-green gravy lacquered over the meat, but they would almost certainly have to kill us.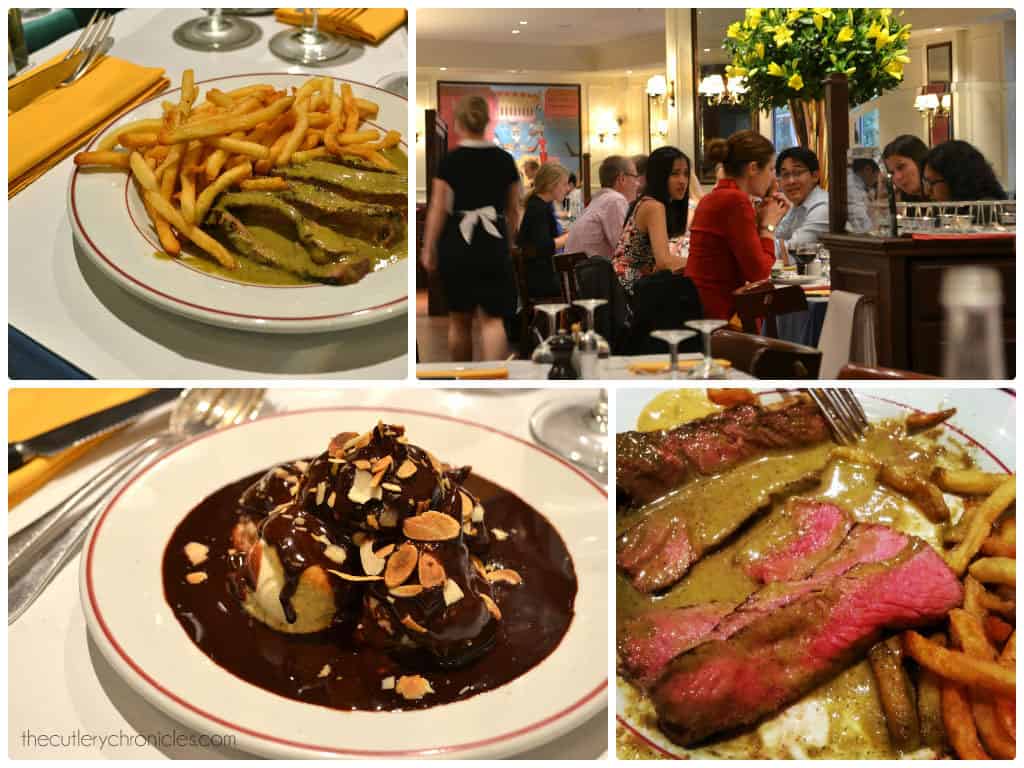 Some would argue the international chain of Le Relais de Venise L'Entrecôte was ahead of its time, fashionable beyond its years. Before it was on-trend for restaurants to specialise in a singular food offering (noticeably burgers, hot dogs and fried chicken these days), l'Entrecote Porte-Maillot – the inaugural opening by founder Paul Gineste de Saurs in what was an Italian restaurant he purchased near Porte-Maillot in Paris, called Le Relais de Venise – was offering just that when it opened in 1959.
A green salad with walnuts dressed with mustard vinaigrette, followed by steak frites. And that is the full range of the main menu's intent. Oh, and some sliced baguette.
Almost 60 years later, and with an expansion that's reached London and New York, the intention for the additional branches has been for all aspects of the original Parisian dining experience to be faithfully maintained; from the classic French brasserie interiors and paintings of Venetian market scenes, to mirrored walls and the closely spaced tables that help lend to the romantic idyll of a bustling French bistro.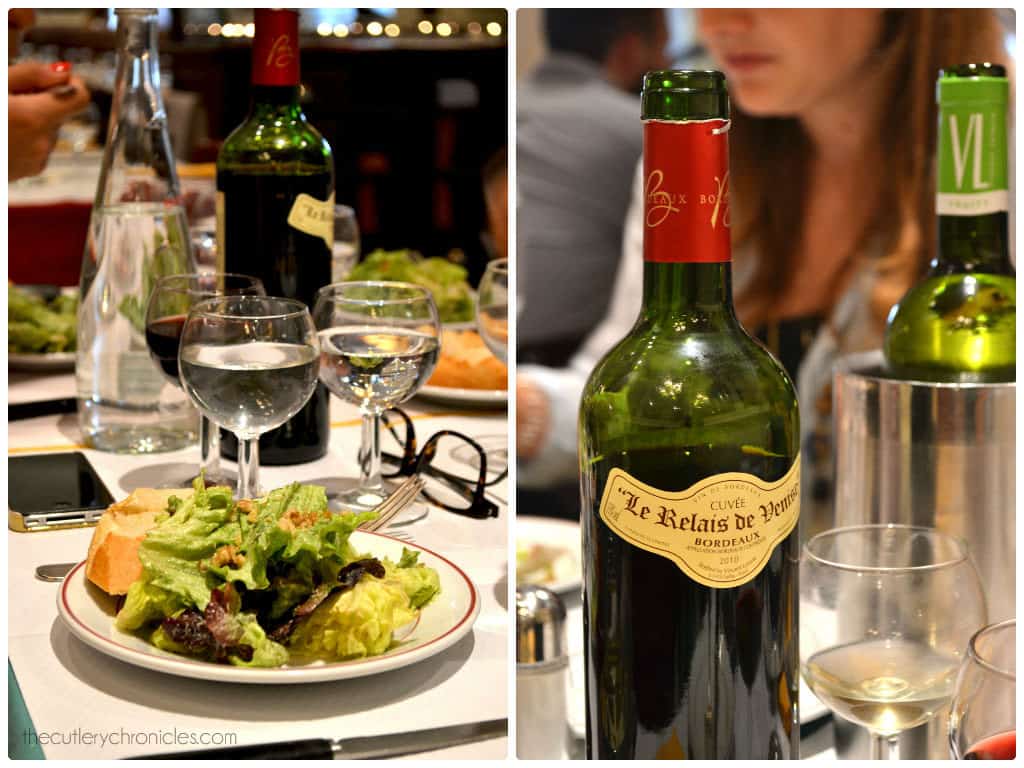 'Faithfully maintained' could be an understatement. At the request of two staples at any French table – butter for the bread and mayonnaise for the frites – we were told they don't serve these and that the dijon mustard provided was a very good substitute for chip-dipping. Not in the original Paris restaurant? Then don't expect it here. We cried 'sacré bleu!' in our best French accents when packets of butter were delivered with the crackers on the cheese plate at dessert. But whatever.
The only question you'll be asked prior to dessert is how you like your steak. Medium-rare? Medium-well? Forget it – this dining experience is not a democracy. You'll have your steak blue, rare, medium or well done – with no deviations – and you'll be grateful for any choice at all. Want to make a reservation? They were ahead of their time on this too – queue up (at peak times) and wait until a table becomes free. Want sides? Tough, there are none.
Dictatorship jibes aside, the food is simple, solid and very easy to clear. And at £23 for the salad and steak frites combination, it's easy to see why the three London branches (Marylebone, The City and Canary Wharf) are packed each evening.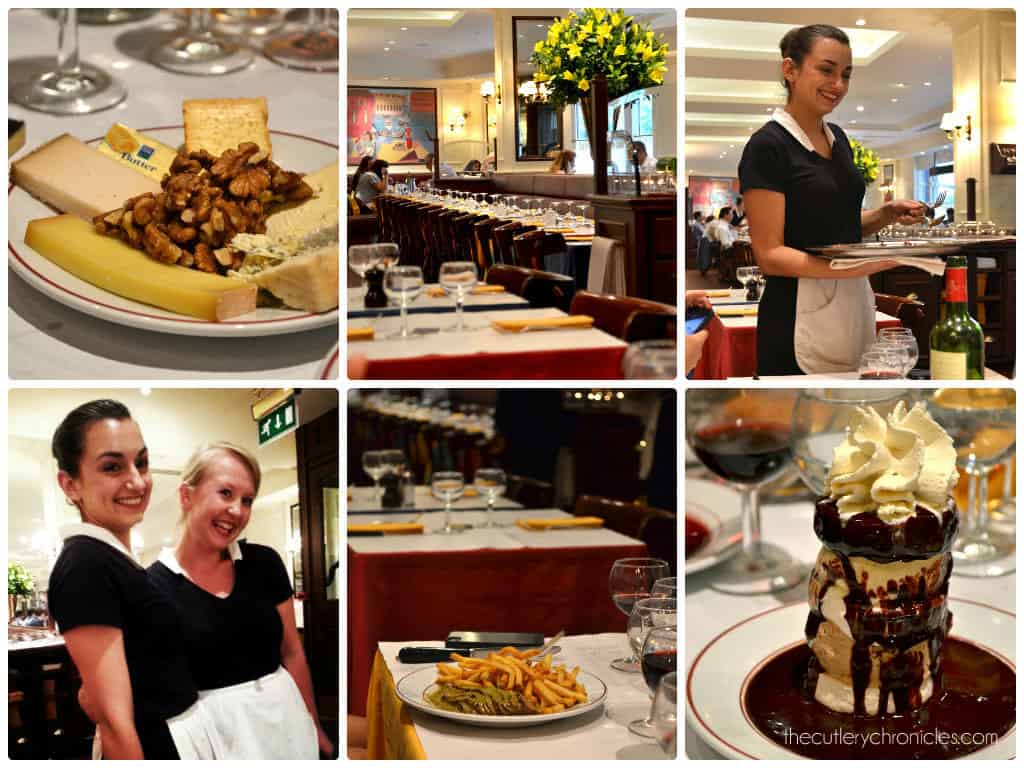 Salad leaves are crisp and well-dressed. Beef is British, grass fed and aged for a minimum of four weeks. The frites are hand-chipped each day to the exact dimensions of the original Parisian format. Both the chips and steak are delivered in two servings – half a portion each time – to ensure you're eating it hot and as freshly cooked as possible; clever, I thought. The meat was glorious – a spot-on medium pink, yielding, and a real pleasure between the molars.
The sauce is really something. It's herby, likely with more than one – perhaps thyme, parsley and tarragon. The base is probably a bearnaise with egg yolks and a lot of butter. There's likely green peppercorns to give that chartreuse tinge, dijon mustard, probably some garlic. Some speak of chicken livers. The truth is, no one really knows. But what most can agree on is it's very good and would probably be bottled and sold if it wasn't a requirement to list the ingredients.
You can ask (as we did), but no one in the restaurants know what's in it – the sauce is supplied to the branches directly from the Godillot family. It's a lucrative mystery that no doubt helps pack out the branches.
Whether it's an attempt to compensate for the absence of choice in the first half of the meal, or to showcase the in-house patisserie skills, the dessert options fill a whole page and range from £5 – £7. There's gâteau and cheese platters, ice creams and tartelettes, and the profiteroles, chocolate sauce, crème brûlée and meringues are made on-site. We were many, and so most of the list was ordered with a criss-cross of outstretched arms dipping spoons across the table. My favourite, the profiteroles with light choux and the wanton pool of thick chocolate sauce they sat in (£5.95).
L'Entrecote appeals to me greatly. Inexpensive places where consistency is guaranteed – that don't require the gift of foresight to secure a table, serve really good house reds by the glass, carafe or bottle (Le Relais de Venise – Cotes de Bordeaux), and leave you feeling full – are what busy lives in busy cities need more often than we probably realise.
I'll be back, when the week has been long and the need to make a decision feels like too much hard work.
Liked lots: quality beef cooked to the exact specification; secret sauce; the fact dinner is delivered in two sittings to ensure it's hot and fresh; the wonderful heavily-accented staff in their French maid uniforms and red lipstick; no opportunity for 'food envy'; no need to begrudgingly allow dining companions to sample your dish – you're all eating the same
Liked less: not having butter or mayonnaise is a bit extreme
Good for: spontaneous eating; value dining; when you fancy a nice bit of beef; testing the palate to decipher the secrets of the sauce – good luck.
My rating: 3.5/5
Afiyet olsun.
Note: I was invited as a guest to review this restaurant.