Last Updated on June 17, 2020 by Leyla Kazim
It's been a while since a maiden trip to a restaurant has greatly surpassed what I anticipated from it. Maybe I should set expectations around the same pegging as a Friday night in Church Street Croydon KFC, so as to always guarantee feeling thoroughly impressed with my dinner. But that seems a bit cynical. Regardless, I'm not sure quite what I was expecting from lunch at Lyle's, but I wasn't expecting it to be as good as it was.
Not that I had set my expectations low for it, mind. It was chosen thanks to the usual social media buzz that so often dictates where I should try next, so I had an idea it might be good. But in my experience, these aren't always to be trusted (think Chiltern Firehouse, Kurobuta).
And I'm never quite sure what to expect from east London. I sometimes wonder if the Shoreditch creatives are simply riding the wave of their location association, facial fuzz and sockless feet, rather than truly being measured on their skill. This is really just a symptom of me being quite ignorant to this part of town and needing to get better acquainted. So, shame on me.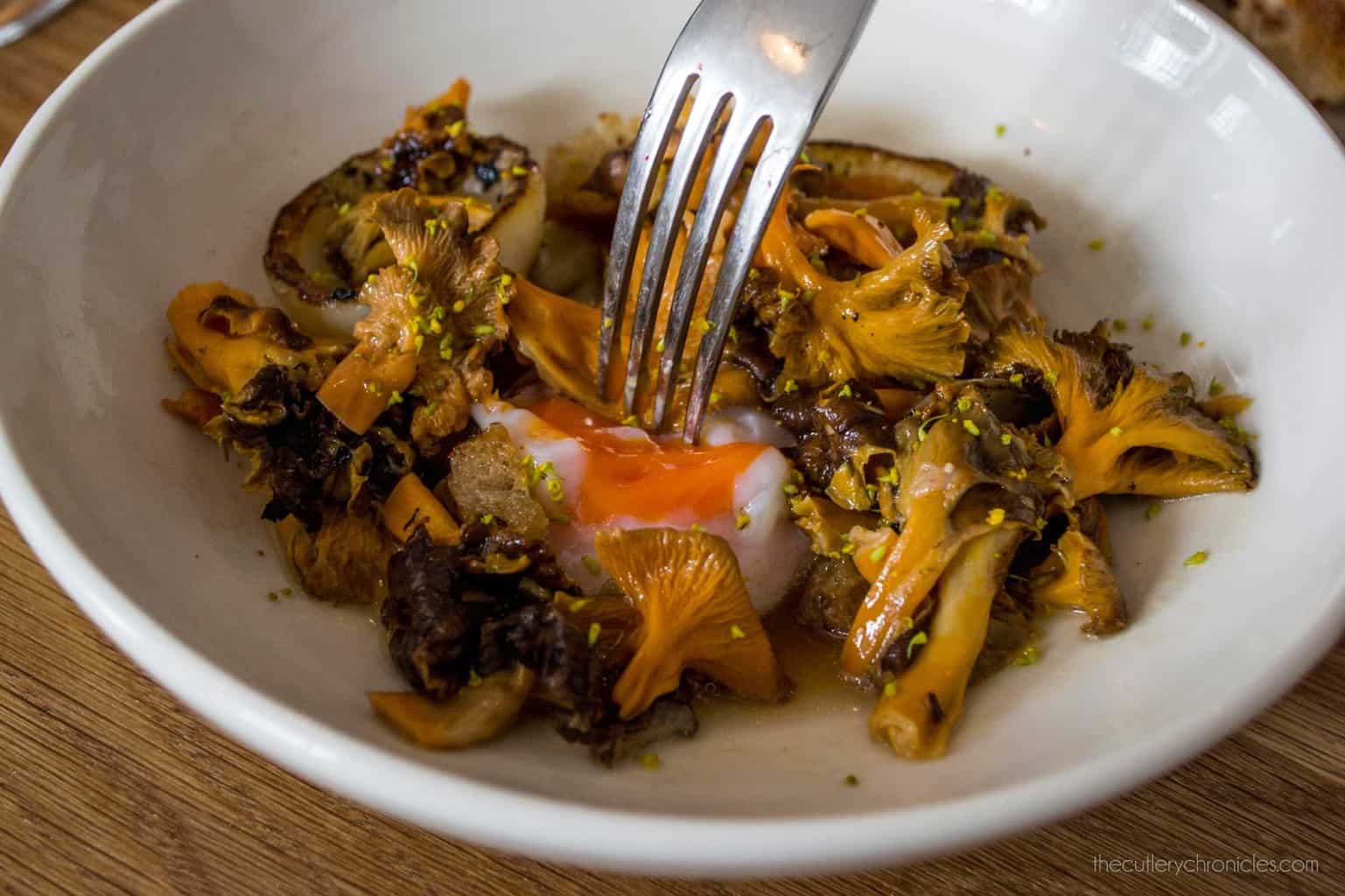 The man behind it is Chef James Lowe who made a name for himself as one of The Young Turks at supperclubs and pop-ups around town, and Lyle's is his first solo foray, found in Shoreditch High Street's Tea Building.
First impressions were mixed, leaning towards unimpressed. We had an early booking, so the whole room was empty when we arrived (it filled to full capacity shortly after). "You know what this reminds me of," I queried my dining companion. "A prison," came the instant and assertive response, echoing my exact thoughts.
The welcome was exemplary as was the service throughout, but to put it bluntly, the space looks like a poshed up prison canteen. I get the whole pared down, clean-lined Scandi look that so many restaurants go for these days and often execute well, but it doesn't seem to work here. My interior designer companion – who knows her load bearing walls from her butt joints – thinks it's the light wood beech against the bare steel of the open kitchen and the polished concrete floor. It's a harsh look.
Mercifully, they haven't entertained those long communal tables otherwise I would have had to ask if this was in fact a social enterprise employing those on temporary release and did I need a CRB check before eating here. And to add to the penitentiary theme, whilst the staff were all glorious, the uniforms of dark blue trousers with tucked in light blue shirts made them look like extras from The Shawshank Redemption.
But who really cares about any of that when what's coming from the kitchen is this good.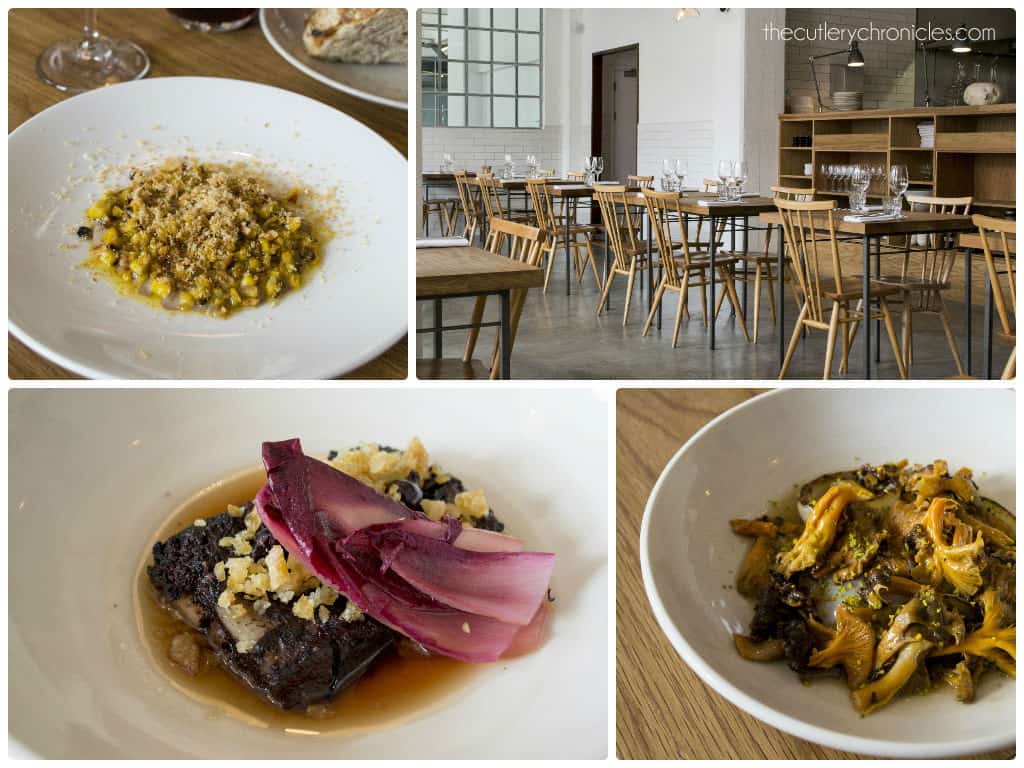 I'll start with the least striking dish, and there was one, of beetroot, walnuts and Ticklemore cheese. Order it for the cheese-name novelty, by all means. But the root veg had the same texture as the ones you can buy vac packed, and the cheese was a little too inoffensive for my palate (£7.50).
Onwards with the rest of the spread, which was all effortlessly splendid. Scottish chanterelles sat in a little pool of thin savoury broth, scattered over and concealing a gooey egg, with onions and wild fennel blossom. A spectacular umami bowl I'd scoff any time of day (£7.30).
Then there was a 'blood cake', essentially the glorious soft innards of a high-end black pudding, gently spiced, an exquisite texture, with a smattering of pork scratching nuggets, dark purple pickled chicory and blackcurrants. It was stellar (£6.30).
A great hunk of Dexter rump with a beautiful crust, the flesh surrendering its juices with a little pressure, was a complete joy between the teeth. I have found myself wondering why the hell I ordered the beef whilst masticating one mouthful for a full five minutes many times before, even at high end restaurants. But not here; it was the nicest bit of bovine I've had in ages (£16.50).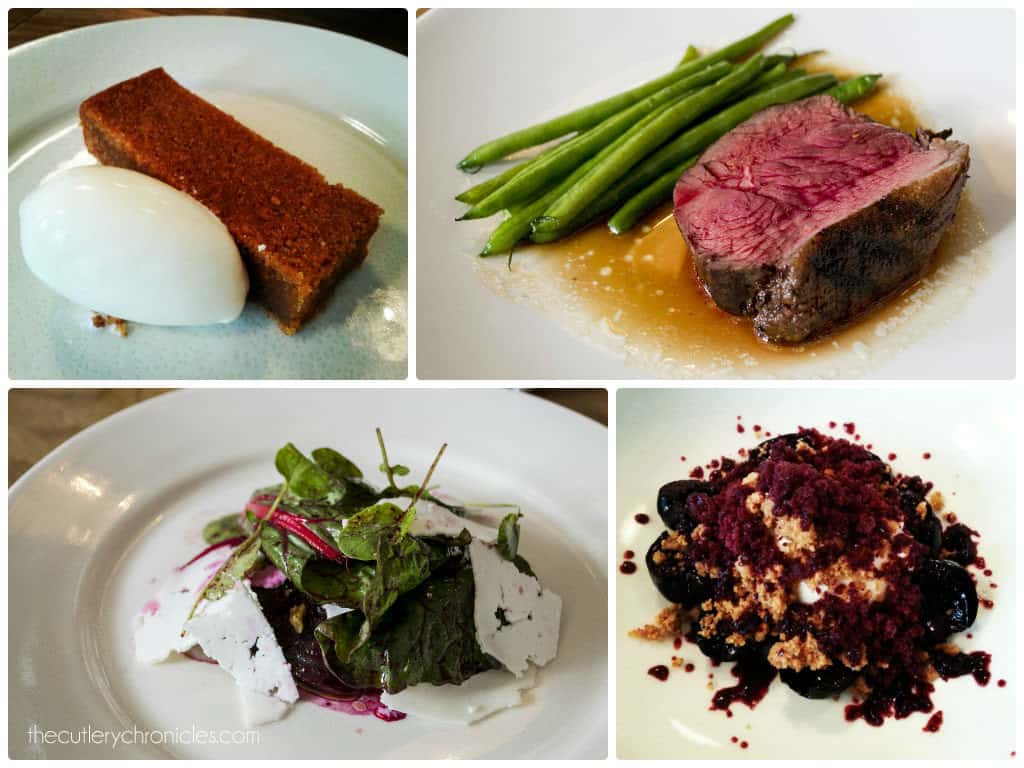 Then there was the grouse liver, sweetcorn and hazelnuts. Despite it looking exactly like something a cleaner would throw sawdust over on Platform 4 of Leicester Square station on a Friday night, it was sensational, and not at all what I was expecting.
A sort of liquidised liver, distinct with the unique flavour of game but not yet too strong as it was just the start of the grouse season, with crisp sweet kernels of corn and crunchy nuts. There are few things that please me more then when something reads scary and looks worse, but tastes incredible. Fortune favours the brave; always try to order at least one thing you think you won't like – you might be just as pleasantly surprised (£5.90).
Treacle tart was a neat cuboid of sublimely spiced pleasure, with a big ginger hit and a neutral and delicate milk ice cream (£5.90). Then there were cherries with a cherry granita, crumble and an ice cream made from cherry stones (who even knew you could do such a thing), which lent some nuttiness to the dessert. It was totally great (£6.50).
A point to note, the wine list focuses on natural tipples which seems to translate to them being a bit pricier than I'm use to seeing so close to the start of the list. But there's plenty available by the glass and carafe, so do gambol through it by all means.
Lyle's was a surprise and a revelation. Things aren't quite as they seem here, but what they turn out to be are all the superior for it. There's a sense of excitement around what you'll get presented in front of you, as the menu gives little away and the kitchen is clearly bursting with creativity. There isn't a better opportunity to experience this than in the evenings with their set eight course daily-changing menu that offers no freedom of choice; I bloody love being told what to eat.
I've already secured my return visit for dinner. I might don some bright orange overalls.
Liked lots: kitchen innovation; exciting dishes; exemplary service from our Antipodean waitress – she was great; the no-choice evening menus – I know it's a divisive topic but I really like them (when the cooking is this good)
Liked less: those staff uniforms..
Good for: interesting Scandi-influenced dishes big on British ingredients
My rating: 4.5/5
Find the menu on Zomato.
Afiyet olsun.