Last Updated on June 10, 2020 by Leyla Kazim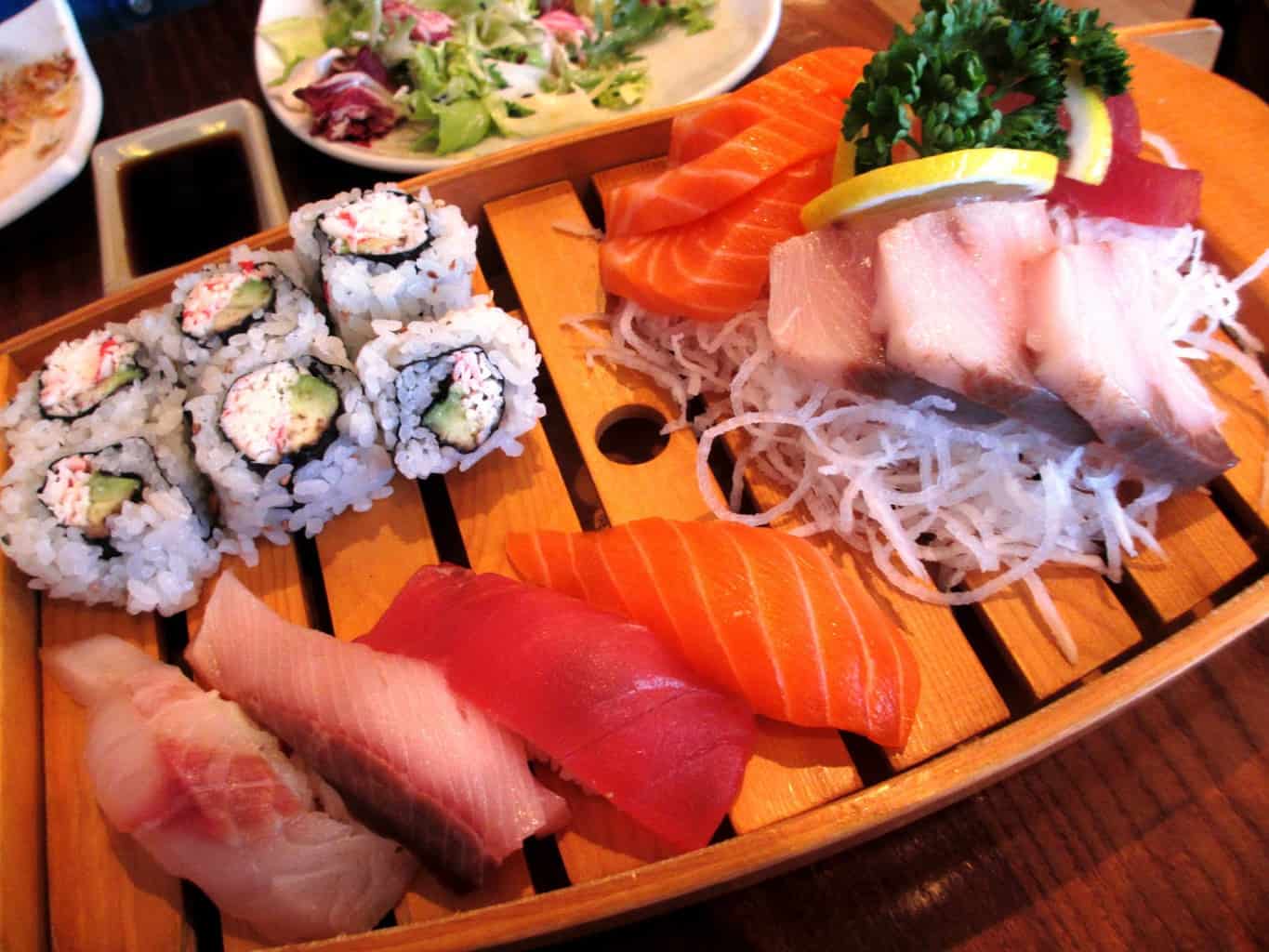 sushi and sashimi
As I've harped on several times before (of which you are all duly sick of), I have a regular weekly column on the website of my local newspaper, Food Bites with yours truly for Your Local Guardian. The other week I submitted my entry as usual to a lady who works there. She takes my articles, portions them up into more digestible parts (long paragraphs are not aesthetically pleasing in narrow columns) and publishes them on the site. She of course also reads through the whole thing to, I assume, check I haven't misspelt, cursed or offended any powerful figures. The submission that particular week was 'the 10 most hated foods of the nation' and her response to entry number six reflected my own, 'How on earth did sushi get on this list? People are mad.' Yes, yes they are. Another individual after my own heart – rejoice.
She went on to elaborate, 'Being long-term sushi fans, my husband and I visited Japan a few years ago in search of (supposedly) the best sushi fresh from Tsukiji Fish Market. But we actually discovered the best sushi we've ever had is from Makiyaki in South Wimbledon! I defy anyone to try the 'Ocean', 'Lion King' or 'Crispy' rolls and not become addicted'.
A quick fumble on the keyboard and it turns out Makiyaki is just a 20 minute stroll from my house. Hard to resist a meander culminating in sushi on a balmy evening after an acclaim like that, especially with a menu item named after the best Disney movie ever made.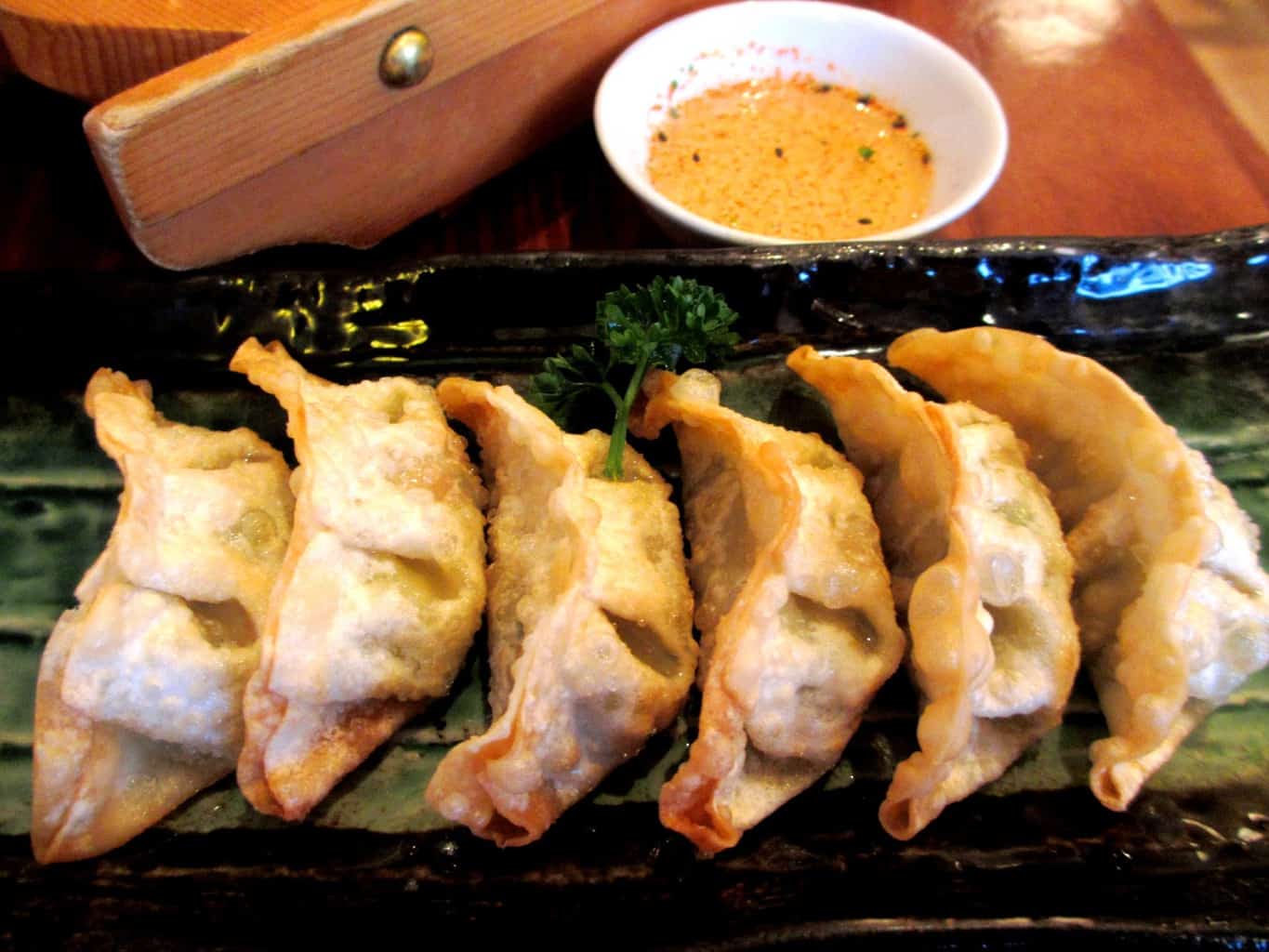 gyoza dumplings
Makiyaki is situated on a busy Merton Road a mere five minute walk from South Wimbledon station on the Northern Line, positioned next to a set of billboards. Step inside and you'll be greeted with pleasant interiors, smiling staff and a sushi chef dressed in traditional Japanese garments behind the counter; no doubt to delight the clientèle hoping to experience something close to an authentic Japanese experience, whatever that may be. I like to think in restaurants in Japan, belted samurai swords are whipped from holders at the call of an order and in a blur of metal and kimono silk, fresh fish is portioned up with exacting precision. That would be so cool..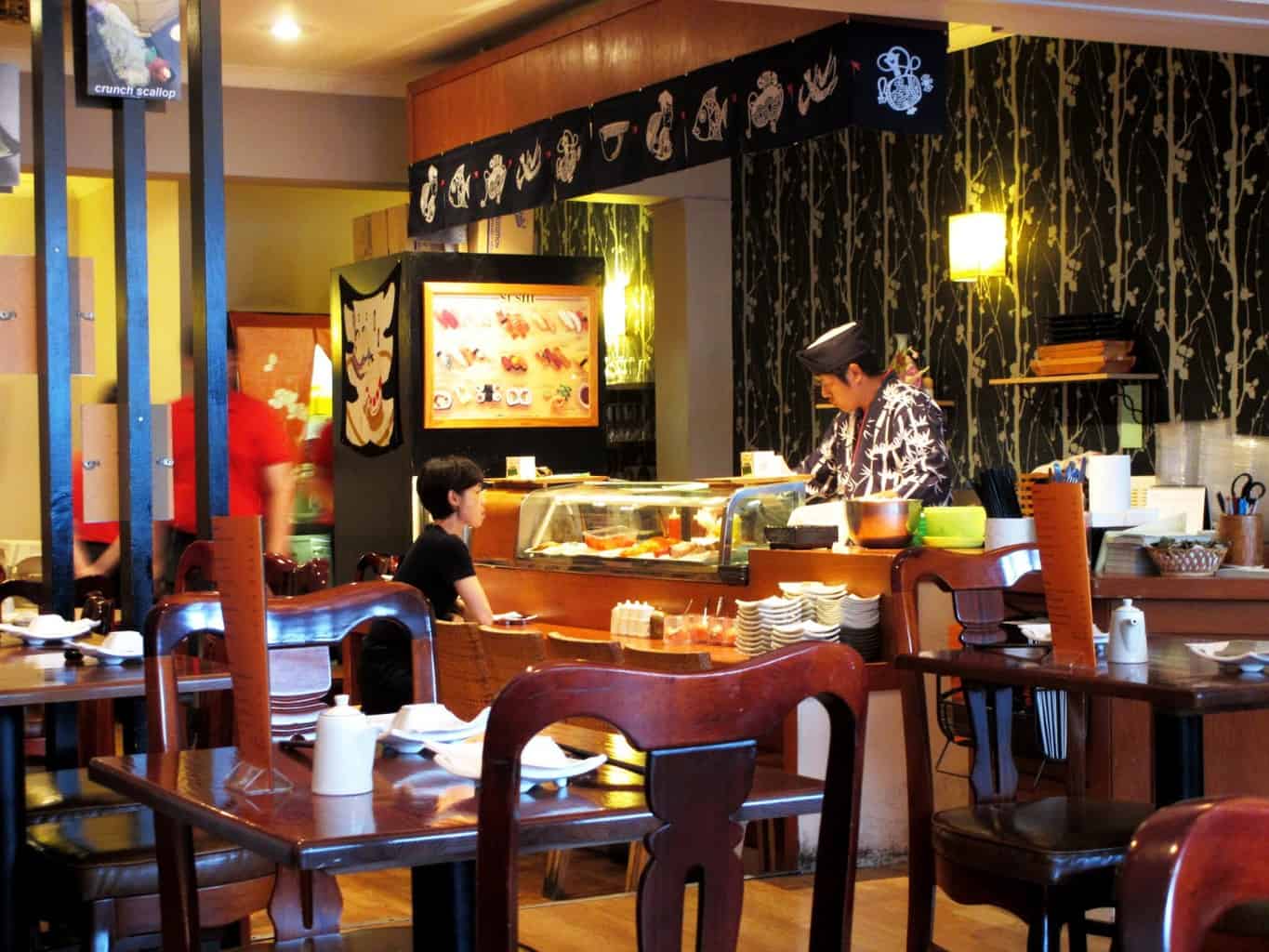 We started with chicken yakitori skewers that are boiled and coated in a sweetened and thickened soy sauce ready for the grill. These were chewy and tasty and perfect to whet our appetites. Gyoza dumplings were served as six and crunchy from the deep fried treatment, containing a filling of minced pork and chives. The salmon and avocado salad was quite simple in its content – cubes of raw salmon, iceberg lettuce, avocado and topped with a creamy dressing with a hint of wasabi heat. It wasn't particularly sensational and on my next visit I'll likely skip this for an extra sushi roll instead.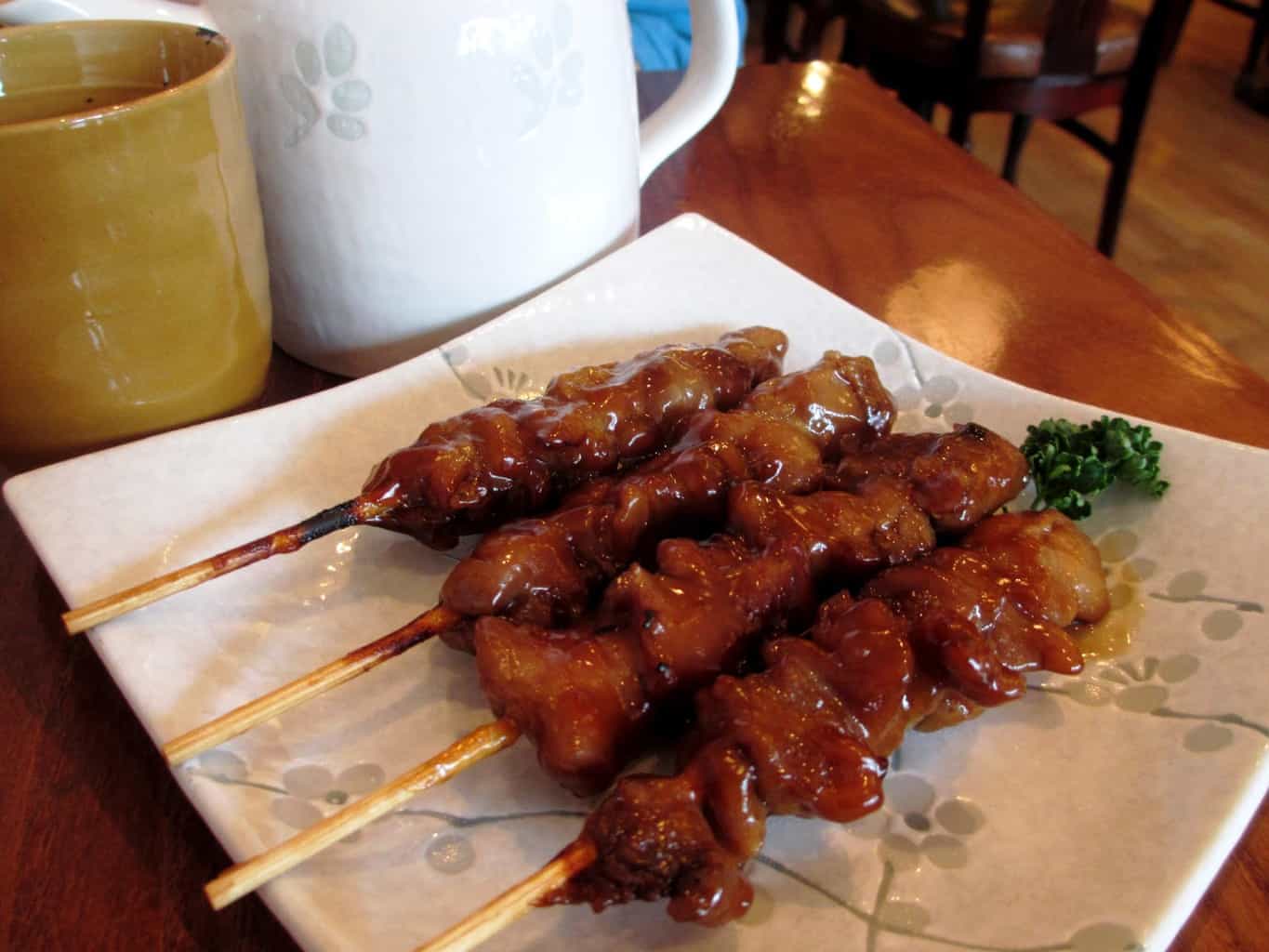 chicken yakitori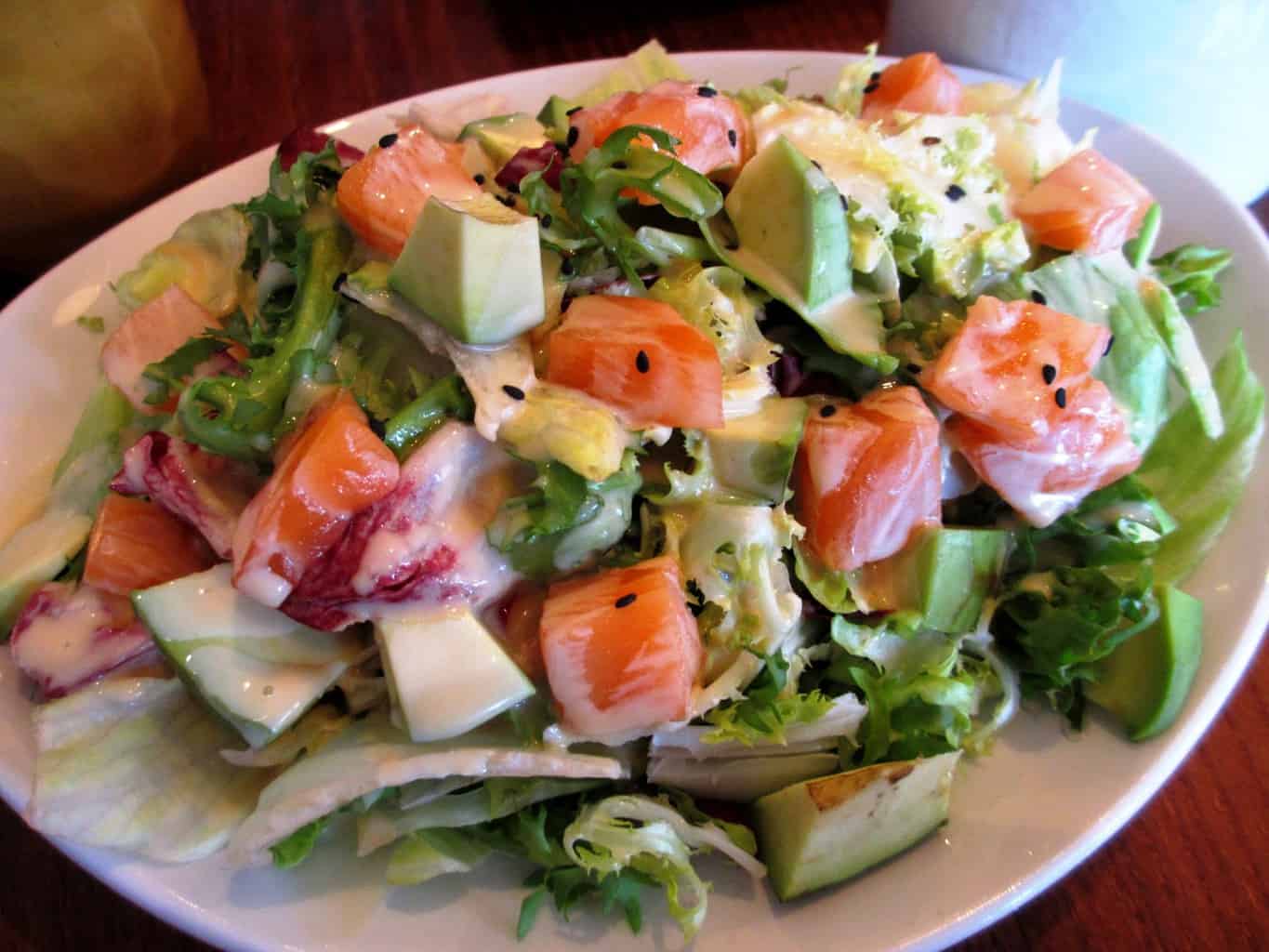 salmon and avocado salad
And onto the maki (sushi rolls). There's a long list available to choose from, with such creative names as 'scallop volcano', 'spider', 'rock 'n roll' and '999', the latter an incarnation with the word 'spicy' present twice in its short menu description and so its name perhaps an indication of the dialling action required after consumption. We of course selected Lion King, a 'California roll with salmon, wrapped and baked'. What we were presented with on an unfurled piece of tin foil was hot cooked salmon, wrapped in soft rice that had absorbed the ambrosial slightly sweet and spicy sauce it was doused in, topped with roe and something else we couldn't quite decipher (or at least bring ourselves to accept our initial analysis of).
'It's cheese' said Matt. 'It's been topped with cheese that's melted during baking'. I was quite adamant there was no way this topping could be one of cheese. It did look a lot like cheese, I'll grant him that. But cheese and fish is considered by some a culinary cardinal sin, surely and especially when it comes to Japanese cuisine (noted for their lack of dairy) and sushi? I had to enquire and guess what, it was cheese. And it was all the more excellent for it. Luscious and savoury and a joy to eat – the recommendation was spot on.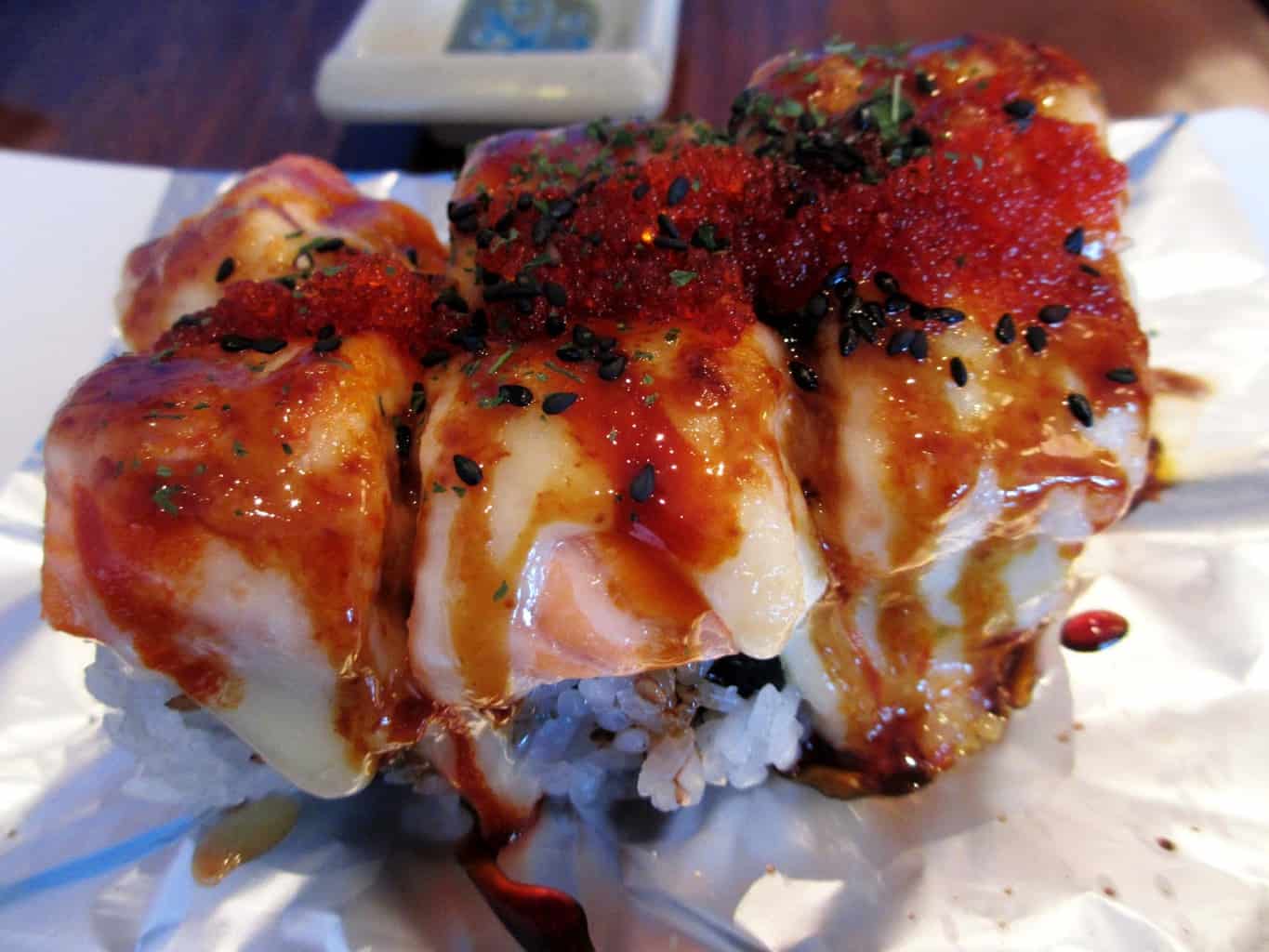 the exceptional 'Lion King'
We
moved onto a sushi and sashimi platter, the colour from the bright and
firm flesh rendering the plate a picture to look at. Spanking fresh fish
is what it is, and the salmon, tuna and mackerel were all a pleasure to
devour, particularly their textures; they were so firm they were
heading towards crunchy. Accompanied by shredded daikon radish for
additional texture and with the ubiquitous eye-watering hit of wasabi
and seasoned with soy, it was a fantastic plate of food.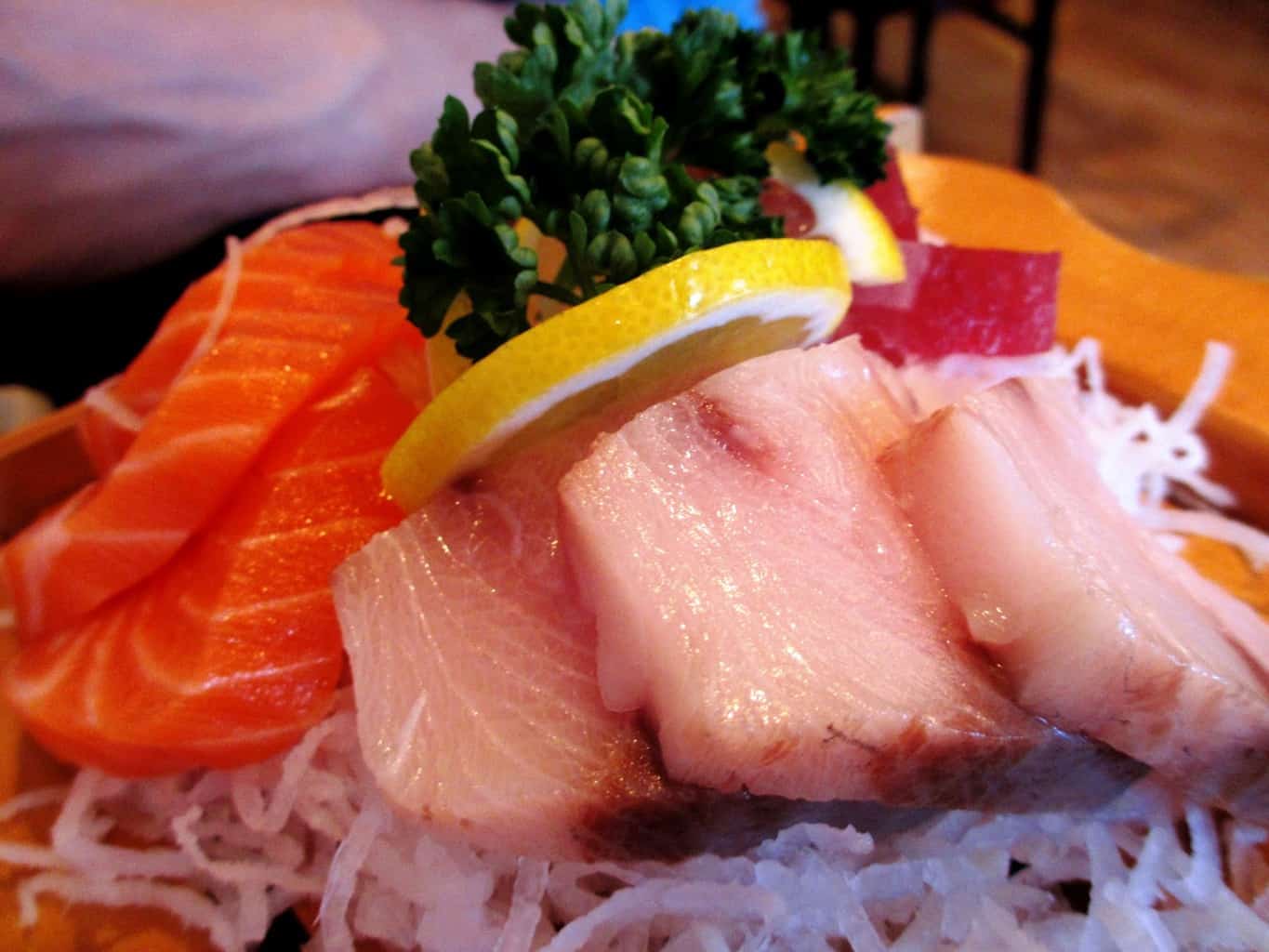 sashimi
Great service was fully exercised with a beautiful young Japanese girl tending to our needs, pouring and topping up our green tea. Is it the best sushi I've ever tasted? It's certainly very good. Although I am yet to try sushi within Japan itself (I'm fortunate enough to have a trip booked in next year which will soon see to that). The huge variety of maki rolls on offer and the pleasure derived from the first and only one we have so far sampled is enough to entice us back repeatedly to work our way through the list, as I'm sure is the case with other customers. It also offers something unique to the restaurant, helping it to stand out from other quality sushi establishments. And considering it's so close to my home, it's now down as a solid entry on my 'local favourites'. Without a doubt worth a jaunt down the Northern Line.
Liked lots – maki rolls, chef attire, service, value
Liked less – salad
Good for – casual dining, regulars, fresh fish, regular visits to work through the huge maki offering, venturing to Wimbledon for something other than tennis
This review can also be found on the Your Local Guardian website.
Afiyet olsun.