Last Updated on June 17, 2020 by Leyla Kazim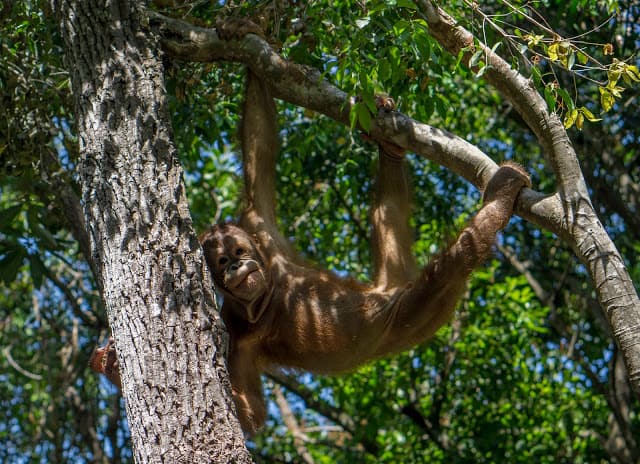 orang-utan at Shangri-La's Rasa Ria Nature Reserve in Kota Kinabalu, Borneo
In a nutshell
Set amidst a nature reserve and surrounded by 400 acres of tropical forest, rooms are perched on a verdant hill with stunning beachfront views, overlooking the exclusive 3km stretch of sand and the South China Sea. This it the place for both nature lovers and relaxation seekers.
Where is it?
Borneo is an island, the third-largest in the world and the largest in Asia. Half of it is Indonesia, the other half of it is Malaysia, and it's also home to that funny little nugget of sovereign state governed by a sultan that is Brunei, which I always thought was somewhere in the Middle East.
Kota Kinabalu is in an area of the island called Sabah, Malaysia's eastern most state. Shangri-La's Rasa Ria Resort is set on a secluded stretch of beach thirty minutes north of Kota Kinabalu city, called Pantai Dalit. It's a 45 minute drive from Kota Kinabalu International Airport.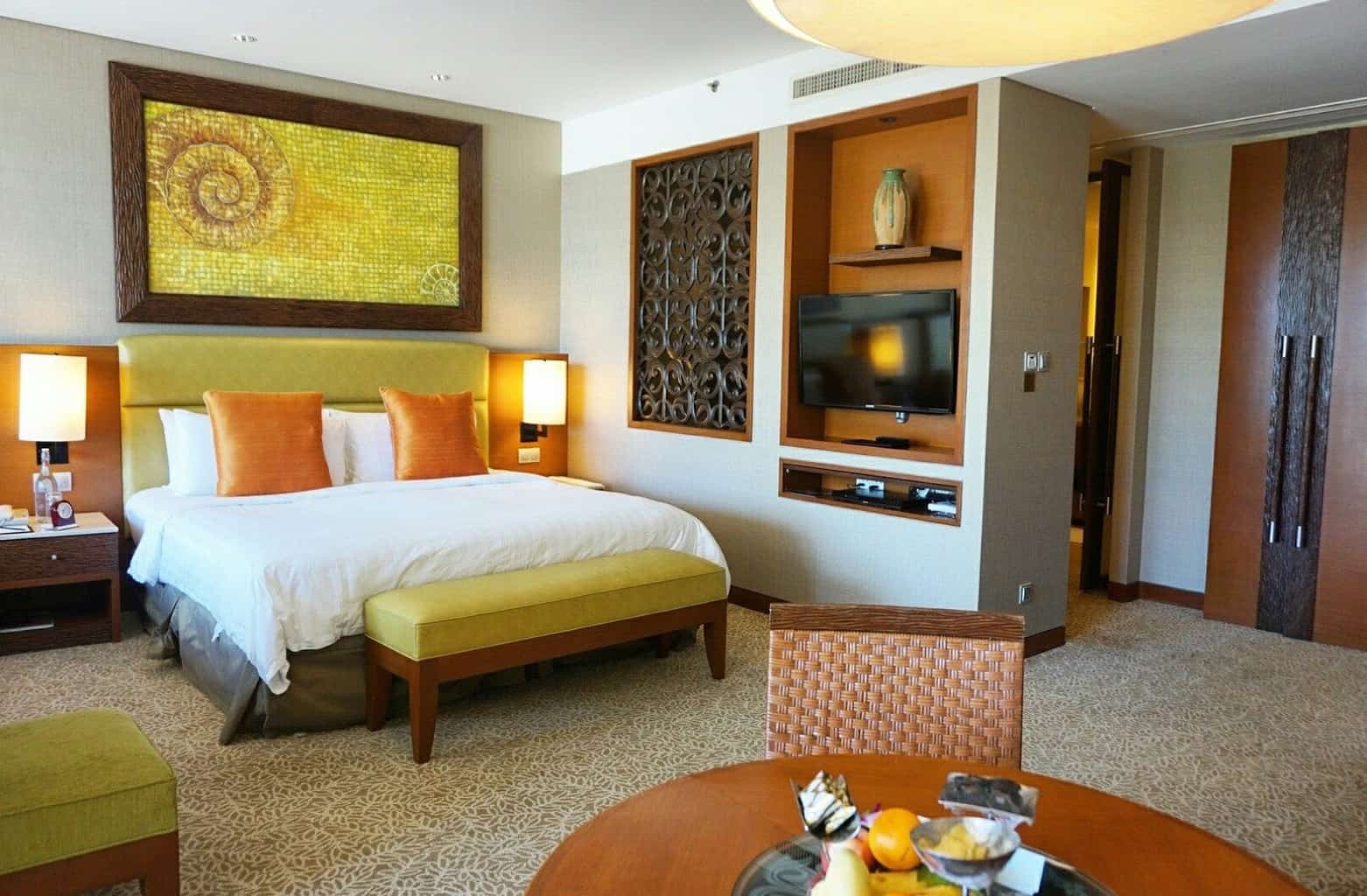 Ocean Wing room at Shangri-La's Rasa Ria Nature Reserve in Kota Kinabalu, Borneo
Style and character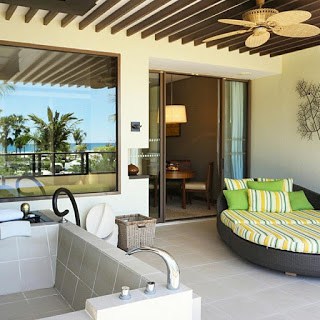 Huge Ocean Wing room balcony at Shangri-La's
Rasa Ria Nature Reserve in Kota Kinabalu, Borneo
Rooms at Shangri-La's Rasa Ria Resort are either in the Garden Wing, or the Ocean Wing where we stayed. All 173 plush rooms of this wing face the sunny wind-swept seashore, and they are huge.
Think 90 square metres and an enormous private balcony with its own oversized outdoor bathtub, plus a large daybed. Just in case you're short of places to relax.
The brand new grand lobby was designed as a functional space, punctuated with tropical and marine accents.
Special privileges of staying in this wing include an exclusive breakfast dining venue, and a swimming pool and jacuzzi dedicated solely to Ocean Wing guests.
Borneo felt like one extended highlight. I loved everything about it – the wildlife, the stunning scenery, the exoticness of it all. And a lot of that was down to staying at Shangri-La's Rasa Ria Resort, their unrivalled location, and the host of activities and trips they have available.
Here's a video of me tackling their climbing wall. This was so very difficult in the unrelenting heat and 100% humidity. On my first attempt I lost my grip just before the top. This was my second go – have a watch to see if I make it to the red buzzer..
If you can tear yourself away from the beach or pool, there are a load of things to participate in that make the most of the exquisite natural environment you're slap back in the middle of, such as canopy walks, bird watching, guided jungle trails, and nocturnal wildlife viewing.
There was a fantastic cruise along the Tambalang River and its narrow mangrove creeks at sunset, where we spotted long-tailed macaques, flying fish, a crocodile and an awesome view (see video below). We then took the firefly cruise straight after and visited the same waterways, this time in the pitch black.

The skies were clear, with the dark shadows of the mangroves twinkling like hundreds of fairy lights, mimicking the constellations above. They were full of glowing fireflies, as if the stars had fallen from the sky and got caught in the trees.

I've never seen anything like it, like something out of a film. Magical is definitely the word.
We also took part in more physical stuff, all available within the (huge) grounds of the property and its shore front, such as wall climbing, horse riding along the beach, archery and parasailing. It was truly a splendid couple of days.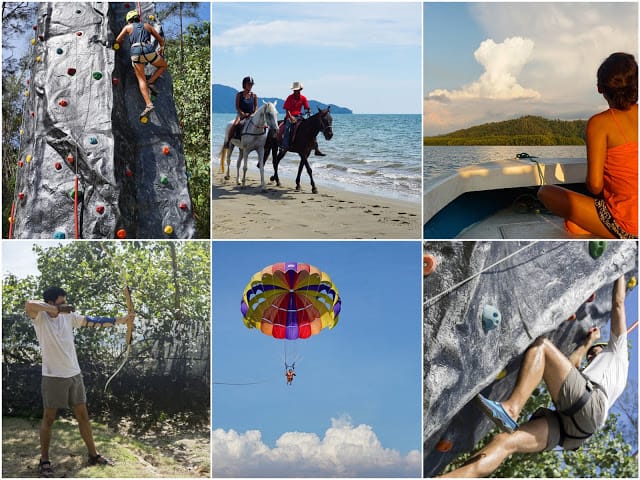 lots of activities at Shangri-La's Rasa Ria Nature Reserve in Kota Kinabalu, Borneo
What's unique?
In a word, orang-utans.
Shangri-La's Rasa Ria Resort have secured part of the Borneo rainforest as a 64 acre nature reserve, established in collaboration with the State Wildlife Department, which backs onto the hotel. Its mission is to facilitate rehabilitation programmes for endangered species of faunas endemic to Sabah.
In it, there is a huge array of wildlife, including a load of long-tailed macaques, and four juvenile orphaned orang-utans. These orang-utans live freely but are protected and looked after by the reserve, which includes feeding.
We stood in the 100% humidity of the jungle absolutely drenched in sweat, the keeper calling out into the trees for a while, armed with a bin full of fresh fruit. After a few minutes, the high-up branches in the far distance started to rustle and sway, and from the tangle of dense treetop vegetation, this little guy emerged.
He was swinging through the trees, from one arm to the other, like something out of The Jungle Book, then came right up close to check us out. One of his mates wasn't far behind.
Sitting cross-legged on the floor as a kid watching David Attenborough documentaries, I would dream of witnessing orang-utans living freely in their natural habitat. Living out that dream was a special thing for me.
Now here are a couple more pictures of these cuties. Because there can never be too many snaps of baby orang-utans.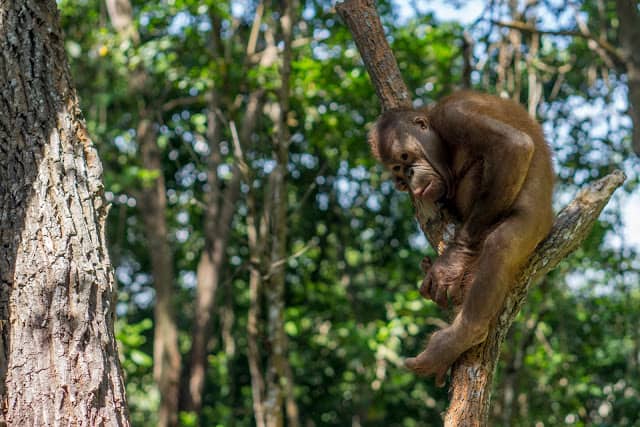 orang-utan at Shangri-La's Rasa Ria Nature Reserve in Kota Kinabalu, Borneo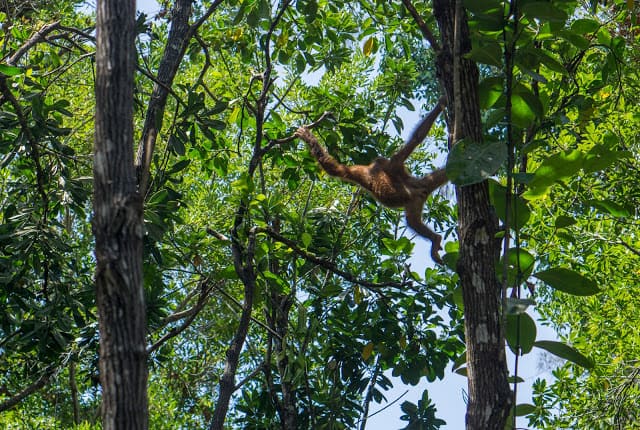 orang-utan at Shangri-La's Rasa Ria Nature Reserve in Kota Kinabalu, Borneo
Who goes?
The main groups of clientèle at Shangri-La's Rasa Ria Resort are from Austalia, UK and Korea. Expect families with kids, but the place is so huge you barely notice them. Plus, there's plenty to keep the younger ones occupied, including a kids club and activities called 'I'm a teenager, get me out of here'.
The Ocean Wing facilities are a little more relaxed and subdued than the Garden Wing, without being snooty towards children.
Breakfast
Recognising their diverse client base, breakfast at Shangri-La's Rasa Ria Resort is an international offering. Much of the food is presented in the cast iron pots they're cooked in, making it feel more like someone's kitchen, and it's a lively atmosphere.

Expect the usual spread of hot and cold goods, as well as exotic touches like coconut jam. And there's an egg station, crepe station, and noodle station making them to order.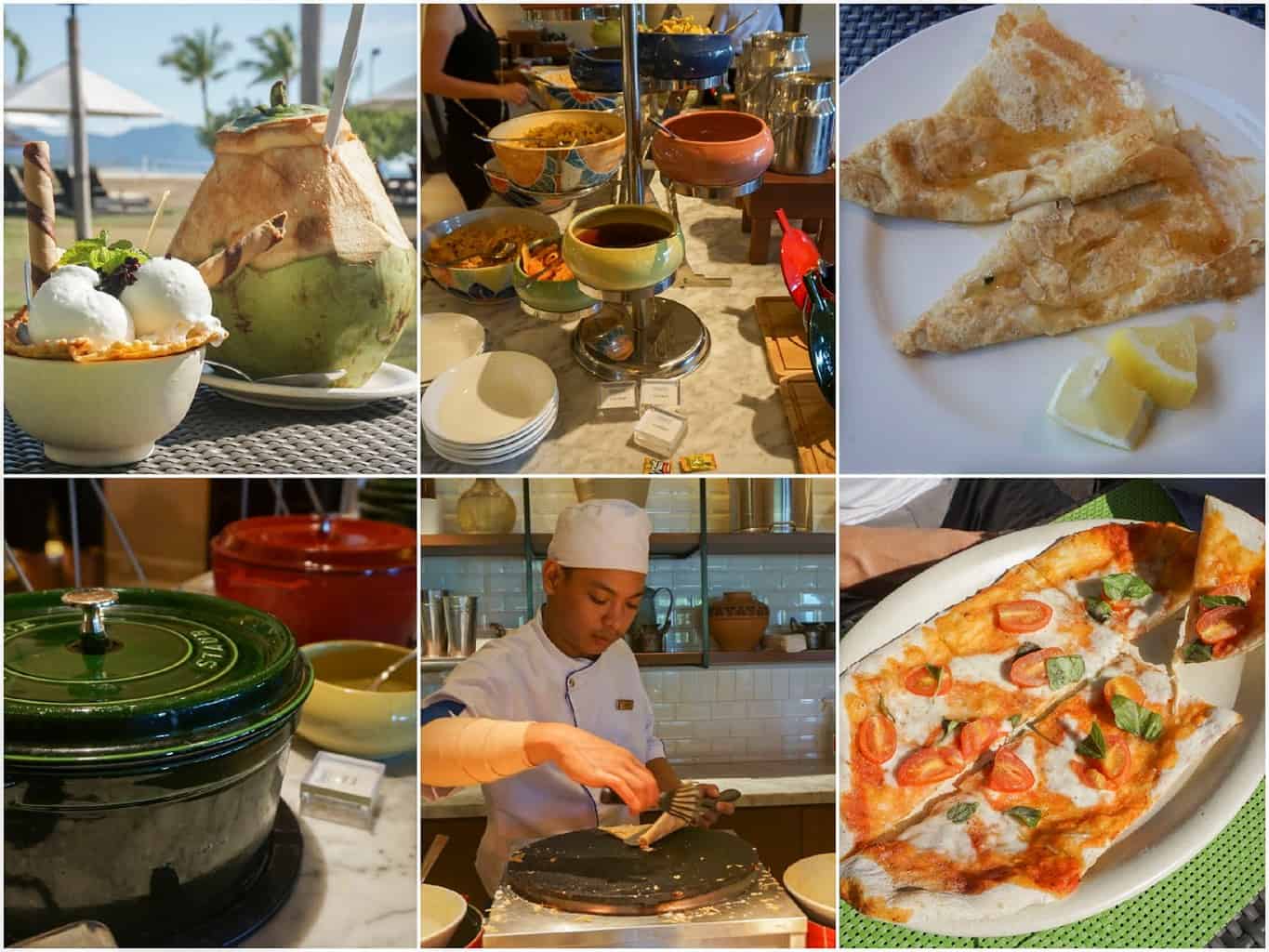 breakfast and day time dining at Shangri-La's Rasa Ria Nature Reserve in Kota Kinabalu, Borneo
Dining
Shangri-La's Rasa Ria Resort has six restaurants and two bars to cater for the guests in the 499 rooms. Tepi Laut is a great shout for when you feel you might need a break from the pool or beach – hard work. It's an al fresco space made up of different stalls, intending to capture the nostalgia of the country's street food heritage.
During the day expect both Asian and western snacks and things to pick at in general, and on some evenings, the staff perform a traditional Sabah dance while you enjoy your dinner.
The Italian fare at Oceano is an exceedingly welcome relief when you've been in Asia for three months. Olive oil! Expect well-executed dishes like beef tortellini with crispy bresaola, milky burrata, carpaccio, and tiramisu.
Teppanyaki restaurant Kozan delivers on both fine food and fun theatre. We had scallops from Hokkaido, roe, a gorgeous bit of Australian wagyu striploin, hibachi king prawns and vegetables, and plenty of sake.
The chefs clearly revel in the showmanship of their craft – expect them to throw around their tools and write words on the grill in egg white after flipping one from the surface, onto the edge of a metal spatula. They invited my parter to give it a go too, great fun.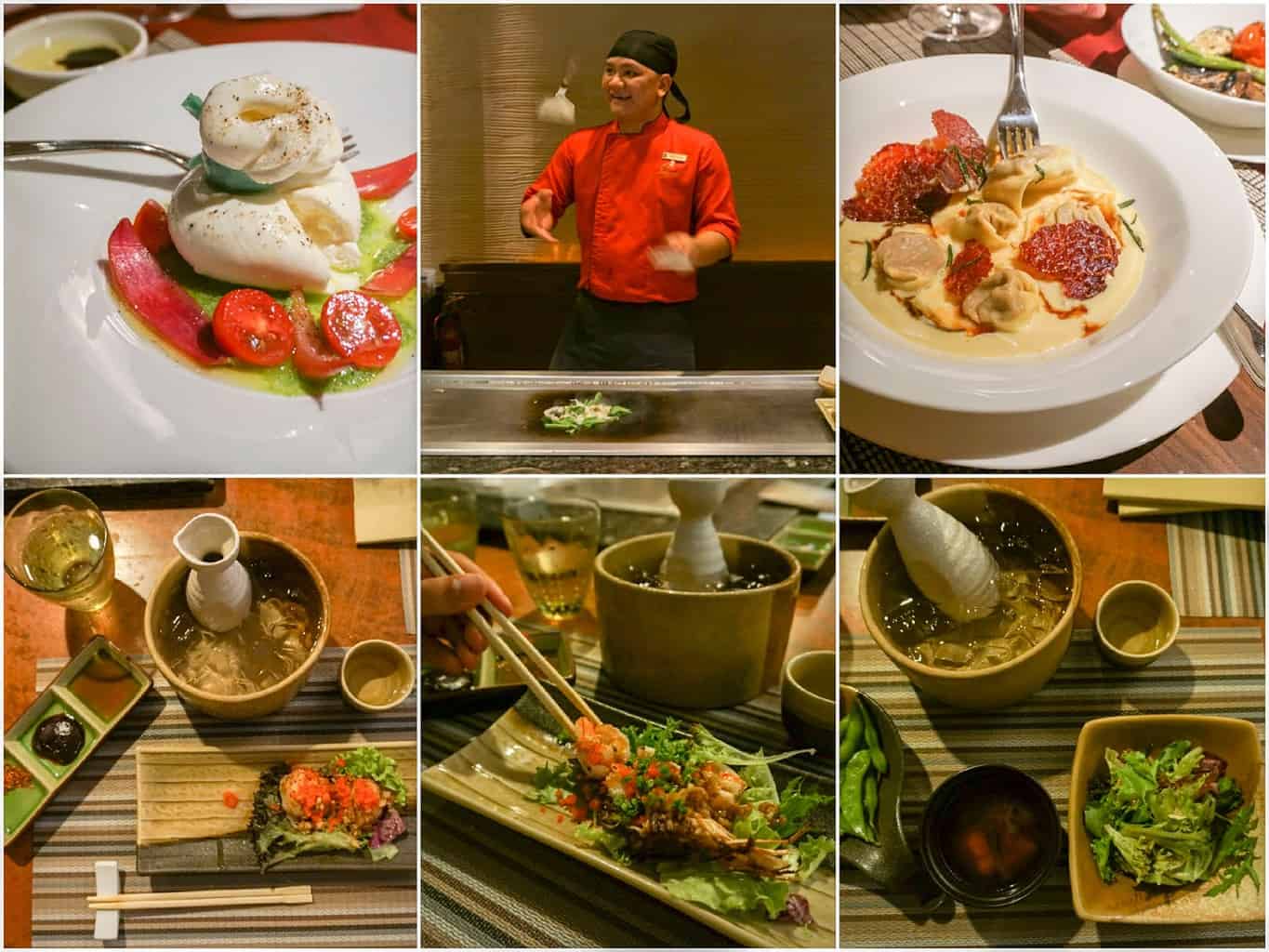 dinner at Oceano and Kozan at Shangri-La's Rasa Ria Nature Reserve in Kota Kinabalu, Borneo
Service
Every night, the staff come and fill up that enormous balcony tub, adding various fragrant potions and flower petals. You can even choose a fragrance for the whole room, selecting from an aromatherapy menu.
On the beach you're given sandfly cream (we didn't need it), brought iced water, and the beds are gloriously very far apart.
The staff here are the kind that get to know your names after a few days, and by the end of your stay it feels like you're leaving a small family-run hotel. We saw a group of restaurant staff pulling out all the stops for a happy birthday sing-song complete with guitar, and the staff hold their hand to their heart every time they walk past you and say hello.
Liked lots / liked less
Liked lots – I absolutely loved this hotel; it might have been my favourite during my whole eight months travelling. It's where genuine hospitality, fantastic amenities and activities, and what was key for me – Borneo's sensational wildlife – all meet.
If you're a fan of nature, there's some sort of critter around every corner. From the resident hornbill that calls the grounds home, to the petting zoo with free-roaming roosters, deer and goats, to the bats that fly around in the evenings, to the owls that roost in the open-plan lobby. I mean, how freaking cool is that – owls in the lobby. There was even a sparrow's nest directly outside our room. I was really in my element.
Also, the wifi reaches the beach. Big brownie points.
Liked less – No brown sauce at breakfast. I got over that pretty quickly.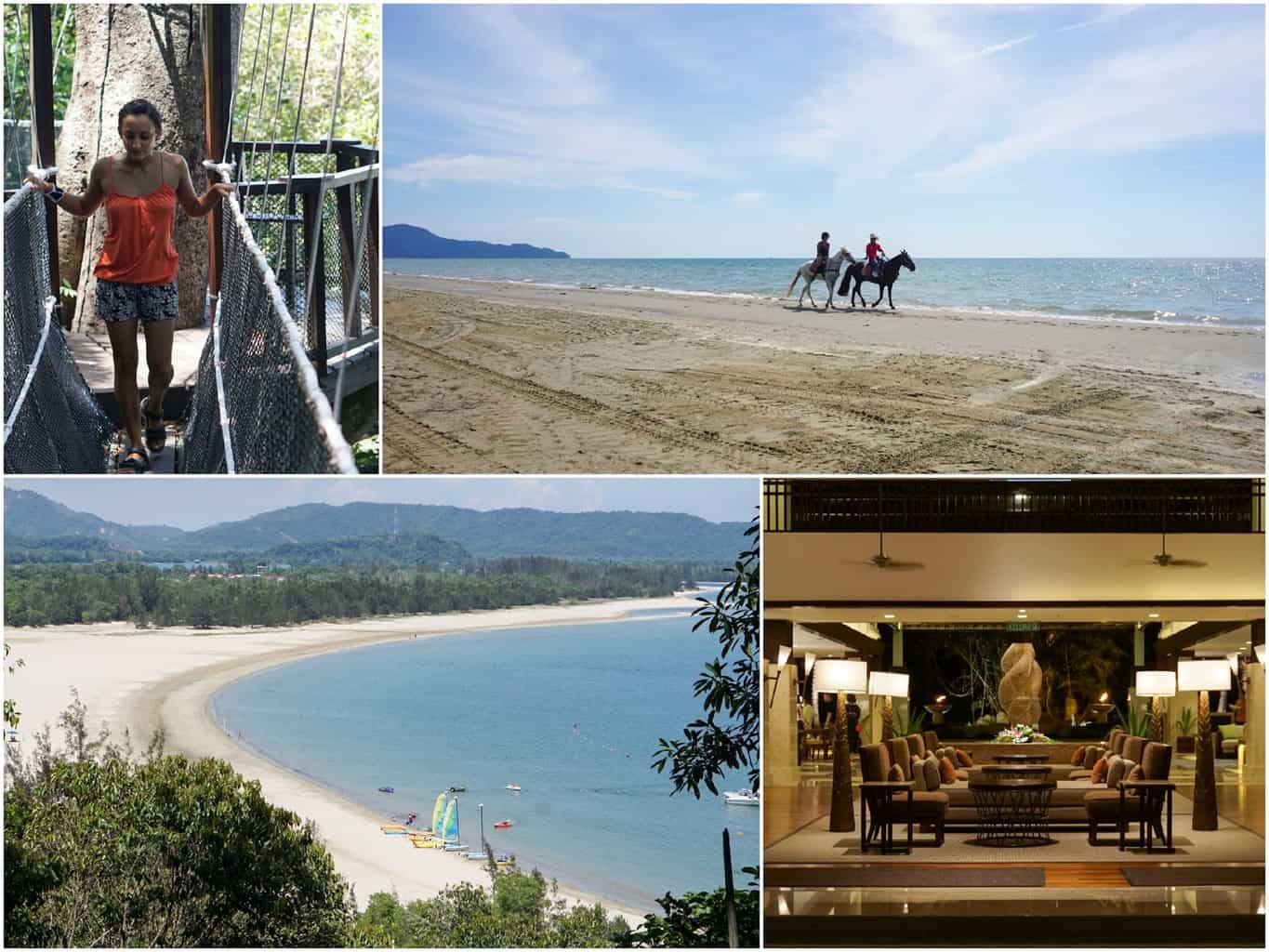 Shangri-La's Rasa Ria Nature Reserve in Kota Kinabalu, Borneo
Price point
Prices from £150 for a deluxe double to £230 for a premier double, including breakfast.
Contact
Pantai Dalit, Tuaran, 89208 Kota Kinabalu, Sabah
+60 88 797 888
Website
Note: I stayed as a guest of this hotel as part of a media package. All views remain my own.


Related links
Week 20: MALAYSIA – Penang → Borneo
MALAYSIA: Review of the Shangri-La's Rasa Sayang Resort & Spa, Penang
MALAYSIA: Review of the Eastern & Oriental Hotel, Penang