Last Updated on November 17, 2022 by Leyla Kazim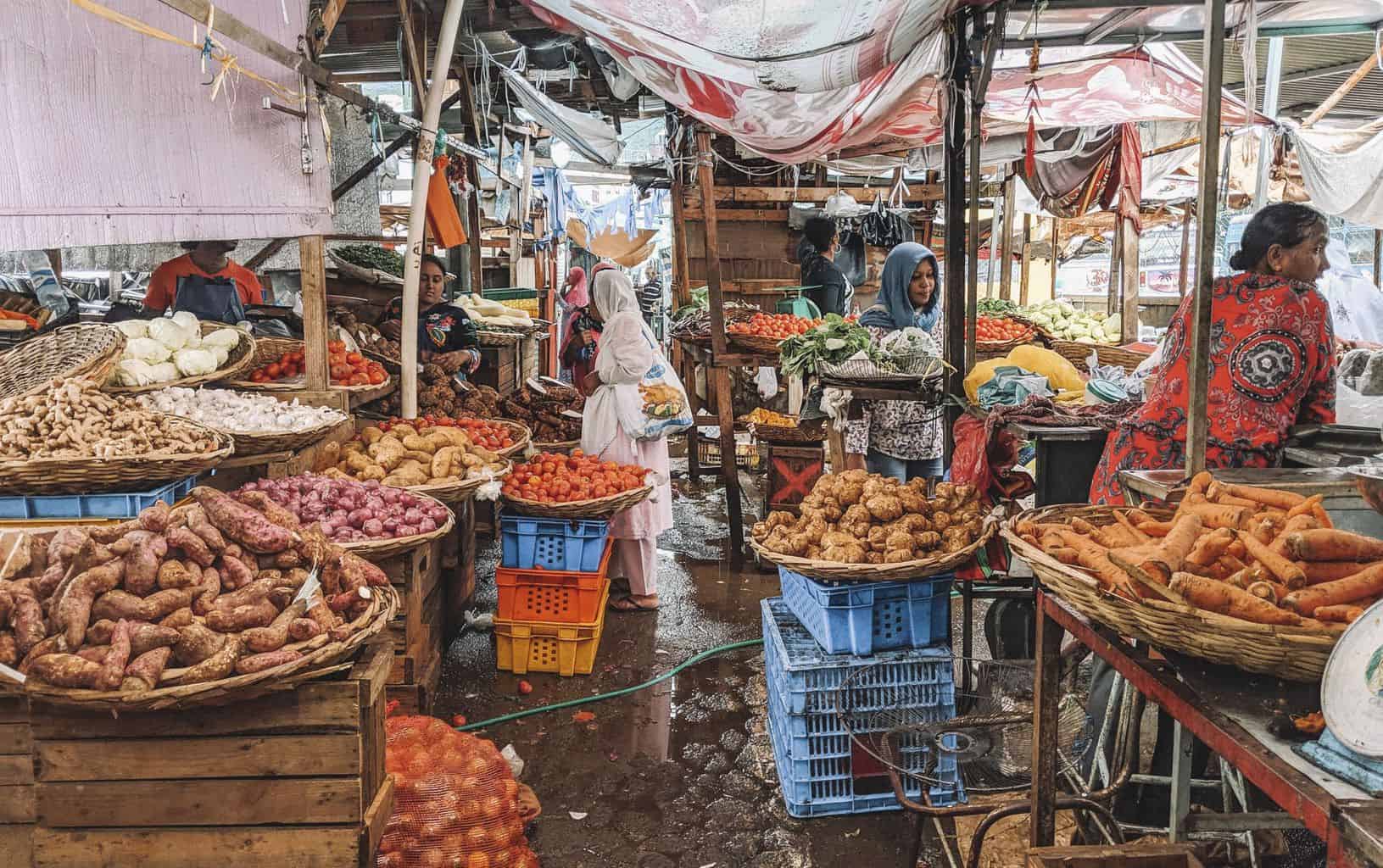 The multi-cultural influences of Mauritian cuisine
Mauritius was birthed from the activity of volcanoes, a speck in the Indian Ocean about 2,000km off the southeast coast of Africa. And so, there are no indigenous people of Mauritius.
The first humans and in fact, the second mammals (the only native mammals to Mauritius are fruit bats) to set foot on the land were the Arabs in 975 AD, putting the island on the map in the most literal sense. The Portuguese arrived in the early 16th century, but weren't especially enamoured with the dense jungle that met them, so soon left.
The Dutch followed in 1598, bringing with them boats crawling with rats, who made light work of making the island's famous dodo extinct. Then in 1715, the French conquered Mauritius and with them introduced slavery.
It was in the 19th century when the British took over that slavery was abolished. In the place of slaves, the British hired half a million workers from India to get busy in the sugarcane fields.
Trying different Mauritian street food is one of the best ways to experience this varied cuisine
Nowhere can this mingling of Indian, Chinese, European and African cultures be felt (and tasted) more, than in the Mauritian cuisine to be found in the backstreets of the capital, Port Louis.
I found grazing through the Mauritius markets and soaking up the sights and smells of the varied Mauritian food in Port Louis to be an excellent way to spend a morning.
And I did so with the lovely Yianna (that's her standing on the left above) from independent tour company My Moris. Yianna pointed me towards the best eats, whilst sharing the fascinating and multi-cultural history of Mauritius between mouthfuls.
9 Unmissable Mauritius Street Food Dishes
To help you get started on your culinary journey, here's a list of my 9 unmissable Mauritius street food dishes to try in Port Louis. And anywhere else you may come across them.
1. Gateaux piments (deep-fried chilli cakes) – found throughout Mauritius markets
These tasty bites are sold across the island, and you can think of them as the Mauritian falafel.
But rather than chickpeas, these are made from chana dal (yellow split peas) that are soaked overnight, ground up, and mixed with spring onions, coriander, chilli and turmeric.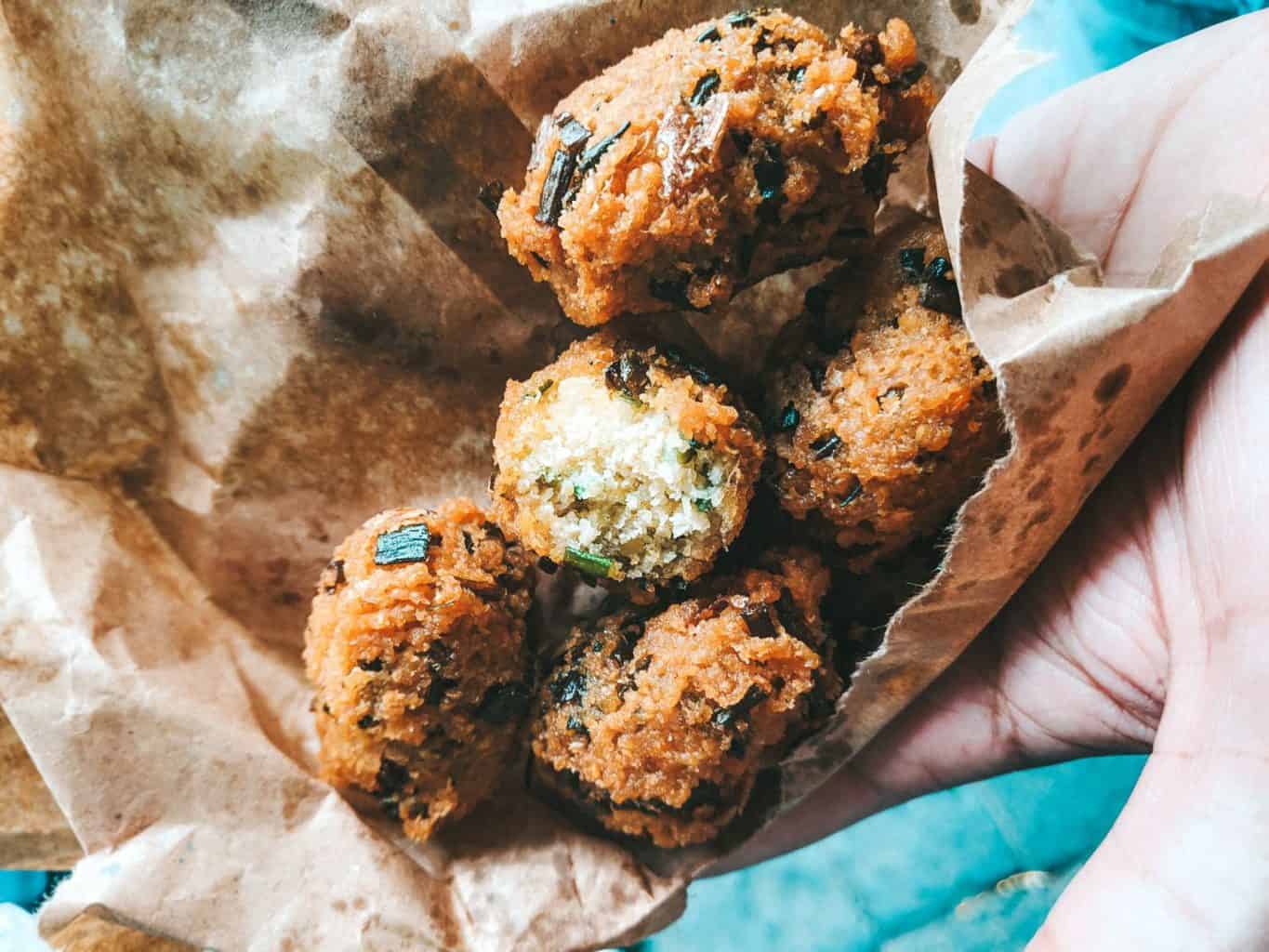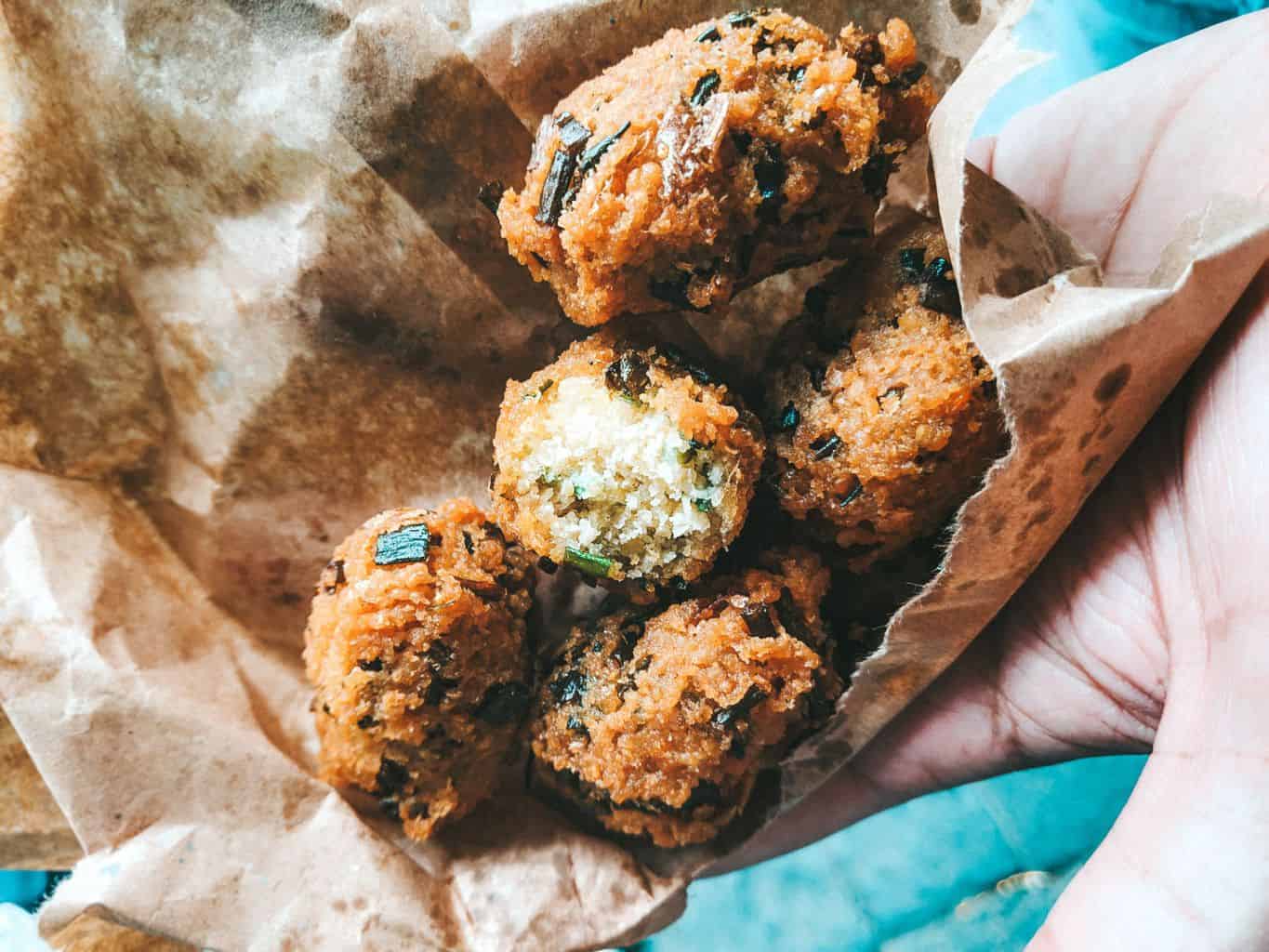 The mixture is portioned into balls which are deep-fried and eaten hot, often with some dite (tea).
A favourite Mauritian food afternoon snack is taking a warm baguette, adding butter and popping in a few hot gateaux piment with a drizzle of hot sauce. I'm sold!
2. Boulettes (Chinese-Mauritian dumplings) – a great example of the different influences that make up Mauritian cuisine
The first wave of Chinese migration to Mauritius was in the 1780s. Artisans worked for French families in the capital and they set up shops and restaurants, most of which could be found in the capital's Chinatown.
Great Chinese-Mauritian eateries still exist here today, and in many of them you'll find boulettes. This is the general term for dumplings served in various ways and with different fillings.
Boulettes are a much loved Mauritius street food, so people don't really take them home. You just go to a reputable marchand boulettes (dumpling seller) and get your fix whilst perched on a little plastic stool.
Seek out: boulette chouchou (chayote), sao mai (chayote wrapped in rice paper) and boulette poisson (fish ball). And don't forget to add plenty of chilli sauce.
3. Chinese baked goods – don't leave Chinatown until you've tried a few of these
The range of sweet treats on offer in a Chinese-Mauritian bakery can be a bit overwhelming. So when you pop in, I'd suggest honing in on these particularly good ones.
Gato zinzli is made from rice flour and sweet potato, stuffed with a paste of black lentils and coated in sesame. These are an adaptation of the traditional red bean-stuffed versions you would find in China, when the first migrants couldn't source red beans on the island.
Poutou (ground rice cakes) has a texture similar to a sponge cake, but are made with rice flour and flavoured with orange peel. They are the unique Chinese-Mauritian version of Indian poutou, which is traditionally made with steamed rice flour and coconut.
Then there's towsa which is a steamed rice flour cake encasing a sweet black lentil paste. And gato lacire which you'll only really find around Chinese New Year.
It's squidgy and dark, thanks to the rice flour, sugar and orange being cooked down for around 8 hours.
4. Roti – my won personal favourite Mauritius street food!
You'll see these stacked high in glass cabinets dotted across the island. The roti is an unleavened flat bread made with oil, flour, salt and water.
It's cooked on a tawa (flat griddle) and served with your choice of toppings from rougaille (tomato based Mauritian creole sauce), cari gros pois (butter bean curry) and satini (raw chilli chutney – either green with mint and coriander or red with chilli and tomato). My advice, get them all.
The parcel is rolled up into a taste bud torpedo and handed to you on some paper. Yianna took us to a small but busy stall in Trou Fanfaron market for these – they were absolutely glorious. It's also the place we tried deep-fried bread fruit – next entry!
I loved how this stand was serving punters from both inside the market, as well as those directly on the busy main road on the other side, through a gap in the stall's protective sheeting.
5. Gato fruit a pain (deep-fried breadfruit) – a great Mauritian street food meat substitute
Most of the Mauritian street food I came across didn't contain meant. But if you're craving a meaty texture, gato fruit a pain is the thing to seek out.
These are thick slices of breadfruit dipped in chickpea flour batter and deep-fried. They felt and looked liked big chicken nuggets; very tasty.
Mauritians sure do like their deep fried snacks, many of which fall under the umbrella term of gajaks. This is the catch all word for things served alongside a drink (alcoholic or soft), and they are generally deep fried. But not always.
These were from the same people who made the roti. It was a family operation, with a guy deftly hacking up fresh breadfruit with a machete, as well as assembling the rotis to order.
One woman was constantly frying the breadfruit (and other gajak) in a big vat of oil. Whilst another was continuously rolling out fresh roti and cooking them on the tawa for a steady stream of customers.
6. Gato arouille (taro root fritters) – pick these up in most Mauritius markets
Taro is a perennial, tropical plant grown for its edible and starchy roots as well as its leaves.
It's a staple root vegetable across African, South Indian and Chinese cuisine and it's as versatile as potato.
These fritters are an absolute joy. Crisp on the outside, soft and sweet in the middle with a hint of fiery ginger.
These were also picked up in Trou Fanfaron market, not far from the roti and breadfruit stall.
7. Gato patate (sweet potato cakes) – a favourite snack from Mauritian cuisine
These are Hindu specialities that look like crescent shaped pasties. They're served and eaten cold, which seems a little strange at first. But they're fantastic.
It's made from a sweet potato casing, stuffed with sweetened shredded coconut, a hint of vanilla and sometimes cardamom. It's a particular favourite during Divali.
8. Dholl puri – possibly the favourite Mauritian street food of most natives!
Whenever I speak to a Mauritian who no longer lives in their homeland (like my mum), dholl puri is always the dish they pine over the most.
It's made in a similar fashion to the roti, but with the addition of yellow split peas and seasoned with turmeric and cumin.
This mix is ground and placed in the middle of the flour dough, then rolled out thin like a crepe and cooked on the flat tawa (griddle).
Originating from Indian parathas (stuffed flat breads), dholl puri was introduced to Mauritius by Bhojpuri-speaking Indian indentured labourers from Bihar over a century ago. Stuffing it with ingredients to hand has made this version uniquely Mauritian.
They're served with the same condiments as roti, but always in pairs as one is never enough. You'll get it rolled up in paper and it will cost around 30p.
9. Anana confit (chilli salted pineapple) – the most refreshing bite to pick up in Mauritius markets
Add salt and chilli to sweet and juicy pineapples, and you have a hot weather snack that would beat any ice lolly.
Victoria Pineapples (a particularly sweet variety) are expertly carved by traders with big machete knives. They'll leave the top on for something to hold onto, then pop it in a bag with sweet tamarind sauce, chilli and salt and give it a good shake.
The result is a glorious symphony of sweet, sour, salty and hot, perfect snackage to counteract the tropical heat.
Have you tried Mauritian food before? Did you know Mauritian cuisine was influenced by so many cultures? What do you think about the vibrant Mauritius markets? Have you ever encountered Mauritian street food outside of the country? Let me know in the comments below!
Many thanks to My Moris who hosted my food tour – what a great morning it was. Even the rain couldn't dampen our appetites!
Don't forget to subscribe to my YouTube channel!
Hungry for more from Africa and Asia?