Last Updated on June 17, 2020 by Leyla Kazim
There are so many establishments in London dishing out plates that look like they belong in the results of an 'Italian food' Google image search – a mass of spaghetti with a generic sauce plonked on top, sporting a pair of perky basil leaves.
'Italian' food, as many people know it – by which I mean a bunch of stock pasta and pizza options – is so often the default offering chosen by restaurants, as dishes are deceptively simple and hot carbs with cheese will always please the masses. But it's also very easy to make them mediocre, or worse still, poor. And a lot of them do. Not to mention these places do little to represent the far-reaching range of regional Italian cooking – it's not all spag bol and carbonara made with cream *shudders*.
So thank goodness for the very good places in town that do truly represent the variety and quality of Italian food – the likes of Bocca di Lupo, Zucca, Locanda Locatelli and now also, Mele e Pere.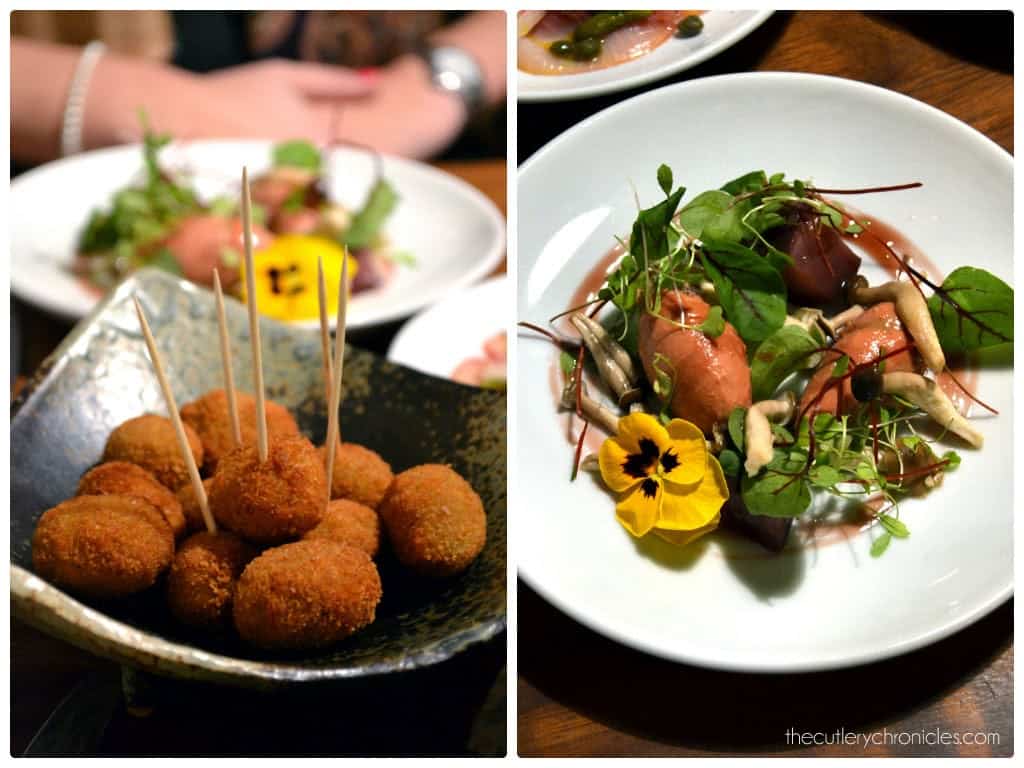 Occupying a prime location on the corner of Brewer Street and Great Pulteney Street in the middle of the dining hotspot that is Soho, the heart of Mele e Pere ("apples and pears") is found below ground. Continue down a flight of tiled stairs – past the few tables, window bar-seating and mirrored wall adorned with glass apples and pears upon entrance – and diners are greeted with an impressive copper-topped bar and a large yet restful dining space.
My companion was someone who knows the restaurant and the dishes well, so I said that thing that is either well-received or slightly aggravating in this situation; "I eat anything, I'll leave the ordering to you – whatever you think is good". The reply to which was, "Well, it's all good". Dammit.
"But we must get the smoked swordfish carpaccio. And the aubergine parmigiana. Because it's gorgeous. And the potato gnocchi with truffle – god, that's really good. And the vitello tonnato". This was going well.
Before I could prioritise that day's menu according to which words I wanted to eat the most (they were coming out level-pegging, an unhelpful case of "all of the above please?"), a plate of three fresh-from-the-oven pillowy focaccia buns appeared, their aroma heavy with olive oil, sporting hats of pesto and something cooling I think was crème fraîche (£2.50). Shortly after, deep-fried ascolana olives stuffed with a little heat and served still warm, simultaneously crisp and ripe (£3.50).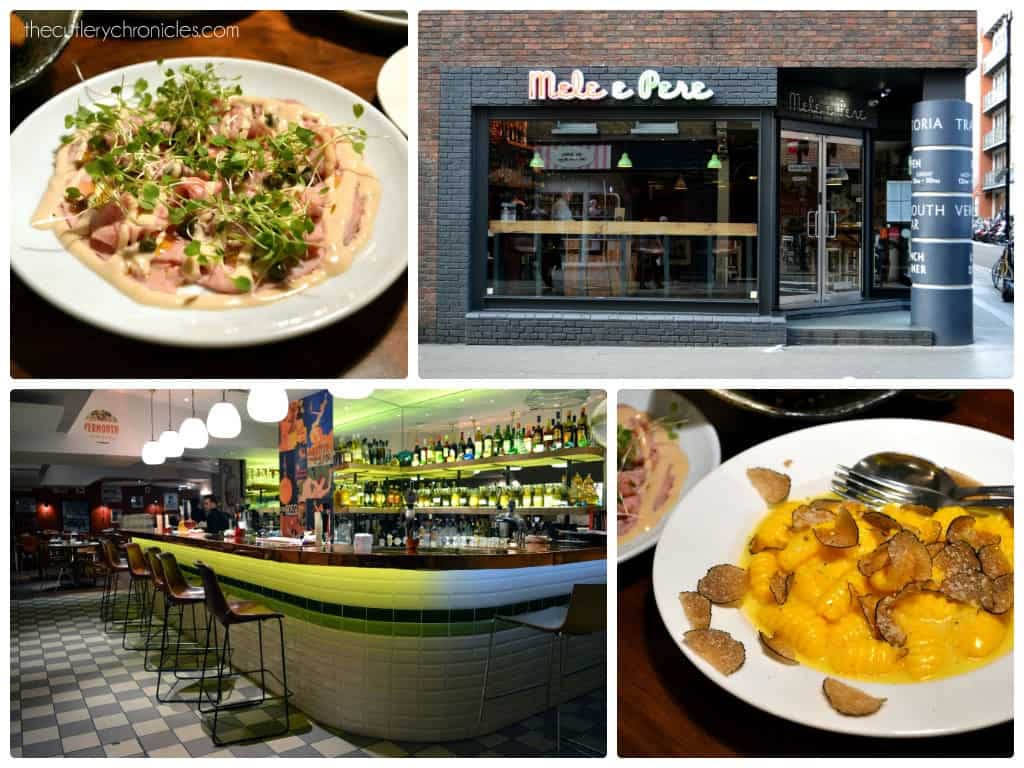 Then a plate of partially translucent mackerel tartare with crunchy baby radishes and bergamot; there was a punchy hit of mustard in the mix and piquant pickled cucumbers to cut through the flesh*. It agreed with my oily-fish sentiments entirely: the best way to enjoy them is raw. A complete pleasure. A third plate – quenelles of chicken liver parfait with wine-poached pear, little mushrooms, Italian leaf and a bright yellow pansy – was something I wanted to photograph as much as eat. Velvety, rich and cooling pâté, sweet fruit, sprightly leaves. Another solid entry*.
The swordfish carpaccio bore the colour of a girl's cheek after its first peck from a boy; flushed pink and with batons of vibrant crisp radishes and cornichons standing to attention – it was delicate and delightful (£6.50). Vitello tonnato is a Piedmontese antipasto of thinly sliced veal covered in a mayonnaise-like sauce, bolstered with capers, anchovies and lemon – all great things that cause the tip of the tongue to smack the roof of the mouth (£6).
And then there was the aubergine parmigiana with pesto – a glorious mess of smoky aubergine mush, stretching cheese and sweet tomato meeting in a piping-hot melty mass of what can only be described as unadulterated out-of-the-oven pleasure (£6).
*No individual prices as both were from that day's pre-theatre menu of three courses and a glass of prosecco for £18.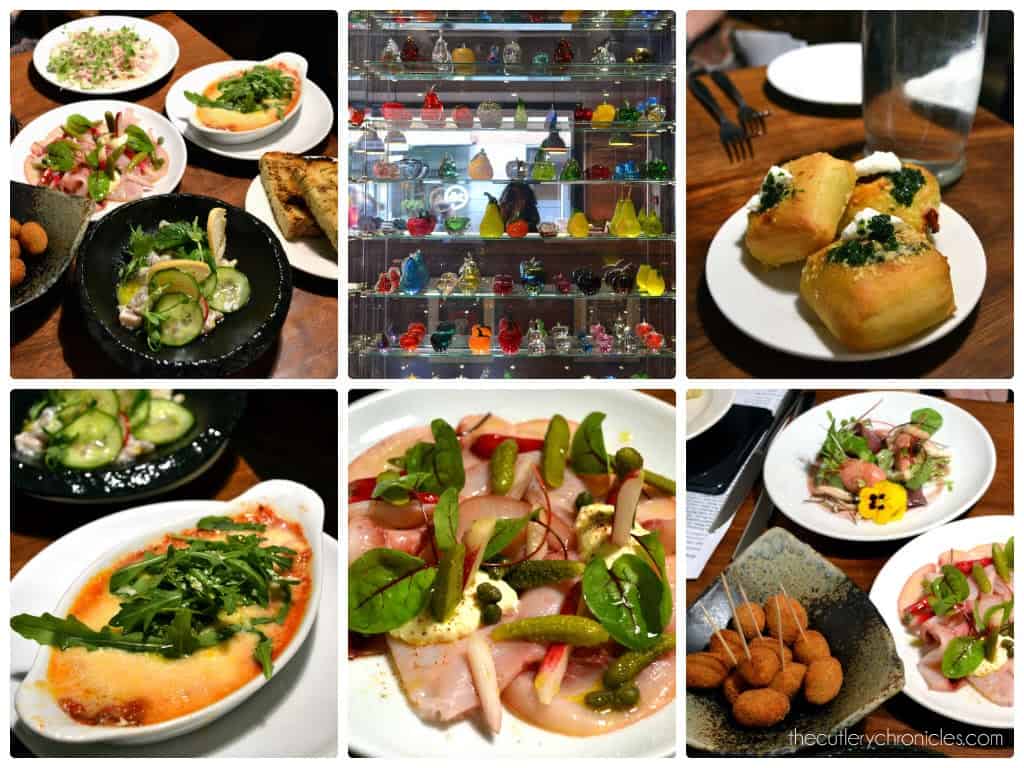 And the potato gnocchi glowing from saffron with generous shavings of pungent Umbrian black truffle? Well, there's little point trying to evade it. You know you want it and if it's there, you will order it. And once it arrives, you'll be its prisoner until the bowl is clean. There's probably only five ingredients involved, and the beauty is in its (luxurious, decadent, buttery) simplicity (£7.50 for the small portion).
There was no room for dessert. Even my second stomach – usually reserved for sweets – let me down. I was defeated, by what was a very good lunch; I'm happy to take a beating like that any day.
Mele e Pere has daily changing menus: lunch specials at £8.50, pre-theatre set menus of three courses with a glass of prosecco for £18 (both with entirely different dishes to the a la carte), the option of small or large portions for pasta, substantial mains and a bar specialising in vermouth.
With such lovingly-prepared and well-executed creativity from Head Chef Andrea Mantovani available at very accessible prices, this is the restaurant card to keep in the back pocket and pull out when – well, whenever.


Liked lots: gnocchi, focaccia, aubergine parmigiana, mackerel tartare, location, prices, creativity
Liked less: the main dining area being without natural light
Good for: frequently changing menus, frequent visits, all occasions, quality food at affordable prices, vermouth (so I hear – must return to try some)
My rating: 4/5
Find the menu on Zomato.
Afiyet olsun.
Note: I was kindly treated to this meal by the restaurant thanks to their relationship with my companion.