Last Updated on June 10, 2020 by Leyla Kazim
Well, it's taken three Christmases but I've finally done it. I have finally made a panettone that has turned out how it should – light, fluffy and fragrant. I am so bleedin' pleased.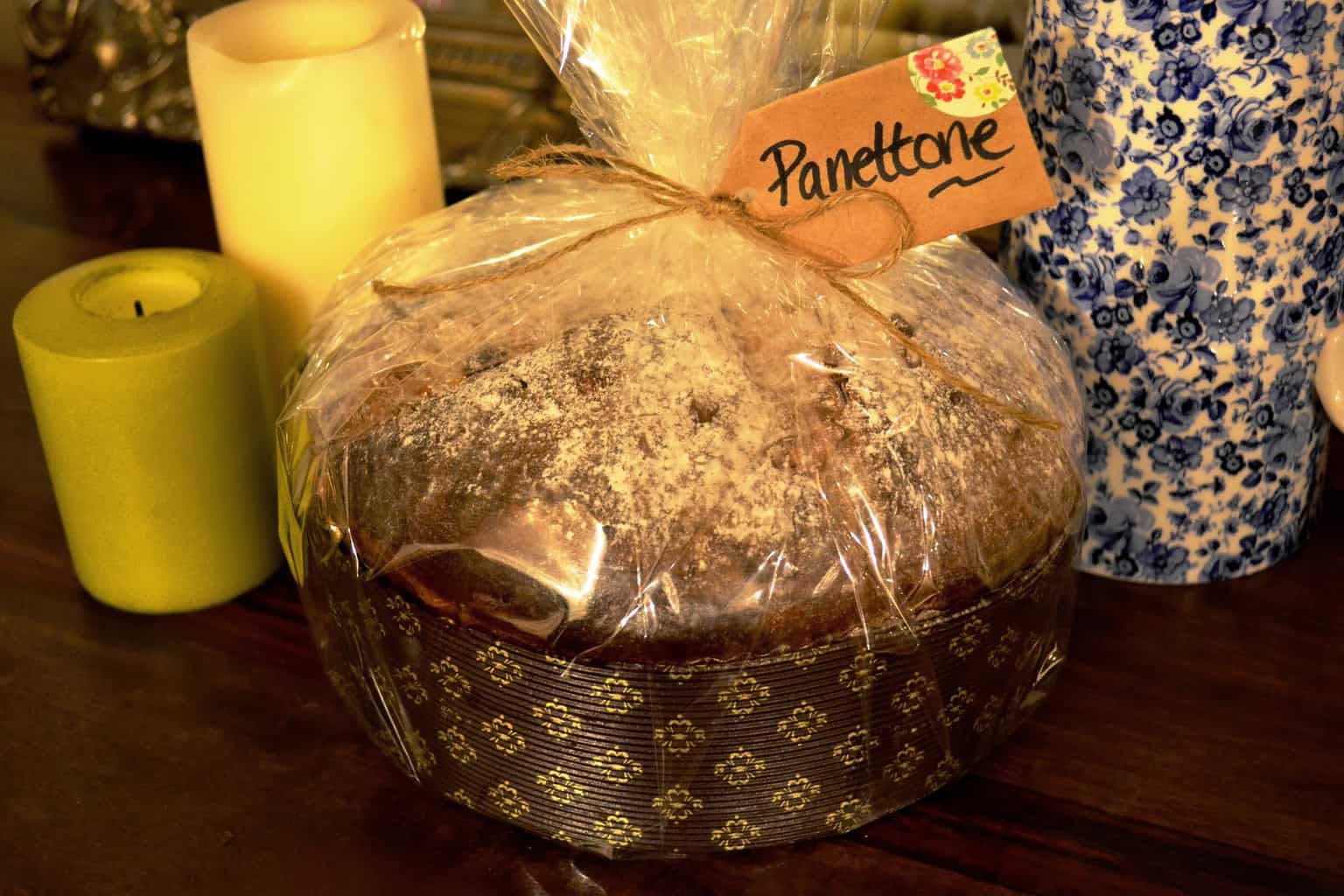 There's history behind this. Every Christmas for the past three years, I have followed a particular recipe in order to attempt this classic Italian seasonal sweet bread as a bit of a centre piece, and as a gift to my parents and the in-laws The panettone always came out more cake like rather than bread like. It usually tasted alright, but the texture just wasn't there. I would put it down to the challenge of trying to get a dough enriched with so many eggs and huge hunks of butter to rise – it's difficult. But it turns out that it wasn't me or my lack of skill. It was the recipe that was at fault. It was rubbish.

This recipe suggested combining everything from the beginning and trying to get it to rise with only two proving periods – the first in a bowl and the second in the panettone mould. I could always get it to rise during the first prove, but nothing happened in the second. It did not develop the signature pockets of air and so when cooked, was more dense like a cake rather than fluffy like a bread. Matt eventually persuaded me to stop being so stubborn with this one recipe that clearly wasn't working, and find another. So a quick search on youtube and I found this very helpful video by Giallo Zafferano talking you through a genuine Italian panettone recipe. Turns out doing it properly takes patience and has four different proving stages – four! All in, it's around 7-10 hours, so give yourself the whole day. I made two over two consecutive days and reduced the time by two hours on the second go, probably because I knew exactly what I was doing by then.
That amount of time may sound daunting, but it is entirely and completely worth it. And don't forget, for a lot of that it is just sitting and rising while you can get on with other things. Seeing the dough almost explode beyond the constraints of its mould while cooking from all the light and fluffy excellence it's creating within is almost irresistible. If you are making this as a gift, it will take every ounce of self-restraint to prevent you from eating it hot and straight out of the oven. If you are exercising this brazen act of wanton self-deprivation, then kudos to you. Bestow the treasure upon your lucky recipients along with instructions of heating it up in a low oven until piping before serving, to bring it as close to the former glory of its first oven outing as possible.
Yes you can buy these everywhere at this time of year, and yes they can be quite decent and reasonably priced too. But there's nothing like putting the time and effort in making one yourself. You'll be beaming from ear to ear with a sense of pride and accomplishment. Not to mention it will be another classic bake you can add to your repertoire. And you will be fully entitled to crown yourself as Panettone Queen/King. At least, I have.
Classic Panettone
Makes one large or 8-9 small
Equipment
Panettone tin or panettone moulds
Non stick baking paper
Bowl / dough scraper
Cling film
Large mixing bowl
Ingredients
510g of flour (half plain, half strong white bread)
160g sugar
1 vanilla pod, seeds scraped out
1 tsp sugar
5g salt
160g unsalted butter
4 x whole large free range eggs
3 x large free range egg yolks
12g fresh yeast (ask the bakery counter in large supermarkets)
60ml full-fat milk
80g candied citrus peel
120g raisins and sultanas
1 egg white (for egg-wash)
First prove
Warm the milk in a saucepan until tepid. Add the 1 tsp of sugar and crumble in 9g of the fresh yeast. Stir until dissolved and leave for a few minutes. The heat from the milk will activate the yeast and the sugar will feed it – when the milk starts to get frothy with holes, that's when it's ready. If the milk gets too cool in the meantime, heat it up again. Make sure it doesn't get near boiling though or the extreme heat will kill the yeast.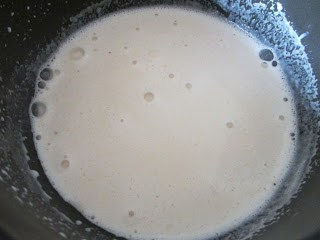 activated yeast
Mix this liquid with about 100g of the combined flours in a bowl until it comes together. Knead for a good 10-15 minutes on a work surface until the dough is soft, smooth and elastic. During the kneading process you are developing the gluten to add structure to the dough and help it rise. If you pull a bit of the dough apart between your fingers, you want it to stretch before it snaps. When you've got a good amount of stretch, you've kneaded enough.
Shape the dough into a ball and drag along the work surface with your hands cupped around it and your little fingers against the table – this will create tension on the surface of the ball which will help it rise. You should have something that looks like this: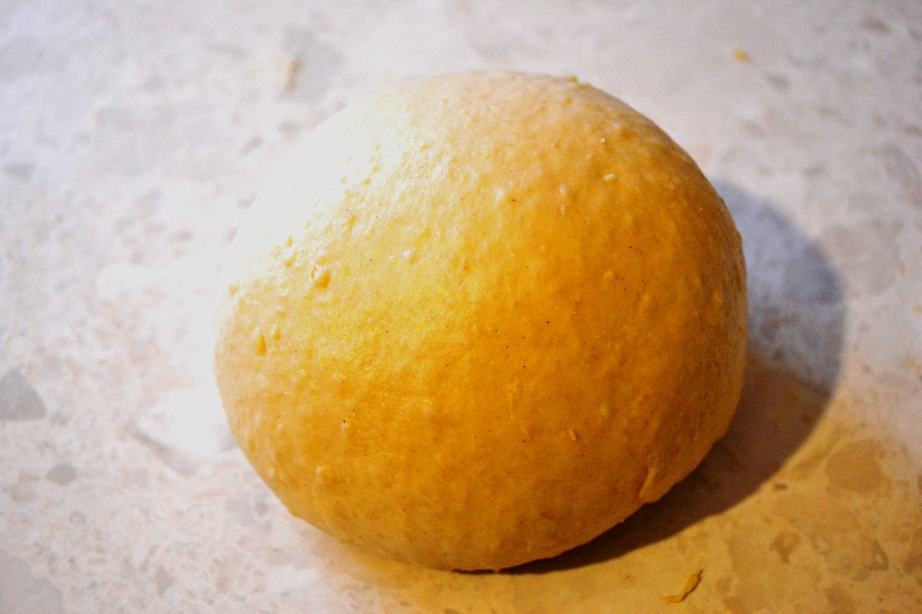 Place in a bowl and cover with cling film. Keep somewhere warm around 35C. I always use a very low oven, barely switched on. When the dough has doubled in size (around 1hr but it could take less or more time), your first prove is complete.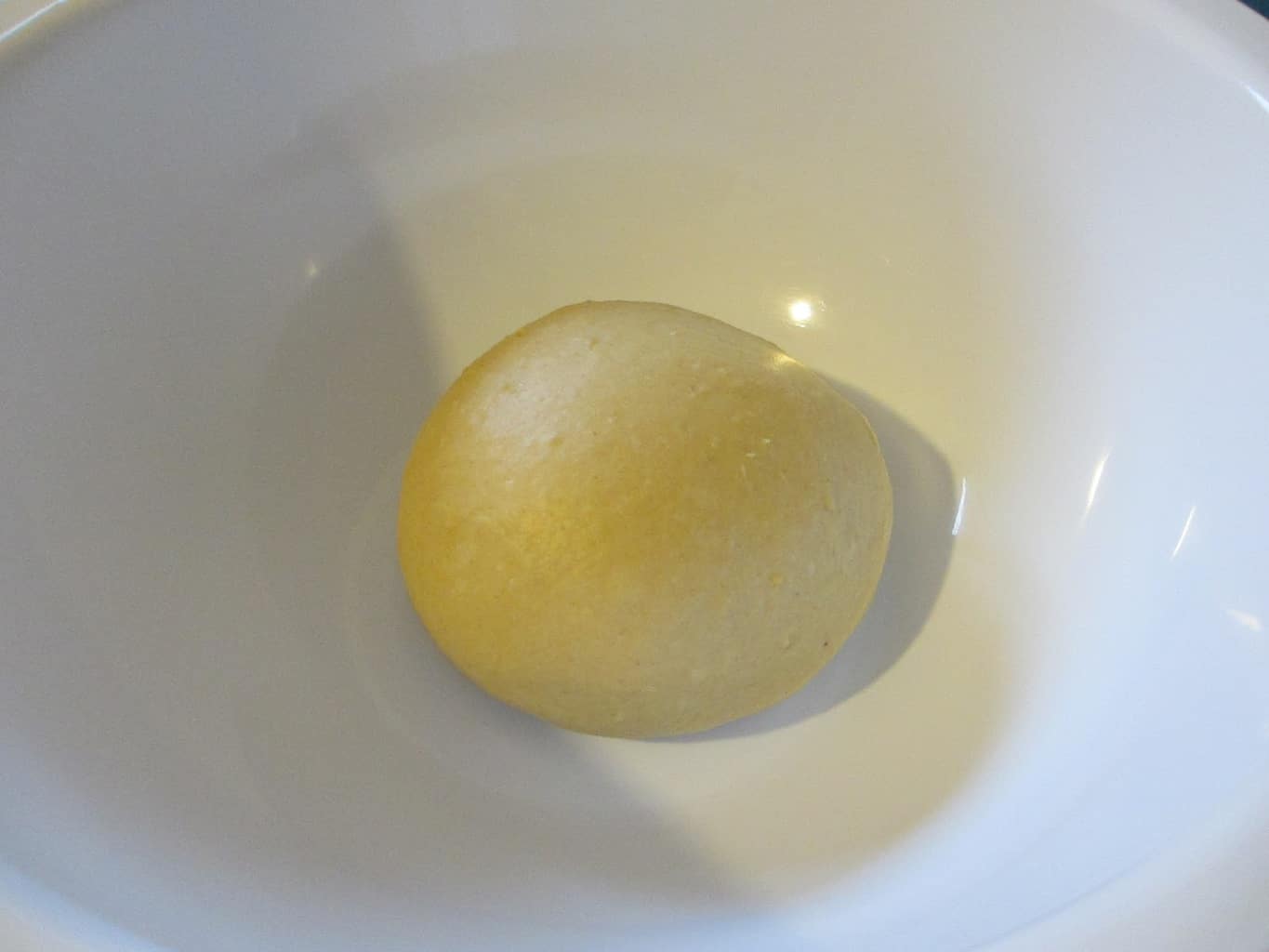 before it goes in the very low oven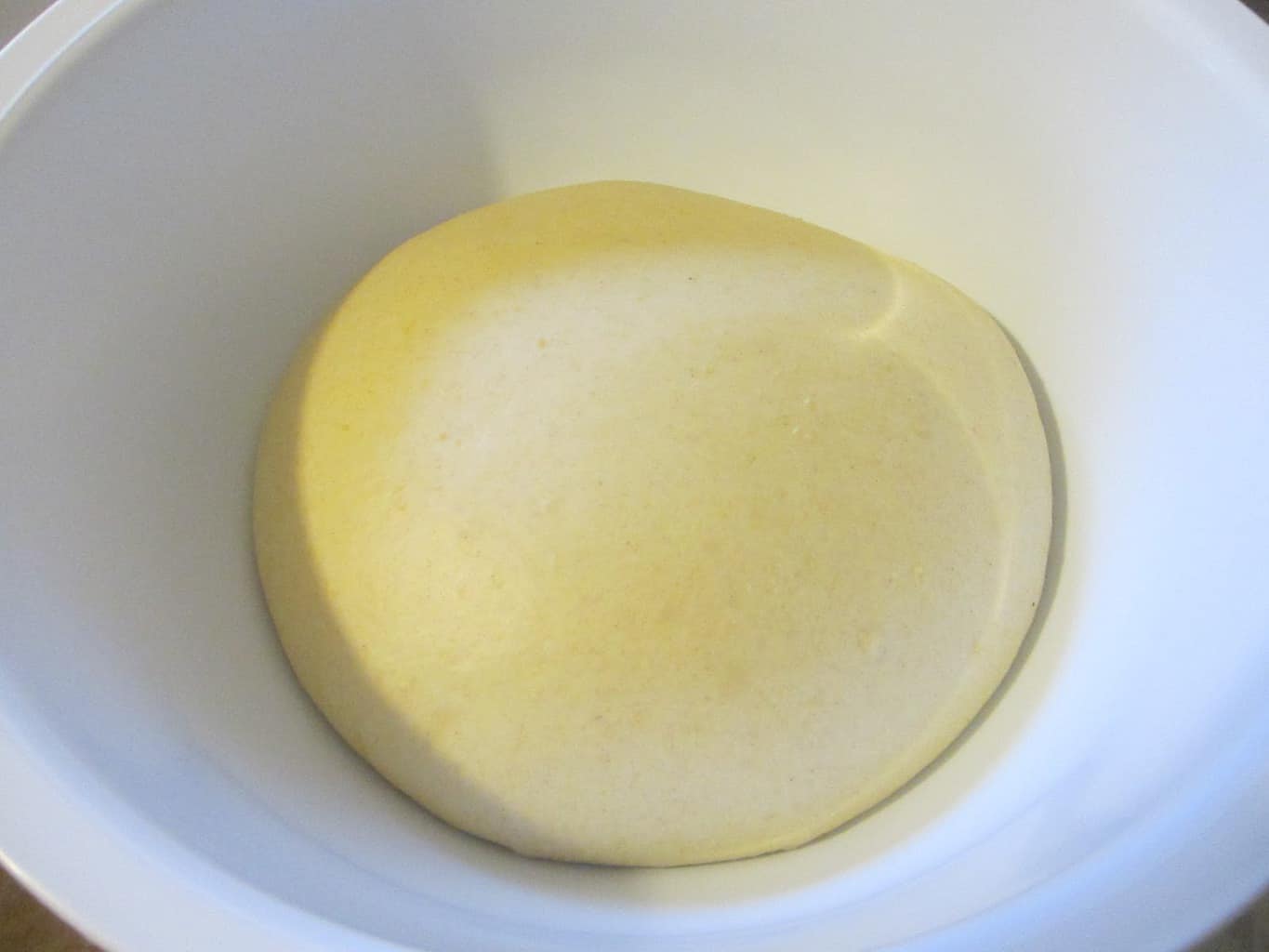 when it comes out – notice it has doubled in size
Second prove
In a large mixing bowl, add about 190g of the remaining flours, crumble over the rest of the fresh yeast and add two whole eggs. To this, add your doubled dough and combine all together with your hands. To this add around 45g of the sugar and about 57g of the butter half at a time to fully combine it (the butter should be at room temperature so it's a bit soft – if it's too hard put it in the microwave for a few seconds). You will at first be presented with what looks like a bit of a mess: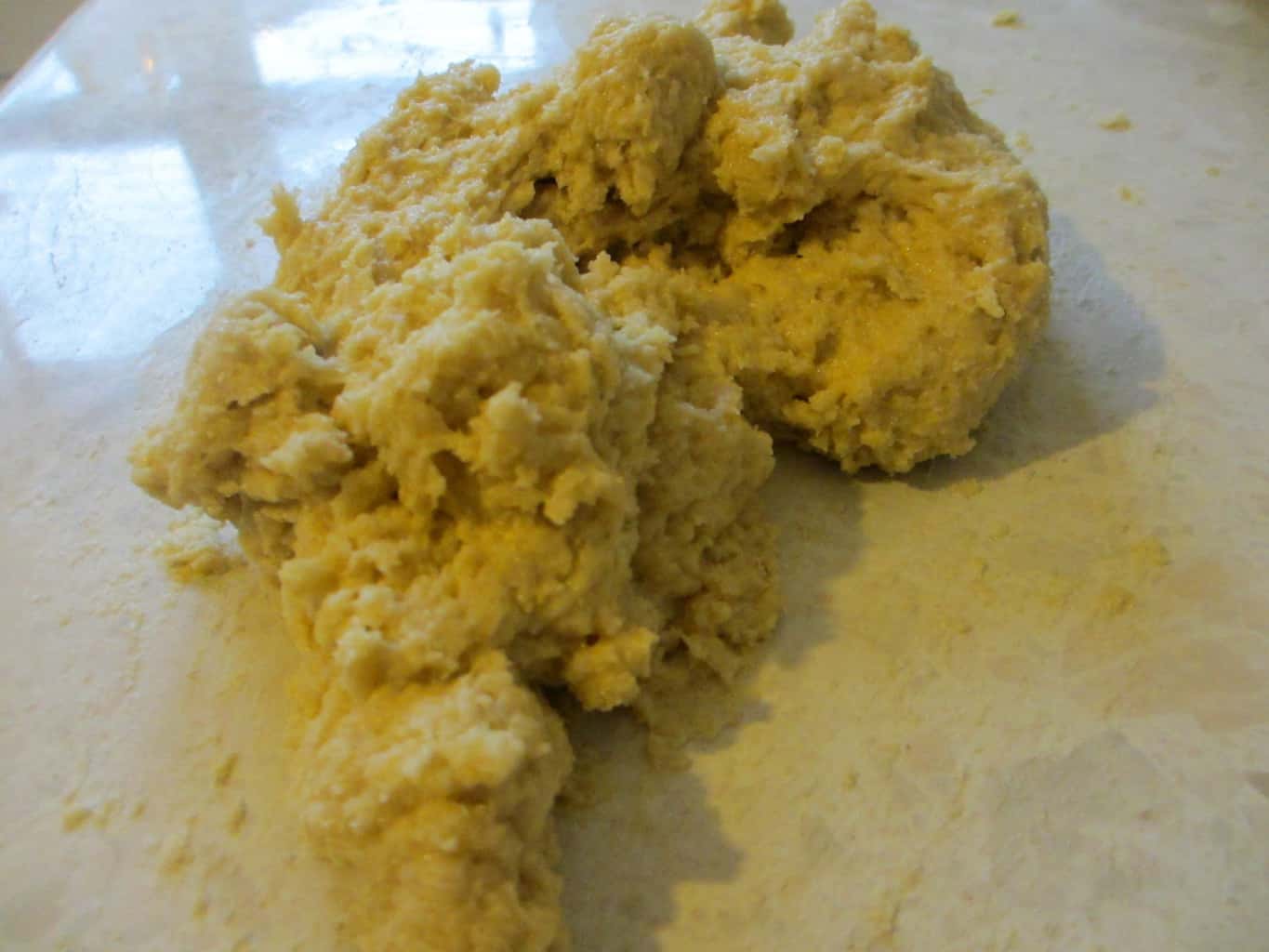 Knead this for a good 10-15 minutes. Use your hands to manipulate the dough back and forth until it is smooth, elastic and no longer sticking to your hands or the work surface. You need patience – keep at it and you will get there. After 15 minutes of kneading you'll end up with something that looks like this and very similar to before – smooth as a baby's bum: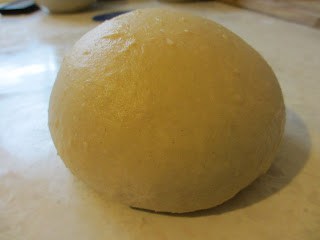 Tip Despite the dough being quite wet and sticky when first bringing it together, you don't need to flour the work surface. Just keep working the dough and use your scraper to scrape any bits that stick to the surface to bring it back to the main mass. Eventually, the dough will no longer stick to the surface and stay as one elastic soft mass. That's when you've done enough kneading.
Again, cover in a bowl and put back in the low oven until it has doubled in size again.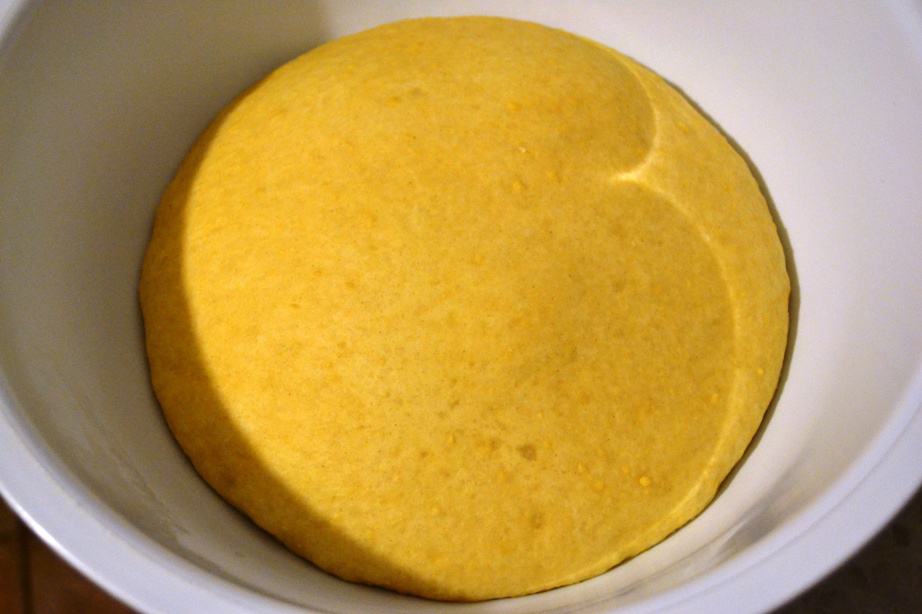 after the second prove – doubled in size once again

Third prove
To this risen dough, add the remaining flour, remaining butter, remaining sugar and the remaining eggs – two whole and three yolks. Combine either in an electric mixer (this will be really quite sloppy at this stage) or in the bowl with a wooden spoon at first. When it's well combined, add the currants / sultanas, candied citrus, salt and vanilla bean seeds. At this stage you can also add the zest of an unwaxed lemon and orange for the classic panettone aroma. Alternatively, you can do what I did and add 1-2 tsp of Aroma Panettone which will be more effective – it doesn't half smell incredible.
Turn your phone off and put some good music on. You're going to be kneading for the next 30-40 mins. Pretty good work out. To start, make a claw shape with your hand and make circular motions within the pile of wet dough to get it to at least start thinking about coming together. After 15 minutes of this you'll have something that looks like this – you can already see the elasticity developing: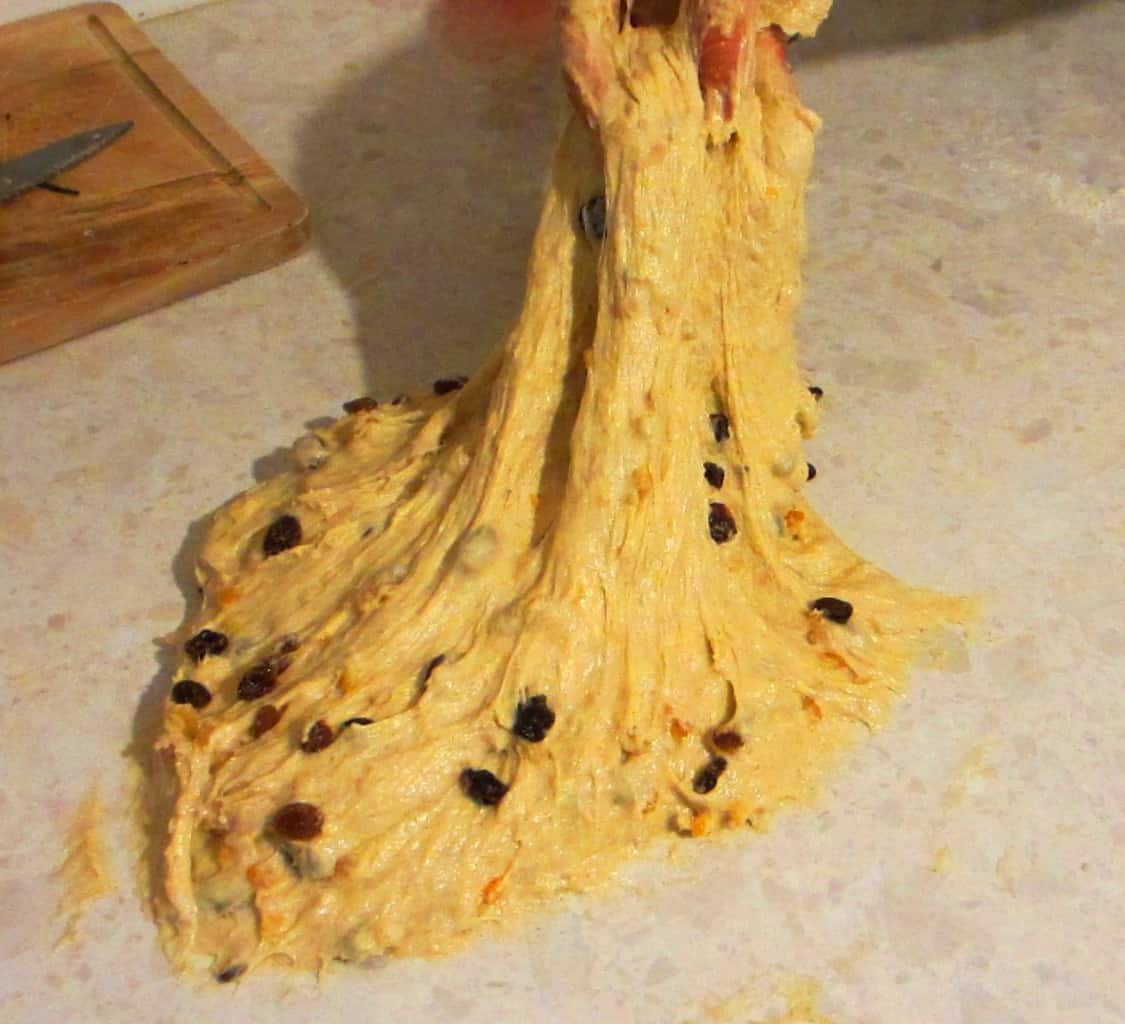 after 15 minutes of hard kneading
Keep using your scraper to bring rogue sticky bits back to the mass. Another 15 minutes and it will look more like this – it's now beginning to stay more as one mass.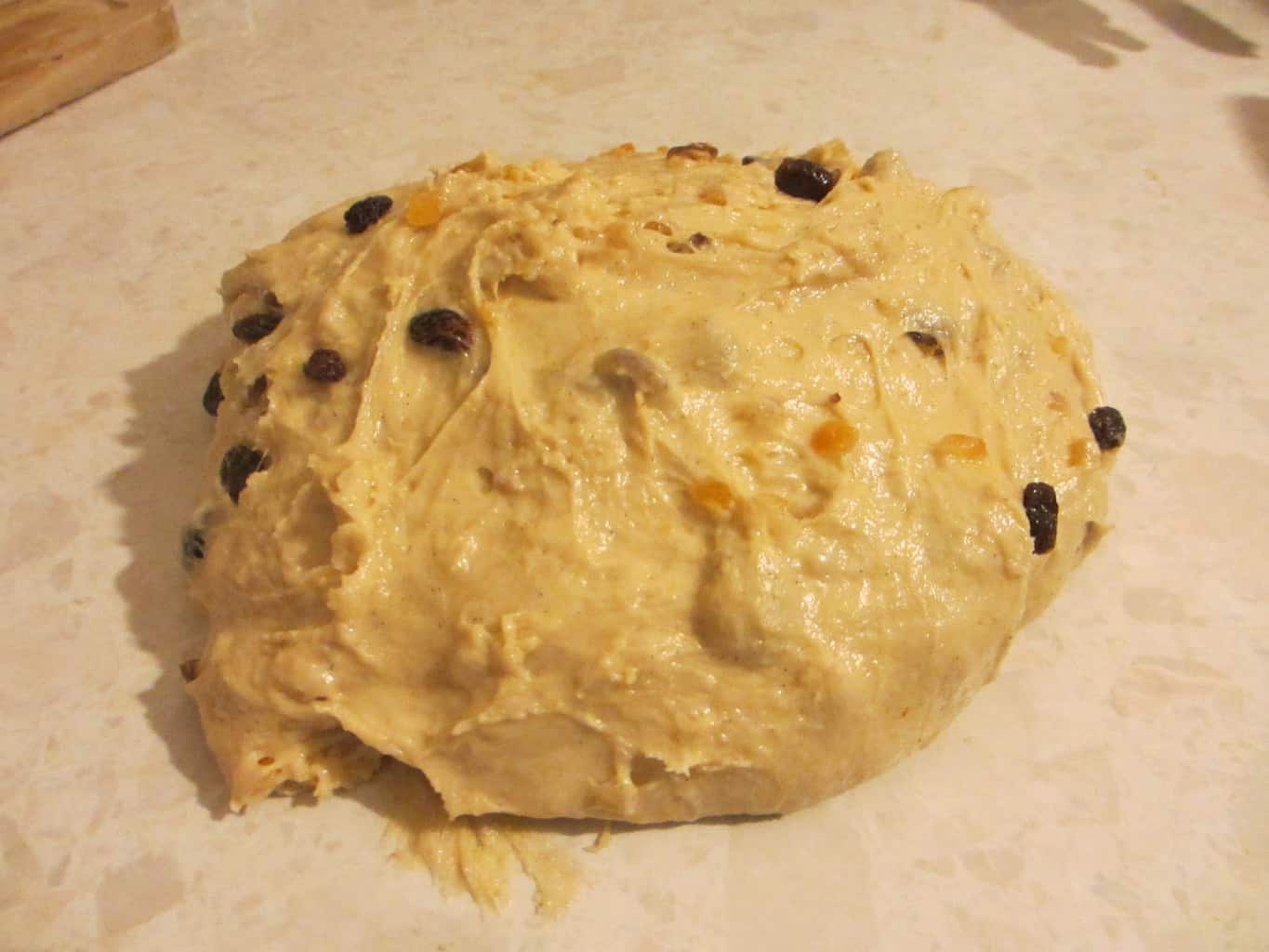 after another 15 minutes..
Perseverance and patience is really key here – just keep going. When it's at the above stage you can add a little sprinkling of plain flour on the work surface and over the dough to help it along a bit. However, don't be tempted to just keep adding flour in order for it to come together – I'm afraid there's no short cutting, you just need to keep going with the hands. The addition of flour is not what it needs or want, what it does require is more kneading . Once you've achieved a mass that is no longer sticking to the surface, continue until it becomes lovely and smooth and elastic like the previous stages – do not stop until you reach this stage. Shape into a ball using the same technique as before.
You will eventually have something that looks like this (I promise):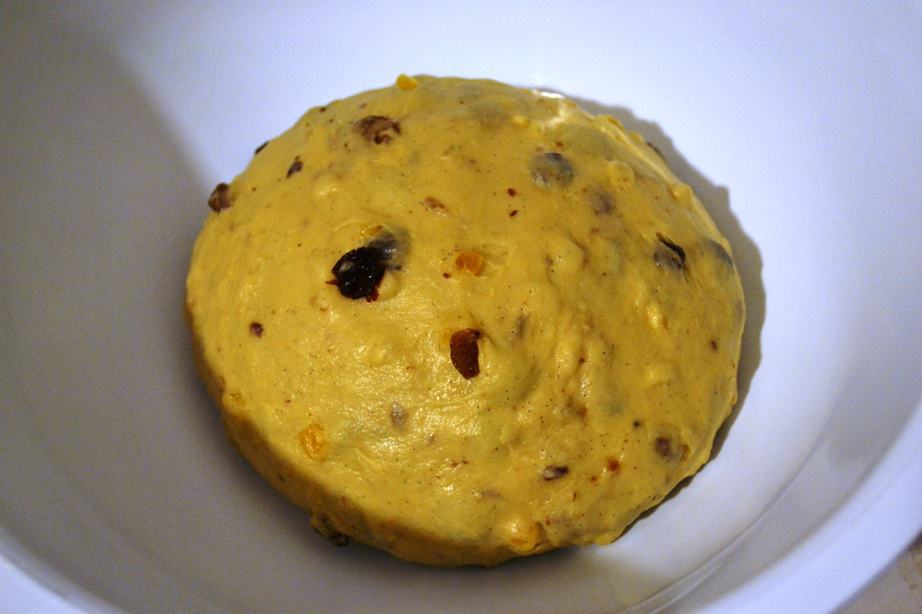 after a very decent upper body workout
Once again, put in a bowl and cover with cling film. It goes back in the low oven until it has doubled in size again: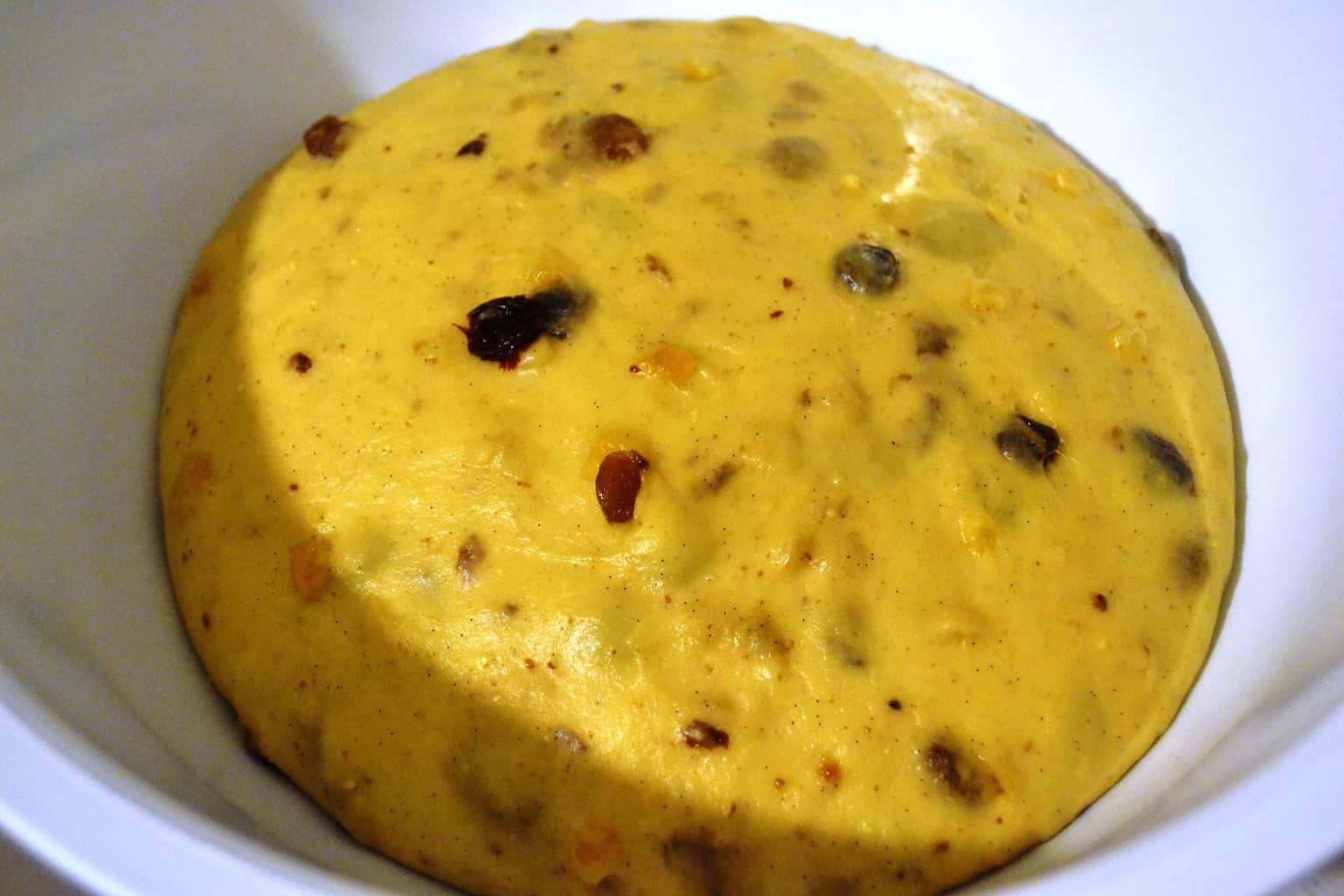 after it's third prove – doubled in size

While you're waiting for this to happen, prepare your panettone moulds. If you are making one big one, wrap some non-stick baking paper around the outside of the mould so it's about double the height of the mould itself. This will prevent the dough from tipping over the top of the mould during it's fourth prove and it's actual bake. I secured the paper by stapling it to the cardboard panettone mould itself.
If you're making lots of little ones, you will need to do the same thing for each individual mould – wrap some taller non-stick baking paper around the outsides of them and secure with staples.
If you're using a panettone tin (I must get me one of these) then just grease and line the inside with non-stick baking paper.
Fourth prove
Once the dough has doubled (it may take longer than previous stages as there is more of it now), tip it out back onto your work surface. If you're making the single large one, fold the mass in half a couple of times (turning it 90 degrees between each fold) and then reshape into a ball. Place in the mould and push it out with your knuckles so it's touching the sides.
If you're making little ones, use your scraper to divide the dough into the individual masses, shape each of these into a ball and pop into each individual case.
Tip Whether you're making large or small ones, be sure not to over work the dough at this stage. You definitely shouldn't be kneading, you are really only manipulating the dough into balls to put into the moulds – nothing further.
Cover again with cling film. If you've got lots of the little ones, the easiest way is to sit them on a baking tray and wrap the plastic round the panettones and the tray itself. Put back in the warm oven and wait until they have – you guessed it, doubled in size.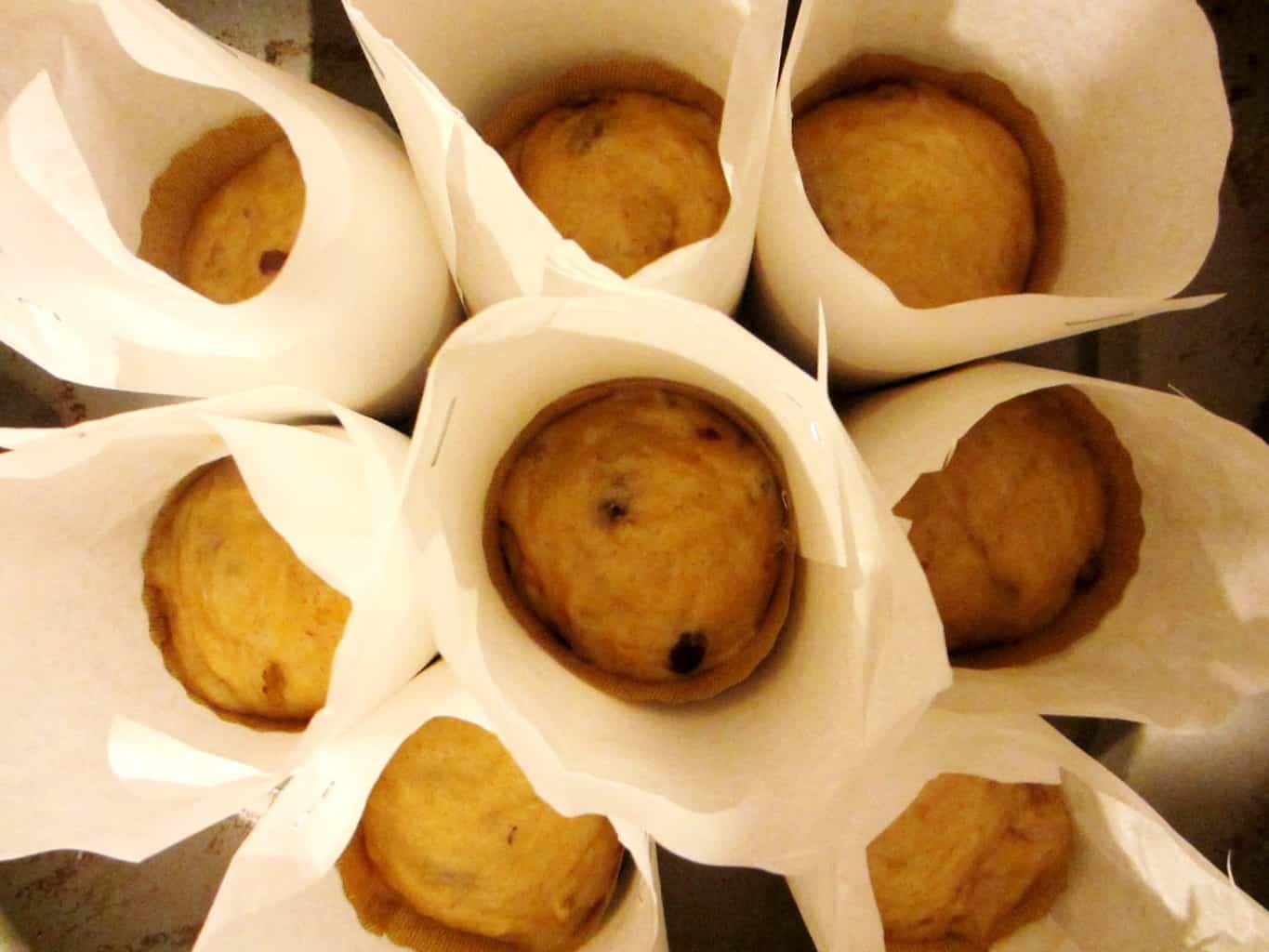 individual panettones before final prove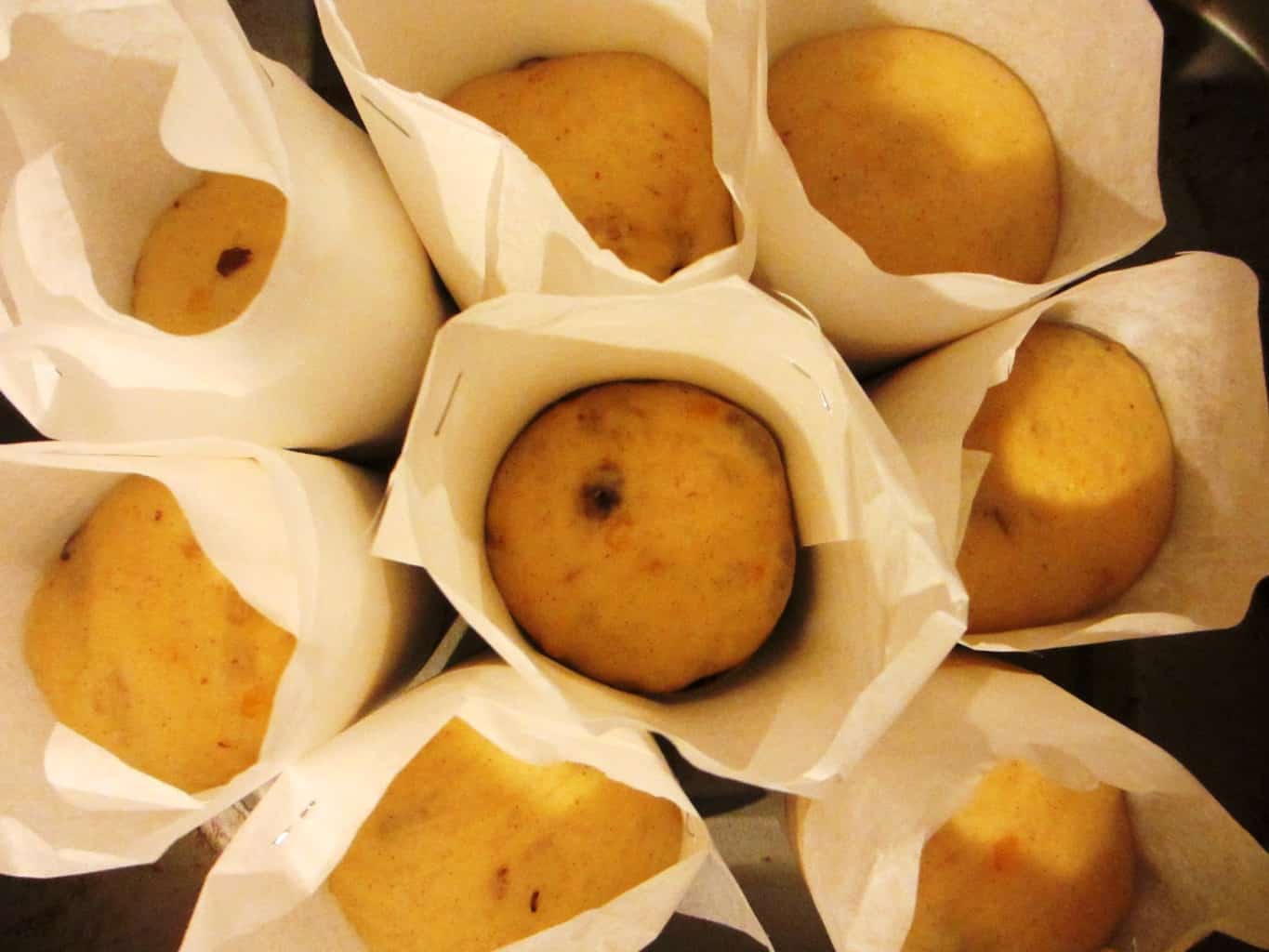 .. and after the final prove – each
risen and doubled in size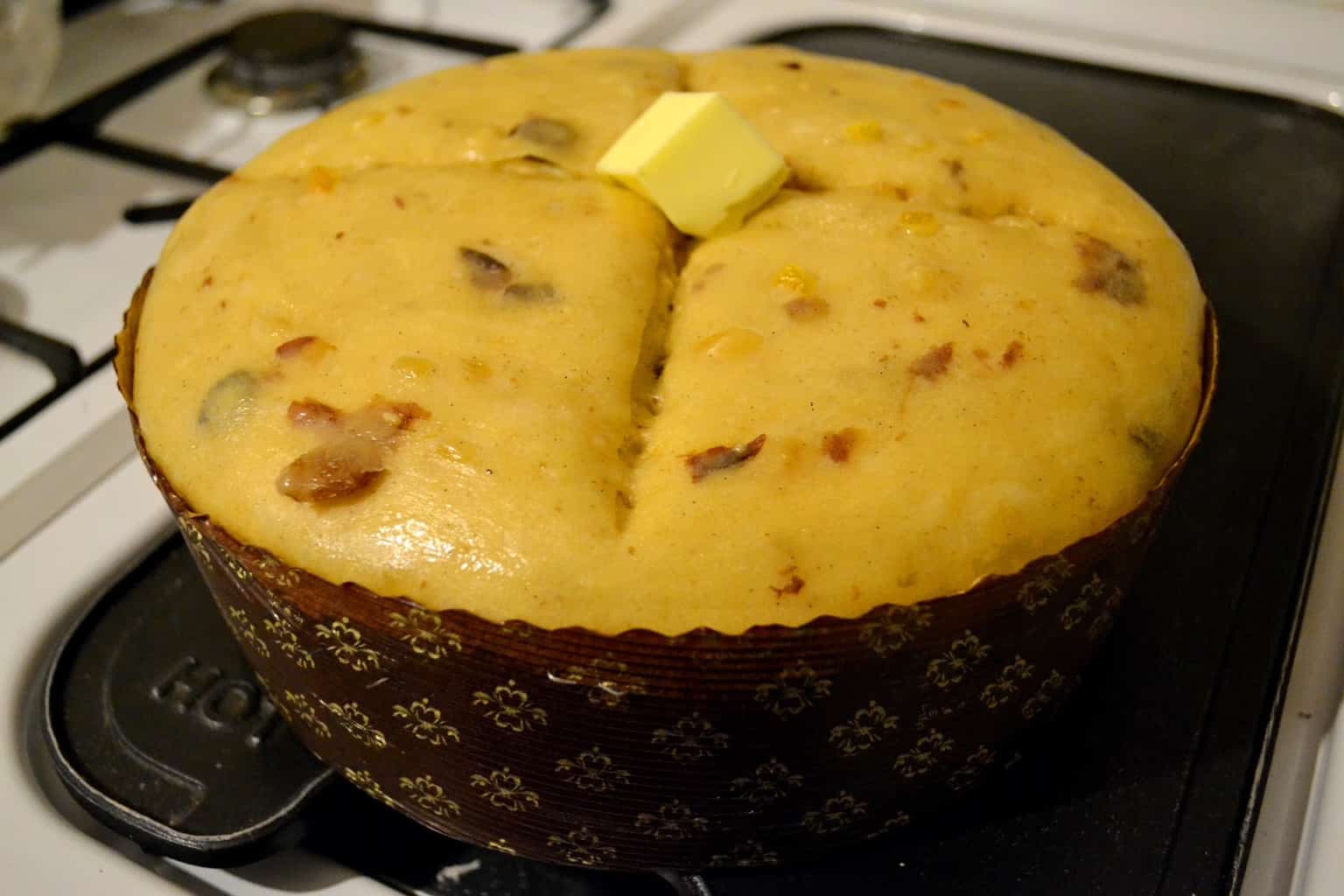 the single large panettone after the final prove –
note it should reach the rim of your mould / tin

If you're making the single large loaf brush the top with egg white once it's doubled in size, and slash a cross in the top with a very sharp knife (I use a DIY razor for my dough slashing). This will allow it to expand during the bake. Place a knob of butter in the centre of the cross – this will also help to seal in the moisture and prevent the top from burning during the cooking process.
The smaller panettones don't really need a cross as their diameters are small enough to just rise directly upwards without needing the give of the cross. Do egg wash and add a little bit of butter to the top of each though.
The bake
Whack your oven up to 200C (fan) and once it has preheated, put your panettones in. After all your hard work and patience, they're finally ready to bake. After 10 minutes you may need to cover the surfaces with foil to prevent them over browning – at this stage turn the oven down a bit too to around 180C-190C. In total the large panettone needs about 1 hour in the oven. The smaller ones will take less time – keep an eye on them.
Take a moment to enjoy the huge expansion they make in the oven – very satisfying.
To check if they're done, insert a wooden or metal skewer into the centre of the dough – if it comes out clean then the dough is cooked. If it still comes out a bit sticky, it needs more time.
When your bread is done, remove from the oven and allow to cool on a wire rack. Either devour while warm with some jam or a slathering of even more butter. Fresh and still hot, it could quite possibly be the most gorgeous thing you've ever consumed from your kitchen. Alternatively, allow to cool completely and dust with a festive sprinkle of icing sugar. Be sure to reheat in a low oven until piping before you serve it up again.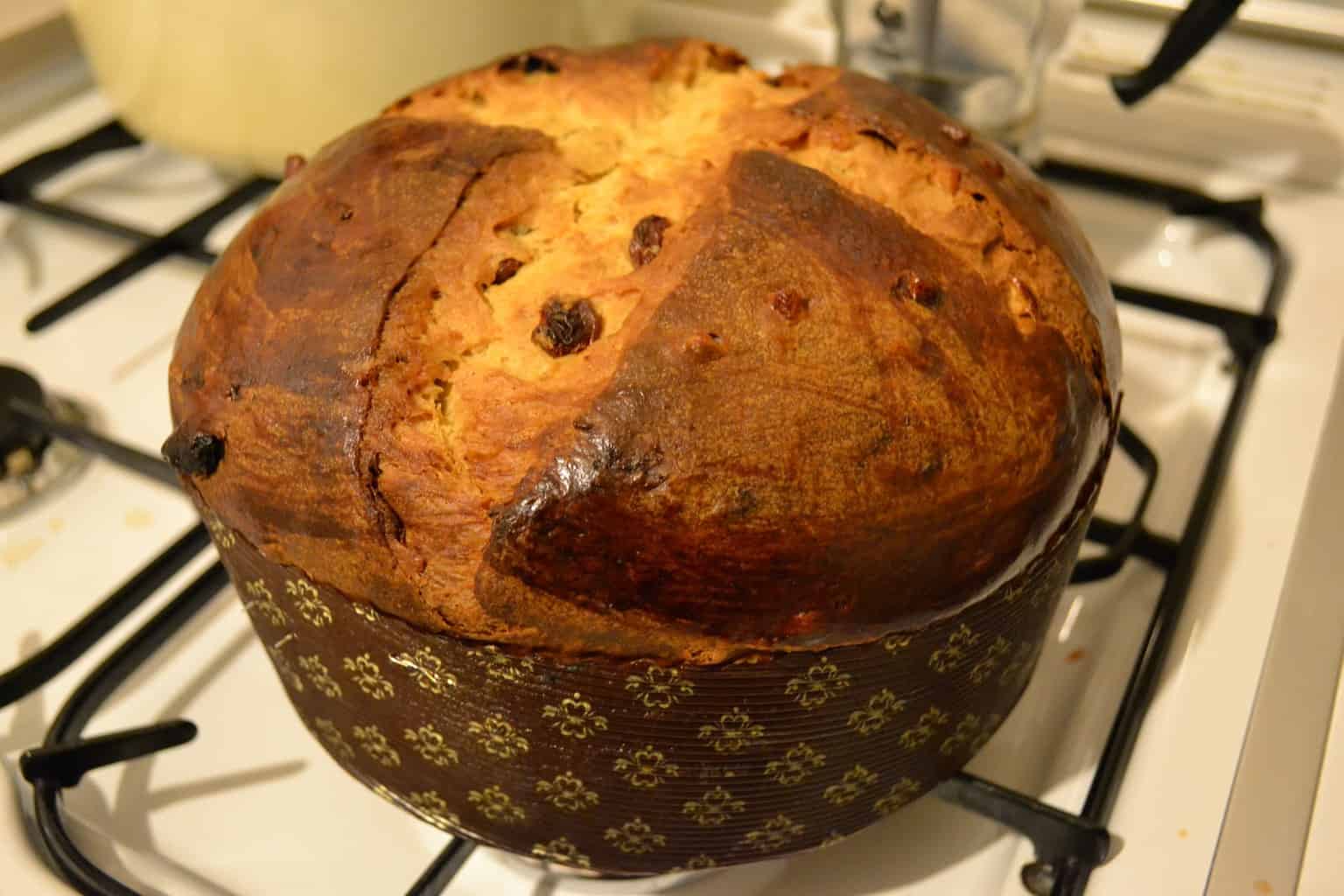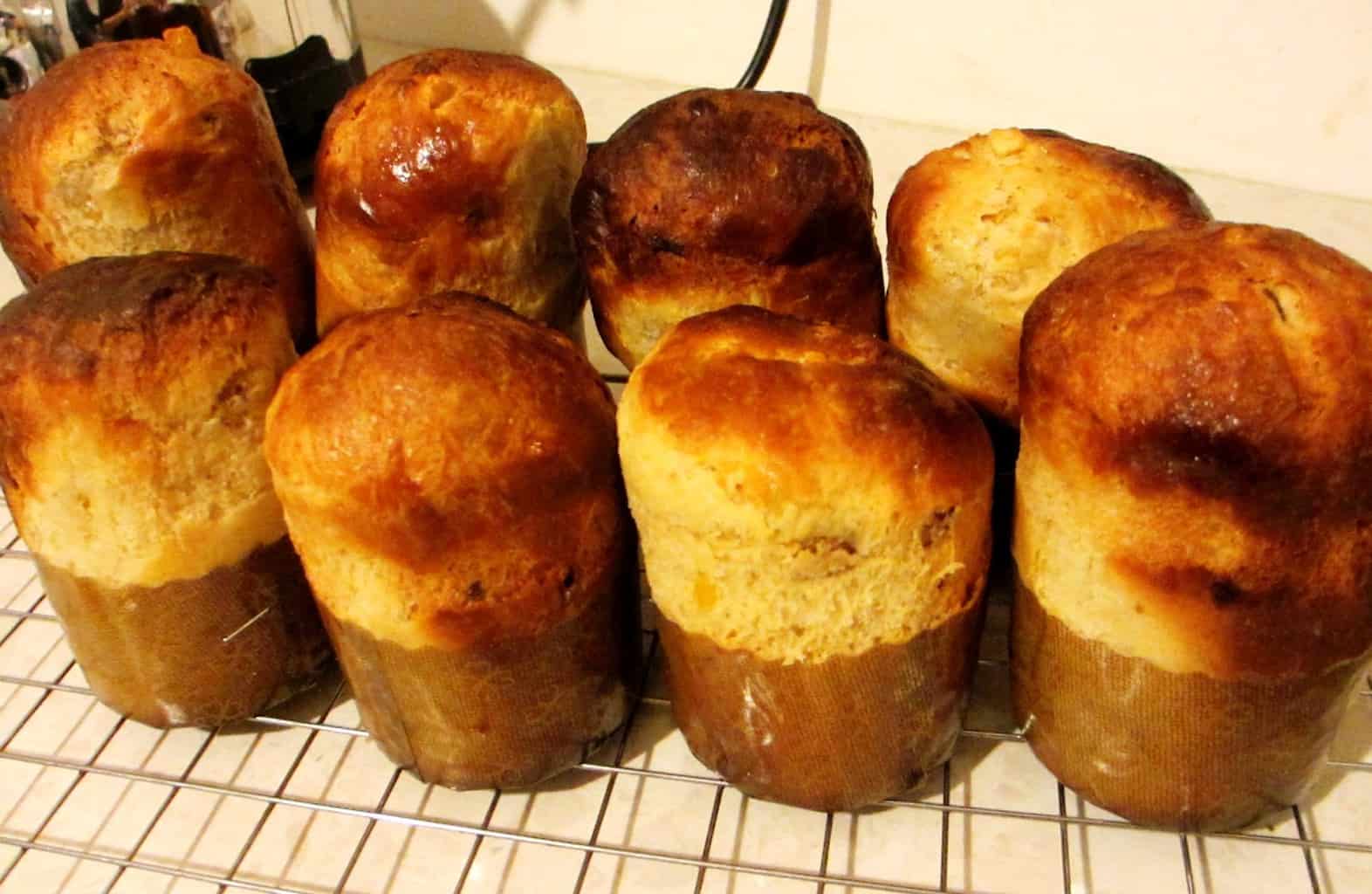 Alfiyet olsun.